New AMEX Offer: Spend $750 at Four Seasons, Earn 15,000 Bonus Membership Rewards Points. I value Membership Rewards points at a minimum of 2 cents per point (although we usually redeem them for 4 cents or more per point), so 15,000 bonus points equate to $300. I'm happy to see this offer, since lately so many AMEX offers have been for companies I've never heard of and wouldn't buy from, even with the AMEX Offer. Plus, TravelSort Clients can enjoy Four Seasons Preferred Partner benefits since Preferred Partner reservations are booked directly with Four Seasons.
Here are the offer details:
Spend $750 on Four Seasons hotel room rates and room charges, earn 15,000 bonus Membership Rewards points
Only valid at U.S. Four Seasons hotels; all international Four Seasons hotels and Web sites excluded.
Must stay by October 10, 2018
Excludes any service or amenity not charged to a room, third party bookings, Four Seasons Private Jet, The Four Seasons Beds, Four Seasons Magazine subscriptions and other amenities.
FAQ
Which AMEX Cards Are Being Targeted for This Offer?
My own data points are that only my AMEX Business Platinum was targeted for this offer; none of our other AMEX cards, including our AMEX EveryDay, AMEX Blue Business Plus, or cobrand cards (which in any case wouldn't have a 15K bonus, but could have had a dollar offer) such as the SPG AMEX or Delta AMEX cards were targeted.
If you received this offer on an AMEX other than a Platinum or Business Platinum, please post in the comments.
What Are the Best Four Seasons Hotels in the U.S.?
My top recommendations for Four Seasons in the U.S. are:
Four Seasons Lanai, Hawaii
Four Seasons Orlando
Four Seasons New York Downtown
Four Seasons Surfside, Miami Beach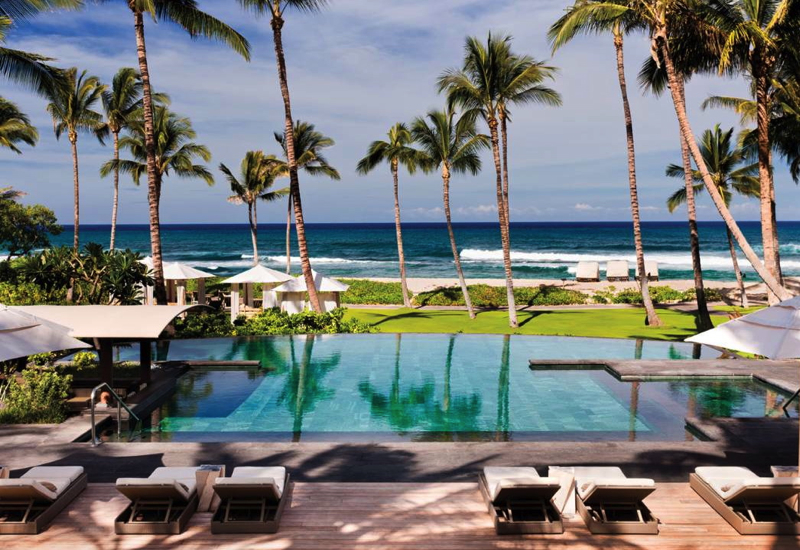 What is the Advantage of Reserving Four Seasons with Four Seasons Preferred Partner vs. Directly?
If you reserve Four Seasons as a TravelSort Client, with Four Seasons Preferred Partner benefits, you enjoy the following perks. You wouldn't receive all of these when booking directly:
Complimentary daily breakfast for up to two in-room guests. This includes the buffet at the restaurant, at hotels that serve a breakfast buffet. Alternatively you can enjoy an a la carte breakfast via room service.
Priority for an upgrade on arrival, if available
Either a $100 food and beverage credit or a $100 spa credit, depending on the hotel or resort
Early check-in / late check-out, based on availability
Complimentary WiFi for rooms; complimentary highspeed WiFi for suitess
Is There Any Advantage to Reserving Four Seasons with Preferred Partner Rather Than AMEX Fine Hotels & Resorts?
Yes: Four Seasons Preferred Partner guests receive top priority for upgrades, ahead of AMEX Fine Hotels & Resorts guests. Keep in mind that to receive top priority, TravelSort needs to make your original reservation. If you make a direct reservation and then want to transfer it to TravelSort, this is usually possible, but upgrade priority will be lower than clients who made the original booking with TravelSort, per Four Seasons Preferred Partner rules. Also see 5 Reasons You Shouldn't Book a Hotel Directly (and Not With a Third Party OTA Either).
What's the Opportunity Cost Since This Offer Has to Be Booked with the Targeted AMEX Card?
It's true that there's an opportunity cost, since you have to book the offer with the AMEX card targeted for the offer. In my case, the AMEX Business Platinum that was targeted for the offer only earns 1 point per dollar on hotel spend, vs. the 3X Ultimate Rewards points I'd have earned with the Chase Sapphire Reserve. For $750 in spend, that's 1500 points I won't earn, and at a 2 cents per point valuation, that's $30. If anyone had their AMEX Blue Business Plus Card targeted, it would only be a 750 point opportunity cost, since the AMEX Blue Business Plus earns 2X per dollar on all spend.
What is your favorite Four Seasons hotel or resort in the U.S.? Do you plan to take advantage of this AMEX offer?
Recommended Posts
Four Seasons Maui: $400 per Night Resort Credit for Suites
Match AMEX Fine Hotels & Resorts Offers to Preferred Partner, Virtuoso
New Four Seasons Caye Chapel Belize to Open 2021
New DeepFlight Submarine at Four Seasons Maldives at Landaa Giraavaru
If you enjoyed this, join 200,000+ readers: follow TravelSort on Twitter or like us on Facebook to be alerted to new posts.
Subscribe to TravelSort on YouTube and TravelSort on Instagram for travel inspiration.
Become a TravelSort Client and Book 5-Star Hotels with Virtuoso or Four Seasons Preferred Partner Benefits