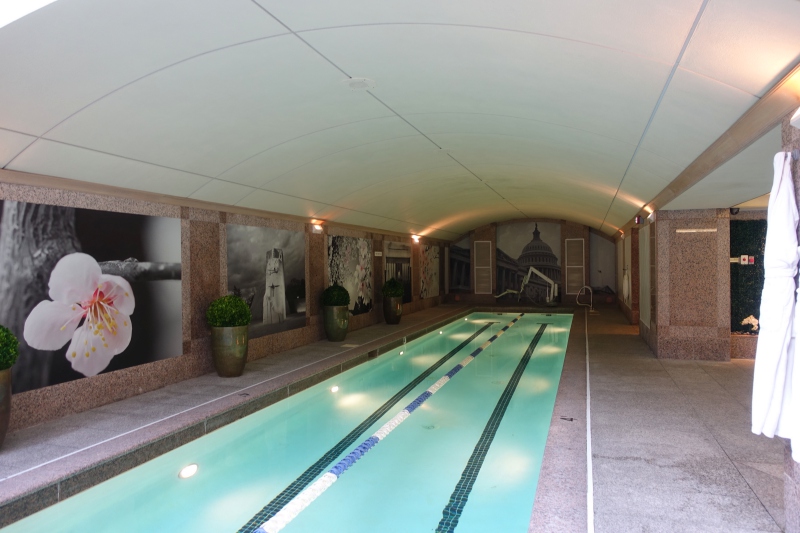 Washington, DC is on our mind today, Election Day, making it a good time to review the Four Seasons, Washington, DC from our recent visit to our nation's capital. Visiting Washington, D.C.? See all our posts tagged Washington, DC.
The Four Seasons Washington, DC is a Virtuoso hotel, so TravelSort Clients receive these Four Seasons Preferred Partner benefits:
Daily full American breakfast for two people per bedroom, served through In-Room Dining or in the hotel restaurant (including buffets)
Choice of USD100 Spa credit (not applicable to products) or USD100 food and beverage credit once during stay
Upgrade of one category, based on availability at time of check-in (excluding signature suites, villas, and private residences)
Complimentary basic Internet in all guest rooms, complimentary premium Internet in all suites.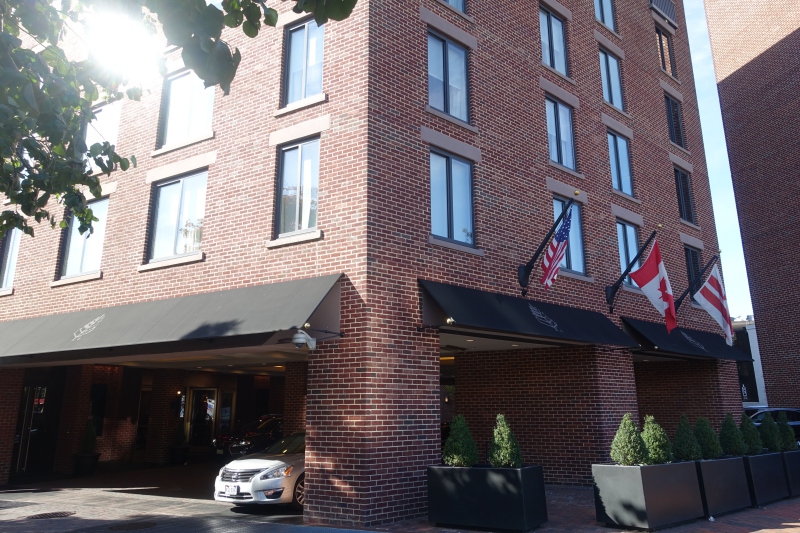 Four Seasons Washington, DC Location, Lobby and Check-In
The Four Seasons Washington, DC is located at 2800 Pennsylvania Ave. NW, Washington, DC in Georgetown, just a 10-12 minute walk from the Foggy Bottom Metro Station (the name of which made my son giggle). Since this was a short two night trip for us we were traveling very lightly and it was a very easy walk for us with our carry-ons. We were on a morning flight, so arrived late morning at the hotel, before our room was ready. Fortunately, my son didn't mind reading a book in the comfortable and tranquil lobby while I had my site inspection tour of the hotel.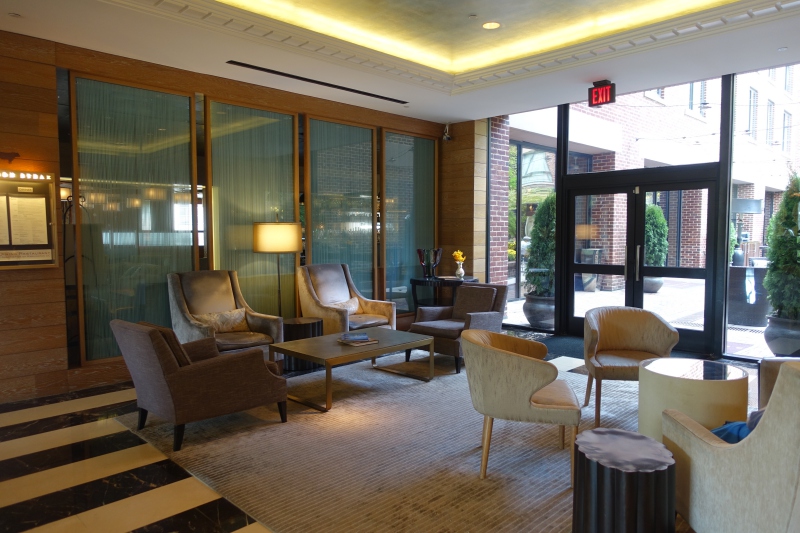 Later, after a tasty lunch at a nearby Ethiopian restaurant (review forthcoming) we were able to check-in early, a bit before 1pm. I love that the card keys feature quotes from different U.S. Presidents. On this visit, ours were of Clinton and Eisenhower.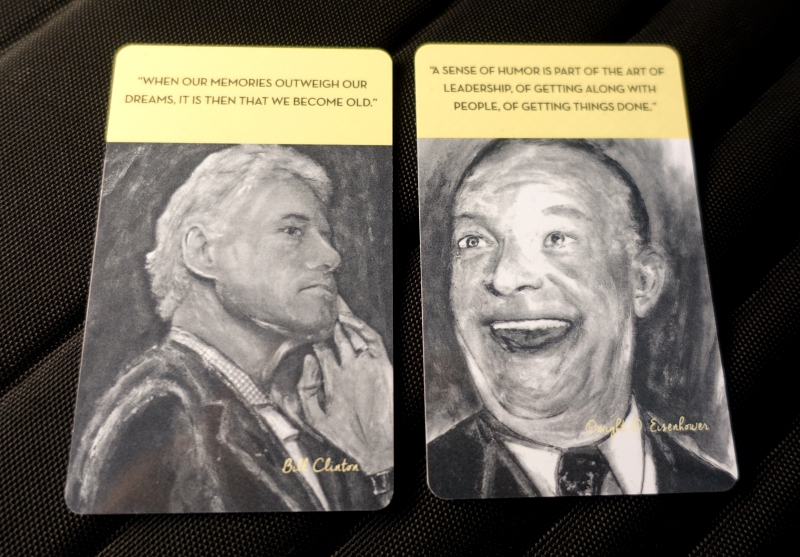 My son was offered his pick of several stuffed animals and games from a colorful red wagon. Decisions, decisions: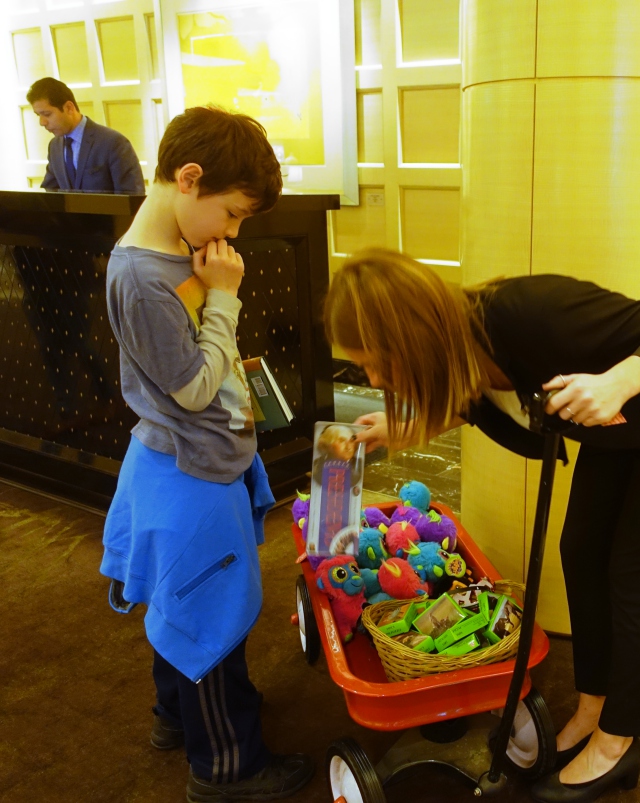 Four Seasons Washington DC Rooms and Suites, and Grand Premier Room
The Four Seasons Washington, DC underwent a $13 million soft renovation, completed earlier this year, by March 2016, and now features the new Four Seasons bed in all rooms and suites. The hotel has two wings: the original building's East Wing, and the more recent West Wing. For rooms, there are three room categories:
Deluxe Rooms, 385 square feet, 1 King bed for a maximum of 2 adults and 1 baby in a crib (no rollaways allowed).
Premier Rooms are 485 square feet, with either 1 King bed or 2 Double beds, for a maximum of 2 adults or 1 adult and 1 child in King bedded rooms, and a maximum of 3 adults or 2 adults and 1 child in double bedded rooms. (no rollaways allowed)
Grand Premier Rooms are 520-625 square feet, with either 1 King bed or 2 Double beds, for a maximum of 3 adults or 2 adults and 1 child in King bedded rooms, with the addition of a rollaway, or a maximum of 4 adults or 2 adults and 2 children in double bedded rooms.
For families who would like a true 1 Bedroom Suite, I recommend the Georgetown One-Bedroom Suite, which has a door separating the bedroom from the living room. This is the most convenient option if you hope to watch films or the TV after putting young children to bed, because many of the Premier Suites have an open plan studio design, without a door separating the bedroom and living room.
We were in a Grand Premier Room with 2 Double Beds in the East Wing, with a pleasant view of Rock Creek Park. The window glazing was excellent, and with the windows closed I heard no traffic noises whatsoever.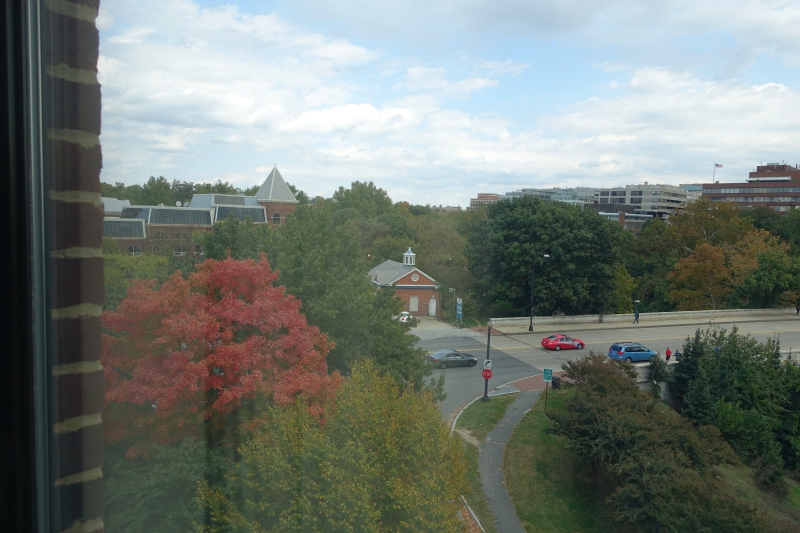 Some lovely chocolate welcome amenities awaited us, with a cute panda cookie and gummy bear plate for my son: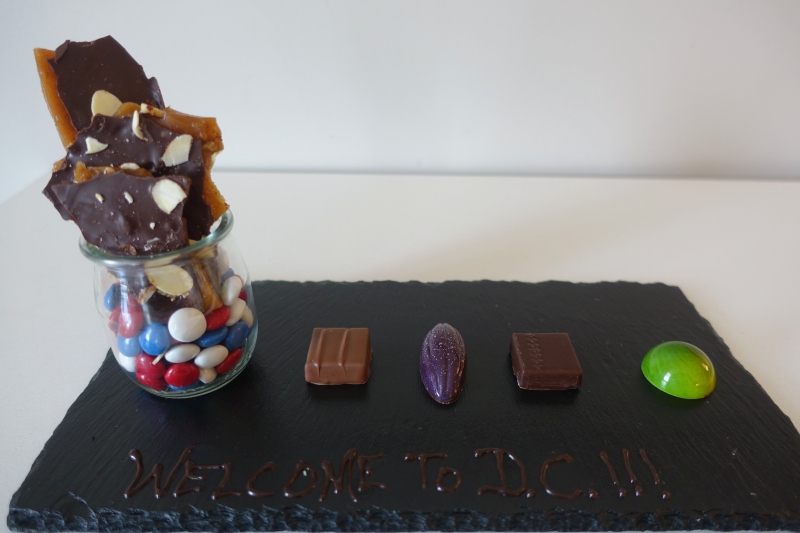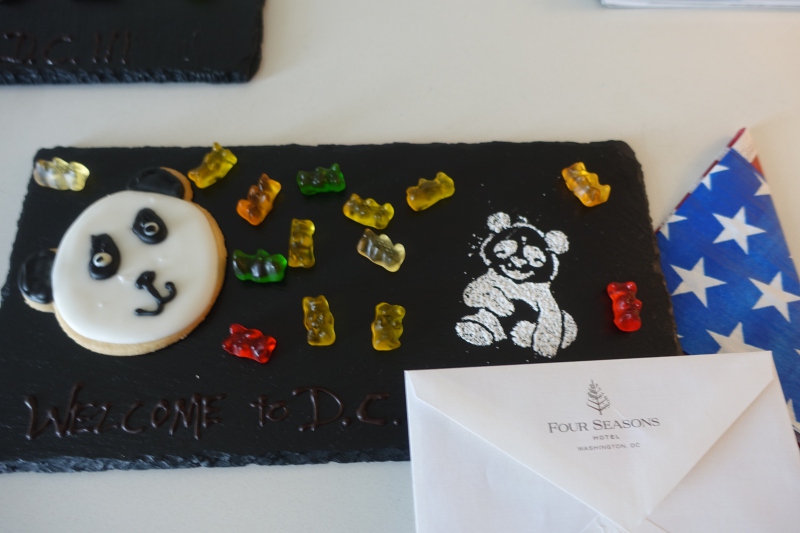 The new Four Seasons bed is made up by default with the Signature mattress topper, which was already very comfortable, but for our second night I requested the Signature Plush topper, which made it perfect. I highly recommend taking advantage of the customizable mattress toppers if you have a preference for how firm or plush you like your mattress to be.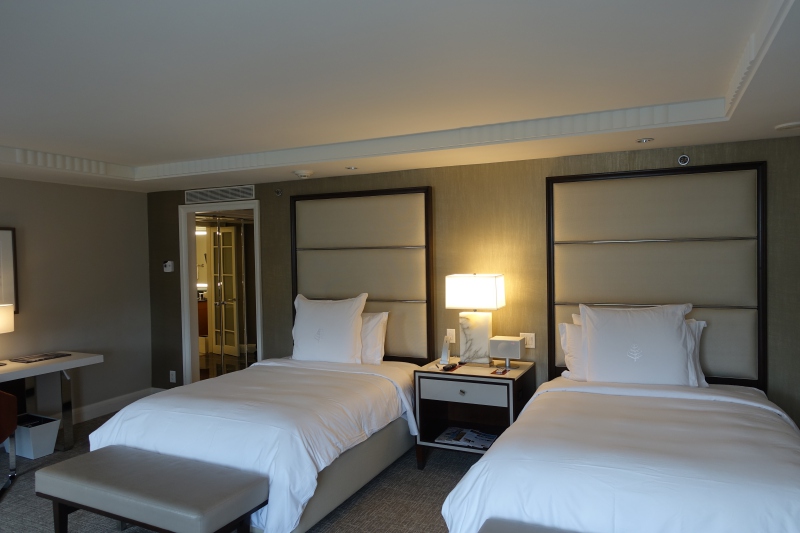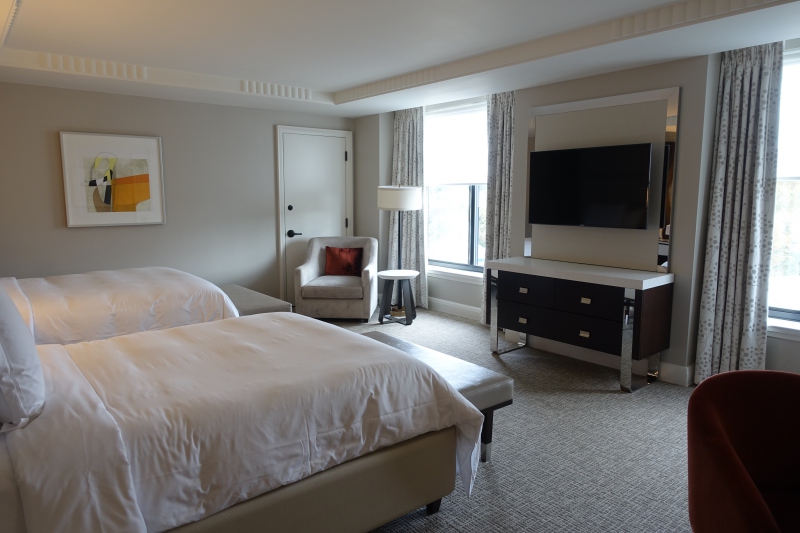 I particularly was happy to see a couple of power outlets by each of our beds–easy to charge two devices, with no hunting around for an outlet or having to unplug a lamp.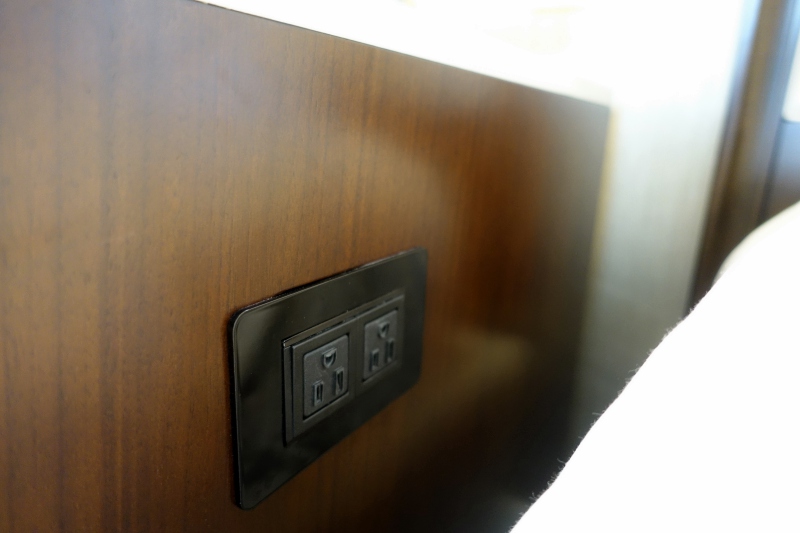 The bathroom had dual his and hers sinks, which I always appreciate when traveling.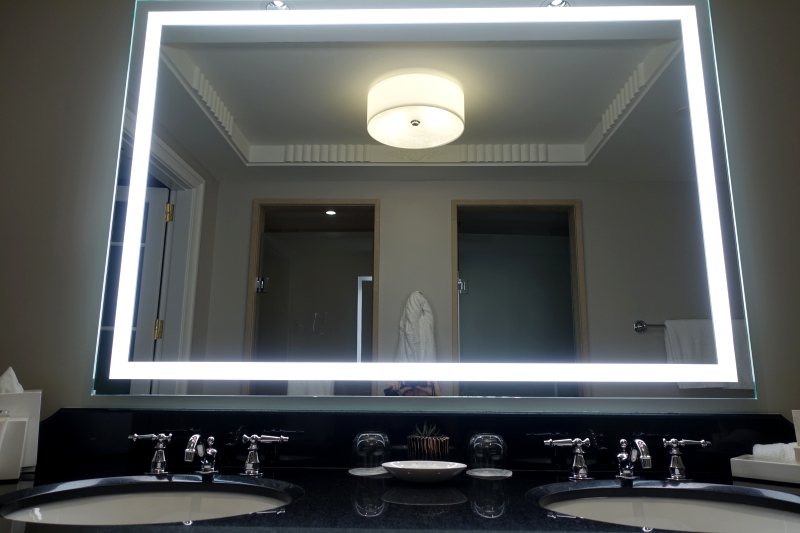 There was a deep soaking bath perfect for a nice bubble bath, which my son enjoyed after going swimming.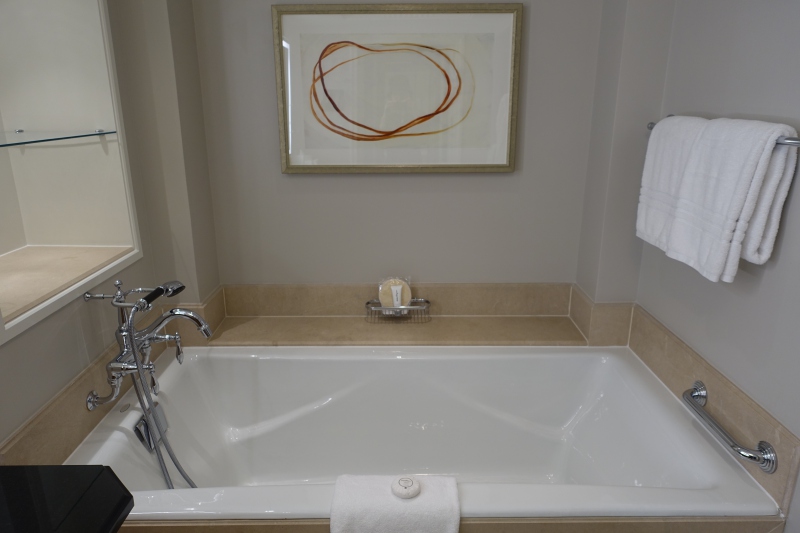 The shower is separate, and the only minus is that it's a conventional showerhead, and not a rain shower.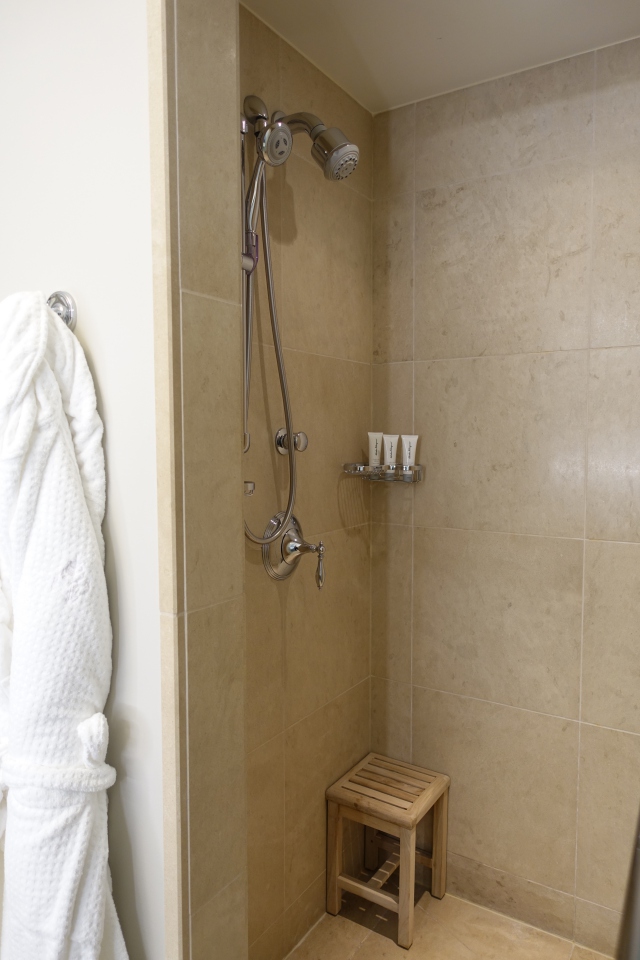 Bath products are Salvatore Ferragamo's Tuscan Soul: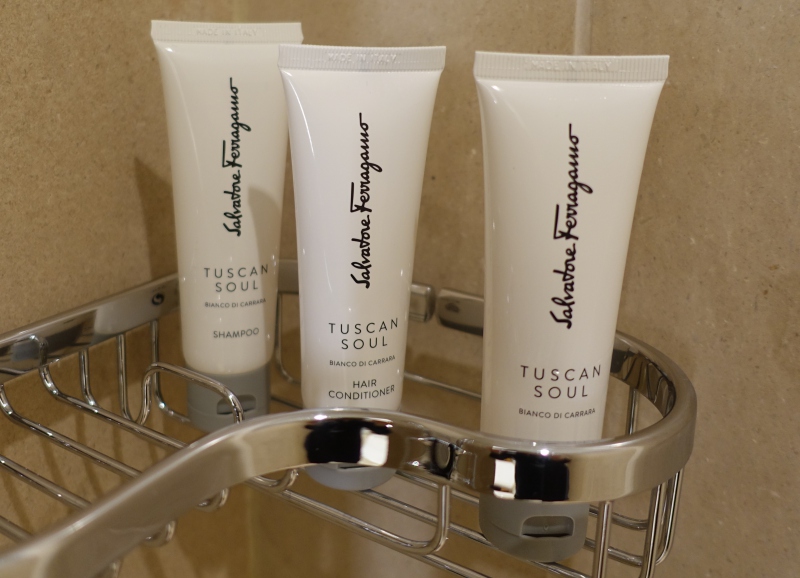 While the mini bar is automated in terms of the canned drinks, I was able to take out a package of potato chips and store a small personal item that needed refrigeration, without being charged. The front desk would have been happy to take off a charge for something I didn't consume and replaced in the minibar, but in this case there was no need.
And while I didn't use it during our stay, there was an espresso maker, bottled water, and my favorite type of tea (Mighty Leaf) available: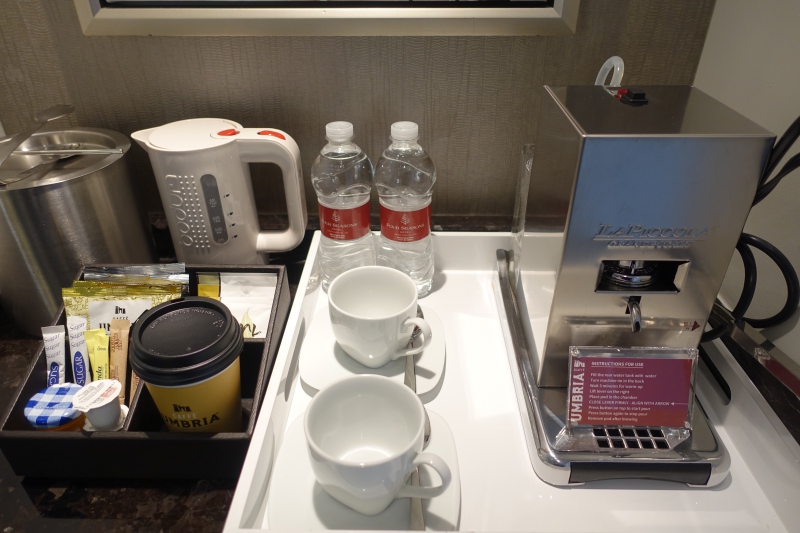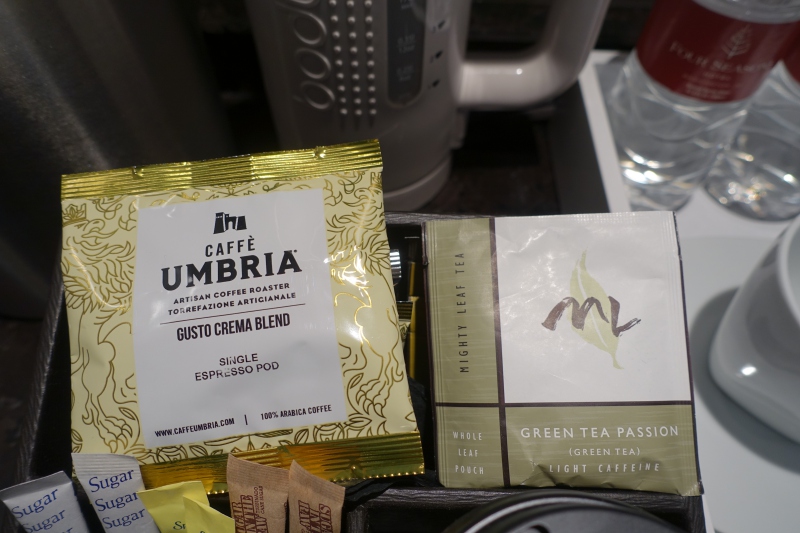 Courtyard, Health Club and Swimming Pool and House Car Service
The Four Seasons Washington, DC, has one of the better health clubs I've seen for a city hotel of its size, with two floors of treadmills and machines, plus an indoor lap pool and jacuzzi hot tub.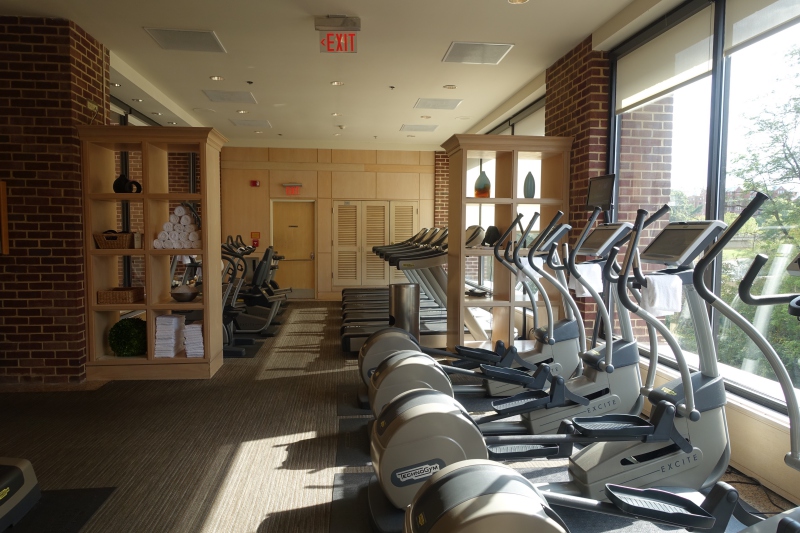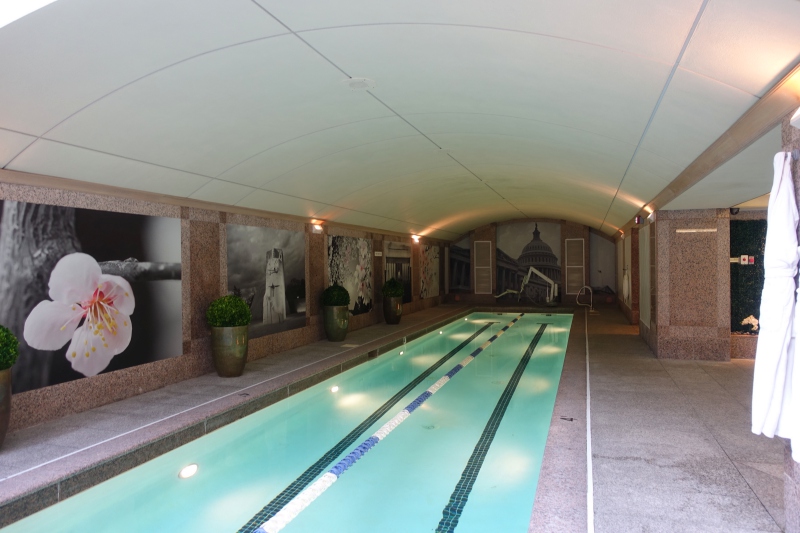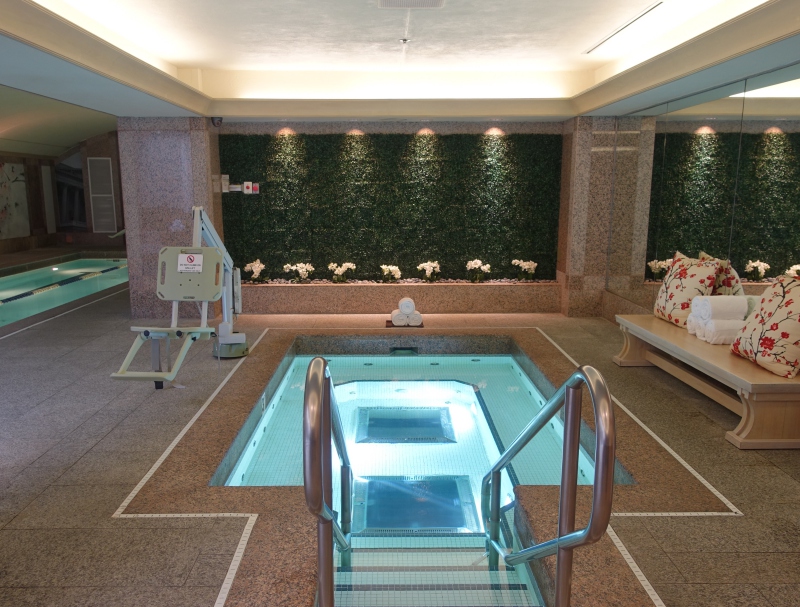 We were also grateful to be able to enjoy a nice selection of fresh fruit (not just apples, but also oranges and bananas) and even juice (orange juice, grapefruit juice and cranberry juice–these are kept in the fridge, I placed the orange juice on the counter just for the photo) in addition to the infused waters.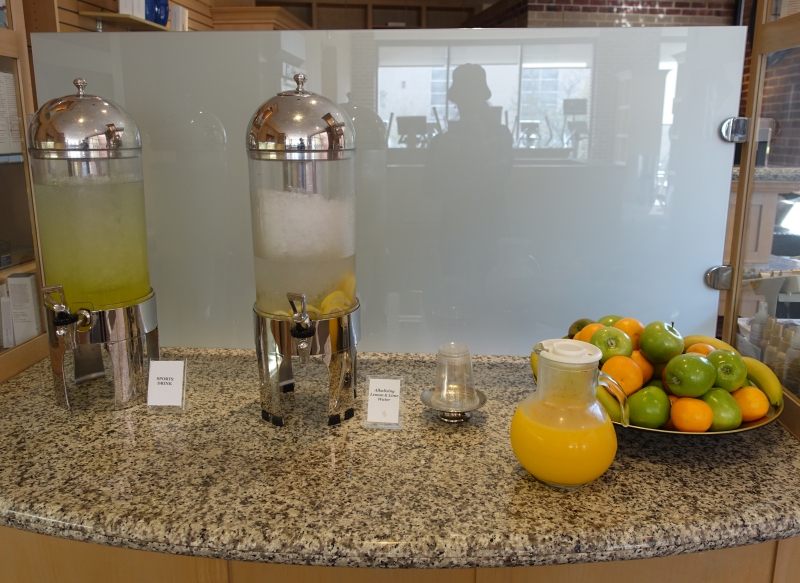 Another aspect I love about this hotel is the courtyard betwen the hotel's two wings, which offers a peaceful setting right in the heart of Georgetown. It's a pleasant place to enjoy light refreshment during the day, but is especially cozy at night, when the fire pits are lit.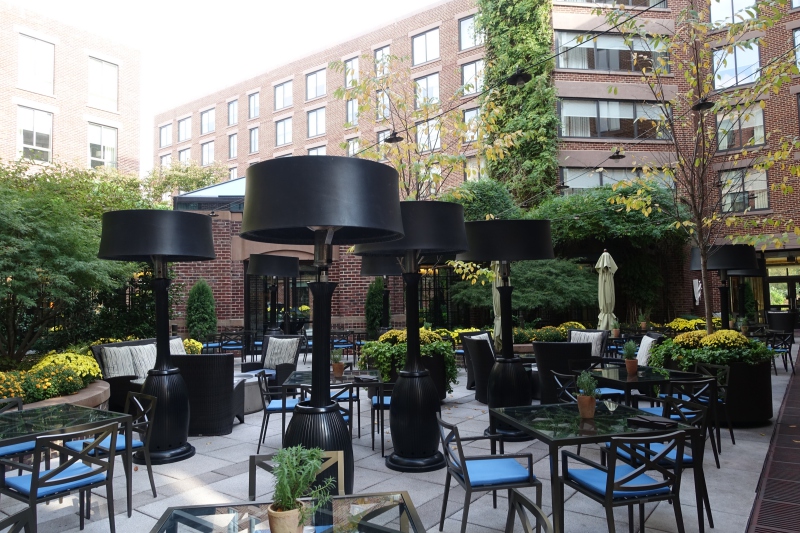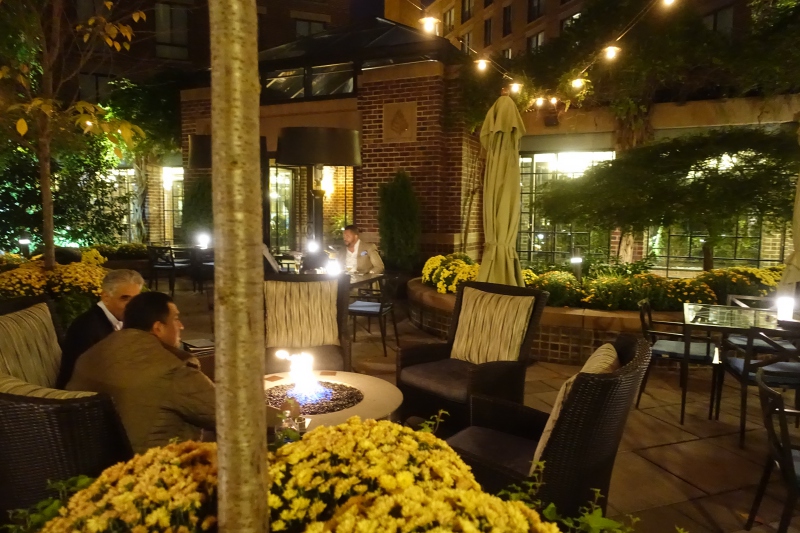 An additional convenient feature of the hotel is the house car service, available on a first come, first served basis. It was able to whisk us to the Lincoln Memorial in just a few minutes, which I was grateful for as the memorial is a bit far from Metro stops.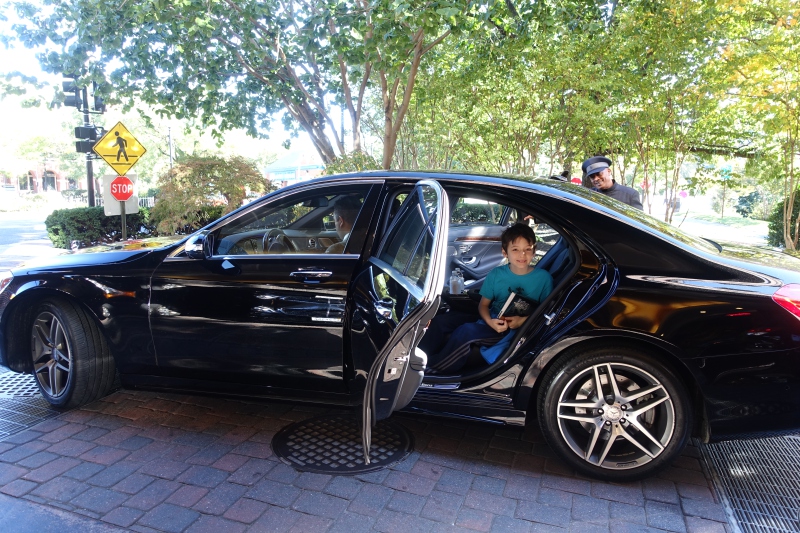 The Verdict
The Four Seasons Washington, DC is my clients' favorite hotel when visiting DC both for business and leisure, and after my visit, it's not hard to see why. While it does tend to be a bit pricier than its counterparts, it delivers better service, the comfort of the new Four Seasons bed, a great health club whether you prefer running, weights or swimming, and excellent house car service. More on breakfast and dining in a subsequent post.
If you've stayed at the Four Seasons Washington, DC what was your experience?
Related Posts
Disclosure: I was hosted by the hotel one night and paid a travel professional rate the second night. The views expressed in this post are my own.