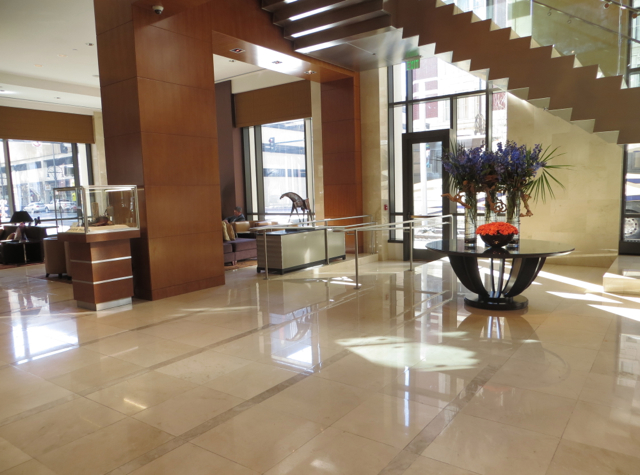 This Four Seasons Denver Hotel Review is part of a Denver trip report. For the prior posts, see:
Hyatt House Denver Airport Hotel Review
Ritz-Carlton Denver Hotel Review
Club Lounge, Ritz-Carlton Denver Review
Fruition Denver Restaurant Review
Top 7 Things to Do in Denver with Kids
The Four Seasons Denver is the newest of Denver's luxury hotels, having opened in 2010, and is the best choice if you want a modern aesthetic and vibe, with all the technology bells and whistles.
TravelSort Clients may book the Four Seasons Denver with Four Seasons Preferred Partner benefits:
Daily full American breakfast for two people per bedroom, served through In-Room Dining or in the hotel restaurant
$100 food and beverage credit once during stay
Upgrade of one category, based on availability at time of check-in
Complimentary high-speed Internet access
Four Seasons Denver Location, Lobby and Check-In
Thanks to the Four Seasons Denver's convenient downtown location at 1111 14th Street, we were able to walk over a few blocks from the Ritz-Carlton. Of course, since both hotels offer complimentary house car service, if you have a lot of luggage, you could simply request car service for those few blocks.
The Four Seasons Lobby lets in great natural light, thanks to its soaring ceilings and windows on two sides, and there was always plenty of seating during our stay. There's a lovely flower arrangement by the staircase, and just beyond that, a fireplace with more seating.
There were at least 3 associates at reception, so there was no wait for check-in. Since we were a bit early, however, and due to the hotel being busy as it was Super Bowl weekend, our room wasn't ready. Instead, we asked if we could take the house car (more on this below) to the Art Museum, and the associate coordinated with one of the bellmen to arrange it.
Meanwhile, one of the associates even wheeled out a treats truck for the munchkin to select a treat. He went straight for the string cheese, and happily munched it while I got a little work done and we waited for the house car to return.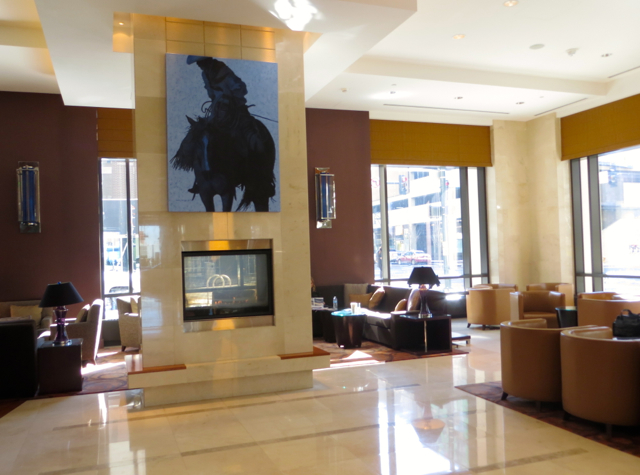 Four Seasons Denver Deluxe Room
We ended up going straight to our dinner at Fruition, so it was only in the evening that we finally checked into our Deluxe Room. Entry level rooms are a bit smaller here than at the Ritz-Carlton Denver: Superior and Deluxe Rooms are 410-485 square feet, vs. 550 square feet at the Ritz-Carlton Denver, so if you want more space, you'll want to book one of the suites, which start at 635-700 square feet.
Our Deluxe Room was well appointed and modern, yet with a distinctive charm lent by the shabui stonework in the bedroom as well as bathroom.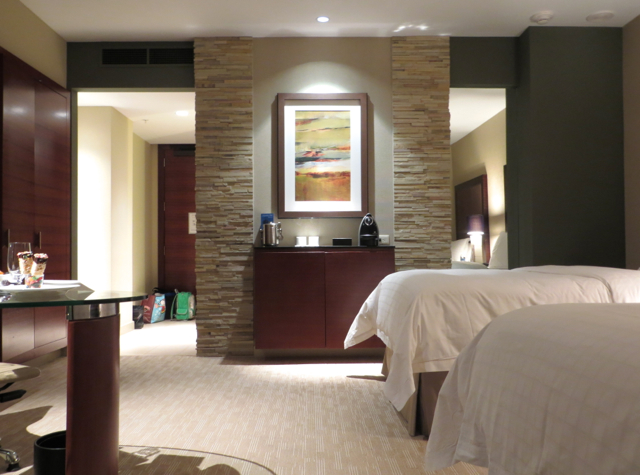 The beds were plus and comfortable–not that the munchkin actually used his, except for the comforter (more on that below).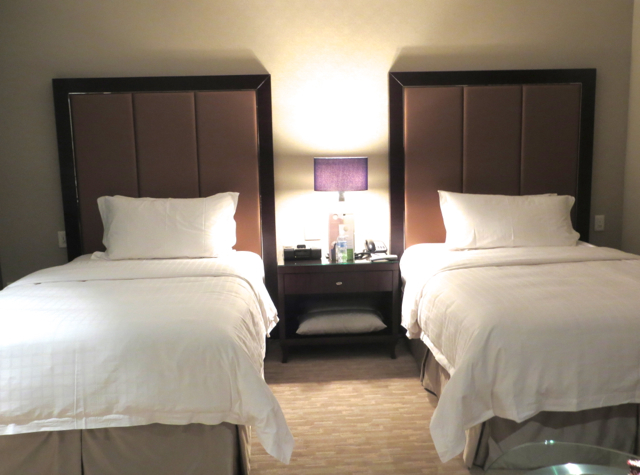 As you enter, the bathroom is on your left. It's fairly compact, but still offers dual vanities with his and hers sinks, a separate toilet chamber, rain shower, and a soaking tub.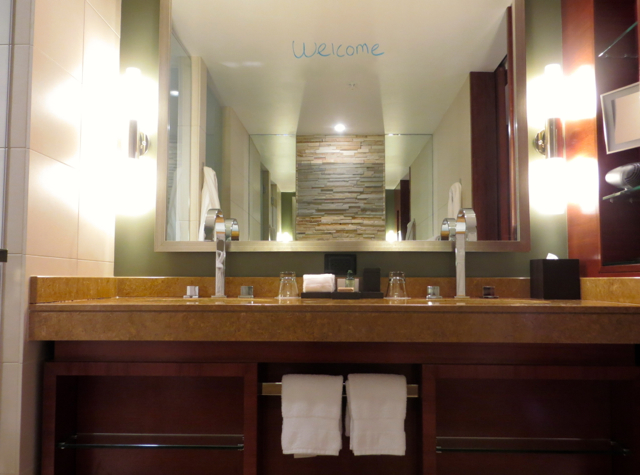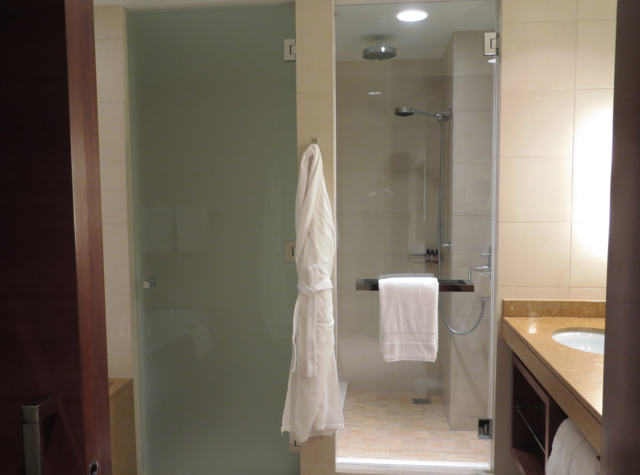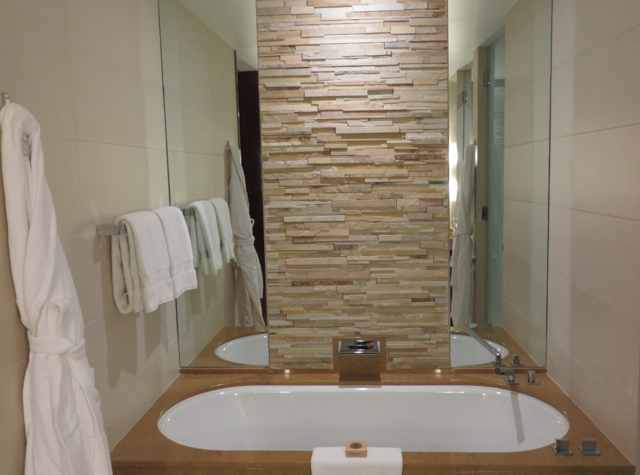 And of course the munchkin was keen to try out the bathroom mirror TV, even watching a little of it from the bathtub. We've also enjoyed this bathroom mirror TV at the Four Seasons George V, Paris and The Langham Place Fifth Avenue (formerly The Setai Fifth Avenue), among others.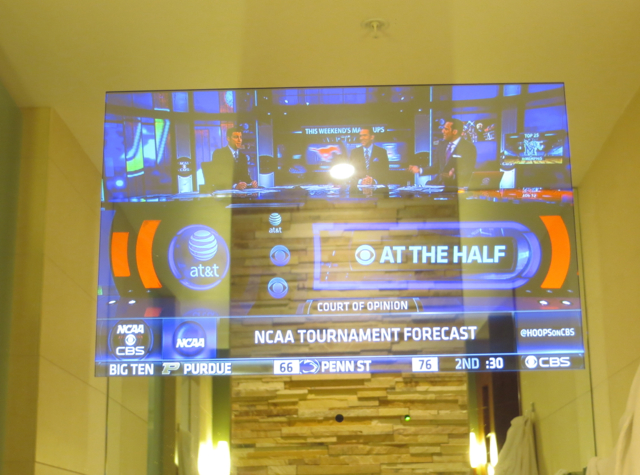 I was glad to see the usual L'Occitane bath amenities, which I personally prefer to most other bath amenities, apart from Bulgari and the lemongrass scented amenities of the Mandarin Oriental Singapore.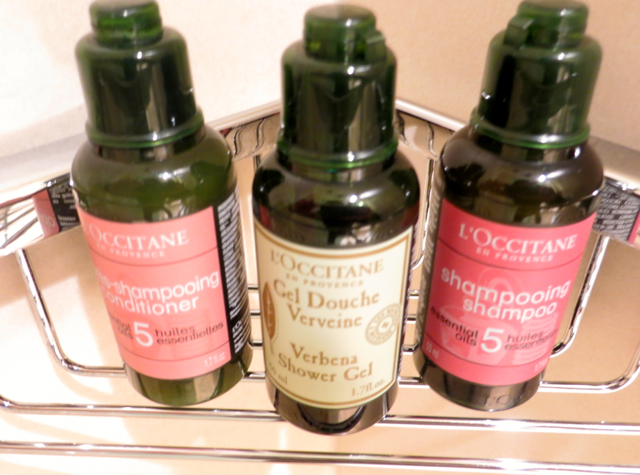 The first thing the munchkin spied in the room was a tent, just for him! Talk about excitement–for once, he couldn't wait for bedtime, and even insisted on reading his bedtime story there. The Four Seasons Denver certainly knows its way to a kid's heart.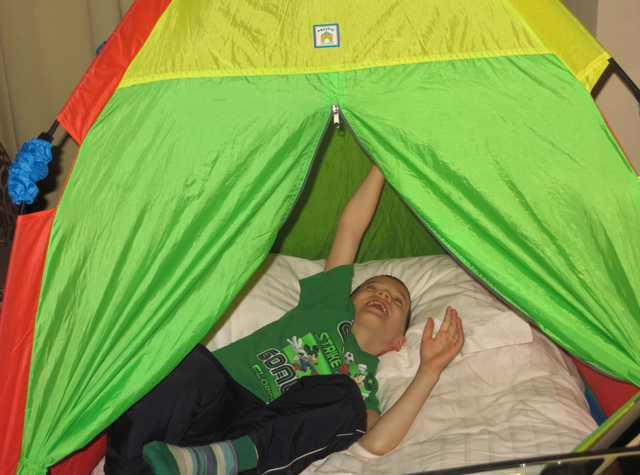 There were also some lovely welcome amenities, very much in sync with it being Super Bowl weekend: beef jerky, beer, dried fruit, and rice krispy treats for the munchkin.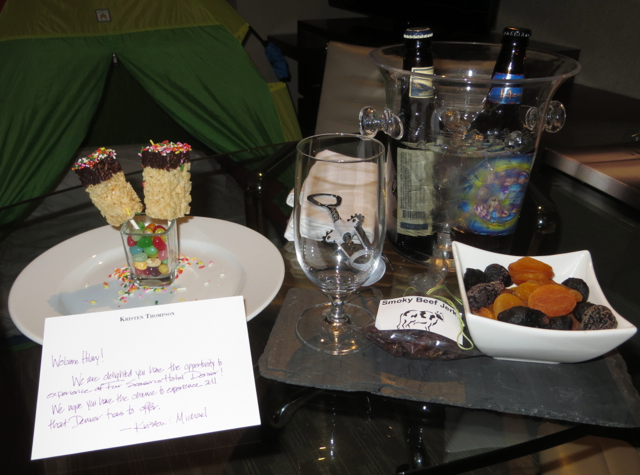 The next day was sunny and clear. Here's the view from our room, which was on the 6th floor: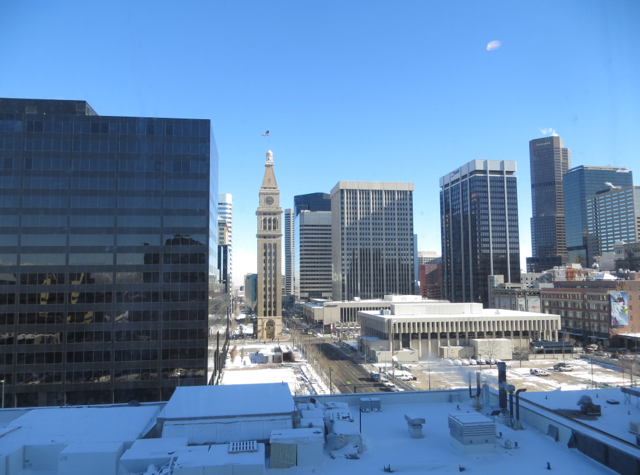 While I didn't have occasion to use it, I was happy to see a Nespresso machine in the room: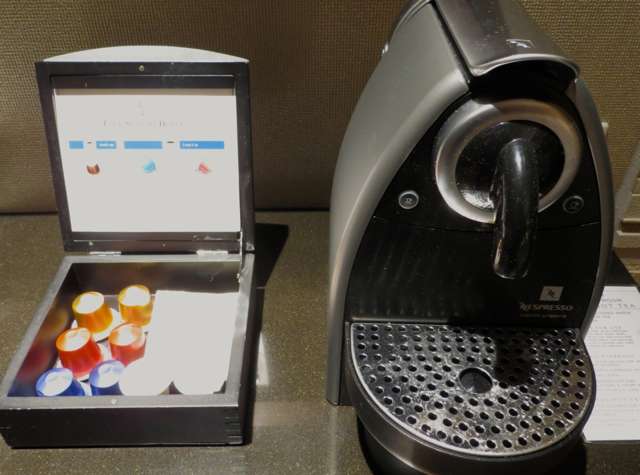 Heated Outdoor Swimming Pool, Jacuzzi and Fitness Center
I was almost hoping that the outdoor swimming pool would be closed, given the freezing temperature outside. Sure, it was warmer than NYC, but still tons of snow and ice on the ground. Luckily for the munchkin, unluckily for me, the outdoor pool is always heated to 82 degrees or so, so we got our swimsuits on and were, surprise, surprise, the only ones in the pool. The munchkin was happy as a clam, making full use of the noodle and foam paddle he found there.
Eventually I insisted that we get out and go inside, and both of us had chattering teeth just from the short (but cold) distance from pool to inside the hotel.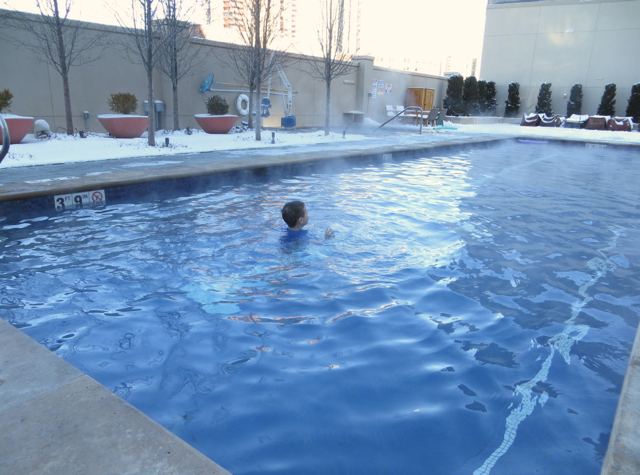 We didn't use the fitness center, but it had all the requisite machines and nice natural light with a view of the swimming pool.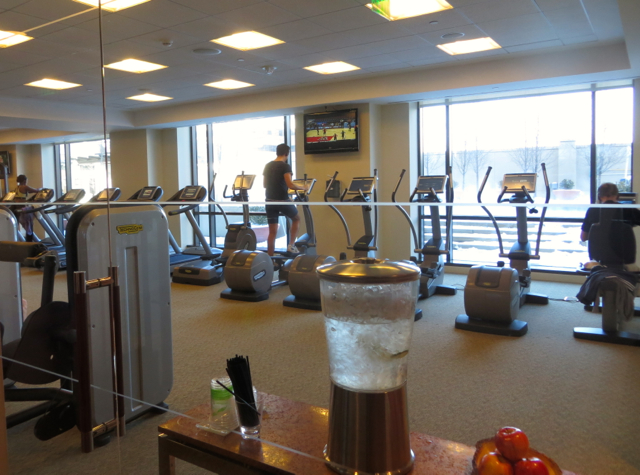 Complimentary House Car Service
As with the Ritz-Carlton Denver, the Four Seasons Denver provides a house car service, a very appreciated amenity since we didn't rent a car for our Denver stay. The service, as is typical, is first come, first served. I did notice that wait times tended to be longer at the Four Seasons Denver, perhaps because occupancy was higher that weekend. Drivers were courteous, as at the Ritz-Carlton.
There were a couple of snafus. One was a long wait time to be picked up at Fruition, due to the GPS apparently giving incorrect directions. Another was being told it would be about a 10 minute wait for the house car to take us to breakfast, then, after waiting 20 minutes, being told that it wouldn't be available and we should take a taxi. I asked if the hotel would like to comp this for us, given that we'd been told that the house car would be available for us 10 minutes ago, and a solution was quickly found: another driver would take us. So a mutually agreeable solution, but I did have to be proactive.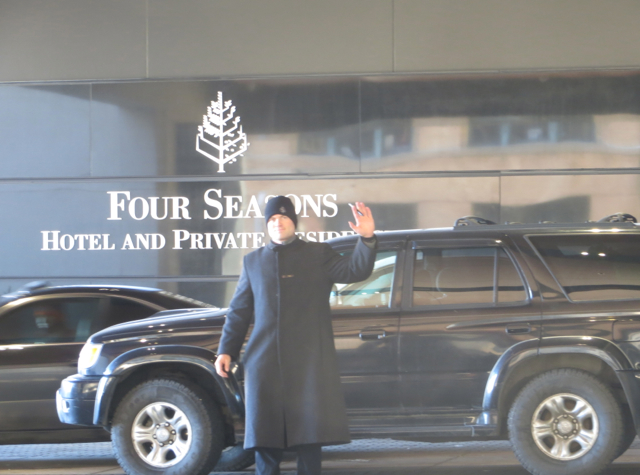 The Verdict
Both the munchkin and I enjoyed our room at the Four Seasons Denver even more than at the Ritz-Carlton Denver, thanks to its modern, up to date design and the wonderful kids' amenity of a tent in the room. I also loved the more spacious, light-filled lobby.
We didn't dine in the hotel, so can't comment on that, although I must say the smoky beef jerky that was part of our welcome amenity was delicious. There's no Club Level at the Four Seasons Denver, so from the perspective, I was glad two of our nights were on the Club Level at The Ritz-Carlton Denver given how convenient this was when we just wanted a quick bite without ordering and waiting for food at a restaurant or via room service.
The outdoor heated pool seems perfect for much of the year in Denver, but during the coldest periods, I preferred the indoor pool at FORZA, which serves the Ritz-Carlton Denver, and FORZA also has more extensive workout facilities, including a basketball court and climbing wall.
If you've stayed at the Four Seasons Denver, what was your experience?
Disclosure: I booked my stay with a travel professional rate.
Related Posts
Four Seasons Preferred Partner Benefits
Ritz-Carlton Denver Hotel Review
Club Lounge, Ritz-Carlton Denver Review
Fruition Denver Restaurant Review
Need Award Booking Help? Our fee is as low as $75 per ticket if you book your hotel through us.
If you enjoyed this, join 90,000+ readers: please follow TravelSort on Twitter or like us on Facebook to be alerted to new posts.
Become a TravelSort Client and Book 5-Star Hotels with Virtuoso or Four Seasons Preferred Partner Amenities!