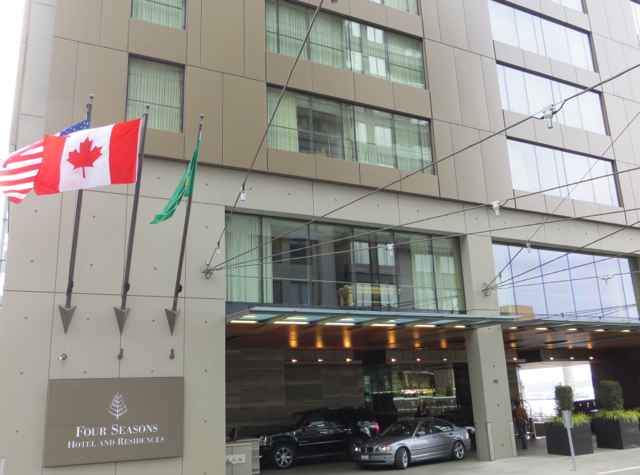 This Review of the Four Seasons Seattle Hotel is part of a trip report including Cathay Pacific First Class to Vancouver, plus reviews of luxury hotels, food, and family friendly things to do in Vancouver and Seattle. Related posts include:
Cathay Pacific First Class NYC to Vancouver
Four Seasons Vancouver Hotel Review
Chihuly Garden and Glass: Must-See in Seattle
The Four Seasons Seattle opened in 2008 and celebrates its 5th anniversary this year. While the hotel is a favorite among business travelers for its superb service, convenient downtown location and well appointed rooms, it also is incredibly child-friendly, so my son and I eagerly anticipated our stay.
We had stayed the prior night at the Grand Hyatt (review coming soon), so we simply walked a few blocks to the Four Seasons Seattle, which is at 99 Union Street and 1st Avenue. Pike Place is literally one block from the hotel, and we passed it on our short walk.
The doormen welcomed us and offered to assist with our bags, but since we were traveling light with just carry-ons, I thanked them and declined. We entered the lobby, which in addition to its comfortable seating offers a cozy fireplace just to the right of reception.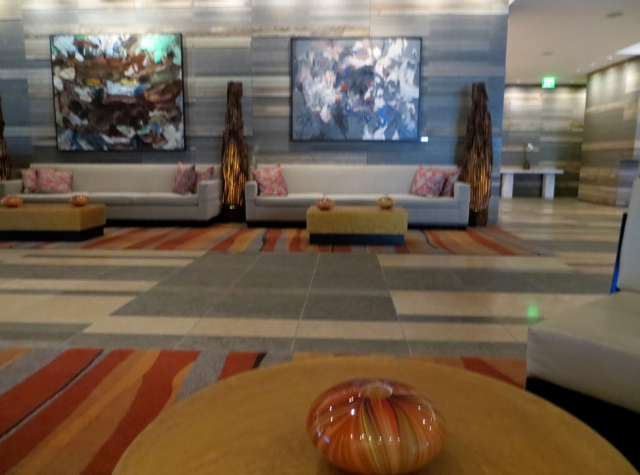 It was late morning, and I didn't expect to be able to check-in to our room, but while the munchkin had fun enjoying a behind the scenes tour of the kitchen (and even helping to make ice cream and cotton candy!) our room was readied and we were able to go up to it soon afterwards.
Entering, we were greeted by the luxury of space. On the left was a small table with a glass sculpture, and the in-room bar:
We were in a Deluxe Bay View Room, which ranges from 470-660 square feet, and there was ample room for a king bed and a rollaway, lounge chair, and desk, all with a view of Elliott Bay and the Seattle Great Wheel (ferris wheel). Here's the view, which offered great natural light even on an overcast day: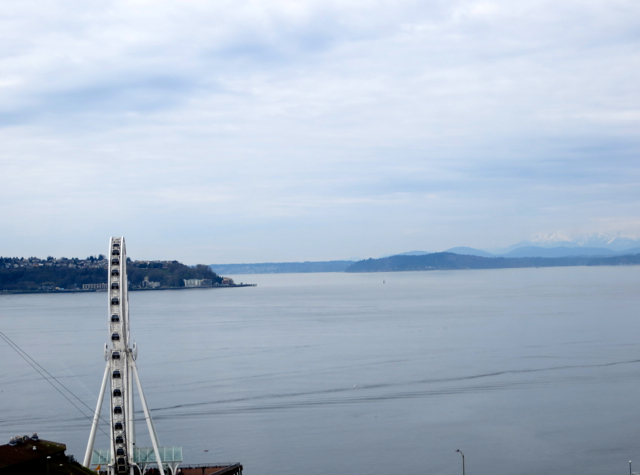 The king bed looked so inviting I would have been tempted to take a long nap, if I hadn't had the munchkin with me and had several activities scheduled for the afternoon: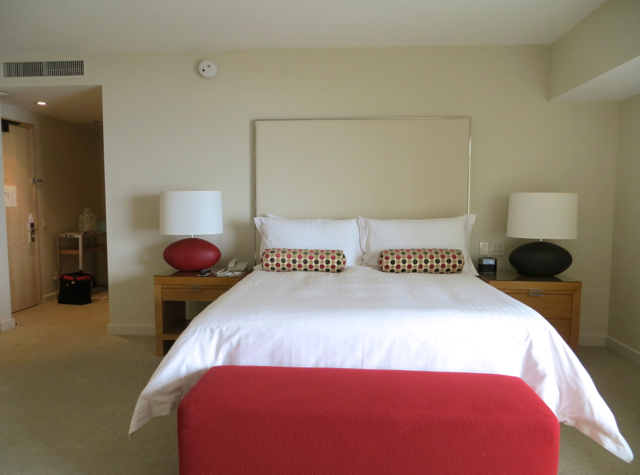 On the desk, there were some thoughtful gourmet treats as a welcome amenity, both for me and for the munchkin. I loved the fact that these were healthful treats of fresh fruit and cheddar popcorn, and that the fruit puree provided for my son was organic.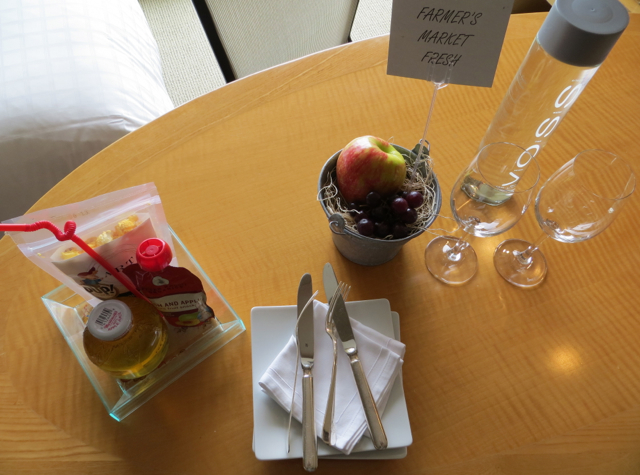 While as usual we didn't use the large flat screen TV or DVD player, there were a number of films, including children's favorites, available from the Concierge for complimentary use during your stay. While we were lucky with the weather, I could imagine enjoying a cozy stay with a good film, room service, and some time by the fireplace (if drizzly out) or out on the terrace by the firepit if merely chilly, perhaps roasting some marshmellows.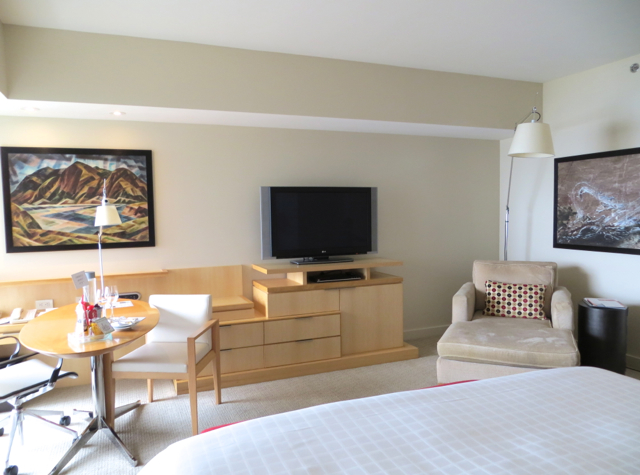 The marble bathroom featured one of the deepest soaking tubs I've seen, a separate glass enclosed rain shower, separate toilet chamber, and a small TV screen inset into the mirror, similar to what we had at The Setai Fifth Avenue: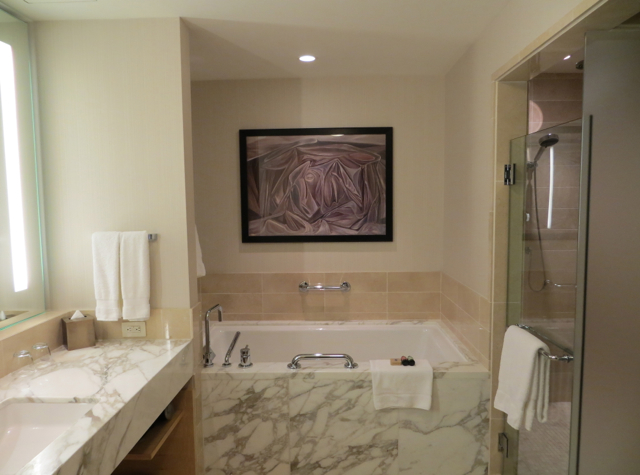 Bath amenities, as is typical for most Four Seasons properties, were L'Occitane. Some of my favorite, which I wish a number of other hotels would upgrade to.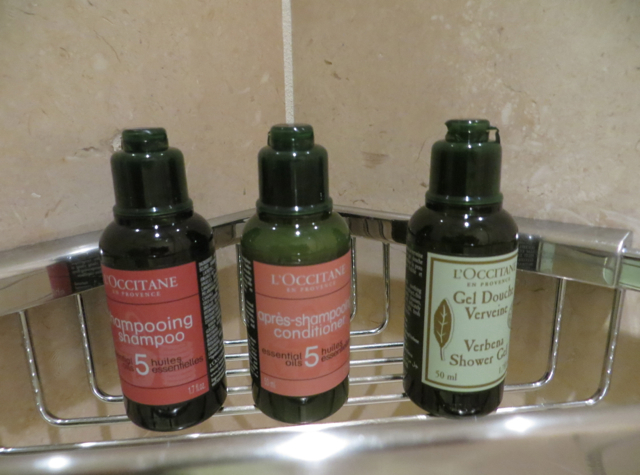 We could actually view the 4th floor terrace from our room, where there's a heated infinity swimming pool, jacuzzi, and a fire pit, all with a sweeping view of Elliott Bay. Perhaps because it's only late March and chilly outside, we were the only souls we ever saw using them: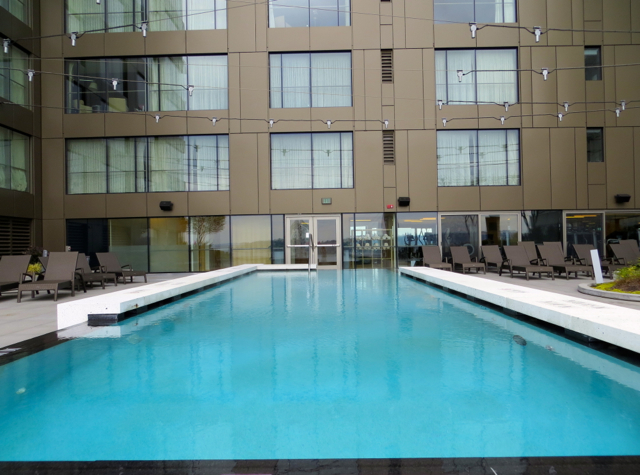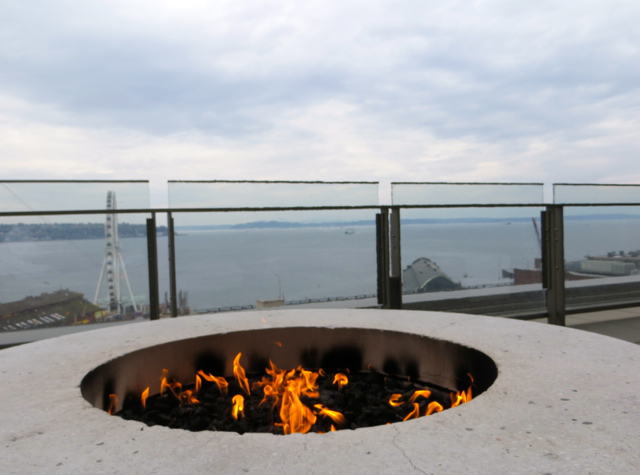 The Fitness Center is also on the 4th Floor, looking out to the terrace and Elliott Bay beyond: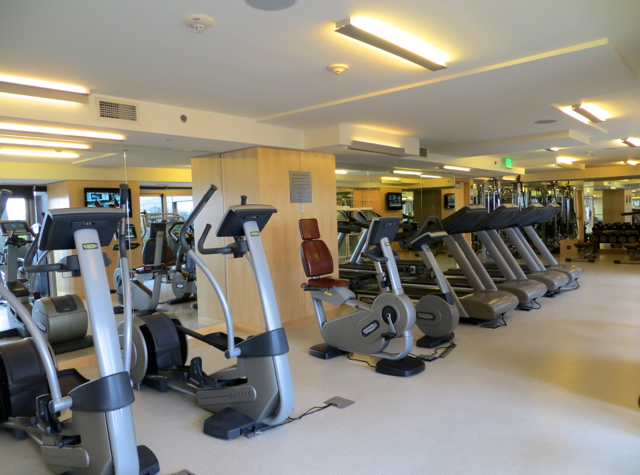 While I didn't have time to have a spa treatment, there's a full range of treatments offered, from Thai, deep tissue, and aromatherapy massages to microdermabrasion, peels and ultrasonic exfoliation facial treatments.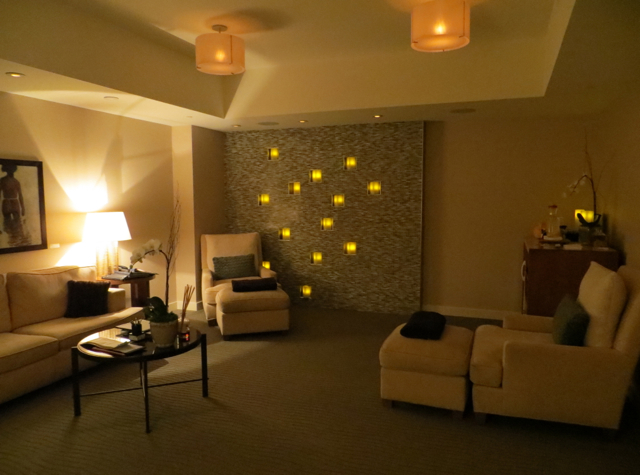 There's a house car service for the downtown area, and we were able to take advantage of this to get to the Chihuly Garden and Glass exhibit. If you hope to use the service, be sure to allow extra time, in case other guests are using it, and check whether your destination is served: I asked about getting to a camera store that is within the same distance of the hotel as is the Seattle Center, but the response was that the house car didn't serve that location and a taxi would be required (and I found taxis more expensive within Seattle than in NYC).
The Verdict: Seattle doesn't offer many luxury hotel options, so the Four Seasons Seattle is in the fortunate position of being able to command a price premium given the very limited competition. For a special occasion or high-end business stay, it's the hotel of choice.
As an urban hotel and still quite a new hotel, at only 5 years old, the rooms are not only spacious and modern, but immaculate. Service was for the most part excellent and friendly. Early check-in was much appreciated, especially when traveling with a child, and the kid amenities will put a smile on most any kid's (and parent's) face: a cute stuffed animal, child-size bathrobe, some delicious (and organic) welcome treats, and a kids' menu and activity book at ART Restaurant (review to come). The 4th floor terrace with its outdoor pool and jacuzzi is the only one of its kind among downtown Seattle hotels, and great to come back to after a long day of meetings or adventuring.
The only area I would wish some improvement on is the house car service, since the radius seemed inconsistently applied and unduly rigid. Given the sorry state of public (or at least bus) transportation in Seattle and a couple experiences with dishonest taxi drivers, an enhanced house car service that is more akin to that offered by The Setai Fifth Avenue rather than the limited version offered by W Hotels, would be a huge plus.
If you've stayed at the Four Seasons Seattle, what was your experience?
Disclosure: My family and I were guests of the Four Seasons Seattle, however the views expressed in this post are my own.
Related Posts