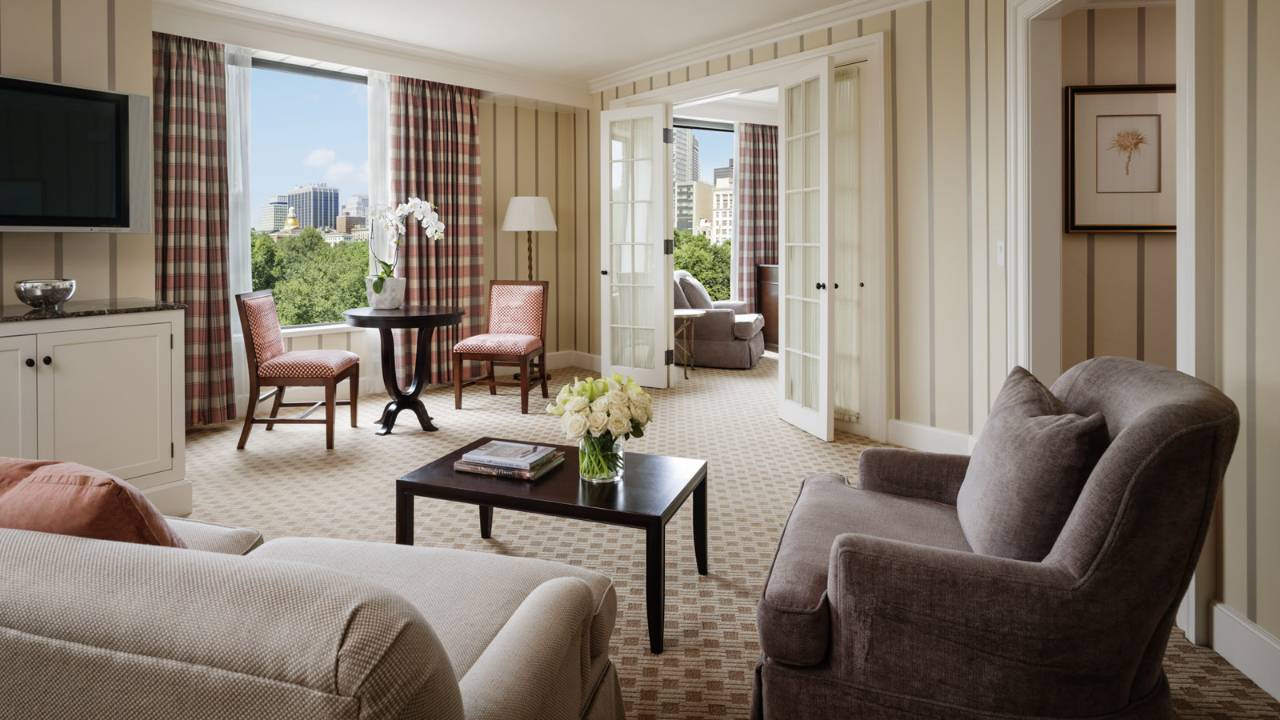 The Four Seasons Boston is the only Boston 5-star luxury hotel with its own swimming pool and jacuzzi, making it a favorite for both couples and families, so we were thrilled to be able to spend Christmas at the hotel after festive holiday celebrations with family.
Four Seasons Boston Location, Check-In and Lobby
Since we spent all day with family, we didn't arrive at the hotel until close to 7pm. I always feel badly for those working on a major holiday, but we were greeted warmly and cheerfully both by the doormen and by the team members at the reception. They even gave the munchkin a cute baby tiger stuffed animal as a kids' welcome amenity, which he adored and went to sleep with: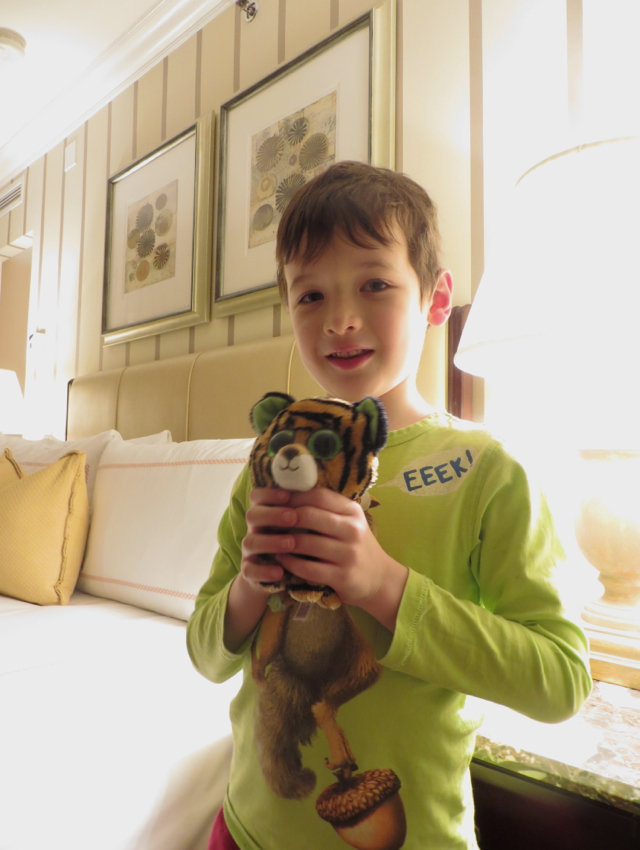 We were also lucky enough to be upgraded from the Executive Suite we'd booked to a spacious State Suite on the 8th floor, with a view of Boston Common and the State House. We couldn't wait!
On the way to the elevator, we passed through the festively decorated lobby: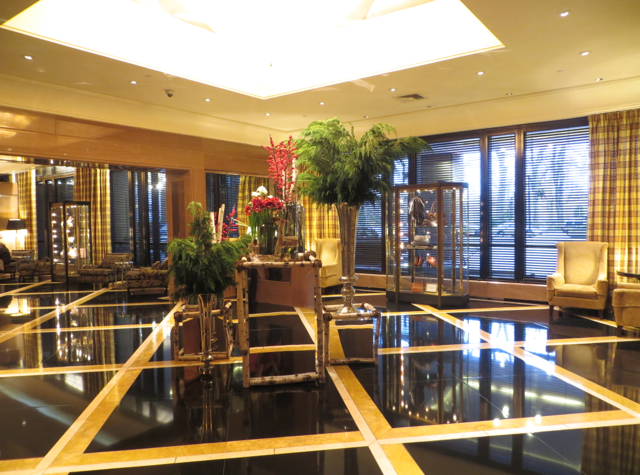 Especially striking was the Teddy Bear Tree: every December, the Four Seasons Boston collects new teddy bears to give to children in need, distributed through local non-profits and hospitals.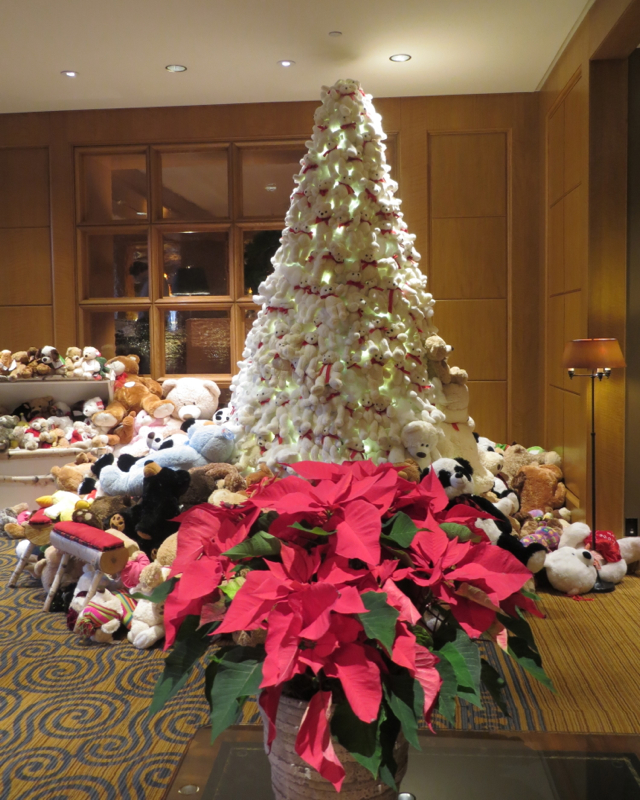 Four Seasons Boston State Suite
The eighth floor is also where the fitness center, swimming pool and jacuzzi are, so it was all we could do to steer the munchkin (even in his tired state) right, toward our State Suite, instead of left, toward the pool. We convinced him there would be plenty of pool time tomorrow, and eventually got him to our room.
Since we arrived at night, we enjoyed the view of the city lights, illuminated State House, and trees decorated with fairy lights: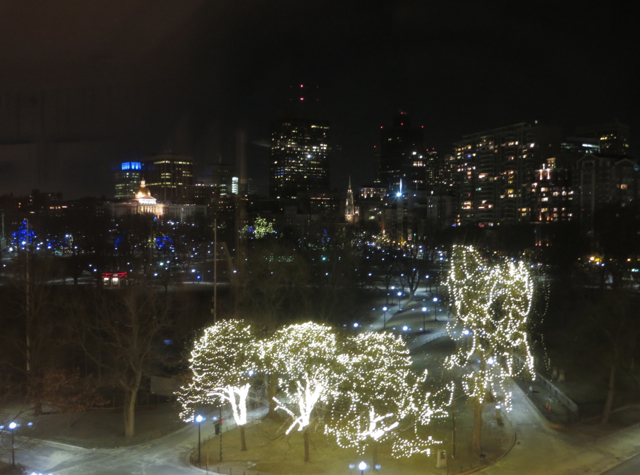 At 900 square feet, the State Suite is wonderfully spacious for a couple or family. As you enter, there's a half bathroom on the left, convenient if you're entertaining in the living area or if your child is sleeping in this area, since the bathroom is right there and there's no need to traipse through Mom and Dad's room.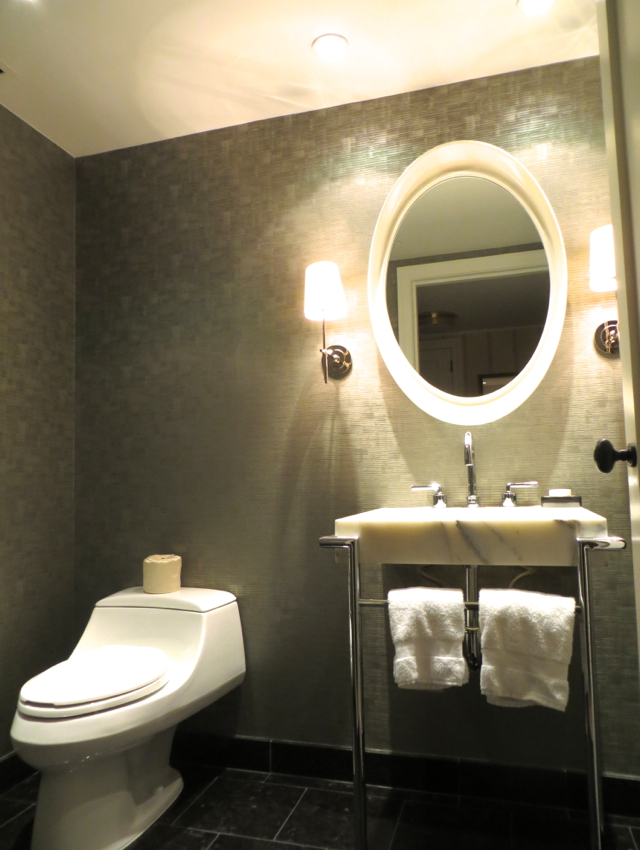 I loved the orchids in the living room–so few U.S. hotels seem to put flowers in their rooms and suites these days, and as I noted in my Four Seasons Paris George V review, flowers really add so much to a room or suite.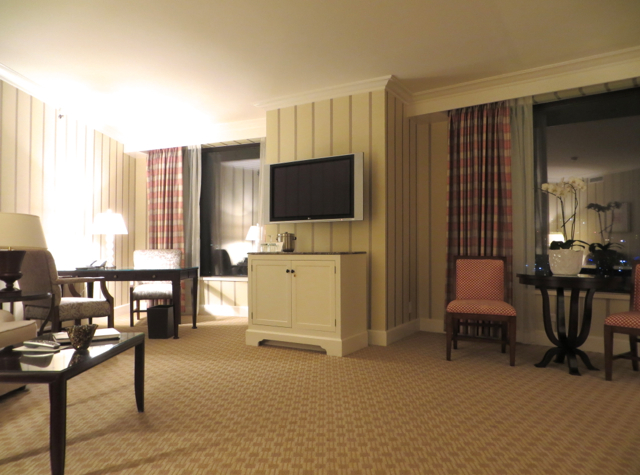 The minibar had all of the usual suspects, although we didn't have occasion to use it: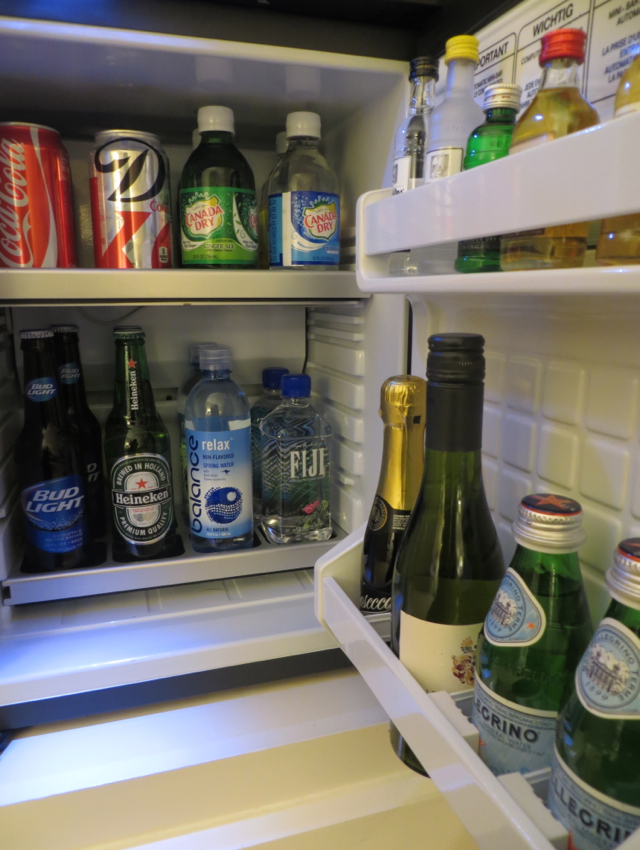 Our bedroom had that quintessentially comfortable Four Seasons King bed. Whereas our first night was spent at a relative's apartment and my husband tossed and turned, not being able to get comfortable, both of us slept incredibly well in the Four Seasons bed. When you really need a good night's sleep (and isn't that the most important aspect of a hotel after all?) the Four Seasons never fails to deliver.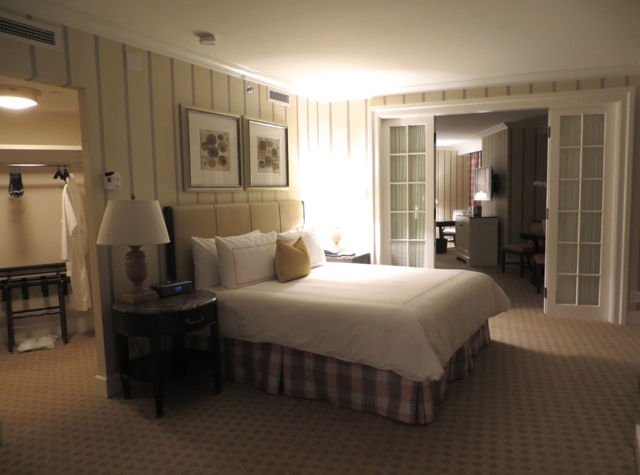 Had we been more rested, we would have made use of the flat screen TV to watch a movie (and having a suite is such a great excuse for that, since you can put your kid to bed and stay up for a bit) but as it was, we just went straight to sleep.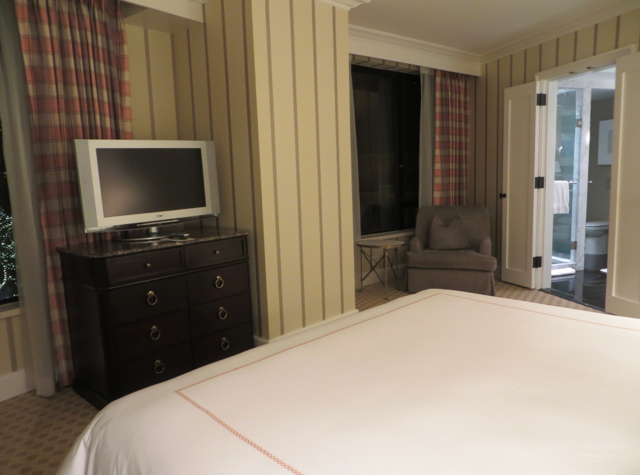 To the side of the bed was a walk in closet, with plenty of space for our bags, a bathrobe, bath slippers, and also an outlet to charge our devices: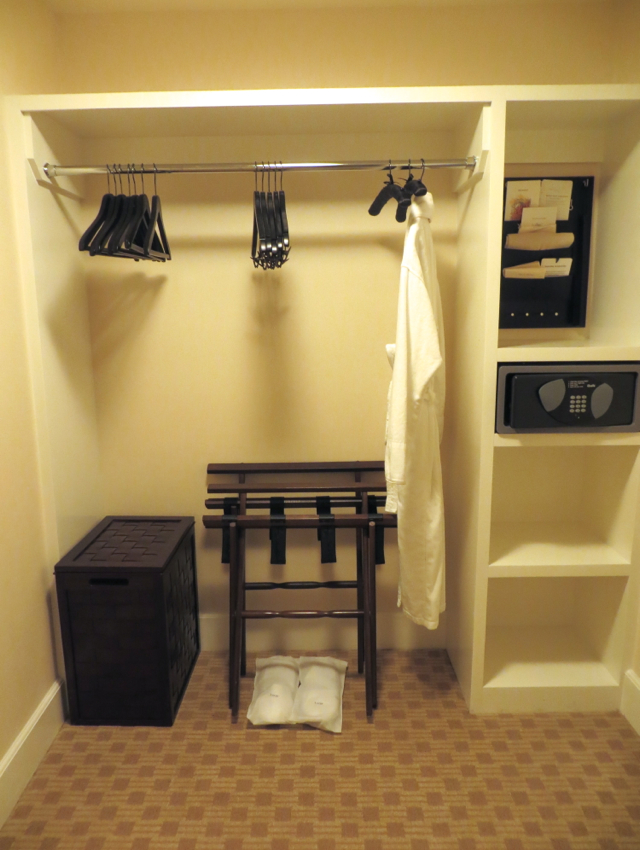 The full size bathroom included dual vanities (or "his and hers sinks" as they're also called) which I always find more convenient. Thanks to the half bathroom, everyone had their own sink, in case we all wanted to brush our teeth at exactly the same time 🙂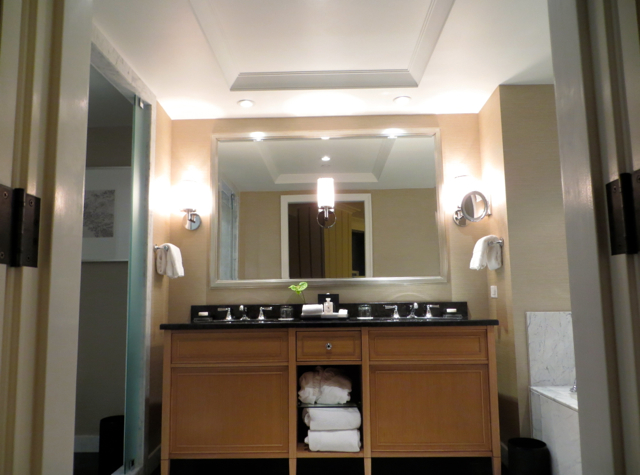 There was a generously sized marble bath, which is an important feature for families with young kids (mine still hates showers).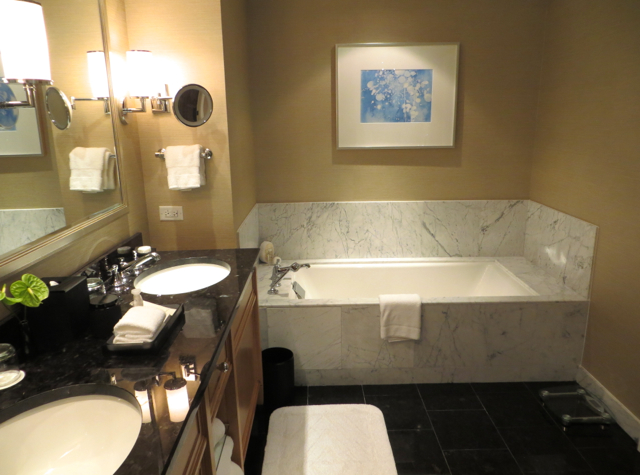 The separate rain shower had great water pressure, and I loved the Bulgari bath amenities. There's been a trend among many hotels toward cost cutting and cheapening the bath amenities (which at least for me is one of the first things I notice when entering a hotel bathroom), but fortunately the Four Seasons properties I've been to all continue to offer either L'Occitane or Bulgari.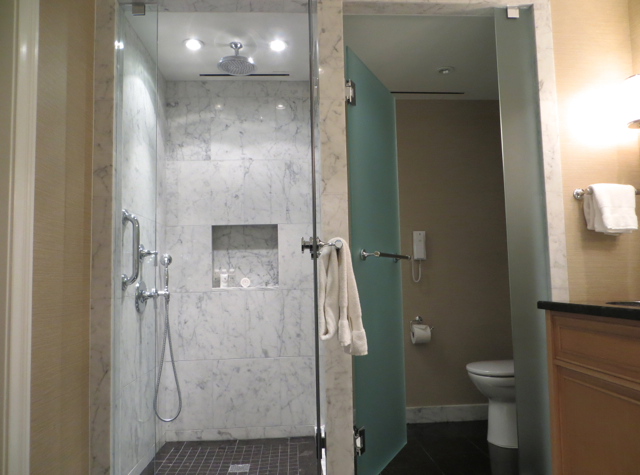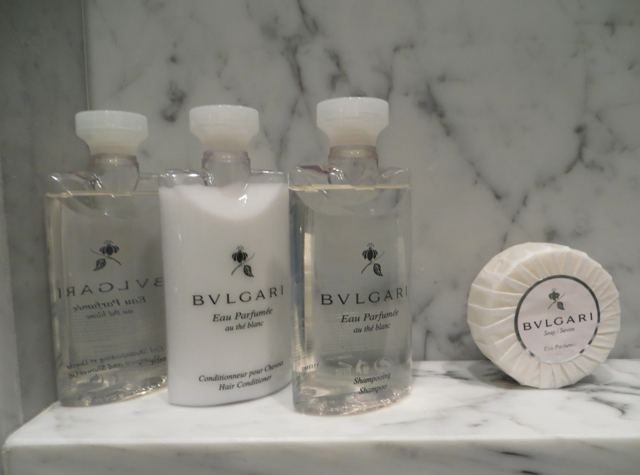 Thanks to all the available space in the State Suite, the next day, the munchkin lost no time in setting up his favorite Christmas present: wooden train tracks and his trains!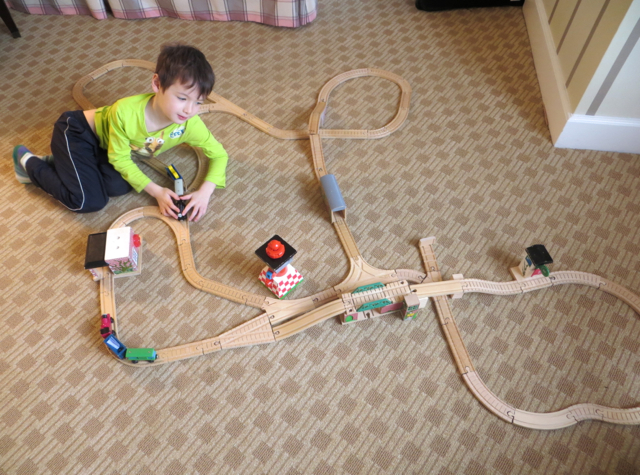 Fitness Center and Swimming Pool
You won't find a swimming pool if you stay at Boston's other 5-star luxury hotels such as the Mandarin Oriental Boston, and in my view the Ritz-Carlton Boston Common doesn't count because it doesn't have its own dedicated pool; it's really the pool of the The Sports Club/LA, so you have to share it with all that club's members.
The Four Seasons Boston Pool is only for guests, so it's easy to have a tranquil early morning or late night lap swim. Of course, when families are awake, kids happily are enjoying the pool, and the munchkin would have spent another hour in it if we'd had time, playing with the supplied foam "noodles."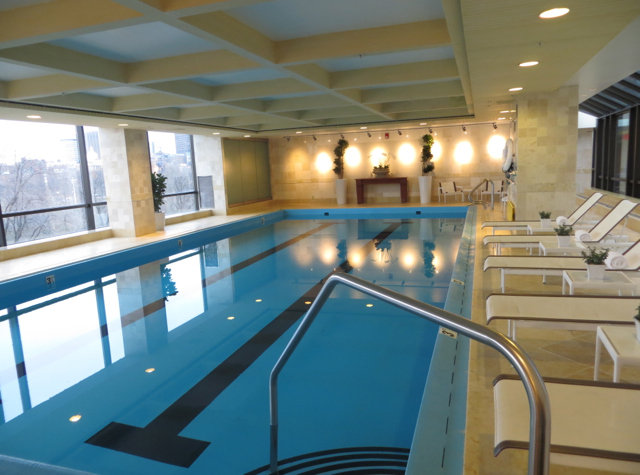 Later that morning, the munchkin loved all the bubbles in the jacuzzi, which was well heated. So many hotel jacuzzis I've encountered only have tepid water, so I was happy that this one was actually a hot tub: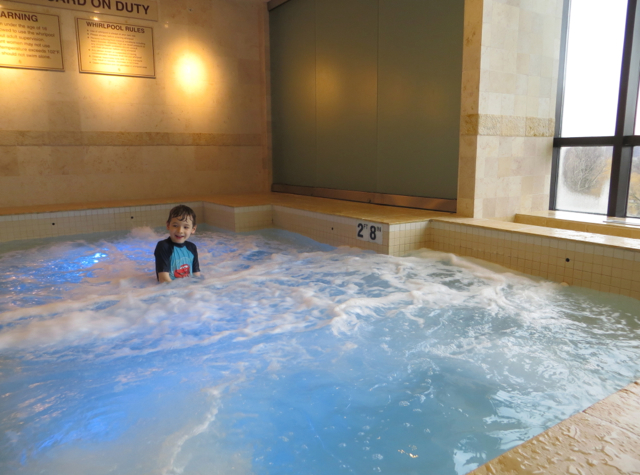 Another perk of swinging by the pool in the morning is that complimentary regular and decaf coffee as well as tea and fresh fruits are available to guests: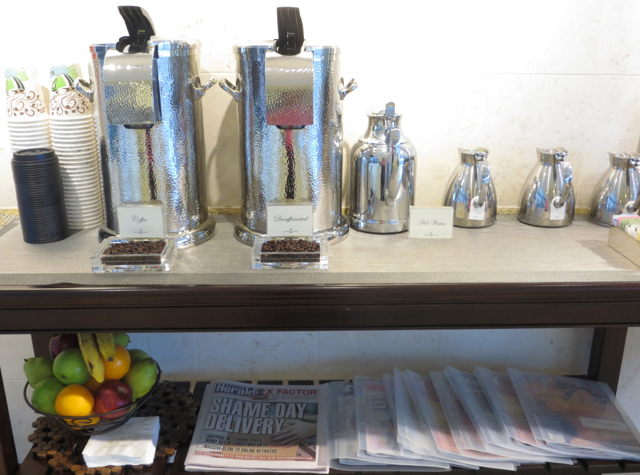 The fitness center is well equipped, although as there were a number of other guests working out I only was able to get this photo of it.
There's also fruit infused water and apples, as refreshments after your workout: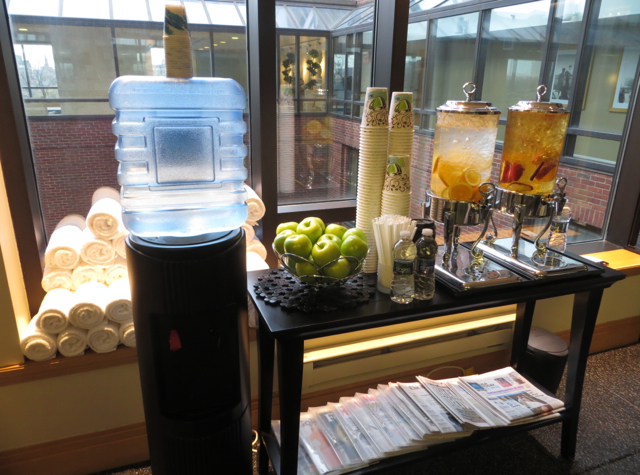 We also had a hearty breakfast in Four Seasons Boston's Bristol Lounge restaurant, which I'll review in a future post.
The Polar Express
We had a magical taste of the Four Seasons Boston's Polar Express package for families, themed from the beloved children's book and Caldecott award winner The Polar Express, by Chris Van Allsburg. Check out the mini Polar Express train under the hotel's grand staircase: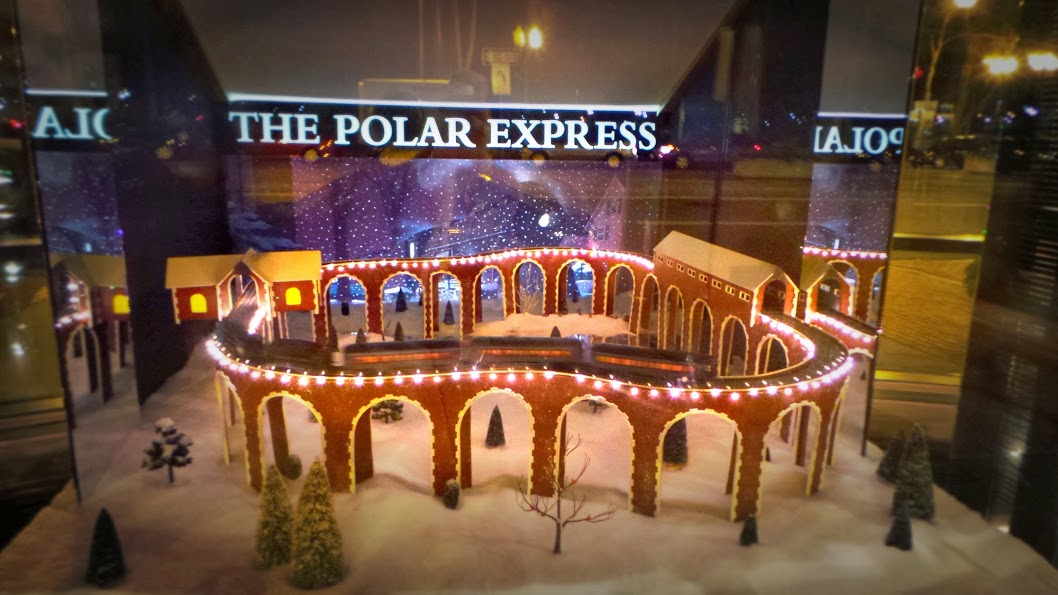 And the munchkin was awed and delighted when this table, containing the Polar Express book, cupcakes, pastry icing in a sleigh and all kinds of decorating sugars, candy canes and edible decorations was wheeled in!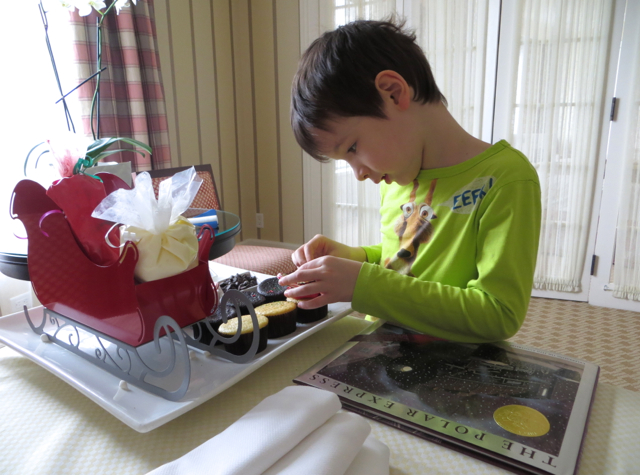 Here's just one of his over the top decorated cupcakes: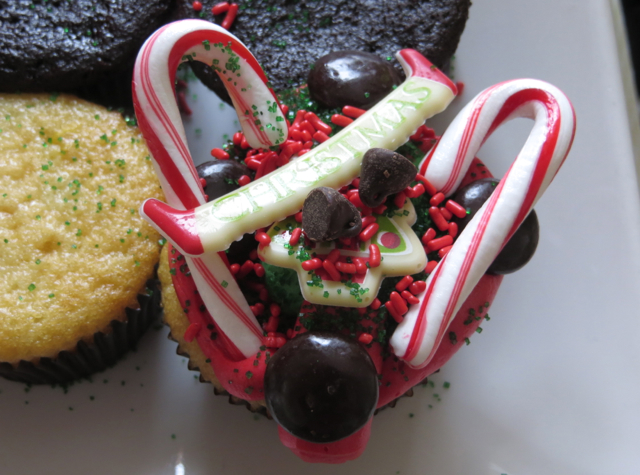 Four Seasons Preferred Partner Amenities
Daily full American breakfast for two people per bedroom, served through In-Room Dining or in The Bristol Lounge
Food and beverage credit of $100
Upgrade of one category, based on availability at time of check-in (excluding signature suites)
Complimentary high-speed Internet
The Verdict: The Four Seasons Boston was the perfect mini winter getaway for us. While we were there, my husband's brother and his son dropped by to visit us, and just seeing the hotel, our State Suite and the swimming pool, with its view of Boston Common, made them say that they wished they were taking a vacation in February, during the kids' spring break. And the munchkin's cousin commented that he wanted to move into the hotel 🙂
While we loved watching swirling snow while cozily ensconced in the jacuzzi, I can only imagine how beautiful the views of Boston Common and the Public Garden are during the spring and summer months–it's no wonder that I've seen a couple glowing reviews of the State Suite by newlyweds, staying there for their honeymoon.
Have you stayed at the Four Seasons Boston?
Disclosure: I paid for our stay at the Four Seasons Boston with a media rate, and received a complimentary upgrade.
Related Posts
Review: Fairmont Copley Plaza Boston
European Charm, Cozy Cafes and Romantic Walks in Boston
10 Places to Satisfy Your Sweet Tooth in Boston
InterContinental Boston Hotel Review
Need Award Booking Help? Our fee is as low as $75 per ticket if you book your hotel through us.
If you enjoyed this, join 200,000+ readers: please follow TravelSort on Twitter or like us on Facebook to be alerted to new posts.
Become a TravelSort Client and Book 5-Star Hotels with Upgrades, Complimentary Breakfast and Other VIP Amenities!