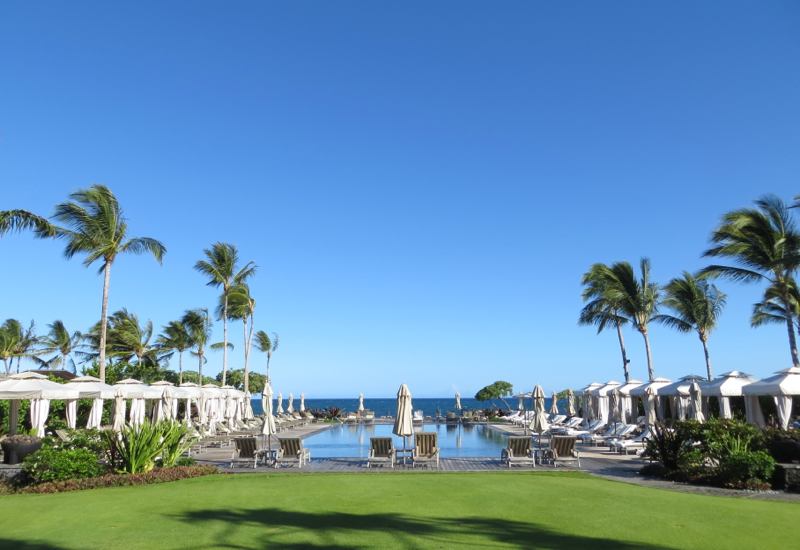 This Four Seasons Hualalai Review describes why I consider Four Seasons Hualalai the best luxury resort in Hawaii (along with the newly renovated Four Seasons Lanai) and how to reserve it with Four Seasons Preferred Partner benefits, which include top priority for an upgrade and other perks.
For prior posts in this trip report, please see:
Alaska Airlines First Class Review
Alaska Airlines Board Room Seattle Lounge Review
Alaska Airlines First Class to Hawaii
Hyatt Place Waikiki Beach Review
Andaz Maui at Wailea Suite Review
Ka'ana Kitchen Review and Andaz Maui at Wailea Dining
Mama's Fish House Review in Paia, Maui
Four Seasons Resort Maui at Wailea Review
Breakfast at DUO at Four Seasons Maui at Wailea
Hawaii Volcano Treehouse Review
Hawaii Volcanoes National Park Review
Kilauea Lodge Restaurant Review
Punalu'u Black Sand Beach Photo Tour
TravelSort Clients may book Four Seasons Resort Hualalai with Four Seasons Preferred Partner (FSPP) benefits. I always recommend that when booking a Four Seasons property, you book with preferred partner amenities, since FSPP upgrades are prioritized ahead of all other upgrades, such as Virtuoso, AMEX Fine Hotels and Resorts, etc.
Also be sure to check with us if there is an Experience More offer for your stay dates, since sometimes Hualalai does offer additional resort credit, which is combinable with Preferred Partner perks.
Upgrade of one category, based on availability at time of check-in (excluding signature suites and villas)
Daily full American breakfast for two people per bedroom, served through In-Room Dining or in the hotel restaurant (including buffets)
Food and beverage credit of USD100
Complimentary basic Internet access for up to two devices
Four Seasons Resort Hualalai Location, Lobby and Check-In
Four Seasons Resort Hualalai is located at 72-100 Ka'upulehu Drive in Kailua-Kona, about a 10 minute drive from the Big Island's Kona Airport (KOA). Look for mile marker 87, and soon after you'll see the Four Seasons Resort Hualalai sign. And fortunately, if you're driving at night, it's illuminated, making it easy to spot.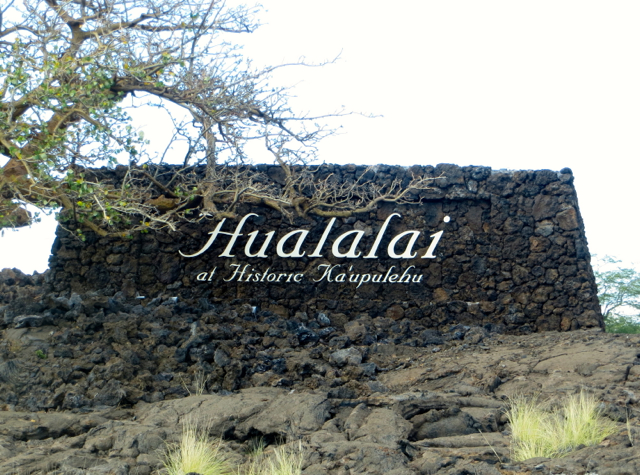 Although we used valet parking for convenience, which is $20 per night, there is also complimentary self parking for guests, which is a great option that is not available at either the Four Seasons Maui at Wailea or the Andaz Wailea.
We were greeted on our arrival with leis, and escorted to a comfortable sofa in the lobby to complete our check-in, along with refreshing cool towels, welcome drinks and fresh pineapple (note that once again, I wasn't fast enough snapping a photo before my husband and the munchkin managed to drink most of their drinks).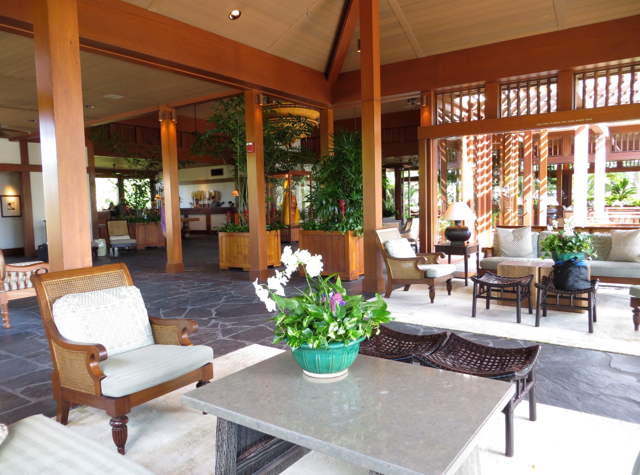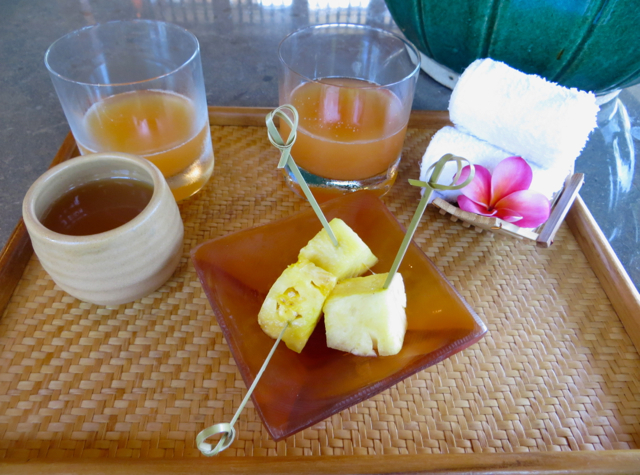 Four Seasons Hualalai Prime Ocean View Room
Our Prime Ocean View Room was spacious, at 635 square feet, with plenty of room for all three of us with the included King bed and a complimentary extra bed for the munchkin. The bed of course was perfect, and we got great sleep.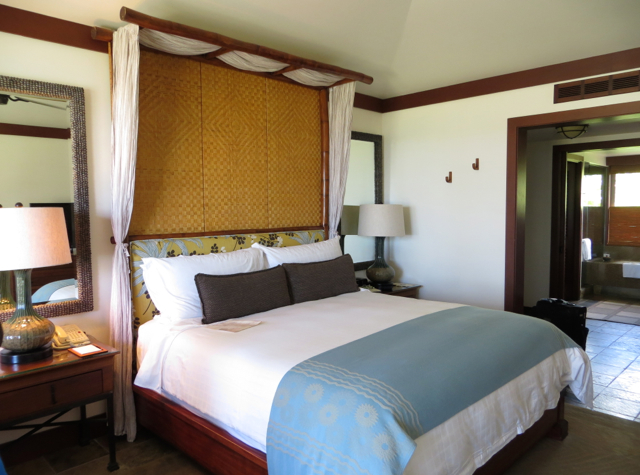 There was a signed welcome note from the General Manager, Robert Whitfield, along with a lovely fruit bowl that included lychee, oranges, apples and a banana, and also bottled water.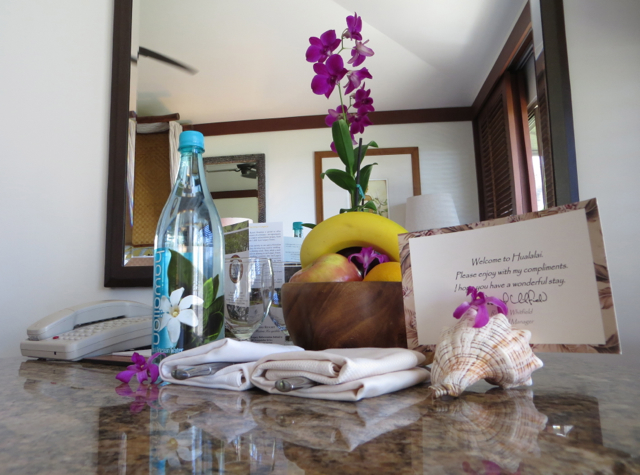 The munchkin was thrilled with his welcome amenity: a Four Seasons Hualalai turtle, and a swimming red squid that he had a blast chasing around in the Sea Shell Pool, both carefully arranged on his bed along with a child size bathrobe and slippers.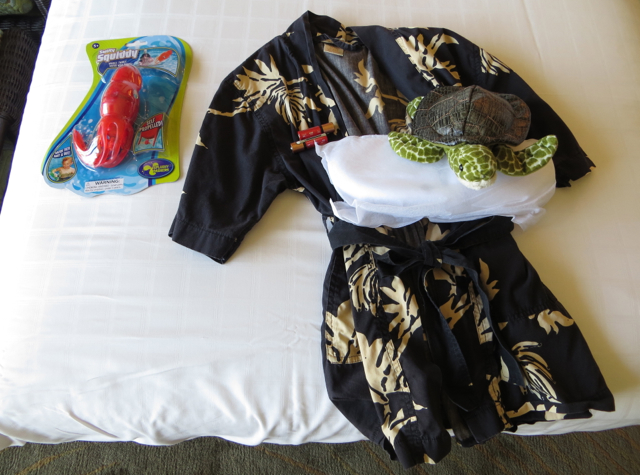 That night, the munchkin couldn't have been happier with his new turtle friend: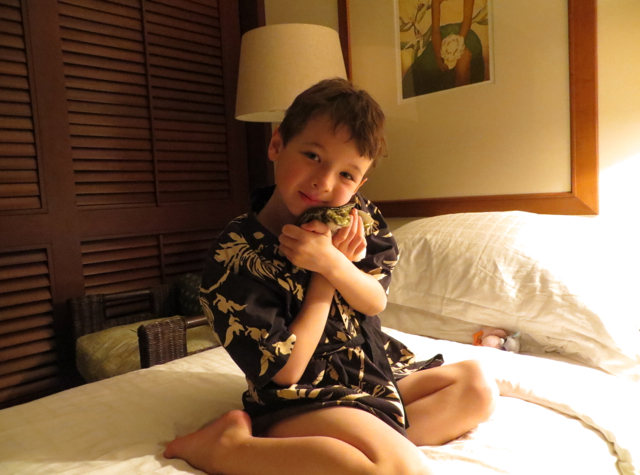 We were happy to be near the adults only Palm Grove Pool, since we knew it would be pretty peaceful when outside on our private lanai, but families with young kids will likely want to be closer to the Sea Shell Pool, which is for families and is also closer to the restaurants. Here's the view from our lanai: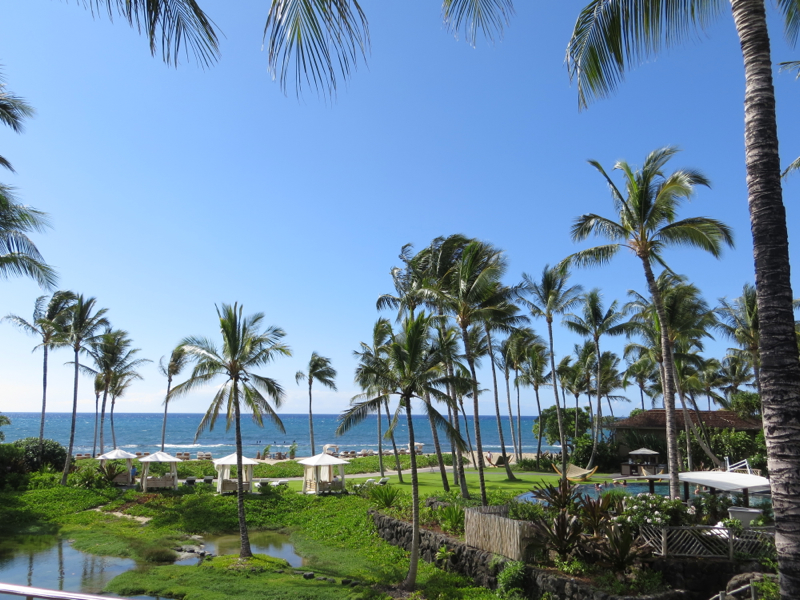 The bathroom featured double vanities, a soaking tub, and glass enclosed walk-in rain shower. There was a cute Aloha greeting written on the tub that the munchkin liked so much, he tried his best to preserve the writing throughout our stay.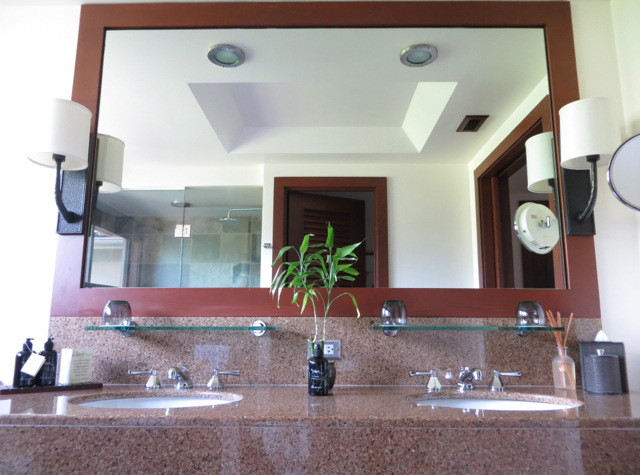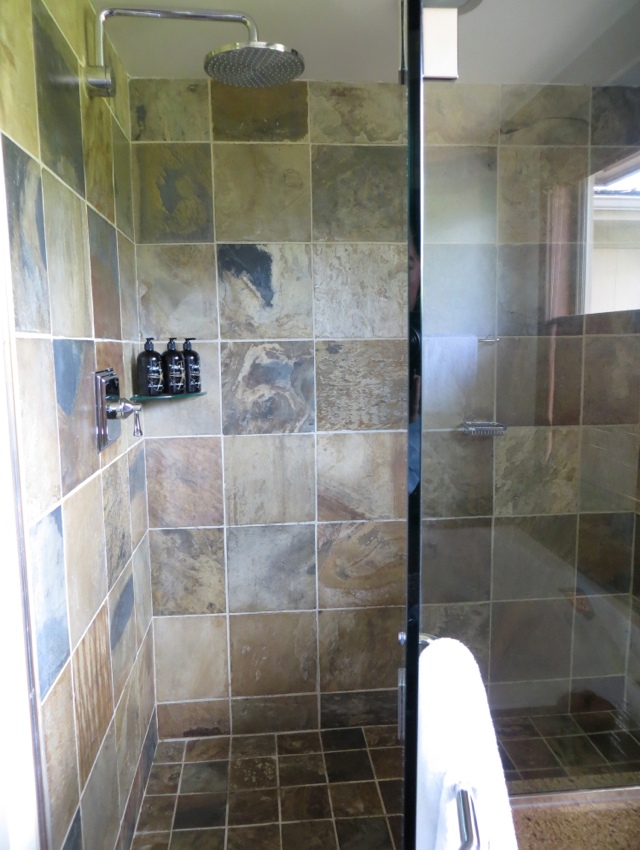 Organic bath products are by the Kawili Project, and include indigenous herbs, flowers, essential oils, Kona coffee and macadamia nuts. While I was a little skeptical since the large containers don't exactly exude luxury, the shampoo and conditioner were fantastic.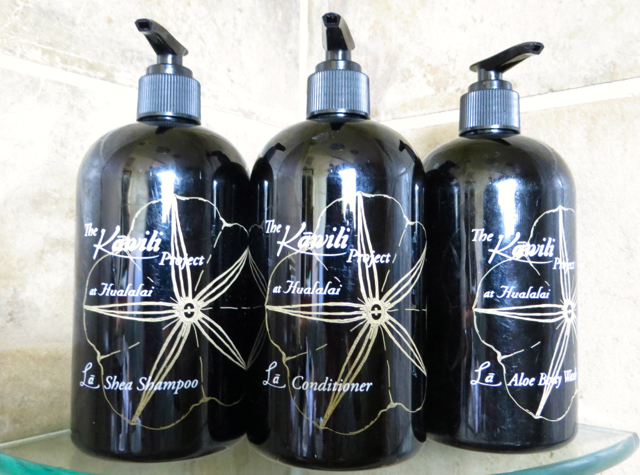 There's a Cuisinart coffee maker and mugs in the room, but I didn't use them since I enjoyed coffee as part of our breakfast each morning at 'ULU.
There were bathrobes in the walk-in closet, along with a beach bag for use during our stay. As at the Four Seasons Maui, there was even Woolite to rinse out bathing suits–love this attention to detail!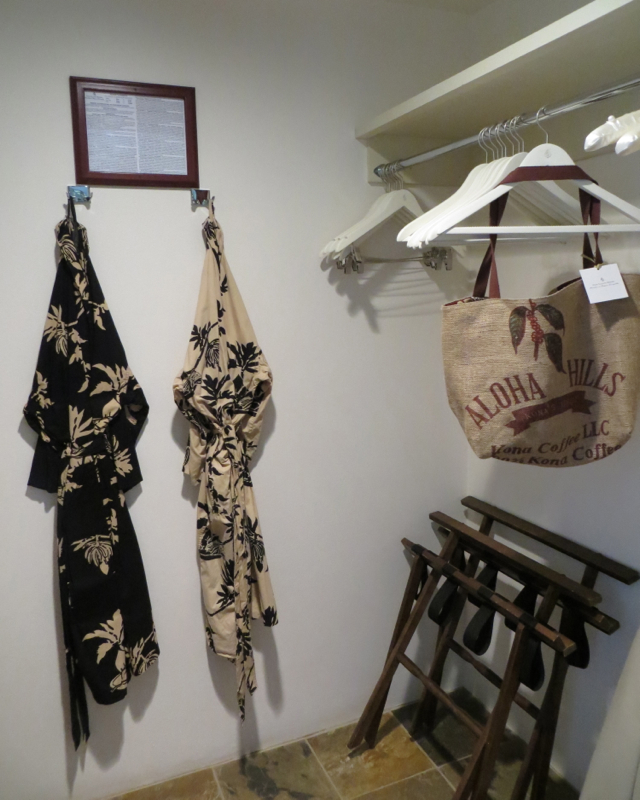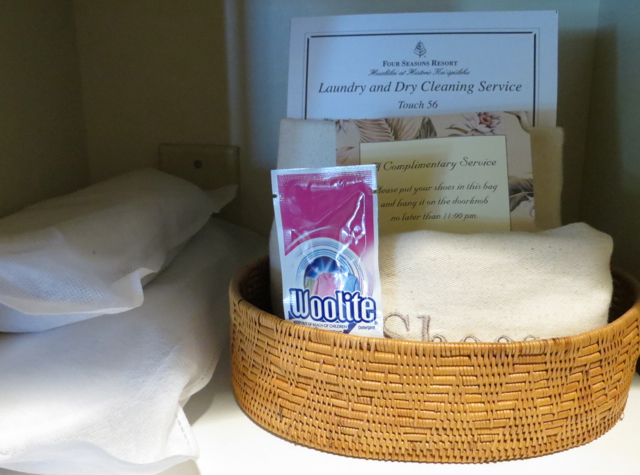 Nor was hand washing the only option. Just next door (and dotted all over the property, for guests' convenience) were laundry rooms with large washers and dryers and laundry detergent, all free for guests' use. I never had to wait to do laundry, and even over a 3 night stay, we did 3 mini loads of laundry. There's no need to pack many clothes if you're going to Hualalai, given the ease of doing laundry.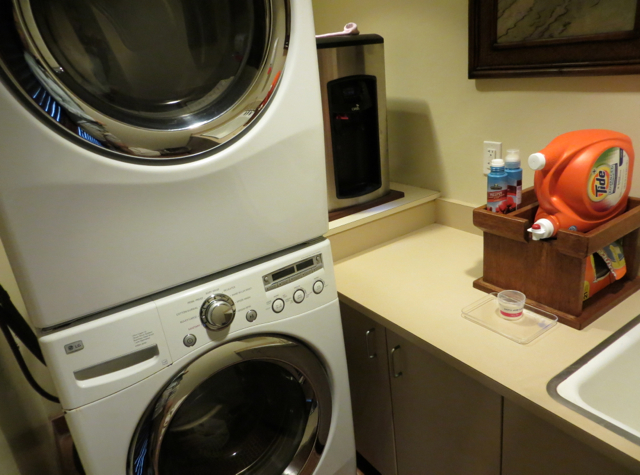 Four Seasons Hualalai Crescents and Swimming Pools and Beach
The Four Seasons Hualalai takes a fantastic approach: instead of a tall high rise, all the rooms are part of two story bungalows, nestled around four crescents close to the shoreline, each with a different pool. Here's a Four Seasons Hualalai map, showing the crescents: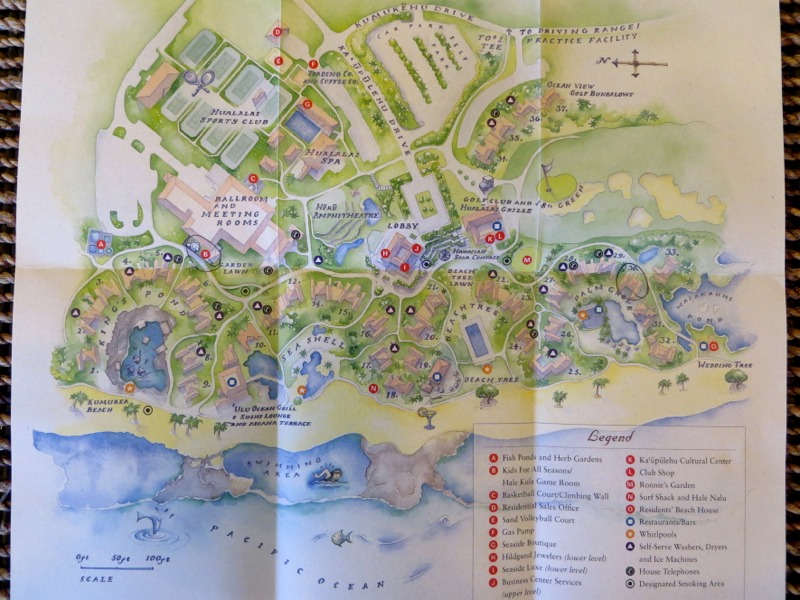 As you can see, there 4 major pools for the 4 crescents, plus there's the Lap Pool at the health club and the small Keiki Pool near the Sea Shell Pool.
The Palm Grove Pool is adults only, so honeymooners, couples celebrating anniversaries, and parents looking for a bit of couples only time while their kids are at the Kids for All Seasons kids club can enjoy a pool with no kids.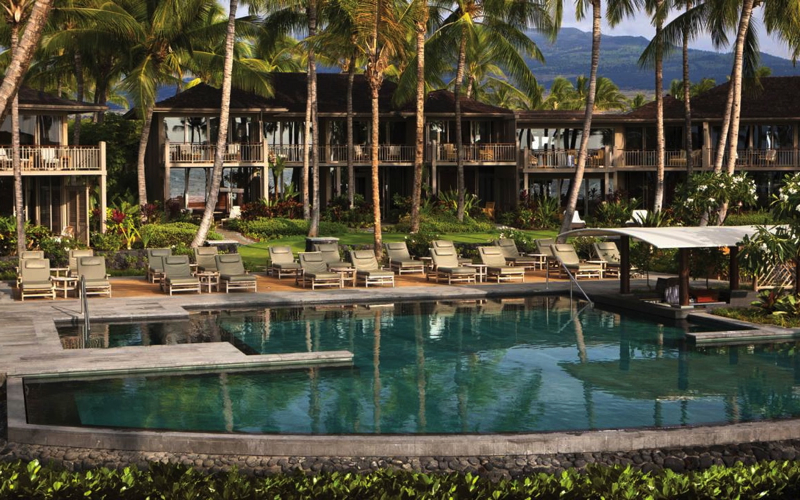 The Beach Tree Pool is not adults only, but it is a quiet pool, which applies to both adults and kids, so anyone wanting the serenity of hearing the ocean while napping or reading a good book by the most scenic pool of the resort should be happy here.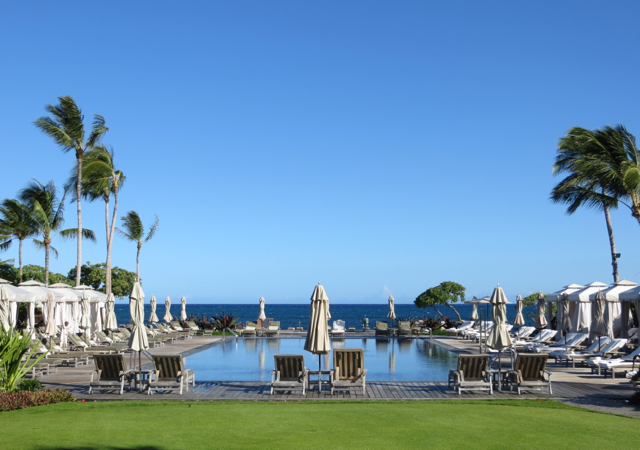 The Sea Shell Pool is the family pool–you have been warned! But more seriously, at least when we were there, while popular and with quite a few families and kids, it didn't feel overly crowded nor was it that noisy.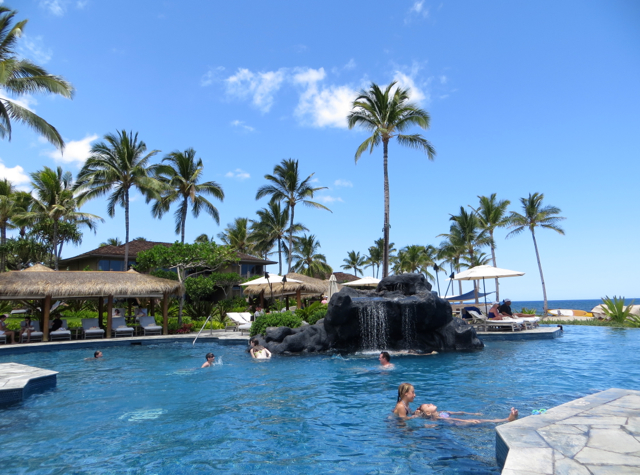 Of course, since this is the Four Seasons, a nice perk was that as you were relaxing after a swim, a friendly attendant would come by with ice water and complimentary treats such as chilled pineapple.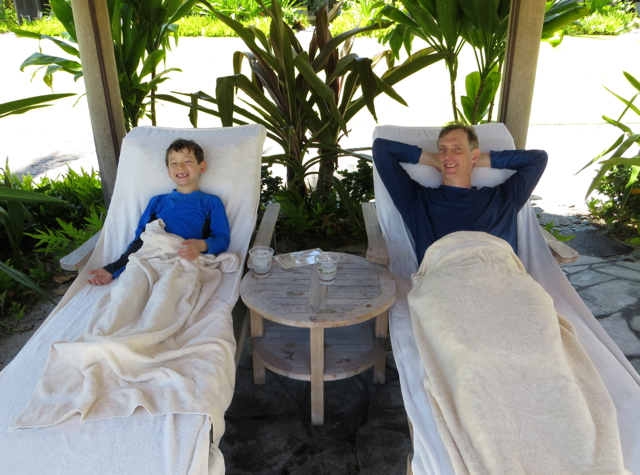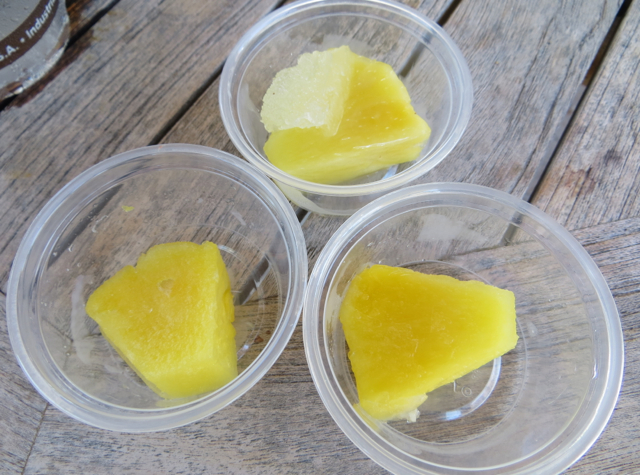 There's also a jacuzzi whirlpool that all of us loved, also because it was shaded so we could take our hats off and not worry about getting sunburned.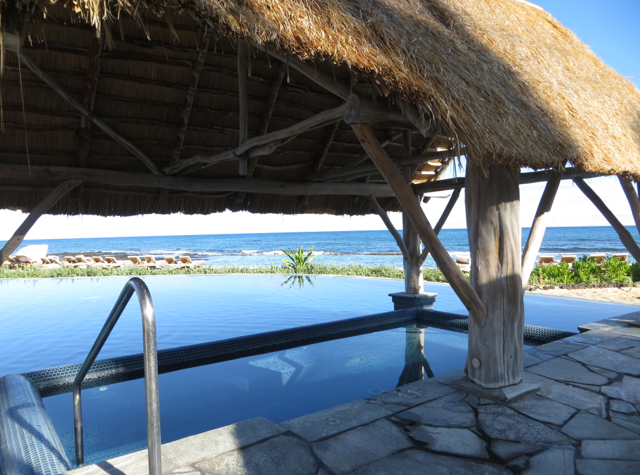 Behind the Sea Shell Pool is the Keiki Pool, the perfect pool for very young children, since it's shallow.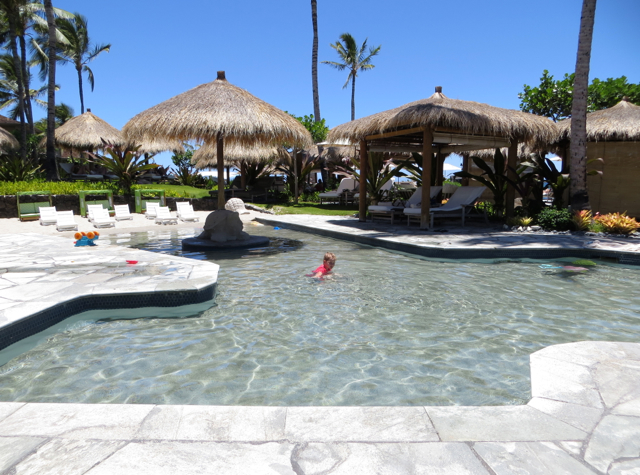 The final crescent is occupied by Kings Pond, an utterly unique "aquarium" carved out of lava rock with over 3000 fish and a spotted eagle ray that you can swim and snorkel with. We loved swimming in Kings Pond, and I attribute the munchkin's greater willingness to swim underwater to Kings Pond. Before this trip, he enjoyed pools, but not swimming underwater.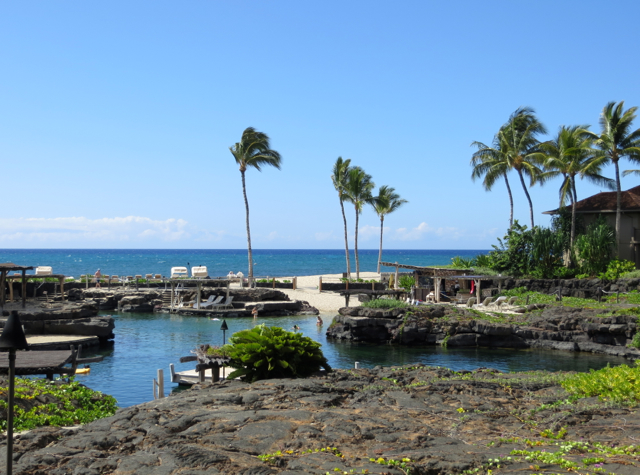 The Four Seasons Hualalai is beachfront with some white sand beach, and I did see some guests in the water, but it's quite rocky here so this is not the best place on the Big Island for ocean swimming. There are plenty of sun loungers, however, if you prefer to lounge with a direct view of the ocean.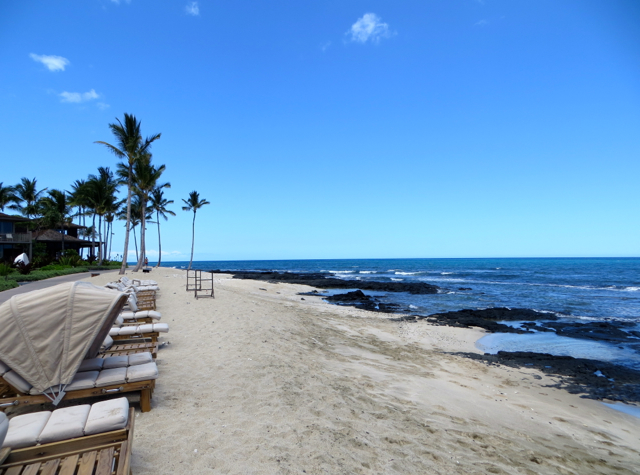 Finally, if you're a serious swimmer and want to get some laps in, there is a lap pool by the Fitness Center.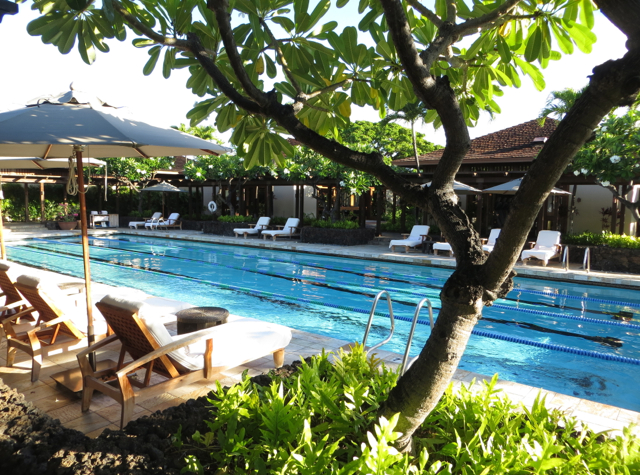 Four Seasons Hualalai Activities and Kids for All Seasons Kids' Club
I'll cover things to do (and there are plenty of choices) and the Kids for All Seasons Kids Club in a future post.
Four Seasons Hualalai Dining at 'ULU Restaurant and Beach Tree
In a future post, I'll cover 'ULU Restaurant's breakfast buffet (which is complimentary if you book with TravelSort to receive Four Seasons Preferred Partner benefits) as well as menus and sunset dinner at 'ULU and Beach Tree.
The Verdict
The Four Seasons Hualalai is my favorite luxury resort in Hawaii. No other Big Island resort can compare, and it is even my personal favorite over the Four Seasons Resort Maui at Wailea, as great an experience as we had there. With 4 different and distinct crescents, each with their own pool and vibe, everyone has a place to enjoy their vacation: couples who want to socialize, those seeking a completely serene experience without any chatter, families with teens and older kids, and families with little ones. Service was superb throughout our stay, from the friendly and efficient valet staff to housekeeping, who always came conveniently when we were out of the room, and the pool staff as well as our servers. And I haven't even scratched the surface of the many fitness and cultural activities that the resort offers daily.
In a nutshell, if you're seeking the best luxury resort Hawaii can offer and haven't been to the Four Seasons Hualalai, you're missing out.
Related Posts
Four Seasons Preferred Partner Benefits
Best Offers: Four Seasons Maui, Four Seasons Hualalai, Four Seasons Lanai Manele Bay, Lodge at Koele
Honeymoon in Hawaii: Which Island and Which Hotels?
Disclosure: My family and I were guests and enjoyed a complimentary stay at the Four Seasons Hualalai, however the views expressed in this post are my own.
Need Award Booking Help? Our fee is as low as $75 per ticket if you book your hotel or cruise through us.
If you enjoyed this, join 200,000+ readers: please follow TravelSort on Twitter or  like us on Facebook to be alerted to new posts. 
Become a TravelSort Client and Book 5-Star Hotels with Virtuoso or Four Seasons Preferred Partner Amenities!