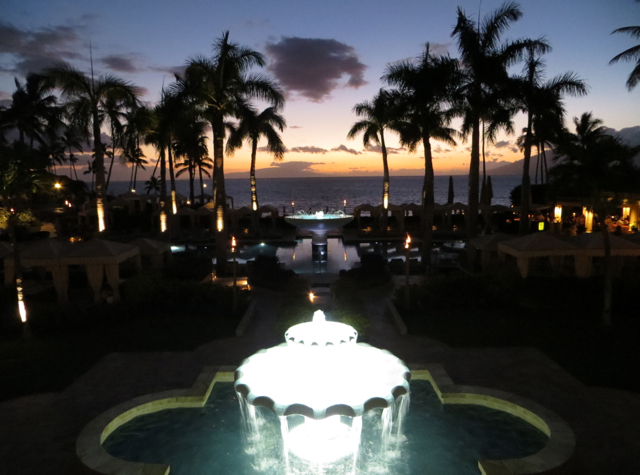 This Four Seasons Resort Maui at Wailea review is from a recent Maui and Hawaii trip, revisiting this luxurious resort that I originally stayed at on my Hawaii honeymoon.
For the previous Hawaii-related posts in this trip report, please see:
Alaska Airlines First Class Review
Alaska Airlines Board Room Seattle Lounge Review
Alaska Airlines First Class to Hawaii
Hyatt Place Waikiki Beach Review
Andaz Maui at Wailea Suite Review
Ka'ana Kitchen Review and Andaz Maui at Wailea Dining
Mama's Fish House Review in Paia, Maui
TravelSort Clients may book Four Seasons Resort Maui at Wailea with Four Seasons Preferred Partner (FSPP) benefits. I always recommend that when booking a Four Seasons property, you book with preferred partner amenities, since FSPP upgrades are prioritized ahead of all other upgrades, such as Virtuoso, AMEX Fine Hotels and Resorts, etc.
Upgrade of one category, based on availability at time of check-in (excluding signature suites and villas)
Daily full American breakfast for two people per bedroom, served through In-Room Dining or in Duo Restaurant (including the breakfast buffet)
Food and beverage credit of USD100
Complimentary basic Internet in all guest rooms; complimentary premium Internet in all suites
Four Seasons Maui at Wailea Location, Lobby and Check-In
Four Seasons Resort Maui at Wailea is located at 3900 Wailea Alanui Drive, less than a 5 minute drive away from the Andaz Maui at Wailea and also about a 25 minute drive from Maui's Kahului Airport.
There's no longer a self park option, it's valet parking only, currently $34 per night. Valet service was remarkably fast, particularly compared to the Andaz and considering that the Four Seasons is a bigger property.
The open air lobby itself is not as airy or impressive as the Andaz, but elegant nonetheless, with orchids and lovely flowers.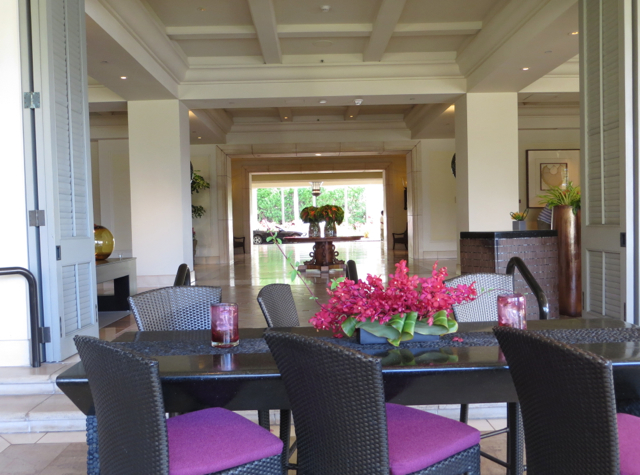 And you have only to wander to the balcony for an ocean view, with lushly landscaped grounds in the foreground: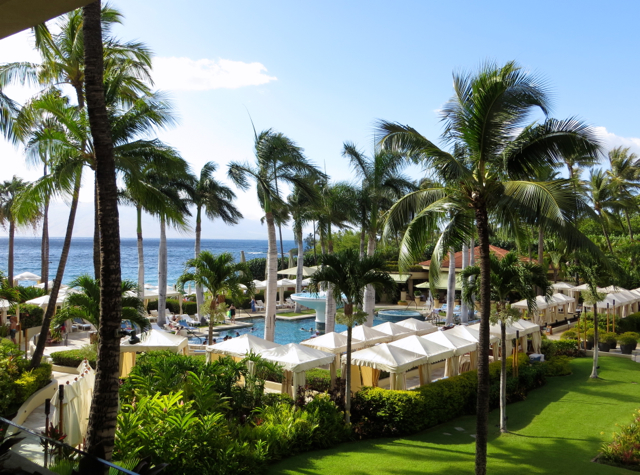 We were welcomed with an orchid flower lei for me (photo later), a kukui nut lei for my husband, and a shell lei for the munchkin, as well as welcome drinks and pineapple spears (with apologies for the blurry photo–it's hard to get a good picture when my hungry husband and the munchkin spy refreshments).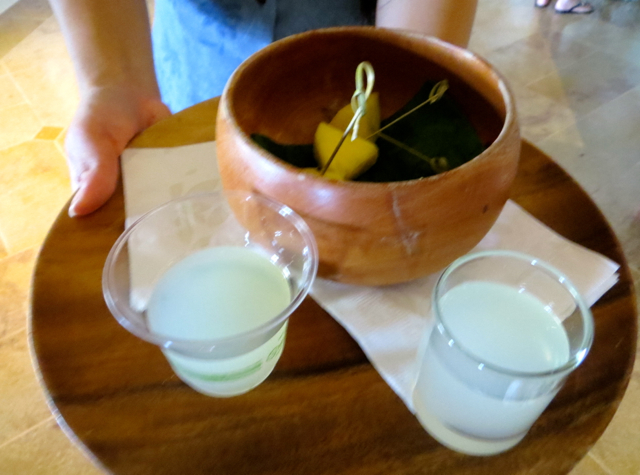 Four Seasons Maui at Wailea Ocean View Room
Our Ocean View Room was more spacious, at 600 square feet plus the private lanai (balcony), than the one we were shown at the Andaz, which was only 380 square feet. A very nice aspect for families or friends is that the couch is actually a Queen size sofa bed, so you can easily accommodate 3 adults or 2 adults and a child or a baby (in a crib) in the room.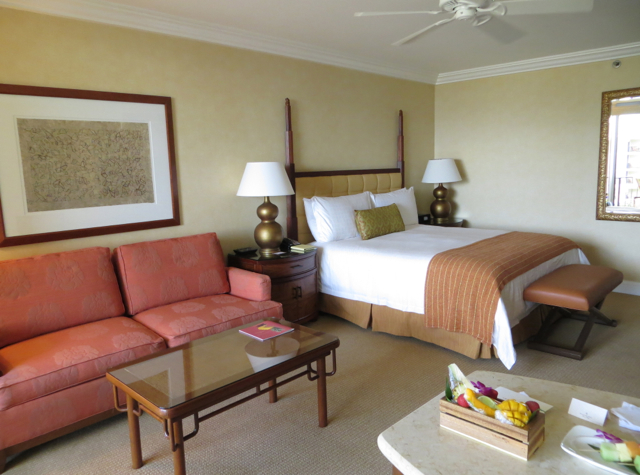 Still hungry, the munchkin was thrilled to find a fruit welcome amenity in the room, including fruit kebabs and a hollowed out fresh pineapple with mango, lychee, and strawberries: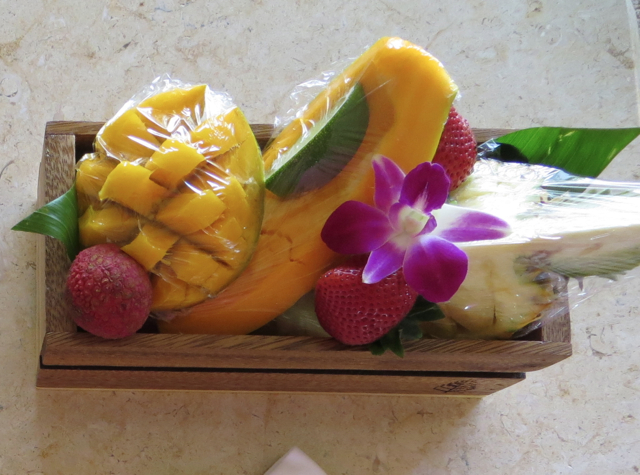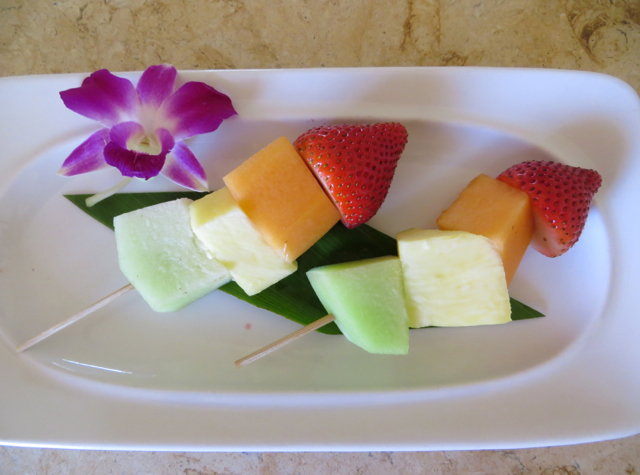 I was especially happy that the bathroom was also large, with dual vanities, soaking tub, and a separate glass enclosed shower. Here, there were no issues with water getting outside the shower all over the floor, as occurred at the Andaz.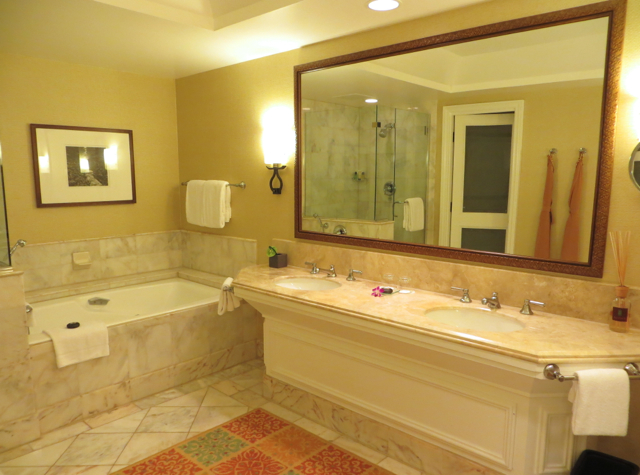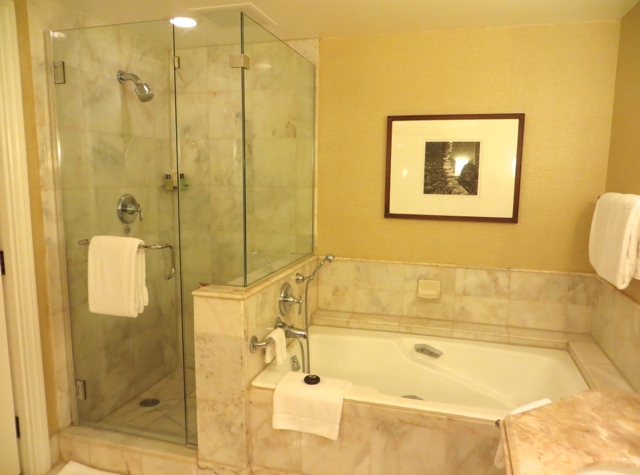 Bath products were by Lorenzo Villoresi, a renowned Florence-based perfume house. They smelled great, although perhaps a bit incongruous given the Maui setting.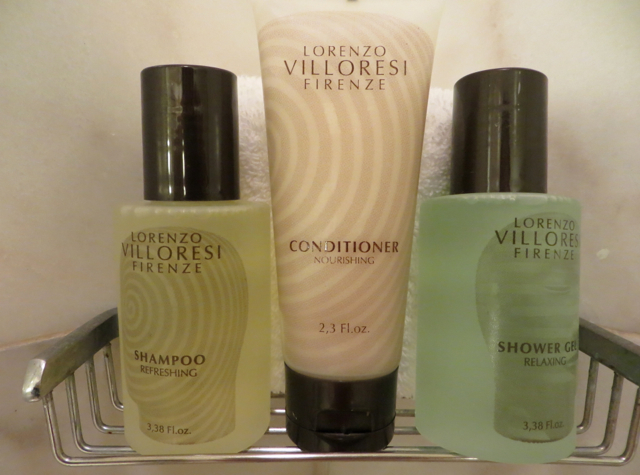 There was a wonderfully fresh but subtle scent of bergamot and rose emanating from an Alora essential oils bottle, which was a nice touch.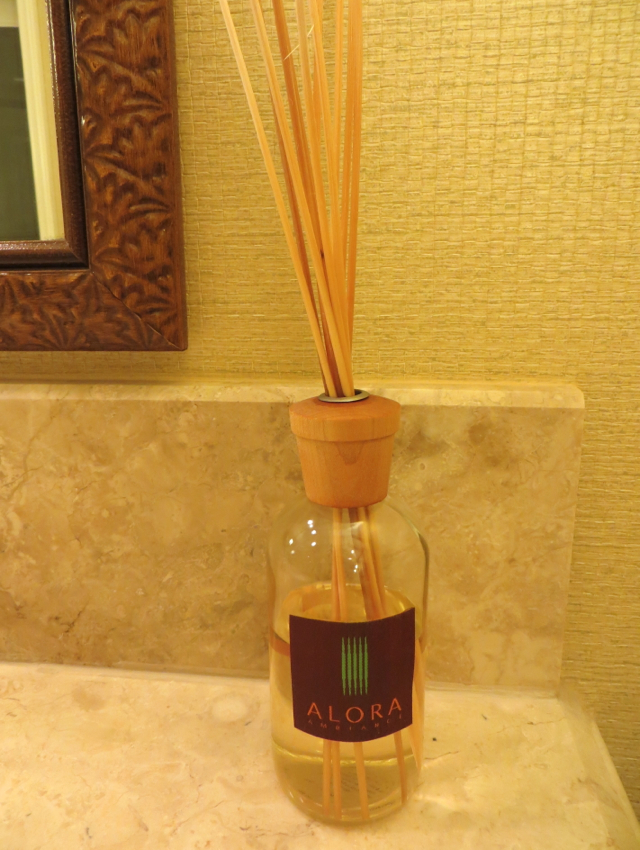 There's a regular Cuisinart coffee maker, although we didn't use it since coffee was included with our breakfast the next morning.
Inside the minibar were a couple of bottles of water, although as I mentioned in a prior post, Hawaii has great tap water, so there's really no need for bottled water in the room, although it does come in handy when you're going somewhere, given the tropical heat. I used the mini bar for my orchid lei, so that I could keep it fresh and wear it to dinner that evening: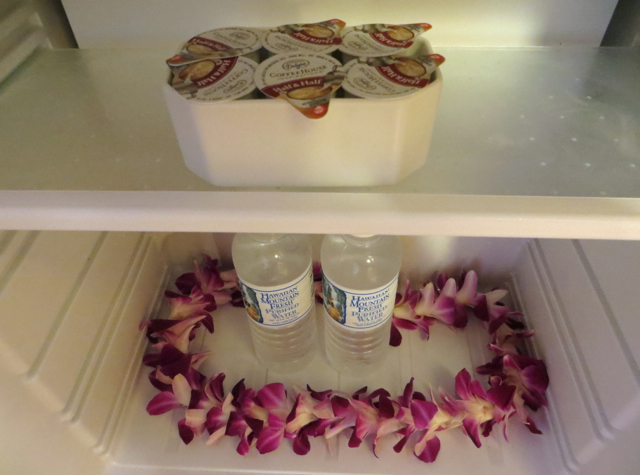 Ocean View Rooms provide angled views of the ocean, so the best view was from the balcony. The chairs were more ordinary looking than at the Andaz, but a lot more comfortable. There was also a drying rack for swimsuits, a very pragmatic touch.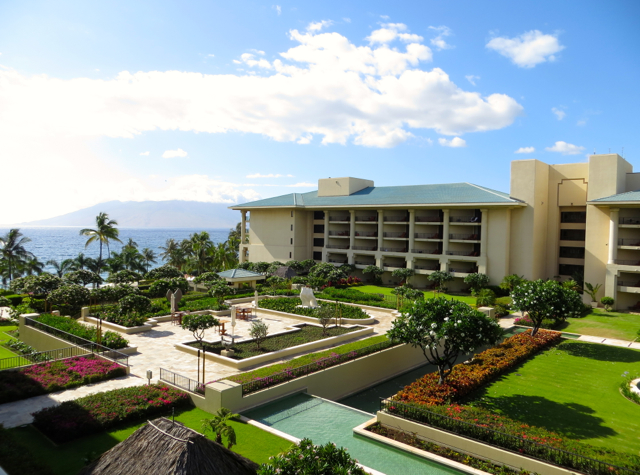 Another aspect I enjoyed was the complimentary beach bag for use during our stay (just don't take it with you unless you're prepared to buy it) and the rather unique padded slippers, which were easier to wear around than the usual closed toe variety.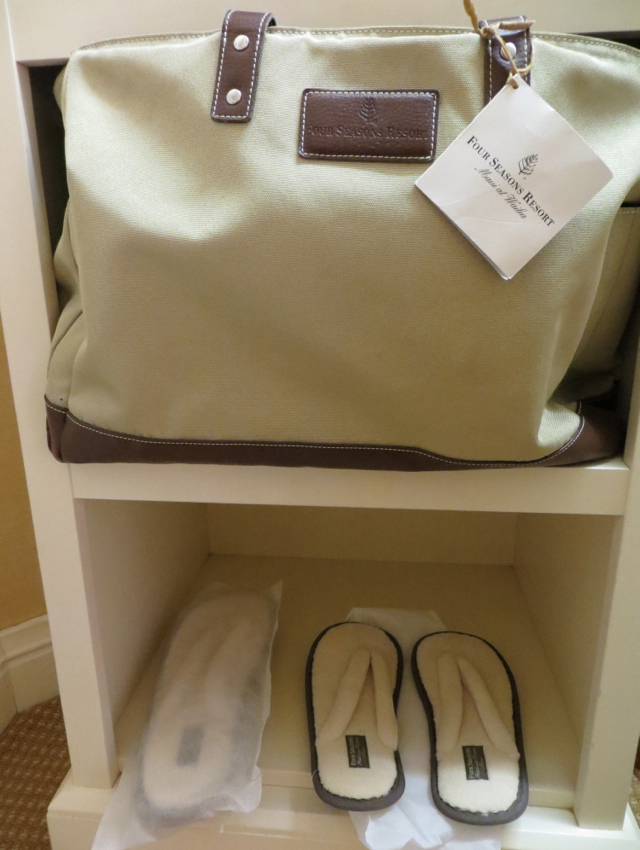 Four Seasons Maui at Wailea Swimming Pools and Beach
Four Seasons Maui at Wailea's focal point is its elegant Fountain Pool, with a view of the Pacific Ocean beyond it. It's large enough that it never felt crowded when we were in it, and the munchkin of course had fun trying to shoot water from his water gun into the fountain, then at me: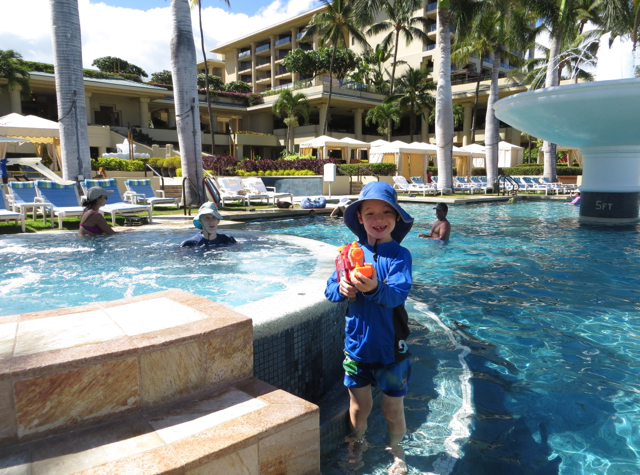 There's a heated whirlpool / jacuzzi on each side, perfect for adults relaxing while keeping an eye on their kids.
Since our honeymoon, the resort has also created an adults only Serenity Pool with an infinity edge and swim up bar. This is the place to relax as a couple, whether you're honeymooning or have kids but have dropped them off at the complimentary Kids for All Seasons Kids' Club (more on that later).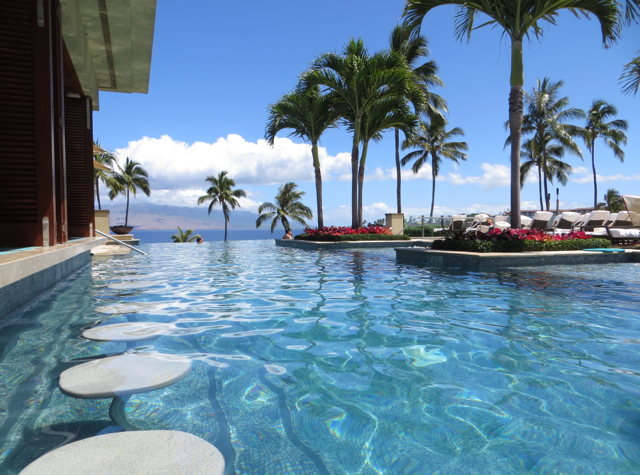 Finally, for the youngest kids, there's a cute and shallow Waterfall Pool with a little slide, also with lounge chairs around it for parents watching their kids.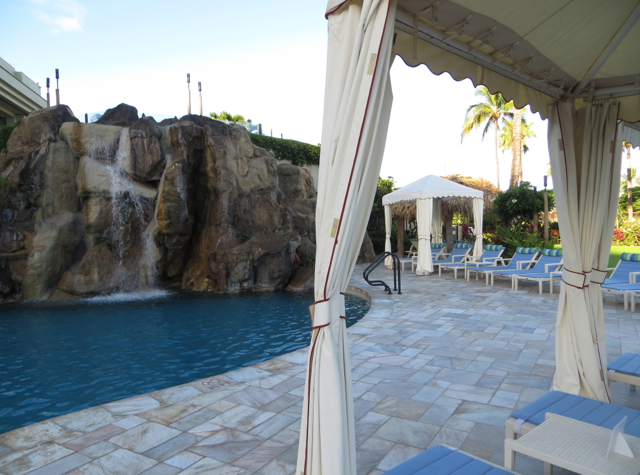 Forgot the sunscreen? It's not a problem, since complimentary sunscreen of varying SPFs is provided, as well as ice cold water.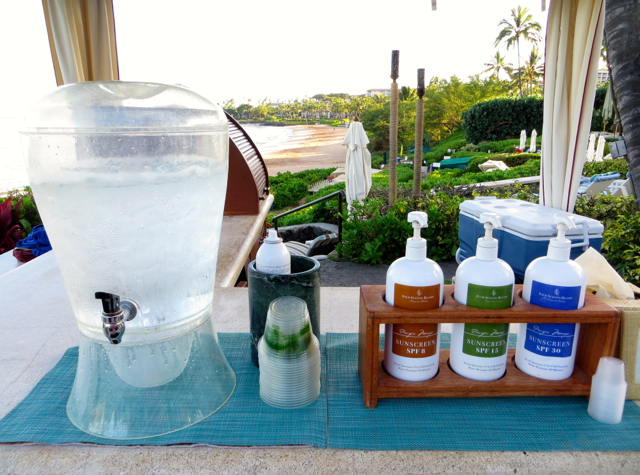 What we especially enjoyed, though, were the scrumptious treats brought around poolside, which included these fresh baked coconut mini muffins–yum!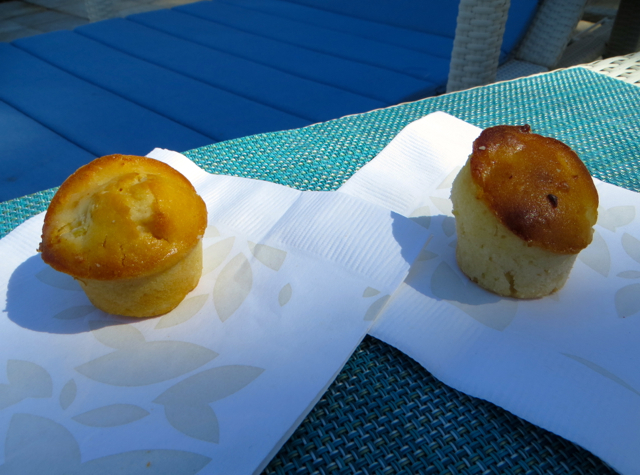 The beach is wonderfully uncrowded in the early morning, but even later in the morning there was plenty of space for adults and kids alike relaxing on the sand or doing water sports. A very popular activity is the complimentary outrigger canoe paddling trip offered weekday mornings.
I also liked the snorkeling here, and the resort offers complimentary snorkeling equipment. If you go to the far left of the beach and swim out a bit, you can see a number of tropical fish by the house reef. We saw parrotfish, Moorish Idols, Humuhumunukunukuapua'a (how's that for a long Hawaiian word? It's the Hawaii state fish!) and even an octopus.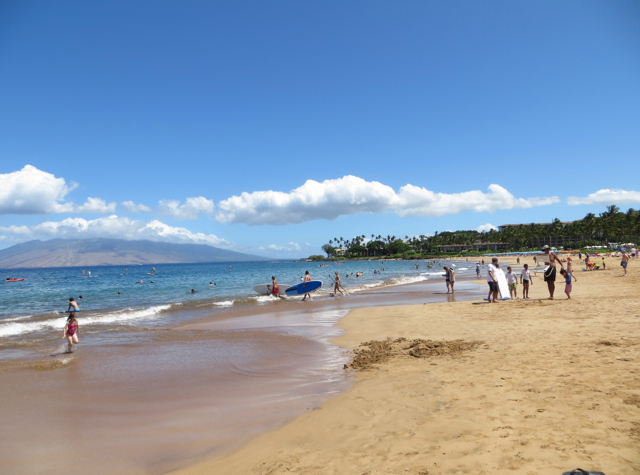 Kids for All Seasons Kids' Club
I'm a huge fan of the Kids for All Seasons Kids Club offered at Four Seasons resort properties for kids ages 5-12. The munchkin enjoyed the Kids for All Seasons club at Four Seasons Bali at Jimbaran Bay, Four Seasons Marrakech and Four Seasons Koh Samui. It's entirely complimentary for resort guests, which is fantastic given that it operates 9am-5pm. While usually the munchkin just spends a few hours there on any given day, because we also end up doing plenty together as a family, kids could spend all 8 hours there if they wanted to.
Kids for All Seasons is especially good for kids at the younger end of that spectrum, so perfect right now given that my son is 6 going on 7. Since he arrived when kids were finishing up time at the swimming pool, one of the staff helped him make a pop-up Father's Day card, and afterwards my husband joined him outside for some air hockey and basketball–I swear my husband had as much fun as the munchkin, especially at air hockey.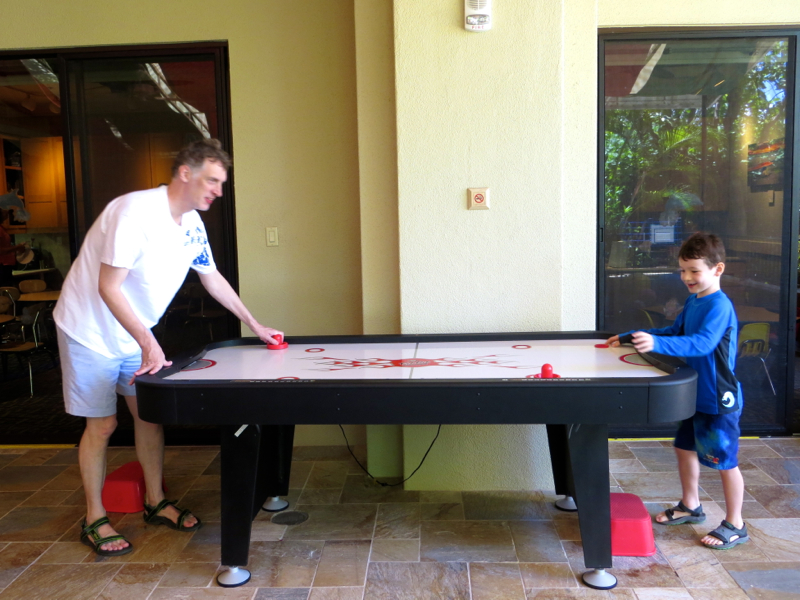 Although not part of the Kids for All Seasons Kids' Club, there's also a Games Room that will appeal to older kids and families, with billiards, ping pong, board games and video games.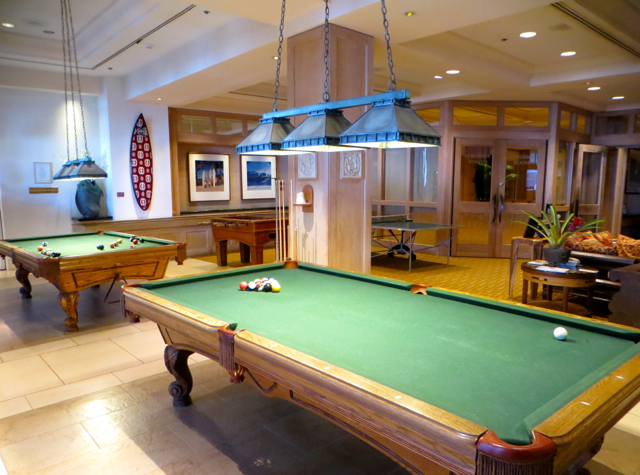 And the grassy lawn near the Waterfall Pool provides a great place for romping and impromptu family soccer games as well: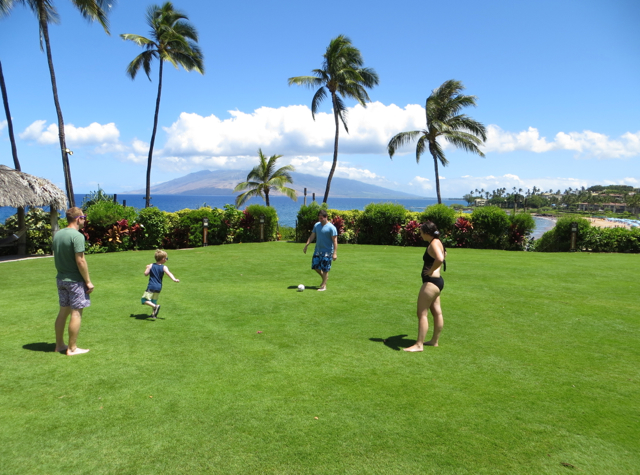 Fitness Center and Spa
There's both an indoor air-conditioned room for group fitness classes, and an open air area with machines for working out.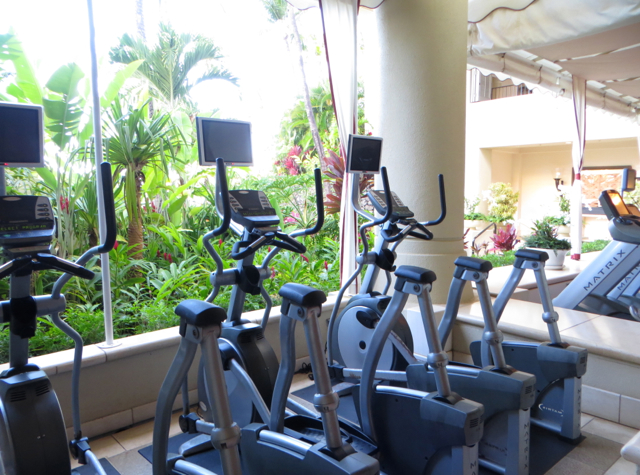 The chilled eucalyptus scented towels looked like a nice way to refresh post-workout: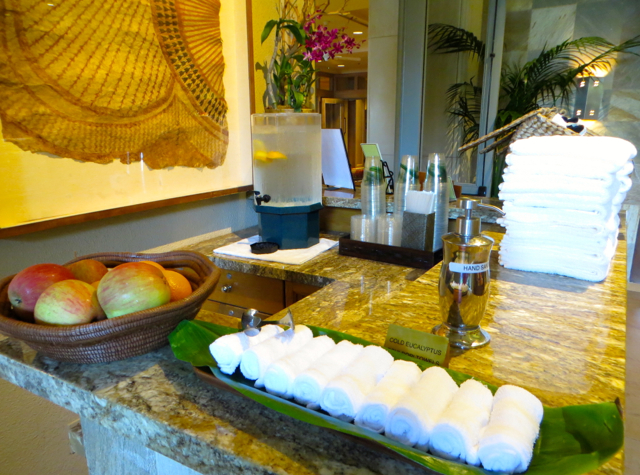 The spa, which I didn't have time to try this visit, offers some quite unique treatments, in addition to traditional massages and facials. There are some pillowy cocoon beds that look so relaxing you might doze a bit during your bodywork in one of them! There are also oceanside hale massages available, if you want to feel the fresh ocean air during your massage.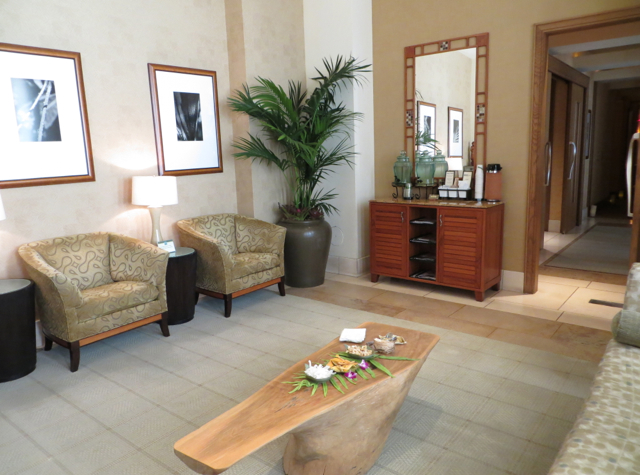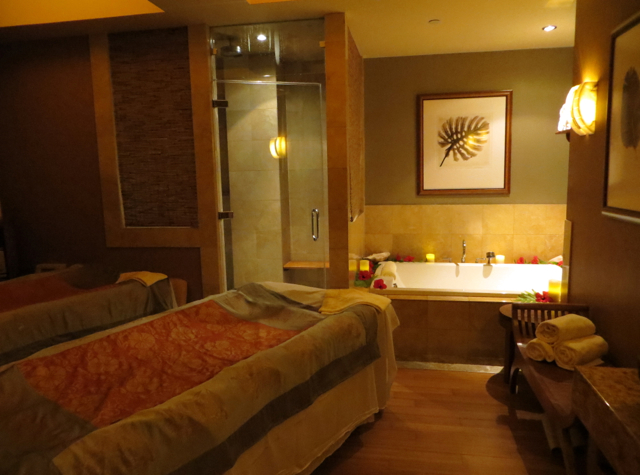 DUO Restaurant Menu and Breakfast Buffet
In a future post, I'll cover DUO Restaurant's breakfast buffet (which is complimentary if you book with TravelSort to receive Four Seasons Preferred Partner benefits).
Hawaiian Music and Hula
While many Hawaii resorts offer some kind of live Hawaiian music in the evening, I especially love when there's hula dancing accompanying the music. I danced competitively in high school, and learned both hula kahiko (ancient, traditional Hawaiian hula) and hula 'auana (modern style hula). Pretty much any hula that you see at a resort will be 'auana, as in this graceful hula at Four Seasons Maui at Wailea, but if you can, you should also try to see a performance of hula kahiko.
The Verdict
There's good reason why it's impossible to get a reservation at Four Seasons Maui at Wailea over Christmas and New Year's, even if you're willing to stay the minimum 10 nights, unless you're one of the lucky guests who have been coming here year after year.
While there are several Wailea resorts to choose from, all of which front or have access to the golden sand beach, in my view, Four Seasons Maui at Wailea has the best and most consistent service and greatest attention to detail of all of them, in addition to the most spacious entry level rooms and fantastic facilities and activities for both couples and families.
If you've recently stayed at Four Seasons Resort Maui at Wailea, what was your experience?
Related Posts
Four Seasons Maui at Wailea Preferred Partner: When to Book for the Best Deal
Four Seasons Preferred Partner Benefits
Best Offers: Four Seasons Maui, Four Seasons Hualalai, Four Seasons Lanai Manele Bay, Lodge at Koele
Honeymoon in Hawaii: Which Island and Which Hotels?
Disclosure: My family and I were guests and enjoyed a complimentary stay at the Four Seasons Maui at Wailea, however the views expressed in this post are my own.
Need Award Booking Help? Our fee is as low as $75 per ticket if you book your hotel or cruise through us.
If you enjoyed this, join 200,000+ readers: please follow TravelSort on Twitter or  like us on Facebook to be alerted to new posts. 
Become a TravelSort Client and Book 5-Star Hotels with Virtuoso or Four Seasons Preferred Partner Amenities!