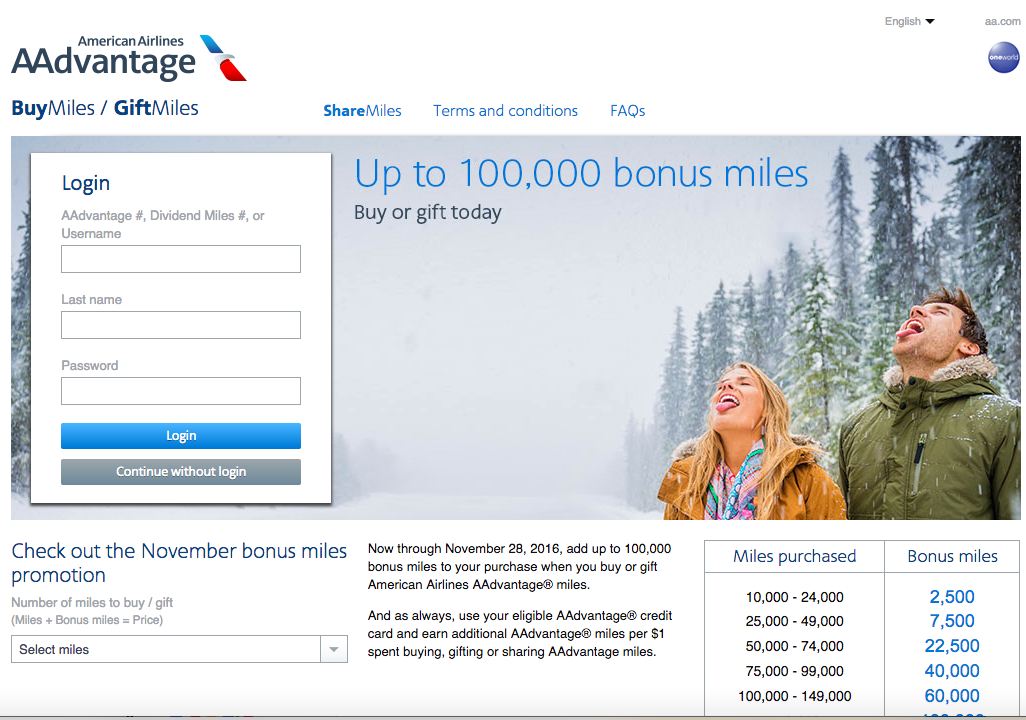 Should you buy AAdvantage miles with an up to 100K bonus? Probably not, unless you find the perfect award and put it on hold before purchasing the miles. I'll get to why I think even the 100K bonus doesn't make it worthwhile for many, but first, here are the offer terms:
Buy miles bonus offer valid through November 28, 2016
150,000 miles is the maximum number that may be purchased per AAdvantage account per calendar year
Buy miles bonuses are tiered as follows:
Buy 10,000-24,000 AA miles, earn 2500 bonus miles
Buy 25,000-49,000 AA miles, earn 7500 bonus miles
Buy 50,000-74,000 AA miles, earn 22,500 bonus miles
Buy 75,000-99,000 AA miles, earn 40,000 bonus miles
Buy 100,000-149,000 AA miles, earn 60,000 bonus miles
Buy 150,000 AA miles, earn 100,000 miles
In order to earn the 100,000 bonus miles, you have to purchase 150,000 AAdvantage miles, the maximum number of miles that can be bought per AAdvantage account per calendar year, so you can't have previously purchased miles in 2016. The total to buy 150,000 miles (with 100K bonus miles) including federal excise tax and the $30 processing charge is $4786.88, so you're essentially paying 1.91 cents per mile.
If you buy fewer miles your cost per mile goes up. 100,000 miles with the 60K bonus would be $3201.25, or 2 cents per mile, while 75,000 miles with the 40K bonus would be $2408.44, or 2.09 cents per mile.
But here's why AAdvantage miles aren't as worthwhile to accumulate, even at 1.91 cents per mile:
1. Worse Award Availability, Especially AA
AAdvantage award availability on American Airlines has really worsened at the saver level for many flights, including AA's A321 first class and business class service between NYC and SFO and NYC and LAX. This is a problem both for positioning flights for international award travel and for anyone trying to use AAdvantage miles for domestic American flights, say on expensive paid routes. And good luck finding AA saver award space on flights such as Los Angeles to Auckland, New Zealand–I don't see a single AAdvantage business class saver award for any date in 2016 or 2017, currently.
2. Worse Award Availability, Both for Some AAdvantage Partners
About a year ago, award availability was much better for partners such as Etihad Airways, Japan Airlines (JAL) and Air Berlin. For example, I don't see a single Air Berlin Business Class award seat available for any 2017 date, currently. It's become much harder to book JAL First Class and even JAL Business Class, unless you secure your award soon after the award calendar opens. And Etihad A380 First Apartment award space, while available for some dates, is sparse on the JFK-AUH route.
3. U.S. AAdvantage Agents Often Don't See/Can't Book Award Availability
I mostly don't even bother to call the U.S. AAdvantage line any more, since they agents either don't see or can't book Etihad and JAL award tickets. I instead have resigned myself to calling Australia to book AAdvantage award tickets. But it still rankles, whatever American is doing such that their U.S. based agents can't book these partner award tickets.
4. Higher Award Rates Post-Devaluation
The AAdvantage award chart devaluation earlier this year have made many first class and business class awards far pricier. While we're flying soon on pre-devaluation AAdvantage awards, I've already warned my family that we probably won't be going to this destination for a long time, if ever, due to the changed award chart.
Which Credit Card if You Do Buy AAdvantage Miles?
If you do decide to buy AAdvantage miles, which credit card should you use? Originally, I thought the best bet would be the AMEX Platinum with 5X for airlines, but I've since learned that the 5X bonus is specifically for flights, so buying AAdvantage miles wouldn't qualify, even though the transaction is processed by American Airlines. Because of this, I'd recommend either using your Chase Sapphire Reserve to earn 3X Ultimate Rewards points, or your AMEX Premier Rewards Gold or AMEX Business Gold (if you selected airlines as your 3X category) to earn 3X Membership Rewards points.
In sum, although we would be able to buy AAdvantage miles with the 100,000 bonus, we're not planning to, since we're mostly set for our 2017 travel. I would only recommend buying AAdvantage miles if there's a specific award you're booking during the time of the offer, and are able to put it on hold before purchasing the miles.
Do you plan to buy AAdvantage miles with a 100K bonus?
Related Posts