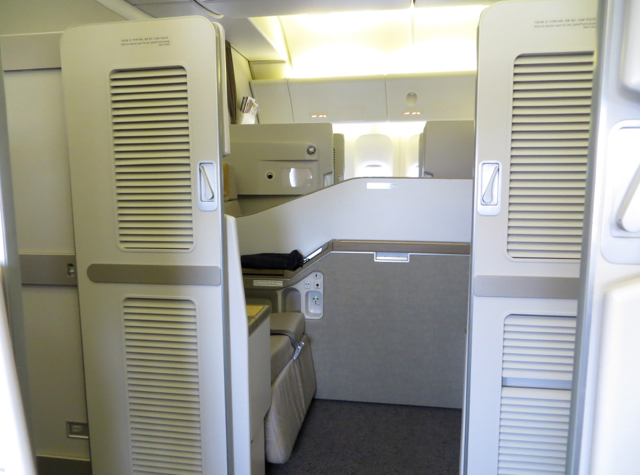 This Asiana First Class Suite review from Seoul to New York JFK is the last part of our Asiana experience, including an Asiana Business Class flight from Bangkok to Seoul and the Asiana First Class Lounge in Seoul. It is also the last in a trip report including Singapore Suites and Cathay Pacific First Class to Hong Kong and luxury hotels and resorts in Bangkok, Koh Samui, Singapore and Borobudur.
For prior posts, please see:
Singapore Suites A380 Review: New York JFK to Frankfurt
Review: Lufthansa Senator Lounge Frankfurt
Singapore Suites A380 Review: Frankfurt to Singapore
Singapore Airlines Private Room Lounge Review
Cathay Pacific First Class Review NYC JFK to Hong Kong
Singapore Suites A380 Review: Singapore to Hong Kong
Review: Grand Hyatt Hong Kong Club Harbour View Room
Tin Lung Heen Hong Kong Dim Sum Review
Review: Grand Club Lounge, Grand Hyatt Hong Kong
Emirates First Class A380 Review: Hong Kong to Bangkok
Review: Novotel Bangkok Suvarnabhumi Airport Hotel
Conrad Koh Samui Zest Restaurant Review, Menu and Prices
Koh Taen Snorkeling with Tours Koh Samui Review
Conrad Koh Samui Jahn Restaurant Review, Menu and Prices
Four Seasons Koh Samui Breakfast and Koh Thai Kitchen Review
Takho Bangpo (Bang Por Seafood) Koh Samui Review
W Koh Samui Breakfast and Kitchen Table Review
Singapore Gardens by the Bay Review
One Ninety Singapore Review and Menu
Amanjiwo Review, Borobudur, Java
Amanjiwo Restaurant Review and Menu
Four Seasons Bangkok Hotel Review
Four Seasons Bangkok Executive Club Lounge
Thai Airways Royal Orchid Lounge Bangkok Review and Photos
Review: Asiana Business Class on the A330
Review: Asiana First Class Lounge in Seoul
We were more than ready to board our Asiana First Class Flight from Seoul to NYC JFK–so much so, that we departed the Asiana First Class Lounge as soon as I noticed on the monitor that our flight was ready for boarding, and before an Asiana representative could escort us and other first class passengers from the lounge to the gate.
At the gate, we were also first in line and our boarding passes were inspected. We were also given a pre-departure gift, an Asiana dollar book with 10 one dollar bills that can be pulled out. Perhaps this is more interesting for Asiana's target market, but I just thought it was cheesy, especially compared to the apparently lavish gifts Asiana used to give. I mean, it was an exciting gift to the munchkin (who normally only earns $1 a week as his allowance if he does his chores), so maybe that's the idea–for first class passengers to give them to their kids, who will actually be excited by this dollarbook.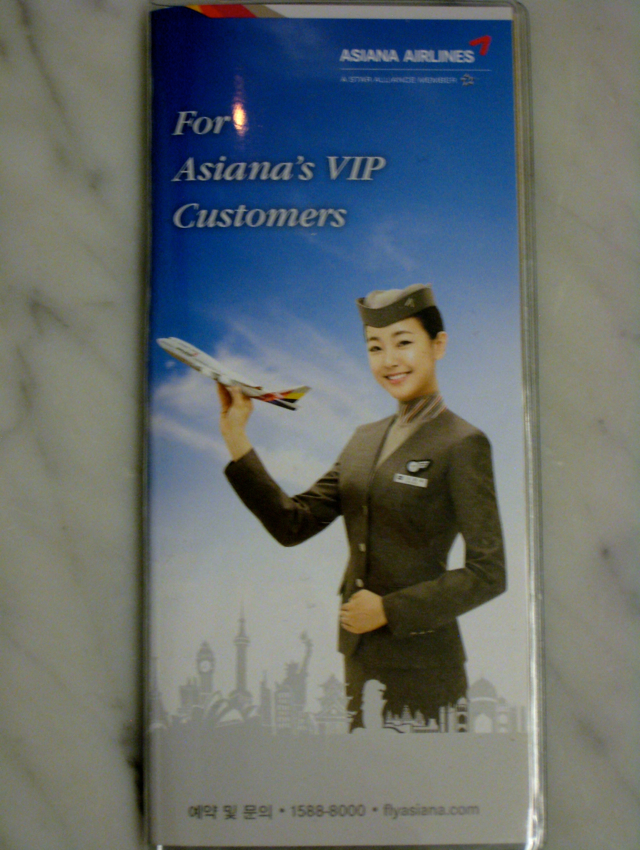 Immediately prior to when boarding commenced, all Asiana gate staff bowed deeply, which set a nice, if formal tone. I didn't manage to take a photo of the Asiana Boeing 777-200ER in Seoul, but here's a photo from NYC JFK of the plane: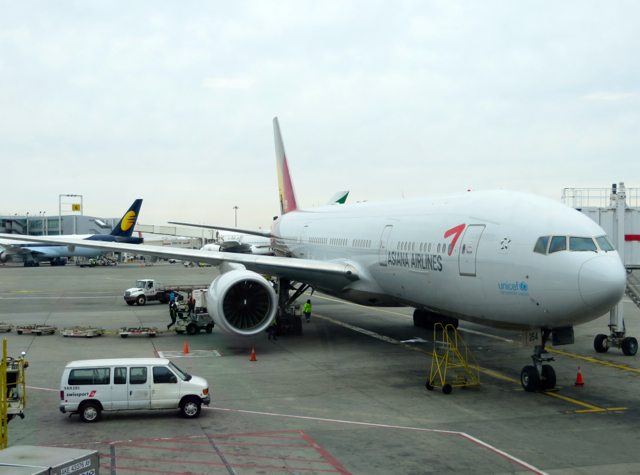 Our seats were 2G and 2K, since the munchkin wanted a window seat, and I wanted to be across the aisle from him. He was pretty excited to settle into his seat 2K:
Somehow any tiredness seemed to have disappeared, while I personally couldn't wait to take off and ask for my seat to be converted into a bed, so as to finally get some sleep. I had a feeling that part of the munchkin's excitement was the very prominent 32 inch HDTV in front of him, and the prospect of watching some favorite kids' films. Call us old school, but we're still a no-TV family, and while he gets to watch up to 30 min. a day of kids' shows or films on a computer, long plane flights are the only time we let him watch more than that at one sitting.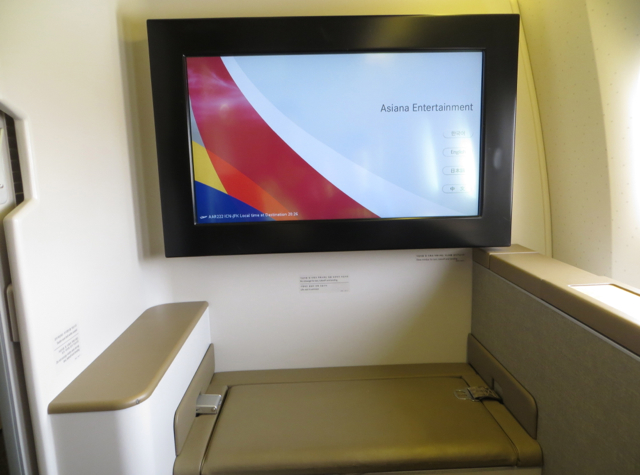 I knew more or less what to expect of the Asiana First Class Suite from the photos, but I was pleased if not floored by the size of the suites. The seats are a bit narrow in contrast to Singapore Suites and Cathay Pacific First Class, so it wasn't possible to comfortably sit side by side with the munchkin to read stories as I could in Cathay, but they are nice and private with the doors closed.
There are 8 enclosed suites in Asiana First Suite Class, and the cabin wasn't full, so it made for a peaceful ambience, which I was grateful for given how much I looked forward to sleeping. Here's a photo of the cabin: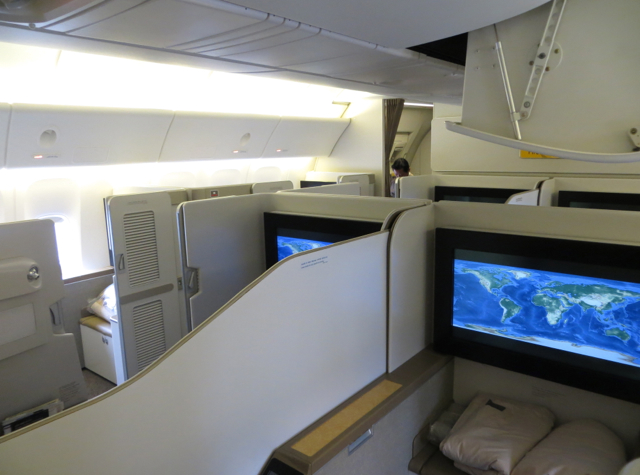 We were offered pre-flight drinks, and as usual I chose water.
We were also given pajamas, slippers, and an amenity kit. The pajamas are of a beige knit material with gold designs woven into the fabric. There's no designer label on it, but it's made in Korea and is likely a cotton/polyester blend, although I can't tell for sure, since it's only in Korean. They were comfortable for sleeping, and the top could potentially even be worn as casual wear without obviously being pajamas (unless you know it from Asiana). The pants, not so much, with the drawstring closure and embroidered flyasiana on them. The pajamas weren't as stylish, though, as Etihad's First Class women's pajamas, which I mentioned in Best Airline Pajamas.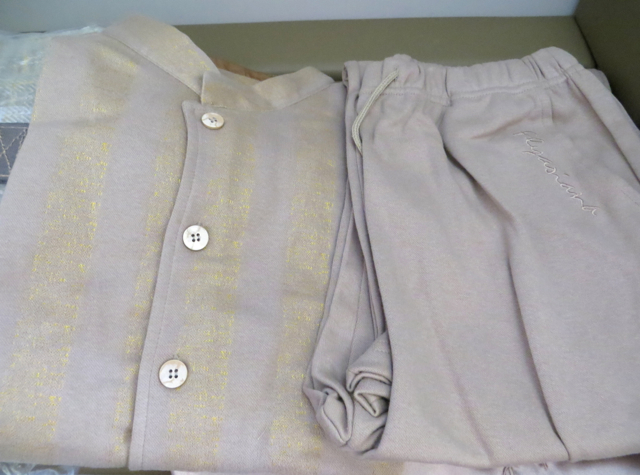 The amenity kit is one of the nicer ones I've seen in terms of contents, which are all Bulgari toiletries, and which I highlighted in Best First Class Amenity Kits. Interestingly, however, there was no sleeping mask inside, nor was I separately given one, so I had to ask for it later. The flight attendant was surprised and said it was in the amenity kit, but I showed her it wasn't, and she was happy to bring one.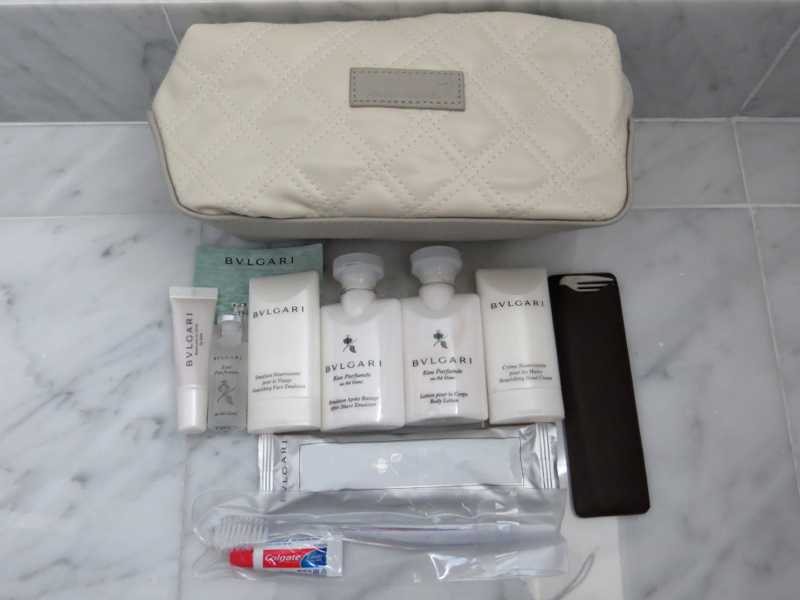 We were also given menus, and at this point, I let the flight attendant know that I wanted to sleep first, and enjoy a meal later. She was happy to take down and reserve my lunch choice, from the Western menu, which I figured I'd try, since I'd enjoyed the Korean Bibimbap on the flight into Seoul.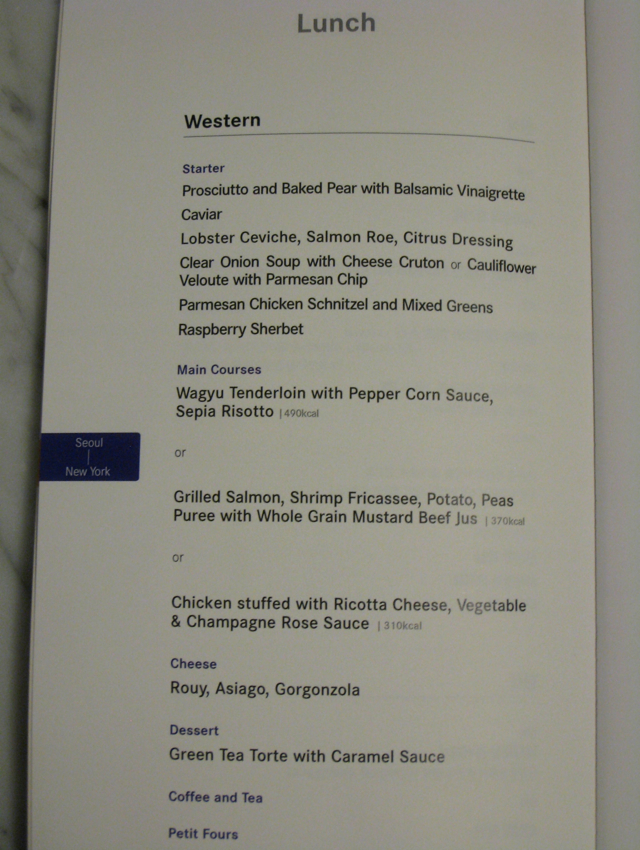 In terms of compartments, the ottoman opens and offers some good storage space, and it would also be possible to use the personal mini bar (which as far as I could tell was wasted space, since it wasn't pre-stocked with anything) as storage space. Interestingly, there's no mini-closet to hang up a jacket or coat, so you'd need to give that to a flight attendant.
We took off on schedule, and as soon as we were at cruising altitude I asked a flight attendant if she could convert my seat to a bed. I tried to convince the munchkin to get some sleep, but he was adamant about wanting to eat some food and watch a movie, so I gave in. Fortunately he's old enough and has been on enough flights to know how to behave, but of course I did ask the flight attendant to wake me up if there were any issues whatsoever.
With that, I went to the bathroom to change into pajamas and brush teeth. The bathroom was the normal size (I missed the nice "changing room" bathroom that Etihad First Class offers) but was adorned with a red rose. Amenities were L'Occitane, similar to the Asiana Business Class flight we'd taken.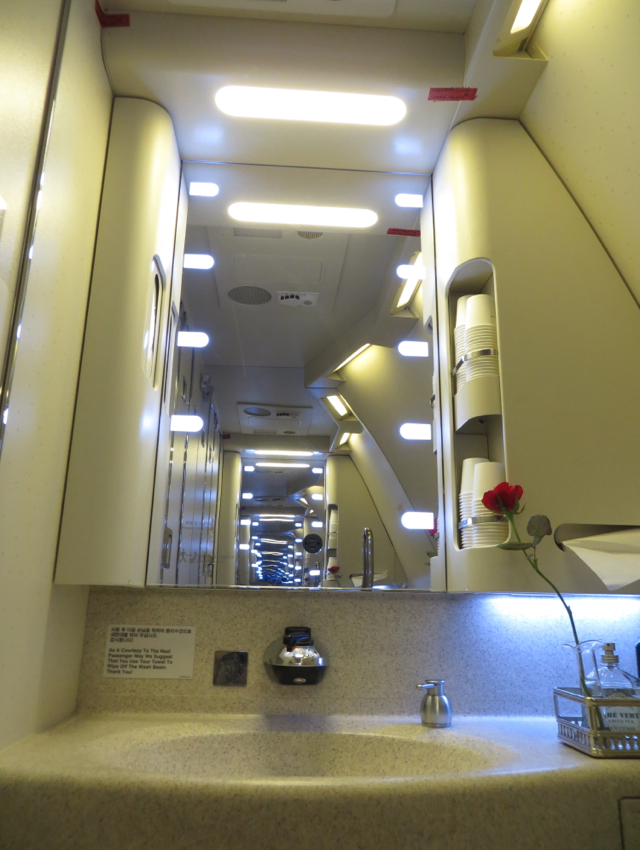 I can't tell you how happy I was to see my bed set up in Suite 2G–it was such a welcome sight after some 30 hours without sleep. Here's the Asiana Suite bed–not as prettily made up as Singapore Suites, and the mattress pad wasn't as comfortable as the memory foam Singapore Suites uses, but I slept very well in my tired state.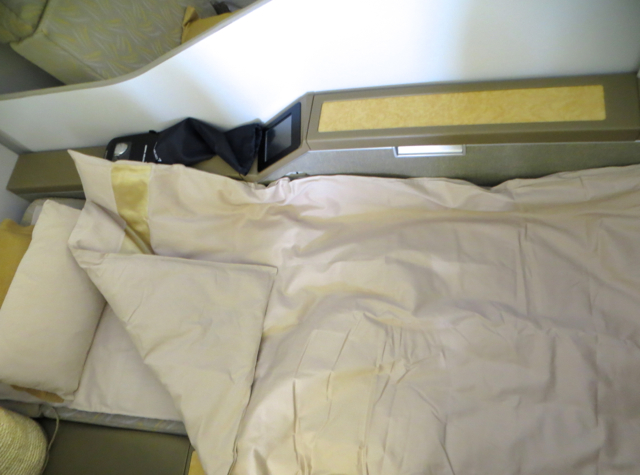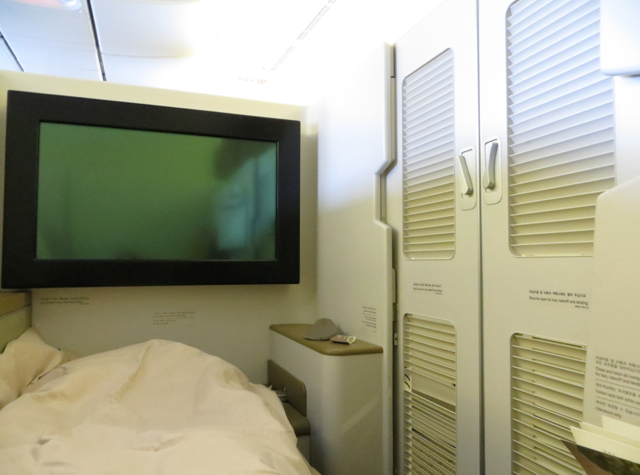 I set my alarm so that I wouldn't sleep the entire flight, and slept a good 5-6 hours, after which I felt much better. I was also pretty ravenous–lack of sleep will do that to you, plus I hadn't eaten much in the Asiana First Class Lounge. I indicated to the flight attendant that I'd be ready for my meal, after I settled the munchkin for bed. He was tired by this point, so I didn't meet with much resistance as I took him to brush teeth, while the flight attendant turned down his bed. Before long, he was in deep slumber, with a sleep mask on.
It did take some help from the flight attendants to figure out how to turn out the last of the lights in his suite. First one attendant, then a second attendant, and finally the purser came to help turn out the last of the lights. Sometimes I think that, at least where in-seat lighting is concerned, an "all off" button (preferably with a manual option) would really be best.
There was a "starry night" effect, reminiscent of the one we had in Etihad First Class: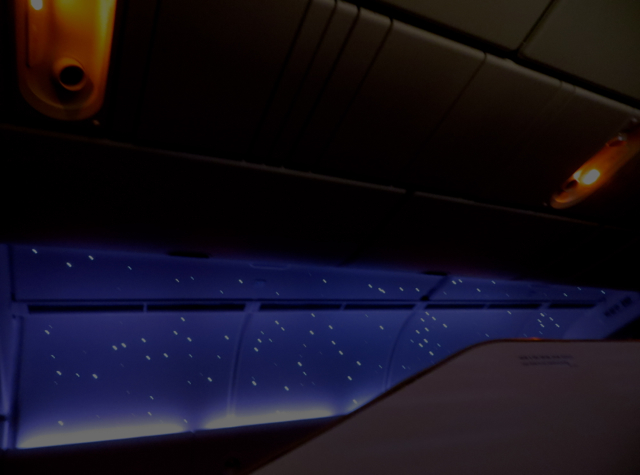 While the munchkin and most of the other First Class passengers slept or watched a movie, I enjoyed "lunch" which was more elaborate and substantial than I expected. I initially thought the appetizers presented on the menu were either/or choices, when in fact you get all of them, unless you decline one (I declined the salad course).
It's basically the Western version of Korean banchan, all the wonderful side dishes you enjoy with the entree, except that for the Western menu these are presented as a series of small courses. Here's the table setting, which, similar to Lufthansa First Class, included a lovely red rose.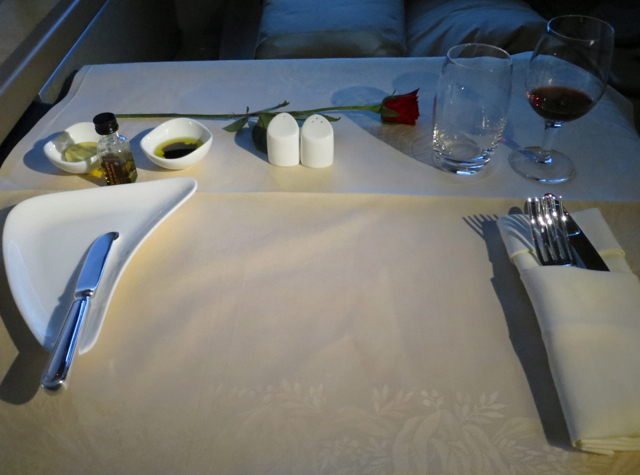 The first thing served, as an amuse bouche, was Prosciutto wrapped Baked Pear with Balsamic Vinaigrette. Always a great pairing, and I liked that the pear was already baked, lending additional sweetness that contrasted well with the salty prosciutto and tart balsamic.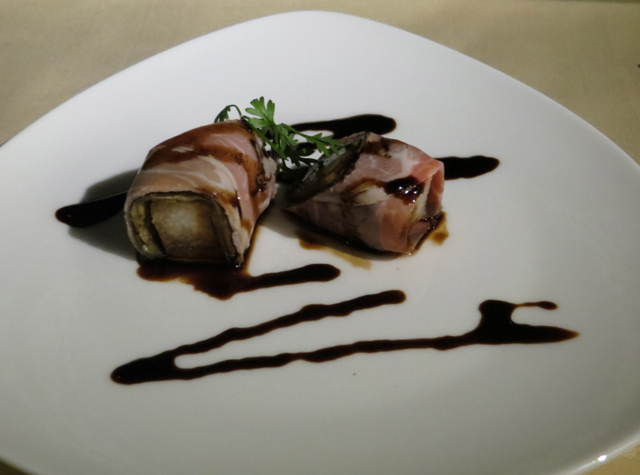 Next up was Caviar service. I like caviar fine, although I like great smoked salmon better, which is why I've always preferred the caviar service in Cathay Pacific First Class, with its Balik salmon. Such a shame that's being discontinued, but I digress. Asiana's presentation was very nice, with an entire jar of caviar and a proper caviar spoon.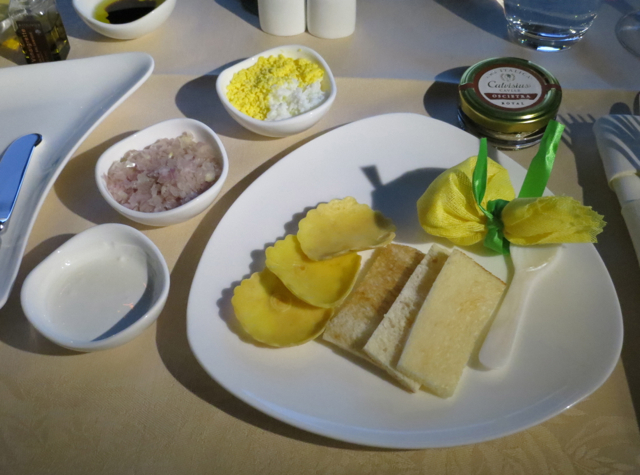 My favorite of the appetizers was this Lobster Ceviche with Salmon Roe and Citrus Dressing. I can rarely say no to lobster, and this really hit the spot–fresh and great flavor.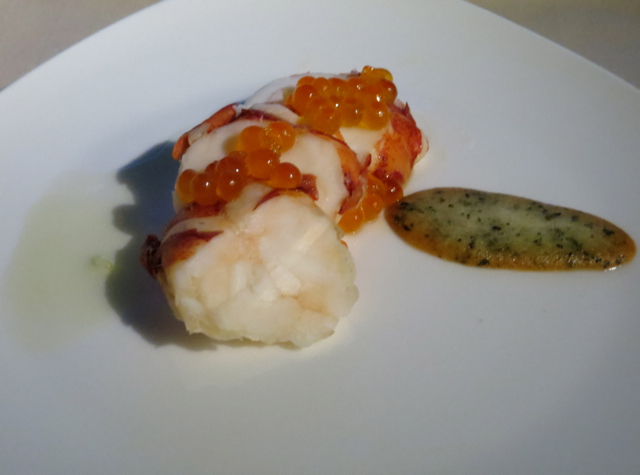 There were two soup choices, a Clear Onion Soup with Cheese Crouton or Cauliflower Veloute with Parmesan Chip. I chose the cauliflower veloute, and it was ok, but clearly the weak link in an otherwise very good good menu, and I didn't finish it.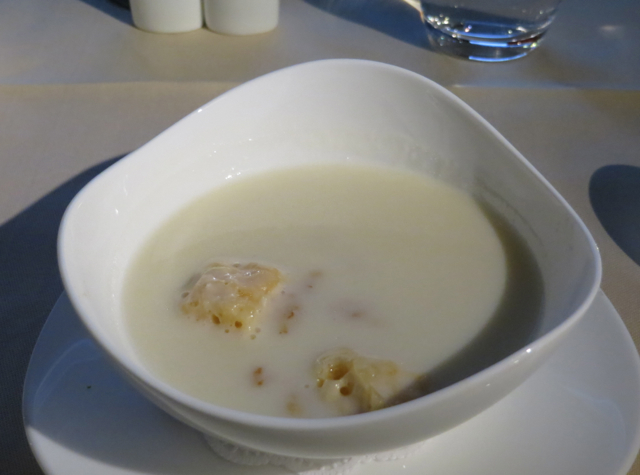 Since I skipped the salad course with its Parmesan Chicken Schnitzel, my next course was a palate cleanser of Raspberry Sherbet, which was a lovely touch and very refreshing.
As my main course, I chose the Wagyu Tenderloin, which was cooked to order and came with a peppercorn sauce and sepia risotto, as well as asparagus. I don't normally eat a traditional steak, but this was classic and satisfying, with the nuttiness of the sepia risotto lending a nice twist.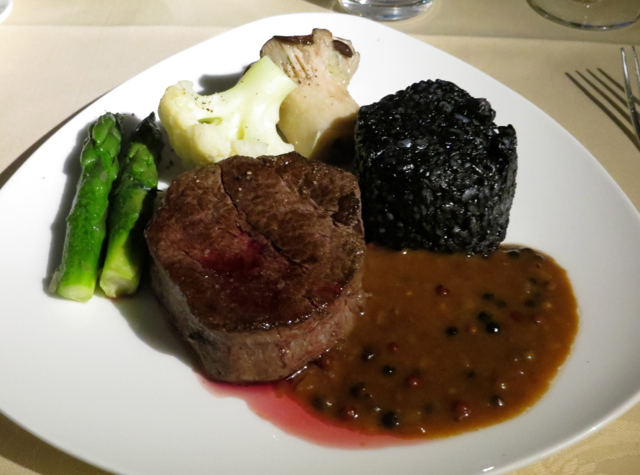 Mostly for the sake of readers I decided to see what the cheese course and dessert course were like. While there were just 3 cheeses, extra points for including a cheese I wasn't previously familiar with, Rouy (a washed rind cow's milk cheese a bit similar to one of my favorite French cheeses, Pont l'evêque). The other cheeses were an Asiago and Gorgonzola, which I didn't care for as much. I do wish airlines would go beyond Gorgonzola and Stilton, as there are plenty of other more interesting blue cheeses. A fruit plate accompanied the selection.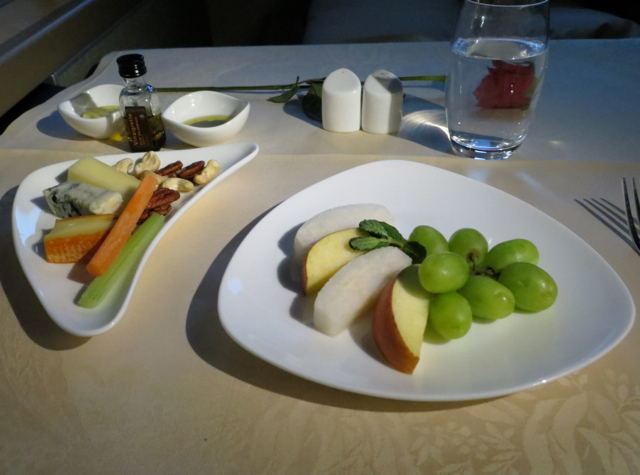 The dessert was a Green Tea Torte with Caramel Sauce, which was very forgettable and in my view, not as good as the Mascarpone Cake I enjoyed on the Asiana Business Class flight into Seoul. But then again, after such a substantial meal, you really don't need a dessert at all. Nevertheless, I do wish Asiana and other airlines would pay a little more attention to their desserts since for the most part they're similar to what you get at second rate bakeries, at least in NYC.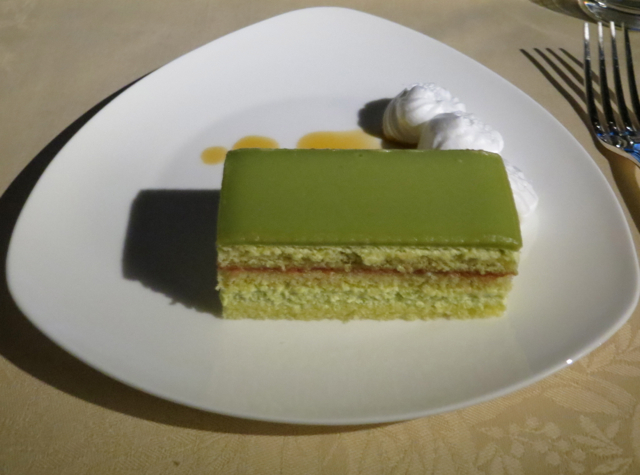 After the meal, I browsed a bit through the in-flight entertainment, and immediately felt old when I found "Back to the Future" listed in the "Classic Films" section. Ok, I get that it's been almost 30 (gulp) years since its 1985 release, but that's old enough to be classic?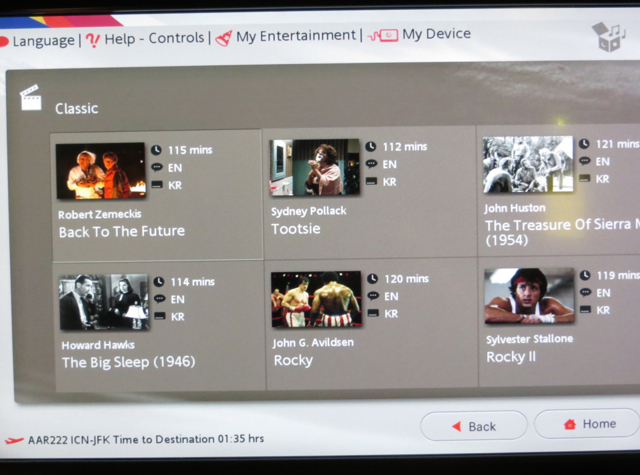 Classic or not, once the munchkin woke up, he enjoyed watching Back to the Future, since he'd already watched most of the kids' films he was interested in.
Hollywood releases included a few good ones, for a change, such as Philomena, with Judi Dench and Steve Coogan.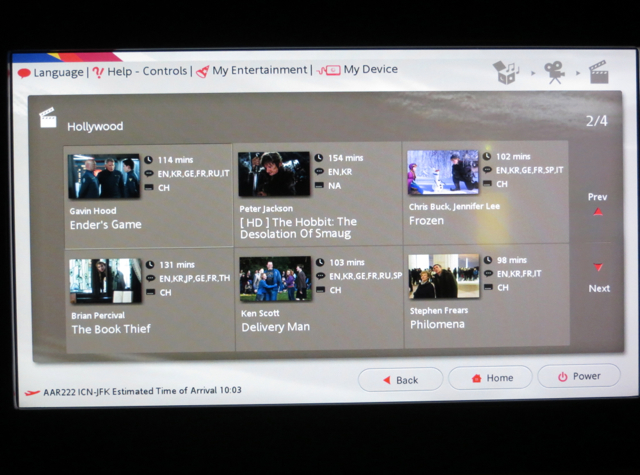 After a good sleep, the munchkin as usual wanted to do some munching, so I got some breakfast for him. It included fresh fruit, yogurt, choice of pastries (he chose a croissant), and for me, some cappuccino: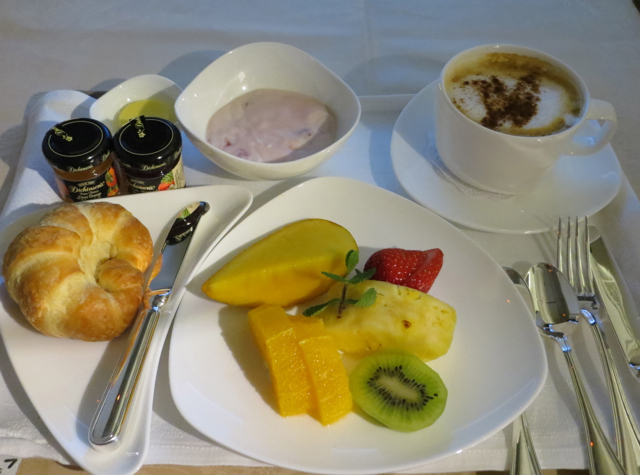 I stuck with fruit and cappuccino, but the munchkin chose to have a main course of caramelized onion tart with bacon, a very hearty breakfast.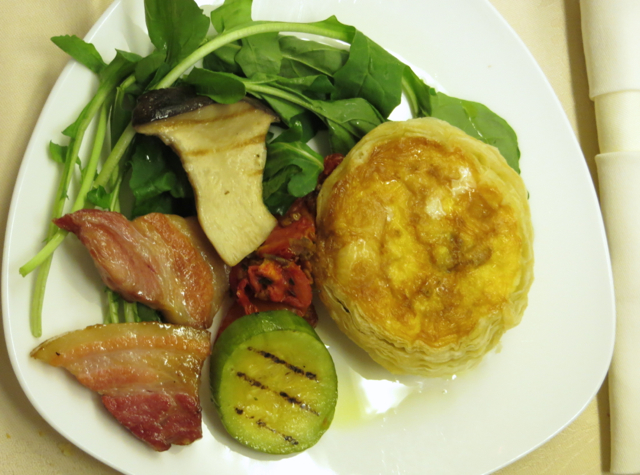 I also tried the banana bread, which was surprisingly good, tasting almost homemade. My one gripe is that the jams were Dickinson's, which I don't consider to be very good quality. I would much prefer to see D'arbo or Staud's preserves.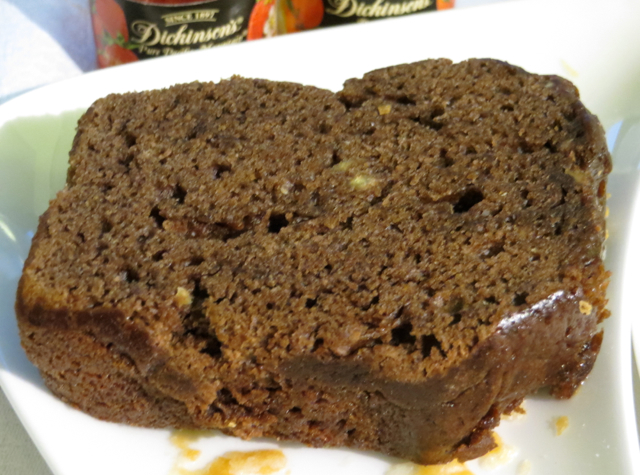 Verdict: Asiana is often pegged as having some of the best food in international first class, and while I didn't enjoy everything about the menu, I have to agree that as a whole it offered some of the best prepared dishes I've enjoyed in first class. It doesn't offer an extensive "Book the Cook" service as Singapore does, although on flights departing from Seoul, First Class passengers can pre-order both Korean and Western dishes.
The hard product is solid, and on par with Etihad, although not as comfortable as Singapore Suites which both offers a wider bed and a more comfortable mattress pad (plus more pillows, if you like a lot of pillows).
Service was unfailingly polite and attentive, although not always knowledgeable, as in the case of not realizing no sleep mask was provided in the amenity kit, or trying to turn out the munchkin's light (to be fair, one of the flight attendants mentioned it was her first time working the First Class cabin).
Overall, a very good first class suite product and excellent choice to and from Asia, especially if you value a closed suite experience and great food, although I would calibrate your expectations below Singapore Suites.
If you've flown Asiana First Class Suites on the 777-200ER, what was your experience?
Related Posts
Asiana First Class Suites NYC to Seoul Bookable with United Miles
Review: Asiana Business Class, A330
Airlines with the Best International First Class Products
United Award Chart Devaluation
Need Award Booking Help? Our fee is as low as $75 per ticket if you book your hotel through us.
If you enjoyed this, join 150,000+ readers: please follow TravelSort on Twitter or like us on Facebook to be alerted to new posts.
Become a TravelSort Client and Book 5-Star Hotels with Virtuoso or Four Seasons Preferred Partner Amenities!