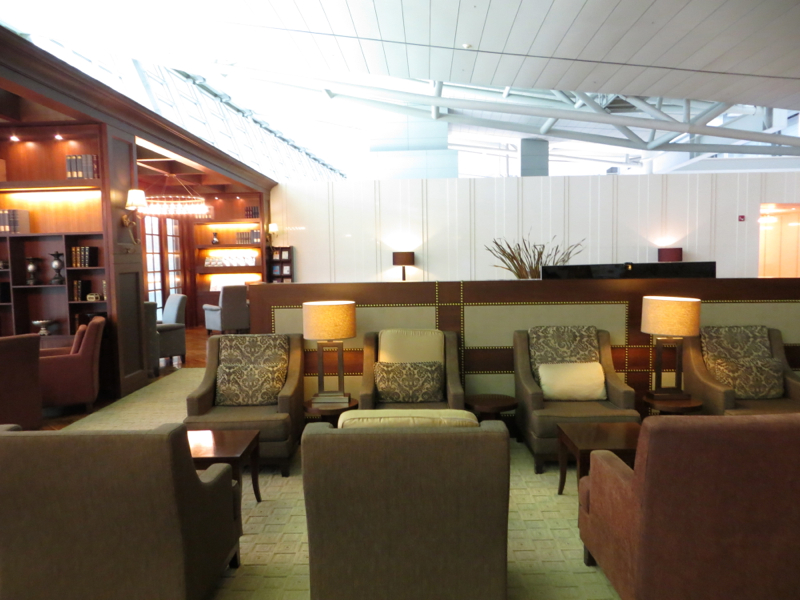 This Asiana First Class Lounge in Seoul ICN review is from our April 2014 experience between our Asiana Business Class flight from Bangkok to Seoul, while waiting for our Asiana First Class Suites flight to New York JFK. It's colored by the fact that by the time we arrived at the Asiana First Class Lounge, we were both very tired, not having slept much (or at all, in my case) in Asiana Business Class angled flat seats.
For prior posts in our trip report, covering Singapore Suites to Hong Kong as well as luxury resorts in Koh Samui, Bangkok, Singapore, and Indonesia, please see:
Singapore Suites A380 Review: New York JFK to Frankfurt
Review: Lufthansa Senator Lounge Frankfurt
Singapore Suites A380 Review: Frankfurt to Singapore
Singapore Airlines Private Room Lounge Review
Cathay Pacific First Class Review NYC JFK to Hong Kong
Singapore Suites A380 Review: Singapore to Hong Kong
Review: Grand Hyatt Hong Kong Club Harbour View Room
Tin Lung Heen Hong Kong Dim Sum Review
Review: Grand Club Lounge, Grand Hyatt Hong Kong
Emirates First Class A380 Review: Hong Kong to Bangkok
Review: Novotel Bangkok Suvarnabhumi Airport Hotel
Conrad Koh Samui Zest Restaurant Review, Menu and Prices
Koh Taen Snorkeling with Tours Koh Samui Review
Conrad Koh Samui Jahn Restaurant Review, Menu and Prices
Four Seasons Koh Samui Breakfast and Koh Thai Kitchen Review
Takho Bangpo (Bang Por Seafood) Koh Samui Review
W Koh Samui Breakfast and Kitchen Table Review
Singapore Gardens by the Bay Review
One Ninety Singapore Review and Menu
Amanjiwo Review, Borobudur, Java
Amanjiwo Restaurant Review and Menu
Four Seasons Bangkok Hotel Review
Four Seasons Bangkok Executive Club Lounge
Thai Airways Royal Orchid Lounge Bangkok Review and Photos
Review: Asiana Business Class on the A330
After disembarking from our Asiana Business Class flight, we came to one of the Incheon information desks, and asked where the Asiana First Class Lounge was. It's up an escalator, and well marked once you're near the entrance:
Seoul's Incheon Airport (ICN) is often cited as one of the best airports for a layover (see Best Airport Amenities and Where to Find Them). In retrospect, we probably should have reserved a room at the airport transit hotel, to get some real sleep, although I had (wrongly) assumed that the Asiana First Class Lounge relaxation room would have beds of some kind.
Instead, when I asked at reception about sleeping, the polite Asiana attendant noted that the Relaxation Room featured recliner chairs, but no beds. Honestly, the Thai Royal Orchid Lounge in Bangkok was better than this in terms of providing a fully flat surface on which to rest and actually get some sleep. I was pretty disappointed, given that sleep was what we needed most at this point.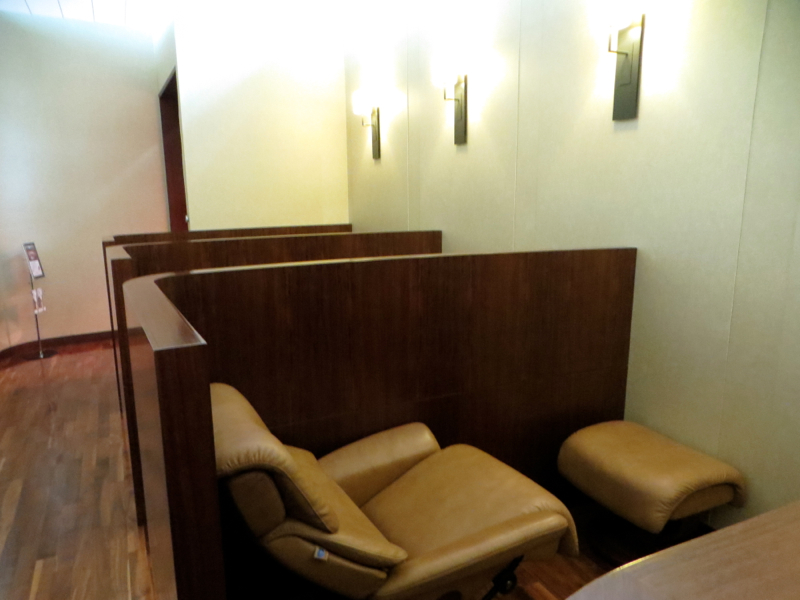 There was even a TV room, that as far as I could see went completely unused during our several hours in the lounge. Would it kill Asiana to put in sleeping cubicles (even if not individual rooms) so that exhausted passengers could catch up on rest? I mean, even in business class you can dine and watch plenty of films and shows on the IFE, so one of the most valuable aspects to me of any first class lounge is a sleeping room or place to lie down.
The other aspect I most value in lounges was entirely missing as well: showers. The bathroom was a regular bathroom (granted, with fancy Panasonic toilets similar to Toto that also function as bidets):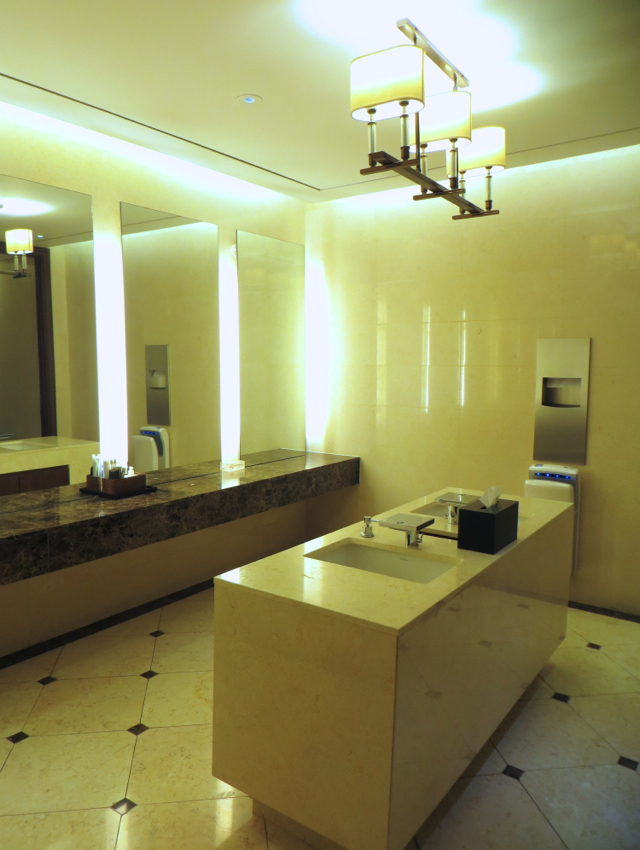 But there were no showers at all, only a few basic amenities such as toothbrushes and some L'Occitane moisturizer: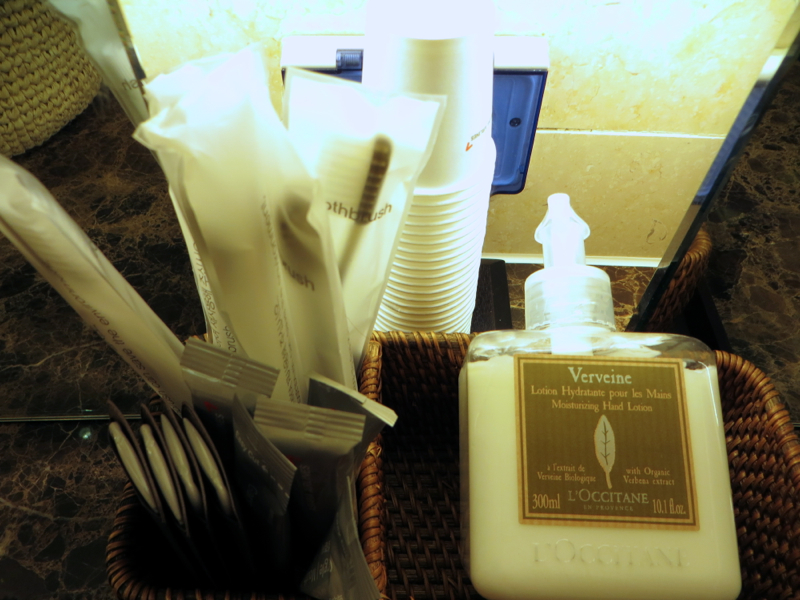 In the absence of beds, I settled us on a couch, that at least was long enough for the munchkin, although since it was in the open seating area and not dark at all (and he kept fidgeting so that his sleep mask didn't stay on) neither of us ended up getting any sleep in the lounge. The actual lounge decor was nice, with bookshelves in the various alcoves that provided views of the tarmac and runway. But clearly we weren't the only ones wishing for proper sleeping spaces–I noticed several other passengers camped out on the longest couches they could find.
Here's another photo of the seating, looking towards the dining area: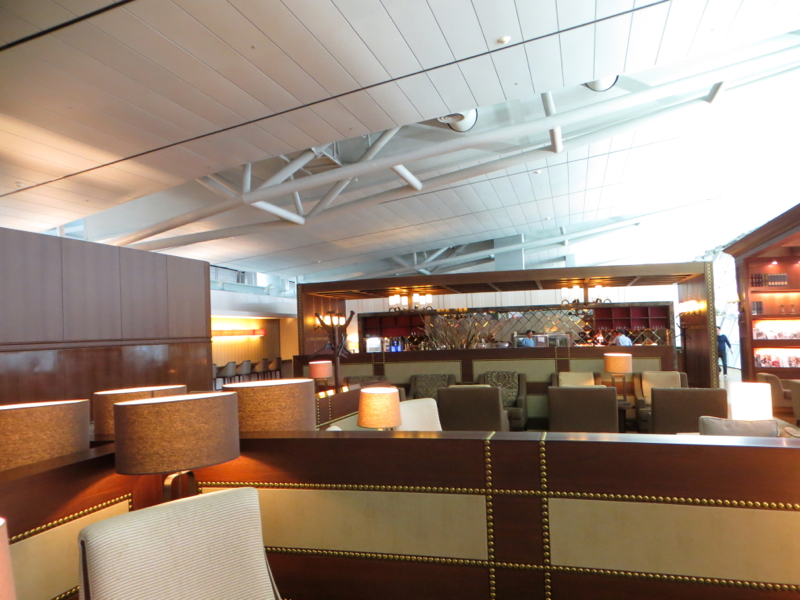 Since he couldn't sleep in the lounge, and hadn't had anything to eat on the Bangkok to Seoul flight, the munchkin wanted to eat. Here the Asiana First Class Lounge delivered a bit better, although not nearly as well as, for example, the Lufthansa First Class Lounge in Munich, which offered an a la carte menu of made to order items.
The breakfast buffet included smoked salmon and capers: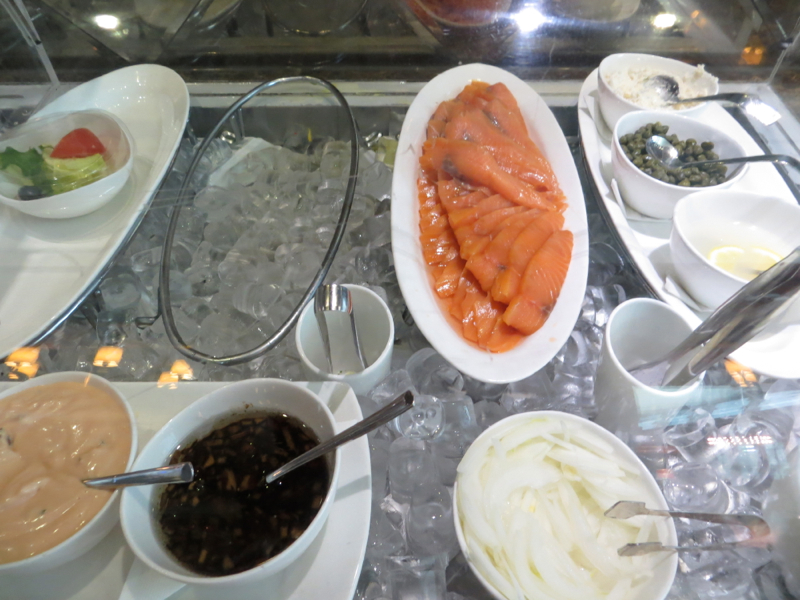 sandwiches and fruit: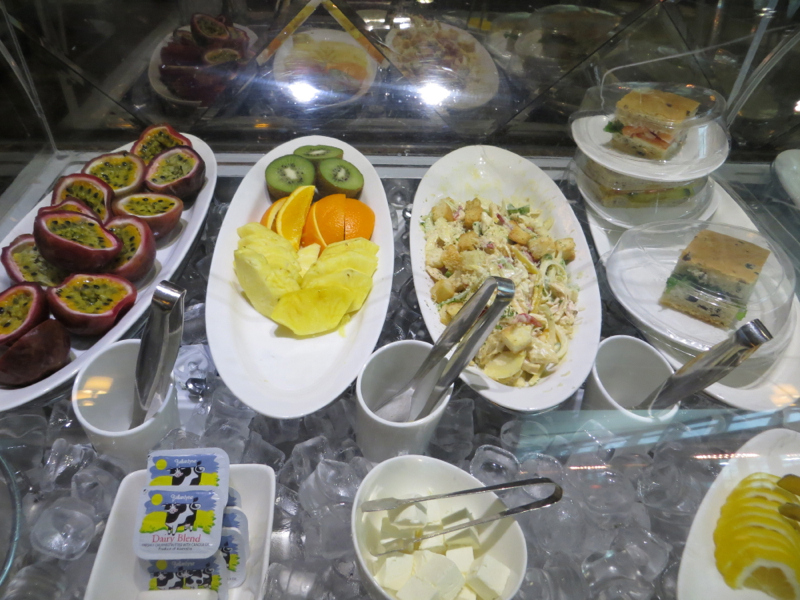 cheese, bread and dessert: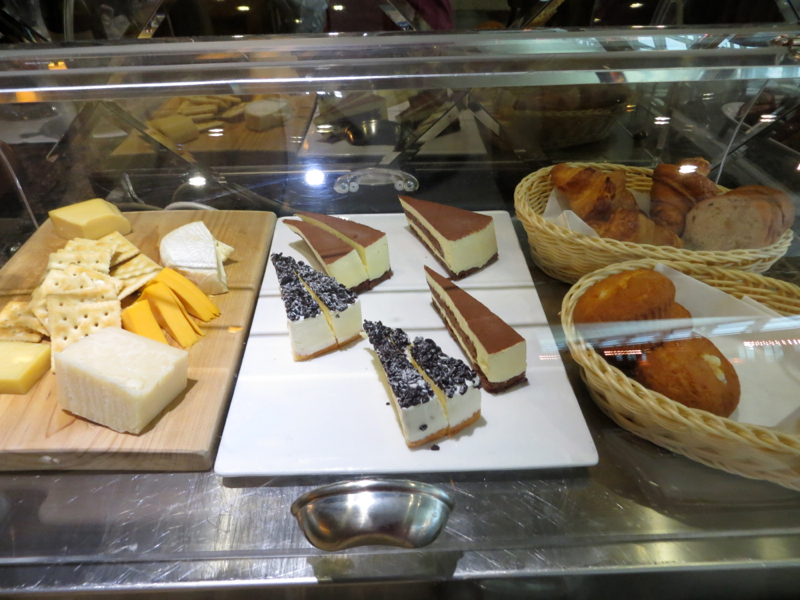 yogurt: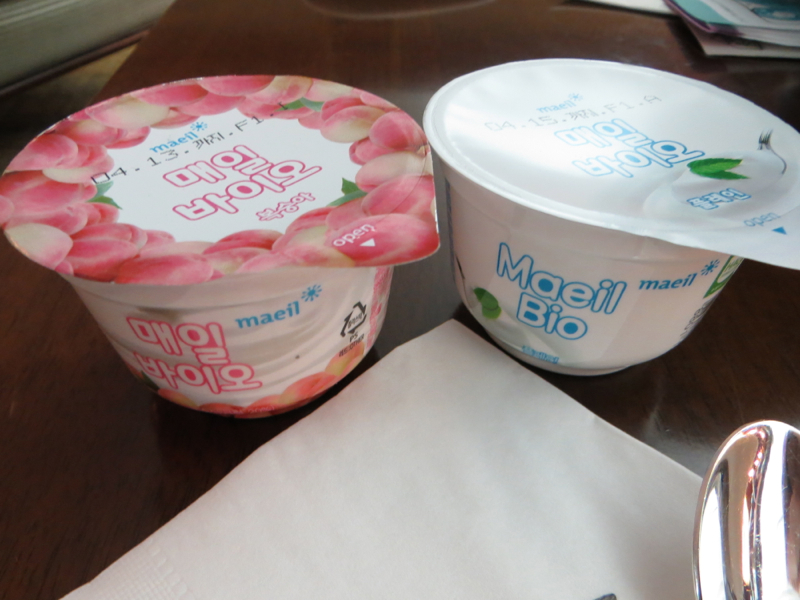 dim sum: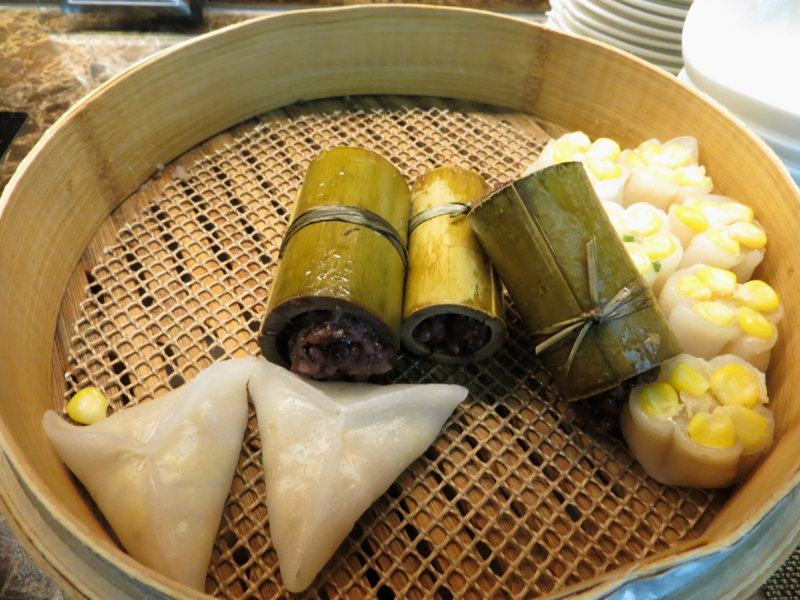 coffee and espresso drinks: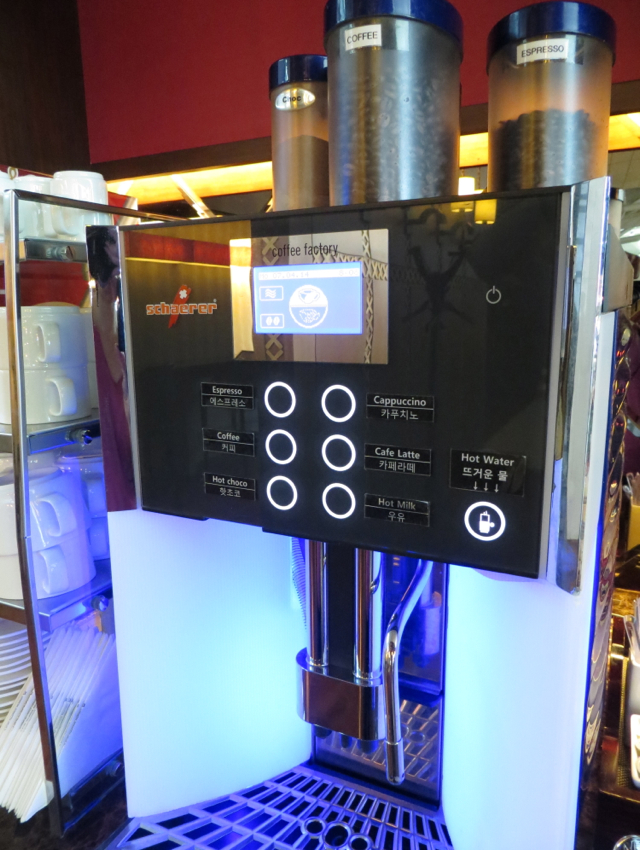 and Haagen Dazs ice cream: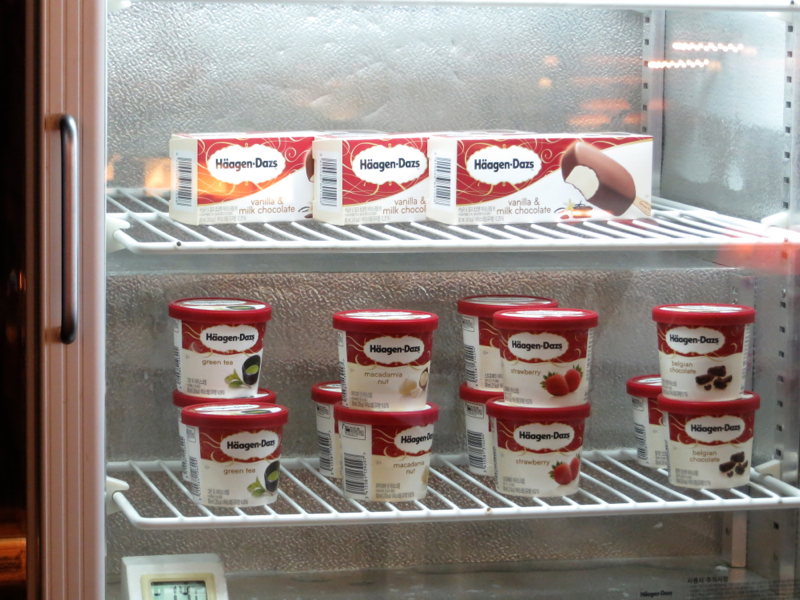 Here's a photo of one of our breakfast plates. The dim sum was…interesting. Not sure I've had corn flecked dim sum before. The smoked salmon was fine, but the French toast, as pretty as it looked, wasn't that good. I did appreciate fresh passion fruit, which is unusual for even first class airline lounges.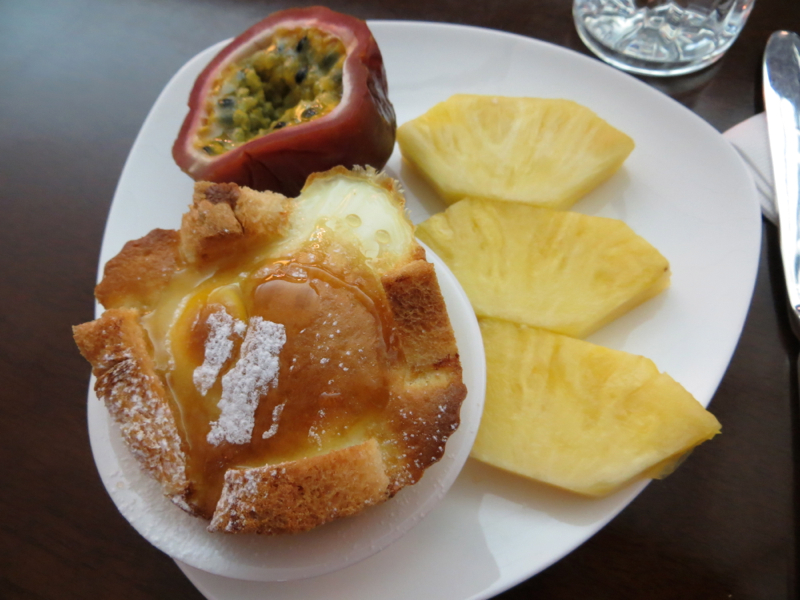 On the way out, I noticed the business center, which is just to the left of the reception desk when you enter the lounge.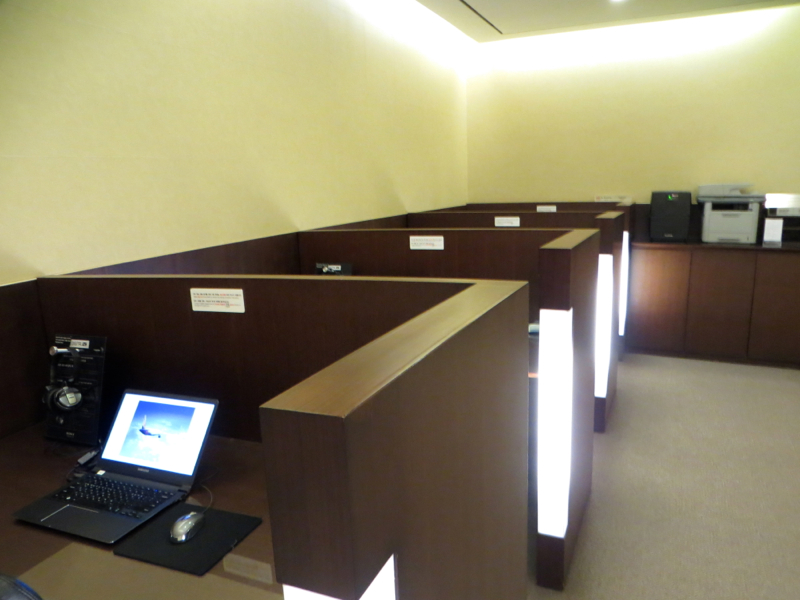 The Verdict:
While Asiana is by no means alone in this (the Singapore Private Room doesn't have any sleeping rooms either, although it does at least have showers) I really wish the Asiana First Class Lounge would do away with the chairs in its "Relaxation Room" and offer proper beds or some kind of lie flat surfaces instead. For that matter, remove the TV Room and allocate all of that space to sleeping rooms or sleeping cubicles. I guarantee that more guests would use these areas if there were actual beds in them, instead of trying to make their own make-shift beds from the couches in the regular seating area. Showers are also a must, and are currently lacking.
For an international first class lounge, the food options were not impressive either–not bad, but not that good (except for the fresh passion fruit). Overall, not an impressive international first class lounge.
If you've been in the Asiana First Class Lounge, what was your experience?
Related Posts
Asiana First Class Suites NYC to Seoul Bookable with United Miles
Review: Asiana Business Class, A330
Airlines with the Best International First Class Products
United Award Chart Devaluation
Need Award Booking Help? Our fee is as low as $75 per ticket if you book your hotel through us.
If you enjoyed this, join 100,000+ readers: please follow TravelSort on Twitter or like us on Facebook to be alerted to new posts.
Become a TravelSort Client and Book 5-Star Hotels with Virtuoso or Four Seasons Preferred Partner Amenities!