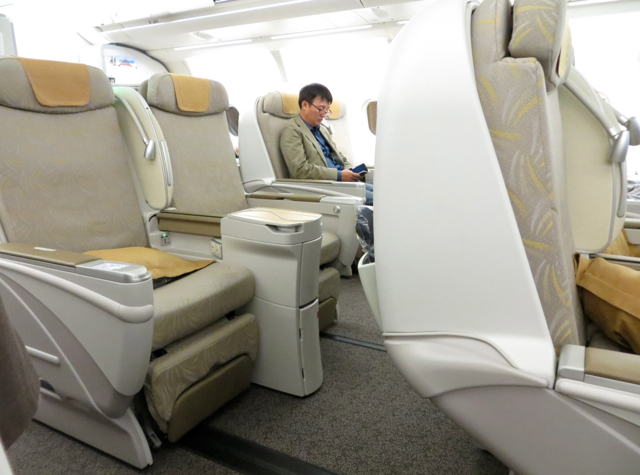 This review of Asiana Business Class on the A330 is based on our flight from Bangkok to Seoul, a late night flight that departed BKK 11:40pm and arrived in Seoul the next day at 6:50am. The business class seats on this 5.5 hour flight are angled flat, which is far from great for a night flight, but I figured we'd catch up on our sleep the following day, on our long Asiana First Class Suites flight from Seoul to New York JFK.
For prior posts in our trip report, covering Singapore Suites to Hong Kong as well as luxury resorts in Koh Samui, Bangkok, Singapore, and Indonesia, please see:
Singapore Suites A380 Review: New York JFK to Frankfurt
Review: Lufthansa Senator Lounge Frankfurt
Singapore Suites A380 Review: Frankfurt to Singapore
Singapore Airlines Private Room Lounge Review
Cathay Pacific First Class Review NYC JFK to Hong Kong
Singapore Suites A380 Review: Singapore to Hong Kong
Review: Grand Hyatt Hong Kong Club Harbour View Room
Tin Lung Heen Hong Kong Dim Sum Review
Review: Grand Club Lounge, Grand Hyatt Hong Kong
Emirates First Class A380 Review: Hong Kong to Bangkok
Review: Novotel Bangkok Suvarnabhumi Airport Hotel
Conrad Koh Samui Zest Restaurant Review, Menu and Prices
Koh Taen Snorkeling with Tours Koh Samui Review
Conrad Koh Samui Jahn Restaurant Review, Menu and Prices
Four Seasons Koh Samui Breakfast and Koh Thai Kitchen Review
Takho Bangpo (Bang Por Seafood) Koh Samui Review
W Koh Samui Breakfast and Kitchen Table Review
Singapore Gardens by the Bay Review
One Ninety Singapore Review and Menu
Amanjiwo Review, Borobudur, Java
Amanjiwo Restaurant Review and Menu
Four Seasons Bangkok Hotel Review
Four Seasons Bangkok Executive Club Lounge
Thai Airways Royal Orchid Lounge Bangkok Review and Photos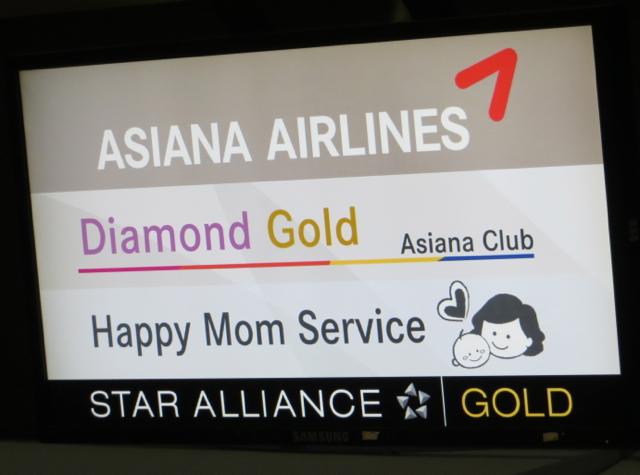 When we checked in for our Asiana Business Class flight, I was intrigued by the "Happy Mom Service" that was displayed prominently on the priority check-in monitor. While we enjoyed priority anyway as business class passengers, it's good to know that families with young kids (under 2) receive priority check-in, boarding and other services with this Happy Mom Service, including:
Priority Check-In
Priority Luggage Tags
Pre-Boarding
Complimentary car seat pre-installed, if you've bought a ticket for your under 2 year old
Kids' welcome kit with toys
Breast feeding cover ups for use during the flight
Complimentary baby carrier for use during the flight
This is in sharp contrast to most U.S. carriers, which no longer even provide pre-boarding privileges to families with kids. In general, the top Asian carriers (along with Etihad, with its Flying Nannies) are the most family friendly, and I need to add Asiana to The Best Airlines for Kids and Families.
At check-in, we received priority passes, to getting through Bangkok security was a breeze.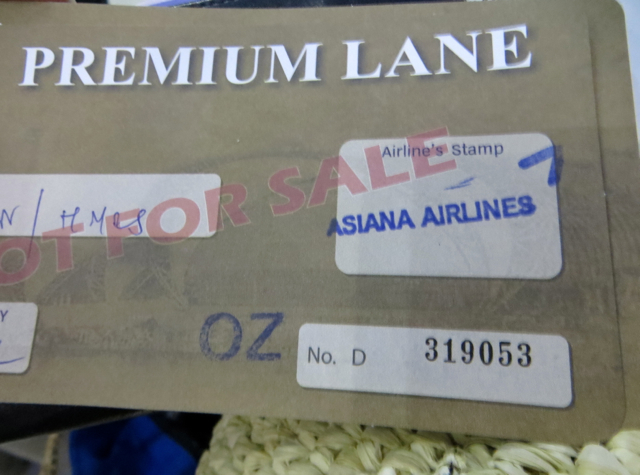 When it came time to leave the Thai Airways Royal Orchid Lounge in Bangkok to board our Asiana flight to Seoul, it was really hard to wake up the munchkin, who had fallen into a deep sleep in one of the sleeping cubicles. I eventually was able to rouse him enough to stumble out of the lounge and get to our gate and board. Of course what he really wanted was for me to immediately make his seat into a bed, but I explained that we couldn't recline until we had taken off, plus Asiana's A330 seats are angled flat seats, not full flat bed seats.
Here's the Asiana Business Class Cabin on the A330: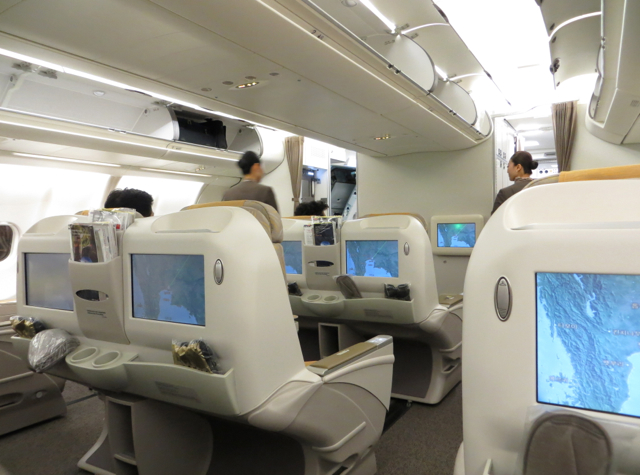 Here's my seat, 3H: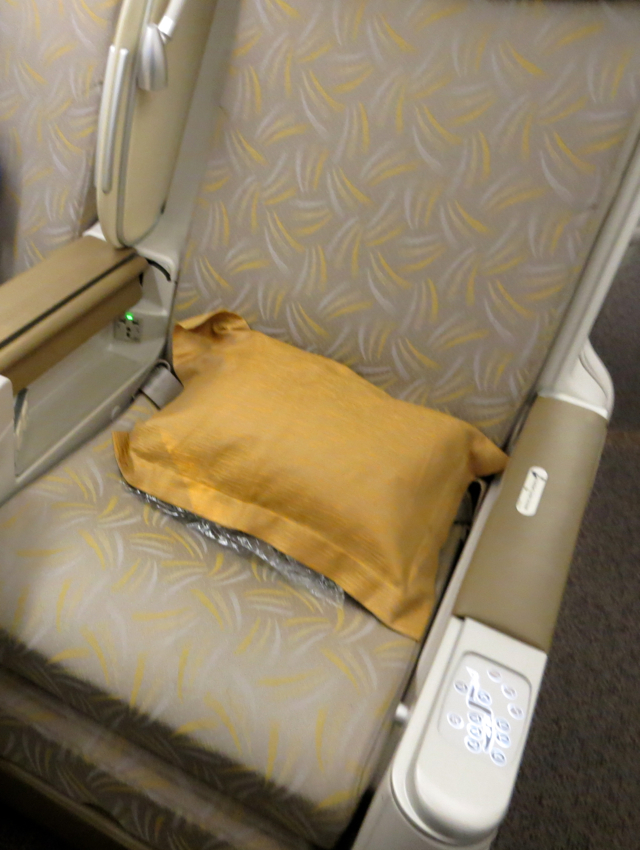 The Asiana flight attendants working the business class cabin welcomed us, as well as each business class passenger, as far as I could tell, a nice touch that I see less and less often in business class.
We were given eye shades and ear plugs: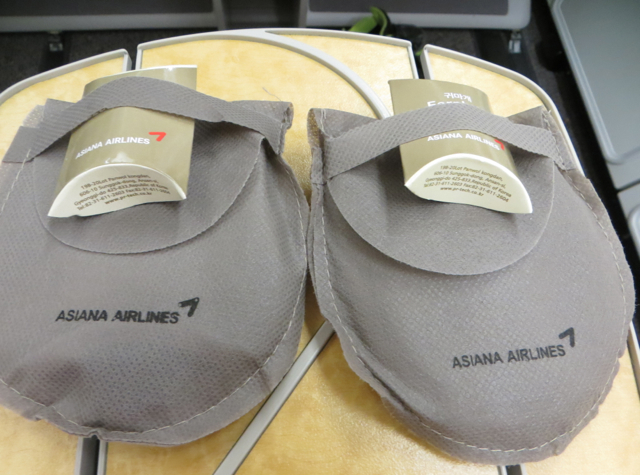 And we were offered pre-departure drinks, so I opted for water for both of us. We were both going to be somewhat sleep deprived, so keeping hydrated was all the more important.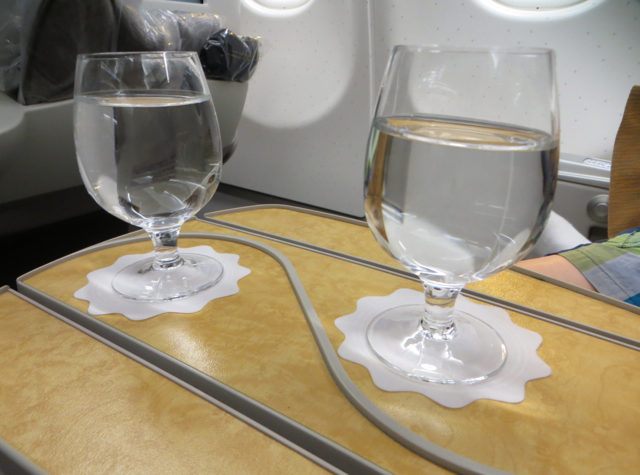 Menus were provided, which included both a Western option and Korean, with Bibimbap. The munchkin was just going to sleep, but I was actually rather hungry, since the Thai business class lounge options were so lackluster that I didn't partake of any of them, so I decided to order the Bibimbap.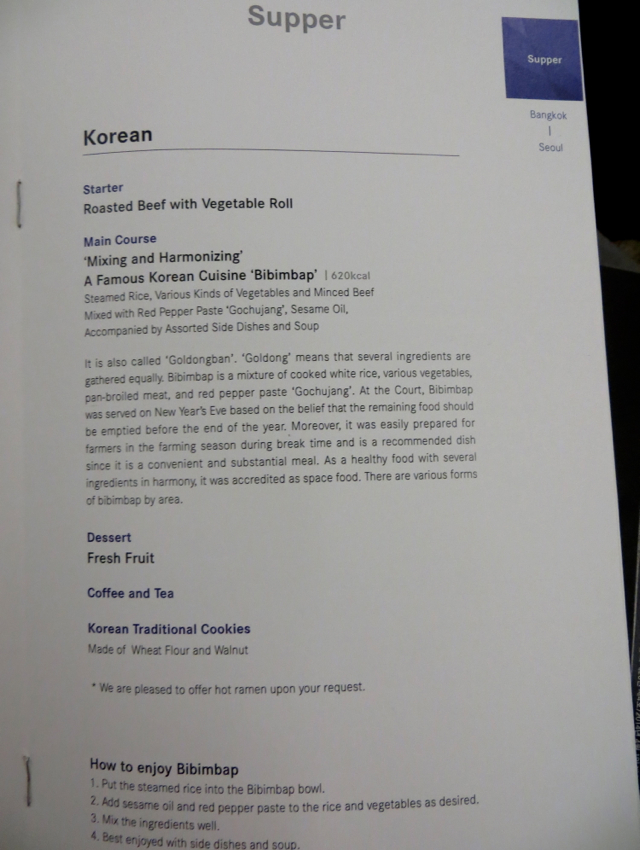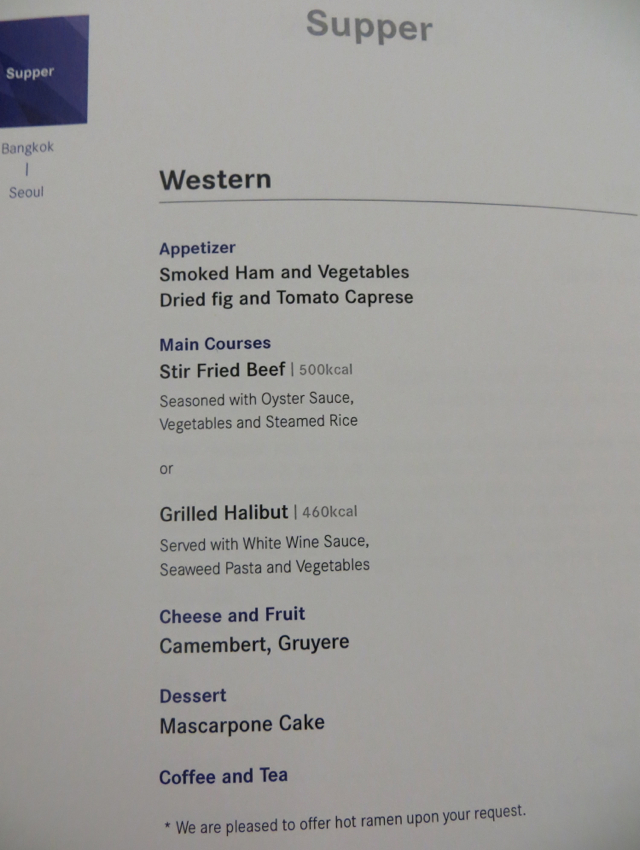 We had an uneventful take-off (always a good thing) and as soon as I could, I fully reclined the munchkin's seat as far as it would go. Here are the seat controls: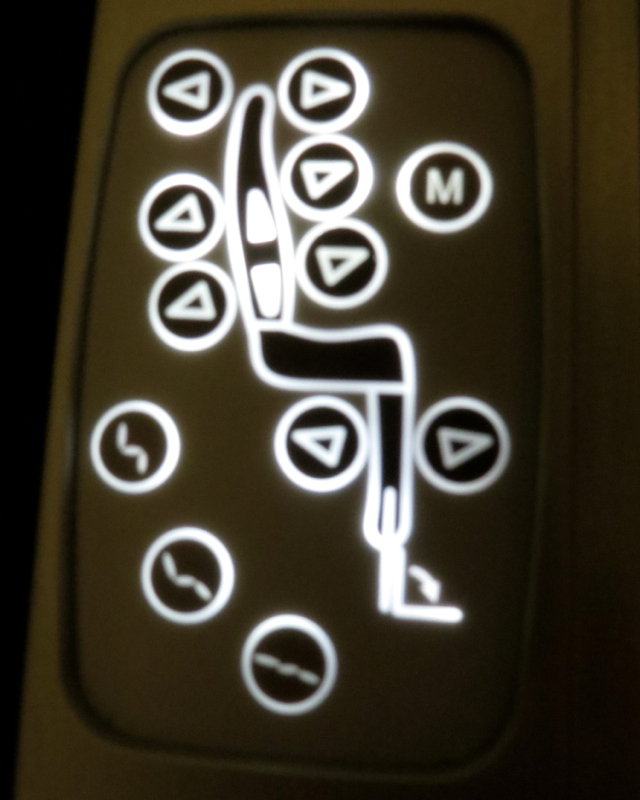 As you can see, the 168 degree angle is still quite angled, so not that conducive to sleeping, but certainly better than a lesser degree of recline and the munchkin did manage to sleep through most of the flight.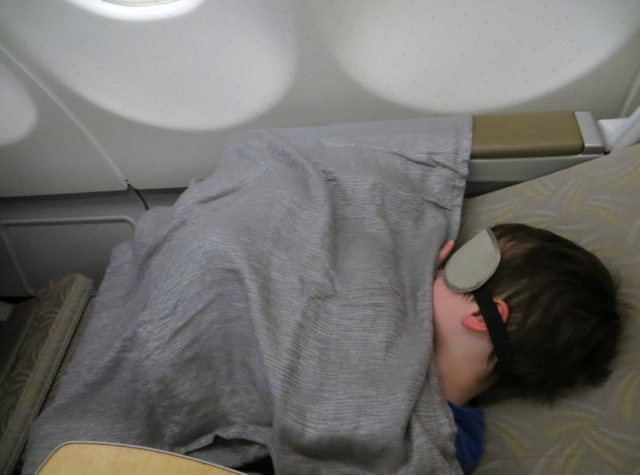 Meanwhile, we were provided hot towels, then served our appetizer. As I'd chosen the Korean Bibimbap, the Korean appetizer was a Roasted Beef and Vegetable Roll. Good (especially given how hungry I was) but nothing special.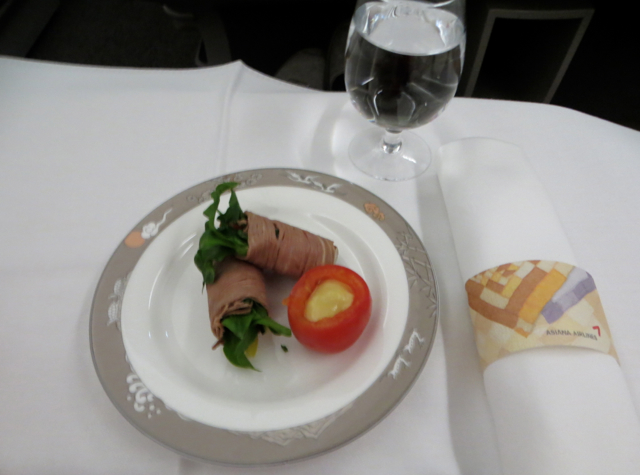 What was special (at least as airline meals go) was the Korean Bibimbap, which was accompanied by some side dishes and soup. I also learned from the menu that bibimbap, which is cooked rice served with a number of vegetables and meat (in this case minced beef) is nutritious enough that it has been accredited as space food. I loved mixing in all the Gochujang red pepper paste and making it nice and spicy. Yum!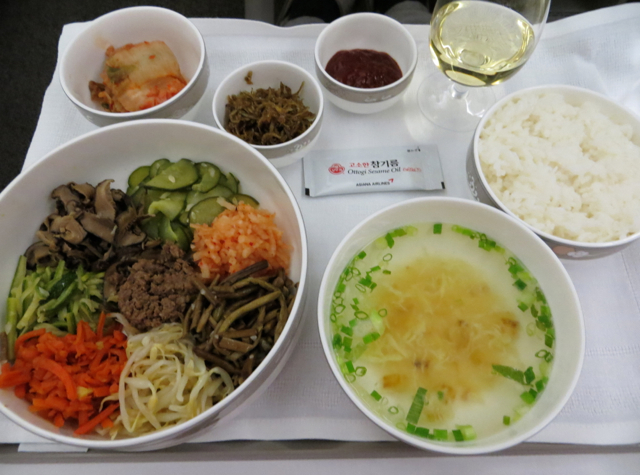 While it no doubt would have been healthier to have the Korean dessert of fresh fruit and traditional Korean cookies, I asked the flight attendant who took my meal order if it would be possible to enjoy the Western dessert, which was Mascarpone Cake. She said it would depend, naturally enough, on how many passengers ordered the Western option, but would do her best to provide me one, and in fact did serve it to me as my dessert. It was one of the better desserts I've had in-flight–not as good as the Onboard Chef-made dessert in Etihad First Class or one of the desserts I tried in British Airways New First Class, but better than the Cathay Pacific First Class and Cathay Pacific Business Class, Singapore Suites, and Emirates First Class desserts I've had.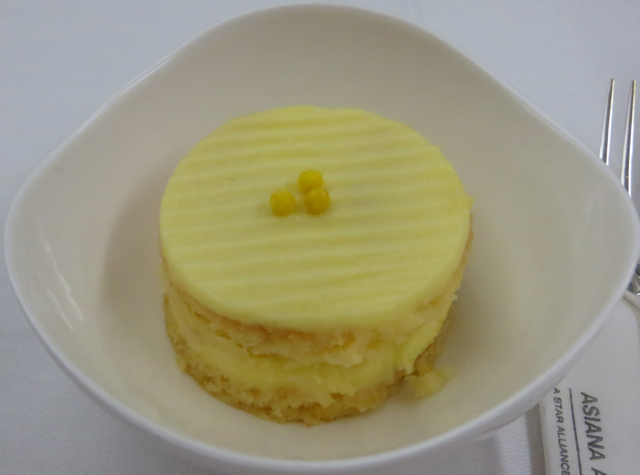 After dinner, I went to the bathroom to brush teeth. It's standard size, but the L'Occitane amenities are a nice touch.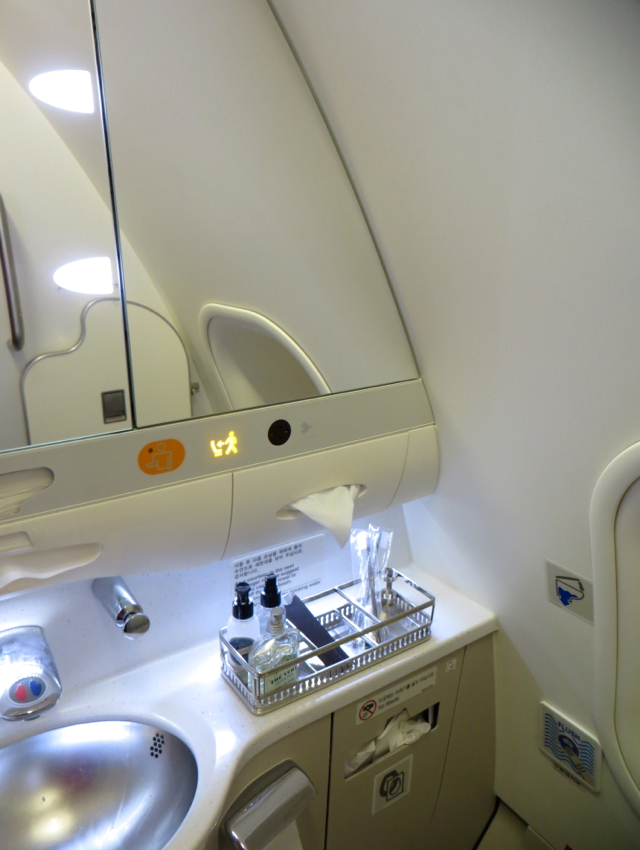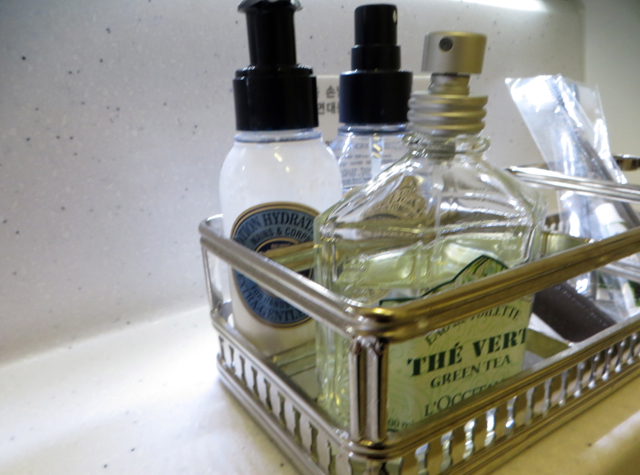 While I then proceeded to rest for the remainder of the flight, I did briefly check out the in-flight entertainment options. Nowhere near as extensive as Singapore, but there were some solid kid-friendly options (Disney's Cars or Cars 2 is always a good standby for us) although needless to say the munchkin was sound asleep and didn't watch anything this flight.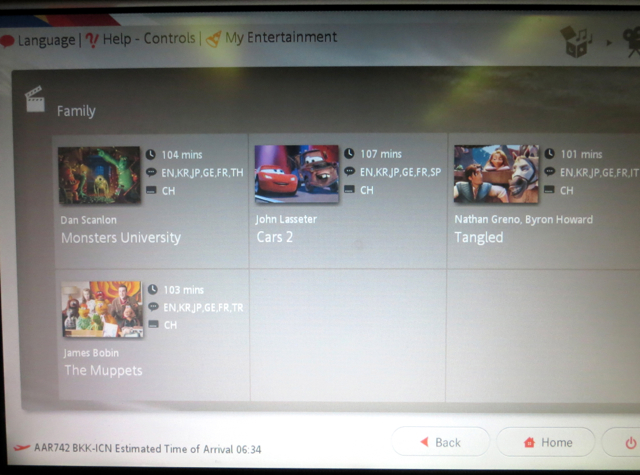 I was pretty amused by the accupressure instructional video, which showed you how to apply pressure to relieve aching eyes, a headache, and nausea. Amused not by accupressure, which I think can be very effective, but by its presentation format on the IFE.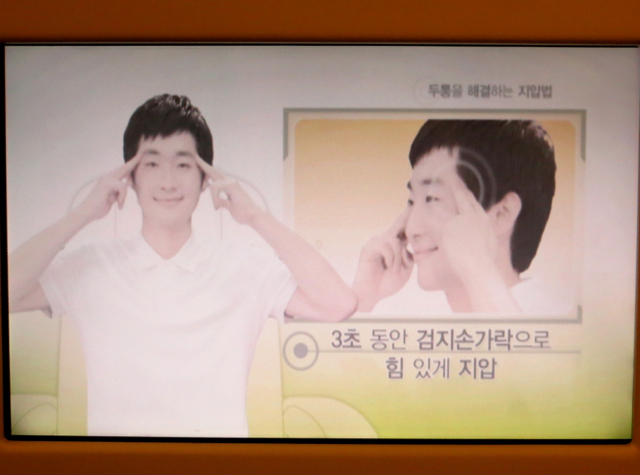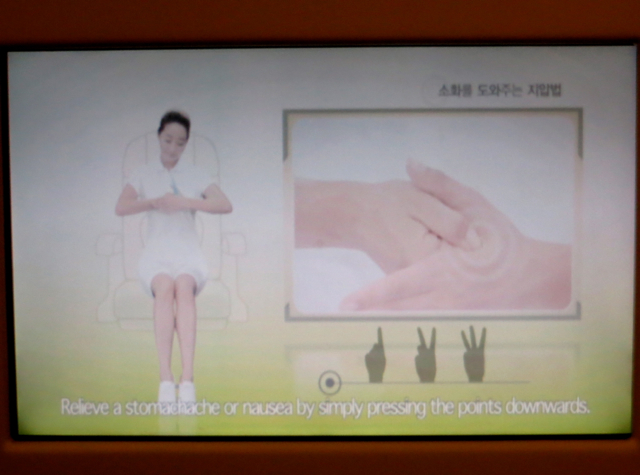 Verdict: I very much enjoyed the Korean Bibimbap, dessert and Asiana service on our Asiana Business Class flight from Bangkok to Seoul. I intensely dislike angled flat seats for sleeping, however, so I would try to avoid this type of late night flight in the future, since most intra-Asia business class products are angled flat. Not a big deal as a day-time flight, but really not enjoyable, for me at least, as a night flight.
If you've flown Asiana Business Class, what was your experience?
Related Posts
Thai Airways Business Class Review
Asiana First Class Suites NYC to Seoul Bookable with United Miles
United Award Chart Devaluation
Four Seasons Bangkok Hotel Review
Peninsula Bangkok Hotel Review
Need Award Booking Help? Our fee is as low as $75 per ticket if you book your hotel through us.
If you enjoyed this, join 100,000+ readers: please follow TravelSort on Twitter or like us on Facebook to be alerted to new posts.
Become a TravelSort Client and Book 5-Star Hotels with Virtuoso or Four Seasons Preferred Partner Amenities!