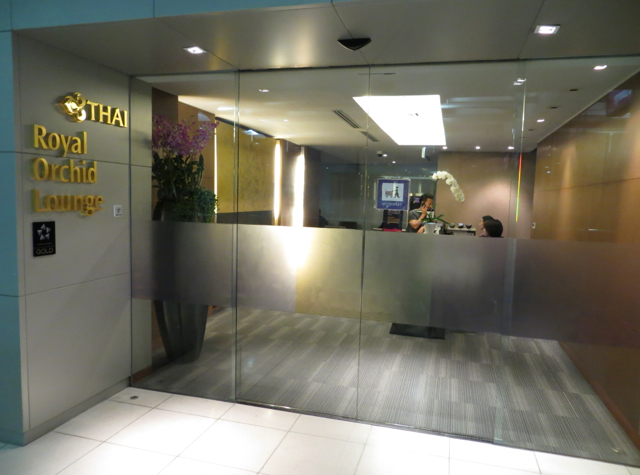 Thai Airways' Royal Orchid Lounge in Bangkok Airport's E Concourse isn't the business class lounge we were originally given invitations to, when we checked in for our Asiana Business Class flight from Bangkok to Seoul. Instead we were given invitations to Thai Airways' Royal Silk Lounge. But when we arrived there and I asked about sleeping rooms, they immediately directed me to the Thai Royal Orchid Lounge, just across from it, which does have napping cubicles.
For prior posts in our trip report, covering Singapore Suites to Hong Kong as well as luxury resorts in Thailand, Singapore, Bangkok and Indonesia, please see:
Singapore Suites A380 Review: New York JFK to Frankfurt
Review: Lufthansa Senator Lounge Frankfurt
Singapore Suites A380 Review: Frankfurt to Singapore
Singapore Airlines Private Room Lounge Review
Cathay Pacific First Class Review NYC JFK to Hong Kong
Singapore Suites A380 Review: Singapore to Hong Kong
Review: Grand Hyatt Hong Kong Club Harbour View Room
Tin Lung Heen Hong Kong Dim Sum Review
Review: Grand Club Lounge, Grand Hyatt Hong Kong
Emirates First Class A380 Review: Hong Kong to Bangkok
Review: Novotel Bangkok Suvarnabhumi Airport Hotel
Conrad Koh Samui Zest Restaurant Review, Menu and Prices
Koh Taen Snorkeling with Tours Koh Samui Review
Conrad Koh Samui Jahn Restaurant Review, Menu and Prices
Four Seasons Koh Samui Breakfast and Koh Thai Kitchen Review
Takho Bangpo (Bang Por Seafood) Koh Samui Review
W Koh Samui Breakfast and Kitchen Table Review
Singapore Gardens by the Bay Review
One Ninety Singapore Review and Menu
Amanjiwo Review, Borobudur, Java
Amanjiwo Restaurant Review and Menu
Four Seasons Bangkok Hotel Review
Four Seasons Bangkok Executive Club Lounge
Thai Airways is known for stellar ground service for its first class passengers, namely the Thai Airways Royal Orchid Spa in Concourse D, where Thai First Class passengers are treated to a 1 hour full body massage. But this time we weren't flying Thai Airways at all–instead we had a late night business class Asiana flight from Bangkok to Seoul, and my top priority was finding a quiet place the munchkin could like down and sleep for about 90 minutes before our flight.
After being directed there from the Royal Silk Lounge (which has no sleeping rooms) we presented our boarding passes and were welcomed in by the gracious staff at the lounge reception, who also explained where the nap cubicles were. You pass the seating areas on your right, which were quite crowded during our time there in the evening: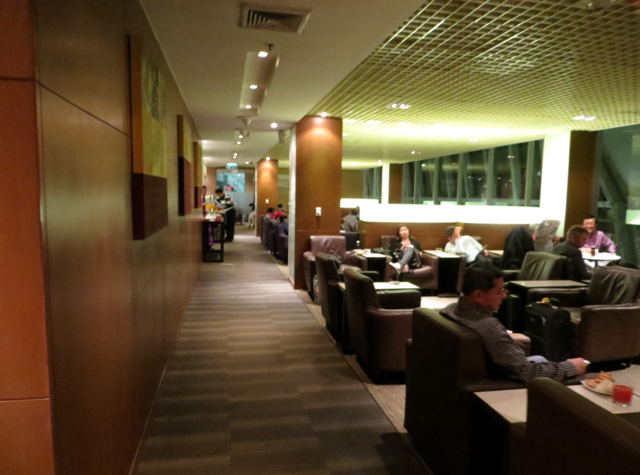 There's a corridor on the left, before you get to the food area, leading to the bathrooms and a few shower rooms. Here's one of the shower rooms, as well as the aromatherapy bath amenities: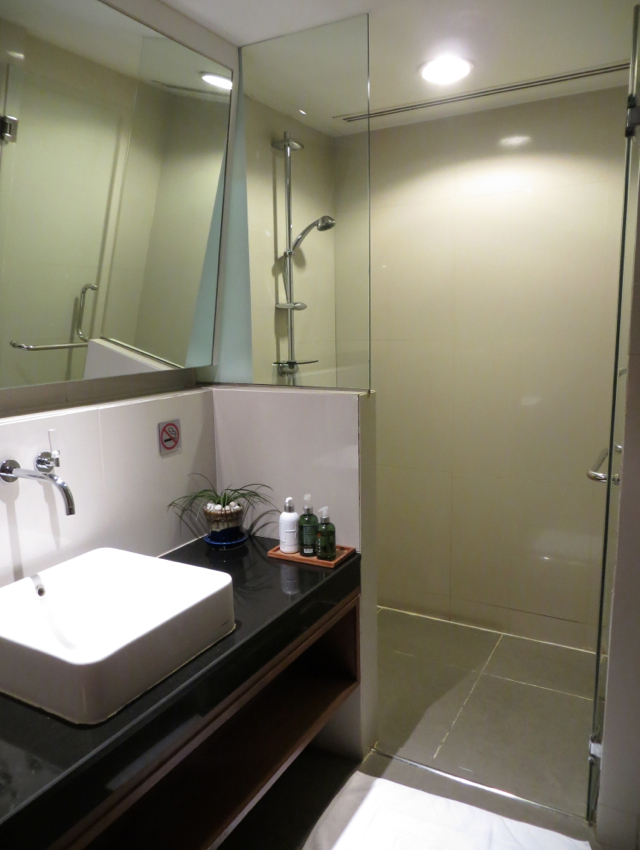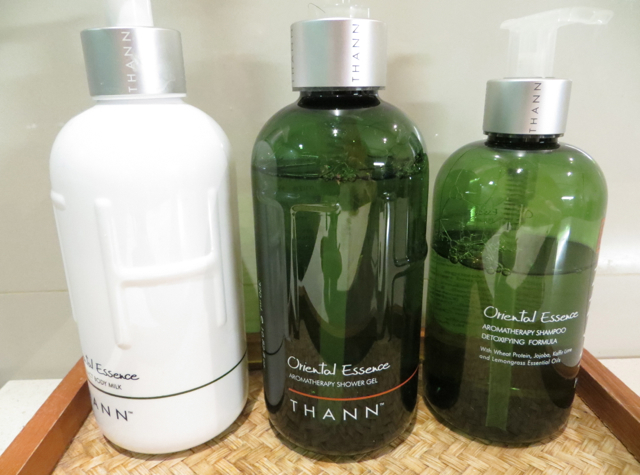 The food options, which I explored after settling the munchkin, were nothing special. There were the usual sandwiches, salad and fruit: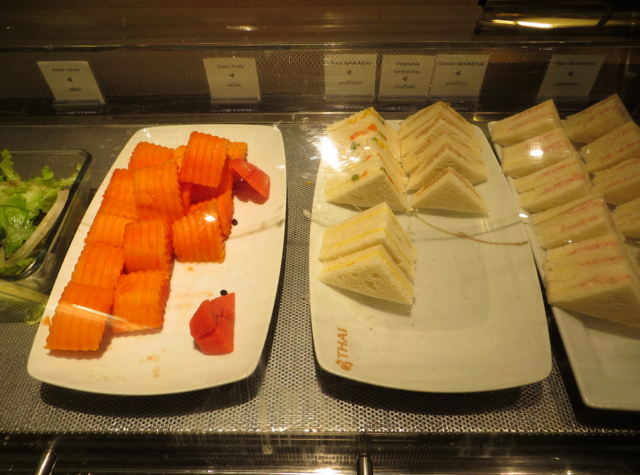 Some savory pastries that had seen better days were under a heat lamp: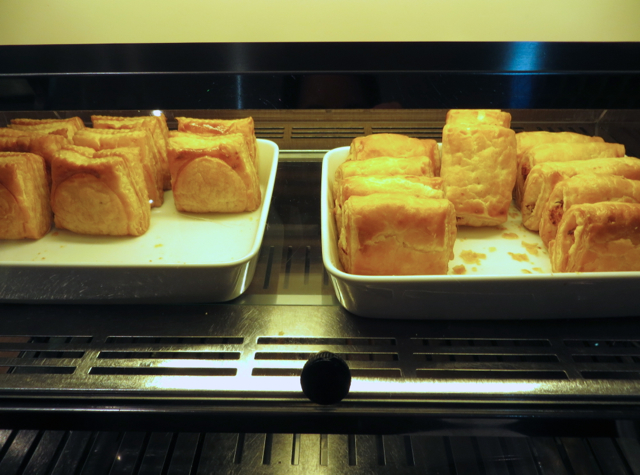 Even less appetizing were trays of rice and a soupy stew: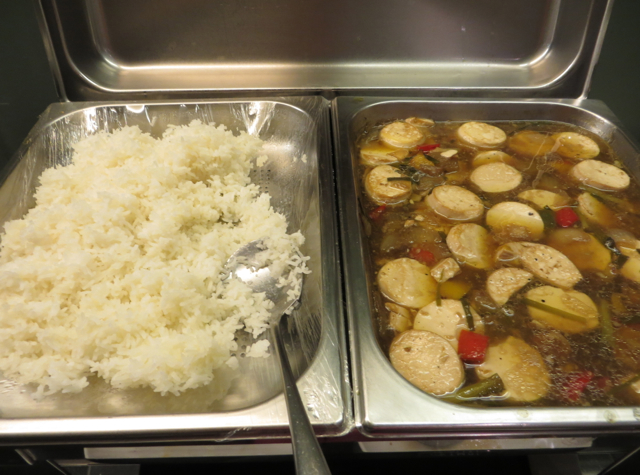 And some coconut cake and almond danish that didn't tempt my sweet tooth in the slightest were also on offer: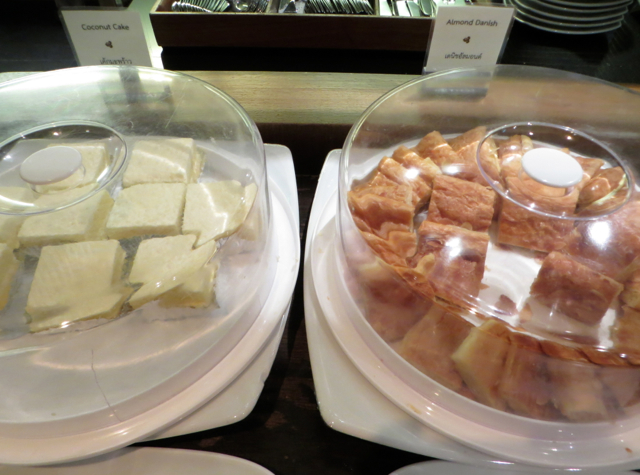 There were cold drinks in a refrigerated case, and also a coffee maker, which at least freshly ground the beans: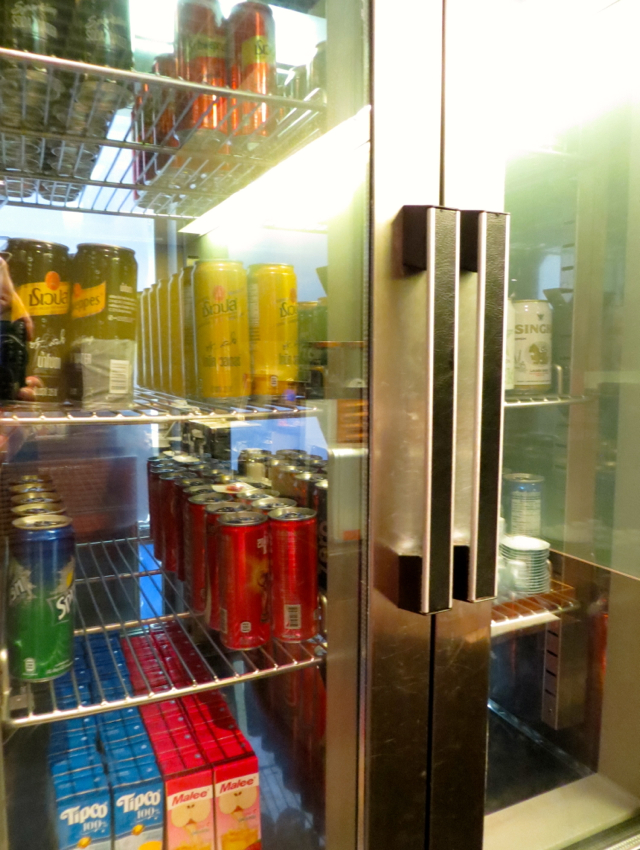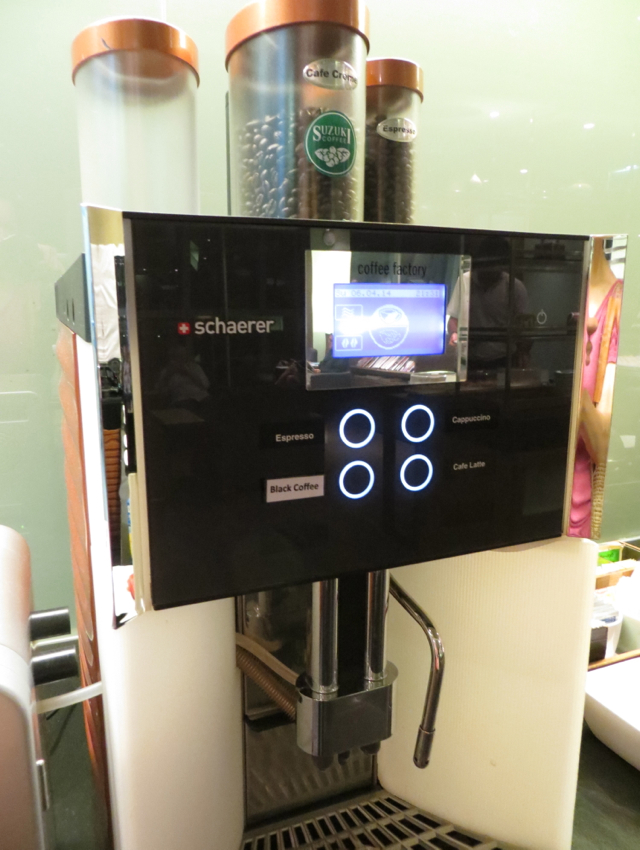 Had I been hungry at all, I most likely would have ladled some soup broth into one of these bowls with noodles and chicken: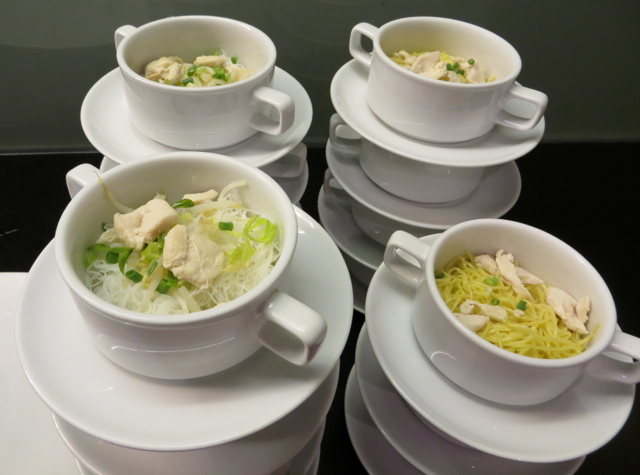 Towards the end of the seating area, we turned left, and found some business work desks on the left, and the nap rooms to our right: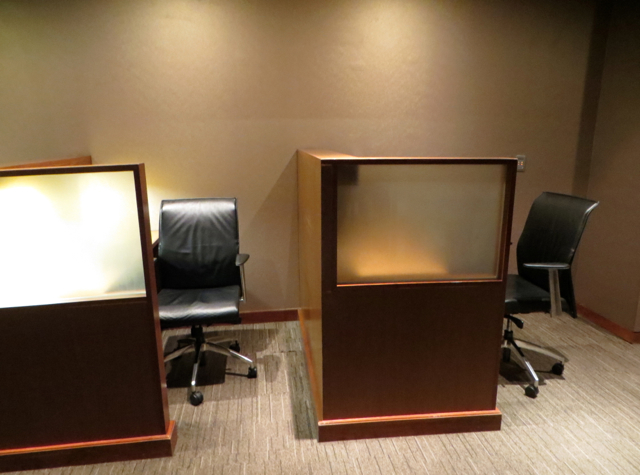 The nap rooms were basic, with vinyl covered beds and a pillow such as you might have found on an international economy flight back when pillows were still given out in economy class, but it was perfect for my purpose of finding a quiet place for the munchkin to rest until it was time to board our flight. And in fact he did pretty instantly fall asleep (thankfully he has a knack for sleeping in many less than ideal places, when he's tired enough).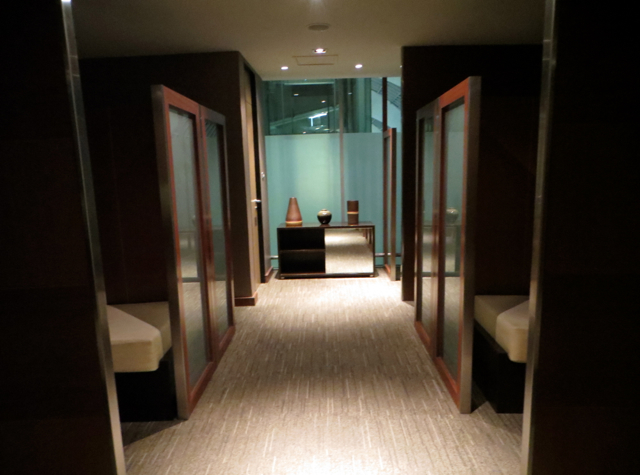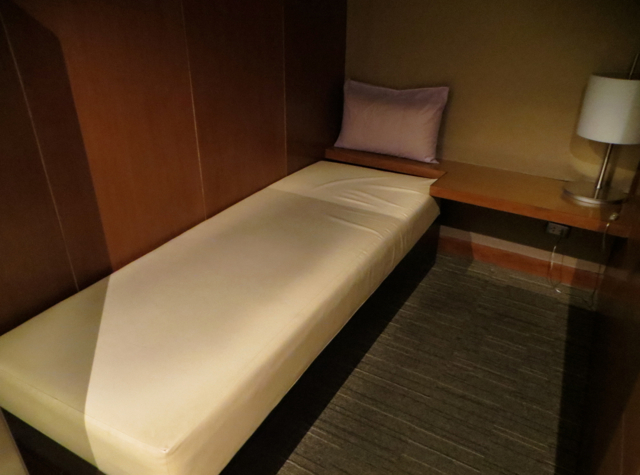 The Verdict: While overall quite standard as international business class lounges go, the Thai Airways Royal Orchid Lounge has a major advantage over most business class lounges and even some first class lounges: sleeping nooks where one can lie down flat, not angled, and get some rest if not sleep.
If you've been to the Thai Airways Royal Orchid Lounge in Bangkok, what was your experience?
Related Posts
Thai Airways First Class Lounge and Spa Review
Thai Airways Business Class Review
Thai Airways First Class A380 Review
Airlines with the Best First Class Ground Experiences
Four Seasons Bangkok Hotel Review
Peninsula Bangkok Hotel Review
Need Award Booking Help? Our fee is as low as $75 per ticket if you book your hotel through us.
If you enjoyed this, join 150,000+ readers: please follow TravelSort on Twitter or like us on Facebook to be alerted to new posts.
Become a TravelSort Client and Book 5-Star Hotels with Virtuoso or Four Seasons Preferred Partner Amenities!