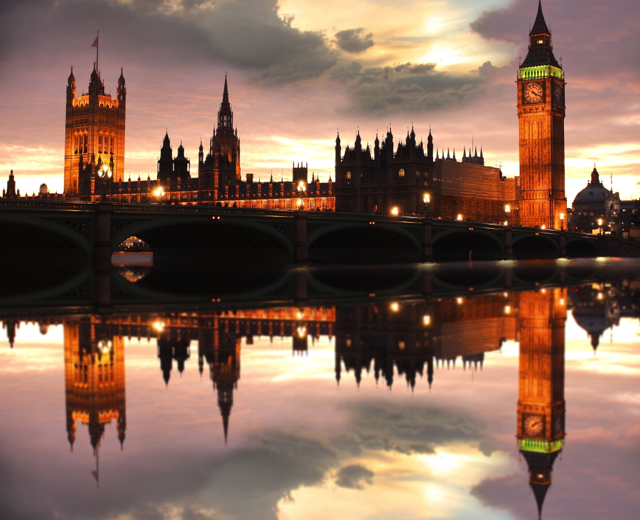 For London, which frequent flyer miles and points are best?
TravelSort reader Joe writes "My goal is to accumulate enough miles and points for two roundtrip business class or first class tickets from Richmond, VA to London, England in three years. I would also like to have enough points to fly AA, US Airways or United from Richmond to Dallas and/or Chicago once a year. I currently have 40K AAdvantage miles, 40K US Airways Dividend miles, 40K Chase Sapphire points that could transfer to United miles or others and 40K Amex rewards that could be transferred to British Airways or other airlines or hotels. Could you advise me on my next steps and / or correct my current path?"
London remains a favorite travel destination–in fact, it recently it topped the list of estimated visitor arrivals, according to the 2014 MasterCard Index of Global Destination Cities, edging out Bangkok and Paris. But it can also present a challenge to get to at a reasonable price when your goal is flying business class or first class from the U.S. Here are my top recommendations for getting London with miles and points, which will likely be of most interest to other readers, followed by suggestions for Joe's other destinations, Dallas and Chicago.
Best Frequent Flyer Miles and Points for First Class or Business Class to London from the U.S.
1. British Airways First Class with the BA Visa Companion Voucher and Barclays Arrival for Fuel Surcharges
Many folks love to hate British Airways First Class, calling it the "best business class" and complaining about the fuel surcharges, which are admittedly high. Sure, even British Airways New First Class isn't going to be confused with Singapore Suites or Cathay First Class anytime soon, but it's more convenient to fly nonstop into London. Most people will simply want to sleep or rest comfortably, and ideally fly a nonstop into London without having to connect somewhere in Europe, and BA is pretty good for that.
It's also an ideal bet for those flying as a couple or family who can plan ahead, because British Airways is more likely to have award space for more than one person when planning far enough out, than many other frequent flyer programs that serve Europe.
Frequent Flyer Miles Needed: British Airways has a distance based chart, so the number of British Airways Avios you'll need depends on where you're flying from in the U.S. If you're flying from NYC JFK, it will be 60,000 per person each way, with fuel surcharges of ~$440 from the U.S. and ~$620 from London. This reader would probably want to consider connecting to Atlanta via Southwest's new route RIC-ATL, then flying British Airways First Class from ATL, which would be 75,000 Avios each way per person, 150,000 Avios roundtrip.
I'd recommend waiting to apply for the British Airways Visa when the signup bonus is 100,000 Avios and earning the companion voucher. You'll still have to pay taxes and fees on both tickets, to the tune of ~$2200 total, but will only have to redeem Avios for one ticket.
You can get some of the fuel surcharges rebated if you use your Citi Prestige $250 annual (December to December billing cycle) airline credit, to take $250 off your British Airways taxes and fees if you use it to pay for the taxes and fees on your British Airways award tickets.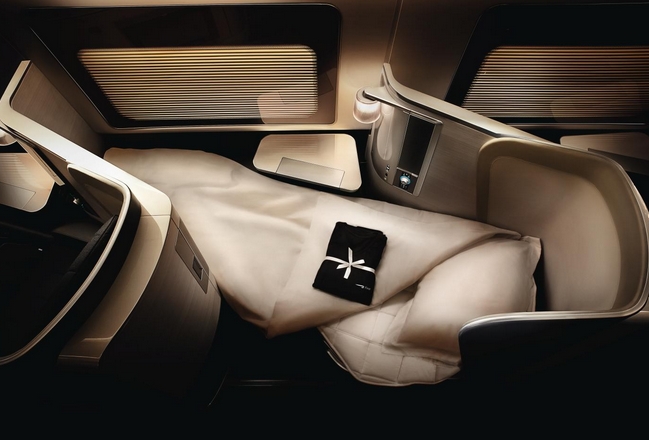 2. Singapore Suites on the A380 to Frankfurt with KrisFlyer Miles + Cheap Ticket FRA-LHR
Singapore Suites JFK to Frankfurt is of course more convenient if you're actually in the NYC area, but it is my favorite first class product to and from Europe. This will probably be one of the few times you wish you could actually have a longer flight! Even if you just want to sleep, I find the Singapore Suites bed, which is made up with a memory foam mattress pad and Givenchy linens, the most comfortable airline first class bed I've tried so far.
Frequent Flyer Miles Needed: You'll need 57,375 KrisFlyer miles + ~$220 in taxes for the JFK-FRA Singapore Suites award one way, per person. Both Chase Ultimate Rewards points and AMEX Membership Rewards points can transfer 1:1 to Singapore KrisFlyer, although note that the transfer usually takes ~24-48 hours since it has to be processed during Singapore's business working hours. You'll still need to buy a cheap ticket from Frankfurt to London, or redeem for, say, a Lufthansa flight with United or other Star Alliance miles.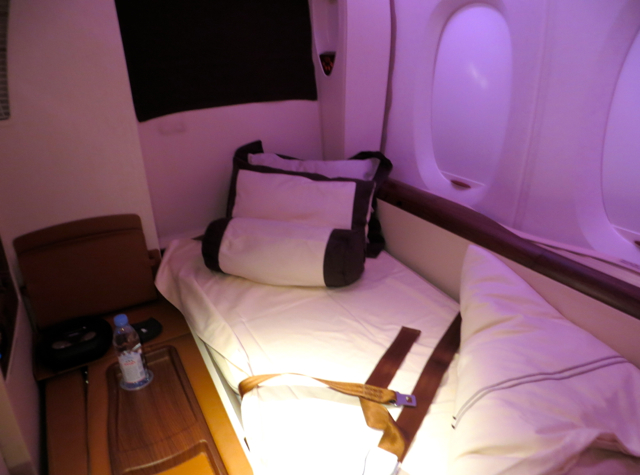 3. Iberia Business Class via Madrid with Low Taxes and Fees
While Iberia Business Class will force you to stopover in Madrid and is only an ok business class product (see my Iberia New Business Class A330-300 Review and Iberia Business Class A340-600 Review) Iberia's new business class at least provides direct aisle access for all passengers, in contrast to British Airways' Club World, which is not aging well. And importantly, you can significantly reduce your fuel surcharges by booking with Iberia Avios, instead of British Airways Avios.
Frequent Flyer Miles Needed: You'll need the same number of Iberia Avios as British Airways Avios, which will vary depending on your route. JFK to Madrid one way, for example, is 40,000 Avios per person. Note that in order to transfer British Airways Avios to Iberia, you'll need your Iberia Avios account to have been open for at least 3 months and to have some earned Avios in it. See How to Transfer British Airways Avios to Iberia Plus to Avoid High Fuel Surcharges. Note that you *cannot* use the British Airways companion ticket on Iberia–you must fly British Airways metal when using the BA companion ticket.
4. Lufthansa First Class via Frankfurt with Miles & More
Another option if you don't mind connecting in Europe, specifically Frankfurt, Munich or Dusseldorf, is Lufthansa First Class. Departing from Frankfurt back to the U.S. you can visit the dedicated Lufthansa First Class Terminal, but even the smaller Lufthansa First Class Lounge in Munich is still a treat, with cooked to order meals, spacious shower rooms and a sleeping room (first come, first served) if you have a long connection. Although I've yet to fly it, I'm much less of a fan of Lufthansa's New Business Class, although it's at least better for couples than for solo business travelers.
Frequent Flyer Miles Needed: Lufthansa First Class can sometimes be booked last minute using United miles (although that redemption has increased 63% after the United Award Chart devaluation) or other Star Alliance partner miles, such as Avianca Taca, Aeroplan, Singapore KrisFlyer, etc. but that's not practical if you need 2 tickets and are trying to book more than 15 days out. Instead, you'll need Lufthansa Miles & More Miles. I recommend waiting to see if the 50,000 Miles & More credit card signup bonus returns, and then transferring the remaining miles needed from Starwood Preferred Guest. Also see Best Ways to Use Lufthansa Miles & More Award Chart.
There are fuel surcharges charged on Miles & More awards, so again, you may want to use the $250 airfare credit from your Citi Prestige card to pay for the award ticket taxes and fees, so you can refund some of them in the form of a statement credit.
Best Frequent Flyer Miles and Points for U.S. Domestic Award Travel
The best frequent flyer miles and points for U.S. domestic award travel of course depend on your route, and often it may be best to simply pay cash, but let's take the examples Joe mentions: Richmond to Dallas and Richmond to Chicago.
American Airlines offers the most nonstops between Richmond and Dallas, so Joe will probably want to fly AA. But should he use AAdvantage miles or British Airways Avios or pay cash? It will depend on whether he wants to fly economy or business class, the fares for his dates, and how he values his miles. It's about a 3 hour flight, and for a random date I checked, roundtrips were running $418. He could redeem 20,000 British Airways Avios for a roundtrip in economy, which is a better deal than the 25,000 AAdvantage miles he'd need for the same trip. Redeeming Avios Joe would be getting about 2 cents per Avios, which could make it worth it to him to redeem if he has plenty of Avios, even though it's not a great value redemption compared to some more aspirational awards.
But if he preferred business class, then AAdvantage would be better at 50,000 AAdvantage miles for a saver roundtrip, vs. 60,000 BA Avios. That's because unfortunately American's Business Class is coded as "first" and British Airways charges 3X for first class awards, vs. the cost of economy awards.
For Richmond to Chicago, United operates most of the nonstops, and on a random date I checked, the 2 flight was pricing at $338 roundtrip. Using United MileagePlus miles, United economy roundtrip would be 20,000 miles, while business class would be 50,000 miles. That makes United MileagePlus the best bet for economy, but Singapore KrisFlyer miles would be a better bet for flying United Business Class, since a North America domestic business class roundtrip award is 40,000 miles.
What are your favorite frequent flyer miles and points for getting to London from the U.S. and for U.S. domestic travel?
Related Posts
Editorial Disclosure: The editorial content on this site is not provided by the companies whose products are featured. Any opinions, analyses, reviews or evaluations provided here are those of the author's alone, and have not been reviewed, approved or otherwise endorsed by the Advertiser.