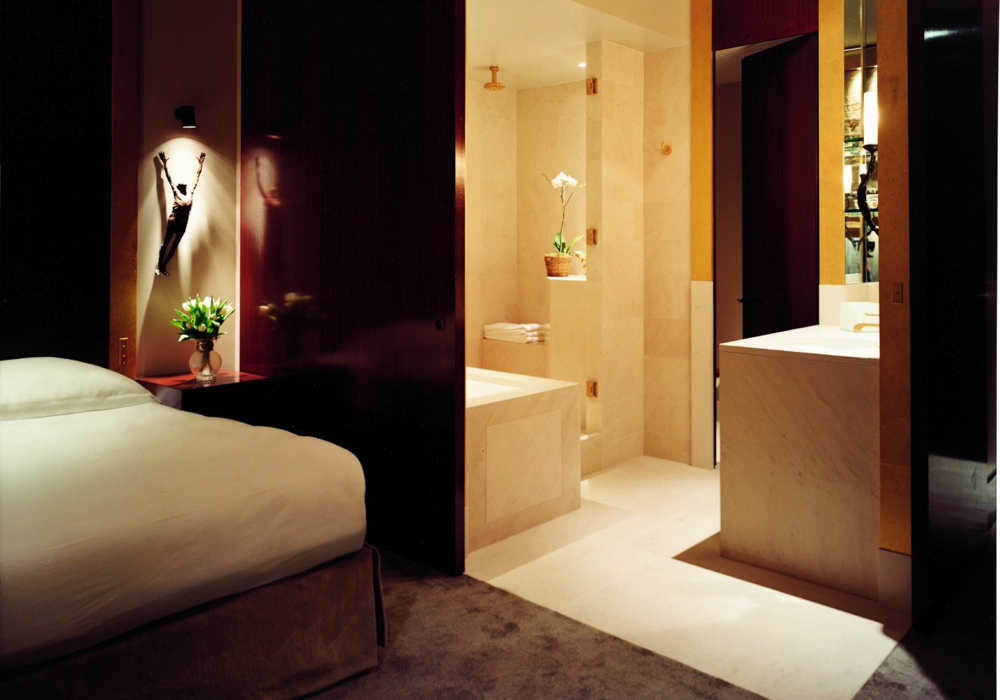 If Hyatt is selling a standard room can you book it as an award, using your Hyatt Gold Passport points? You can, thanks to Hyatt's policy of no blackout dates for free night awards, although there are times when you can't do this online, as I recently discovered.
For an upcoming stay in Paris, we'll arrive early evening, and since I had some existing Hyatt Gold Passport points I wanted to use them for that quick overnight stay at the Park Hyatt Paris Vendome. Longtime readers will know that this was our least favorite Paris luxury hotel stay a few years ago, and I would never pay regular cash rates for a stay there, but since I had most of the points in my account and just needed to top it off with some Ultimate Rewards points, it made sense as an award night.
One thing to keep in mind is that standard rooms at this property are Park Queen and Park Twin rooms, so one of these room types must be available if you're hoping to book an award night. That wasn't an issue for our date, as both types were available. True, there was a more stringent deposit and cancellation policy due to an event, the UEFA Euro Championship, but standard rooms were still available at paid rates: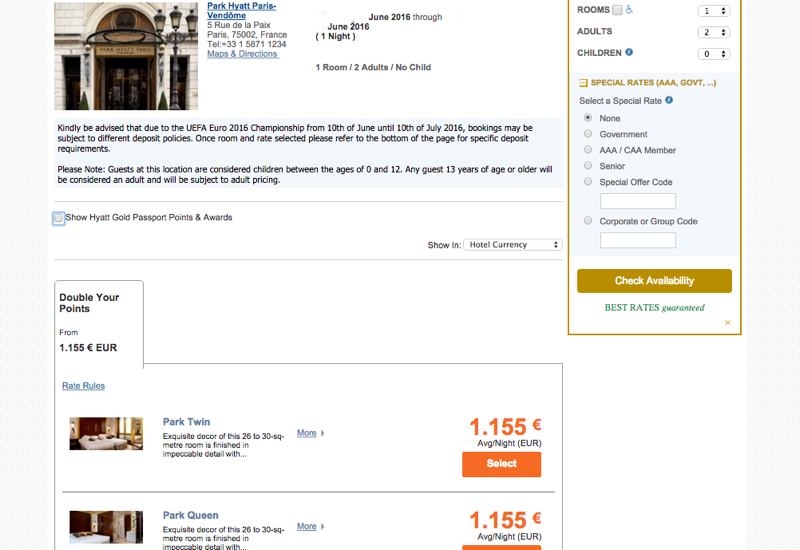 However, when I checked the box to check for an award, I got the following error message: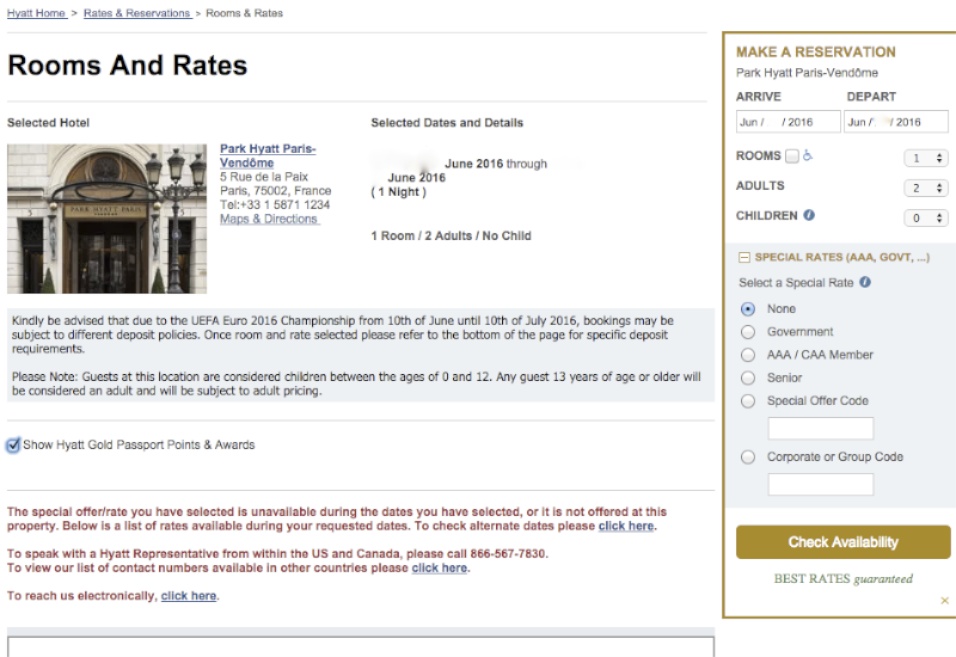 Hyatt Gold Passport Terms and Conditions: No Blackout Dates for Free Night Awards
Hyatt Gold Passport terms are clear: if there is a standard room offered for sale for cash to the general public, then you can use Hyatt Gold Passport points to reserve it:
"3. Hyatt Gold Passport Free Night Awards apply when standard rooms are available at the Hyatt Daily Rate. Standard rooms are defined by each hotel and are not subject to blackout dates."
There is no exception for special events; all that is needed is that the Hyatt hotel in question is selling a standard room type to the general public for the date in question.
Call Hyatt Gold Passport
So I called Hyatt Gold Passport at 800-228-3360 and explained the situation. The representative agreed that if there were standard rooms, they should be bookable as a free award night, using Hyatt Gold Passport points. She asked me to hold while she contacted Park Hyatt Paris Vendome Reservations.
When she came back on the line, she reported that Park Hyatt Paris Vendome had told her that the hotel was sold out of standard rooms, and that what we were seeing was special guaranteed availability for Hyatt Gold Passport Platinum and Diamond members, which was for cash only, not points.
Book a Standard Room for Cash (Flexible Rate) and Convert It to an Award
That didn't make sense to me, since I wasn't logged in when I checked, but I cleared cookies, opened a new incognito window and went ahead and booked a standard room without logging in and without providing a Hyatt Gold Passport number.
I did this while still on the phone with Hyatt Gold Passport, provided the confirmation number, and the agent was able to change it to a free night award, and send me the new confirmation.
Bottom Line
While it's convenient to be able to book Hyatt Gold Passport nights online, sometimes a Hyatt hotel will have standard rooms for sale but it won't be possible to book them online as a free award night. On these occasions, simply call Hyatt Gold Passport to get the Gold Passport no blackout dates policy honored. If necessary, make a flexible rate reservation for a standard room (make sure you are not logged in, so that you're not seeing enhanced Platinum or Diamond room availability) then convert it to an award night.
Keep in mind that this is NOT applicable for room categories that are higher than a standard room (e.g. a Park Room, *not* a Park Deluxe Room), so you must verify that a standard room is being sold for your dates. This is also only for a free night award, NOT for a Points + Cash award, for which blackout dates can apply.
Have you had to call Hyatt Gold Passport to book an award night when standard rooms are being sold but no award is available online?
Related Posts
Review: Park Hyatt Sydney Opera Deluxe Room
Review: Ararat Park Hyatt Moscow Hotel
Park Hyatt Maldives Hadahaa Review
Need Award Booking Help? Our fee is as low as $75 per ticket if you book your hotel through us.
If you enjoyed this, join 200,000+ readers: please follow TravelSort on Twitter or like us on Facebook to be alerted to new posts.
Become a TravelSort Client and Book 5-Star Hotels with Virtuoso or Four Seasons Preferred Partner Amenities!