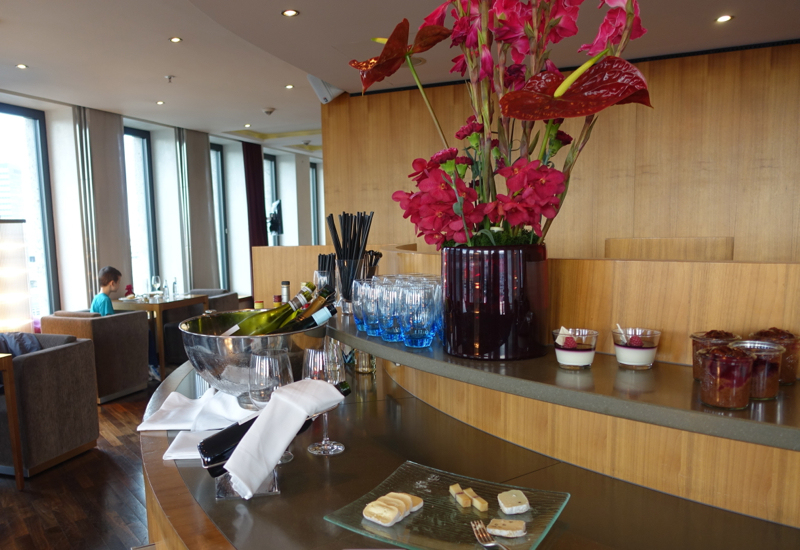 This Club Lounge at Sofitel Berlin Kurfurstendamm Review is part of a trip report including Berlin, Vienna, and luxury hotels and dining in Moscow and St. Petersburg, Russia. If booking the Sofitel Berlin Kurfurstendamm, I highly recommend reserving a Club Luxury Room, with access to the Sofitel Club Lounge on the 11th floor, and reserving it as a TravelSort Client to enjoy Sofitel STEP Program benefits.
Visiting Berlin? See all our posts tagged Berlin. For the previous posts please see:
Review: Sofitel Vienna Stephansdom
Labstelle Wien Vienna Restaurant Review
Review: Ararat Park Hyatt Moscow
Moscow Metro Tour with Happy Moscow Tours
Review: Peterhof Fountains and Gardens Near St. Petersburg, Russia
Review: L'Europe Restaurant and Dining at Grand Hotel Europe, St. Petersburg, Russia
Review: Four Seasons St Petersburg, Russia
Review: Four Seasons St. Petersburg Breakfast and Dining
Review of Cat Cafe: Great Georgian Food in St Petersburg, Russia
Review: LabyrinthUm Museum, St. Petersburg Russia
Volkonsky Bakery Cafe (Пекарня «Волконский») St Petersburg, Russia Menu and Review
Review: Sofitel Berlin Kurfurstendamm, Club Luxury Room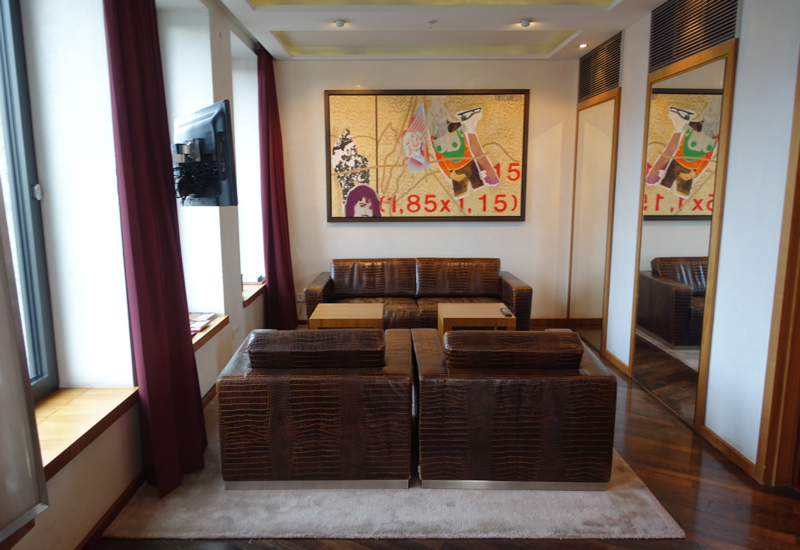 Sofitel Berlin Kurfurstendamm Club Lounge Access, Hours and Seating
While at some Sofitel hotels such as the Sofitel London Heathrow Airport, Luxury Rooms include access to the Club Lounge, more upscale Sofitel properties such as the Sofitel Legend Metropole Hanoi and the Sofitel Berlin Kurfurstendamm only include Club Lounge access with a higher room category.
For Sofitel Berlin Kurfurstendamm, you must be booked into a Luxury Club Room or a Junior Suite, Prestige Suite or Opera Suite to enjoy access to the Club Lounge, which is on the 11th floor (the top floor).
The Club Lounge serves an enhanced continental breakfast 7-11am on weekdays and 7am-2pm on weekends, in a nod to Berlin's brunch culture. Afternoon tea and cakes (kaffee und kuchen!) are served at 3pm, and evening drinks, appetizers, cheese, bread and mini desserts are available 6-8pm.
The Club Lounge isn't huge, with only around 8 tables, but does have great natural light and nice views over Kurfurstendamm.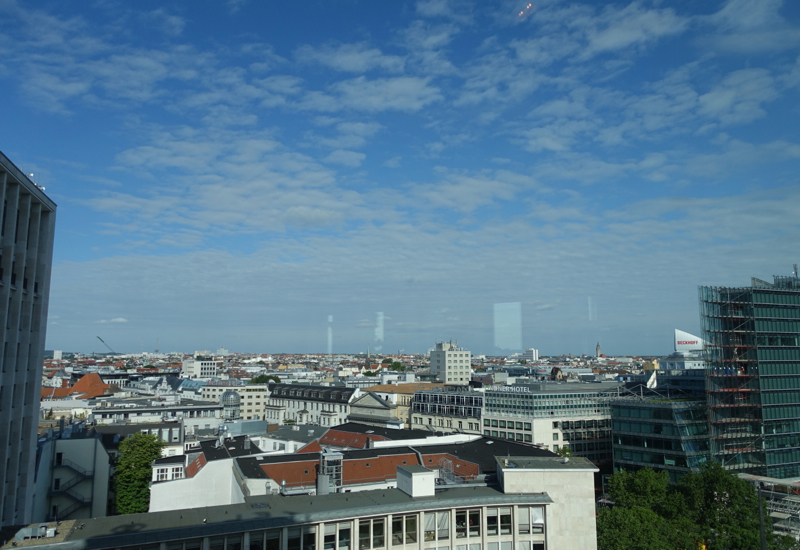 Sofitel Berlin Kurfurstendamm Club Lounge Breakfast
The Club Lounge breakfast buffet is simpler than the more luxurious one at the Sofitel Metropole Hanoi, and no a la carte menu options are offered, but it covered all the basics well. Here's the menu with the breakfast buffet options: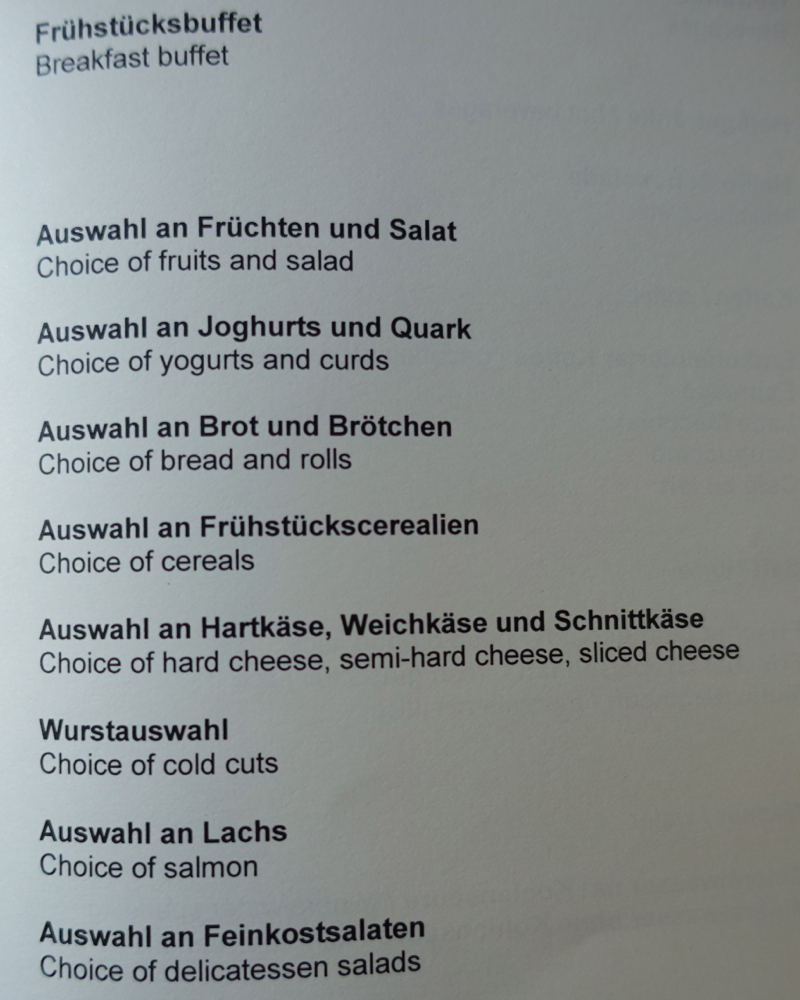 My favorite item was the house cured salmon, which came in lemon, pepper and dill varieties, with an optional sweet mustard sauce nearby that reminded me of how Norwegians serve gravlax. For non-salmon eaters, there were plenty of cold cut options as well.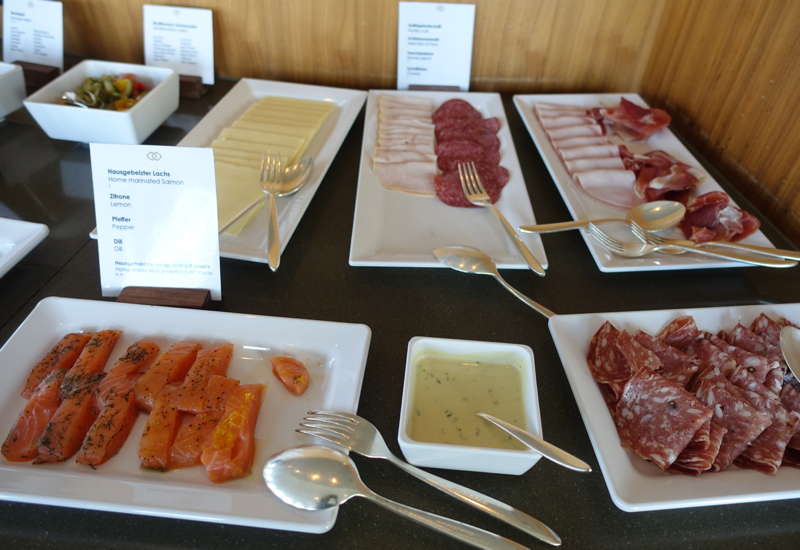 Fresh bread and rolls are part of any German breakfast, and there were a couple cheeses and spread options to choose from.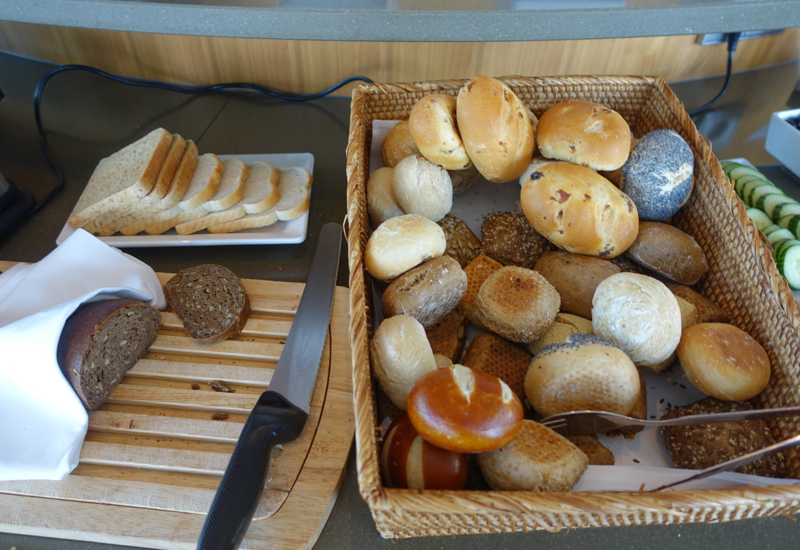 Croissants and pastries were decent, though not memorable.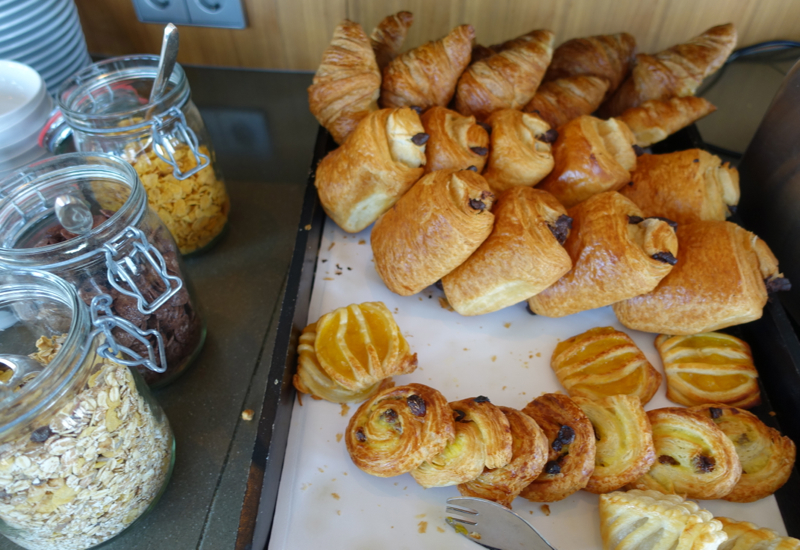 We also enjoyed the yogurt and quark (similar to French fromage frais) on offer, and fresh fruit, which included donut peaches, since our visit was in summer.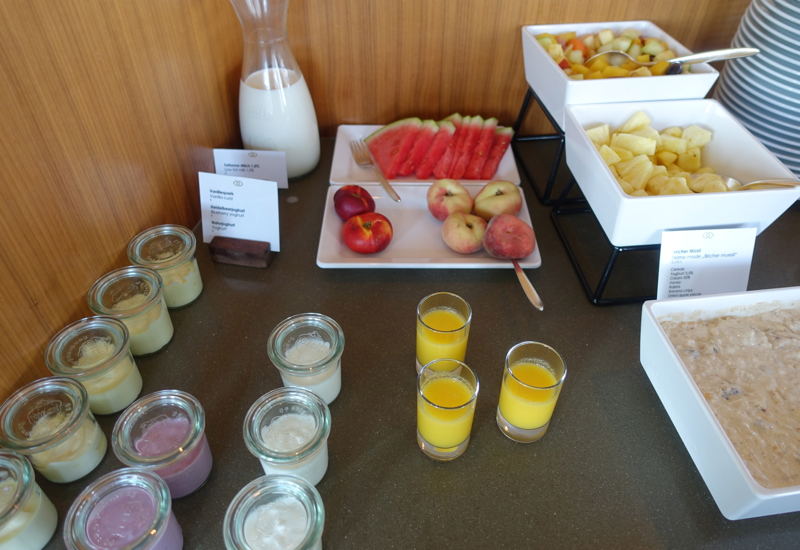 Our server offered us fresh squeezed orange juice, which was also excellent quality. In the background you can see the jam, which was d'arbo, one of my favorite major brands for preserves.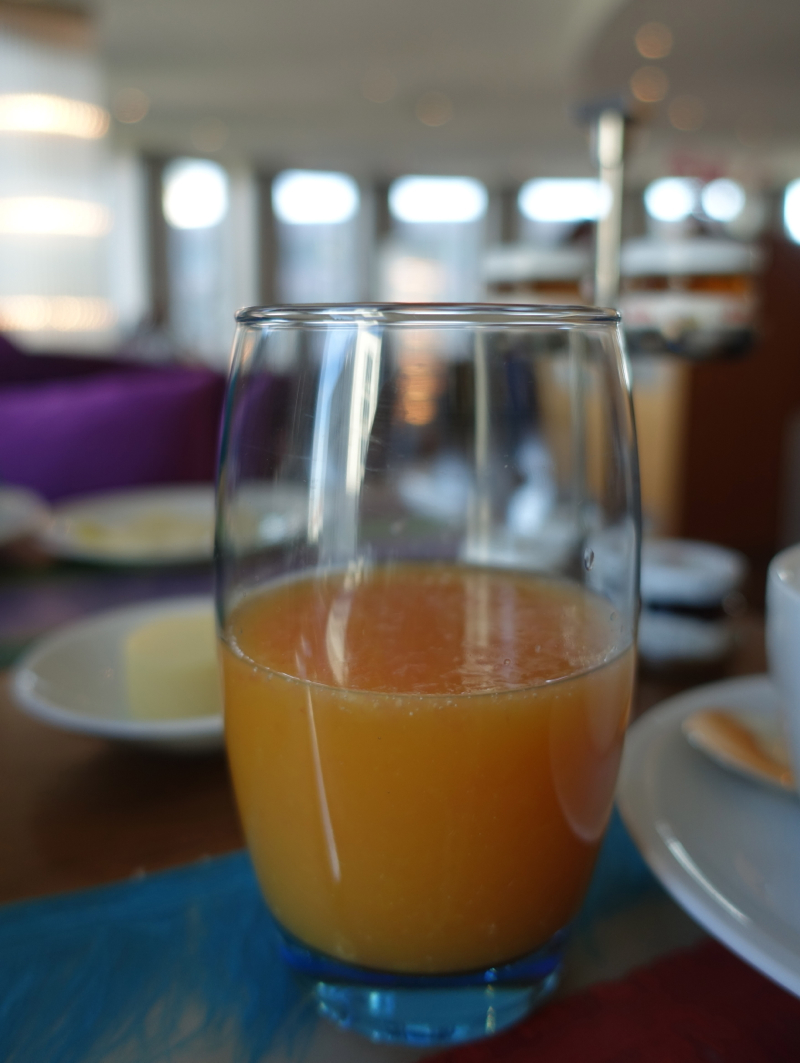 The two hot options were scrambled eggs, which were prepared too runny for my taste, and bacon, which looked perfectly crispy, although we didn't try any.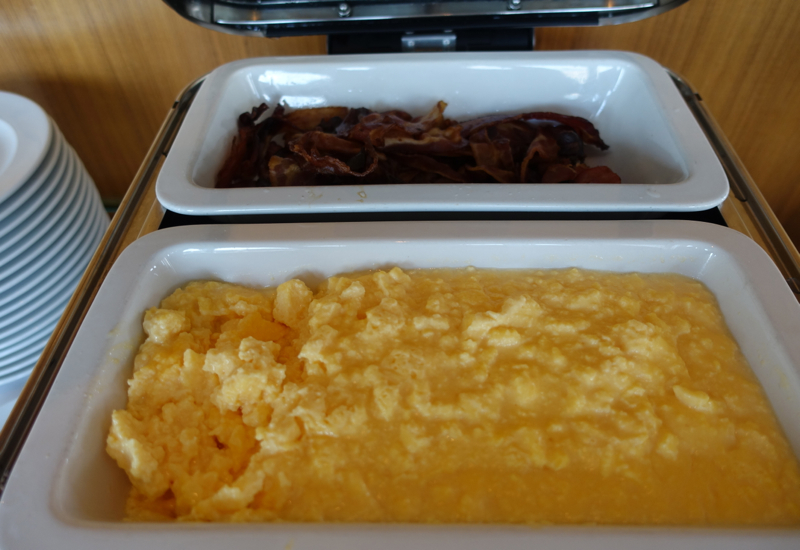 Sofitel Berlin Kurfurstendamm Club Lounge Evening Appetizers
After a long day of traveling, it was good to not have to go out and to just go up one floor to the Club Lounge for a light repast. The offerings change daily; here's the menu describing the offerings for our visit: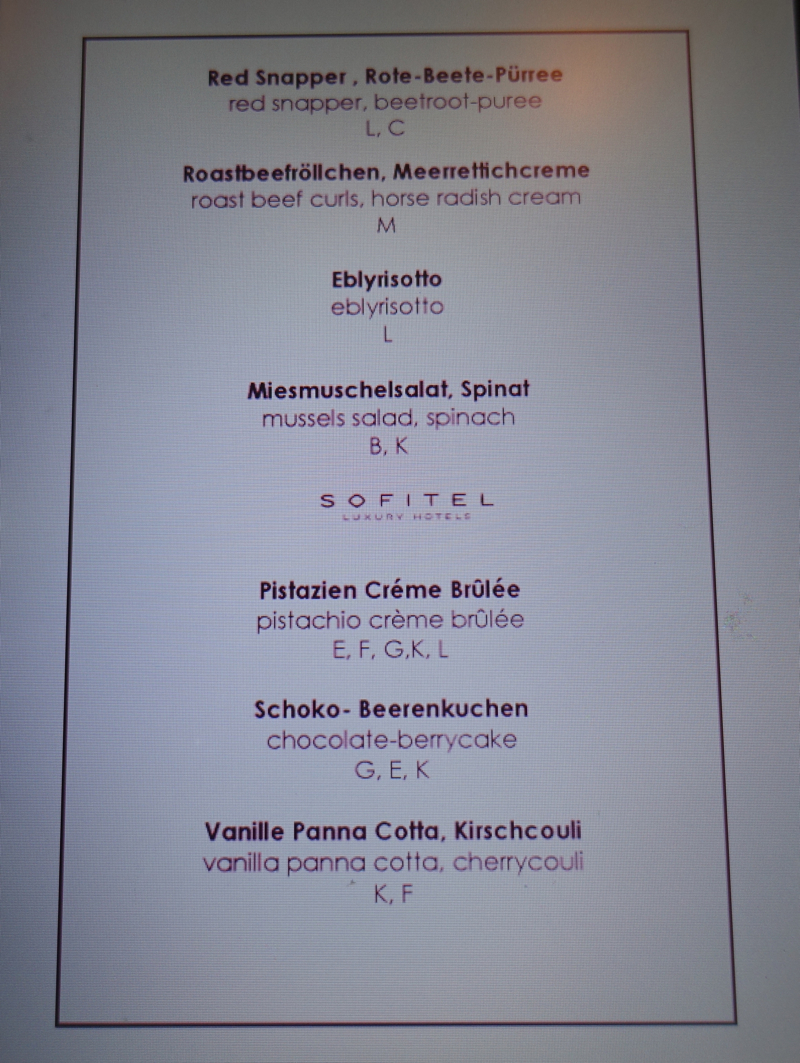 Both my son and I enjoyed the red snapper, and I liked the accompanying beetroot puree, though my son doesn't yet care for beets. The roast beef curls with horseradish cream, risotto, and mussels were all more standard fare, but fine.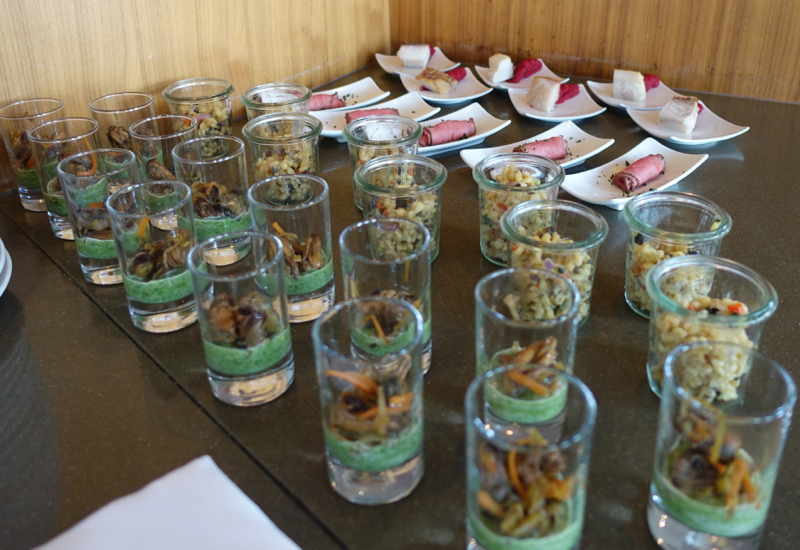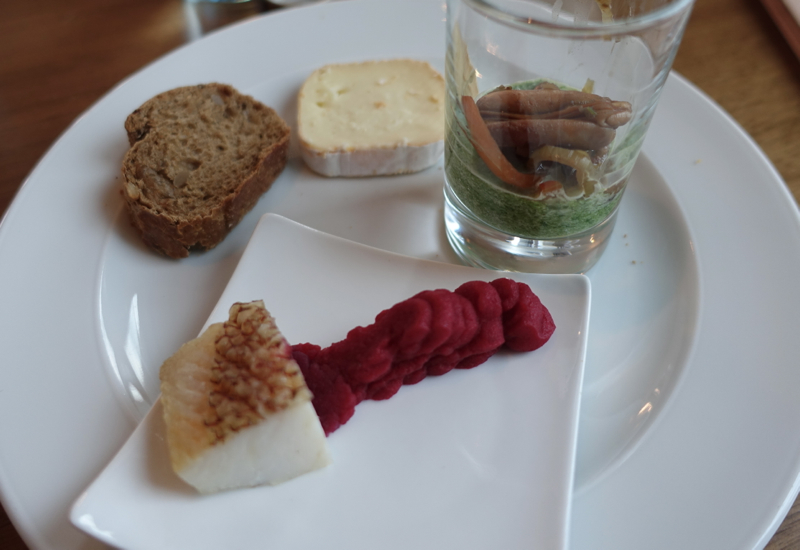 My son primarily filled up on the bread and cheese. The bread was fresh and delicious, and the cheeses were ok, though given that Sofitel is a French chain, some good French cheeses would have been a nice addition.
My favorite of the three desserts was the chocolate berry cake; the pistachio creme brulee had been prepared some time ago so the caramelized topping had lost most of the crackly texture that is crucial to a proper creme brulee, and the vanilla panna cotta looked better than it tasted–I didn't see any vanilla beans in the panna cotta mixture, which in my view is crucial to a high quality vanilla dessert.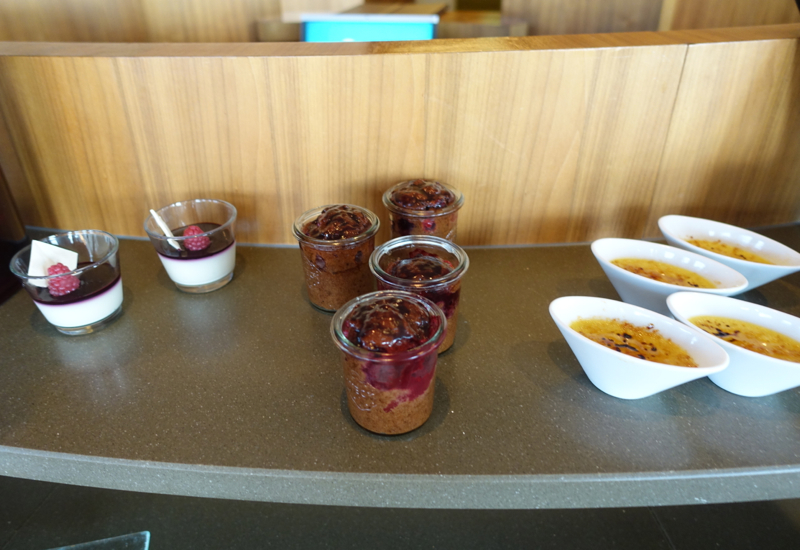 I only had some of the Riesling on offer, which was very drinkable and better than most airport club lounge wine offerings.
The Verdict
Overall, given the price point of a Luxury Club Room at Sofitel Berlin Kurfurstendamm (which is considerably lower than landmark properties such as the Sofitel Legend Metropole Hanoi) I was very pleased with the quality of the food and drinks in the Club Lounge. Don't expect any a la carte manu as at the Sofitel Metropole Hanoi Club Lounge or cooked to order noodle soups as at the Four Seasons Hong Kong Executive Club Lounge, but for its modest size and assortment of items the quality was quite high.
If you've been a guest in the Sofitel Berlin Kurfurstendamm Club Lounge, what was your experience?
Related Posts
Sofitel: STEP and Virtuoso Benefits
Katz Orange Berlin Restaurant Review
Hotel Review: InterContinental Berlin
Review: Air Berlin Business Class A330 JFK to Berlin
Need Award Booking Help? Our fee is as low as $75 per ticket if you book your hotel or cruise with us.
If you enjoyed this, join 200,000+ readers: please follow TravelSort on Twitter or like us on Facebook to be alerted to new posts.
Become a TravelSort Client and Book 5-star hotels with Virtuoso Perks and Four Seasons Preferred Partner Benefits