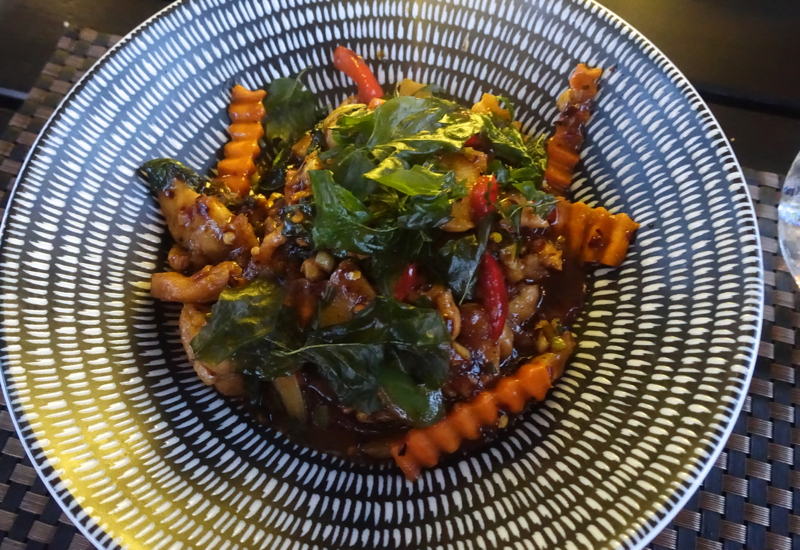 This Chantara Thai Restaurant Review in Fiji is from our recent stay, the third leg of a trip that also included Bora Bora and New Zealand. We were staying at the Sofitel Fiji Resort & Spa, also on Denarau Island and a few minutes away.
Chantara Thai Restaurant Fiji Location and Hours
Chantara Thai Restaurant is located at the Radisson Blu Hotel Fiji Denarau Island and is open for dinner nightly 6-10pm. While the restaurant also serves lunch, none of the Thai main dishes are available for lunch, and there's an abbreviated menu with some Thai-style wraps, sandwiches and salads, so for authentic Thai food, I recommend going for dinner.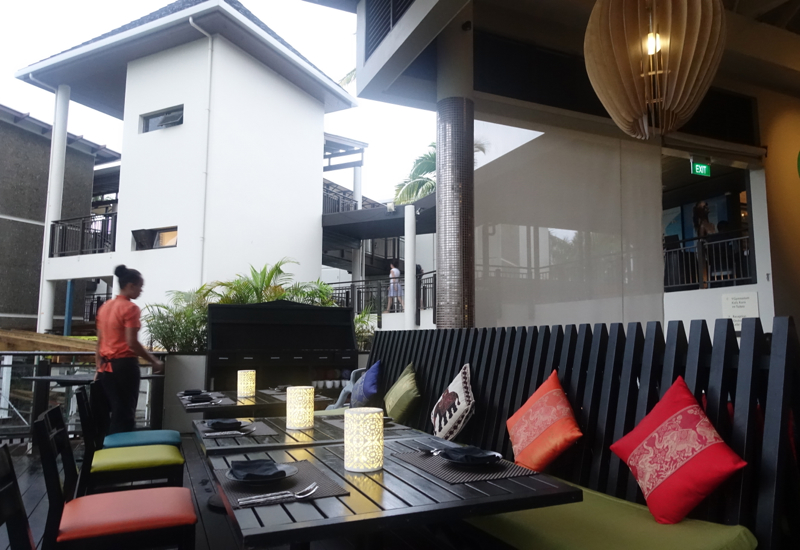 The Scene
Since Chantara is based at the Radisson Blu, it's a fairly casual ambience. The tables are wooden, although some Thai silk pillows provide a dash of color. The lanterns overhead provide a soft glow, but since it gets dark early in Fiji, much of the light will be from the candle at your table.
Since we were there early, there were other families with young kids trying to get in an early dinner, as well as some couples. It's a good thing we made a reservation that afternoon, however, as even this early dinner time is popular, particularly if you want a bit of a view of the lagoon.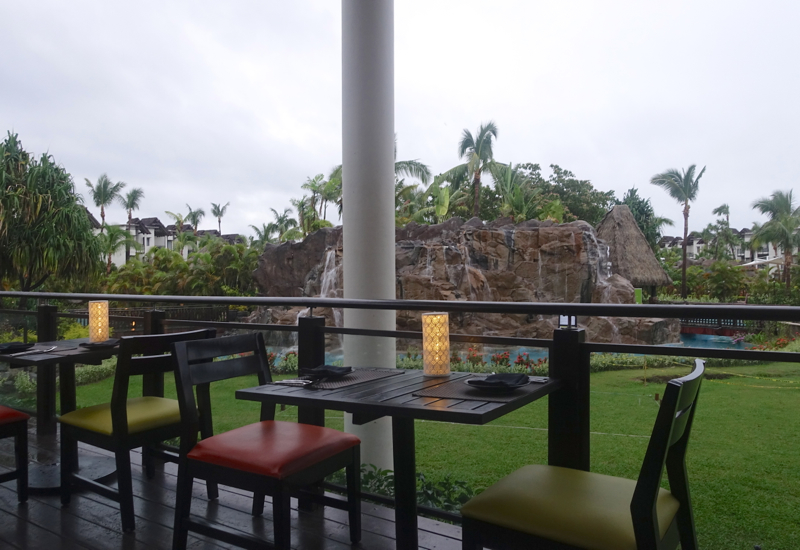 Chantara Restaurant Menu and Food
It's a good sign that Chantara has a Thai head chef, Chef Pitchayapon Thiptham (nicknamed "Mickey"). He's apparantly from Chiang Mai, although unfortunately there weren't really Northen Thai or Issan dishes on the menu, such as sticky rice, larb or kai yang. Instead, the menu focused on Southern Thai classics: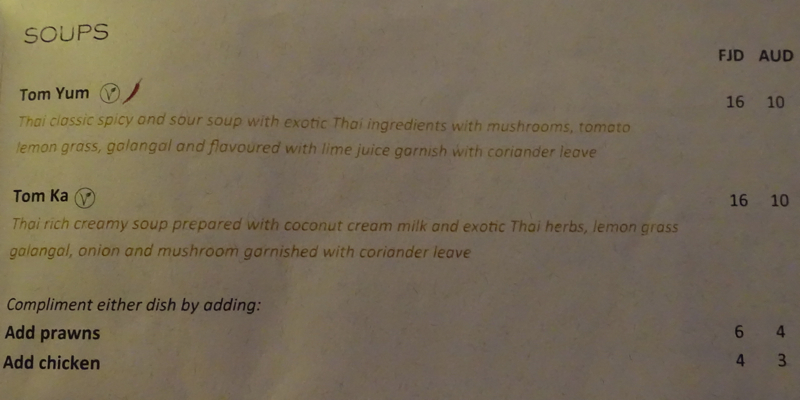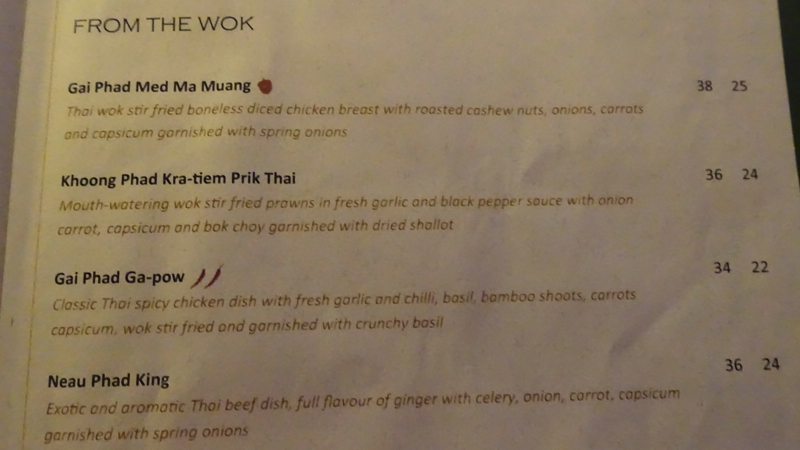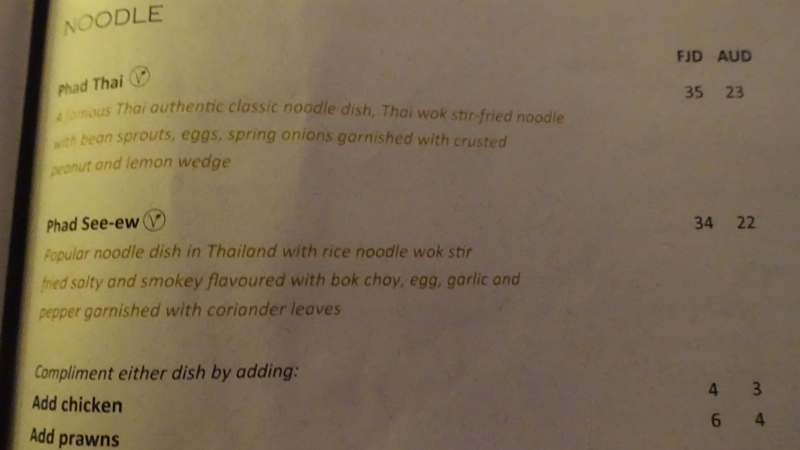 There was also a kids' menu, which came in handy, since our son, hearing that there was no sticky rice and kai yang/grilled chicken, decided on the decidedly non-Thai chicken nuggets.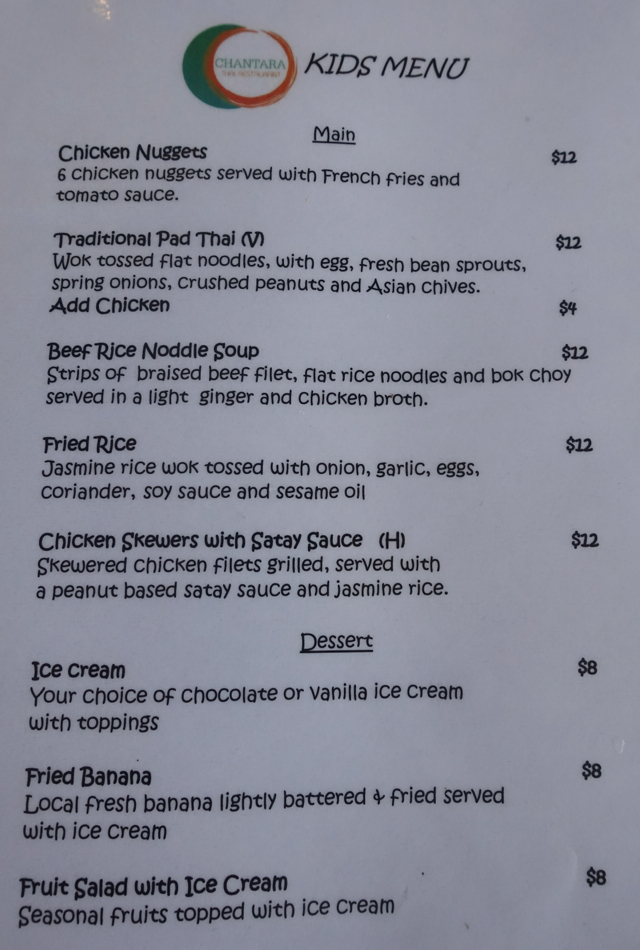 We had arrived ravenous, so we waited a bit impatiently for our food, and there's of course no complimentary bread at a Thai restaurant. Fortunately I'd brought some Marcona almonds with me (see 8 Foods We Pack When Traveling), so we gave some to our son to stave off hunger while we waited. His chicken nuggets came first, although of course were nothing to write home about–you don't go to a Thai restaurant for chicken nuggets. That didn't stop him from polishing them off quickly, however.
Much better was the Tom Kha Goong spicy coconut soup with prawns that I'd ordered. My husband liked the broth, although he isn't a big fan of shrimp, so I got to enjoy most of it myself. It had all the requisite lemongrass, galangal and lime juice you'd expect and was well balanced.
I don't normally order Pad See Ew since done poorly, it's often cloyingly sweet, but this was a very good version that our whole family enjoyed. It was a good thing we ordered it as well, as our son ate a good deal of it given the small size of the kids' chicken nuggets.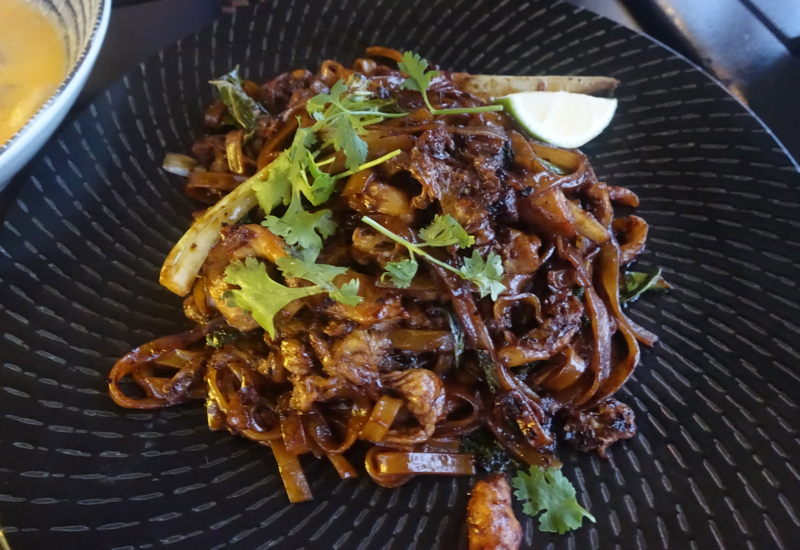 My husband's Gaeng Khiao (Green Curry with Chicken) was solid and tasty, although we've both had better green curry, and I think it could have used a bit more coconut cream in it. It wasn't spicy, but then again we didn't ask for it to be made spicy, and I'd imagine there are very few guests here in Fiji demanding to be served a dish at Thai level spiciness.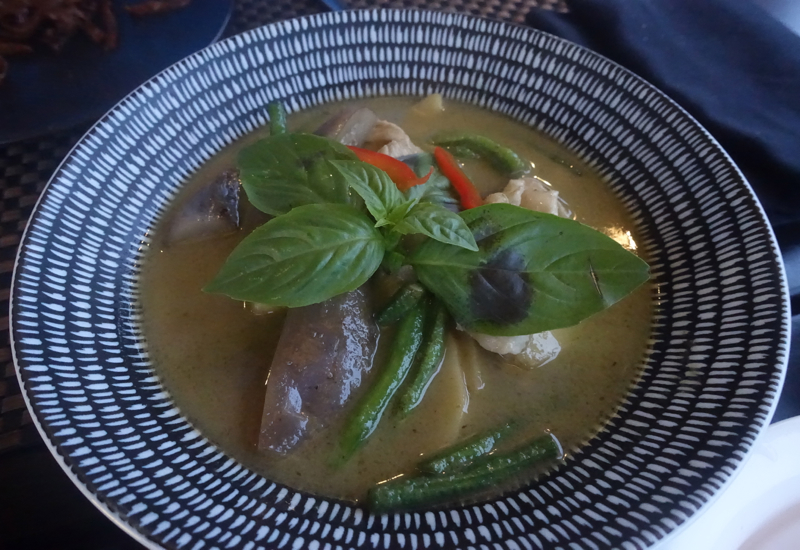 My favorite dish of the evening was the Basil Chicken. I love spicy food, and zeroed in on it since it had two chili peppers. I specifically emphasized to our Fijian server that I'd like it to be Thai spicy. And sure enough, there were plenty of whole chilis in it, so while it's certainly possible a Thai would have wanted even more chilis in it, the dish was plenty spicy–so much so that my husband was drinking copious amounts of water after tasting it. I also really liked the garnish of crispy basil leaves atop it.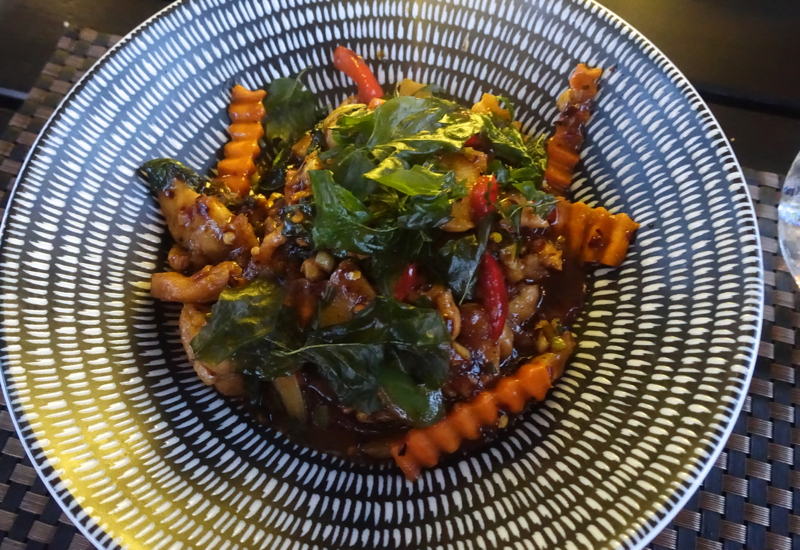 The Verdict
Despite the initially long wait for our meal, we were very happy with the quality of dishes once they appeared, particularly the Basil Chicken and Pad See Ew. My husband's Green Curry Chicken wasn't spicy, but then, he didn't ask for it to be spicy, and it was still tasty. While I'd been skeptical of finding good Thai food in Fiji, Chantara turned out to be the best meal of our three night stay.
If you've been to Fiji, what was your favorite meal?
Related Posts
Review: Sofitel Fiji Resort & Spa, Denarau Island
Top Scuba Sites for Amazing Dives
Top 20 Luxury Honeymoon Destinations
Review: Air New Zealand Business Premier 777-200
Need Award Booking Help? Our fee is as low as $75 per ticket if you book your hotel through us.
If you enjoyed this, join 200,000+ readers: please follow TravelSort on Twitter or like us on Facebook to be alerted to new posts.
Become a TravelSort Client and Book your luxury hotel with Virtuoso or Preferred Partner Amenities!