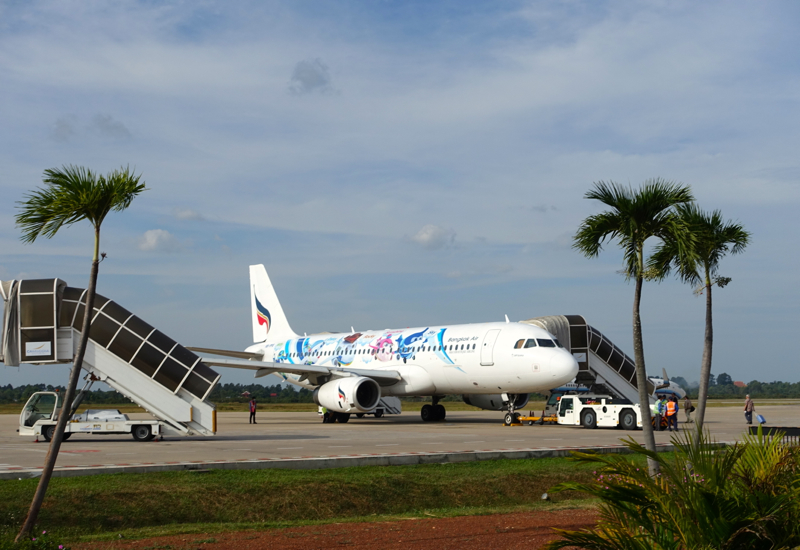 This Bangkok Airways Review from Siem Reap to Bangkok is part of a trip report including Asiana First Class, Thai First Class, and luxury resorts and dining in northern Thailand. For the previous articles, please see:
SWISS Lounge JFK Terminal 4 Review
Review: Asiana First Class Suite NYC JFK to Seoul ICN
Review: Cornerstone Restaurant, Park Hyatt Seoul
Lounge Review: Asiana Business Class Lounge Seoul Incheon
Asiana Business Class A330 Review
Review: Novotel Bangkok Airport Hotel Suite
Review: Anantara Golden Triangle Elephant Camp and Resort
Anantara Golden Triangle Sala Mae Nam Restaurant Review and Menu
Mahout Experience at Anantara Golden Triangle Elephant Camp
Dining By Design at Anantara Golden Triangle Elephant Camp
Hotel Review: Park Hyatt Siem Reap
Beng Mealea Jungle Temple Photo Tour, Siem Reap Cambodia
Touich Restaurant Siem Reap Menu and Review
Ta Prohm and Preah Khan Temple Photo Tour, Siem Reap
Angkor Wat Photo Tour and Breakfast at Amansara's Khmer Village House
Amansara Restaurant Review and Menu
Amansara Tonle Sap Boat Cruise
Bayon Temple Photo Tour with Amansara, Siem Reap
If you have short intra-Asia flights to or from Bangkok, chances are that you've flown Bangkok Airways or considered it. We've flown Bangkok Airways a few times, to and from Koh Samui last year and also the following flight, from Siem Reap to Bangkok.
Booking Bangkok Airways / Earning Frequent Flyer Miles
Most people reading this post will end up booking paid Bangkok Airways flights, since Bangkok Airways' frequent flyer program, Flyer Bonus, only has 3 partners: Etihad Airways, airberlin, and Japan Airlines (JAL). Unless you happen to be based in Thailand and fly Bangkok Airways a great deal, it probably won't make sense for you to credit to Bangkok Airways. I was lazy and credited to Etihad since I had an Etihad account and not a JAL account and our flights have been so short anyway, but if you think you may use JAL's distance based award chart, for example to fly Emirates between the U.S. and Europe (see Emirates A380 Between U.S. and Europe and How to Book Awards) then you may want to credit to JAL.
Bangkok Airways Aircraft and Economy Seats
Bangkok Airways operates Airbus 319 and Airbus 320 aircraft, with economy seats in a 3-3 configuration. On most of its A319 and A320 flights, premium seats are just the 3 rows in the front, with the middle seat blocked (similar to intra-European flights such as Lufthansa Business Class short haul European flights). Some A319 do offer 3 rows of "Blue Ribbon Club" business class, though still of course with recliner seats, albeit in a 2-2 configuration.
Bangkok Airways Airport Lounges
While Bangkok Airways' slogan "Fly Boutique, Feel Unique" is a bit over the top to describe Bangkok Airways' product, it is more than decent in the context of how downgraded domestic U.S. service has become. The feature I like best is that there's a lounge, even in as small an airport as Siem Reap (REP).
With Bangkok Airways' blue color scheme and the placard of a flight attendant, you can't miss it: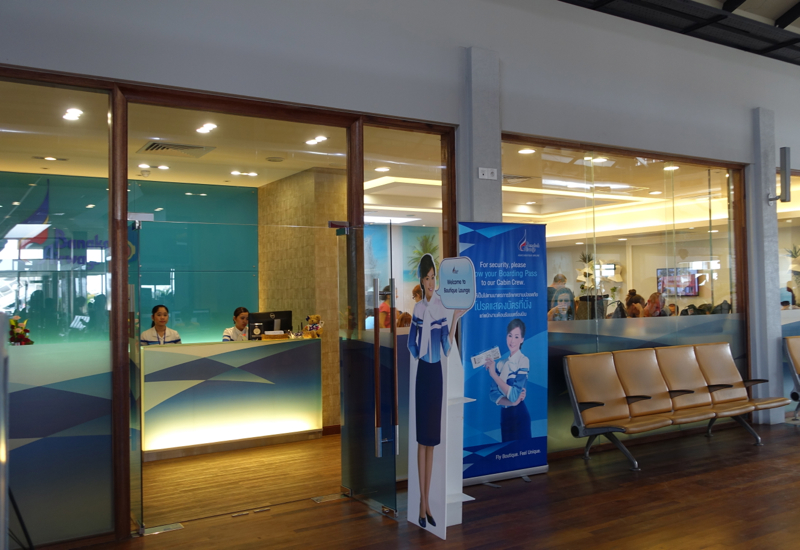 Inside, the right hand side was incredibly crowded, though the room was cheerful enough looking with summery depictions of Thailand on one wall: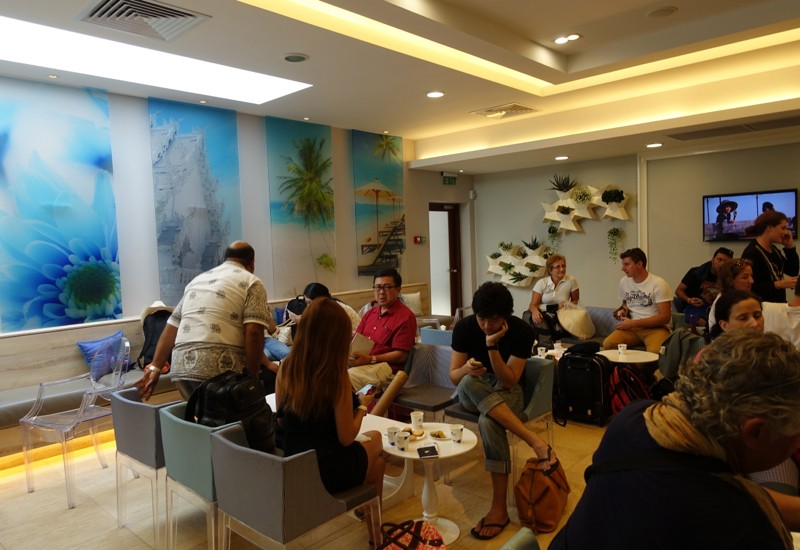 Fortunately, the left side of the lounge was quite empty, with just one table that had a "reserved" sign on it.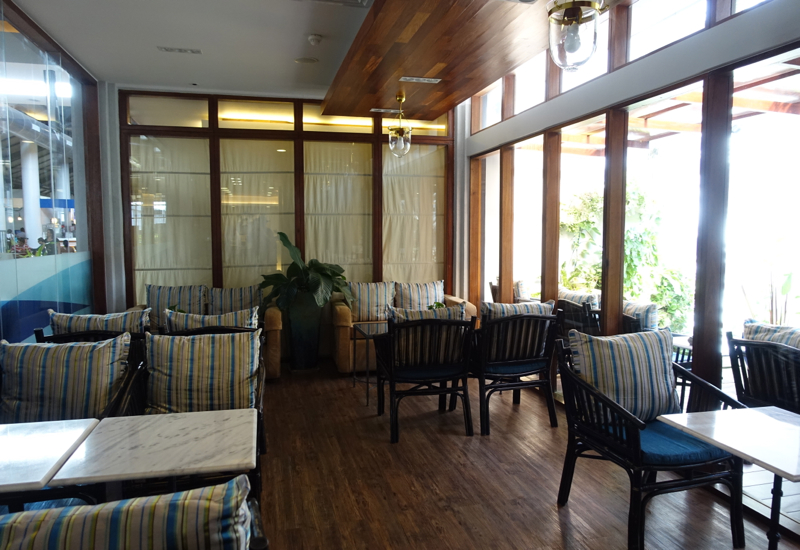 There was even a little outdoor area, although unfortunately (or fortunately, if you're a smoker) it reeked of smoke, since it provided the main outlet for smokers.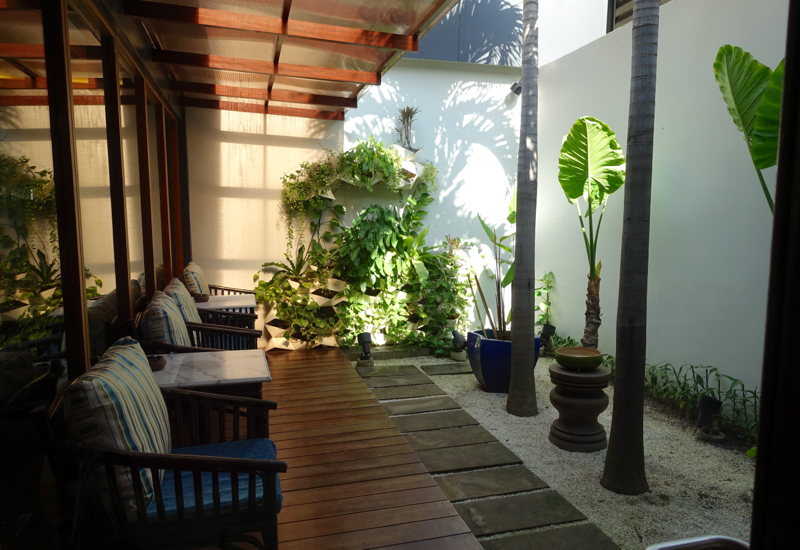 Almost all the food offerings are cheap sweet things rather than savory (with the exception of popcorn), but at least there were fresh baby bananas, and they were tasty. I love when good quality fresh fruit is offered at airport lounges.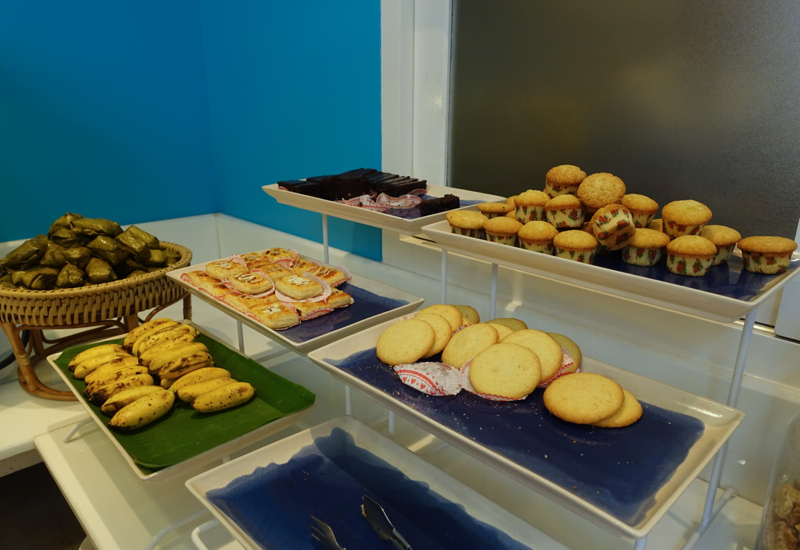 I liked that in addition to iced tea and iced coffee, there was an espresso machine, so I got a cappuccino to go with my snacks: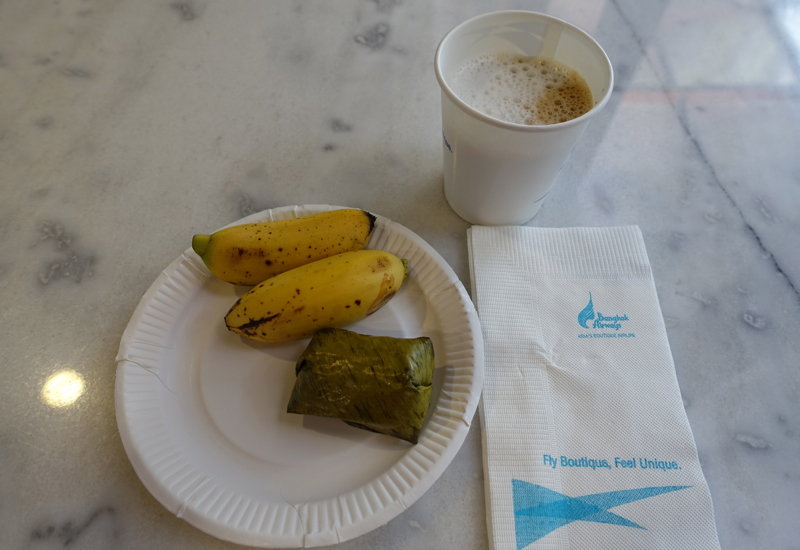 There was even a local favorite, sticky rice with banana, wrapped in banana leaf–which I will grant is unique, if too sweet for my taste: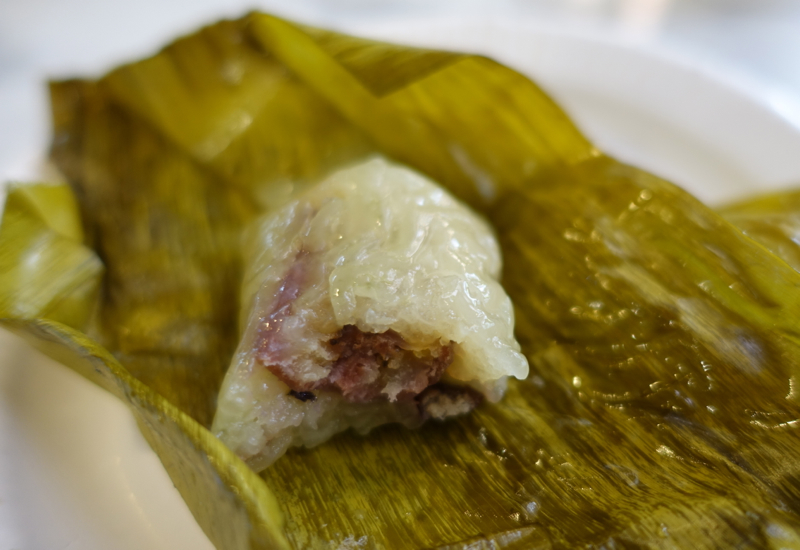 Bangkok Airways Economy Seat and Service
Boarding, at least at Koh Samui and Siem Reap, is from the tarmac. Your tickets are checked, then you walk to the plane and climb the stairs to board.
On both occasions, our flights have been packed, so if your usual strategy is to book a window and aisle seat for the two of you and hope that the middle seat will remain empty, think again–most likely it won't happen. Here's a view of our flight as passengers were boarding: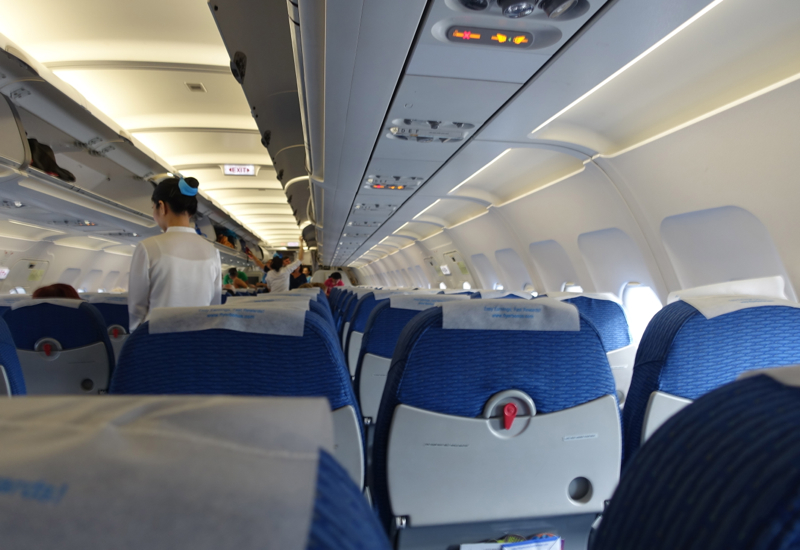 The seats themselves are nothing special–very limited recline, as you'd expect, and no in flight entertainment–but fine for the 1-2 hour flights Bangkok Airways normally flies.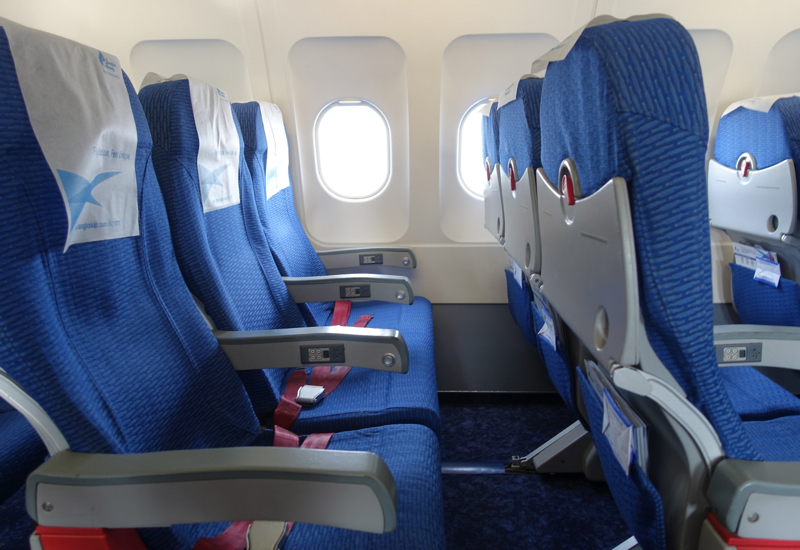 Where Bangkok Airways either shines or stumbles, based on your perspective, is the food. On the one hand, it's amazing that it serves food even on a 55 minute flight such as Siem Reap to Bangkok. On the other, the word food is generous when used to describe what Bangkok Airways serves on its flights. Here's what we were served: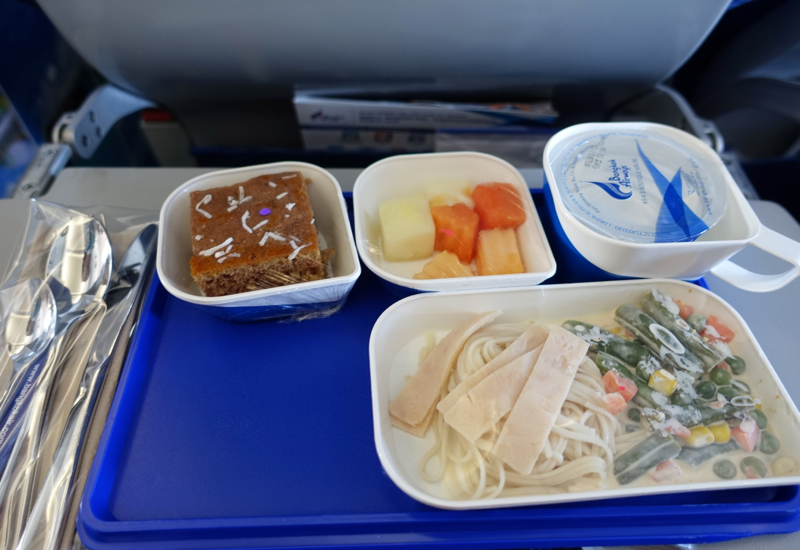 I think Air Asia has a much better model when it comes to food–yes, you pay something for it, but the offerings, especially Nasi Lemak, while still airplane food, are so much more palatable than what Bangkok Airways serves. I'd take paying a few dollars for something better any day over creating so much waste, since I wasn't the only one who didn't care for the meal–many of them went right back into the service carts untouched, except for the water.
The Verdict
So far our experience with Bangkok Airways has been mostly fine in terms of the things that matter for a low cost airline: close to on-time departures and arrivals (with the glaring exception of our flight from Chiang Rai to Bangkok, which was cancelled just a few days before we were to take it), efficient and friendly enough flight attendants, and even a lounge for economy passengers, which in my view is the best feature. I still recommend bringing your own food, however, if you think you'll be hungry.
If you've flown Bangkok Airways, what was your experience?
Related Posts
Review: Novotel Bangkok Airport Hotel Suite
Swiss Airlines Business Class Review: Bangkok-Zurich
Peninsula Bangkok Hotel Review
Four Seasons Bangkok Hotel Review
Need Award Booking Help? Our fee is as low as $75 per ticket if you book your hotel through us.
If you enjoyed this, join 150,000+ readers: please follow TravelSort on Twitter or like us on Facebook to be alerted to new posts.
Become a TravelSort Client and Book Amansara with Virtuoso Amenities!