This Amanjiwo review in Borobudur, Java is part of a trip report including Singapore Suites, Cathay Pacific First Class, Emirates First Class, Asiana First Class and luxury resorts and dining in Southeast Asia. For the previous posts, please see:
Singapore Suites A380 Review: New York JFK to Frankfurt
Review: Lufthansa Senator Lounge Frankfurt
Singapore Suites A380 Review: Frankfurt to Singapore
Singapore Airlines Private Room Lounge Review
Cathay Pacific First Class Review NYC JFK to Hong Kong
Singapore Suites A380 Review: Singapore to Hong Kong
Review: Grand Hyatt Hong Kong Club Harbour View Room
Tin Lung Heen Hong Kong Dim Sum Review
Review: Grand Club Lounge, Grand Hyatt Hong Kong
Emirates First Class A380 Review: Hong Kong to Bangkok
Review: Novotel Bangkok Suvarnabhumi Airport Hotel
Conrad Koh Samui Zest Restaurant Review, Menu and Prices
Koh Taen Snorkeling with Tours Koh Samui Review
Conrad Koh Samui Jahn Restaurant Review, Menu and Prices
Four Seasons Koh Samui Breakfast and Koh Thai Kitchen Review
Takho Bangpo (Bang Por Seafood) Koh Samui Review
W Koh Samui Breakfast and Kitchen Table Review
Singapore Gardens by the Bay Review
One Ninety Singapore Review and Menu
TravelSort Clients may book Amanjiwo with Virtuoso benefits:
Upgrade on arrival, subject to availability
Continental breakfast for two daily (review in future post)
Complimentary lunch for two once during stay (excludes beverages, taxes and gratuities)
Early check-in and late check-out, subject to availability
Complimentary Airport Transfer To and From Amanjiwo
Amanjiwo provides a complimentary private car transfer from Yogyakarta Airport (JOG), which normally takes about 1 hour. We were fortunately among the first off our Tiger Airways flight, paid for our visa on arrival, and after a short wait in line for passport control and baggage screening, were soon out in the arrivals area, where we spotted our friendly driver Rohmat and were on our way. We loved that Rohmat was our driver and guide throughout our stay, for all our cultural excursions as well as our transfers.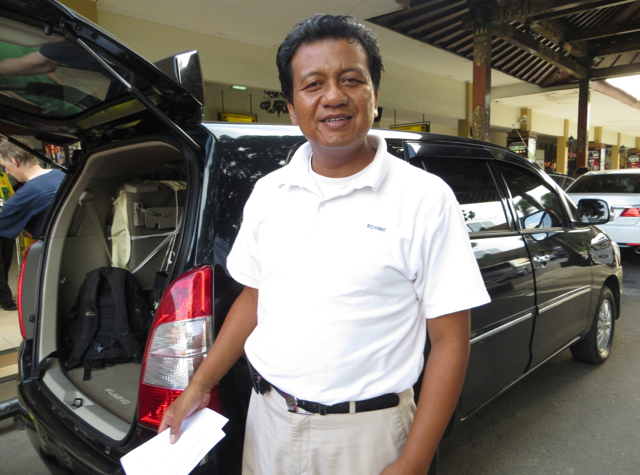 There were even delectable brownies and cookies provided, and conveniently, WiFi.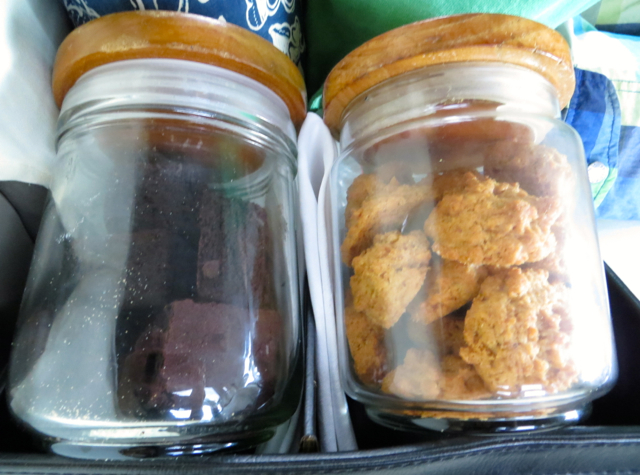 Amanjiwo Location, Lobby and Check-in
Amanjiwo is located just minutes away from Borobudur, one of the greatest Buddhist monuments worldwide and a UNESCO World Heritage Site. In fact, Borobudur is visible from Amanjiwo and the resort, designed by renowned architect Ed Tuttle, is oriented so as to have a direct view of Borobudur from the main lobby and the stairs leading down from it.
We should have checked the holiday calendar, since due to a Hindu festival there was a good deal of traffic that prolonged our drive to Amanjiwo. But finally we arrived, were showered with rose petals by two lovely local girls, and were warmly greeted and quickly, before being led to our Garden Suite.
Each day in the afternoon, local children practice traditional Javanese dances in the Amanjiwo lobby. It's not actually a performance, but as with other guests I enjoyed a peek at these cultural traditions being kept alive by a new generation.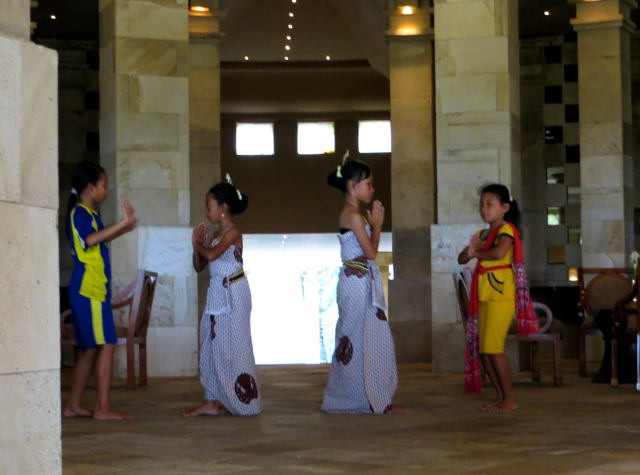 Amanjiwo Garden Suite
As with all Aman Resorts, Amanjiwo is truly boutique, with just 36 spacious suites: 10 Garden Suites, 10 Borobudur Suites with distant views of Borobudur, 7 Garden and Borobudur Pool Suites with private pools, and The Dalem Jiwo Suite (photos in future post) with two separate bedrooms, a private swimming pool, terrace and personal butler service.
The suite interiors are exactly the same, with the main differences among them being the view and private pool, so we were more than happy with our spacious Garden Suite. As we arrived at night, the suite was softly lit and the king bed was already turned down. The one thing that I would change if I could would be a slightly softer, plusher mattress. That said, we had only to ask, and additional duvets were placed on top to make it more to our liking.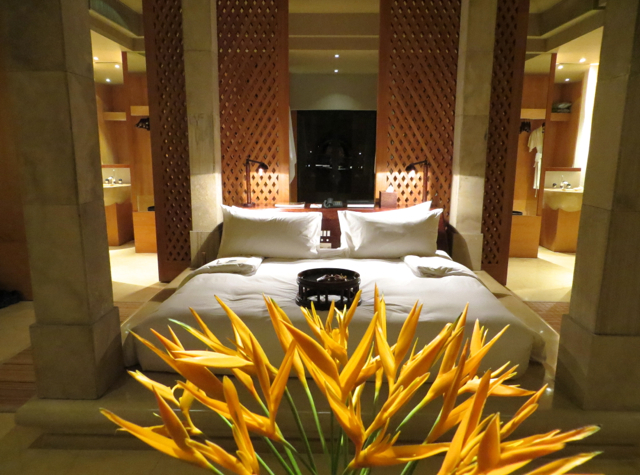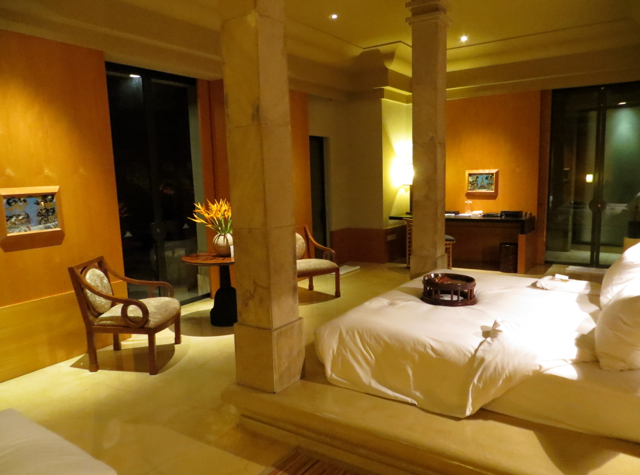 Each night, a beautiful handcrafted gift was left on our bed. Our first night, these lovely bookmarks were provided: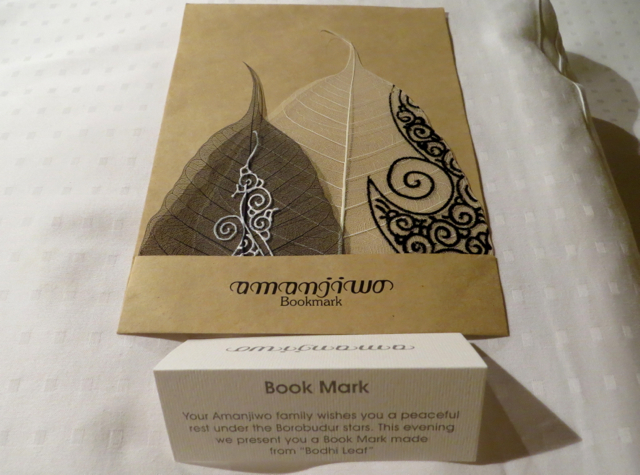 There was a lovely fruit bowl that was replenished daily, and usually included a nice variety of apple bananas (well, at least that's what we call them in Hawaii), mangosteens, passionfruit, and tangerines.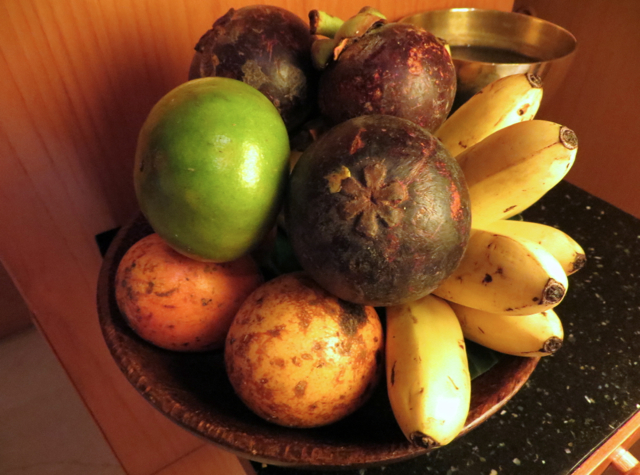 In the morning, we were able to see and enjoy our outdoor thatched room bale (pavilion) with its day bed and table: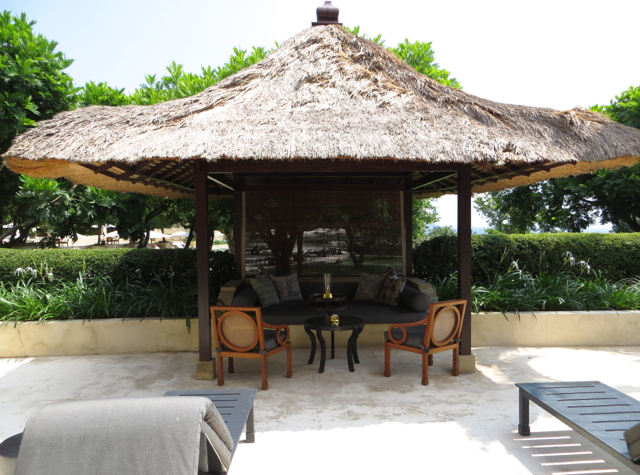 The sunken bath is also outdoors. This photo is actually of the one for the Spa Suite, but ours looked exactly the same, except without the sunshade: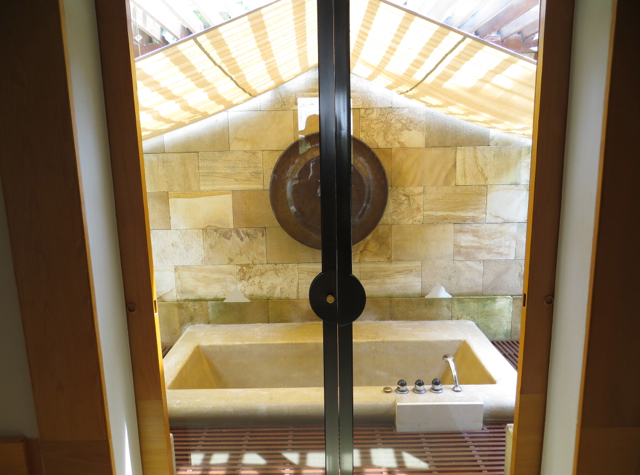 There's also a separate indoor shower and toilet, with sliding wooden doors. In the bathroom, I wondered what the lovely fragrance was–eventually I traced it to a small dish of fresh jasmine blossoms, placed underneath the toilet and replenished daily. Talk about attention to detail!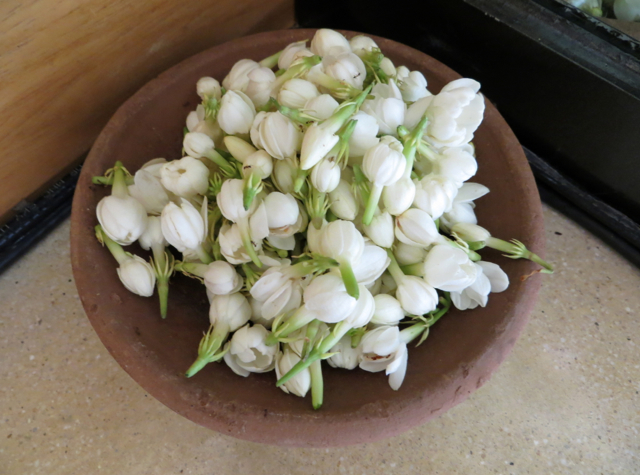 Bath amenities, as at all Aman Resorts, are locally made from natural ingredients. There was even a candle provided in case you wanted to bathe by candlelight: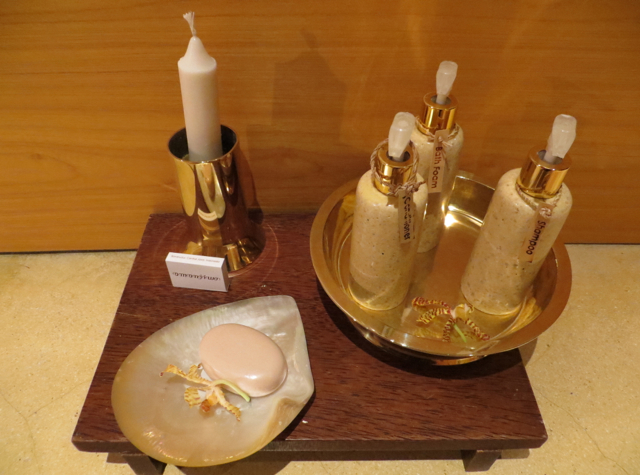 As at Amankila and Amanjena, there were dual vanities with his and hers sinks, and separate closet space by each, with robes and slippers: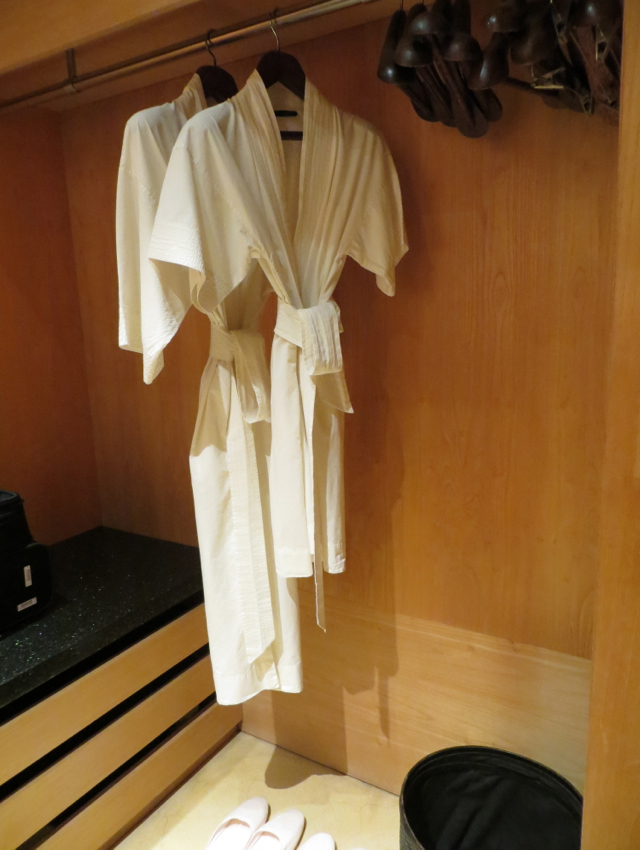 I loved the Amanjiwo touch of offering watercolor paints, brushes and paper to guests, to inspire their own artistry: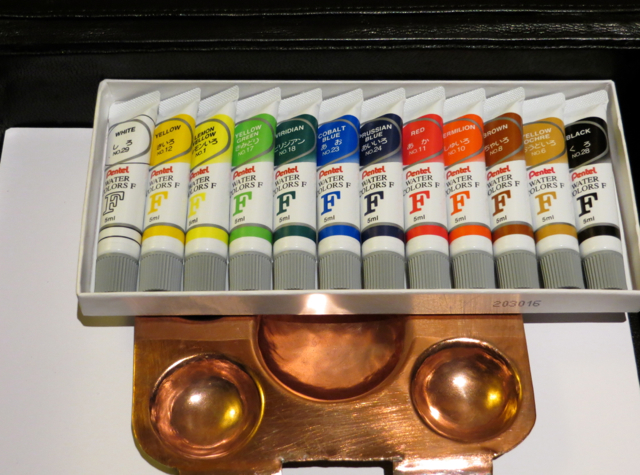 Amanjiwo Outdoor Pool, Tennis Court, Spa Suite, Art Room and Library
We were conveniently located near the swimming pool, which the munchkin loved. Our first day we even met another family, expats living in Singapore, and all the kids had a blast. That said, relatively few families with young children visit Amanjiwo, so you can safely expect a tranquil poolside ambience the vast majority of the time.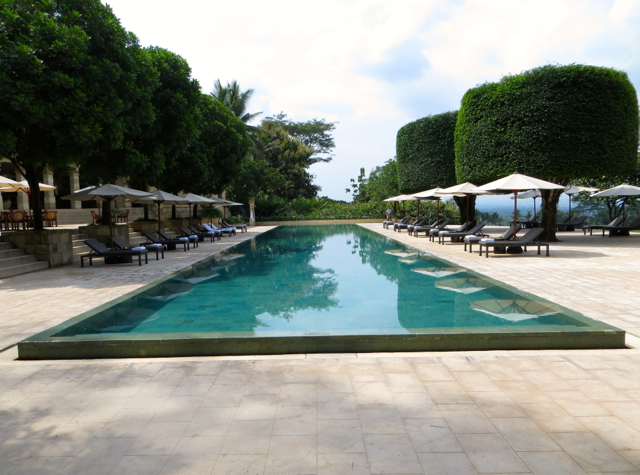 We especially enjoyed playing tennis as a family. We were the only ones we saw playing during our time, and prior to our first time on the court they spent some time clearing some stray leaves off of it, so chances are good that you won't have any competition for time on the tennis court during your stay. Rackets, tennis balls and refreshing cool towels, drinks and even cold watermelon were provided (and very welcome, after working up a sweat).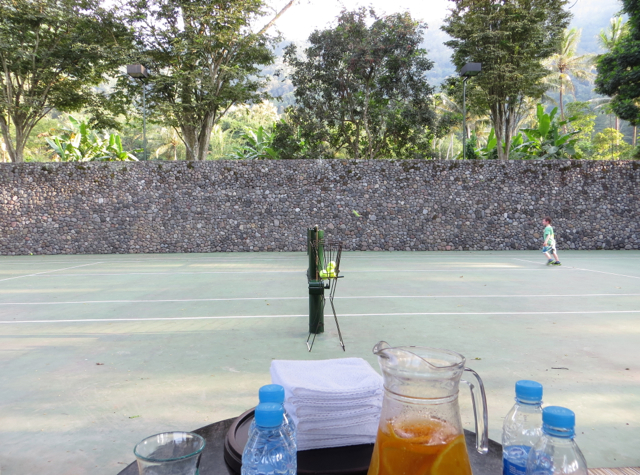 While we didn't have any spa treatments during our stay, a variety of Javanese massages, reflexology and body treatments are offered, either in your own suite or in the Spa Suite. If I'd had time, I would have loved to try the Mandi Lulur, which was a traditional ritual for Javanese princesses before their wedding day, featuring a massage, body polishing with white tumeric and honey, and a relaxing herbal bath.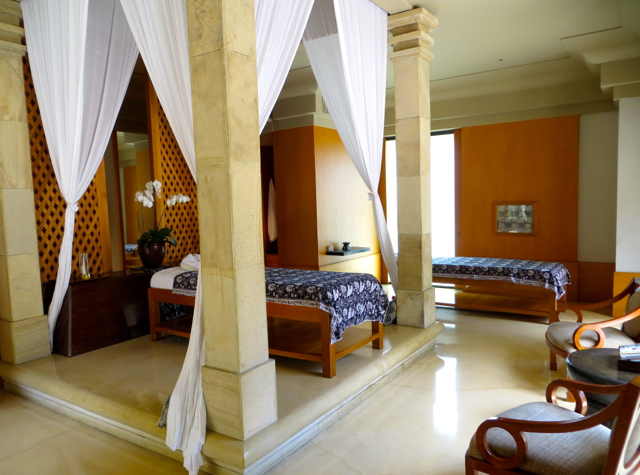 Almost hidden away, the Art Room features rotating exhibitions of noted artists and photographers: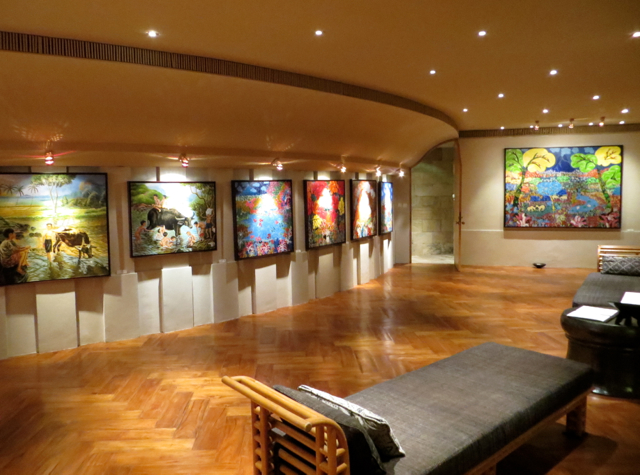 And across from the concierge area, The Library is a comfortably air-conditioned and light filled space to enjoy a good book, play a game of chess or backgammon, or simply enjoy an refreshing cold drink in the afternoon.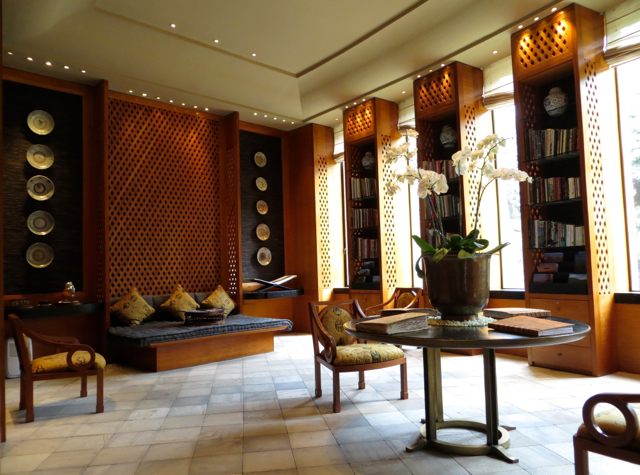 Amanjiwo Dining and Food
Amanjiwo's Restaurant is beautifully arranged in a circular open air dias just below the lobby, with a terrace for fully al fresco dining. I'll cover breakfast, lunch and dinner options in a future post.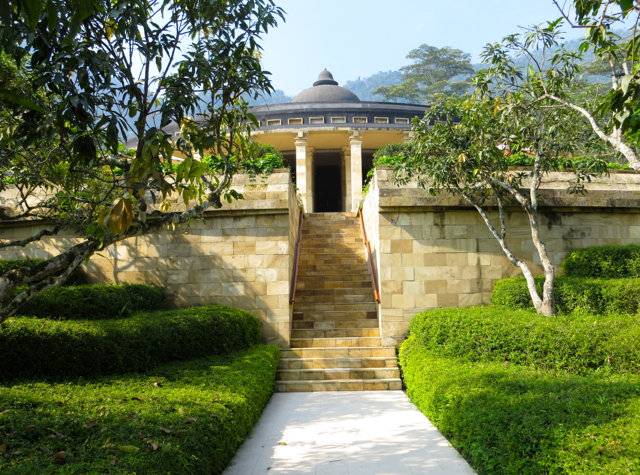 The Verdict
Amanjiwo is simply stunning, in every aspect: architecturally of course, but even more importantly its personalized service, incredible attention to detail, integration within its community, delicious food and relaxing serenity. My husband, when I initially planned our trip here, was curious and a little puzzled by my choice. Not any longer. He can't stop talking about it to friends now, which has led several to put it on their travel bucket list.
Disclosure: My family and I were guests and enjoyed a partially complimentary stay and breakfast at Amanjiwo, however the views expressed in this post are my own.
Related Posts
Top 10 Aman Resorts in the World
Aman Resorts: 4th Night Free + Virtuoso Benefits
Top Hotels in Madrid, Barcelona, Lisbon, Istanbul and Marrakech
Virtuoso Hotels: Bookings with Upgrades, Complimentary Breakfast and VIP Perks
Need Award Booking Help? Our fee is as low as $75 per ticket if you book your hotel through us.
If you enjoyed this, join 200,000+ readers: please follow TravelSort on Twitter or  like us on Facebook to be alerted to new posts. 
Become a TravelSort Client and Book 5-Star Hotels with Virtuoso or Four Seasons Preferred Partner Amenities!