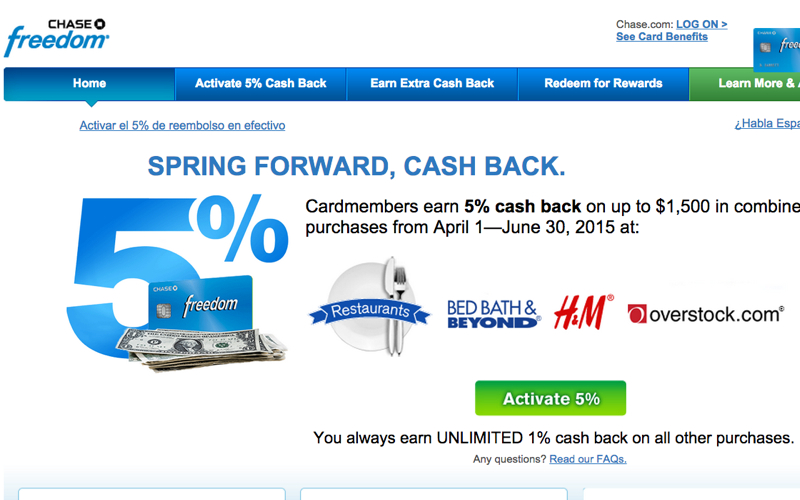 Earn 5X for Restaurants and dining out: activate your Chase Freedom Q2 2015 5X bonus categories starting today for use April 1-June30, 2015. My husband and I will be maxing out our bonuses to earn a combined 15,000 Ultimate Rewards points from restaurants, not just for dining out during Q2, but also from restaurant gift certificates we buy for use during the rest of the year.
There are also a few other 5X categories, although none of them are as attractive to us as restaurants:
Restaurants
H&M (stores, online, via mobile app)
Overstock.com
Bed Bath & Beyond (store, online, via mobile app)
FAQ
How Much of My Chase Freedom Spend Earns the 5X Bonus?
The limit per Chase Freedom card is $1500 per quarter, from all 5X bonus categories. For example, you could earn 5X on $1000 of restaurant spend, $250 of H&M spend and $250 of Overstock.com spend. Any spend above that would only earn the usual 1 point per $1 of spend.
How Do I Get More Than $1500 Spend per Quarter at the 5X Bonus?
Have more than 1 Chase Freedom card. For example, ensure your spouse or partner also has a Chase Freedom card. And if you won't be renewing a Chase Sapphire Preferred card, ask if it can be downgraded to a no annual fee Chase Freedom card.
How Do I Transfer the Chase Freedom Points Out to Airline Partners?
In order to transfer the Chase Freedom points out to partners such as Singapore KrisFlyer, Korean Skypass, United MileagePlus, etc., you'll need to ensure you have a card linked to Ultimate Rewards, such as the
Chase Sapphire Preferred
or Ink Plus card. Then, you can combine your points (see
How to Combine Ultimate Rewards Points on New Chase Web Site
) and transfer your Ultimate Rewards points to the Ultimate Rewards points transfer partner of your choice.
Are ALL Restaurants and Eateries Included in the 5X Bonus?
All stand-alone restaurants are included, but if outlets that are in other establishments such as hotel restaurants, casino restaurants, department store restaurants, theme park eateries, stadium food stands, etc. may not earn the 5X bonus, because their credit card merchant code may be the one for the establishment they're located in (a department store, sports stadium, etc.) instead of as a restaurant.
How About Restaurants Abroad?
You probably won't want to use your Chase Freedom on an international trip, since it does incur foreign transaction fees. Use your
Sapphire Preferred
instead, since you'll earn 2X (or 3X on the first Friday of the month) with no foreign transaction fees.
I'm Visiting NYC–Which Restaurants Do You Recommend?
Great, glad you're visiting my hometown! I have a ton of recommendations depending on what type of food you're interested in. Here are a few to get you started, and for all my other NYC-related advice, see posts tagged
NYC
.
Related Posts