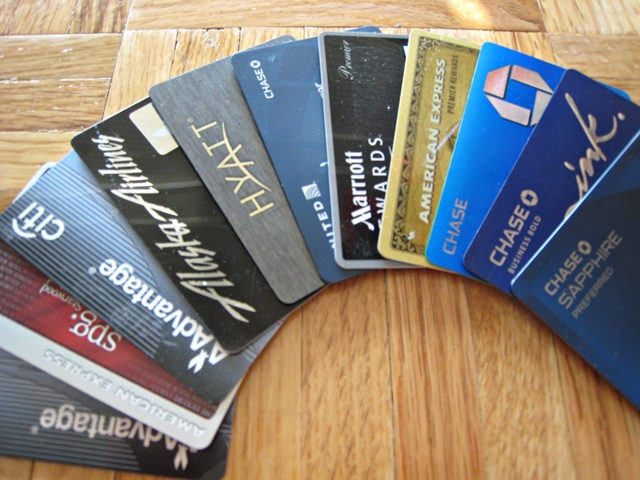 Which New Travel Credit Cards for Domestic U.S. Travel and Future International Travel?
TravelSort reader Brian writes: "We are looking at applying for a few credit cards this month. We already have the Chase Sapphire Preferred card. We will put about $60k on the credit cards in the next 4 months with daycare and a pool charge. We average about $6000 per month on credit cards.
Since we have a 3 month old and will hopefully will have another child within 24 months we won't necessarily be traveling outside of our 5-6 trips regionally [for the near term].
Can you recommend a couple of new credit cards? We are considering the Chase Ink Plus and United MileagePlus card or the US Airways Dividend Miles credit card.
I'd like to stockpile miles and points over the next few years for future traveling."
It's great that Brian and his wife are thinking strategically about which credit cards to put upcoming spend on. Here are my thoughts, starting with some overarching ones on earning and redeeming miles and points:
Avoid Stockpiling Miles and Points: Earn and Burn
It's tempting to work on stockpiling frequent flyer miles and points the way you would save for a child's college education or retirement, but unfortunately frequent flyer miles in particular are subject to devaluations, sometimes massive ones and sometimes unannounced (for example the United Award Chart Devaluation earlier this year, the elimination of AAdvantage Explorer Awards with no notice a few months ago; the numerous Aeroplan devaluations; no award chart provided in advance of the British Airways Executive Club Avios devaluation, etc.)
Because of this, I recommend earning frequent flyer miles for a trip you plan to take in the next 18-24 months, but not trying to build up a lot of miles for undefined travel.
This is not to discourage Brian and his family from earning a lot of frequent flyer miles and points with their spend, but rather to encourage them to diversify their miles and points portfolio and regularly redeem the miles, rather than saving exclusively for a major international trip that is 3 years away or more.
For Domestic U.S. Travel, Consider Singapore KrisFlyer for United, British Airways Avios for AA, or Cash Back
I'm not sure where Brian is based in terms of his home airport, but if he lives near a United hub, he may want to accrue Ultimate Rewards points or AMEX points that can transfer to Singapore KrisFlyer to book United awards more cheaply than with United's own award chart.
If he's at an American Airlines hub, British Airways Avios (or AMEX Membership Rewards points or Ultimate Rewards points that transfer to Avios) could help him book short direct flights using Avios more cheaply than with the AAdvantage chart.
That said, there can be times when no saver award space is available for a domestic or international AA flight, and for that reason, it's good to also have enough AAdvantage miles earned from the Citi AAdvantage cards, and similarly have United MileagePlus miles for when there's no United saver award space. Also keep in mind that the US Airways Dividend Miles will go away when the frequent flyer programs merge sometime in Q2 2015, so that's another card I'd get now before it goes away, and either use the Dividend Miles before the program merge, or have them convert into AAdvantage miles.
Otherwise, if flying a carrier such as JetBlue, a cash back card such as the BarclayPlus Arrival card, or earning transferable points on a card that bonuses airfare (3X with the AMEX Premier Rewards Gold card, 2X with the Sapphire Preferred) could be best.
AAdvantage Miles Great Now for International Travel; for Future, Hedge with Transferable Points
For those planning a trip in the next year or so, AAdvantage miles are currently great for Cathay Pacific First Class, Cathay Pacific Business Class, Qantas First Class, Etihad First Class, and other international awards, at least if you don't transit a third region that would break your award into two separate awards. If that happens, US Airways Dividend Miles may be a better bet. But, while the award charts seem fairly safe from devaluation prior to when they combine in Q2 2015, I wouldn't be surprised to see some kind of AAdvantage Award Chart devaluation later in 2015.
Transferable points can be a better hedge against future devaluations for future international travel, since these points can be transferred to several different frequent flyer and hotel loyalty programs. My current favorite transfer options for Chase Ultimate Rewards points are Singapore KrisFlyer and Korean Air SkyPass, or to top up a United MileagePlus account. AMEX Membership Rewards points can be good for transfers to Singapore KrisFlyer, to British Airways Executive Club if there's a transfer bonus, and even to Air France/KLM Flying Blue, if you need a one way award on a SkyTeam Alliance airline.
Starwood Preferred Guest (SPG) Starpoints transfer to a number of frequent flyer programs, but the AMEX SPG credit cards never have high signup bonuses, so these can be good points to earn if you have high spend.
Look for Targeted Signup Bonuses from American Express
I can't stress this enough, especially as AMEX signup bonuses have become once in a lifetime. Make sure you've opted into receiving promotional offers from AMEX (see How to Get Targeted for 100,000 Credit Card Bonus Offers) and monitor your snail mail for any 100K or even 150K signup bonus offers for AMEX, for example this 150K AMEX Business Platinum Bonus Offer (Targeted) that one of my clients received.
Considering Each Earning Several Signup Bonuses
Since Brian and his wife will be spending $60,000 over the next few months and regularly spend $6000 per month on credit cards, they have an excellent opportunity to easily meet minimum spend on several cards each. As long as they're not planning to apply for a mortgage, refinancing or other major loan over the next year or 18 months, they have excellent credit scores and no high interest debt, each of them could apply for a couple cards now, and a couple more cards each in 4 months or so.
My picks would be (see Best Travel Credit Cards for links)
100K or 150K AMEX Platinum Card, if targeted
50K Citi Platinum Select AAdvantage
Which new travel credit cards are you applying for or have recently applied for?
Related Posts
Need Award Booking Help? Our fee is as low as $75 per ticket if you book your hotel through us.
If you enjoyed this, join 150,000+ readers: please follow TravelSort on Twitter or like us on Facebook to be alerted to new posts.
Become a TravelSort Client and Book 5-Star Hotels with Virtuoso or Four Seasons Preferred Partner Amenities!
Disclaimer: Note that some cards in this post offer credit to me if you're approved using my links. The opinions, analyses, and evaluations are mine. This content is not provided or commissioned by Chase, Barclays, American Express, Citibank, US Bank, Bank of America, or any other company. They have not reviewed, approved or endorsed any of my articles.