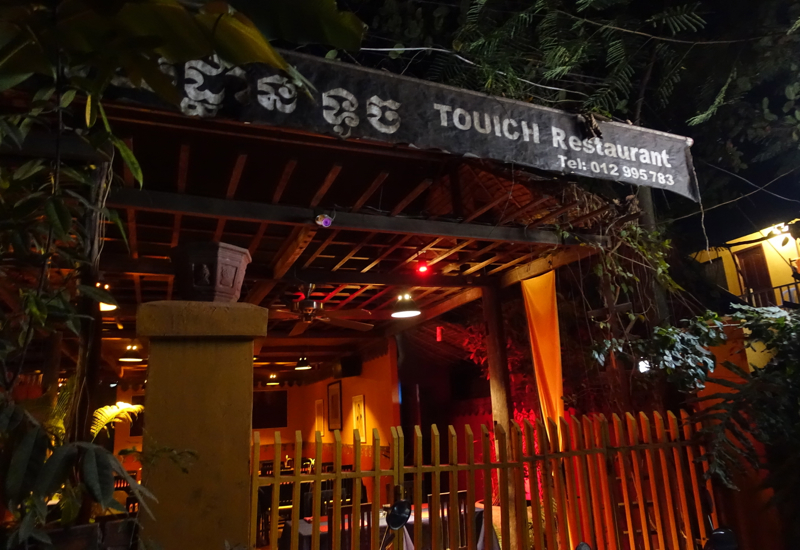 Touich Restaurant came recommended by Kanha, our guide to Beng Mealea, and is also well reviewed on Tripadvisor, so we decided to try it for our second evening in Siem Reap, Cambodia.
For the previous posts in this trip report, including Asiana First Class and luxury resorts and dining in northern Thailand and Cambodia, please see:
SWISS Lounge JFK Terminal 4 Review
Review: Asiana First Class Suite NYC JFK to Seoul ICN
Review: Cornerstone Restaurant, Park Hyatt Seoul
Lounge Review: Asiana Business Class Lounge Seoul Incheon
Asiana Business Class A330 Review
Review: Novotel Bangkok Airport Hotel Suite
Review: Anantara Golden Triangle Elephant Camp and Resort
Anantara Golden Triangle Sala Mae Nam Restaurant Review and Menu
Mahout Experience at Anantara Golden Triangle Elephant Camp
Dining By Design at Anantara Golden Triangle Elephant Camp
Hotel Review: Park Hyatt Siem Reap
Beng Mealea Jungle Temple Photo Tour, Siem Reap Cambodia
Getting to Touich Restaurant in Siem Reap
Touich Restaurant isn't easy to find, so I recommend double checking with your hotel and the tuk tuk driver that he knows how to take you there. It's located behind Wat Preah Enkosei (Wat Leu), and the restaurant's site offers a helpful map: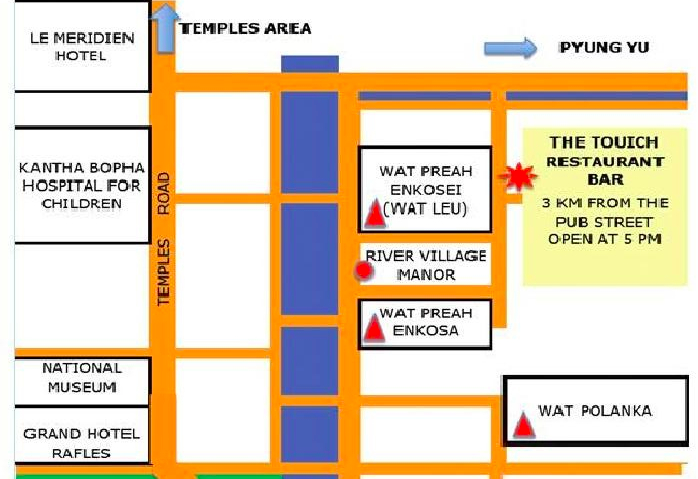 The Scene
We made an early reservation, so we were the very first ones there at about 5:45pm. But this proved helpful in terms of ordering our dishes, since this is a family run restaurant and my impression is that there can be longish waits later in the evening, when it gets more crowded. Most of the tables in our area of the restaurant were occupied by the time we left, with what appeared to be a mixture of visitors to Siem Reap and expat residents.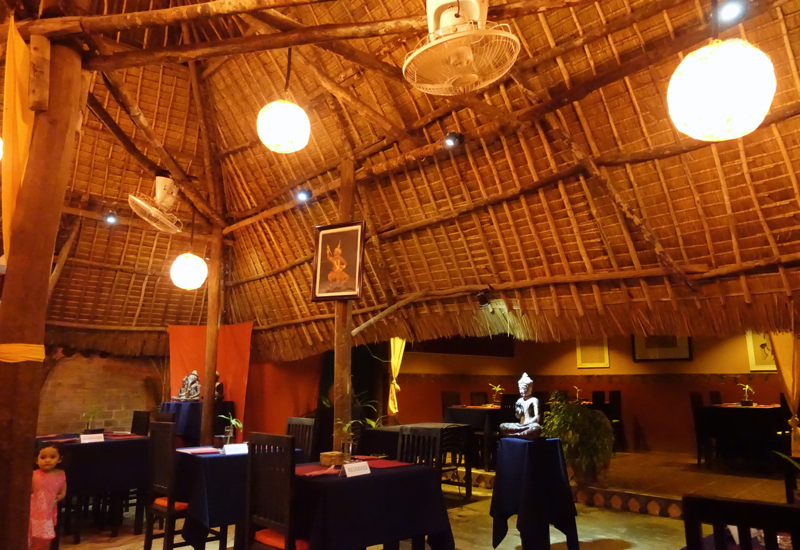 Touich Restaurant Menus and Food
When I saw all the good things on Touich's menu, both Khmer and Western, it made me wish we were there with a larger group, so that we could have tried more dishes. Here's the Appetizer menu: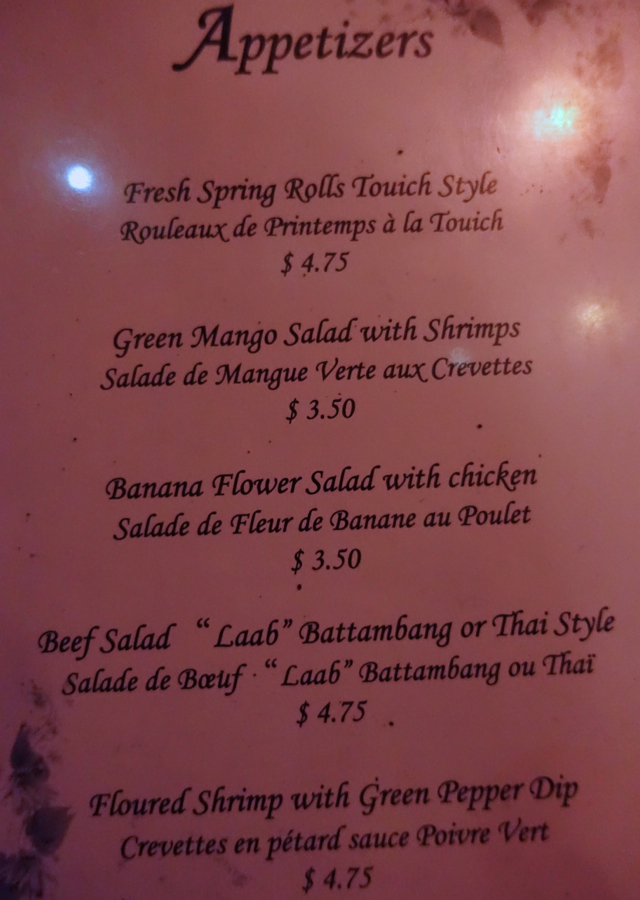 Main dishes included both Khmer and Western dishes, including grilled items such as steaks: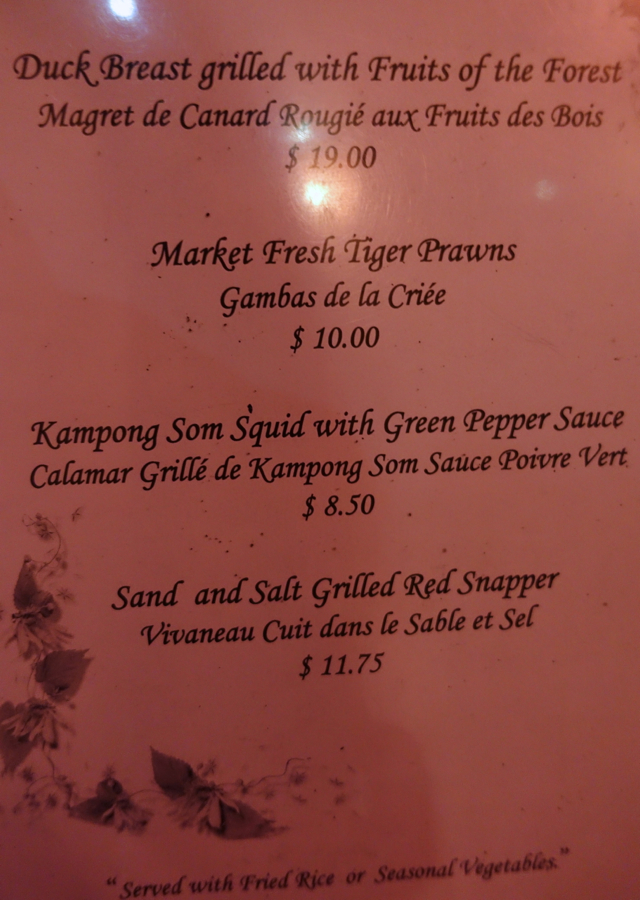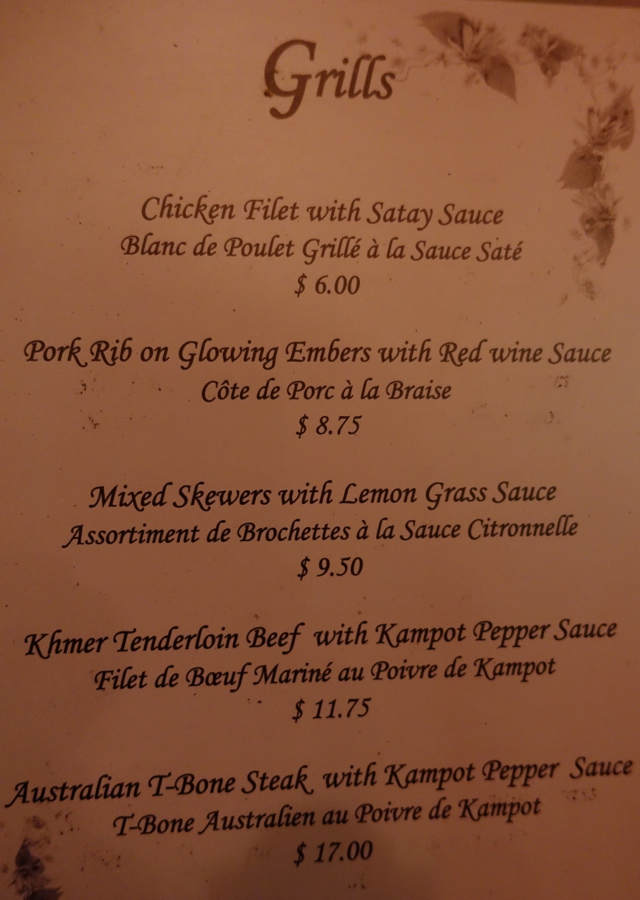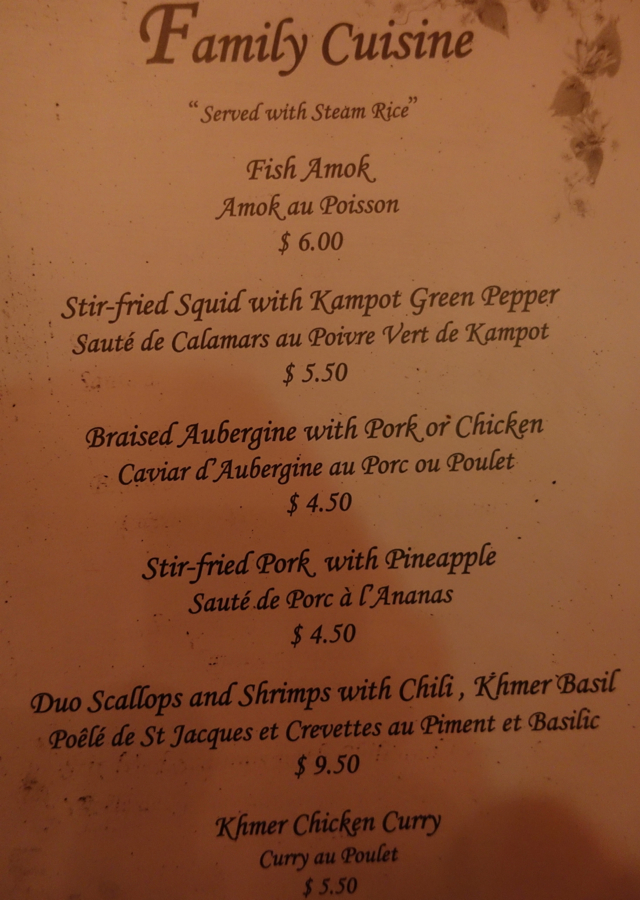 There were also vegetarian options. Here as everywhere in Asia, if you're a strict vegan I would check whether fish sauce or other animal/fish based products are used, since not everyone has the same understanding of vegetarian.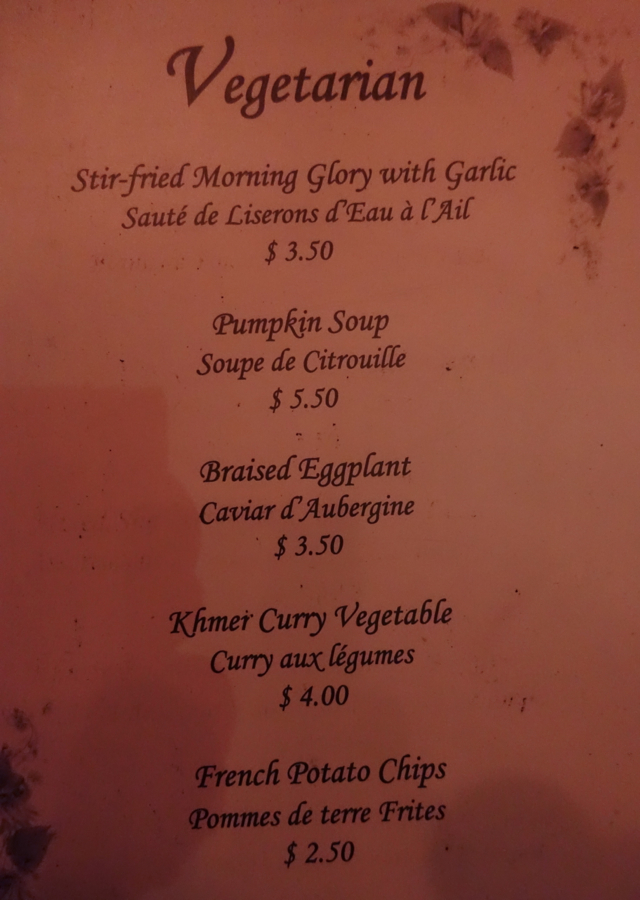 One of my favorite salads to order in Thailand, Laos and Cambodia is Banana Flower Salad (it's not as if I can easily order it even in otherwise authentic eateries in NYC) so I persuaded my husband to try it. I really enjoyed it, with its fresh and fragrant flavors, the chili, and crunchiness of the banana flowers.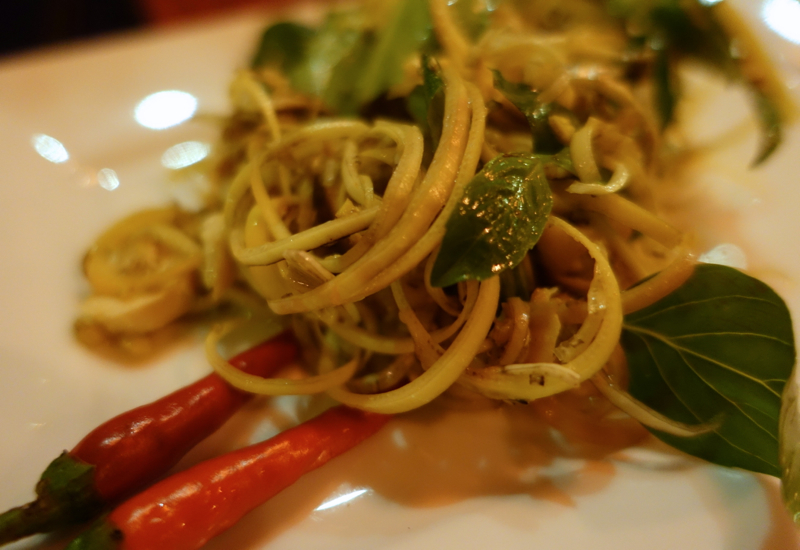 A dish I'd heard is especially good here is the Whole Baked Fish (Red Snapper) in Salt Crust, so we ordered that as one of our mains. Sure enough, it was the most succulent fish I've sampled in a long time. I normally avoid red snapper because it's invariably overcooked-but not this one. We all loved this dish, including our son, who preferred it to the steak.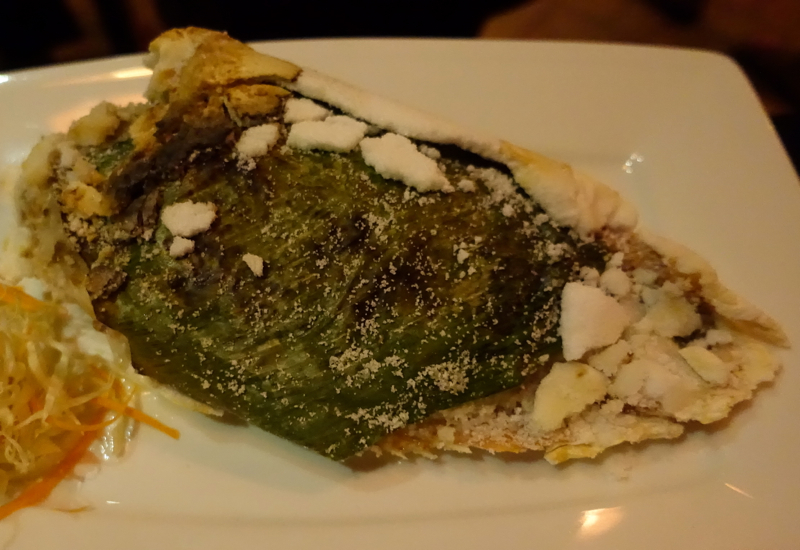 For our second main dish, we decided on the Khmer Beef Tenderloin with Kampot Pepper Sauce, to see how the kitchen prepared Western fare. While our favorite was the fish, the beef was very flavorful and cooked exactly as we requested it: between medium to medium rare. I especially enjoyed the peppercorn sauce that it came with, and liked that it was in its own sauceboat so that you could decide how much to pour on.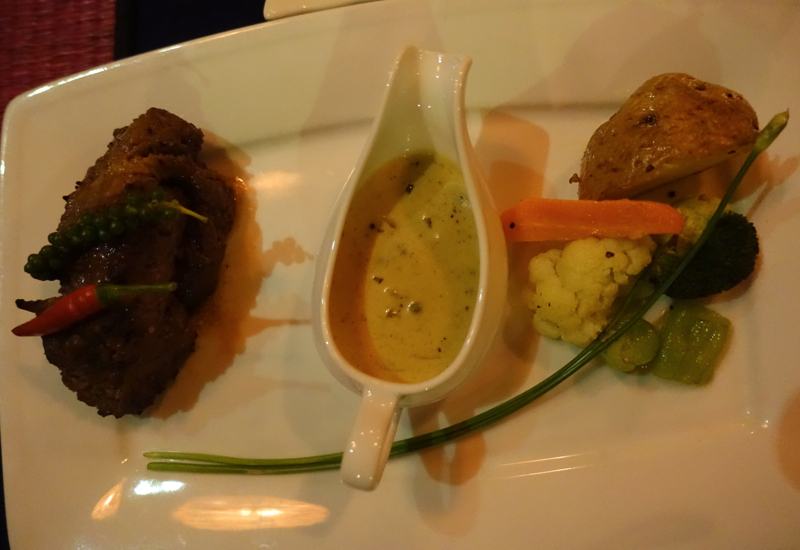 We had just enough room for some dessert. Here's the wine list and dessert menu: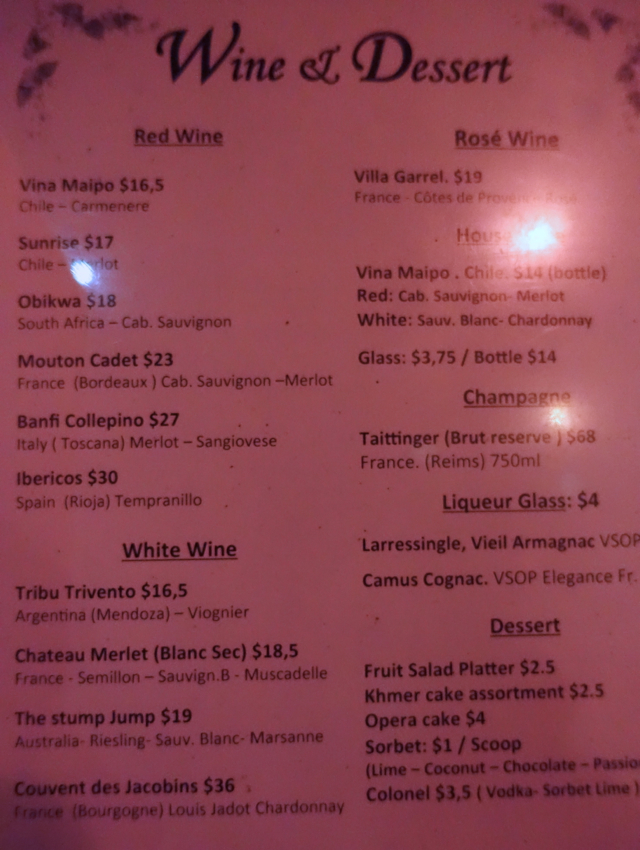 The munchkin wanted some sorbet, and chose passionfruit and coconut, which is a refreshing end to any meal. The sorbets are purchased, so not as good as the best homemade versions we've had.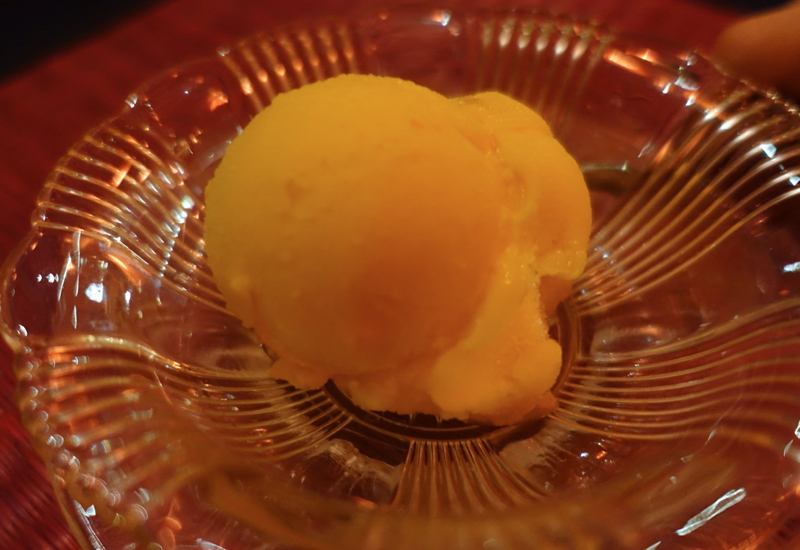 The Opera Cake is also purchased, and was solid, although not spectacular. If I was to return, I'd skip dessert and order another appetizer or other Khmer dish.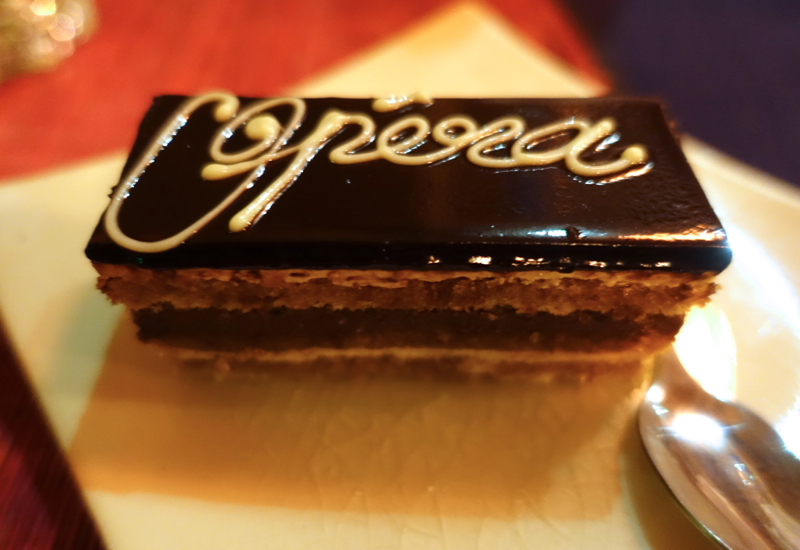 The Service
As you'd expect for being the very first ones to the restaurant, service was excellent at the outset, although we had to catch their attention a couple times towards the end, when there were more guests dining. Our server, most likely one of the family's daughters, thoughtfully kept our water glasses filled, and also turned over the fish once we'd eaten one side of it.
The Verdict
Touich was a lovely and inexpensive dinner in Siem Reap. I can see why it's a favorite with both expats and visitors, as it offers a great selection of both Khmer and Western favorites, at very reasonable (by Western standards) prices, in a low key but pretty setting. Do be aware that all seating is outdoors, so I recommend wearing long sleeves/long trousers and applying effective mosquito repellant.
If you've dined at Touich Restaurant in Siem Reap, what was your experience?
Related Posts
Hotel Review: Park Hyatt Siem Reap
Beng Mealea Jungle Temple Photo Tour, Siem Reap Cambodia
Need Award Booking Help? Our fee is as low as $75 per ticket if you book your hotel through us.
If you enjoyed this, join 150,000+ readers: please follow TravelSort on Twitter or like us on Facebook to be alerted to new posts.
Become a TravelSort Client and Book 5-Star Hotels with Virtuoso or Four Seasons Preferred Partner Amenities!