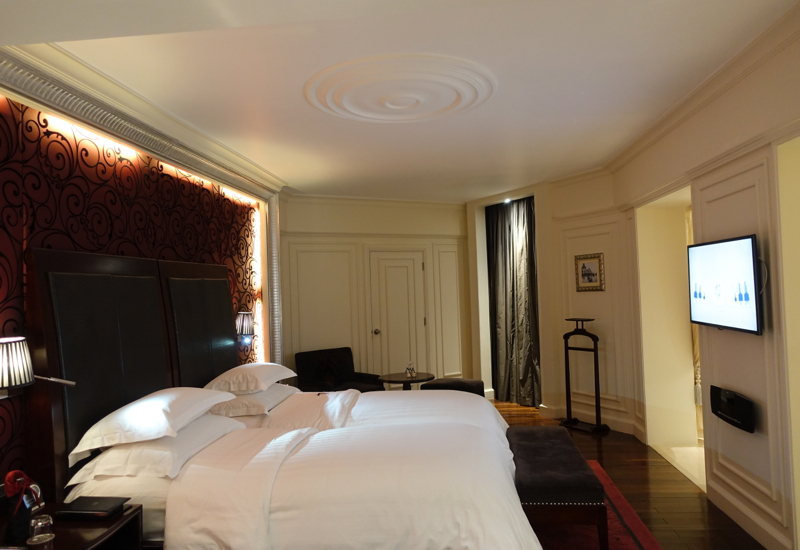 This Sofitel Legend Metropole Hanoi Review is part of a trip report including luxury resorts in Asia and the Maldives, such as Four Seasons Landaa Giraavaru and Soneva Fushi, as well as Etihad First Class and Emirates First Class.
For the prior posts, please see:
Review of Etihad's Lounge at Washington Dulles Airport (IAD)
Etihad First Class 787-9 Dreamliner Review
Review: Wingtips Lounge JFK for Etihad First Class Passengers
Review: Etihad First Class 777-300ER NYC to Abu Dhabi
Review: Etihad Business Class Lounge Abu Dhabi AUH Terminal 1
Four Seasons Maldives at Landaa Giraavaru Review
Four Seasons Maldives at Landaa Giraavaru Restaurant Reviews and Menus
Four Seasons Maldives at Landaa Giraavaru Activities: Top 10 Things to Do
Interview with Armando Kraenzlin, General Manager of Four Seasons Maldives at Landaa Giraavaru
Review: Four Seasons Maldives at Kuda Huraa
Surfing in the Maldives at Four Seasons Kuda Huraa
Review: Four Seasons Maldives at Kuda Huraa Sunset Water Bungalow
Four Seasons Maldives at Kuda Huraa Restaurant Reviews and Menus
Four Seasons Maldives at Kuda Huraa Activities and Top Things to Do
Soneva Fushi Maldives Activities and Things to Do
Soneva Fushi Breakfast, Ice Cream Room, Chocolate Room and Cheese Room
Fresh in the Garden, Soneva Fushi Restaurant Review
Trans Maldivian Airways Seaplane Review
Conrad Maldives Rangali Review: Beach Villa
Conrad Maldives Restaurant Menus and Review
Review: Conrad Maldives Superior Water Villa
Conrad Maldives Activities and Top Things to Do
Emirates First Class Lounge Dubai Review
Emirates A380 First Class Review
Amantaka Luang Prabang, Laos Review
Amantaka Restaurant Review and Menus
Amantaka Activities and Top Things to Do in Luang Prabang
TravelSort Clients receive these Virtuoso benefits when reserving the Sofitel Legend Metropole Hanoi:
Upgrade on arrival, subject to availability (no upgrades to Grand Premium or Suites)
Daily Buffet breakfast, for up to two in room guests
A complimentary 30-minute Foot massage per person for maximum of 2 people and on the first stay only (except the 2nd stay is after 7 days from the check-out date of the 1st stay)
A glass of champagne in Bamboo bar or Club bar per person, for maximum of 2 people and on the first stay only (except the 2nd stay is after 7 days from the check-out date of the 1st stay)
Early check-in/late check-out, subject to availability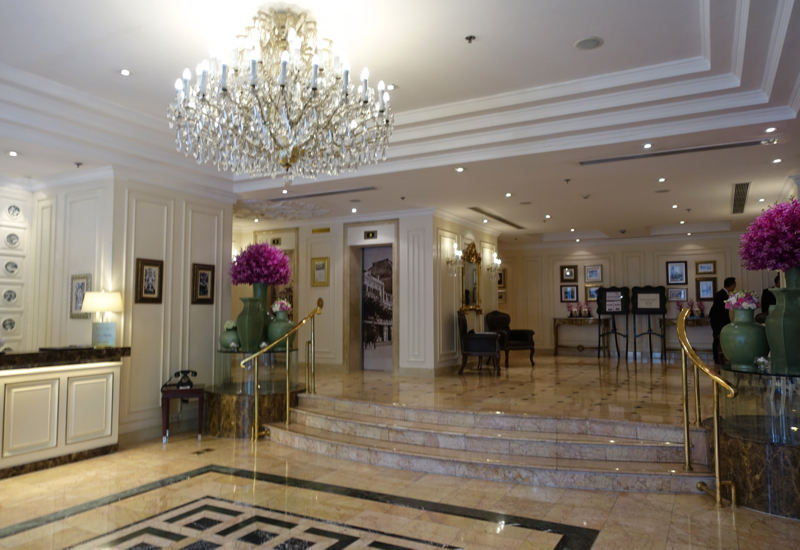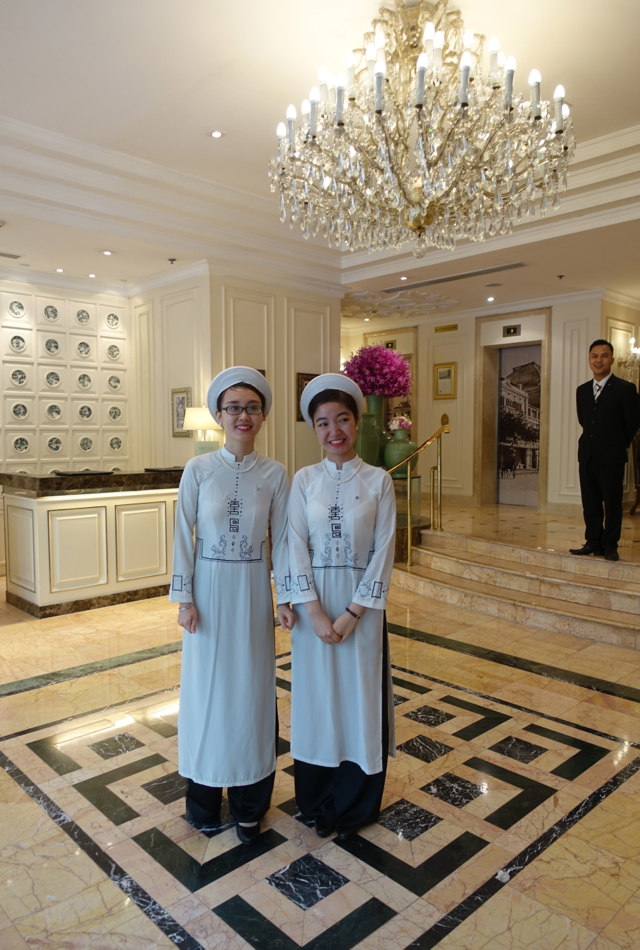 Sofitel Legend Metropole Hanoi Arrival and Check-In
After a rather lengthy and chaotic visa on arrival experience at Hanoi Airport and nearly an hour long drive due to traffic, we were relieved to finally arrive at the Sofitel Legend Metropole Hanoi. We were welcome and escorted to the Opera Wing, then up to the Metropole Club Lounge where we were checked in and brought a welcome drink. We both chose fresh squeezed juice.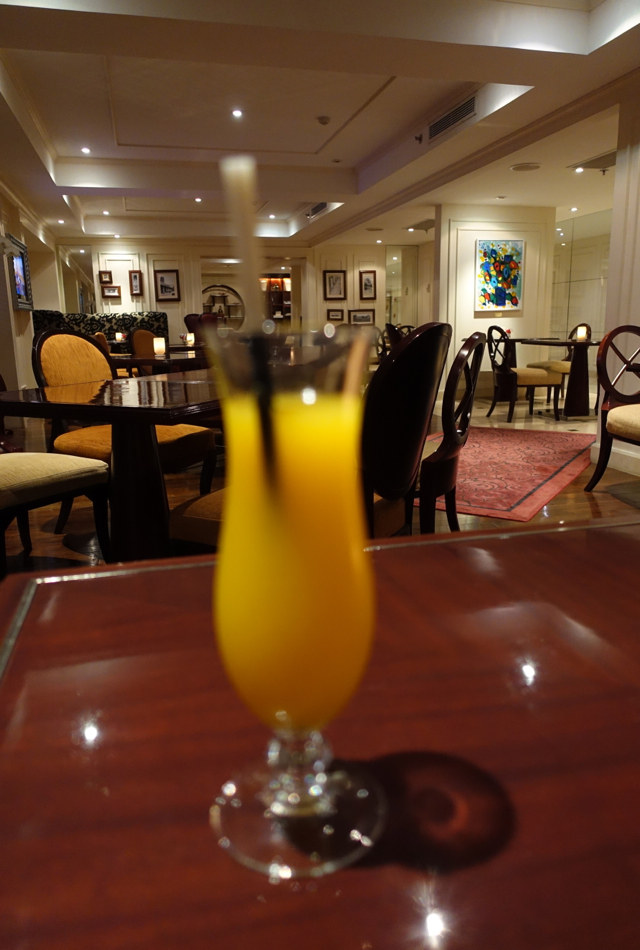 Unfortunately we had missed the evening hors d'oeuvres, and I needed to get my son some food before putting him to bed. I asked if any of the evening appetizers were still available, and while they weren't, the staff was kind enough to provide some bread and cheese so that we didn't have to wait around in the restaurant or for room service. There were also some pastries left from the afternoon tea, which I had previously asked the staff to save for us. It was of course lovely of them to do this, although the opera cake and tarts were rather poor quality, surprisingly so for one of Hanoi's best hotels.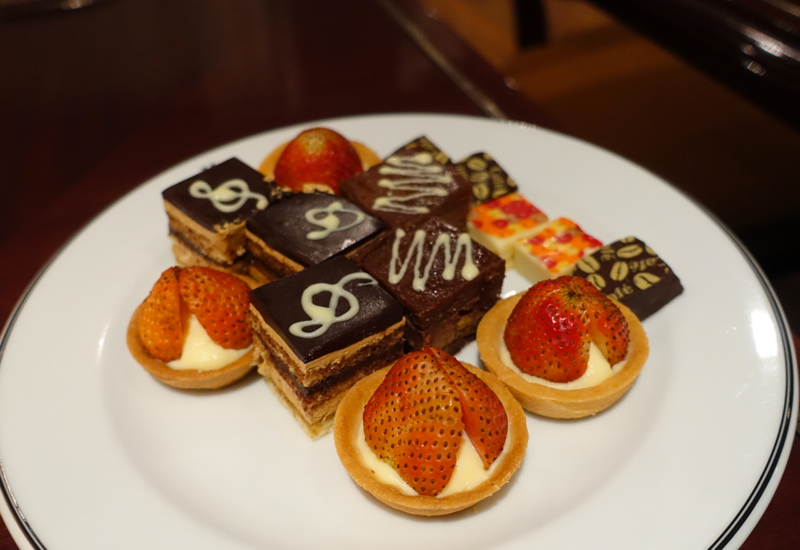 Opera Wing Grand Premium Room with Club Lounge Benefits
Grand Premium Rooms in the Opera Wing include access to the Metropole Club Lounge, with daily breakfast, afternoon tea, evening hors d'oeuvres, complimentary WiFi, and butler service.
Since it was my son and I, I reserved a room with 2 twin beds. They were right next to each other, which might not suit friends traveling together, but was perfect for us as it was one less side to worry about him rolling off–not normally a big deal, but since he broke his collarbone falling off a bed at age 4, it's been a concern.
One of the things I love about staying at a Sofitel is the plush Sofitel MyBed, and these did not disappoint. It's hard to imagine the new Air France First Class bed being as comfortable as these, even with the Sofitel partnership, although kudos to marketing since few even first class airline beds are truly comfortable.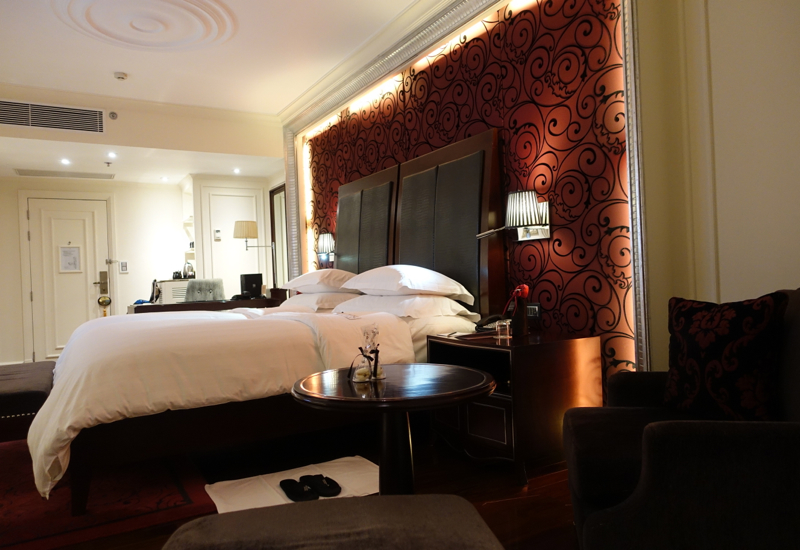 There were some vanilla macarons as a welcome amenity, a nice touch. We ate them later on in our trip, and they were much better quality than the afternoon tea pastries we were offered in the Club Lounge.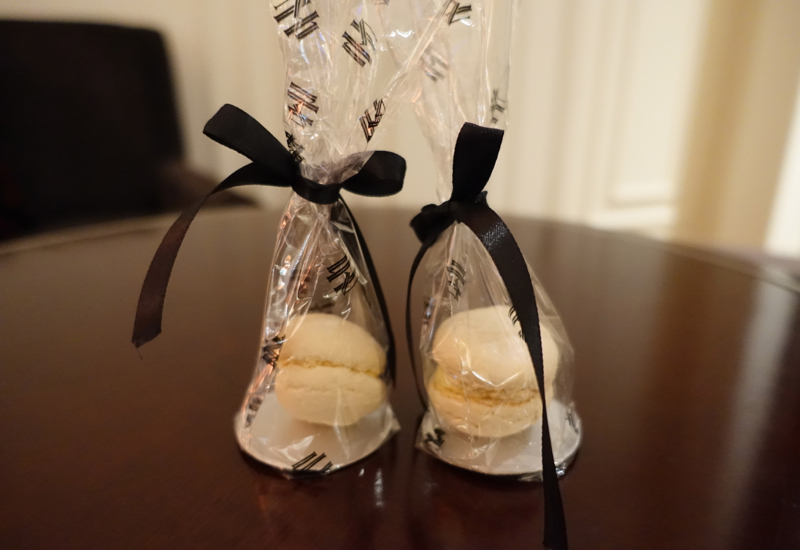 The bathroom is unusually long, going the whole length of the room and with curtains rather than doors, although there is a door to the toilet chamber. There are two vanities with his and hers sinks, and a lovely clawfoot tub that was in keeping with the French flair of the decor. I was happy to see there was even a child-size bathrobe provided.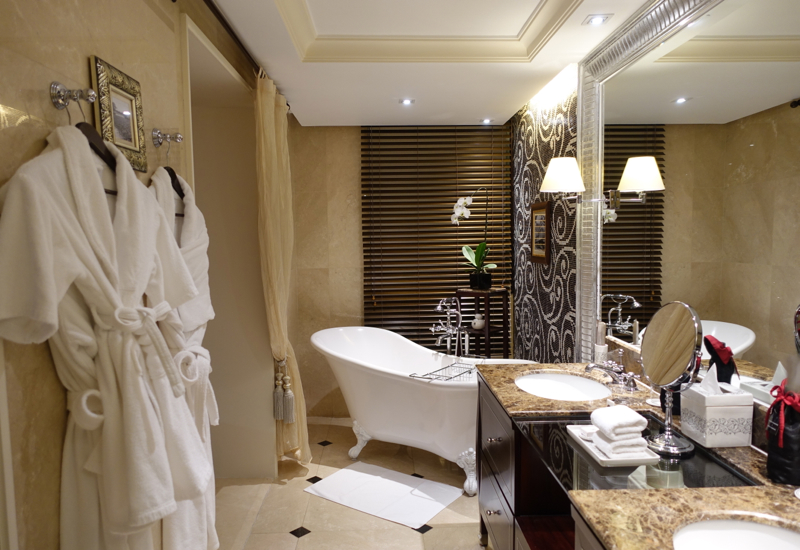 A separate glass enclosed rain shower was what I actually used, however, since I had work to do and no time for a bath.
Bath products were Les Notes de Lanvin Orange Ambre, a good unisex fragrance.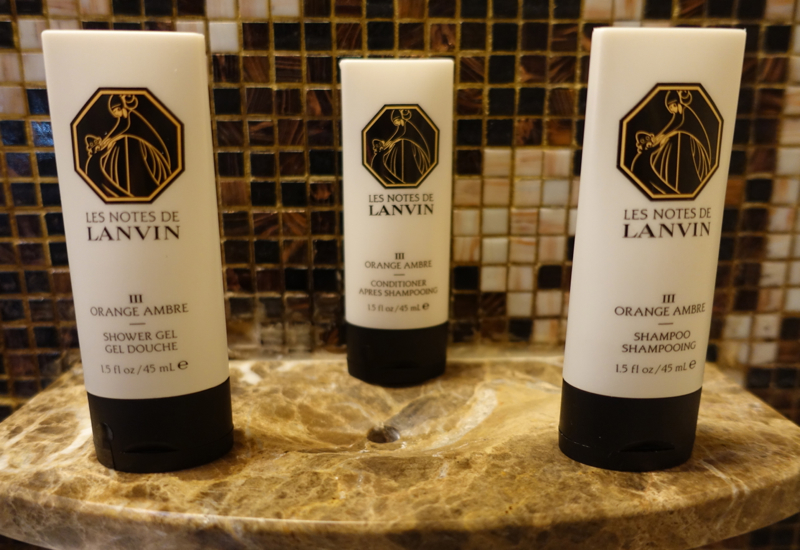 In addition to the bathrobes in the bathroom, silky robes were hanging in the closet, an unusual and romantic touch.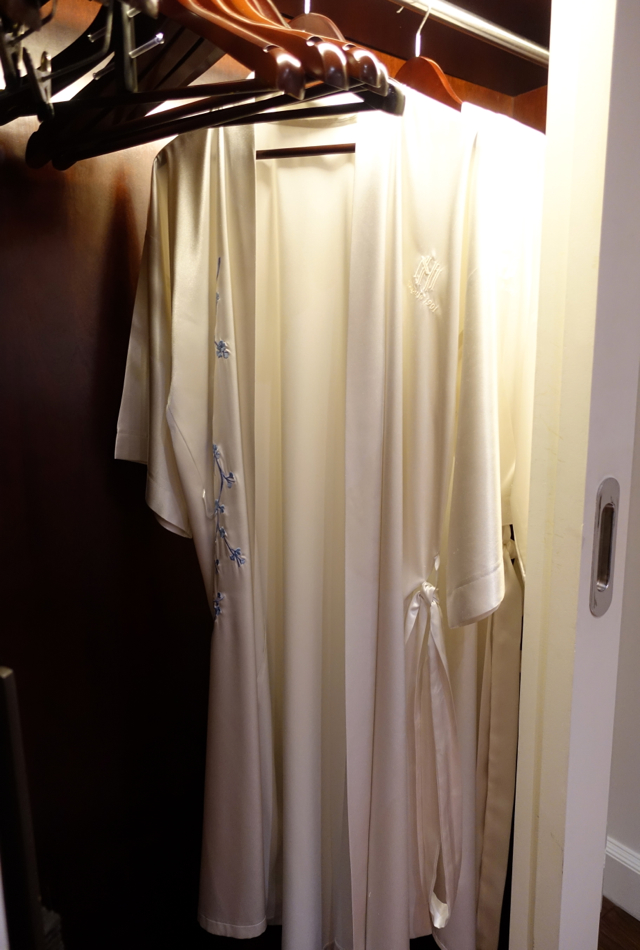 Sofitel Metropole Hanoi Pool
The hotel's pool is modest in size, but in the morning there was no one in it, and, along with the greenery of the interior courtyard, seemed a relaxing place to return to after a day in busy and hot Hanoi.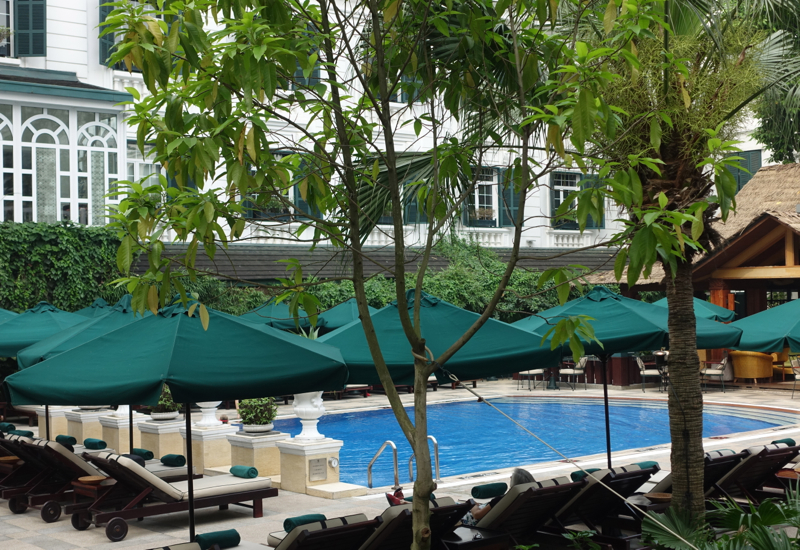 Spices Garden Breakfast Buffet
Guests with Sofitel Club Lounge benefits may choose to either have breakfast in the Club Lounge or at the Spices Garden breakfast buffet. I decided to give my son his breakfast there so we could compare it with the Club Lounge breakfast. Spices Garden was quite crowded when we arrive, and the outdoor terrace seating was completely full.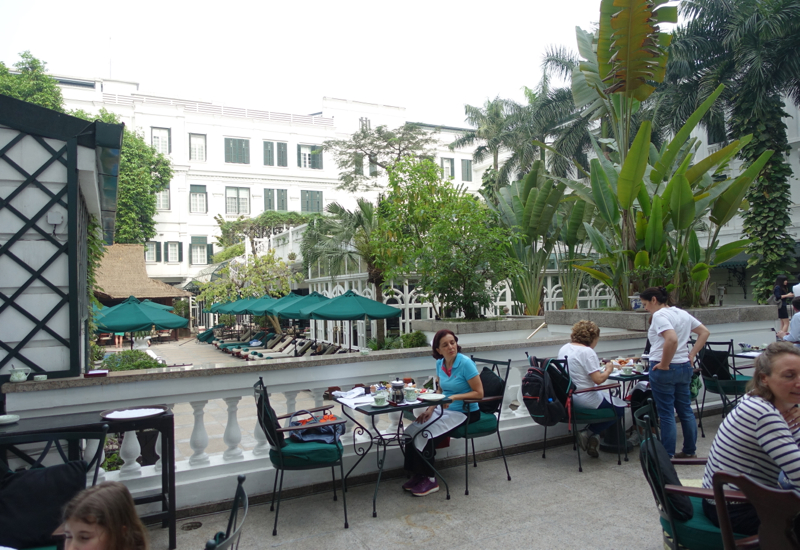 So we sat indoors in a booth: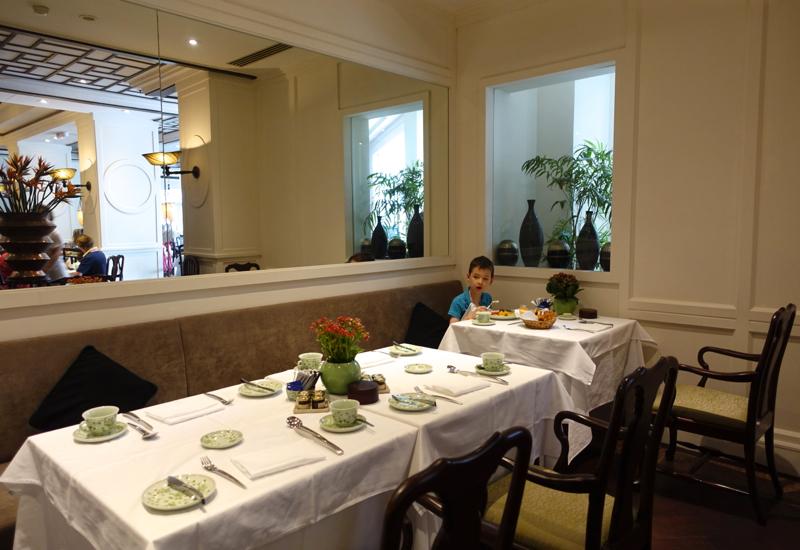 Servers brought us a nice basket of pastries, which were flaky and quite good: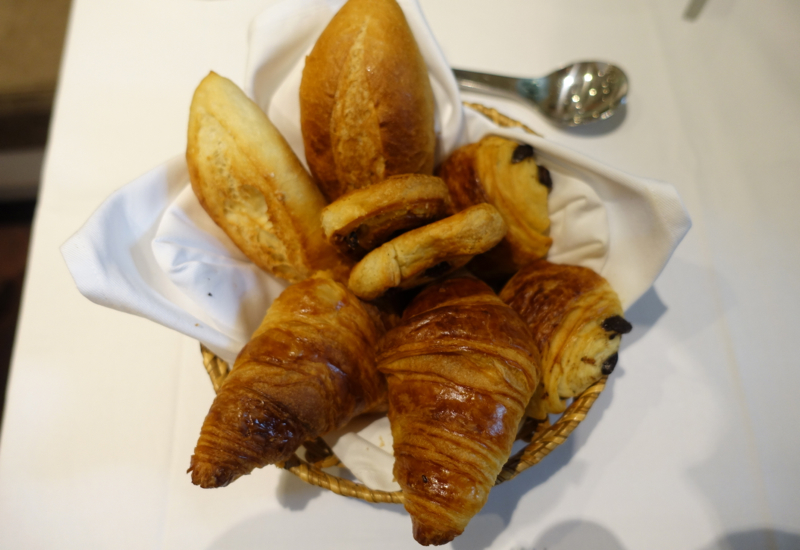 The buffet wasn't enormous by Asian standards, but featured eggs cooked to order, dim sum and hot dishes: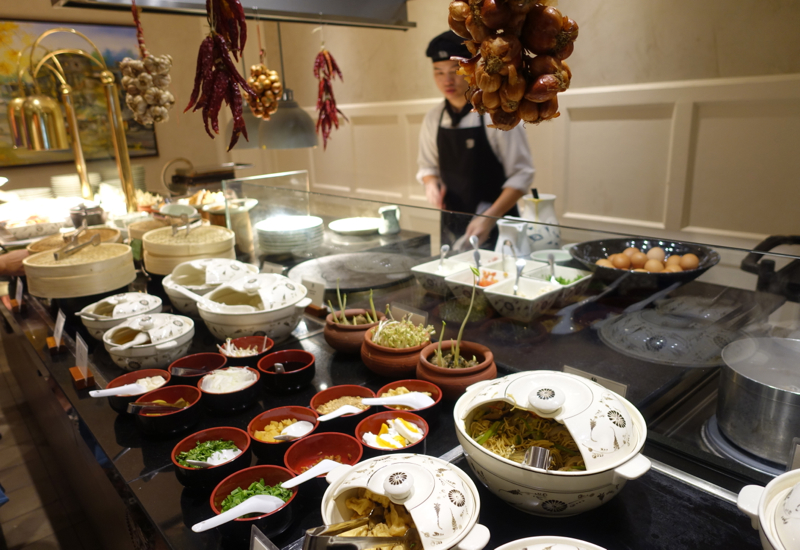 French-style pots of yogurt and custards: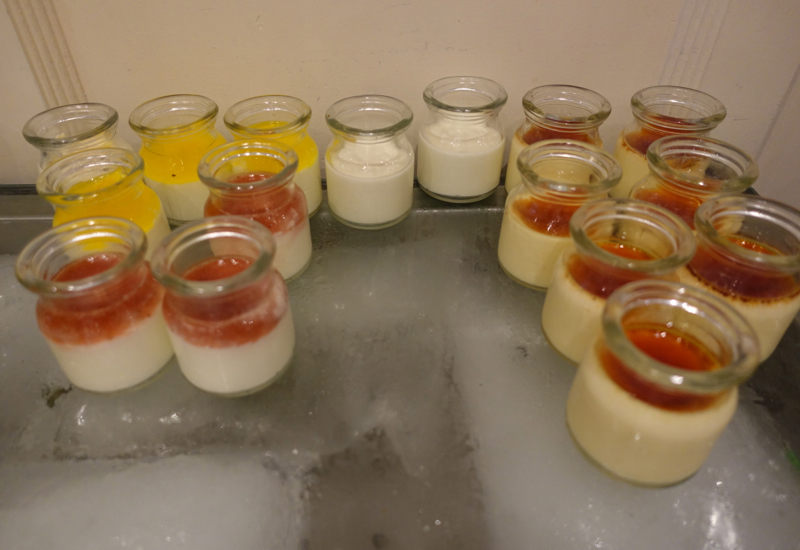 Fresh fruit, of which the highlights for me were fresh pomelo and mango: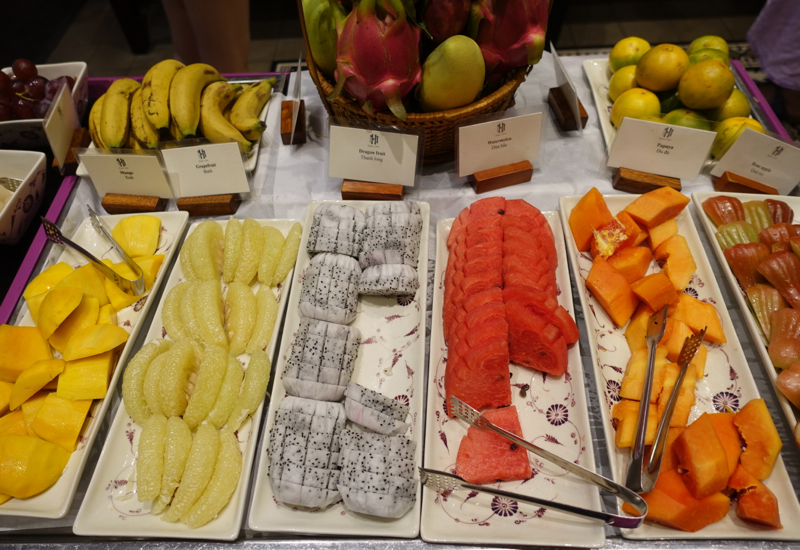 A few cheeses, tomatoes and other vegetables: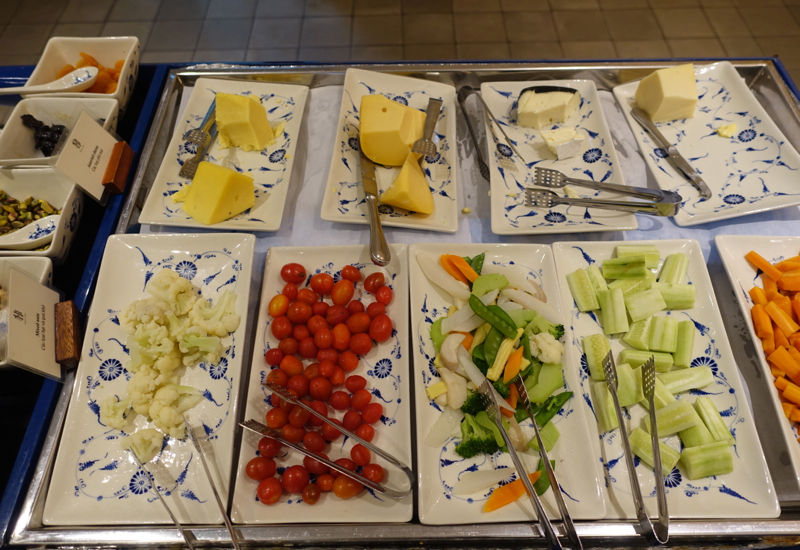 Breakfast cold cuts and smoked fish, although the smoked salmon was badly in need of replenishment: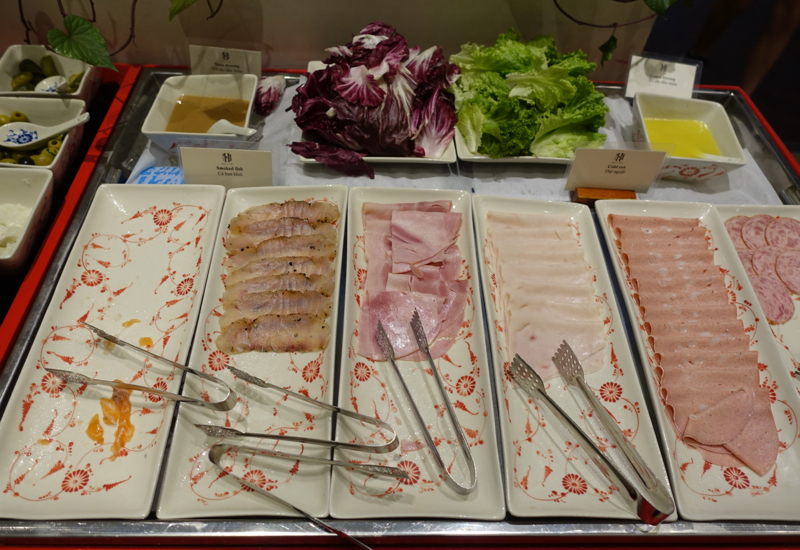 And the highlight for me, which were the banh cuon–fresh steamed rice paper rolls stuffed with meat and served with dipping sauce, fresh cilantro and crisp fried garlic–delicious! Don't miss these: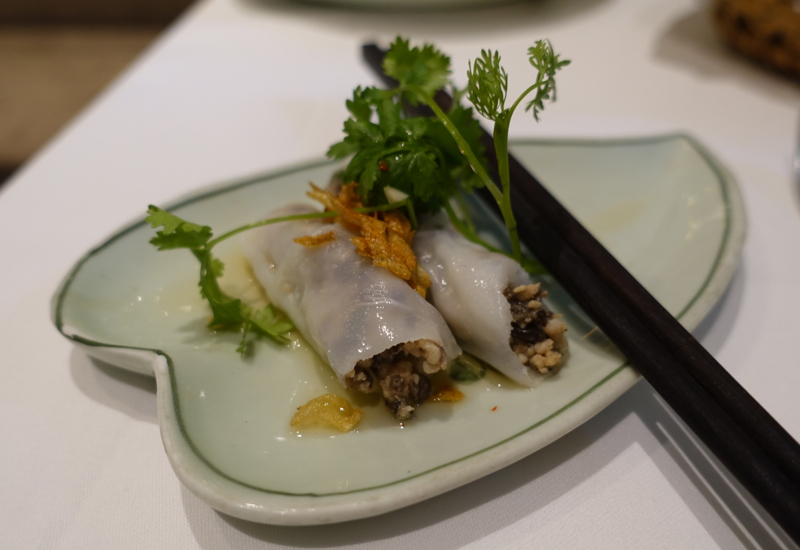 Metropole Club Lounge Breakfast
We then went up and I had breakfast in the Club Lounge. This is a good bet if you don't want a crowd of people and want a more relaxed breakfast. We were offered a choice of fresh squeezed juices and espresso drinks straightaway.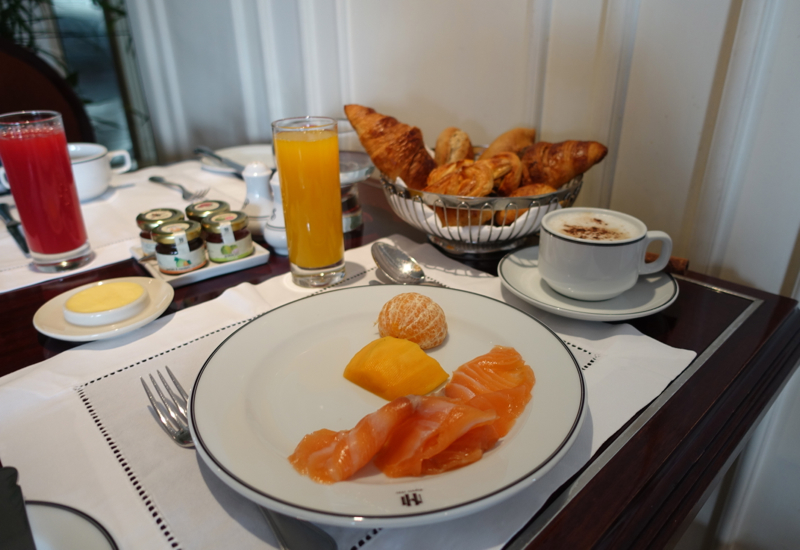 The actual buffet was smaller of course, without quite as much selection, but it was also more diligently replenished–there was no shortage of smoked salmon, for instance.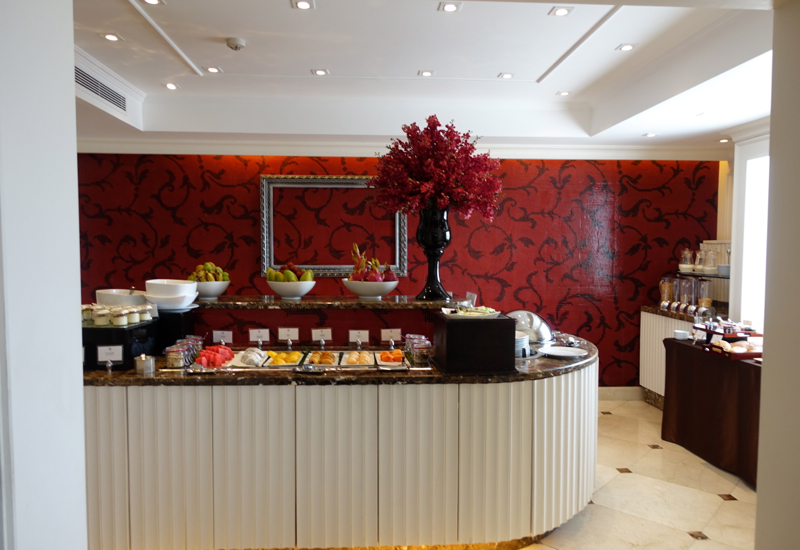 We were given menus and could order a hot entree.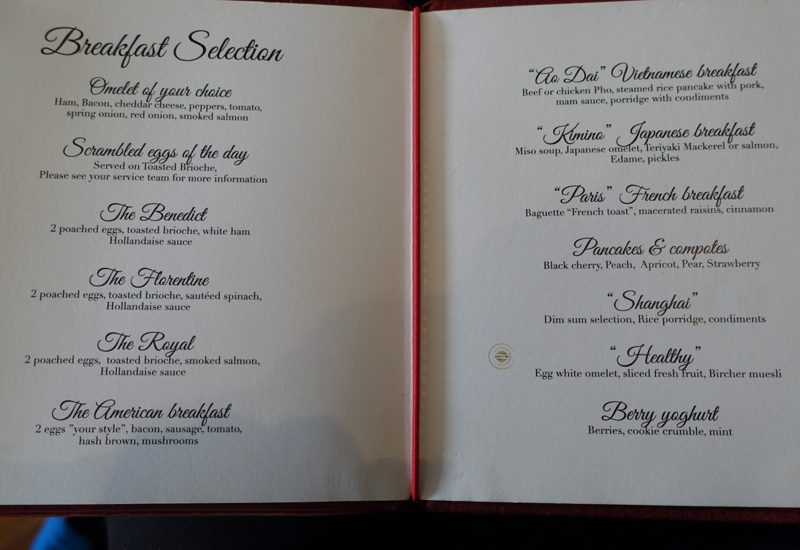 I chose the Vietnamese option, since I love having pho for breakfast. The chicken pho was delicious, and also came with more of those addictive banh cuon.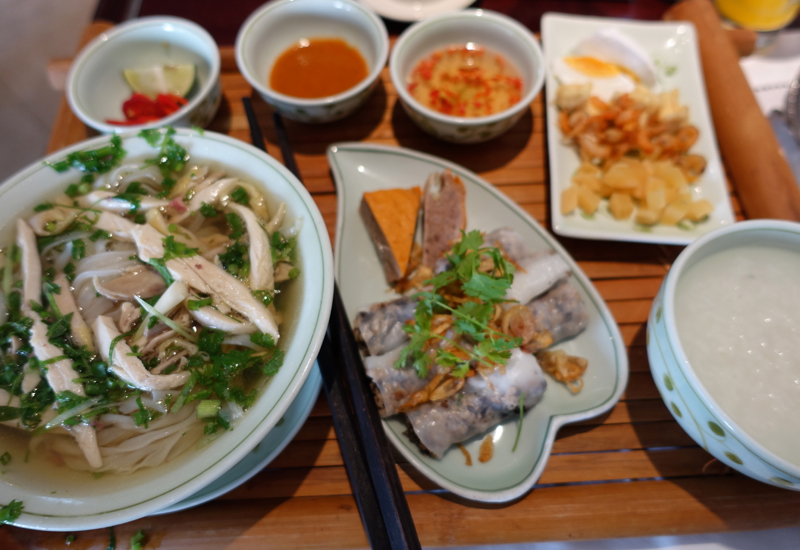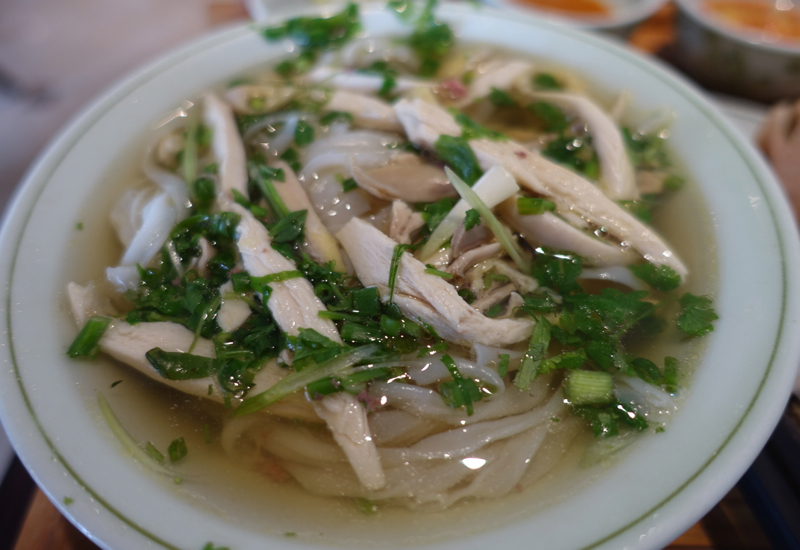 The Verdict
While we were only briefly at the Sofitel Legend Metropole Hanoi, it was an excellent stay: a very comfortable room, especially the Sofitel MyBed; attentive service in the Club Lounge; and an excellent breakfast, although the afternoon pastries could be better.
I also appreciated the staff's assistance with our taxi to the airport–they procured a better rate than we had coming to the hotel. Recommended, if your travels take you to Hanoi.
If you've stayed at the Sofitel Legend Metropole Hanoi on the Club level, what was your experience?
Related Posts
Sofitel: STEP and Virtuoso Benefits
Getting to Know Hanoi, Vietnam's Capital City
Vietnamese Feasts and Cooking Lessons in Hoi An
Review: Sofitel Berlin Kurfurstendamm, Club Luxury Room
20 Best Cities in the World for Foodies
Disclosure: I paid a travel industry rate and the views expressed in this post are my own.
Need Award Booking Help? Our fee is as low as $75 per ticket if you book your hotel through us.
If you enjoyed this, join 200,000+ readers: please follow TravelSort on Twitter or like us on Facebook to be alerted to new posts.
Become a TravelSort Client and Book Sofitel Legend Metropole Hanoi with Virtuoso Perks!