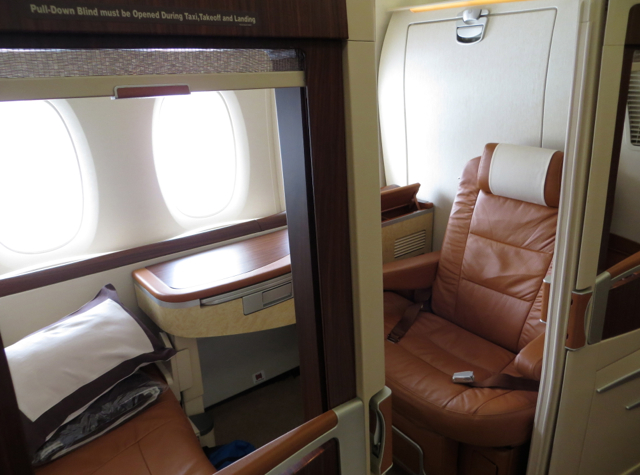 This Singapore Suites A380 review from Singapore to Hong Kong is part of a trip report including Singapore Suites, Emirates First Class, Cathay Pacific First Class, Asiana First Class and luxury resorts and dining in Southeast Asia. For the previous posts, please see:
Singapore Suites A380 Review: New York JFK to Frankfurt
Review: Lufthansa Senator Lounge Frankfurt
Singapore Suites A380 Review: Frankfurt to Singapore
Singapore Airlines Private Room Lounge Review
Cathay Pacific First Class Review NYC JFK to Hong Kong
My third Singapore Suites flight was from Singapore to Hong Kong. After visiting the Singapore Airlines Private Room, I made my way to the gate and was welcomed aboard.
Originally I'd chosen 3C, an interior seat, to try out the couples seating, but it was rather dim so I asked if I could be moved to 3K, a right hand side window seat. Fortunately the Suites cabin only had about 4 other passengers, so the crew was happy to oblige. Here's the view from Suite 3C, my original seat: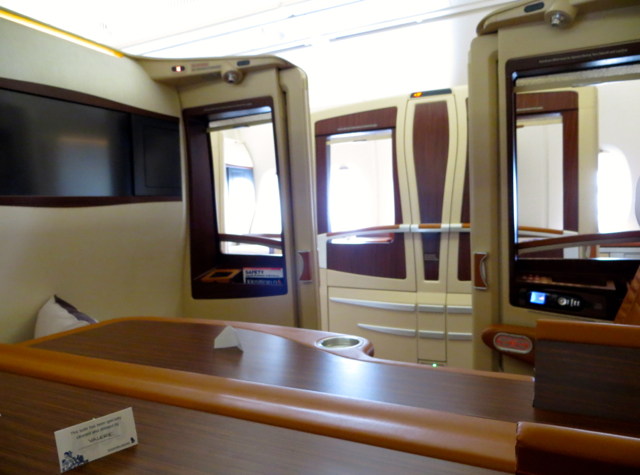 My new seat, Suite 3K, is in the first photo of the post.
A couple of crew members, including the purser, came by to introduce themselves. Since it was a short flight, we were not offered any of the typical long haul amenities, such as an amenity kit, pajamas, sleep mask, socks or slippers. That said, there are of course toothbrushes and Colgate toothpaste in the bathroom, in one of the drawers: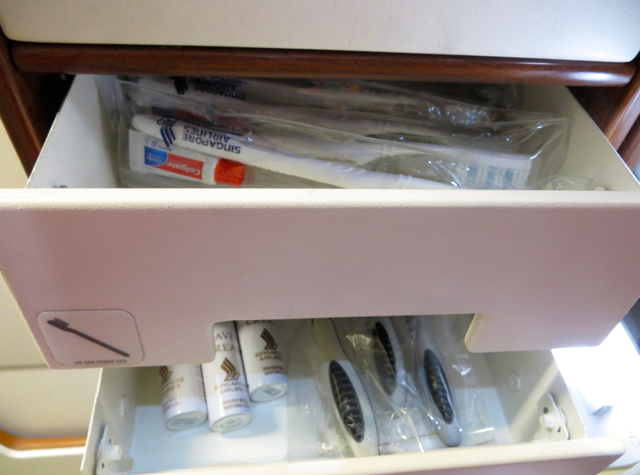 I was offered a pre-flight drink, and again chose water—so key to remain hydrated after so many hours of flying, to help mitigate against jetlag.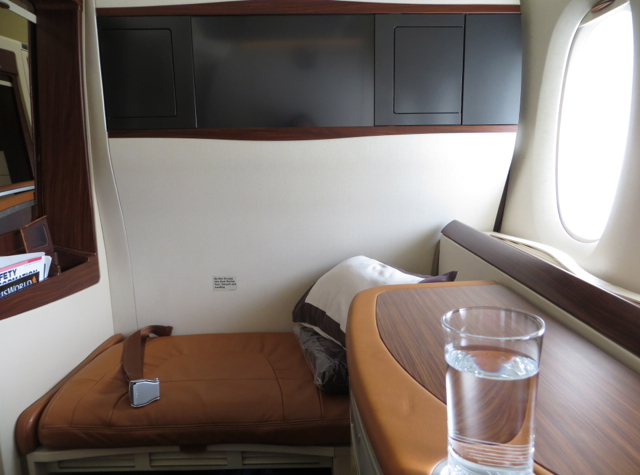 This was a morning flight, and since it was departing Singapore, I took advantage of the greater number of Book the Cook options out of Singapore's hub to prebook the Japanese Kaiseki meal. Originally I wasn't able to select this, as for some reason it wasn't available in the online drop down. According to Singapore's Web site, however, it was supposed to be available on "all flights over 2 hours" which Singapore to Hong Kong is, so I called Singapore Airlines to request it.
The representative I spoke with wasn't able to select it either, but he was nice enough to actually put in the request for me to Singapore's main catering office, and it was arranged for me.
There was of course a regular menu available, which read as follows: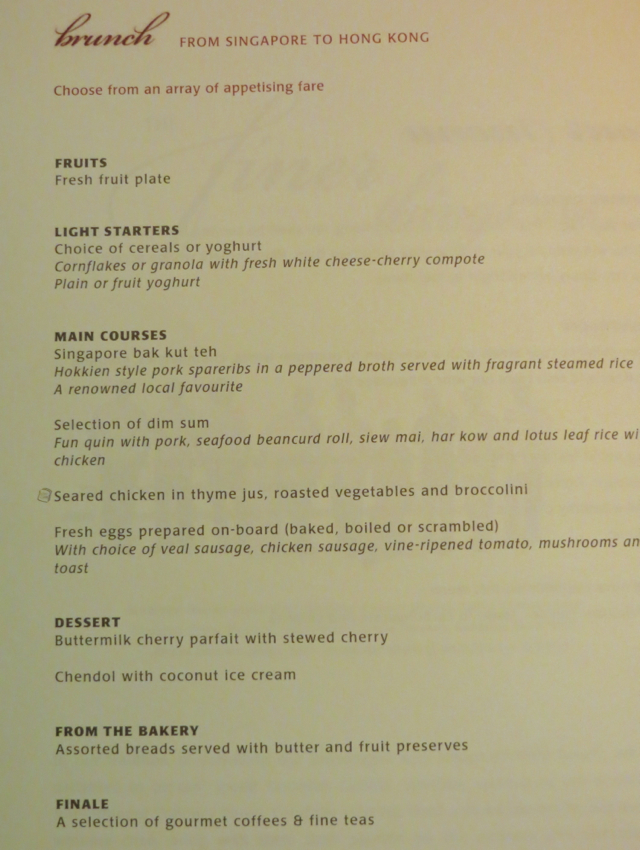 A Mixture of warm macadamia nuts and cashews were served along with drinks, prior to the meal: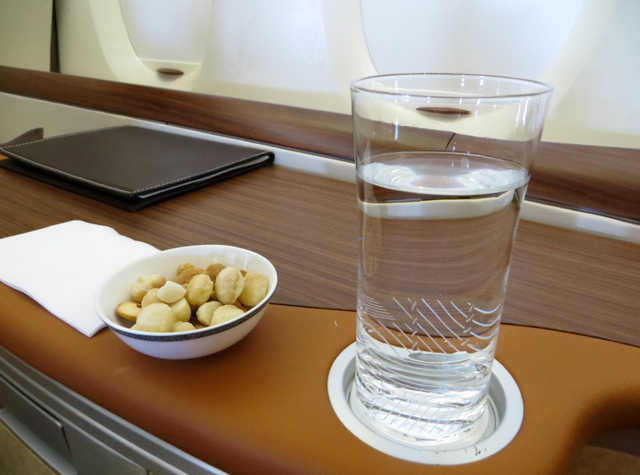 Before the meal was served, I decided to try to watch a movie, since there were a ton of selections and I rarely have time to watch films at home. There weren't any Bose noise canceling headsets in Suite 3K, however, so I asked one of the crewmembers, who brought me a pair.
I'd been meaning to watch "The Dallas Buyers' Club" at some point, given that Matthew McConaughey won Best Actor at the Academy Awards for his role, so I chose that and watched during my meal.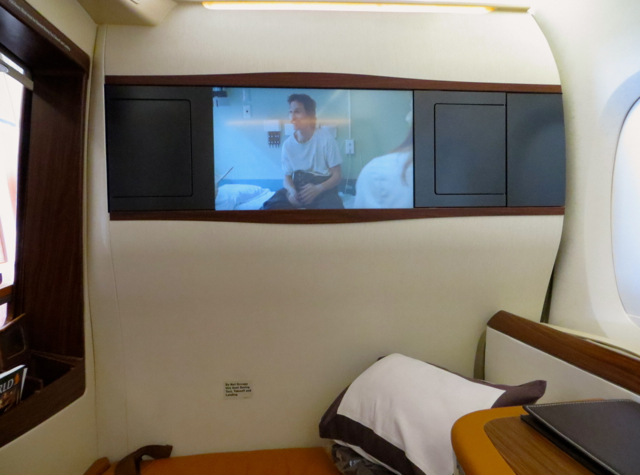 The first course of the Japanese Kaiseki was my favorite, with both salmon and salmon skin as well as several other small dishes, beautifully presented: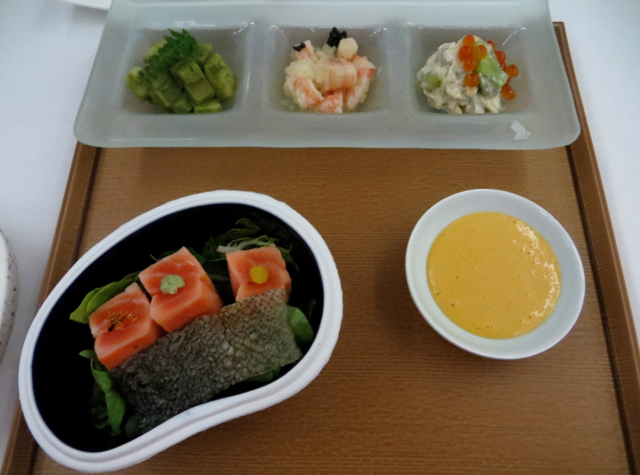 A refreshing second course followed: cold soba noodles and perfectly cooked, tender octopus: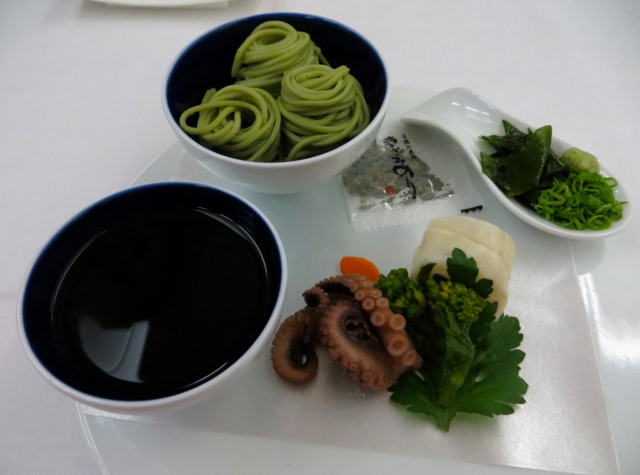 The "main" third course was good although suffered a bit from advance preparation: fried chicken and fish, along with rice and miso soup.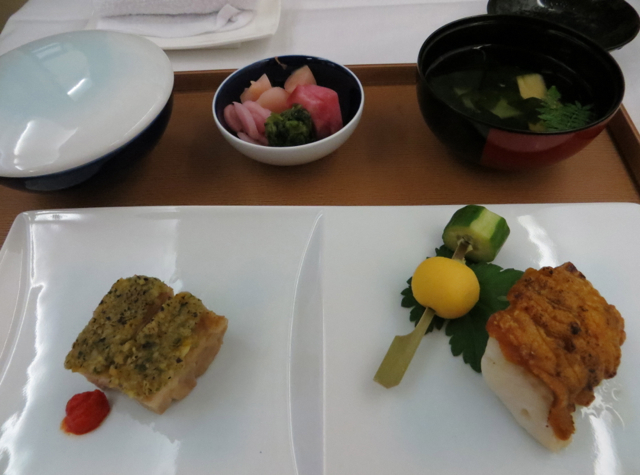 The kaiseki meal concluded with dessert, which I didn't care for at all. While I enjoy almost all Japanese savory courses (with the notable exception of natto) I've never liked Japanese traditional desserts much, especially those that are gelatin-based or adzuki sweet bean based and this was both. I had just a taste and left most of the dessert intact.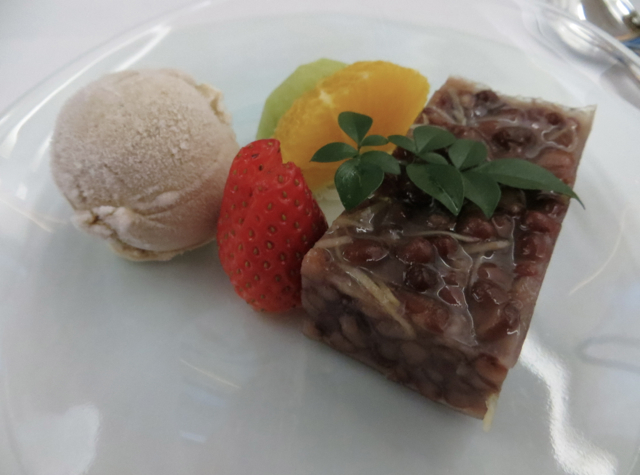 I wouldn't have minded trying one of the desserts on the menu, but as no one asked if I might prefer something else, even though I'd left the kaiseki dessert basically untouched, I decided I really didn't need another dessert and didn't ask for one.
There was still some time left in the flight after watching The Dallas Buyers' Club, so I started another movie that couldn't have been more different, The Book Thief, about a young girl's coming of age during World War II, as she grapples with a risky love of reading in Nazi Germany and her adoptive parents hide the son of a Jewish father they owe their lives to.
Verdict: This Singapore Suites flight was my least memorable, which is hardly surprising since I'd just had two longer Singapore Suites flights, including a great flight from Frankfurt to Singapore with especially friendly and attentive service and an excellent night's sleep. The hard product of course was just as good, and service was still friendly, although not particularly proactive, for example I had to ask for headsets, and no one noticed that I hardly touched my dessert or offered anything else such as tea, fruit or chocolates at the end of the meal.
If you've flown Singapore Suites between Singapore and Hong Kong, what was your experience?
Related Posts
Singapore Airlines Private Room Lounge Review
Singapore Suites Review: Frankfurt to JFK
Singapore Airlines Suites Award Tips and FAQ
Singapore Airlines Suites Class Available at Saver Award Level on KrisFlyer
Need Award Booking Help? Our fee is as low as $75 per ticket if you book your hotel through us.
If you enjoyed this, join 100,000+ readers: please follow TravelSort on Twitter or like us on Facebook to be alerted to new posts.
Become a TravelSort Client and Book 5-Star Hotels with Virtuoso or Four Seasons Preferred Partner Amenities!