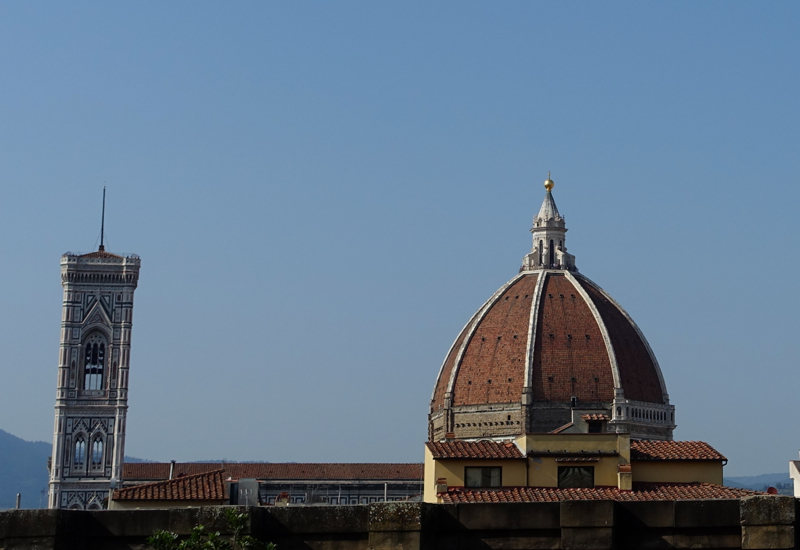 This Review of a Walks Inside Florence Private Guided Tour of Florence in Florence, Italy is part of a trip report featuring Florence, Rome, Amalfi Coast, Tuscany, Singapore Suites, Air Berlin Business Class, and luxury hotel stays, dining and activities in Berlin and Italy.
For the prior posts, please see:
Review: Air Berlin Business Class A330 JFK to Berlin
One of Europe's Best Hidden Secrets: Guess the Place
Review: Virgin Atlantic Clubhouse, New York JFK Airport
Review: Singapore Suites A380 New York JFK to Frankfurt with a Kid
Katz Orange Berlin Restaurant Review
Marzapane Rome Restaurant Review
Emma Pizzeria Rome Review: Great Pizza in Rome
Review: Pompeii with Private Tours of Pompeii
Review: Monastero Santa Rosa Hotel and Spa, Amalfi Coast
Paestum's Greek Temples: A Must See While Staying on the Amalfi Coast
Review: Ristorante Il Refettorio at Monastero Santa Rosa
Herculaneum Photo Tour: Better Preserved Than Pompeii
Review: Castello Banfi Il Borgo in Tuscany, Italy
Review: La Sala dei Grappoli and Dining at Castello Banfi Il Borgo, Tuscany
Castello Banfi Winery Tour and Wine Tasting at L'Enoteca
Review: Portrait Firenze Hotel, Florence Italy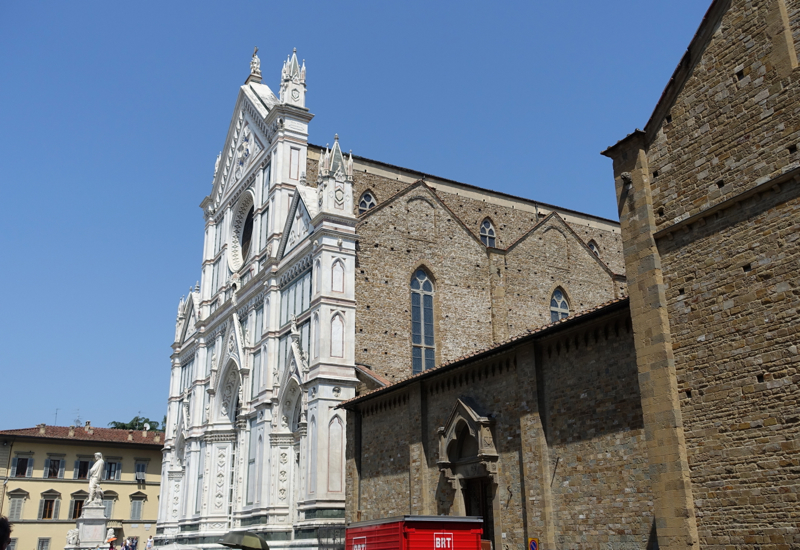 Walks Inside Florence Private Guided Tours of Florence Options and Cost
We only had 1 day as a family in Florence, so we wanted to make the most of our limited time with a private guided tour that focused on the two places we were most interested in, in Florence: the Uffizi Gallery and Santa Croce. Walks Inside Florence offers a number of private tours, typically about 3 hours in duration, for EUR 190 up to a party of 6 (the price excludes any admission fees). A small discount of about 10 EUR is available if you mention you're a Rick Steves reader when booking. Popular walks include:
Orientation Tour for First-Time Visitors, including the Accademia (with Michelangelo's Pieta and David sculptures)
The Uffizi Tour
Florence in One Day (includes Piazza Signoria, Uffizi, Ponte Vecchio, Duomo, Academy, Santa Croce): EUR 250 for 4 hours, EUR 300 for 5 hours
The Michelangelo Tour (Bargello, Santa Croce, Academy)
The Medici Family Tour: Their Palace and District (Palazzo Medici-Riccardi, San Lorenzo Church, Laurenthian library, Medici Chapels)
Florence for Families: Medieval and Renaissance Daily Life (Palazzo Davanzati, Palazzo Strozzi, workshops, Academy)
Walks Inside Florence also offers shared small group tours (minimum of 2, maximum of 8) from May 1 to October 31, which is perfect if you don't need the flexibility and personalized nature of the private group tour and your visit to Florence coincides with the day / time that these small group tours are offered. These are 55 EUR per person (30 EUR per child) for a 2.5 hour tour, exclusing museum admission fees.
Highlights of Our Private Guided Tour to Santa Croce and the Uffizi Gallery
1. Santa Croce Tombs of Michelangelo, Dante, Galileo and Machiavelli
Where else are you going to see the tombs of so many key figures in the Renaissance? We especially liked the tomb of Galileo, the "father of modern physics," who our son was especially interested in, given his love of science and interest in space. Galileo discovered Jupiter's four largest moons and is especially known for his support of Copernicus and heliocentrism, which of course brought him into direct opposition with the Roman Catholic Church and Pope Urban VIII. He chose to recant rather than face certain death, but nonetheless was kept under house arrest.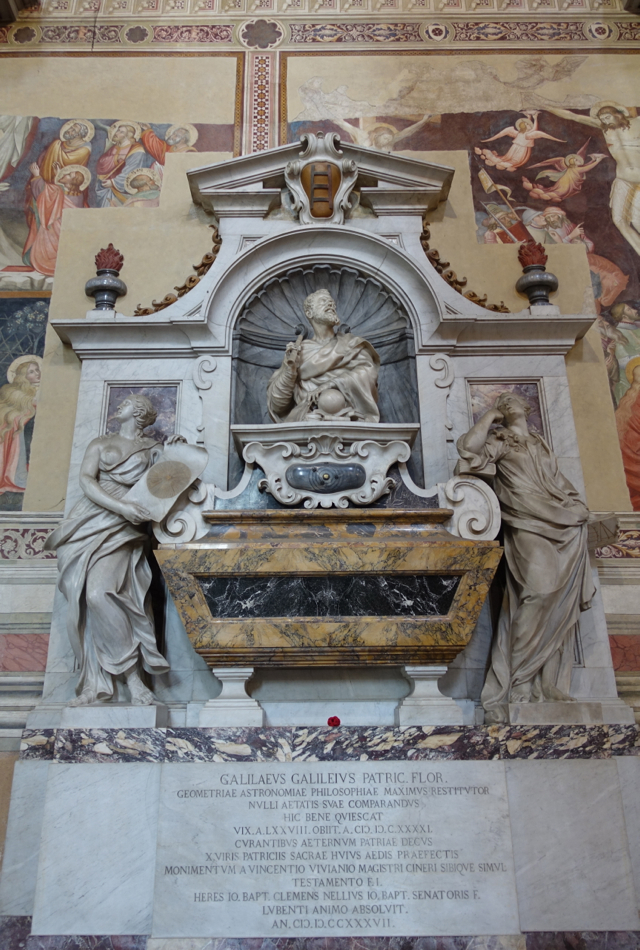 2. Botticelli's La Primavera and The Birth of Venus
Botticelli's works remain among my personal favorite works of art from the Renaissance. I love his use of color, the elegance and grace of his figures, and the allegories at work in La Primavera.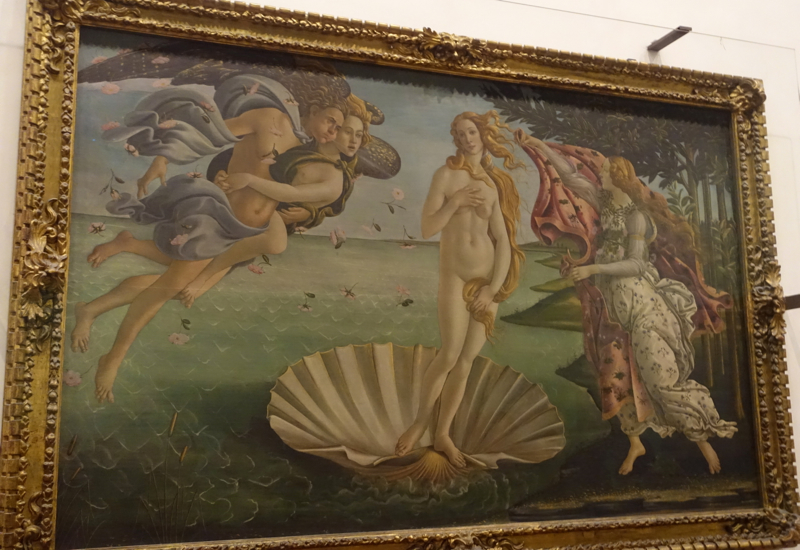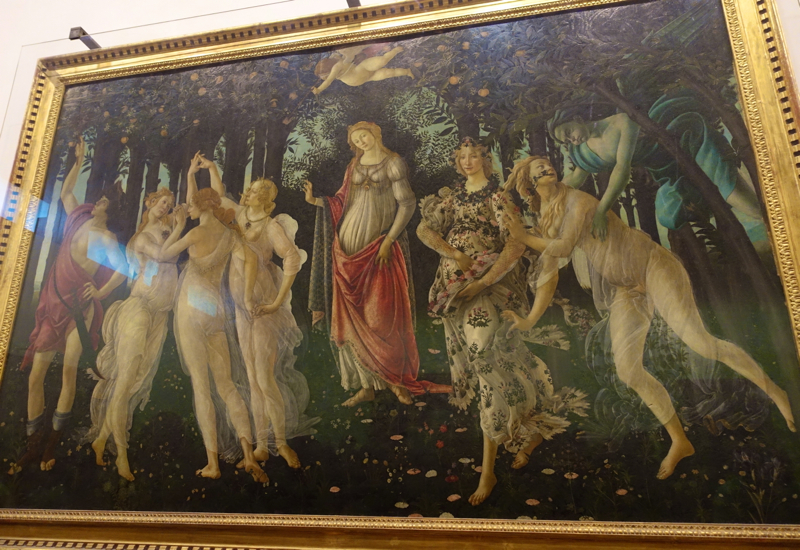 3. Leonardo da Vinci's Annunciation
It's no surprise that Leonardo da Vinci, known for his inventions and scientific studies, brought realism to his paintings. I especially like his Annunciation, which Paola, our guide, pointed out. The angel's wings look like actual bird wings and both the angel and Virgin Mary are realistic looking figures.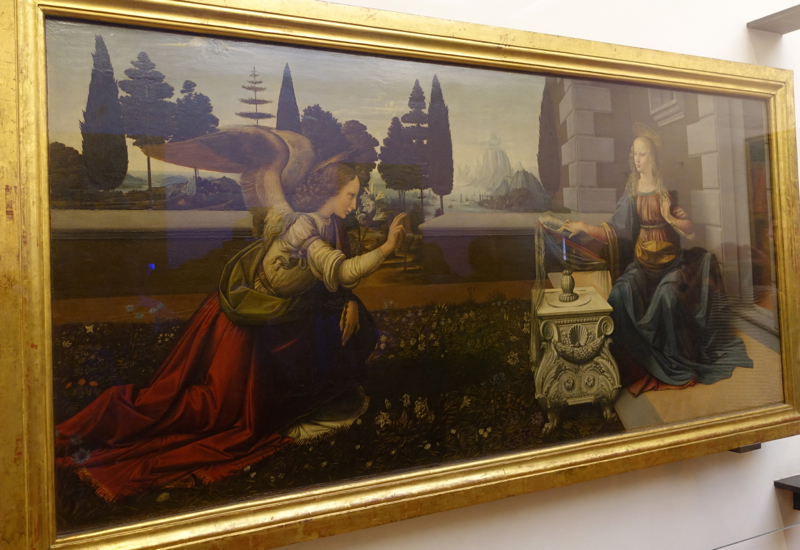 4. Uffizi Ceiling
While viewing the masterpieces in the Uffizi, don't forget to also look up and appreciate the gorgeous ceilings, the work of Alessandro Allori in 1580.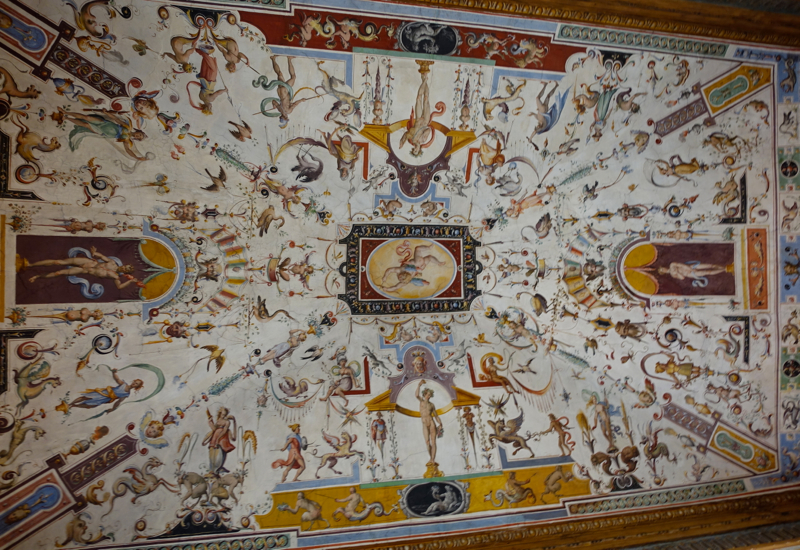 5. Medusa's Head by Carvaggio
Our guide saved this striking piece of work for the end of our tour, helping keep our son interested by telling him that he'd get to see something scary. It's a bizarre piece to have been commissioned, but Carvaggio apparently was asked to make this as a gift to the Grand Duke of Tuscany. While our son cooly claimed that "it wasn't so scary" he still seemed impressed by the lifelike snakes writhing from Medusa's head, prompting us to get a book of Greek Myths for him to read all the gory details.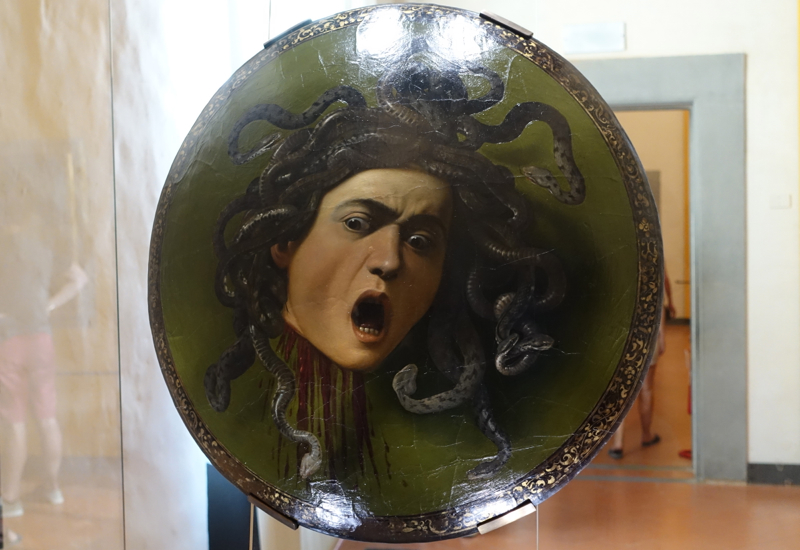 6. Tribuna, Uffizi
Honestly, it's hard to get a really good look at the octagonal room of the Tribuna, since you have to stand in line and wait for a chance to peer at it from a side window. The room itself was designed by Bernardo Buontalenti for Francesco I de Medici in 1584, to keep some of the most valuable treasures of the Renaissance and the Medici collection.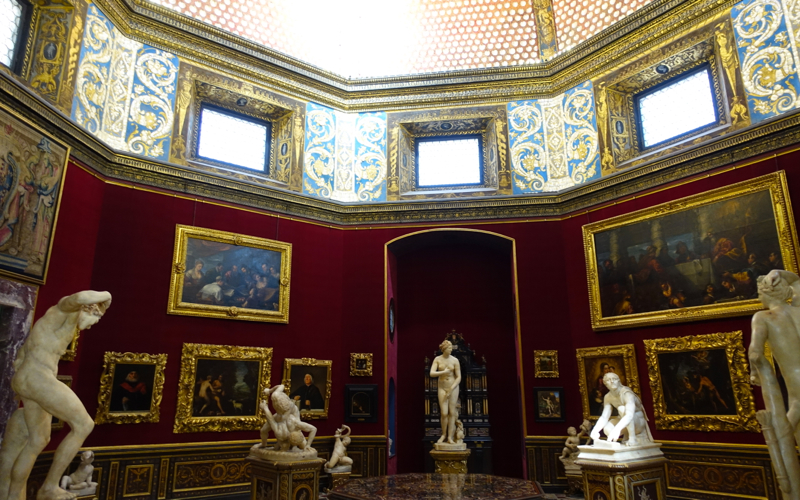 7. View of the Duomo from the Uffizi Rooftop
After viewing the Uffizi, a nice outside break is on the rooftop, where you can get a glimpse of the Duomo (cathedral) cupola.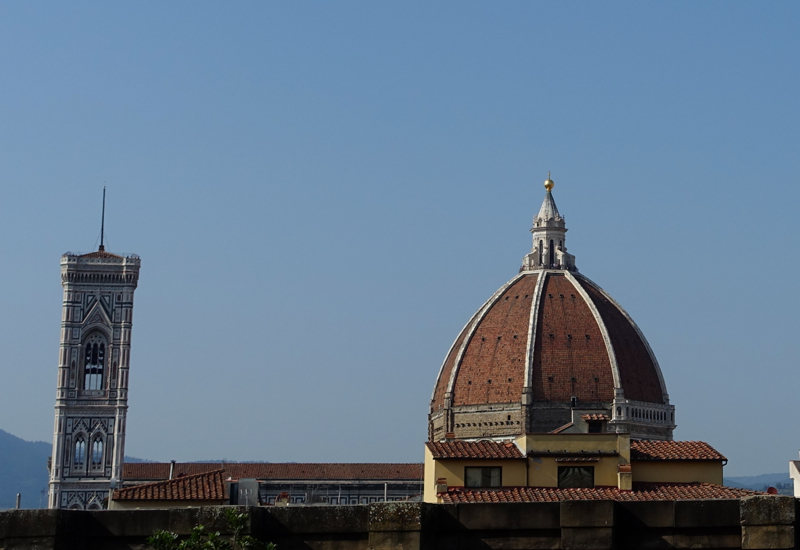 Bottom Line
We loved our private tour with Paola, founder and lead guide of Walks Inside Florence, and felt fortunate to have her as our guide. She skilfully navigated us to the tombs we most wanted to see at Santa Croce, related details of the lives of these Renaissance greats, and was fantastic with our 7 year old son, who peppered her with questions. Given how crowded and immense the Uffizi was, I was very grateful for her careful selection of specific works of art, and focusing on these, rather than attempting to cover too much ground (which would have become a blur). My clients have similarly had great experiences to date, for private tours of Florence.
Related Posts
Review: Portrait Firenze Hotel, Florence Italy
Florence: Gourmet Dining and Foodie Delights
Review: Castello Banfi Il Borgo in Tuscany, Italy
Disclosure: We received a travel professional rate for our private walk with Paola. The views expressed in this post are my own.
Need Award Booking Help? Our fee is as low as $75 per ticket if you book your hotel through us.
If you enjoyed this, join 200,000+ readers: please follow TravelSort on Twitter or like us on Facebook to be alerted to new posts.
Become a TravelSort Client and Book 5-star hotels with Virtuoso Perks and Four Seasons Preferred Partner Benefits