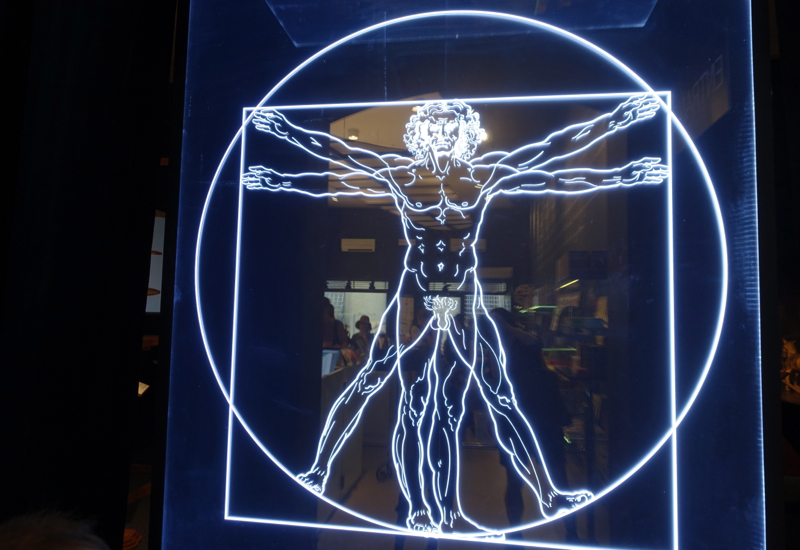 This Review of the Leonardo da Vinci Museum in Florence, Italy is part of a trip report featuring Florence, Rome, Amalfi Coast, Tuscany, Singapore Suites, Air Berlin Business Class, and luxury hotel stays, dining and activities in Berlin and Italy.
For the prior posts, please see:
Review: Air Berlin Business Class A330 JFK to Berlin
One of Europe's Best Hidden Secrets: Guess the Place
Review: Virgin Atlantic Clubhouse, New York JFK Airport
Review: Singapore Suites A380 New York JFK to Frankfurt with a Kid
Katz Orange Berlin Restaurant Review
Marzapane Rome Restaurant Review
Emma Pizzeria Rome Review: Great Pizza in Rome
Review: Pompeii with Private Tours of Pompeii
Review: Monastero Santa Rosa Hotel and Spa, Amalfi Coast
Paestum's Greek Temples: A Must See While Staying on the Amalfi Coast
Review: Ristorante Il Refettorio at Monastero Santa Rosa
Herculaneum Photo Tour: Better Preserved Than Pompeii
Review: Castello Banfi Il Borgo in Tuscany, Italy
Review: La Sala dei Grappoli and Dining at Castello Banfi Il Borgo, Tuscany
Castello Banfi Winery Tour and Wine Tasting at L'Enoteca
Review: Portrait Firenze Hotel, Florence Italy
Review: Walks Inside Florence Private Guided Tour of Florence
Review: Le Volpi e L'Uva Wine Bar, Florence Italy
Review: Irene Restaurant at Hotel Savoy, Florence Italy
Review: Four Seasons Firenze, Florence Italy
Four Seasons Florence Breakfast and Dining
Getting to the Leonardo da Vinci Museum in Florence
The Leonardo da Vinci Museum is located at Via de Servi 66 in Florence, about a 10 minute walk from the Four Seasons Firenze, where we were staying. There was a nice peek-a-boo view of the Duomo as we walked down the Via de Servi: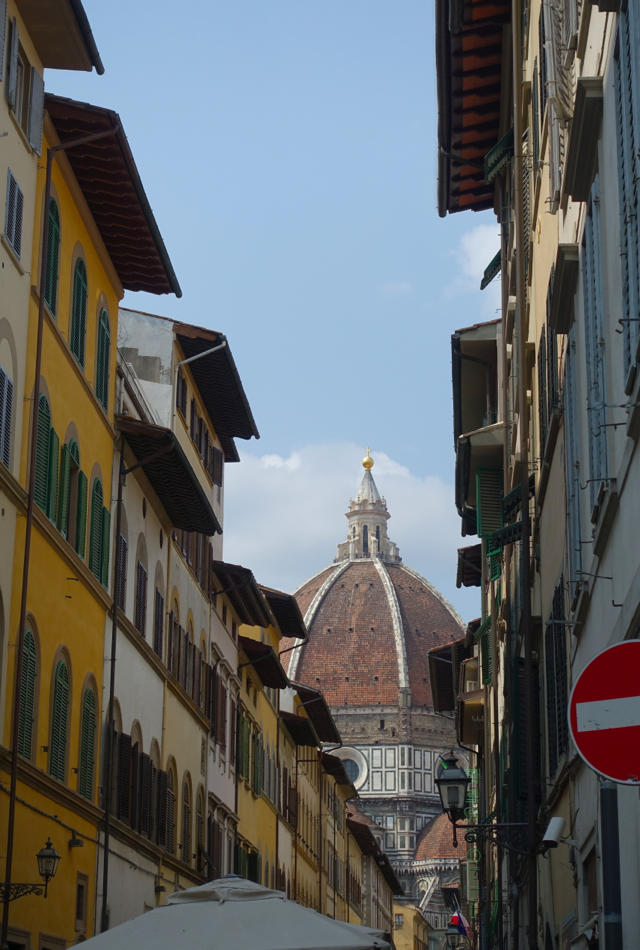 If coming from the Portrait Firenze, the museum is about a 13-15 minute walk.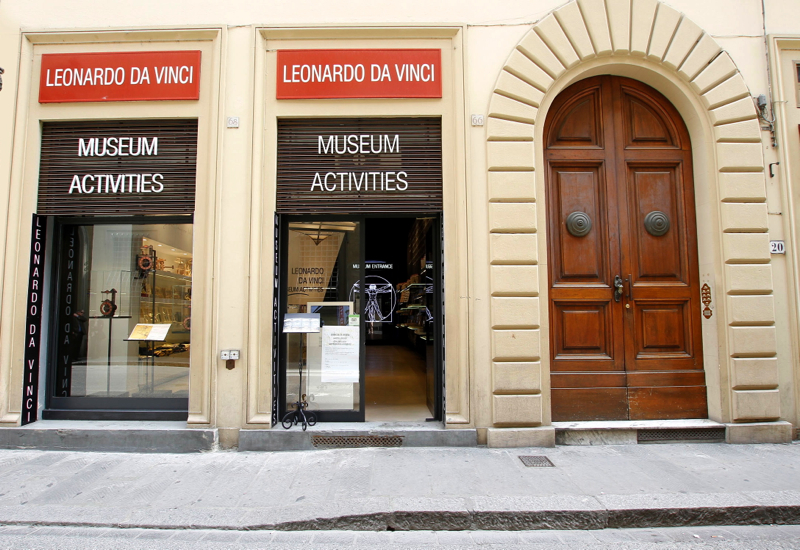 Leonardo da Vinci Museum Hours and Ticket Prices
Leonardo da Vinci Museo is open daily 10am-7pm April 1-October 31, and 10am-6pm Nov. 1-March 31. The museum is closed on December 24-25. Also note that the ticket office (which is actually just the cashier in the museum's shop) closes 30 minutes before the museum closes.
It's a small museum, so ticket prices are reasonable: EUR 7 per adult, and EUR 5 for kids 6 and up, full-time students, and those over age 65. Children 5 and under are free of charge.
Highlights of Our Visit to the Leonardo da Vinci Museum
We only had about 45 minutes during our visit, but it was nearly enough time. Many, but not all of the displays were interactive, so my son had fun trying them out. While he liked what we saw at the Uffizi, he loved Leonardo da Vinci's inventions, from models of flying machines to machines for agricultural, industrial and even military uses. These were his favorites:
1. Room of Mirrors
Leonardo was interested in optic effects, including the interplay of light and shadows as well as optical illusions. When you stand in this room of 8 mirrors, you can see each side of yourself without moving your head.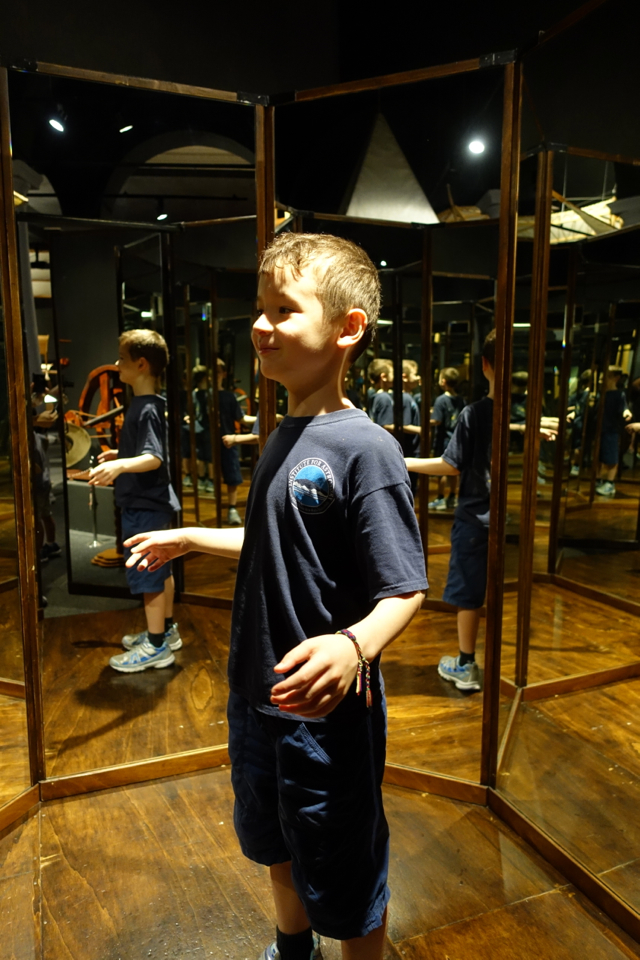 2. Archimedean Screw
As you can tell by its name, the original version was credited to Archimedes, although it may have been created by other Greek engineers or even been invented several hundred years earlier in Assyria. That said, Leonardo improved the capacity of the pump to lift water from a low-lying source to a higher level by optimizing the incline of the screw as well as the number of coils. Archimedes' Screw was used for irrigation, draining swamps, and providing water to towns. Note that the crank part was actually at the base, and propelled the water upwards, although it's reversed in this photo for display purposes.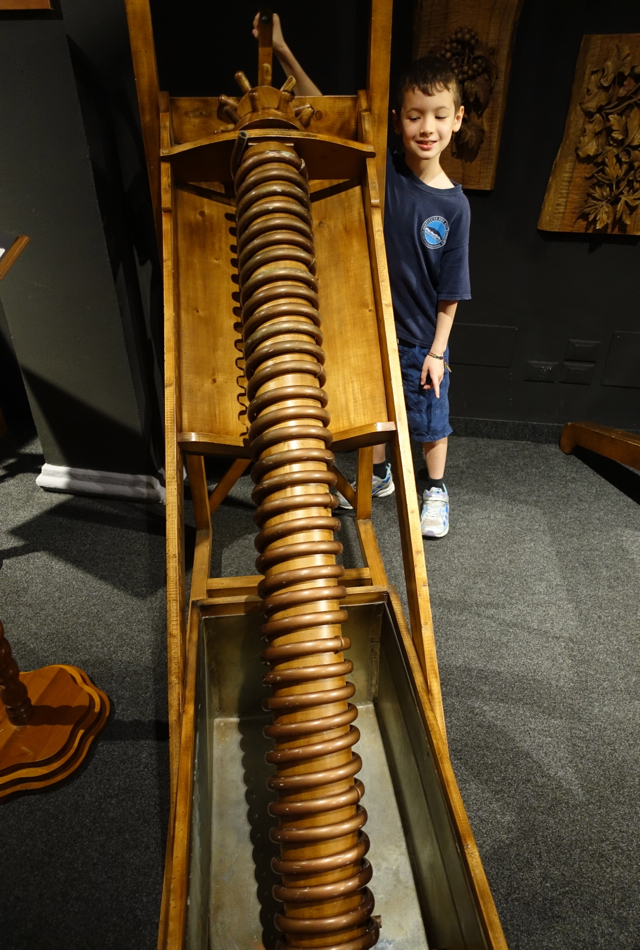 3. Study for the Wing of a Flying Machine
Who hasn't dreamed of flying with wings? It's fascinating to see how Leonardo explored flight, through this study for a winged flying machine. A lever worked to transmit human power and cause the necessary thrust to propel the machine upwards.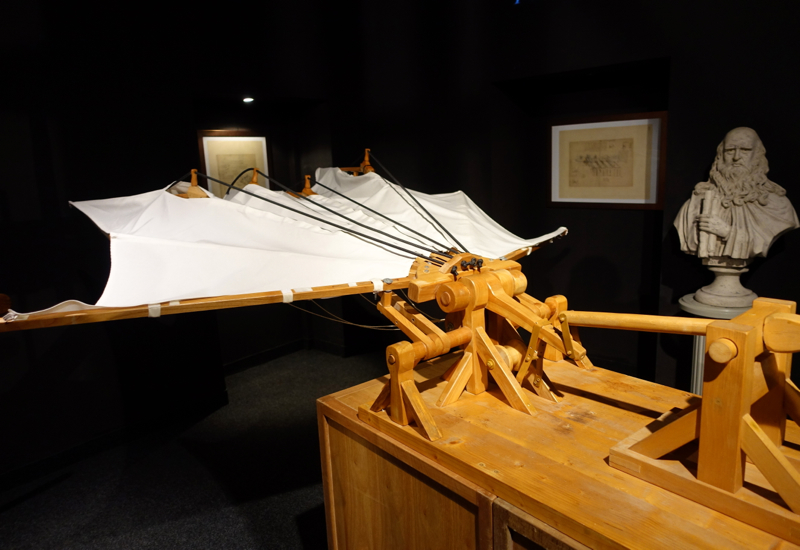 4. Tank
Leonardo's inventions encompassed military machines such as this tank, the original sketch of which can be seen in the British Museum. Eight men were required to operate the cranks that enabled the tank to move in every possible direction.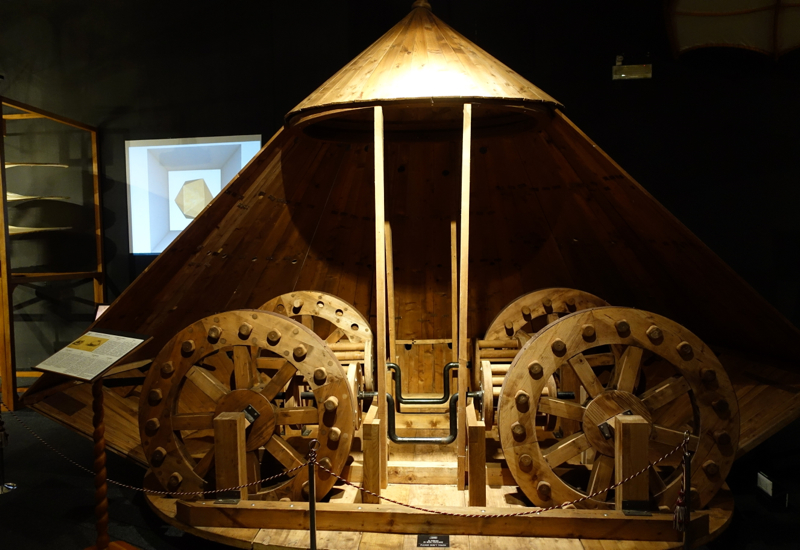 5. Human Anatomy
Leonardo studied anatomy during his apprenticeship to painter and sculptor Andrea del Verrocchio, who considered anatomy an essential discipline for all his pupils. By dissecting corpses at the Hospital of Santa Maria Nuova in Florence, Leonardo was able study the human skeleton, muscles and organs. His sketches and notations would have contributed significantly to the field medical science of Leonardo's time, had they been published, although unfortunately they were simply left to his heir and only a few of them were included in a treatise on painting published over a hundred years later.
Here's the museum's depiction of the anatomical systems Leonardo studied:
6. Oil Press
Having savored such delicious olive oil during our trip to Italy, it was somehow very appropriate to see this model of an olive oil press, based on Leonardo's sketches. This one was meant to be powered by a horse, with a lever applying pressure to the olives inside the bag to squeeze out the oil.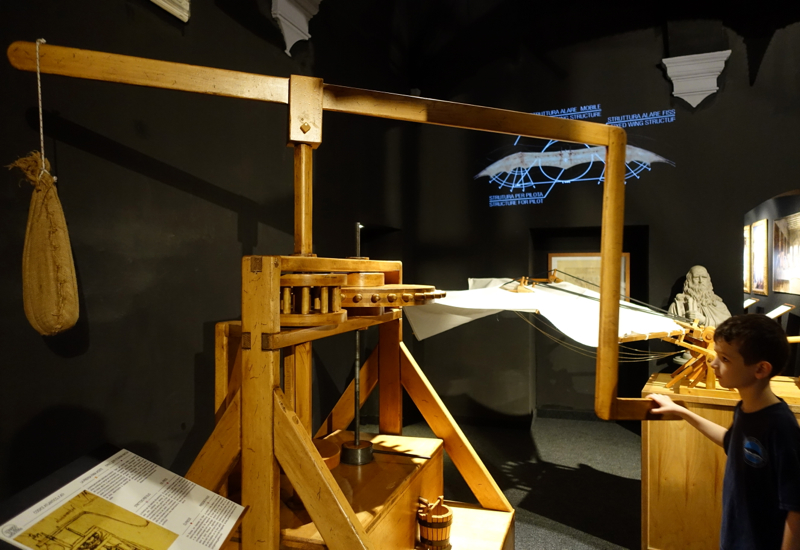 7. Parachute
Leonardo's parachute is shaped as a pyramid, and was conceived of more as a gliding device (in keeping with his other flying machine inventions) rather than for rescue purposes.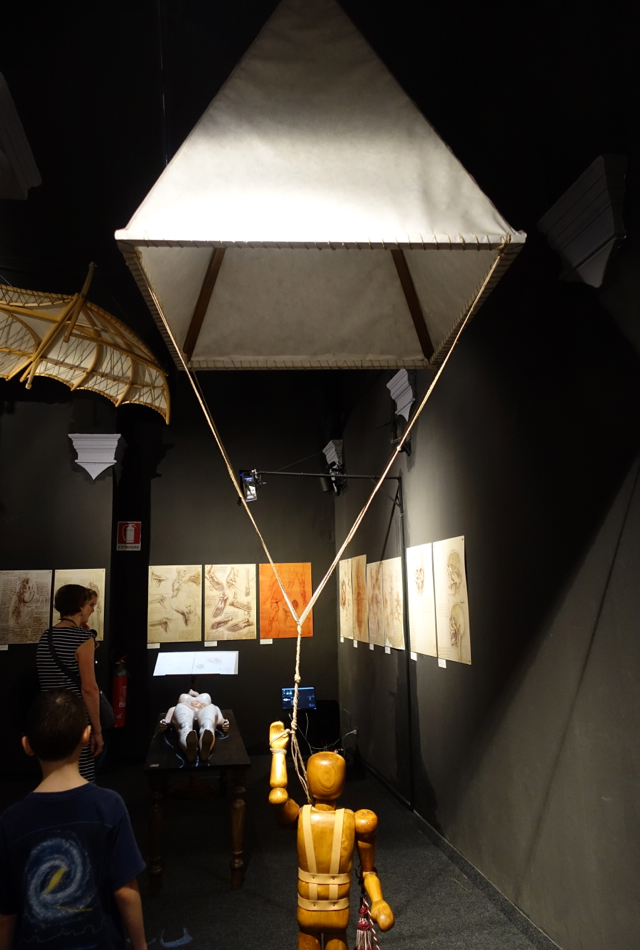 8. Revolving Crane
"Crane" was one of my son's early words in both English and Russian, perhaps because they are so common in perpetually-under-construction NYC. Leonardo's revolving crane is able to rotate a full 360 degrees, thanks to a series of rollers that minimize friction between the base and the platform.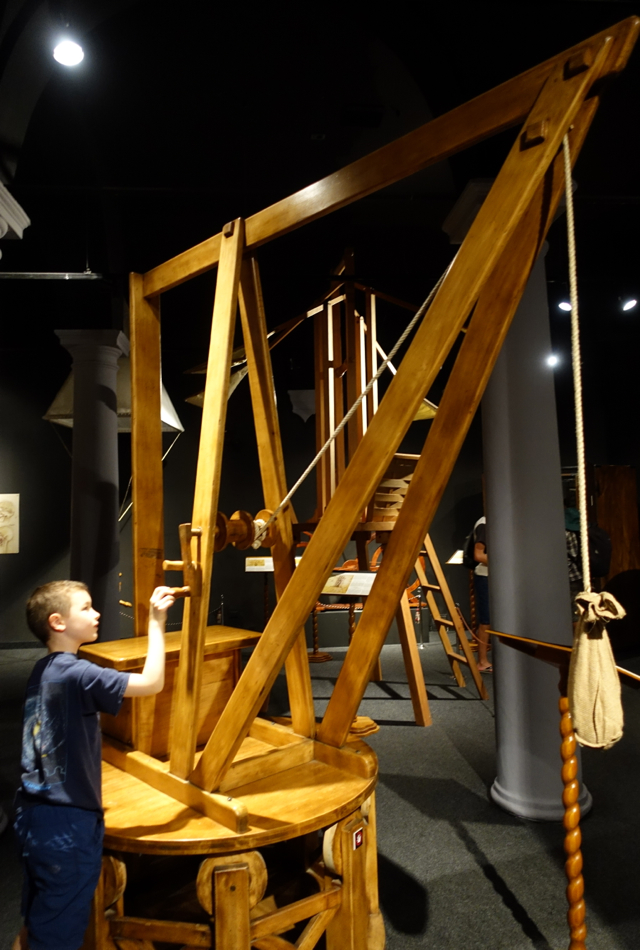 9. Paddle Boat
While it wasn't interactive, we enjoyed looking at Leonardo's paddle boat, with a pedal system that propelled the boat in a similar way to modern paddle boats.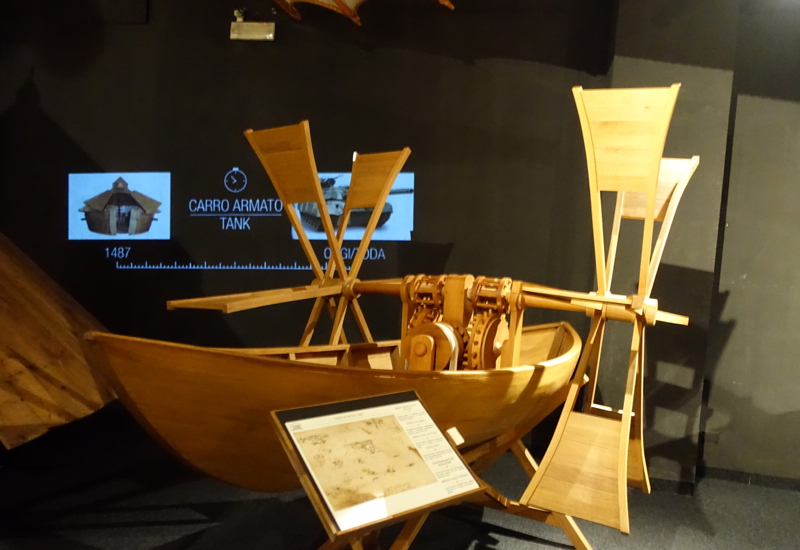 Related Posts
Review: Walks Inside Florence Private Guided Tour of Florence
Review: Four Seasons Firenze, Florence Italy
Four Seasons Florence Breakfast and Dining
Need Award Booking Help? Our fee is as low as $75 per ticket if you book your hotel or cruise with us.
If you enjoyed this, join 200,000+ readers: please follow TravelSort on Twitter or like us on Facebook to be alerted to new posts.
Become a TravelSort Client and Book 5-star hotels with Virtuoso Perks and Four Seasons Preferred Partner Benefits