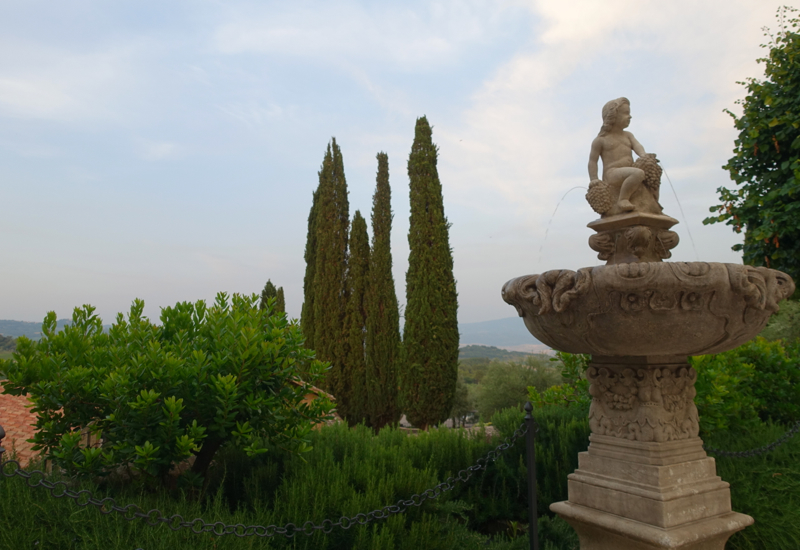 This review of La Sala dei Grappoli at Castello Banfi Il Borgo in Tuscany, Italy is part of a trip report featuring the Amalfi Coast, Tuscany, Florence, Rome, Singapore Suites, Air Berlin Business Class, and luxury hotel stays, dining and activities in Berlin and Italy.
For the prior posts, please see:
Review: Air Berlin Business Class A330 JFK to Berlin
One of Europe's Best Hidden Secrets: Guess the Place
Review: Virgin Atlantic Clubhouse, New York JFK Airport
Review: Singapore Suites A380 New York JFK to Frankfurt with a Kid
Katz Orange Berlin Restaurant Review
Marzapane Rome Restaurant Review
Emma Pizzeria Rome Review: Great Pizza in Rome
Review: Pompeii with Private Tours of Pompeii
Review: Monastero Santa Rosa Hotel and Spa, Amalfi Coast
Paestum's Greek Temples: A Must See While Staying on the Amalfi Coast
Review: Ristorante Il Refettorio at Monastero Santa Rosa
Herculaneum Photo Tour: Better Preserved Than Pompeii
Review: Castello Banfi Il Borgo in Tuscany, Italy
La Sala dei Grappoli Location and Hours
La Sala dei Grappoli is the more formal of Castello Banfi Il Borgo's restaurants, and is open for dinner only 7:30-10pm in season (this year, March 21 to November 7). During cooler or inclement weather dinner is served indoors, but the weather was perfect and balmy during our visit, so dinner was served al fresco, on the terrace.
The Scene
We'd wondered if there would be any other kids at Castello Banfi Il Borgo, or if our son would be the only one, given the hotels boutique nature. There was a good mix of couples and families, including an extended family group from NYC, so the munchkin was one of several kids dining at La Sala dei Grappoli during our stay. If you're traveling as a couple, I wouldn't worry, however–all the kids we saw were well-behaved, and the terrace retained a beautiful, romantic ambience.
La Sala dei Grappoli Menu and Food
There weren't any menus on La Sala dei Grappoli's Web site, so I wondered if the prices were stratospheric. Given the quality, they turned out to be very fair, as were the wine by the glass options.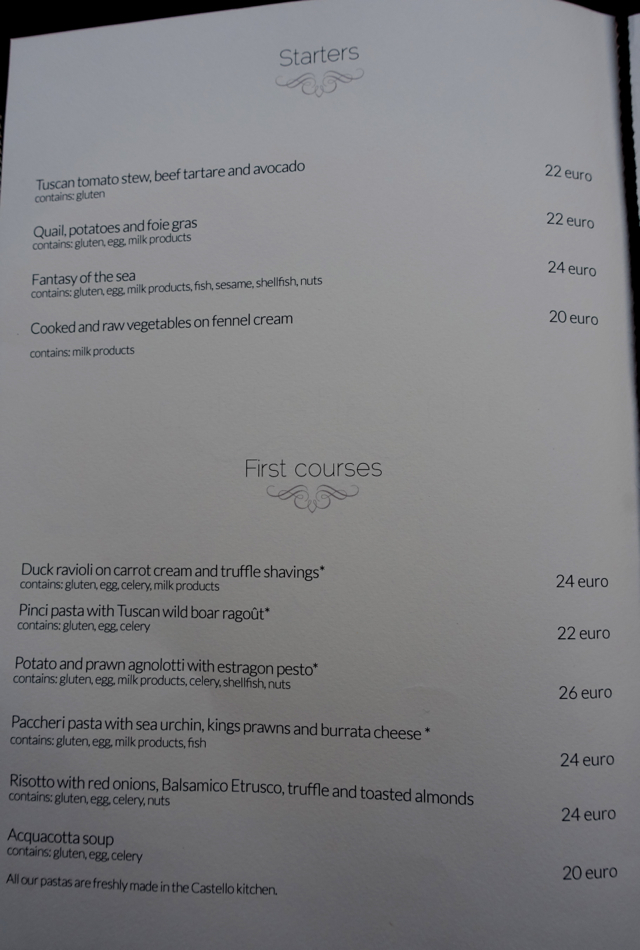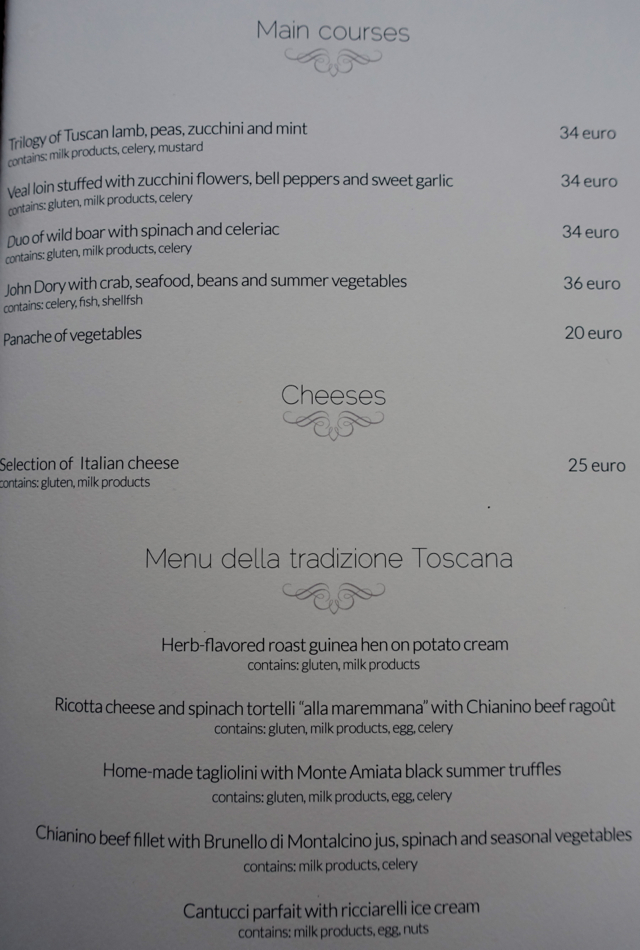 As the weather was warm, we chose to start with a glass of Pinot Grigio-crisp and refreshing.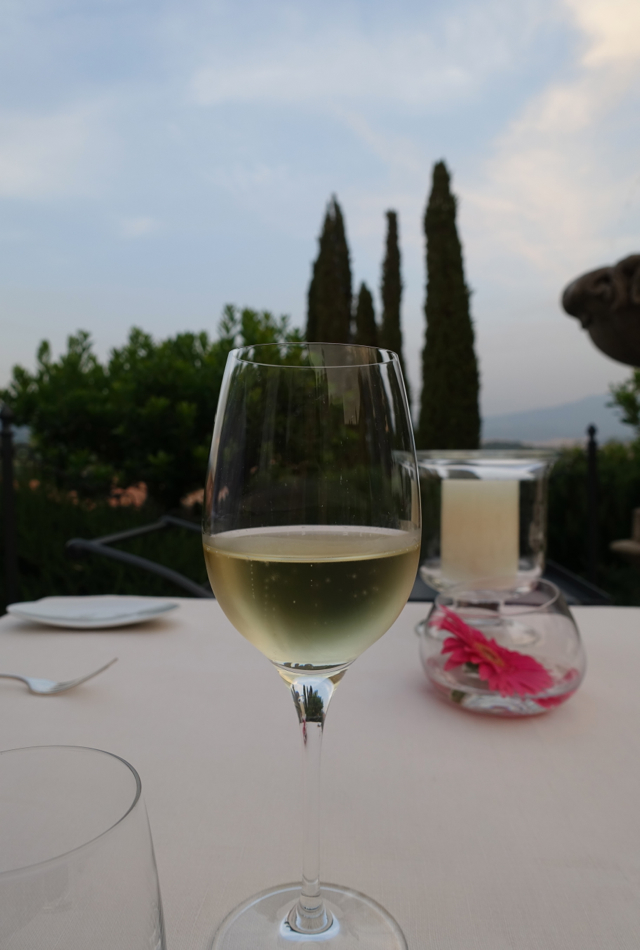 The fresh bread was excellent, though it certainly helped that we were quite hungry from our day of traveling, and were eating outdoors.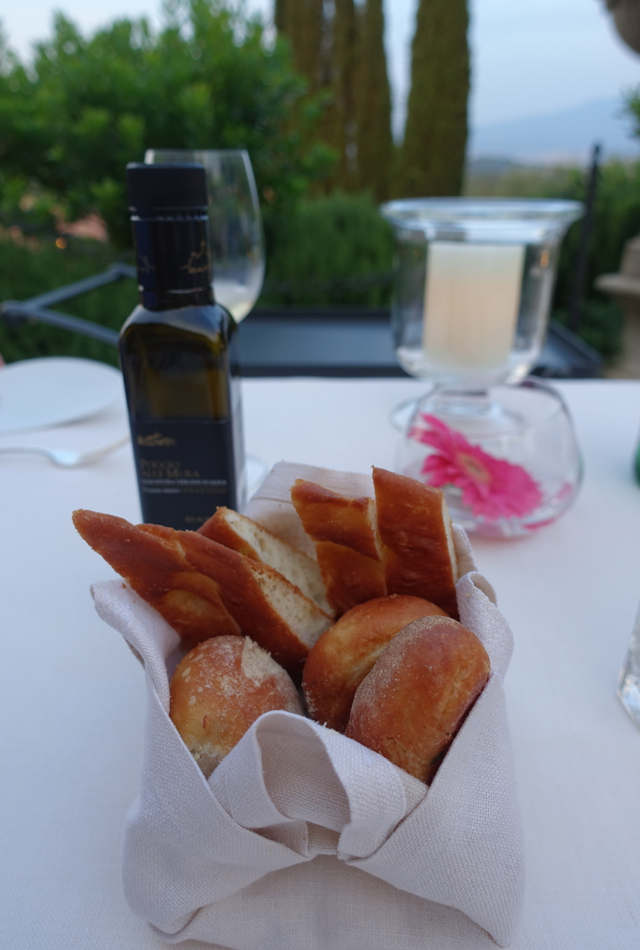 Most folks would love the amuse bouche more than we did, but that's just because no one in our family cares for cantaloupe, and part of the amuse bouche was a cantaloupe mousse with bacon. We very much enjoyed the other amuse, however, with its whipped cheese filling.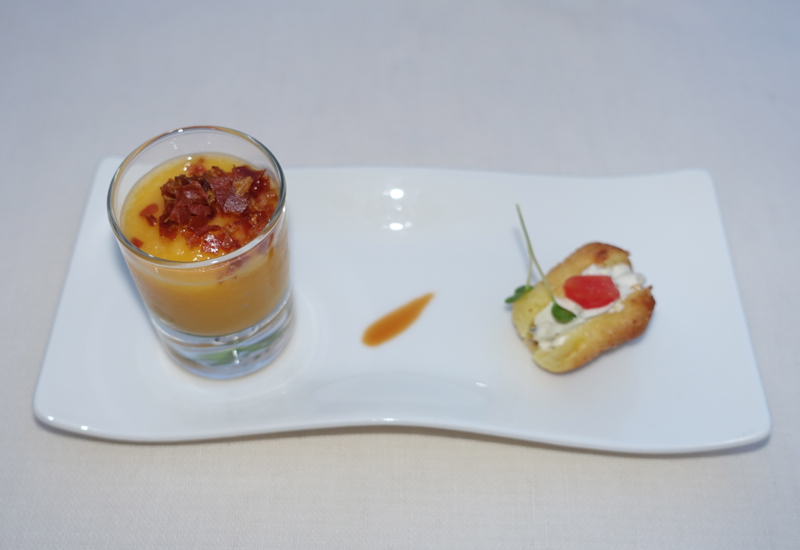 My husband ordered the Duck Ravioli with shaved black truffle, and it was addictive–we savored every morsel.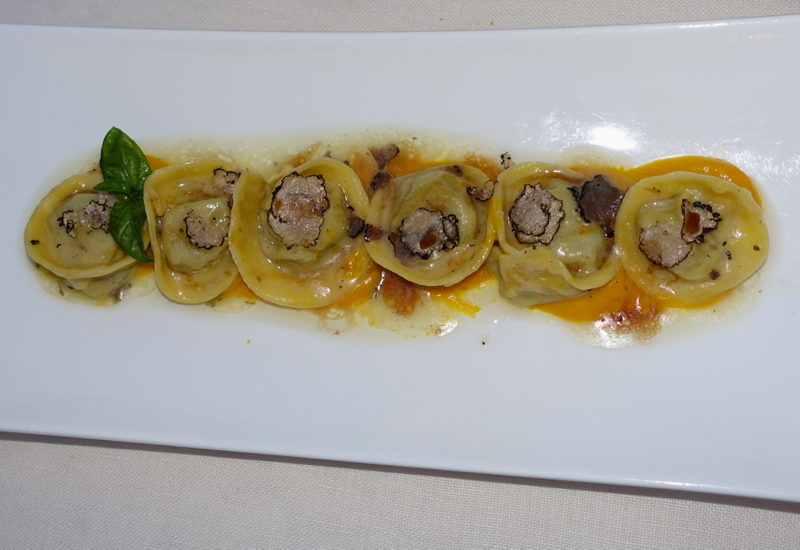 The munchkin opted for the Pinci Pasta with Wild Boar Ragu, and while simple, it was cooked perfectly, with the pasta al dente, and the rich ragu atop, which had great depth of flavor but wasn't unduly gamey as some wild boar can be.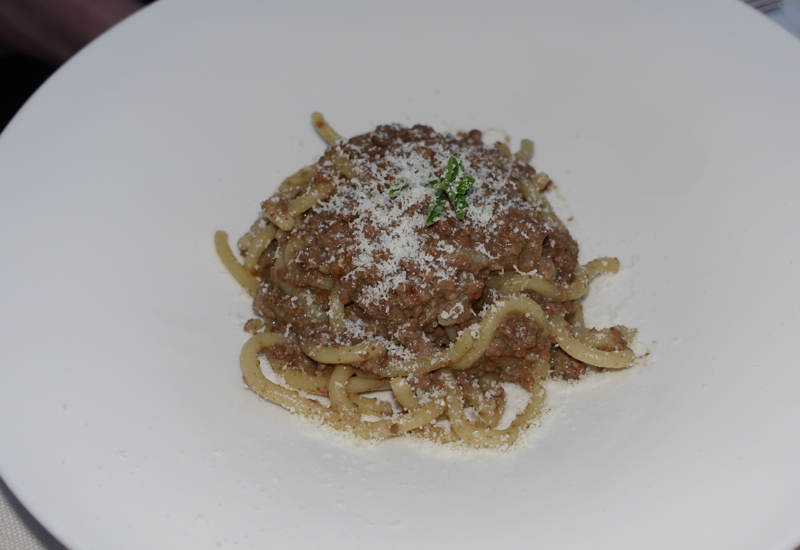 At our server's recommendation, I tried the Trio of Tuscan Lamb, exchanging bites of this with my husband. As a main, it was more generous in serving size than the pastas, which in Italy are typically eaten as first courses, and not main dishes. It too was delicious, offering a lamb chop, confit of lamb, and braised lamb, all of them succulent and tender.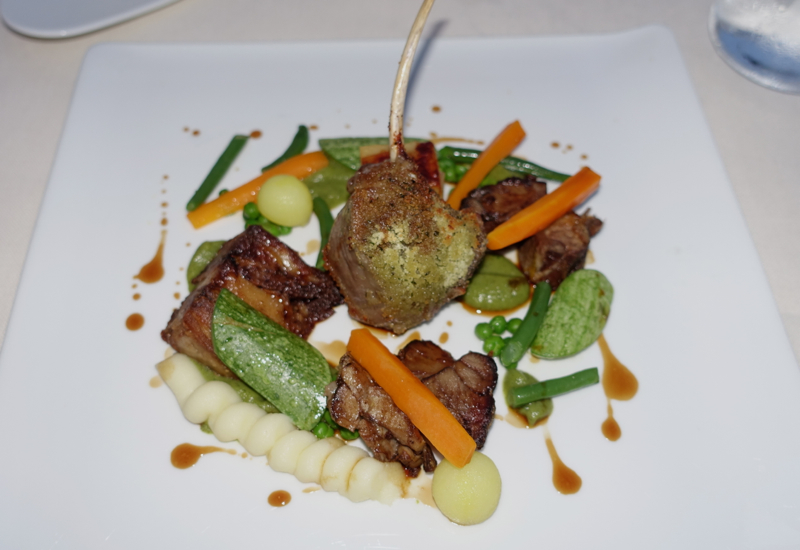 Since it was getting late and we needed to get our son to sleep, we decided to forego dessert, but nonetheless were brought a generous and pretty plate of mignardises, including mini lemon meringue pies, chocolate cookies, and caramel bites. Our favorites were the caramel bites, even if not terribly Italian.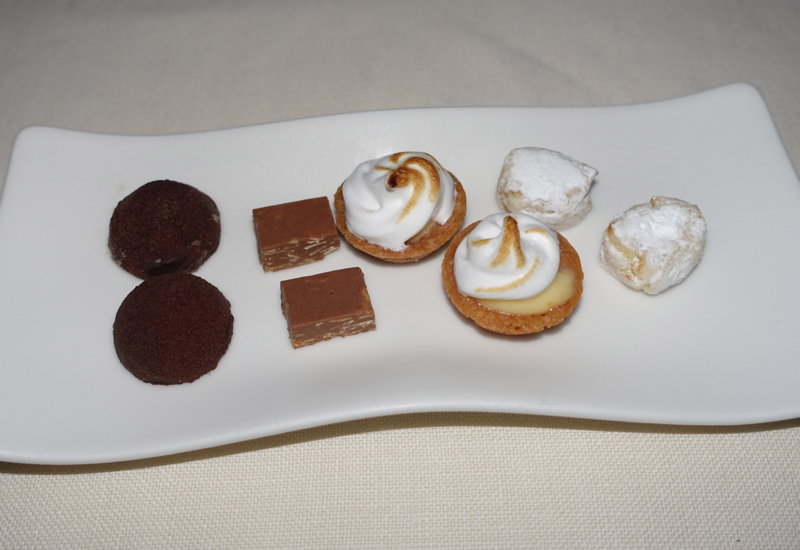 The Verdict
La Sala dei Grappoli at Castello Banfi Il Borgo was a superb dining experience for us. We mentioned wanting to eat a relatively quick dinner, and our server (and the kitchen) were very accommodating, helping us select dishes that wouldn't take too long to come out and pacing our meal well. We loved all of the dishes we ordered, and only wish we had a neighborhood Italian fine dining restaurant in the same league as La Sala dei Grappoli, even if the view of the Tuscan countryside can't be replicated in NYC.
Related Posts
Review: Castello Banfi Il Borgo in Tuscany, Italy
Review: Monastero Santa Rosa Hotel and Spa, Amalfi Coast
Florence: Gourmet Dining and Foodie Delights
Emirates A380 Between U.S. and Europe and How to Book Awards
Disclosure: We paid for our own dinner at La Sala dei Grappoli. The views expressed in the post are my own.
Need Award Booking Help? Our fee is as low as $75 per ticket if you book your hotel through us.
If you enjoyed this, join 200,000+ readers: please follow TravelSort on Twitter or like us on Facebook to be alerted to new posts.
Become a TravelSort Client and Book 5-star hotels with Virtuoso Perks and Four Seasons Preferred Partner Benefits