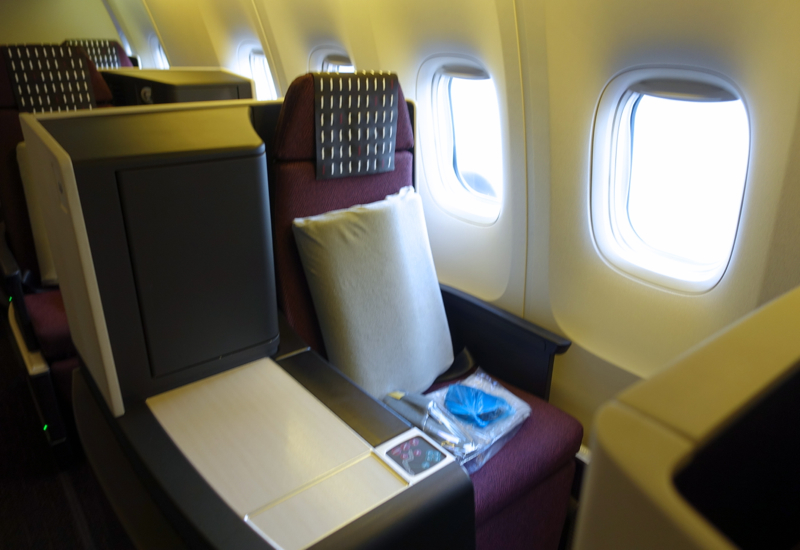 This JAL 767-300ER Business Class Review is part of a trip report including luxury resorts in Asia and the Maldives, such as Four Seasons Landaa Giraavaru and Amantaka, as well as Etihad First Class and Emirates First Class. We were looking forward to flying Japan Airlines Business Class again after our excellent JAL Sky Suite Business Class experience on the 777, even though this shorter flight from Singapore to Tokyo was on a 767-300ER.
For the prior posts, please see:
Review of Etihad's Lounge at Washington Dulles Airport (IAD)
Etihad First Class 787-9 Dreamliner Review
Review: Wingtips Lounge JFK for Etihad First Class Passengers
Review: Etihad First Class 777-300ER NYC to Abu Dhabi
Review: Etihad Business Class Lounge Abu Dhabi AUH Terminal 1
Four Seasons Maldives at Landaa Giraavaru Review
Four Seasons Maldives at Landaa Giraavaru Restaurant Reviews and Menus
Four Seasons Maldives at Landaa Giraavaru Activities: Top 10 Things to Do
Interview with Armando Kraenzlin, General Manager of Four Seasons Maldives at Landaa Giraavaru
Review: Four Seasons Maldives at Kuda Huraa
Surfing in the Maldives at Four Seasons Kuda Huraa
Review: Four Seasons Maldives at Kuda Huraa Sunset Water Bungalow
Four Seasons Maldives at Kuda Huraa Restaurant Reviews and Menus
Four Seasons Maldives at Kuda Huraa Activities and Top Things to Do
Soneva Fushi Maldives Activities and Things to Do
Soneva Fushi Breakfast, Ice Cream Room, Chocolate Room and Cheese Room
Fresh in the Garden, Soneva Fushi Restaurant Review
Trans Maldivian Airways Seaplane Review
Conrad Maldives Rangali Review: Beach Villa
Conrad Maldives Restaurant Menus and Review
Review: Conrad Maldives Superior Water Villa
Conrad Maldives Activities and Top Things to Do
Emirates First Class Lounge Dubai Review
Emirates A380 First Class Review
Amantaka Luang Prabang, Laos Review
Amantaka Restaurant Review and Menus
Amantaka Activities and Top Things to Do in Luang Prabang
Sofitel Legend Metropole Hanoi Review
Review: Crowne Plaza Singapore Changi Airport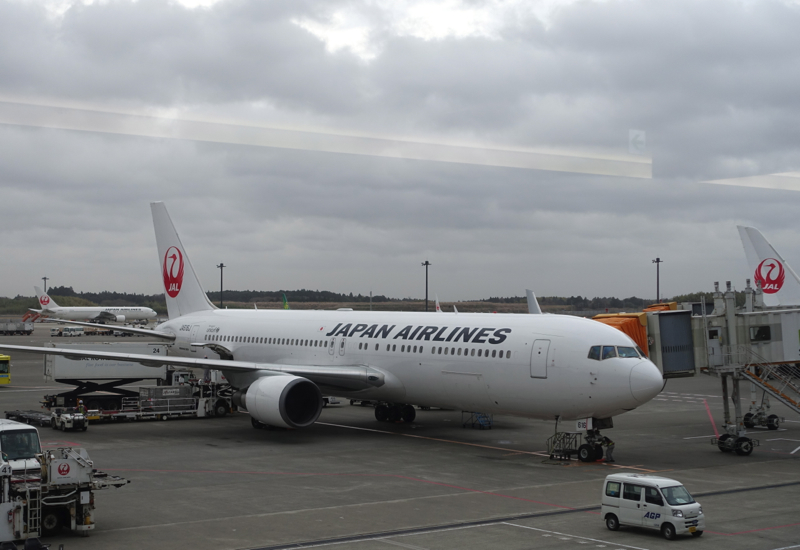 JAL Business Class Lounge at Singapore Changi Airport: SATS Premier Lounge
Japan Airlines Business Class passengers use the SATS Premier Lounge in Singapore Changi Airport's Terminal 1, which would be great compared to most U.S. domestic lounges, but was only ok as an international lounge.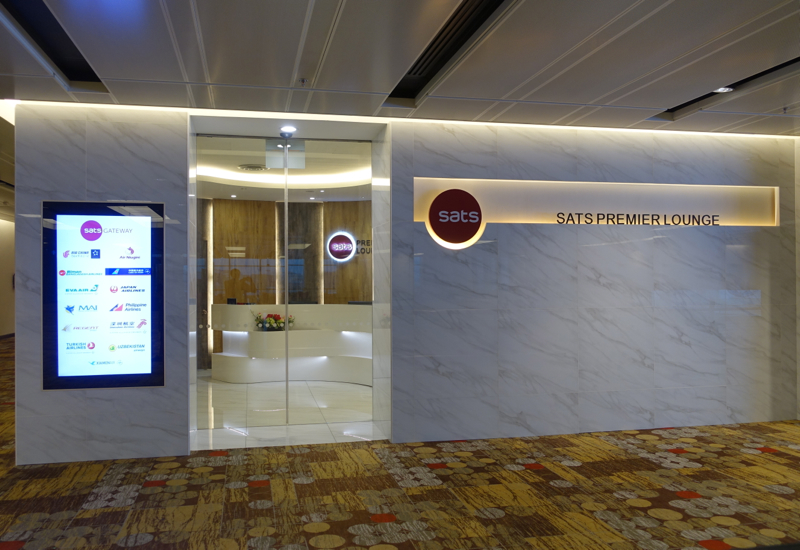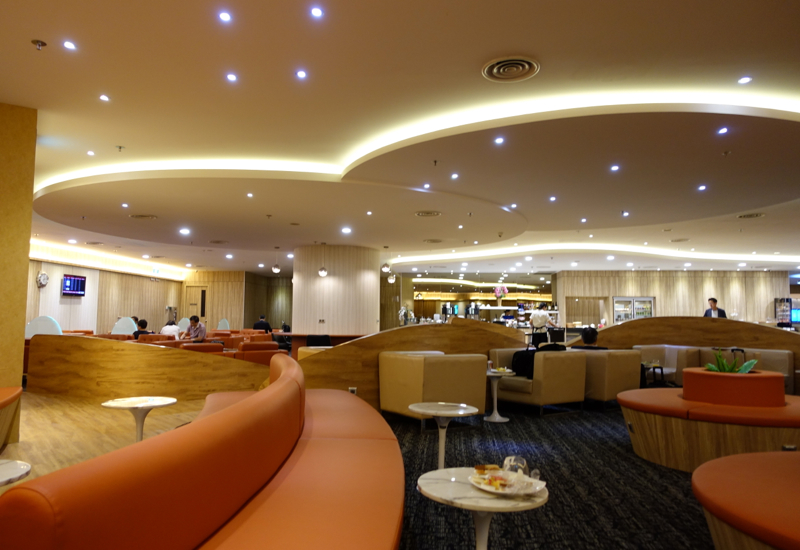 The food offerings were mediocre for breakfast, and I wished we'd had time to eat a proper breakfast at the Crowne Plaza Singapore Club Lounge. While I enjoy really delicious noodle soups for breakfast, such as we had at Amantaka, the fried noodles were only ok.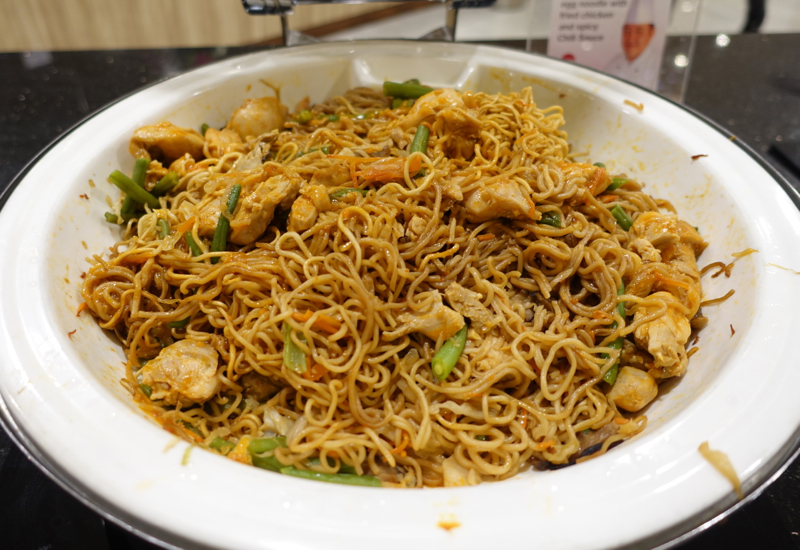 There were also plastic-looking rounds of steamed eggs with spinach: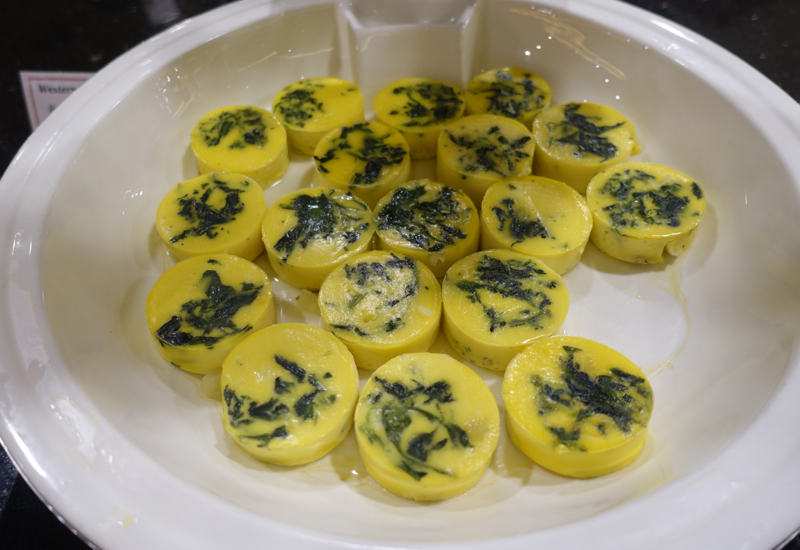 Probably the best thing I can say for the lounge is that it did have some fancy massage chairs, with an absurd number of setting options on the control panel: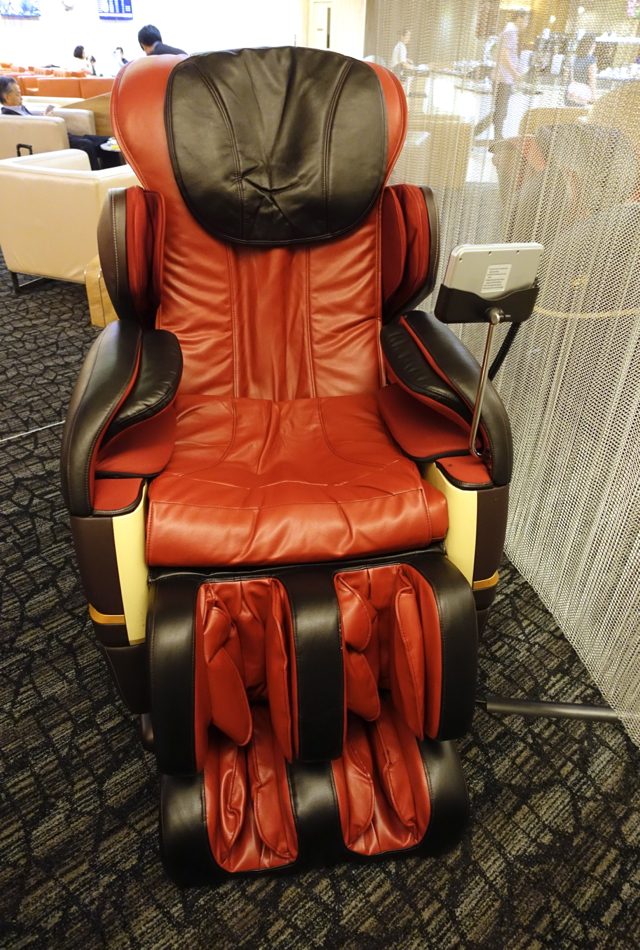 JAL Business Class Cabin on the 767-300ER and Seat Selection
JAL's newest 767-300ER has 24 business class seats in a 1-2-1 configuration, across 6 rows. Solo travelers will want to be in seats by the window which afford a bit more privacy over the ones that are right on the aisle. I recommend seats 2A, 2K, 4A and 4K for solo travelers or those who want to be by the window.
The middle seats don't really have the "honeymoon seats" that you find, for example, in Iberia Business Class or airberlin Business Class; there's the same space between the two seats, with the only difference being which of the two seats is right by the aisle. In all cases I'd aim to avoid the very first row and the last row.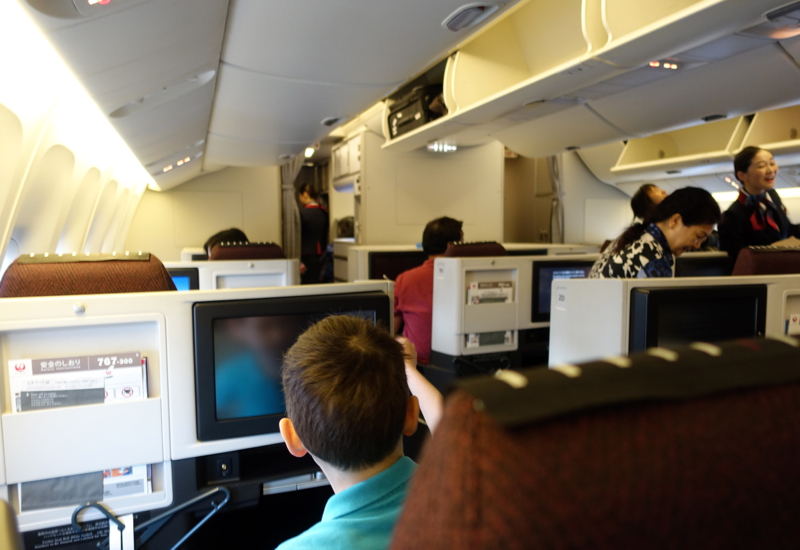 JAL Business Class Seat on the 767-300ER 
These JAL Business Class seats are a great improvement over the recliner seats that are still on other Japan Airlines 767-300ER aircraft. They're also wider, at 25.5 inches, compared to 20 inches on most other JAL 767-300ERs. I was also happy to see a memory foam type pillow, although of course there's no airweave mattress topper of course on these flights as there is with the 777 Sky Suites.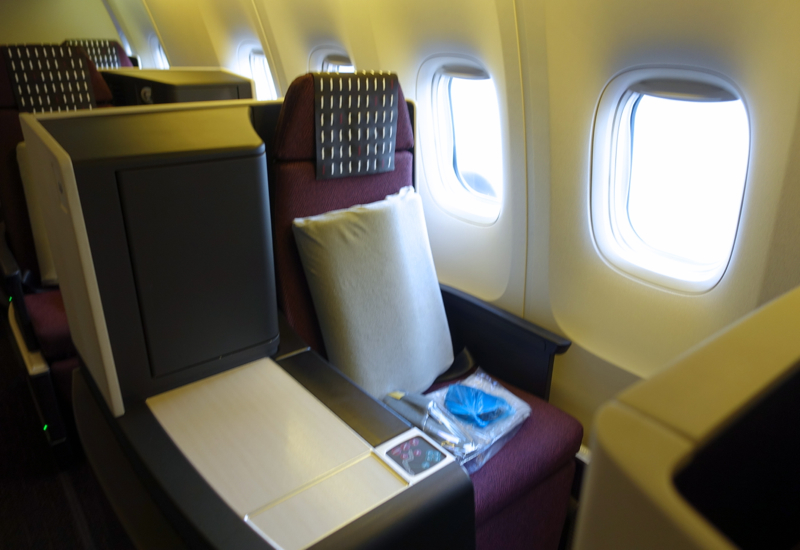 There was ample leg room, as you can see in this side view of the seat: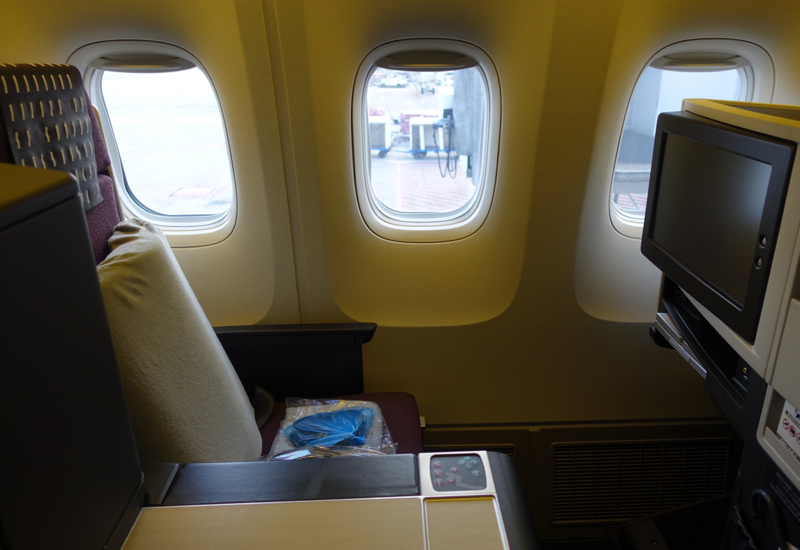 Seat controls were intuitive and worked fine.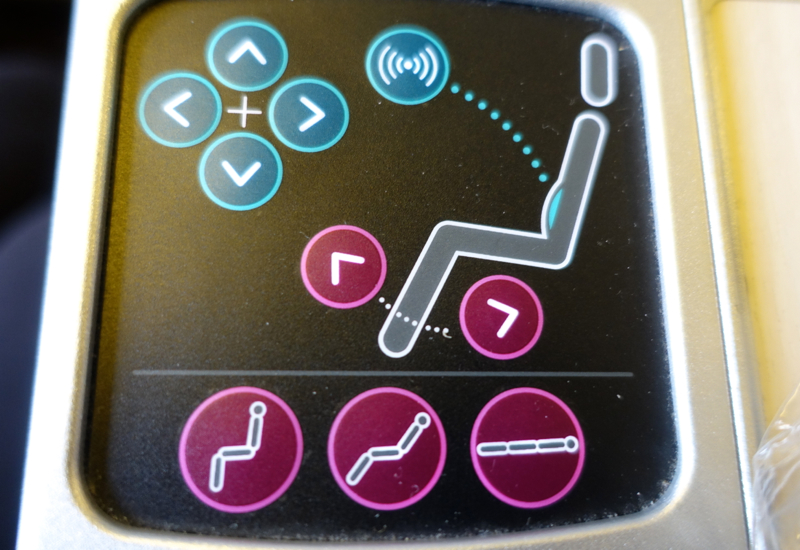 Ample storage space was provided for small items in the headset compartment, where the headset jack also was: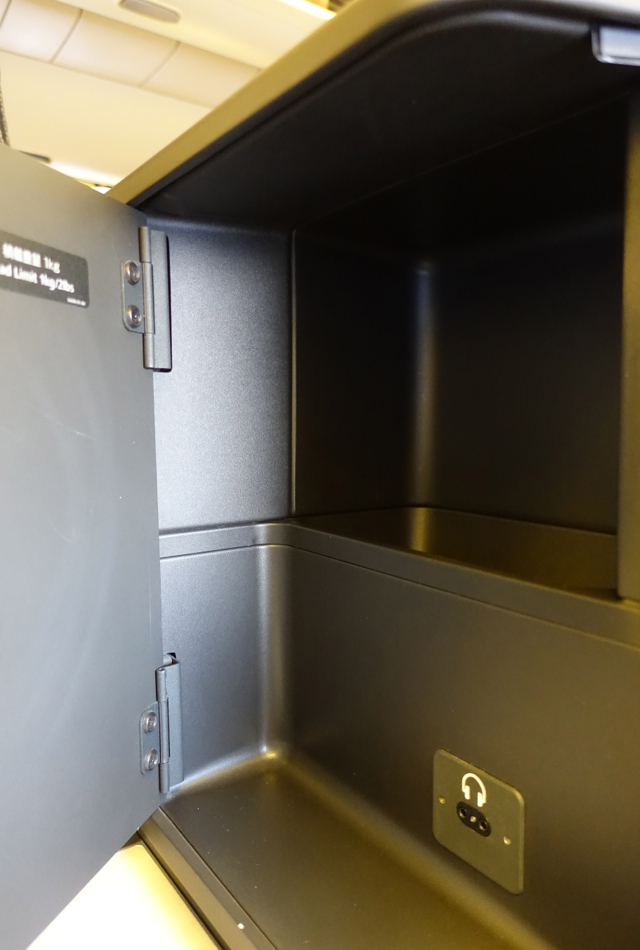 JAL Business Class Pajama Top, Amenities and Slippers
There's no real amenity kit for JAL business class on the 767-300ER, but a sleep mask, moisture mask and something called an "eye refresher" were provided. Personally, I prefer to bring my own sleep mask, usually an old Lufthansa First Class sleep mask that doesn't press against my eyelids too tightly.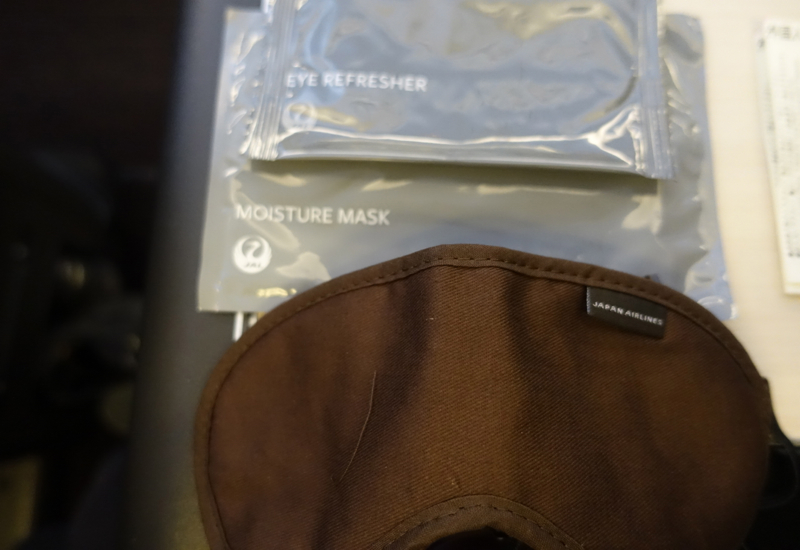 Surprisingly on a day-time flight, a grey pajama top was provided; no pajama bottoms though.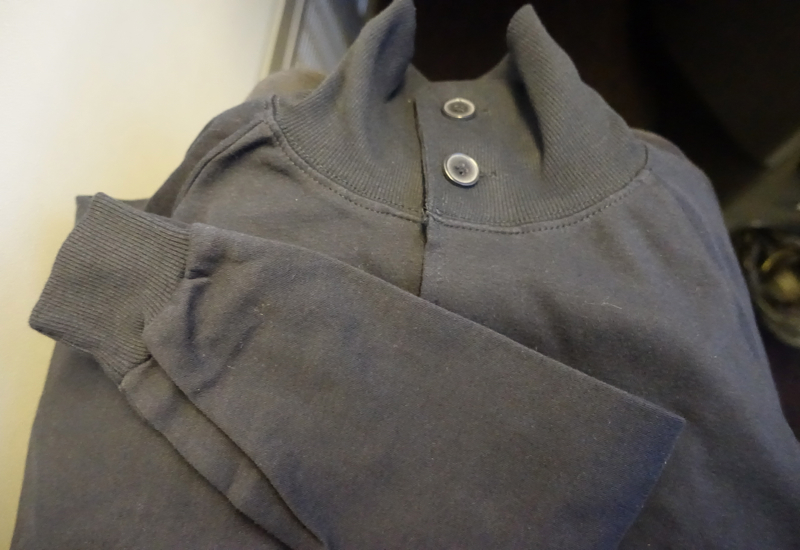 A nice thing about Japanese airlines is that you can always count on them to supply slippers in business class. The slippers fit me fine, although I wonder if there are large enough sizes for guys that wear size 12 or 13 or so shoes, such as my husband. I also found that my sneakers didn't completely fit into the shoe cubby–I liked the idea, but it wasn't quite big enough for my shoes.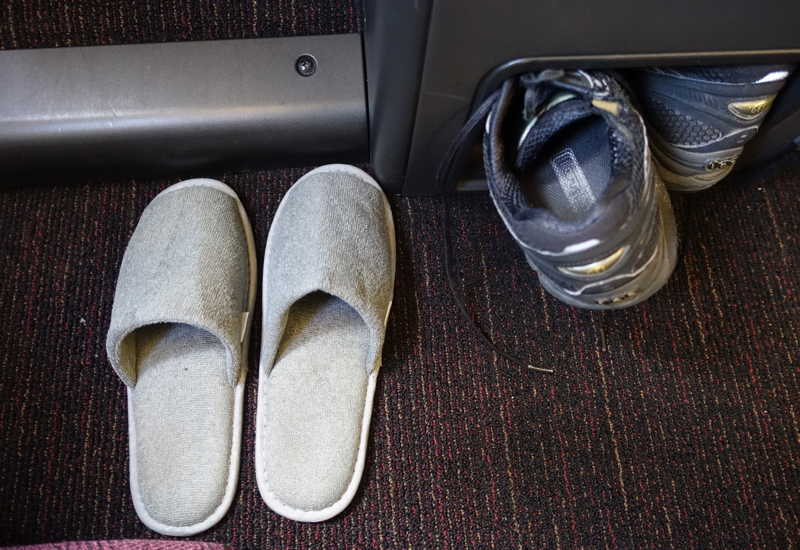 JAL Business Class Menu and Food
There were no pre-flight beverages offered to us, which I thought was a bit odd. Later, once we were airborne and the seatbelt signs had been switched off, we were offered hot towels and drink orders were taken. Here's the wine list: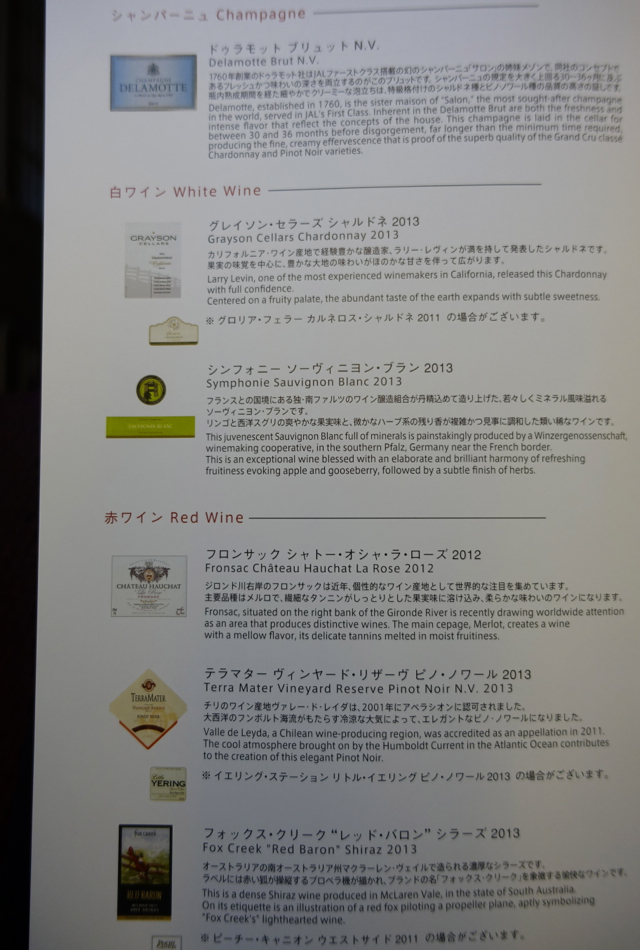 My son asked for orange juice, and it was the usual from concentrate variety, not fresh squeezed as on KLM: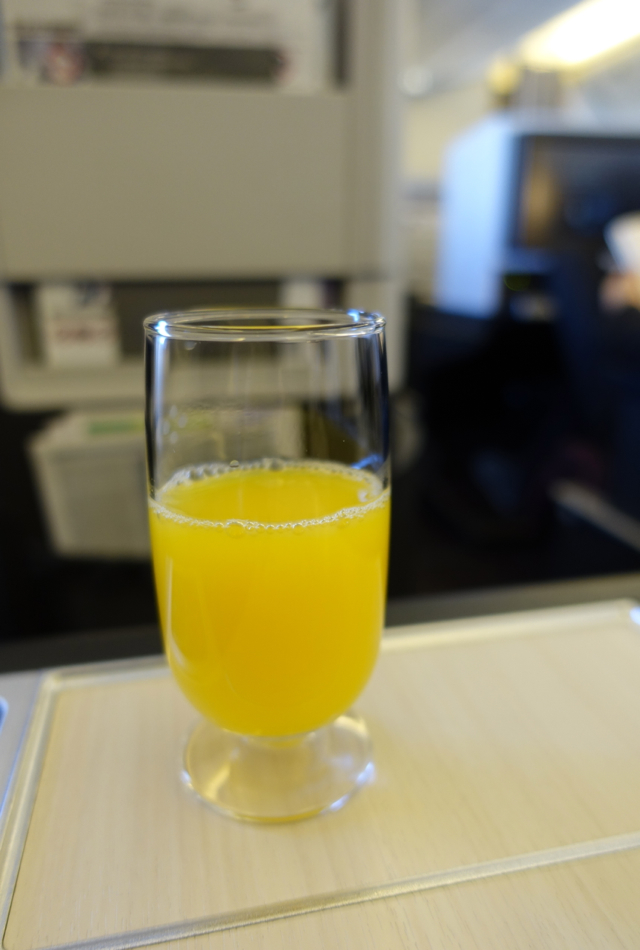 And I decided on a glass of Sauvignon Blanc, and was also given some Japanese rice crackers. I looked at them a bit dubiously since one of the packages prominently featured "Natto" on it. I love all kinds of Japanese food, having worked in Japan for a year, but natto is one of those things that I never acquired a taste for, particularly the slimy texture. Fortunately these were crackers, not actual natto.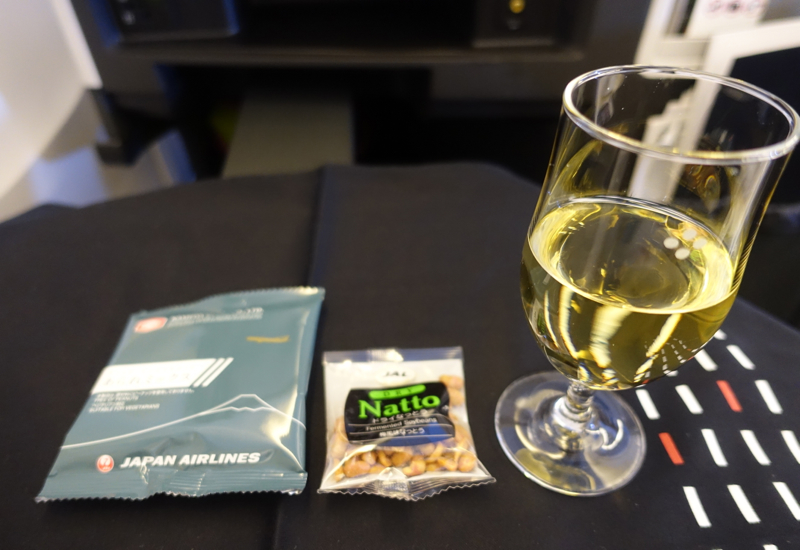 The lunch menu had both Japanese and Western options: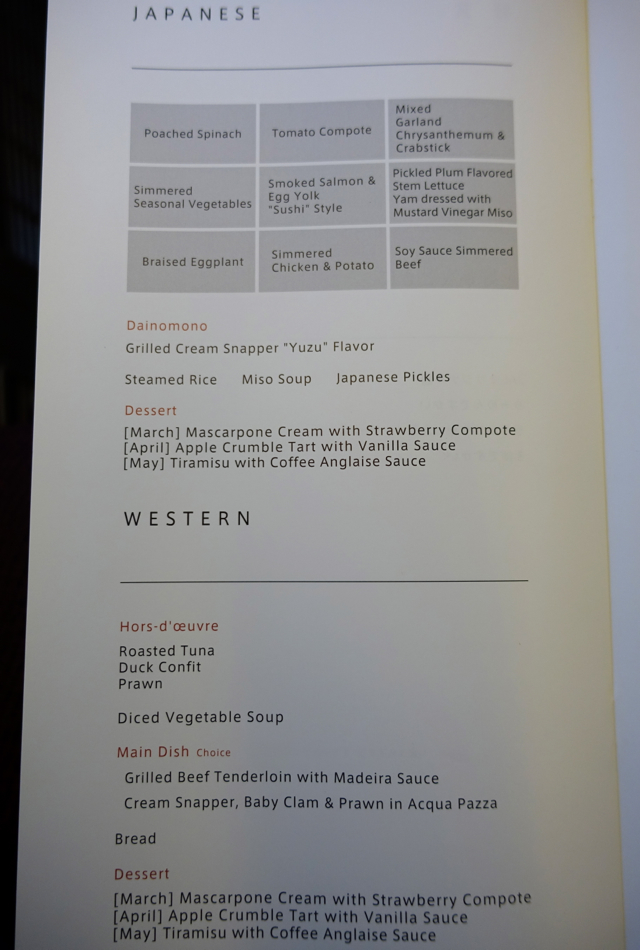 I chose the Japanese option, and the appetizers were beautifully presented in a lacquerware box, with a red crane on the side. The smoked salmon and egg and the soy sauce simmered beef were my favorites.
The main dish of grilled cream snapper with yuzu was a little underwhelming taste-wise and slightly overcooked, as is common with fish, but prettily presented. It came with steamed rice and miso soup, as well as Japanese pickles.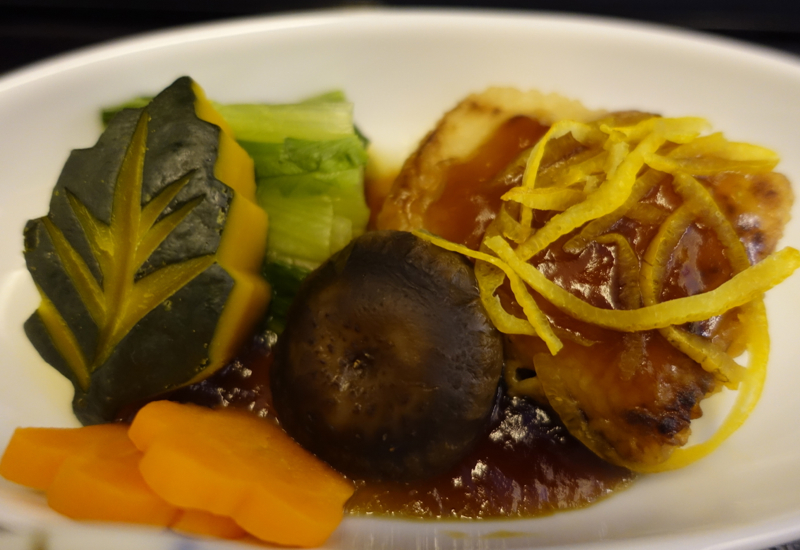 The munchkin was busy watching kids' films and didn't even eat a main dish, but he had some of the Western appetizer, which looked quite good: duck confit with roasted tuna and prawn.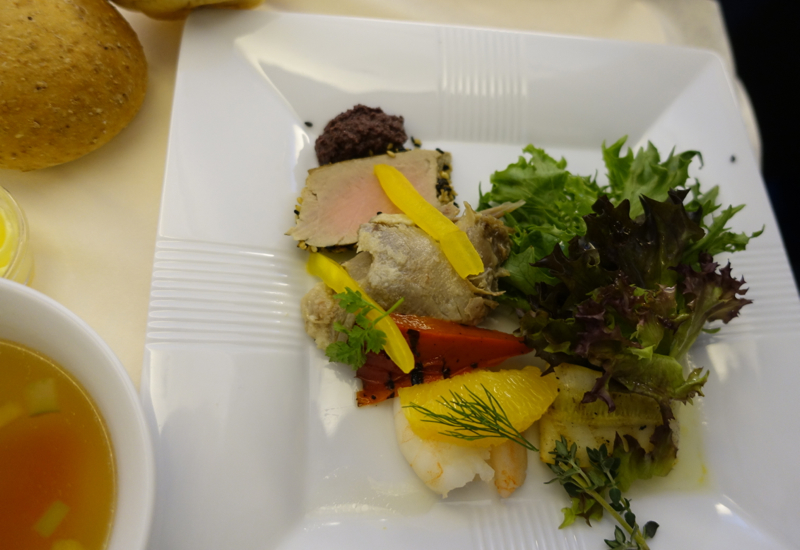 The dessert, an apple crumble tart, didn't look like much but was good as airline desserts go. I also had some green tea, having asked for Genmai-cha, but been told they didn't have any.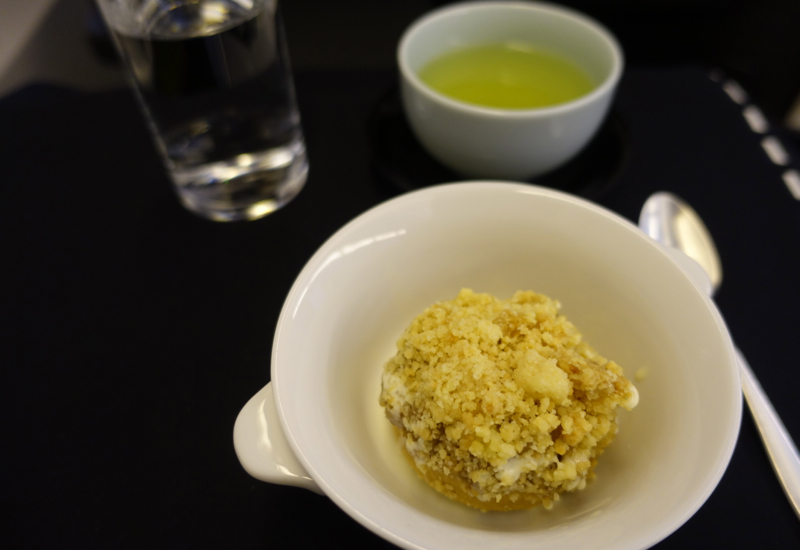 JAL Business Class Bed on the 767-300ER
JAL's business class bed on the new version of the 767-300ER is nearly flat bed, although as you can see, the part supporting the lower legs does slope down a bit into the cubby. This was fine for us on a daytime flight of just under 7 hours, but would be less comfortable on a night flight when you're really trying to sleep.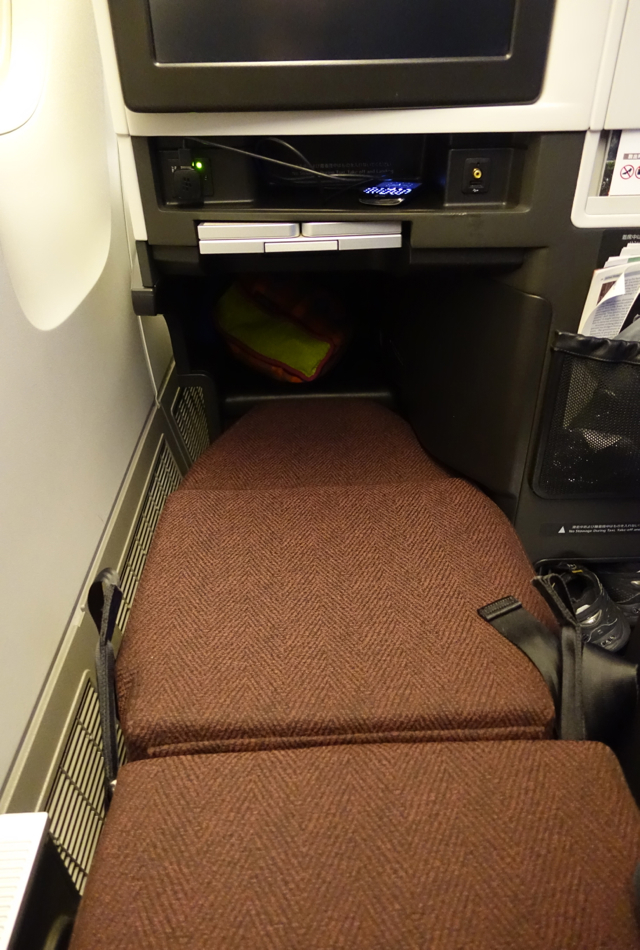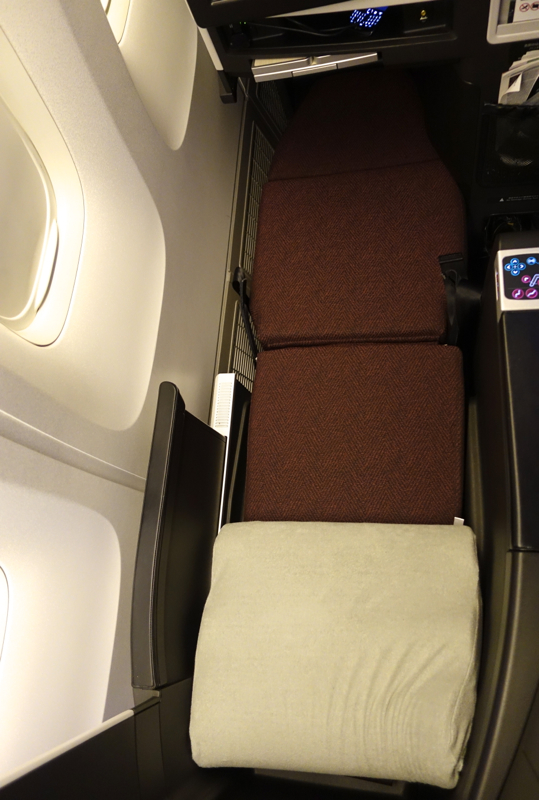 JAL In-Flight Entertainment
JAL is no Singapore Airlines when it comes to in-flight entertainment, but there were enough choices to keep us occupied for the flight. Having already watched "The Theory of Everything," I decided to watch "Gone Girl"–I agree with my husband that Ben Affleck was perfect for the part 🙂 and Rosamund Pike was incredible.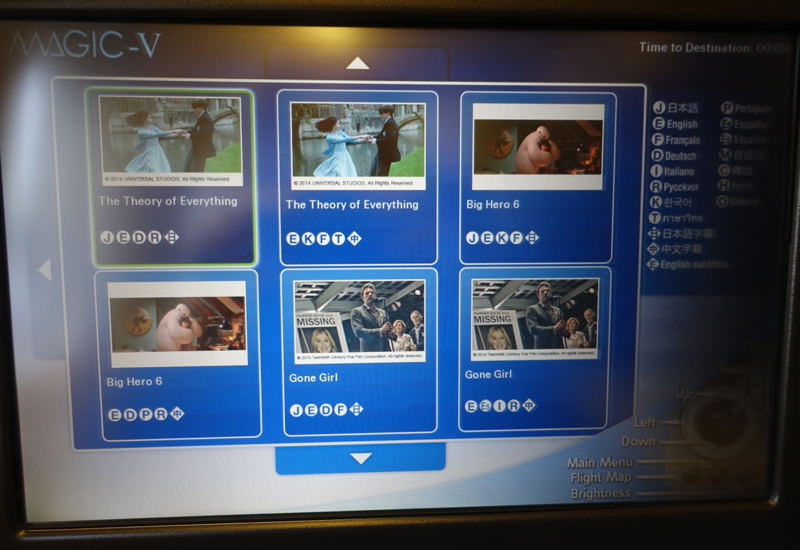 The Verdict
We had an enjoyable flight in Japan Airlines' 767-300ER business class with open suites. Pluses include the comfortable memory foam pillow, nearly flat bed seats that are quite private if you snag a window seat, slippers and pajama top, polite service, and good if not stellar Japanese food.
If you've flown JAL Business Class with open suites on the 767-300ER, what was your experience?
Related Posts
Review: Japan Airlines JAL Sky Suite 777 Business Class
Lounge Review: Japan Airlines (JAL) Business Class Lounge Tokyo Narita
JAL First Class Suite Award Space Tokyo to Sydney
Singapore Airlines Business Class Review, Tokyo to Singapore
Need Award Booking Help? Our fee is as low as $75 per ticket if you book your hotel through us.
If you enjoyed this, join 200,000+ readers: please follow TravelSort on Twitter or  like us on Facebook to be alerted to new posts. 
Become a TravelSort Client and Book 5-star hotels with Virtuoso Perks and Preferred Partner Benefits!