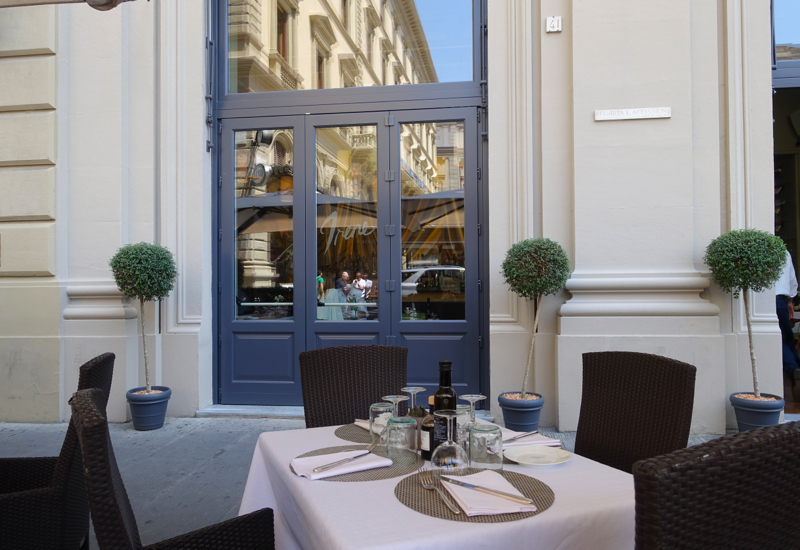 This Review of Irene Restaurant at the Savoy Hotel in Florence, Italy is part of a trip report featuring Florence, Rome, Amalfi Coast, Tuscany, Singapore Suites, Air Berlin Business Class, and luxury hotel stays, dining and activities in Berlin and Italy.
For the prior posts, please see:
Review: Air Berlin Business Class A330 JFK to Berlin
One of Europe's Best Hidden Secrets: Guess the Place
Review: Virgin Atlantic Clubhouse, New York JFK Airport
Review: Singapore Suites A380 New York JFK to Frankfurt with a Kid
Katz Orange Berlin Restaurant Review
Marzapane Rome Restaurant Review
Emma Pizzeria Rome Review: Great Pizza in Rome
Review: Pompeii with Private Tours of Pompeii
Review: Monastero Santa Rosa Hotel and Spa, Amalfi Coast
Paestum's Greek Temples: A Must See While Staying on the Amalfi Coast
Review: Ristorante Il Refettorio at Monastero Santa Rosa
Herculaneum Photo Tour: Better Preserved Than Pompeii
Review: Castello Banfi Il Borgo in Tuscany, Italy
Review: La Sala dei Grappoli and Dining at Castello Banfi Il Borgo, Tuscany
Castello Banfi Winery Tour and Wine Tasting at L'Enoteca
Review: Portrait Firenze Hotel, Florence Italy
Review: Walks Inside Florence Private Guided Tour of Florence
Review: Le Volpi e L'Uva Wine Bar, Florence Italy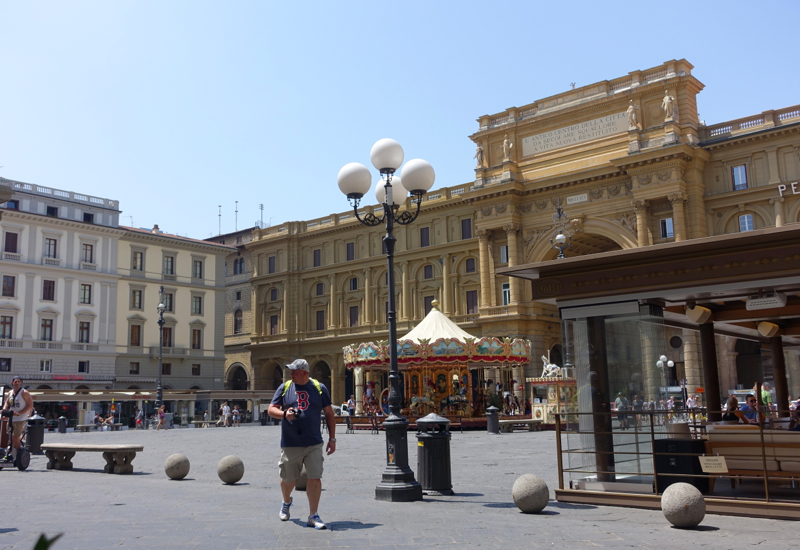 Irene Restaurant Location and Hours
Irene is the restaurant at Hotel Savoy, and is located right on the Piazza della Repubblica–a prime spot for people watching al fresco. Lunch is served 12:30-3:30pm and dinner from 7:30-10:30pm.
The Scene
Irene is named after the mother of Sir Rocco Forte, the head of Rocco Forte hotels, in a deliberate homage to the culinary talents and hospitality of Italian mothers and grandmothers, since Irene was herself a very accomplished cook and hosted elaborate dinner parties. It's appropriate then that the decor is retro chic, with hardwood floors, sleek lime green chairs, and fluid curved stripes of warm neutrals, white and black behind the bar.
We opted to sit outside in the shaded terrace so as to look out onto the Piazza, although given the heat, most diners opted to lunch indoors. There seemed to be a good mix of visitors, mostly couples, and locals out for a business lunch, including small groups of colleagues, friends, and couples.
Irene Restaurant Menu and Food
After guiding us to our table outdoors, our server offered us lunch menus. The regular lunch menu included a wide array of choices among the starters, salads and pastas alone, which was what we were focused on given how warm the day was. There were main courses as well, and as tasty as they sounded, hot weather makes me prefer seafood and pastas over meats.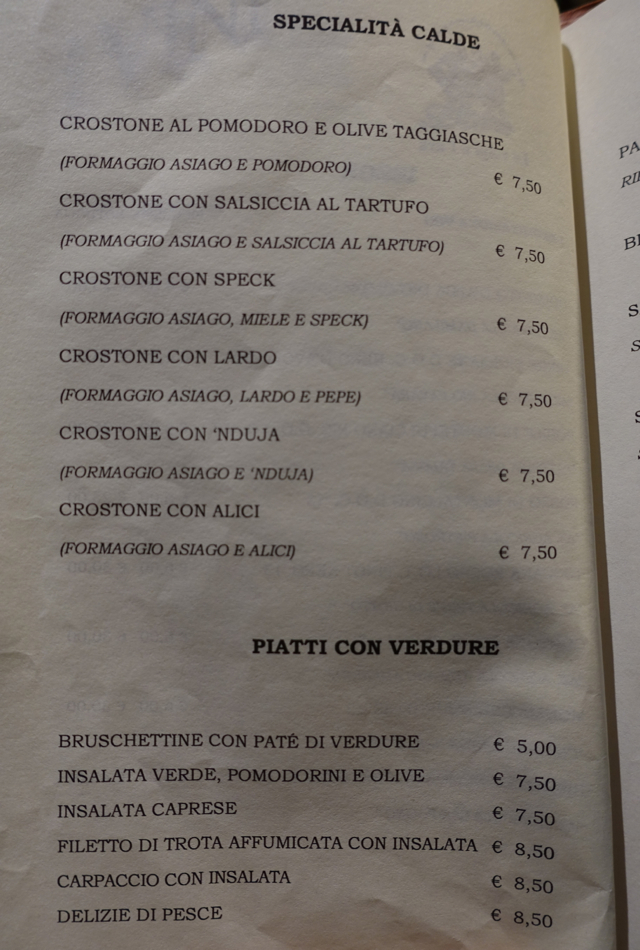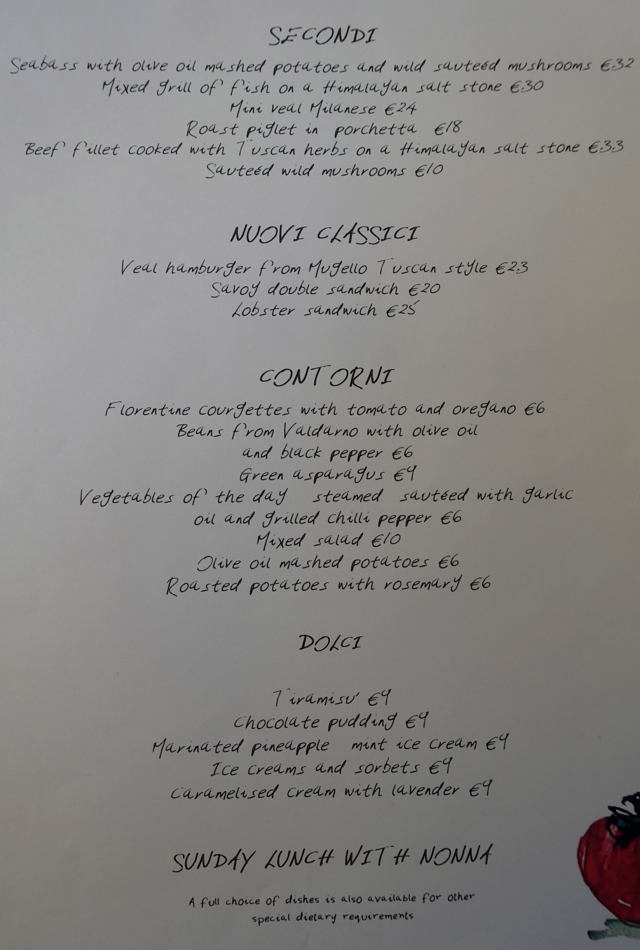 In addition to the regular lunch menu, there was a lunch special that seemed a good deal, at EUR 20 for two courses, or EUR 25 if you wanted all three.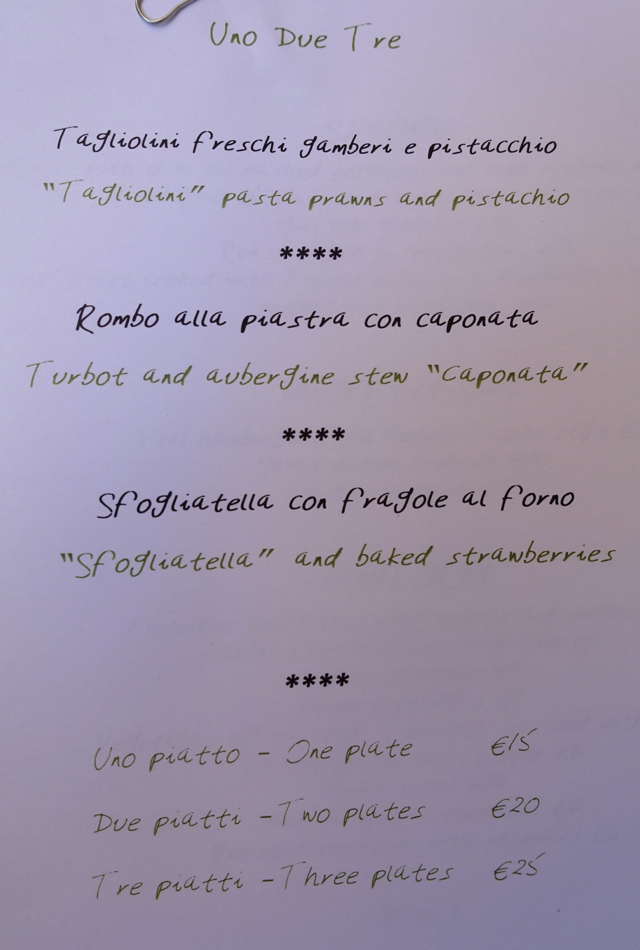 We started off with water and, for me, a chilled glass of Pinot Grigio–which I justified as needed refreshment, due to the heat 🙂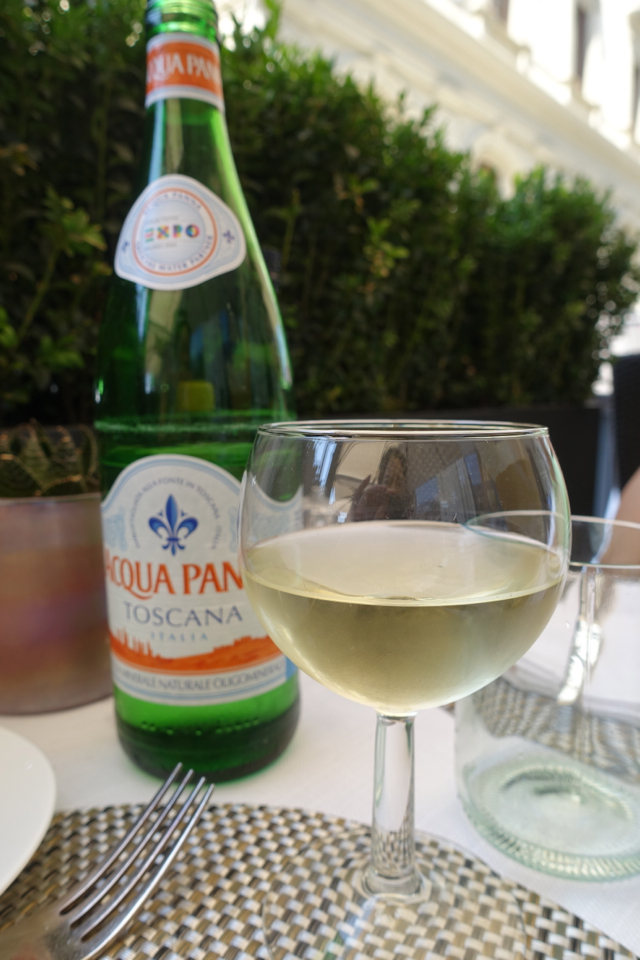 The bread assortment was fairly perfunctory, and an area I thought could have been a bit more creative, such as Marzapane's homemade breads that we'd enjoyed in Rome. But my son wasn't complaining, and happily nibbled on the breadsticks and bread, with some of the provided olive oil.
I'd asked our server for his recommendation for a starter, and he suggested the Panzanella and mozzarella. This dish is deceptively simple, made with toasted bread, tomatoes, cucumbers and basil, but the fewer the ingredients, the more critical the quality of each, and this version shone. The fresh buffalo mozzarella, the ripe tomatoes and the fruity olive oil made the dish, and once again my son, who at home complains about eating fresh tomatoes, was happy to eat quite a few of this salad, with the delicious mozzarella and bread.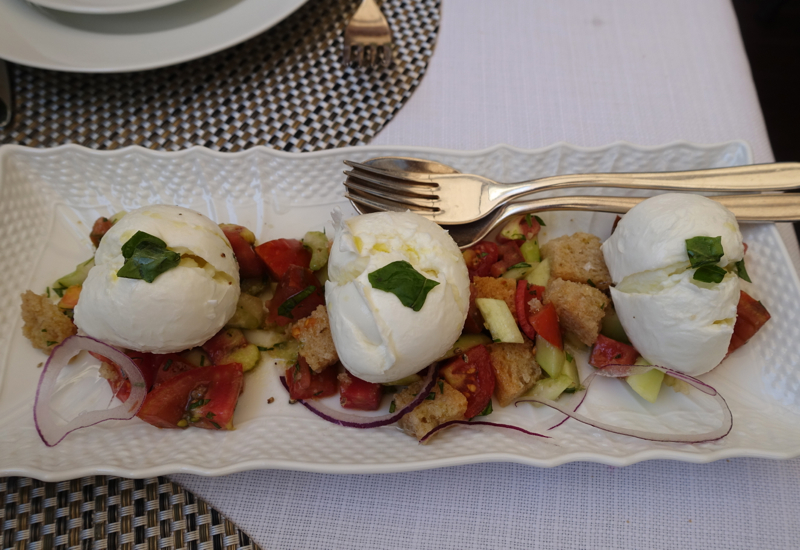 Usually my son is drawn to a burger whenever he spies one (if he doesn't spot pizza or mac and cheese on the menu) but the warmth of the day meant he was also focused on the pastas, and he chose a classic: the Spaghetti with tomato and basil. Again, it's hard to imagine him picking this dish in NYC, but clearly Italy (and the superior quality of Italian tomatoes at their peak of flavor) was seeping into him.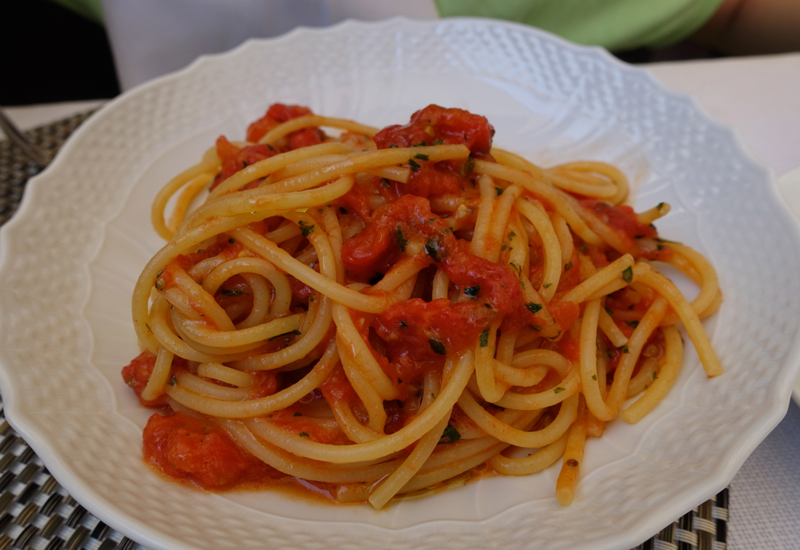 As you can see, he looks happy and nearly sated by his dish: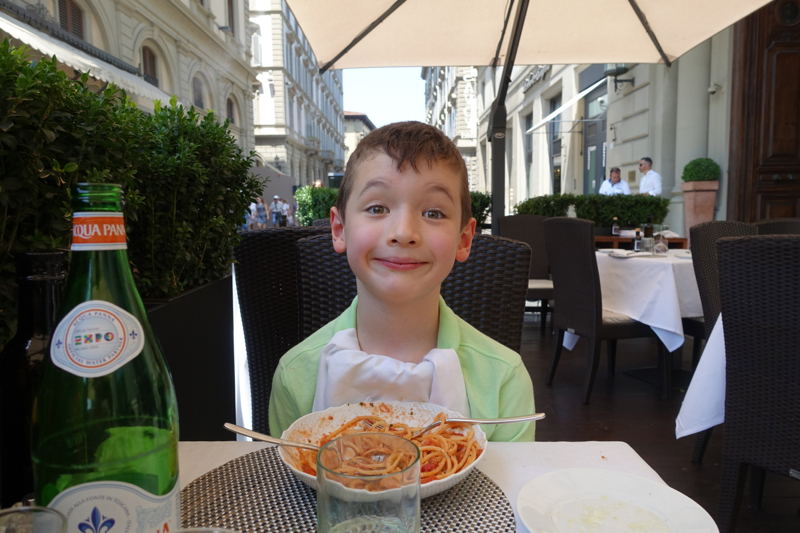 I like many kinds of seafood, but one of my favorites remains lobster, so I had to order the Lobster Linguine when I saw it. Fresh lobster needs very little done to it, and this pasta showcased it, with generous pieces of buttery lobster atop garlicky and perfectly al dente linguine, with a smattering of fresh herbs.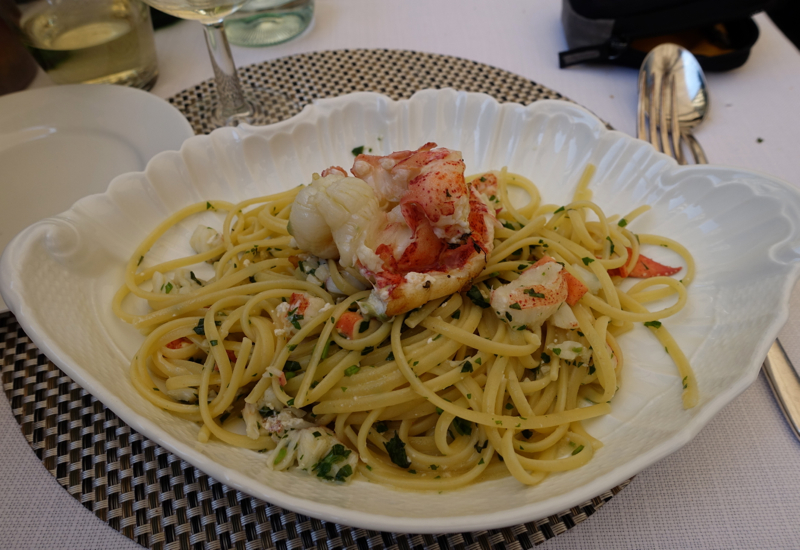 Generally I prefer Italian gelato to most Italian desserts, but we decided to try the dessert on the lunch special, which was billed as Sfogliatella with baked strawberries. It came with a very refreshing strawberry sorbet, and the strawberries and pastry were nice, but not particularly memorable, especially as we'd had some excellent sfogliatella at Monastero Santa Rosa and also from a bakery in Salerno, when we were visiting the Amalfi Coast.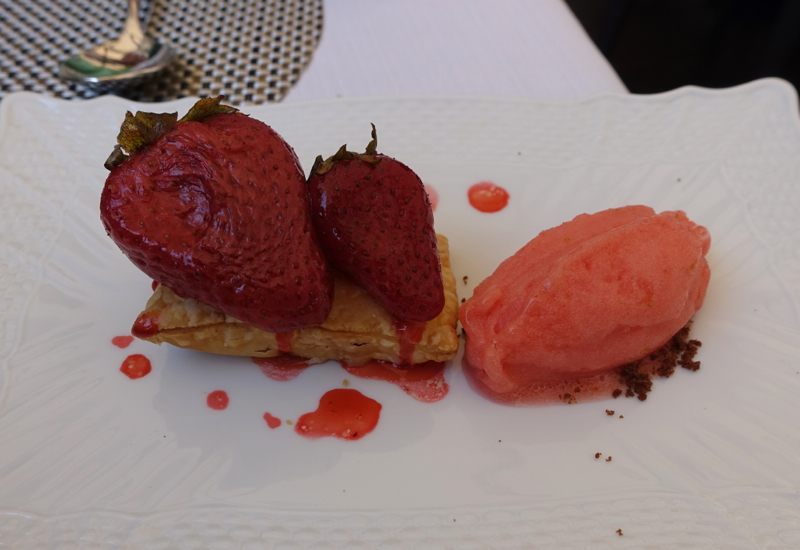 The Verdict
We had a very pleasant lunch at Irene, and I would happily return to try more of Chef Giovanni Cosmai's creations. I've heard great things about the Red Prawn Tartare with Ricotta and Herbs, the Seabass, Veal Milanese and Lobster Sandwich, for example. Our server was very attentive through most of our meal, and only toward the end was a bit stretched, due a large party he had to attend to. Can you get a cheaper meal in Florence? Of course. But for the convenient central location, setting, quality of food and service, Irene is a great bet. Just forego dessert, and fill up on the excellent starters, pastas and main dishes.
Don't forget that if you're a TravelSort Client staying at Hotel Savoy, there IS a free lunch: as part of the Virtuoso benefits, you'll enjoy an 85 EUR food and beverage credit during your stay, which you can used towards lunch or dinner at Irene. Here are the Virtuoso amenities when TravelSort reserves your stay at Hotel Savoy in Florence:
Upgrade on arrival, subject to availability
85 EUR Food & Beverage credit, once during stay (not combinable, not valid towards room rate, no cash value if not redeemed)
Daily Buffet breakfast, for up to two in room guests
Early check-in/late check-out, subject to availability
Related Posts
Review: Le Volpi e L'Uva Wine Bar, Florence Italy
Florence: Gourmet Dining and Foodie Delights
Review: Portrait Firenze Hotel, Florence Italy
Review: Walks Inside Florence Private Guided Tour of Florence
Disclosure: We received a complimentary meal as part of a Virtuoso site inspection of the Hotel Savoy. The views expressed in this post are my own.
Need Award Booking Help? Our fee is as low as $75 per ticket if you book your hotel or cruise with us.
If you enjoyed this, join 200,000+ readers: please follow TravelSort on Twitter or like us on Facebook to be alerted to new posts.
Become a TravelSort Client and Book 5-star hotels with Virtuoso Perks and Four Seasons Preferred Partner Benefits