This Grand Hyatt Hong Kong Review is part of a trip report including Singapore Suites, Emirates First Class, Cathay Pacific First Class, Asiana First Class and luxury resorts and dining in Southeast Asia. For the previous posts, please see:
Singapore Suites A380 Review: New York JFK to Frankfurt
Review: Lufthansa Senator Lounge Frankfurt
Singapore Suites A380 Review: Frankfurt to Singapore
Singapore Airlines Private Room Lounge Review
Cathay Pacific First Class Review NYC JFK to Hong Kong
Singapore Suites A380 Review: Singapore to Hong Kong
Review: Grand Hyatt Hong Kong Club Harbour View Room
Originally I'd booked a Grand Harbour King Room, but a few days before my trip, I decided to upgrade to a Club Harbour King, with access to the Grand Club lounge. I was able to pay for my room and the upgrade with discounted Hyatt Check Certificates that I'd bought late last year, and since I needed to get work done and would be at the hotel most of the time, it was worth it.
The Grand Hyatt Hong Kong is one of Hyatt's top hotels in Asia, and the Grand Club is similarly one of Hyatt's top club lounges. Forget the often lackluster U.S. Hyatt club lounges, such as the Grand Hyatt Seattle. The Grand Club also has a view, at least on some days. It was rather overcast much of my time there, but somewhat decent weather when I took this photo: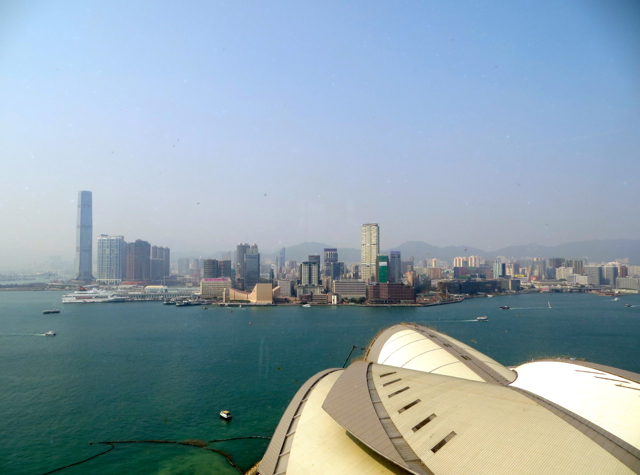 The Grand Club is quite spacious, so even though during the evening was quite busy (since it's a two hour time period and most guests seem to spend some time then) I was able to find seating.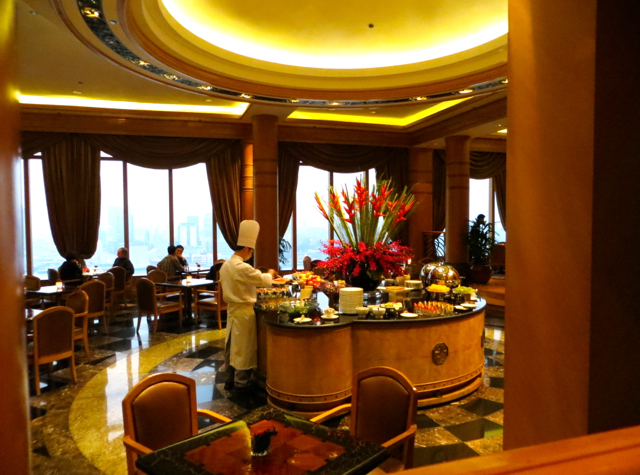 In the middle of the day, of course, it was quite empty: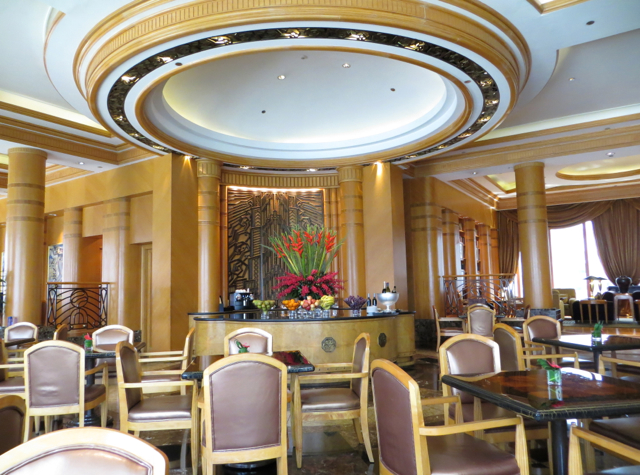 Grand Club Rules
A maximum of 3 guests may stay in a single Grand Club room, and all are able to enjoy access to the Grand Club. Key rules:
Smart casual dress code (for example no sports attire)
Children under 12 must be accompanied by an adult in the lounge, young children may not run in the lounge
If guests join you in the lounge, breakfast charged at HKD 350 + 10% tax, and evening cocktails charged at HKD 375 + 10% tax
Grand Club Food and Beverage Presentations
Continental Breakfast: 7am – 10:30 am Monday to Friday, 7am – 11am Saturday, Sunday and Public Holidays
Evening Cocktails and Canapes: 5:30pm to 7:30pm
All day complimentary tea, coffee and refreshments
Continental Breakfast, Grand Club, Grand Hyatt Hong Kong
Continental breakfast at the Grand Club features all the usual suspects: fresh fruit, smoked salmon, cheeses, yogurts, juices, cereals, breads and pastries. There's also the option of eggs cooked to order and house noodles or congee, which is a nice touch, especially since the breakfast is billed as a continental breakfast.
I liked the array of fresh squeezed juices, even though they weren't as tasty as the fresh squeezed juices at the Four Seasons Hong Kong Executive Club Lounge, let alone the amazing orange juice at the Four Seasons Marrakech or when dining at Amanjena.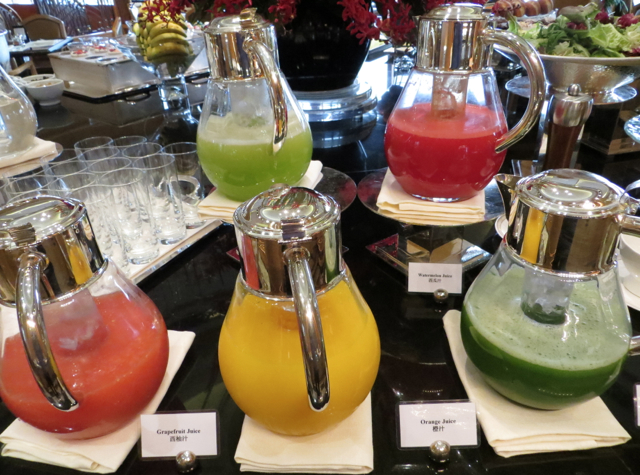 Yogurt, which is one of my favorite breakfast staples, was rather disappointing in terms of selection and quality. In my view, if you're not going to make great housemade yogurt, at least provide a good branded yogurt, such as La Ferme du Manege, as Cathay Pacific First Class does.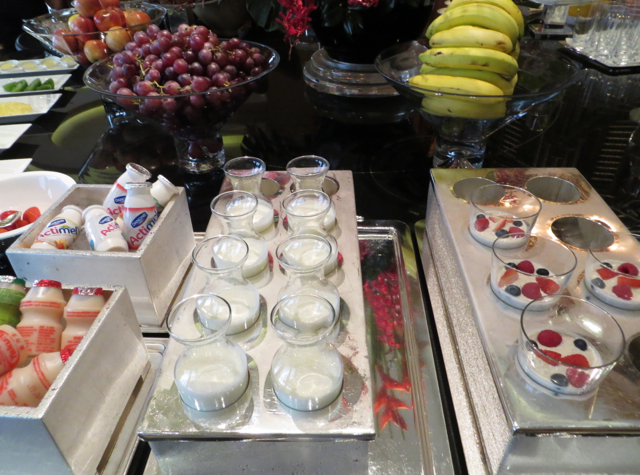 I also thought the fresh fruits could have been a better selection, and more generously supplied–I was there fairly early and several seemed to need replenishing.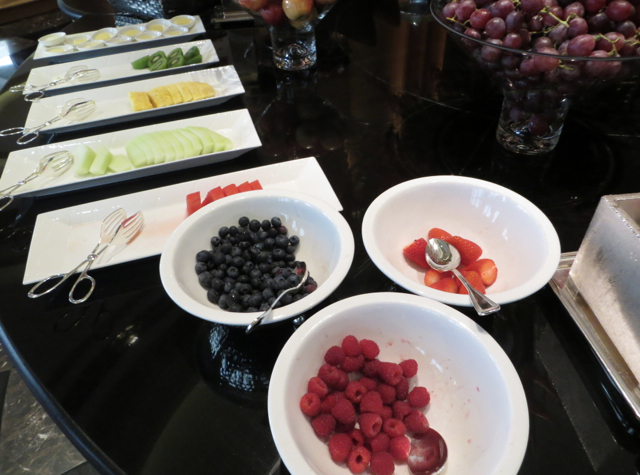 The cheese selection was fine, for Asia, although not as good as at the Yas Viceroy in Abu Dhabi–now that was a truly impressive breakfast buffet.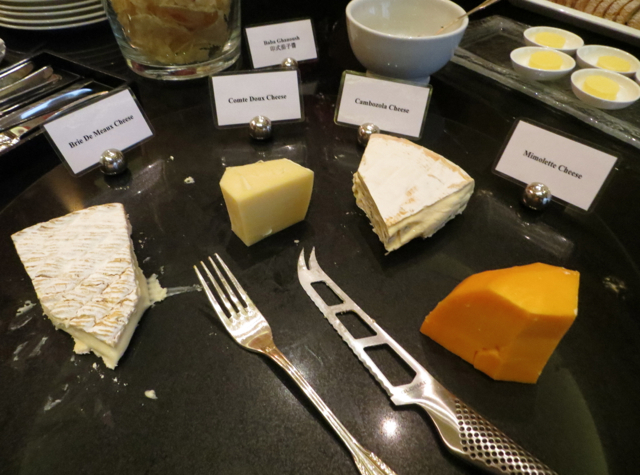 Intrigued by the house noodles, I tried a half portion, but they were nothing special.
There was a nice variety of pastries, but I wasn't too tempted by them. The croissant I tried wasn't bad, but certainly not memorable either.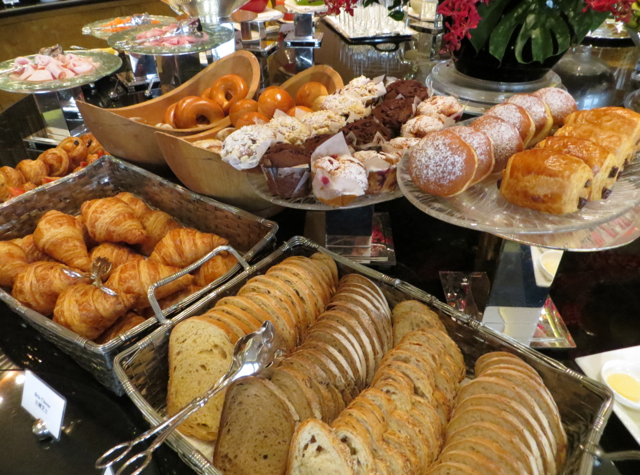 Smoked salmon, however, was good (see the Evening Cocktails and Canapes section below for photo).
All Day Coffee, Tea, Fresh Fruit and Refreshments
Although there are no savory offerings during the day at the Grand Club, the way there are Ritz-Carlton Club Lounges or Afternoon Tea at the Four Seasons Hong Kong Executive Club Lounge, there's a nice fresh fruit display, several wines on offer, a Nespresso machine, and some sweets, such as cupcakes, cookies, and a mini mousses that reappeared during the evening spread.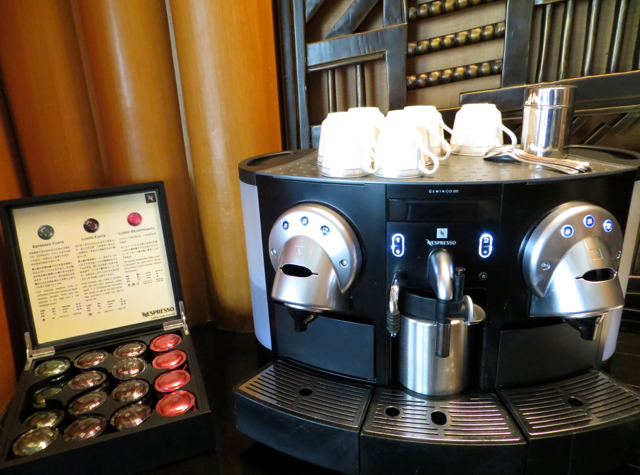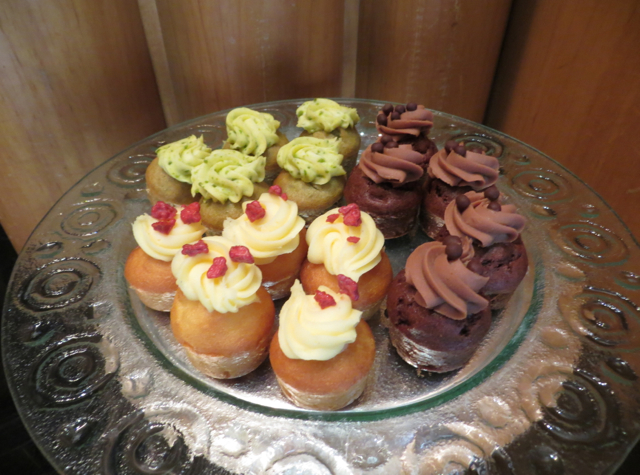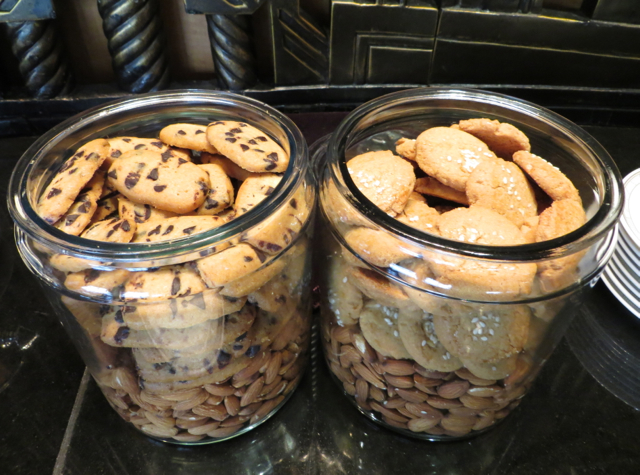 Evening Cocktails and Canapes, Grand Club, Grand Hyatt Hong Kong
The evening spread is the most extensive, with various cold appetizers offered, all beautifully displayed. I wouldn't say they tasted quite as good as they looked, however.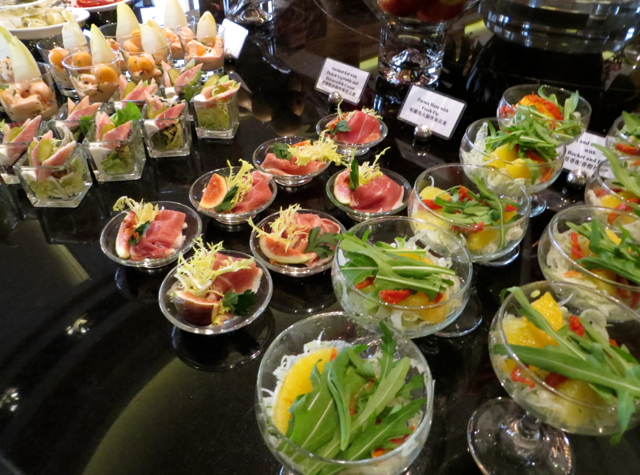 The house smoked salmon with accompaniments was my favorite savory item of the dinner spread–it was very good and I filled up on it: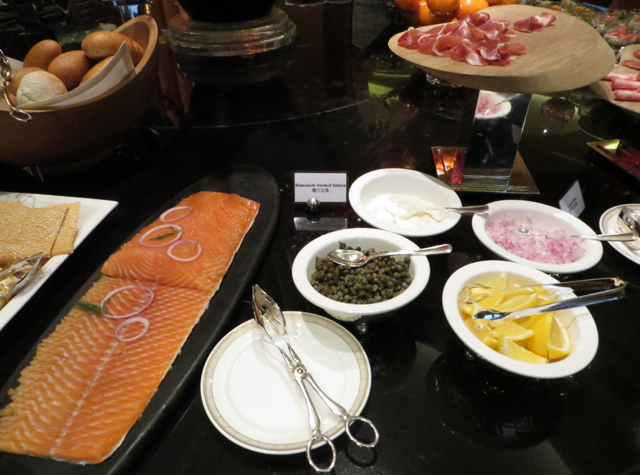 There were also a couple of hot appetizers offered, on one night Thai style fish cakes with sweet chili garlic sauce, and a savory gratin of some sort that didn't look that appetizing. The Thai fish cakes' flavor was ok, although texture a bit tough, from sitting out too long: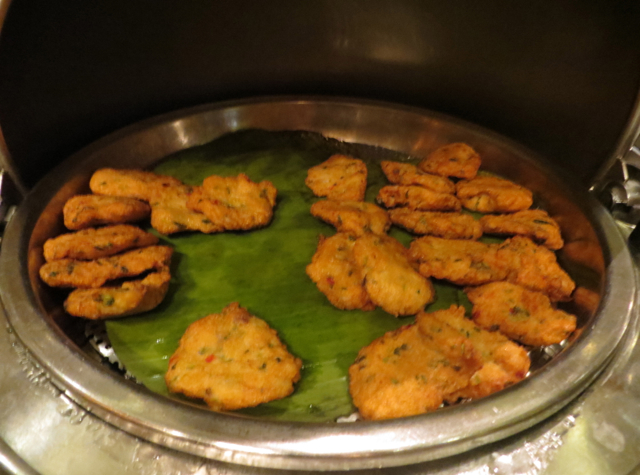 On the following night, there were chicken wings, which seemed a bit cheap, honestly, although perhaps they were very good–I wasn't motivated to try them: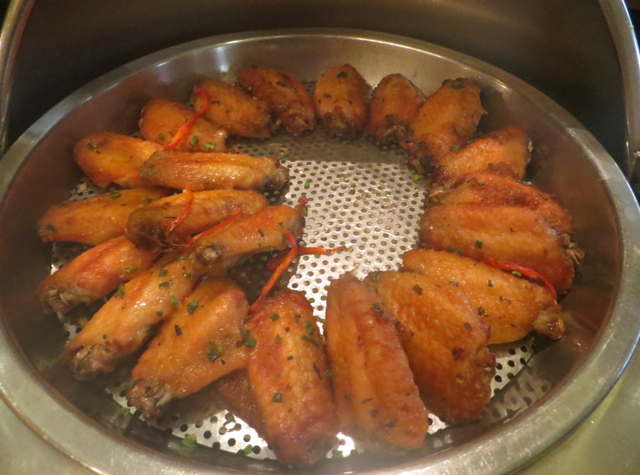 My favorite item of the evening spread, apart from the house smoked salmon, was the apple frangipane tart served the first evening, although unfortunately it didn't make an appearance the following evening.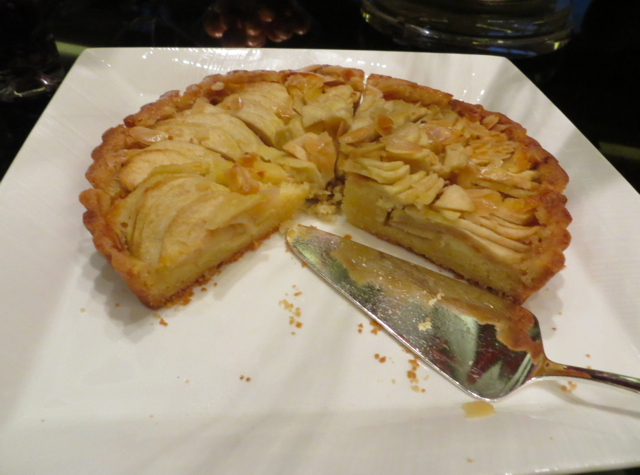 The other desserts, while pretty to look at, just weren't very good.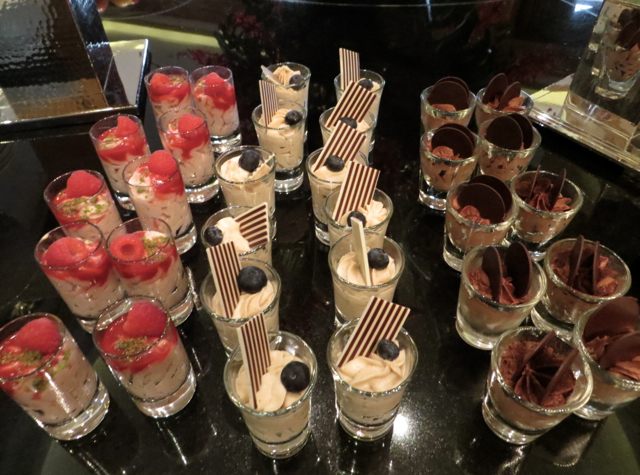 Since I was working, I didn't drink any of the wines or liquors on offer, but the selection looked decent: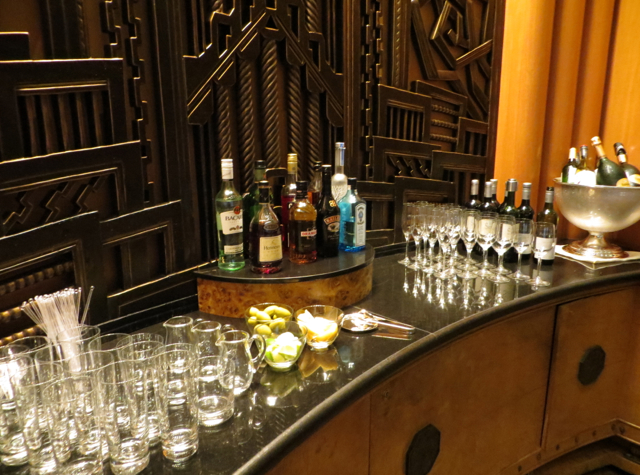 The Verdict: The Grand Club was about what I expected for the Grand Hyatt Hong Kong–I went in with raised expectations, since this is one of the better Grand Hyatts worldwide. There was a very good selection of items for both breakfast and dinner, although quality, as one would expect, is not at, say, Four Seasons levels. Service was very pleasant, but again not as attentive or as professional as the Executive Club at the Four Seasons Hong Kong. Grand Club access is of course a great perk if it's complimentary to you as a Hyatt Diamond, and worth the upgrade fee if you know you'll be spending a fair amount of time there working, as I was, given the convenience.
Disclosure: I paid for my own stay at the Grand Hyatt Hong Kong, using Hyatt Check Certificates bought at an effective 16.5% discount, via a now expired Hyatt Check discount offer, SPG AMEX Business card 5% statement credit and SPG points (see Hyatt Discount on Hyatt Gift Cards and Check Certificates).
Related Posts
Review: Grand Hyatt Hong Kong Club Harbour View Room
Four Seasons Hong Kong Hotel and Club Lounge Review
Best Ways to Earn Hyatt Points Faster
Cathay Pacific First Class Review NYC JFK to Hong Kong
Need Award Booking Help? Our fee is as low as $75 per ticket if you book your hotel through us.
If you enjoyed this, join 100,000+ readers: please follow TravelSort on Twitter or like us on Facebook to be alerted to new posts.
Become a TravelSort Client and Book 5-Star Hotels with Virtuoso or Four Seasons Preferred Partner Amenities!