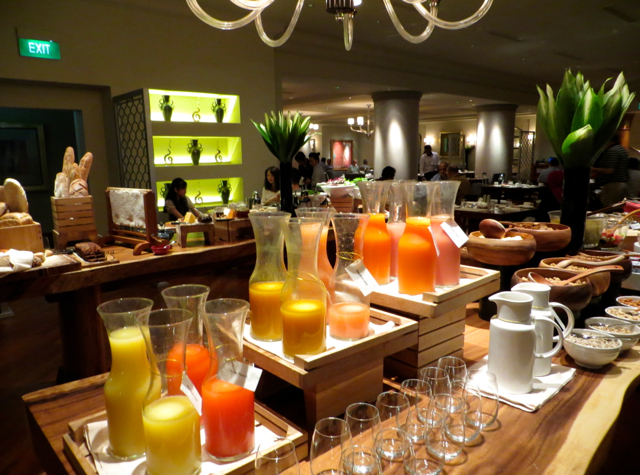 This One Ninety Singapore at the Four Seasons Singapore review is part of a trip report including Singapore Suites, Cathay Pacific First Class, Emirates First Class, Asiana First Class and luxury resorts and dining in Southeast Asia. For the previous posts, please see:
Singapore Suites A380 Review: New York JFK to Frankfurt
Review: Lufthansa Senator Lounge Frankfurt
Singapore Suites A380 Review: Frankfurt to Singapore
Singapore Airlines Private Room Lounge Review
Cathay Pacific First Class Review NYC JFK to Hong Kong
Singapore Suites A380 Review: Singapore to Hong Kong
Review: Grand Hyatt Hong Kong Club Harbour View Room
Tin Lung Heen Hong Kong Dim Sum Review
Review: Grand Club Lounge, Grand Hyatt Hong Kong
Emirates First Class A380 Review: Hong Kong to Bangkok
Review: Novotel Bangkok Suvarnabhumi Airport Hotel
Conrad Koh Samui Zest Restaurant Review, Menu and Prices
Koh Taen Snorkeling with Tours Koh Samui Review
Conrad Koh Samui Jahn Restaurant Review, Menu and Prices
Four Seasons Koh Samui Breakfast and Koh Thai Kitchen Review
Takho Bangpo (Bang Por Seafood) Koh Samui Review
W Koh Samui Breakfast and Kitchen Table Review
Singapore Gardens by the Bay Review
One Ninety at the Four Seasons Singapore
One Ninety is the Four Season Singapore's fine dining restaurant for steaks and seafood, and also offers a copious breakfast buffet in the morning, which is complimentary if you booked the Four Seasons Singapore with Preferred Partner benefits as a TravelSort Client.
Dinner at One Ninety
After a slightly harrowing trip between Koh Samui and Singapore, due to our delayed outbound Koh Samui flight and the resulting tight connection in Bangkok, we had basically missed lunch and were ravenous for an early dinner. One Ninety delivered the goods.
We didn't have a reservation, but fortunately that wasn't a problem as we were dining early and there were only a few other tables seated. The elegant but friendly hostess seated us, and our server provided us with menus: the regular dinner menu, a menu of Singaporean hawker food favorites, and a kids' menu for the munchkin.
Naturally, I was thrilled to see my favorite Singaporean dishes offered, as I hadn't come to Singapore to dine on steak and seafood, as expertly prepared as they likely are at One Ninety.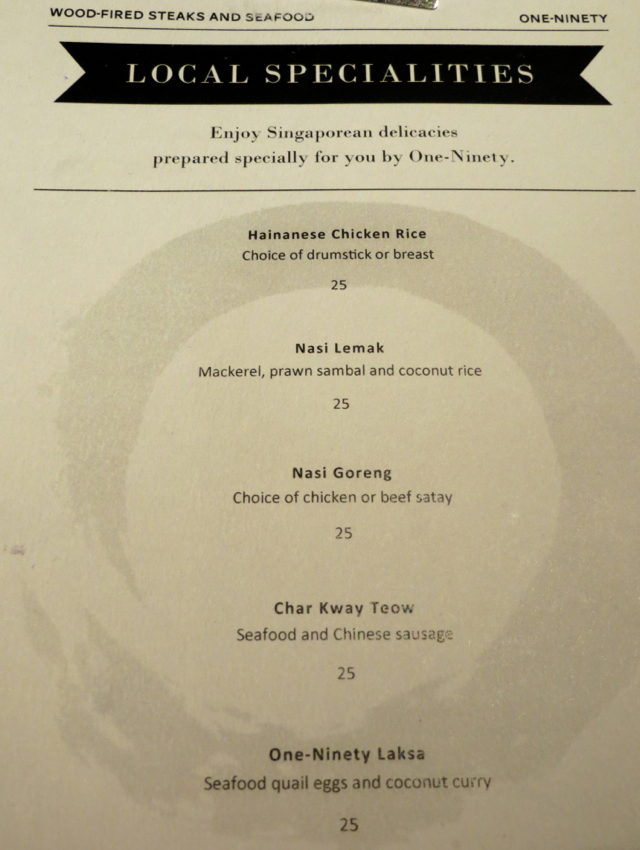 Meanwhile, my husband perused the regular menu: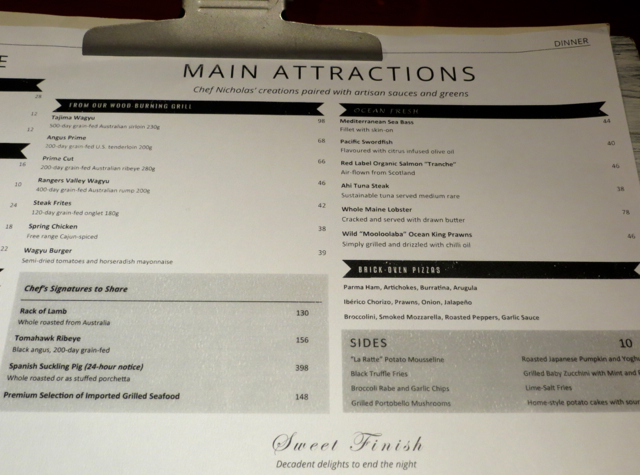 And the munchkin was delighted by the colorful kids' menu, immediately focusing on pizza as his option: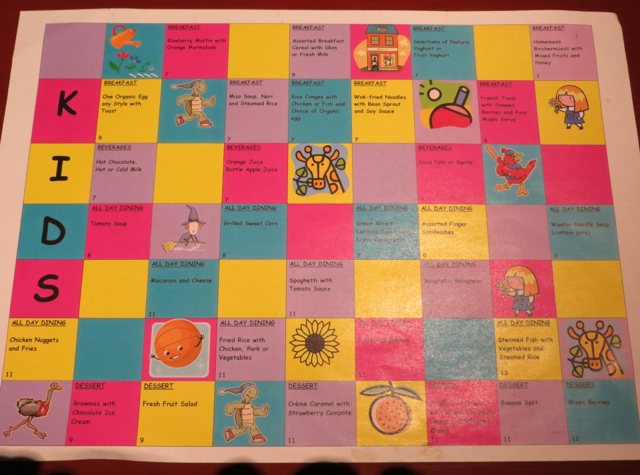 I was impressed with how quickly our orders arrived, especially the munchkin's pizza, which thankfully was first to come out. Here's the munchkin's excited anticipation at seeing it on the table: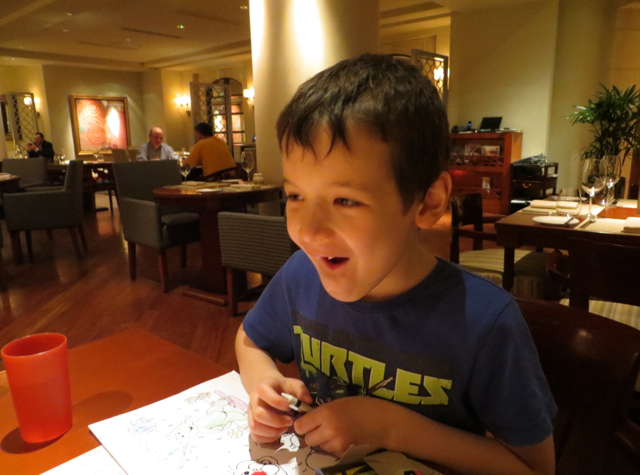 The pizza itself was easily the best pizza of our trip, and I wish we had such a place in our neighborhood in NYC that served pizza this delicious. I'm not even that much of a pizza fan, but this was excellent and very fresh tasting, with a nice balance of gooey cheese and crisp, blistered crust.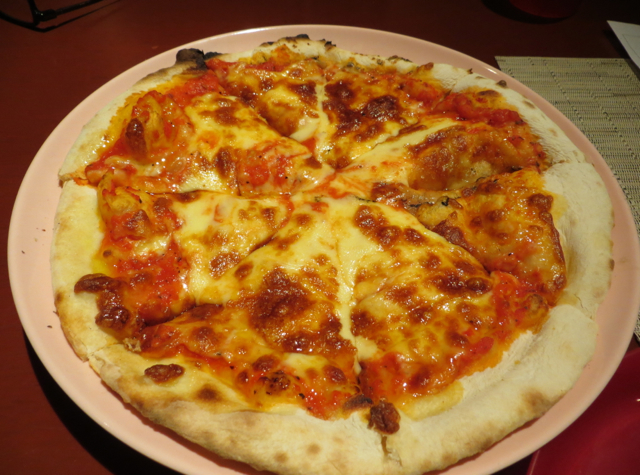 My Singaporean laksa was enormous and, spiked with accompanying sambal, some of the best I've had. I loved the quail eggs and meaty scallops that dressed it up. It really hit the spot and I definitely recommend it.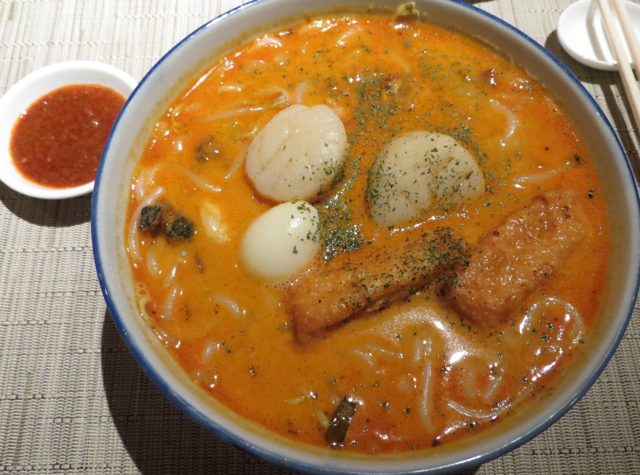 My husband, however, was craving Western comfort food in the form of the Wagyu Burger and fries, and as you'd expect for a steakhouse, it was superb quality, juicy, and cooked exactly to his specification of medium.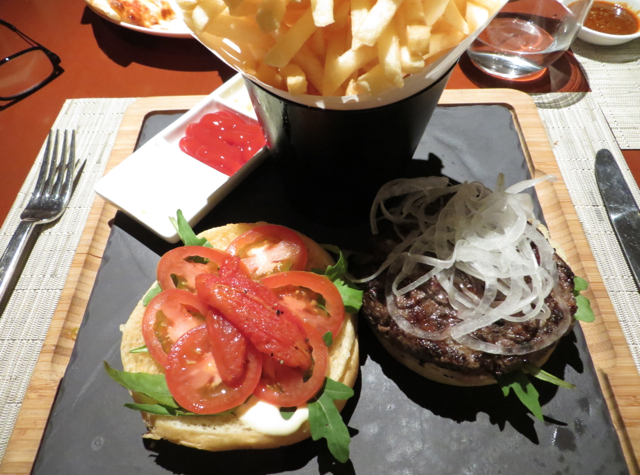 For a vegetable side dish, we chose the broccoli rabe with garlic chips. My husband and I loved it, but there was a bit of chili flecked throughout that we enjoyed but made it too spicy for the munchkin.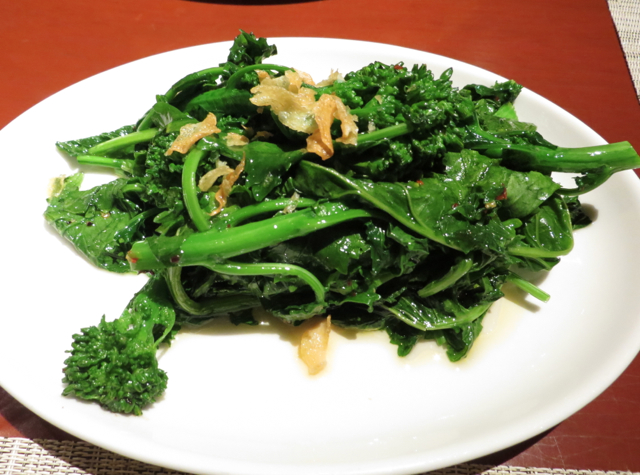 Breakfast Buffet at One Ninety
In the morning, we enjoyed the abundant breakfast options. Cold options included traditional favorites of smoked salmon and other smoked fish, assorted cheeses, fresh fruits, fruit juices, breads and pastries, and yogurts. Hot buffet items went well beyond the usual Western favorites such as pancakes, waffles, eggs and bacon to include Asian noodles, dumplings, soup, and Indian dishes.
These were my favorites:
1. Coconut Dosa
I was excited to see these coconut dosa with accompaniments on the buffet, as I rarely go to Indian places in NYC (many of which are surprisingly bad, at least in Manhattan). These were delicate, fragrant from the coconut, and the perfect foil to the spicy toppings I put on them.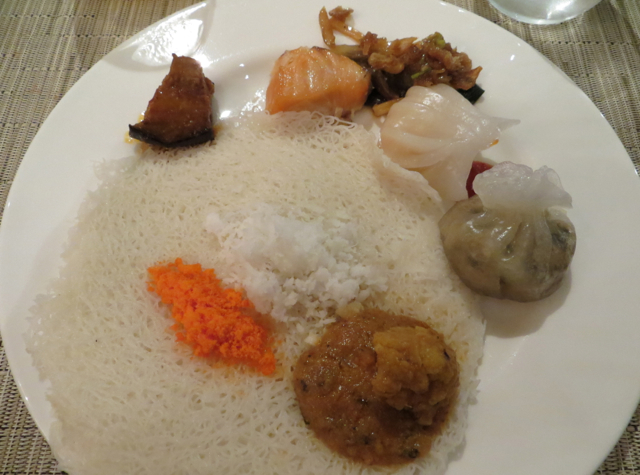 2. Dim Sum
One of the hallmarks of quality I look for in well made dim sum, beyond the tastiness of the filling, are thin skins. These dim sum had thin, transluscent wrappers and were better made than most dim sum I've eaten outside of Hong Kong.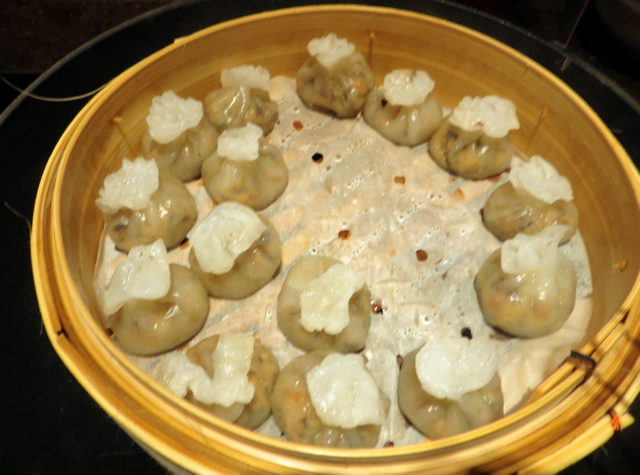 3. Yogurt Parfaits and Swiss Emmi Yogurt
While I do prefer French La Ferme du Manege yogurt, Swiss Emmi yogurt is a high quality alternative and I enjoyed both the plain yogurt and these yogurt parfaits.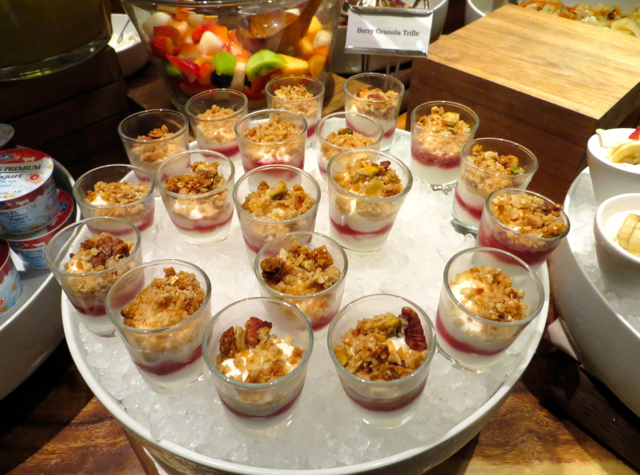 4. Guava Juice
Granted, the guava juice wasn't as good as the homemade guave juice I helped make in my childhood in Hawaii, but these days I'm ecstactic just to have guava juice as an option.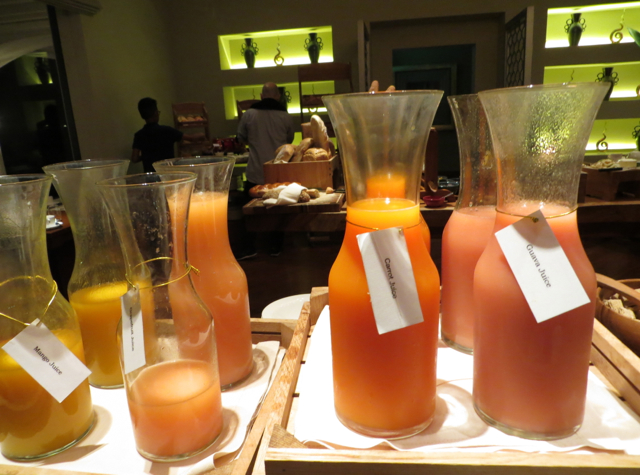 5. Cheeses
The cheese selection was excellent, and included a favorite in our family, Taleggio, with deliciously ripe figs, quince paste and other accompaniments alongside.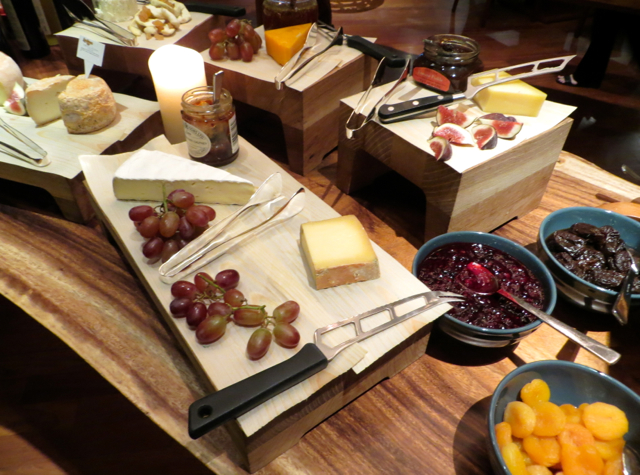 6. Noodles
Noodles are a great savory breakfast option, and there were several different kinds offered. I liked these ones, which were a bit like Char Kway Teow, although not quite as rich and heavy (a good thing, since I had already sampled so much).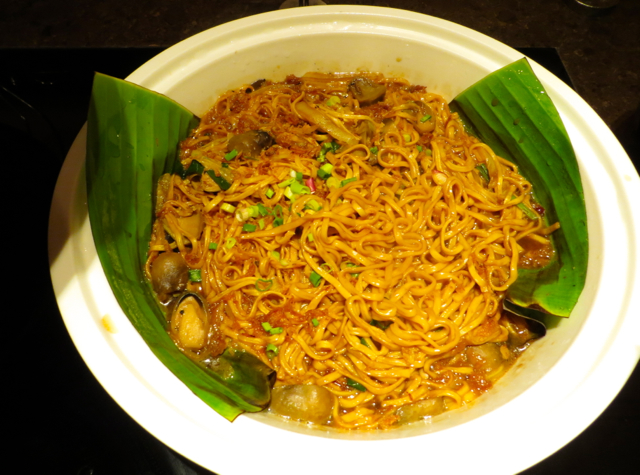 I was so full from the above dishes that I didn't even try the pastries on offer, a rare occurrence given my sweet tooth.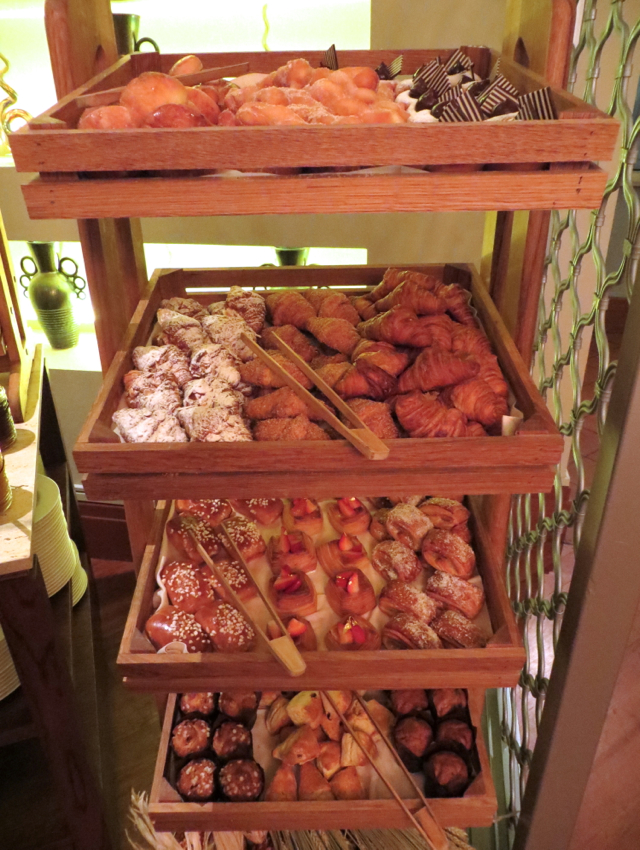 The Verdict: One Ninety at the Four Seasons Singapore offers some delicious Singaporean favorites, even for dinner, off its special Singaporean menu, which I highly recommend. Western dishes were excellent as well, especially the kids' pizza. The breakfast buffet at first glance seemed a bit less extensive than a couple of other Asian breakfast buffets I've experienced, but made up for it in terms of quality. Service was attentive both at dinner and breakfast.
Related Posts
Singapore Suites A380 Review: Frankfurt to Singapore
Singapore Suites A380 Review: Singapore to Hong Kong
Need Award Booking Help? Our fee is as low as $75 per ticket if you book your hotel through us.
If you enjoyed this, join 100,000+ readers: please follow TravelSort on Twitter or like us on Facebook to be alerted to new posts.
Become a TravelSort Client and Book 5-Star Hotels with Virtuoso or Four Seasons Preferred Partner Amenities!