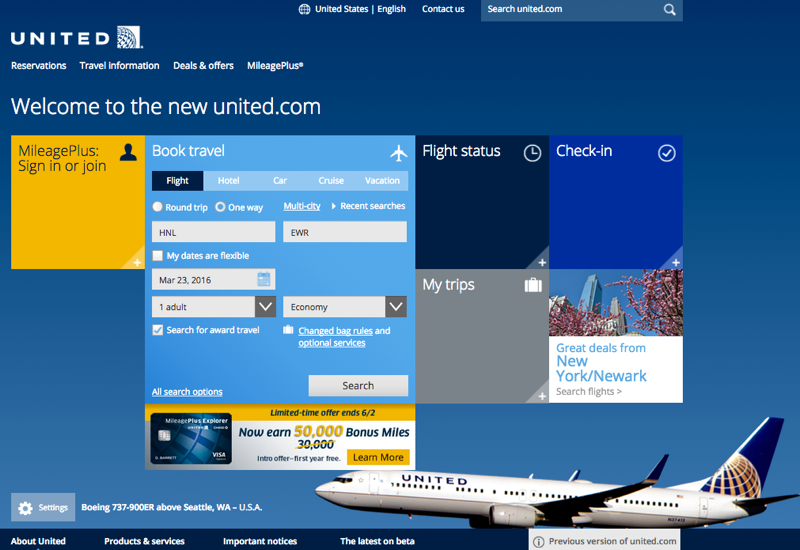 The new United site, beta.United.com, will go live this summer, per Dan and I'm not looking forward to this Delta-like site that is sleeker but less functional. That's because it's missing the award search functionality I use most–there's no more nonstop only flight award search.
Currently, on the admittedly dated looking United.com site, you can check the box "Nonstop flights only" and the award calendar will only show dates that offer nonstop flights. You can easily see which dates offer saver awards:
Blue dates = First / Business saver award space
Green dates = First / Business and Economy saver award space
Yellow dates = Economy saver award space
This is handy when you're searching for a specific flight that is the only nonstop between two cities, or when you're piecing together an award segment by segment that wouldn't be shown if you just enter the origin and destination cities.
For example, if I search for the popular NYC EWR to Honolulu HNL nonstop flight, one of the few ways to fly
United flat bed seats to Hawaii
, I'm able to quickly pinpoint which dates have saver award space in United first class for 40,000 miles each way: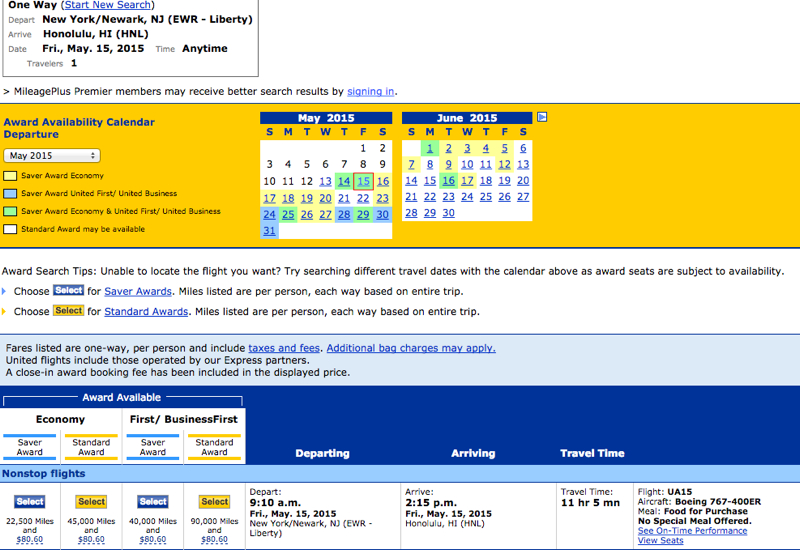 On the new United.com, even though you can check the box "Nonstop" it doesn't restrict the award search to nonstop only flights; it shows a different looking calendar that seems to indicate that May 22 offers saver award space for First / Business Class: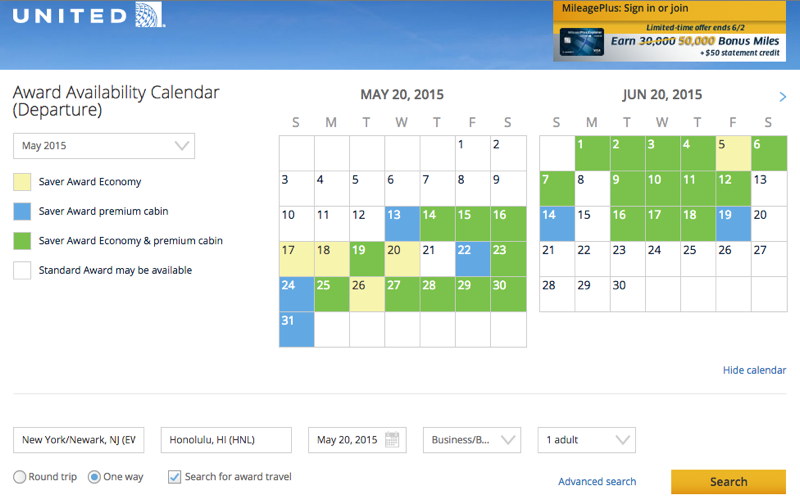 But in fact only standard award space for 90,000 miles each way is available on the nonstop EWR-HNL flight: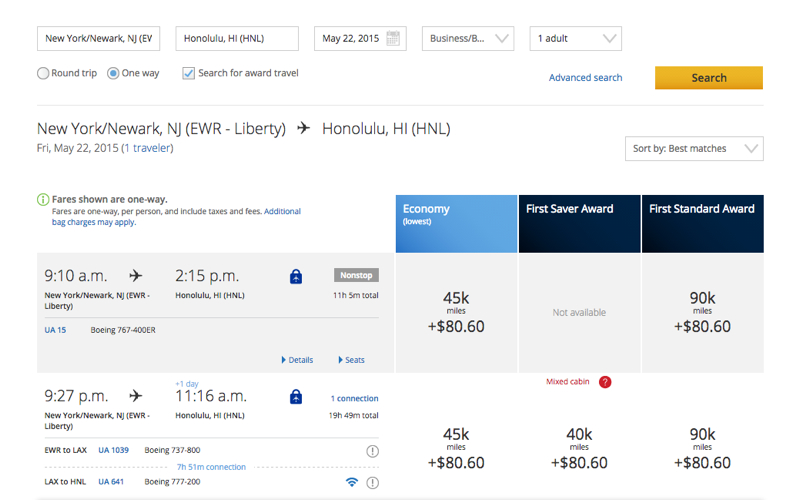 Not good. You instead need to check individual dates, having completely lost the ability to see at a glance dates that have saver award space for the particular nonstop flight you're searching for.
Which is perhaps the point–United doesn't want to make it easy for you to see and book the best award deals. Or to see just how little saver award space there is for some of the best award redemptions. Let's go back to United first class, except this time look at saver award availability on that coveted United first class nonstop between Honolulu HNL to NYC EWR. This is a red eye flight, so one that you'd really want to fly in first class flat bed seats. Except that lo and behold, there aren't ANY dates with award availability, even if you're looking at March-April 2016: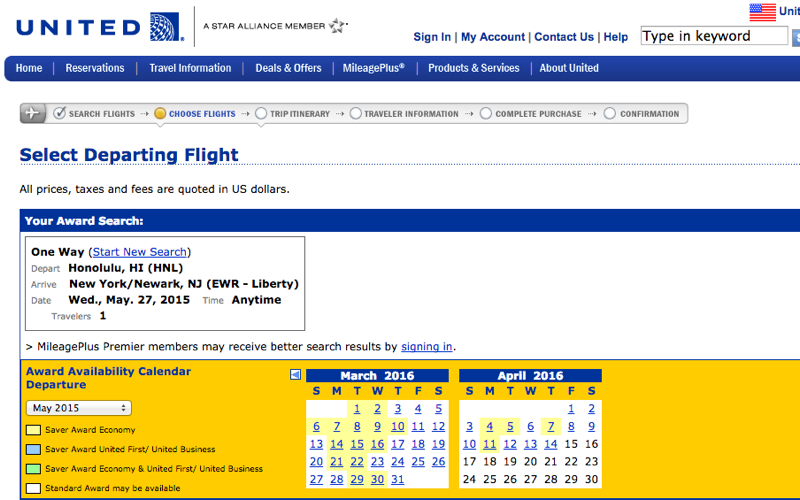 On the new United.com beta site, meanwhile, it appears that there are a number of days with saver award space–however, these are NOT on that HNL-EWR nonstop; they're on flights with connections, which have regular United domestic business-first recliner seats, and not flat bed seats: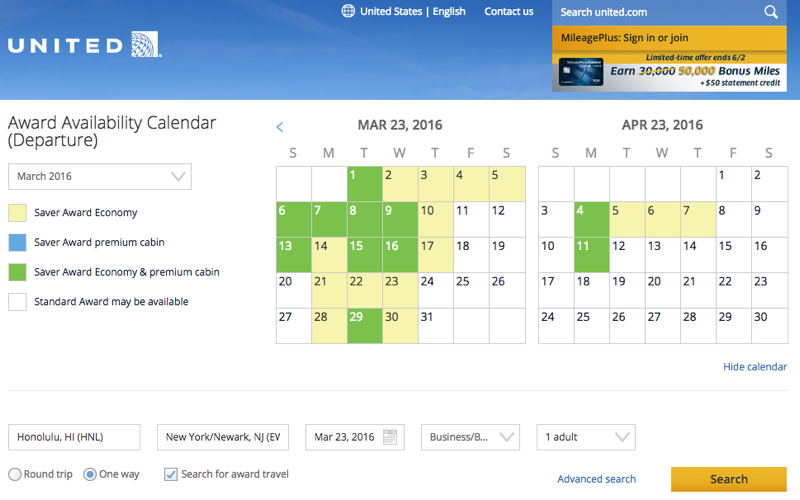 A few other bugs that Flyertalkers have noticed:
Not all flight options are shown; for example RobOnLI noted that he had to use the current United site to book a multi-city ticket, because the United Beta site didn't show all the return options for his itinerary. encampbe also noticed that his preferred options were not shown for his searches.
Problems booking an upgradable fare: RobOnLI found that only the current United site was able to find an upgradable economy fare class for part of his itinerary; the new United beta site was not able to find a fare class eligble for an upgrade.
Returning to a previous search defaults to economy and includes all flights, not just nonstop, even if the original search was for a nonstop business class award
The default for paid flight search results after you edit them is always the "Best Match," even if you specified a different ordering preference for your original search (tomsundstrom)
What do you think of the new United site?
Related Posts