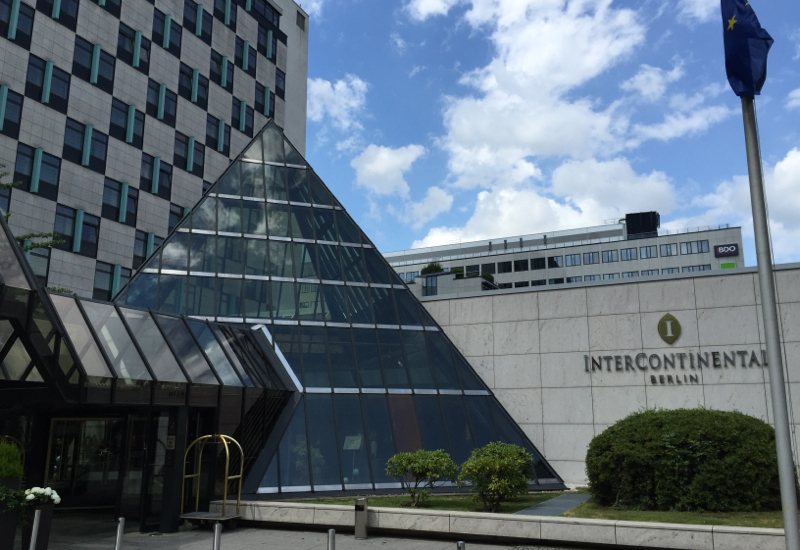 This Review of the InterContinental Berlin follows a fantastic trip to Italy, including stays at the Monastero Santa Rosa on the Amalfi Coast, Castello Banfi Il Borgo in Tuscany, and the Portrait Firenze Hotel in Florence. I had to get back to work in NYC, so I flew back earlier than my wife and son, with an overnight in Berlin.
Hotel Location and Check-In
The InterContinental Berlin is located at Budapester St 2 in central Berlin, close to the Tiergarten, and about a 25 minute drive from Berlin's Tegel Airport (TXL) or 40 minutes by public transport. There was no line at reception, and the friendly associate quickly checked me in. I had less than a day in Berlin, so I immediately headed over to the concierge to ask about any nearby cheap but fun lunch options. He suggested that I make the 5-minute walk over to the Cafe am Neuen See in the Tiergarten, which I later did. The concierge was also able to re-supply me with a few misplaced personal necessities, such as toothpaste, but also hook me up with some new reading glasses. I was very grateful to be able to see again.
The lobby, like the rest of the hotel, has a very wide open, sleek, and contemporary feel. The hotel has 558 rooms and feels very expansive, without feeling overwhelming or too busy.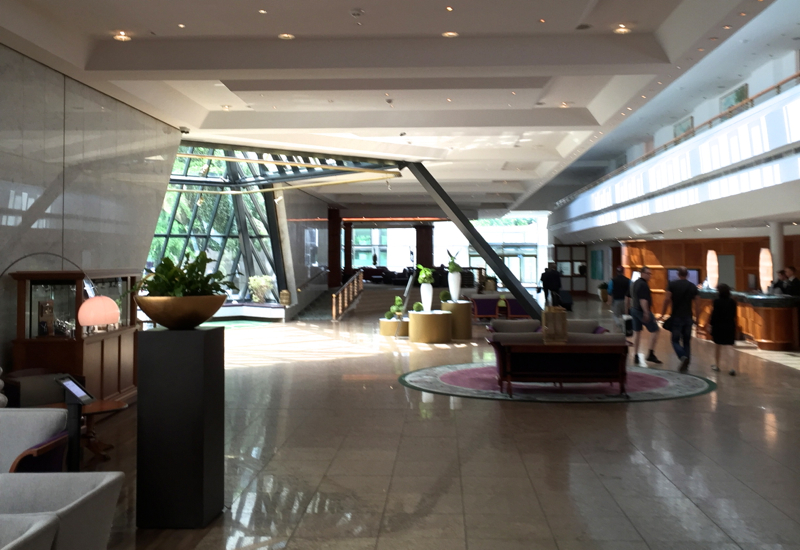 Superior Room
Superior Rooms are 322 square feet (30 square meters), so smaller than the entry level Classic Rooms at
Rocco Forte's Hotel de Rome
. The room was not opulent by any means, or as stylish as at Hotel de Rome, but was quite serviceable for a business traveller or overnight guest.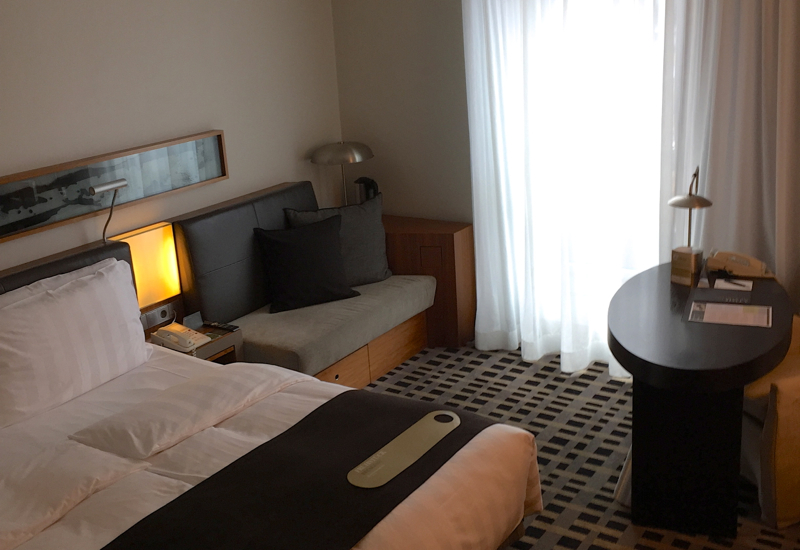 The room was equipped with a Bosch Tassimo coffee maker which would come in handy: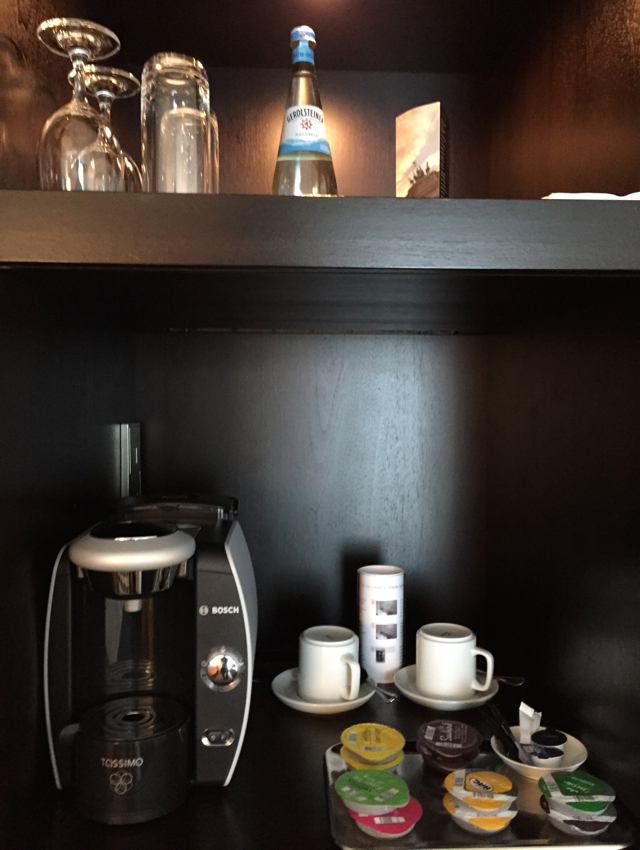 The bed was covered with two twin-size duvets instead of one large one, which I suppose would have been nice for two fidgety sleepers, but since it was just me I was slightly annoyed. I found that the mattress was too firm for my liking, but others might not mind. The AC was rather audible, but I was able to easily tune it out when I went to sleep.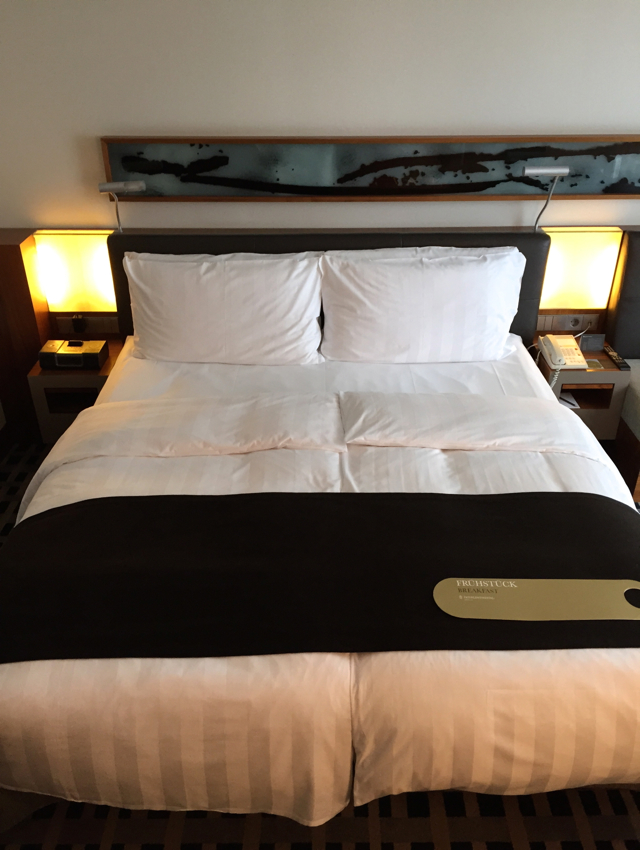 The bathroom was rather small and had a single sink, which was fine for me as a solo traveller, but would have been cramped had I been traveling with family.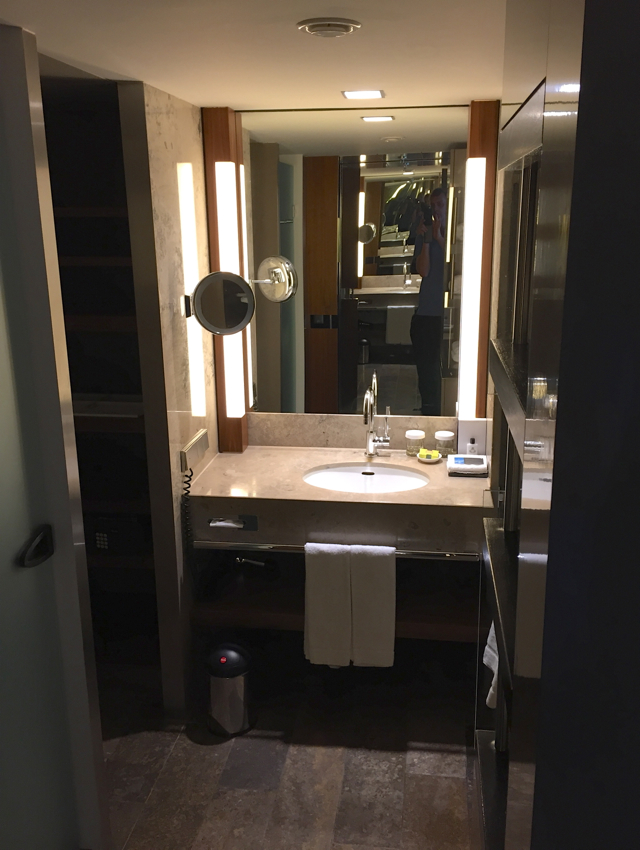 Similarly, while I didn't care much about the bathtub-shower combo, my wife would have remarked that this was one of the several indicators that this is not a luxury hotel, where there's usually a stand-alone bathtub and a separate glass enclosed shower and the shower usually has a rain shower option.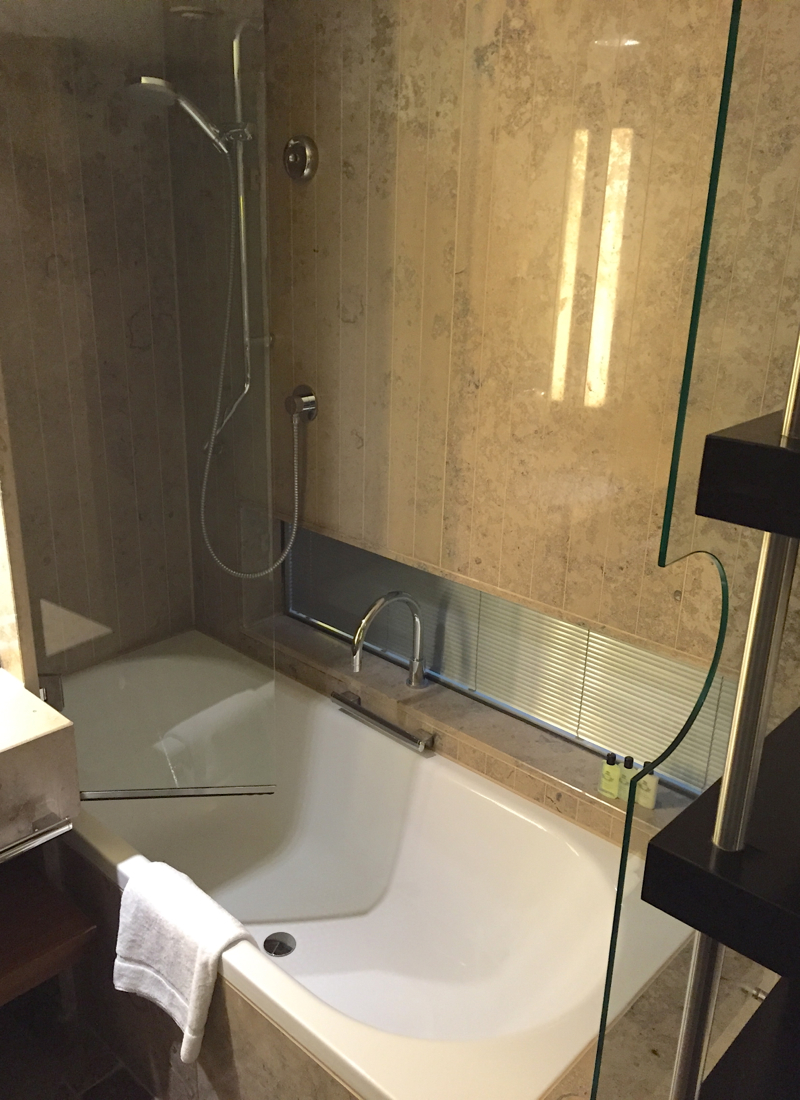 Bath products were by Agraria and had a lemon verbena scent: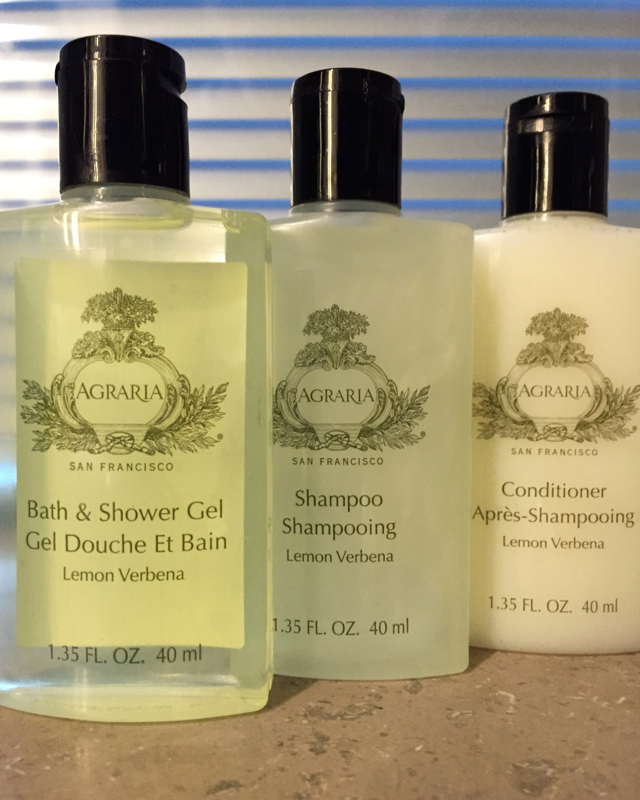 Swimming Pool
The swimming pool was large, luxurious, and empty, and featured a separate whirlpool with bracing water jets for a relaxing massage. Likewise, the fitness center was vast and empty most of the time I was in the hotel. The spa was also quite large, and included a massage area as well as this juice bar, replete with herbal teas to soothe a weary traveller.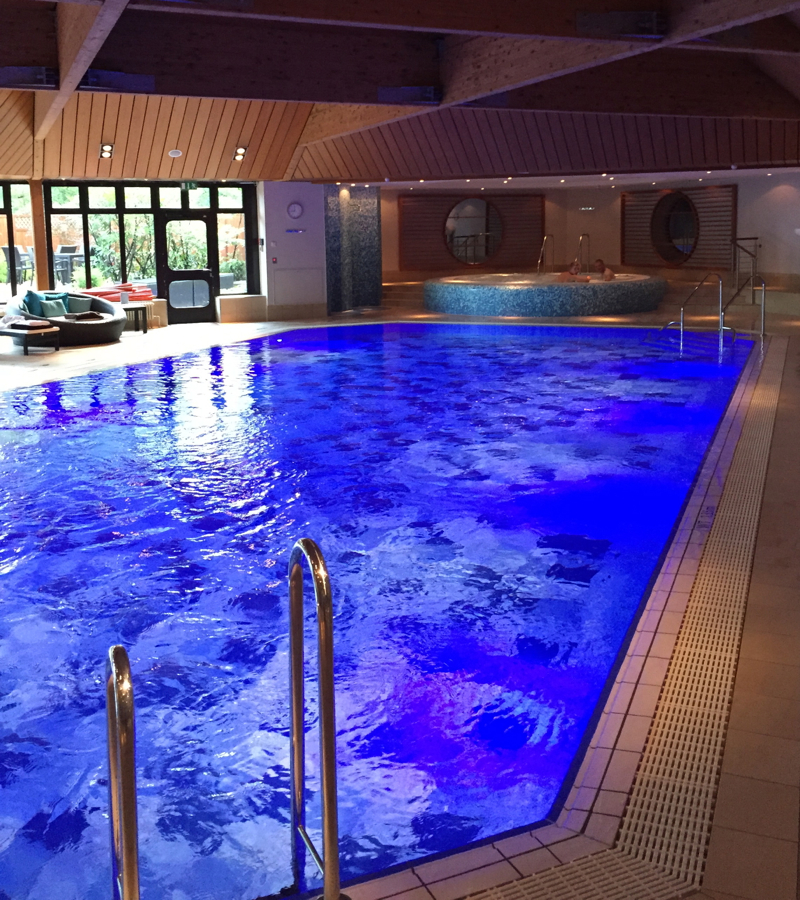 Tiergarten and Biergarten
As the concierge had recommended, I ventured out to the large public gardens of the Tiergarten, and quickly found Cafe am Neuen See, a lovely outdoor biergarten adjacent to a large lake. The area also included a rent-by-the-hour rowboat facility, so after I polished off some delicious wiesswurst and beers, I found myself rowing across a beautiful blue lake beneath a cloudless sky.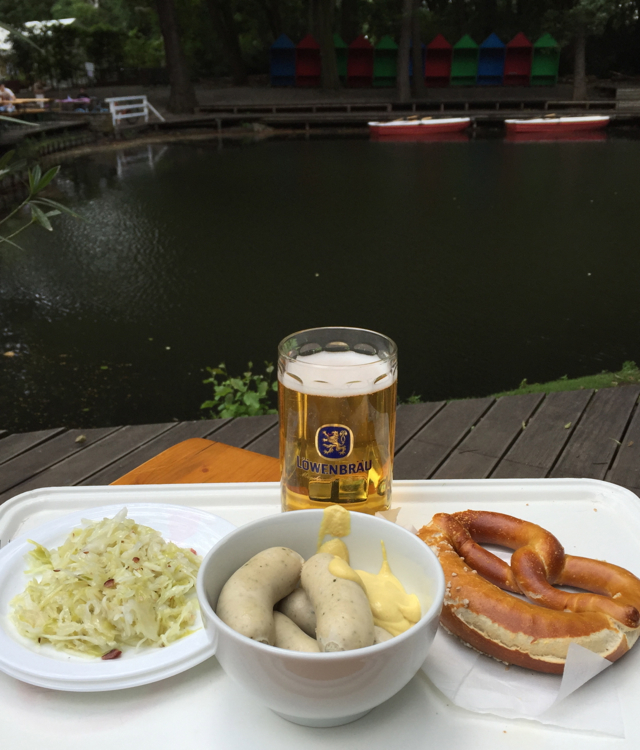 I later wandered around the gardens for awhile, and by accident came across the famous Victory Column, the celebratory Prussian War monument, which really was impressive.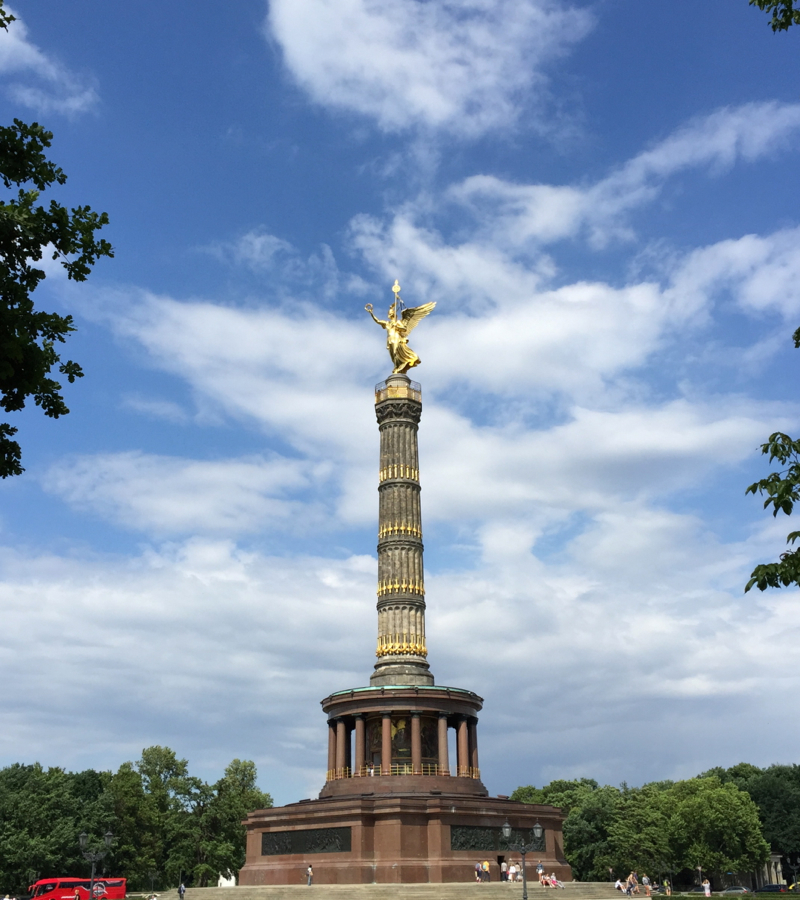 Breakfast in the L.A. Cafe
All the guests in the hotel seemed to descend on the breakfast area at the same time (around 8am). Even though the breakfast area is huge and the seating there must accommodate hundreds, still more than half of the tables were filled. This was in stark contrast to our early breakfast at La Banca at the Hotel de Rome, where we were the only guests during our breakfast and had the staff's undivided attention, not to mention a lavish high quality buffet spread all to ourselves. But I quickly understood why so many people were there: for breakfast the hotel serves just about every type of cuisine imaginable, including various Asian stations, American options, and a variety of European and Middle Eastern fare.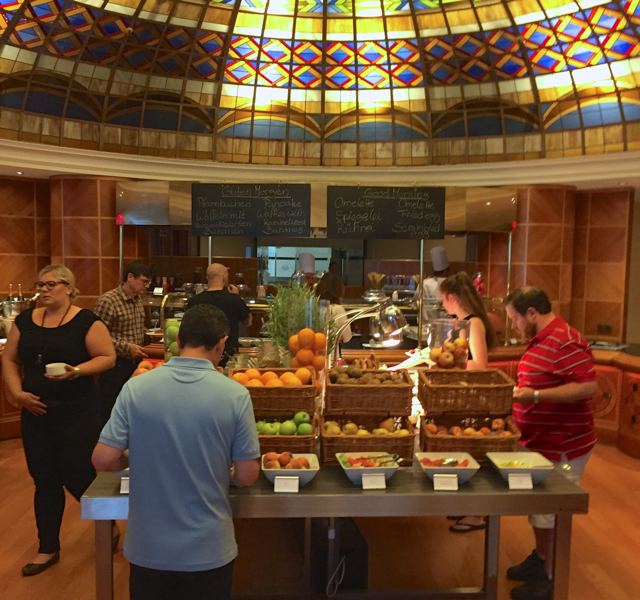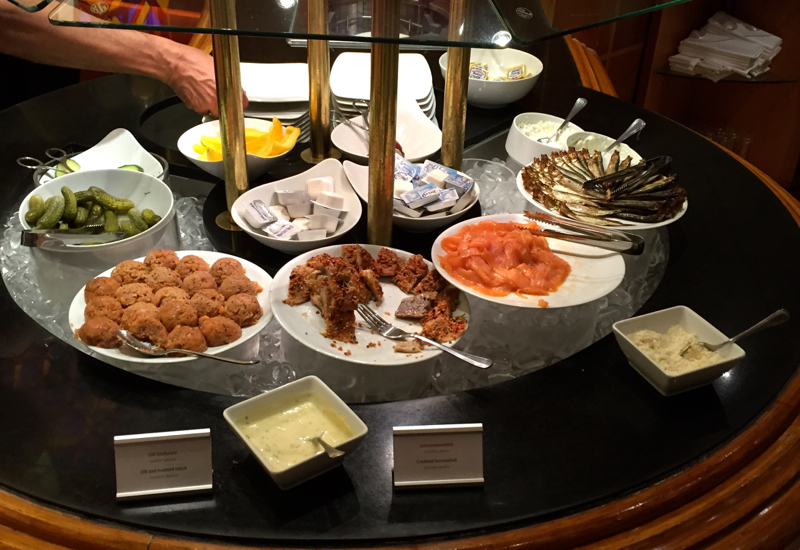 There was something for everyone who might be passing through Berlin, and the food quality was good, but not outstanding. My only complaint was that, likely as a result of the crowds and the fact that the servers were struggling to keep up, I was never served the cappuccino I had ordered.
The Verdict
While I would not recommend an extended vacation stay at the InterContinental Berlin, I found that the hotel was perfect for a business traveller or transient guest: very conveniently located, accommodating and restful.
Related Posts
Disclosure: My wife booked a wholesale rate for me at the InterContinental Berlin Hotel. The views expressed in this post are mine.
Need Award Booking Help? Our fee is as low as $75 per ticket if you book your hotel through us.
If you enjoyed this, join 200,000+ readers: please follow TravelSort on Twitter or like us on Facebook to be alerted to new posts.
Become a TravelSort Client and Book 5-star hotels with Virtuoso Perks and Preferred Partner Benefits!