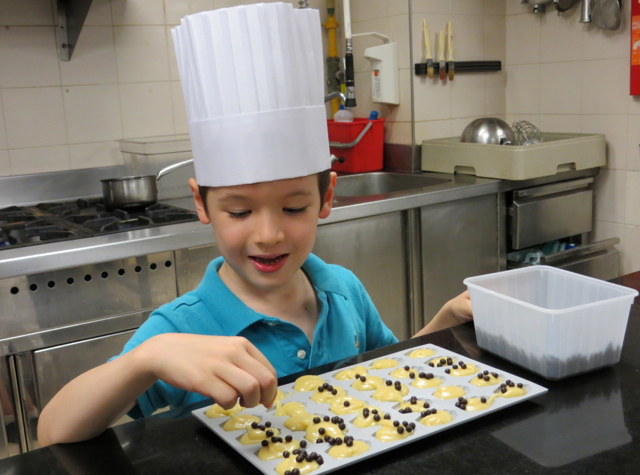 This Four Seasons Paris Kids Pastry Lesson and Back of House Tour post is part of a UK and France trip report including flights in British Airways in New First Class, Singapore Business Class and Singapore Suites, stays in a Scottish castle and 5-star hotels in London and Paris, and Michelin Star Dining in Paris. For the prior posts, please see:
British Airways Galleries Lounge in Newark and First Class Dining Review
British Airways New First Class 777 Review
British Airways Galleries Arrivals Lounge London and Concorde Room
Singapore Business Class Review NYC (JFK) to Frankfurt
Petrus London Restaurant Review
Dalhousie Castle Hotel Review, Scotland
Dalhousie Castle Falconry Review, Scotland
Epicure at Le Bristol Paris Restaurant Review
Four Seasons Paris Hotel Review
Paris Plages (Paris Beaches) Review
Le Cinq at Four Seasons Paris Restaurant Review
Park Hyatt Paris-Vendome Review
Park Hyatt Paris Breakfast Buffet Review
Prince de Galles Paris Hotel Review
La Grande Eperviere Barcelonnette Hotel Review
Things to Do in Barcelonnette, France with Kids
InterContinental Marseille Hotel Review
Vinoneo Bistro Marseille Restaurant Review
Westin Grand Frankfurt Hotel Review
La Maison Stella Cadente Review (Provins, France)
Provins France Fete de la Moisson (Harvest Festival)
Hotel Fouquet's Barriere Paris Hotel Review
La Regalade Conservatoire Paris Restaurant Review
The Four Seasons Paris is a fantastic place to stay with kids. Don't get me wrong, its elegance, abundance of fresh flowers and superb service also make it the perfect base for couples and honeymooners as well. But in addition to great concierge tips for where to go with kids (thanks to the Four Seasons Paris concierge team we visited Provins for the Fete de la Moisson and loved it), there were plenty of things for kids to do in the Four Seasons George V itself, including a fun (and delicious) pastry lesson and a back of house tour exploring hidden doors and passage ways.
If you've booked the Four Seasons Paris with TravelSort (see How to Become a Client) we'll be happy to arrange a pastry lesson for your child(ren) in advance, as it's a popular activity and may not be available if you wait until check-in.
We entered into the Four Seasons kitchen through a door near the entrance to Le Cinq, where we had enjoyed a sumptuous lunch, and got a glimpse of the busy kitchen on our way to the pastry kitchen. First up were all the room service tables being prepared: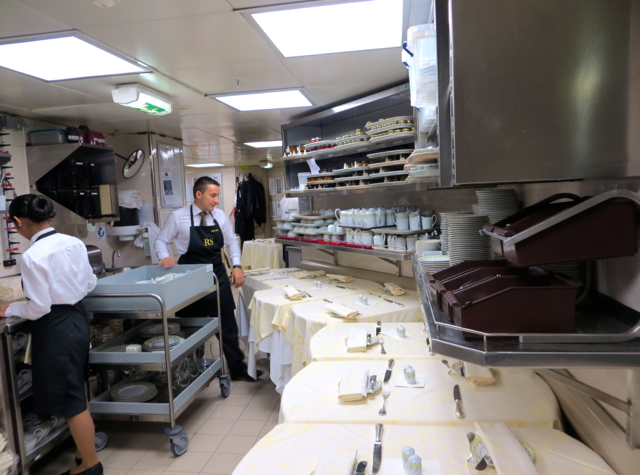 Then the busy Four Seasons Paris kitchen itself: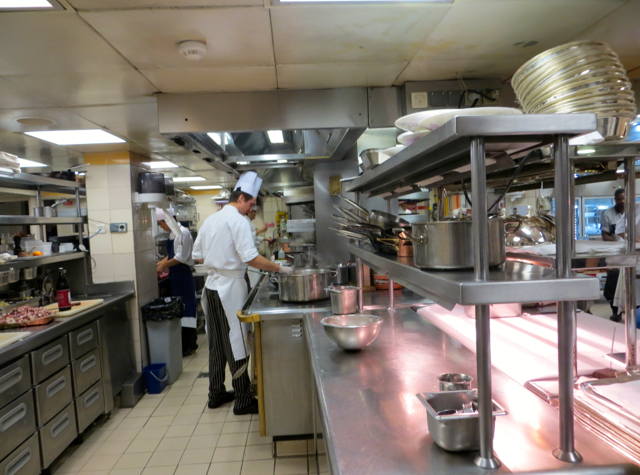 And finally, we came to the dedicated pastry kitchen, where we were greeted by our beaming pastry chef, ready to help the munchkin pipe madeleine dough into mini madeleine molds: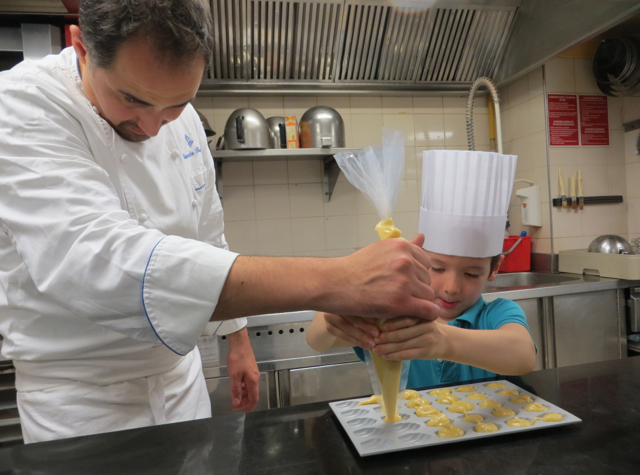 The next part was even more fun: adorning each mini madeleine with Valrhona chocolate pearls: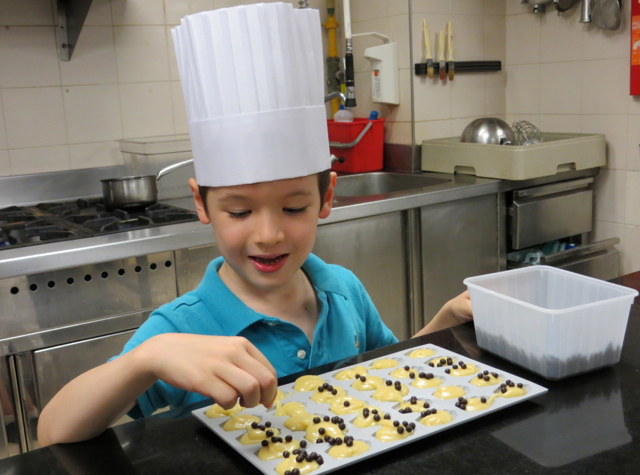 Then, while the madeleines were baking, we got a peek inside…the Chocolate Room! Don't you wish you had one of these in your house? The most magnificent of the creations was a chocolate Eiffel Tower, with macarons: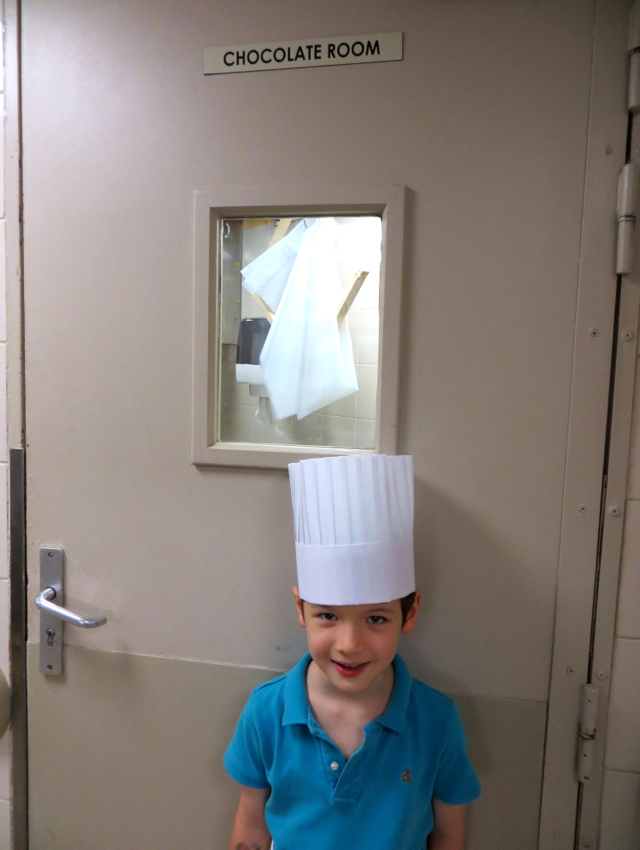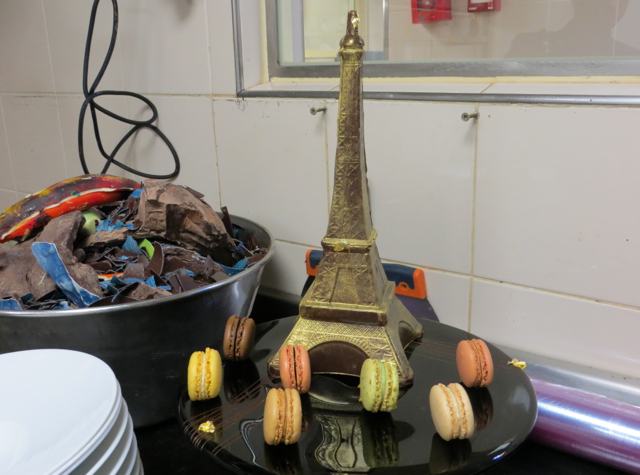 We also went inside the Cooler, where some delectable mignardises (mini pastries) were waiting. We'd missed these at Le Cinq, due to the munchkin getting antsy, so now we got a chance to try them after all. We limited ourselves to one each, and both chose the strawberry treat–sublime.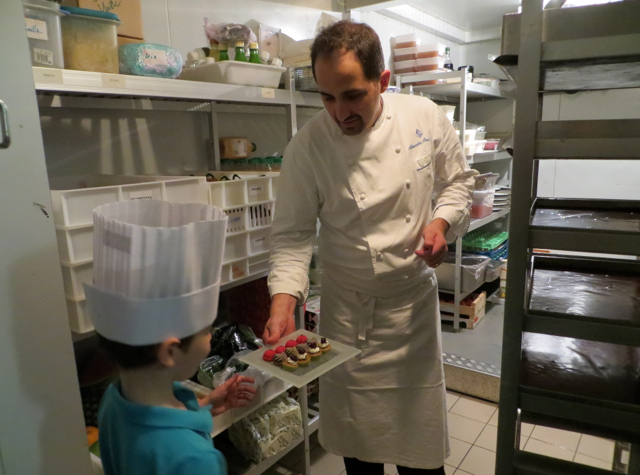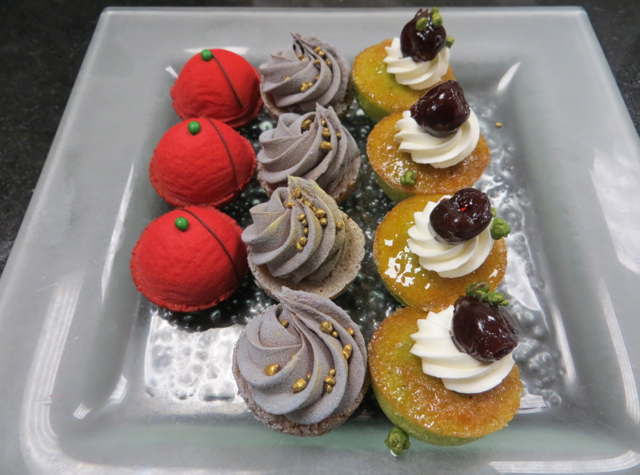 It really was something like Willy Wonka's chocolate factory, because we were even asked if we'd like to try some housemade sorbet…yes please! We sampled a vibrant strawberry sorbet and intense peach sorbet, both of them tasting like the very essence of these fruits, concentrated to perfection.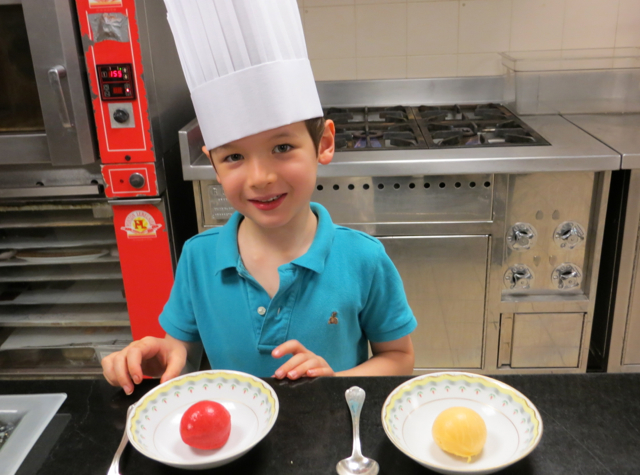 We then got to take freshly baked madeleines back up to our room–there's almost nothing better than freshly baked, buttery madeleines. Here's the hotel's recipe, sized down for home kitchens:
Madeleine Cakes, from Four Seasons Hotel George V, Paris
Makes: up to 30 mini madeleines
Ingredients:
2 extra-large eggs
1/3 cup (75 ml) granulated sugar
2 tbsp (30 ml) honey
3 tbsp (45 ml) milk
½ cup (125 ml) butter, melted and still hot
1 cup (250 ml) sifted flour
1 tsp (5 ml) baking powder
Zest of ½ lemon
Zest of 1 orange
Method:
1. Preheat oven to 350°F (180°C).
2. In a bowl, mix the eggs, sugar, honey and milk.
3. Beating constantly, gradually add flour and baking powder. Add the melted butter and zest.
4. Using a pastry bag, pipe the batter into a generously greased Madeleine pan molds. Bake 8 to 10 minutes, or until the cakes are golden.
5. Once done, remove Madeleines from the pan and cool on a wire rack.
Kids' Back of House Tour of Four Seasons George V, Paris
We ran out of time during our intial stay at the hotel to do the back of house tour, but were lucky enough to take it when we were back in Paris. As it's specifically for kids, it focuses on finding hidden doors all over the hotel–a fun way for them to test their detective skills.
While we were waiting for our back of house tour to start, we admired (and smelled) the beautiful flowers–little did we know that, later in the tour, the munchkin would be given his very own floral souvenir!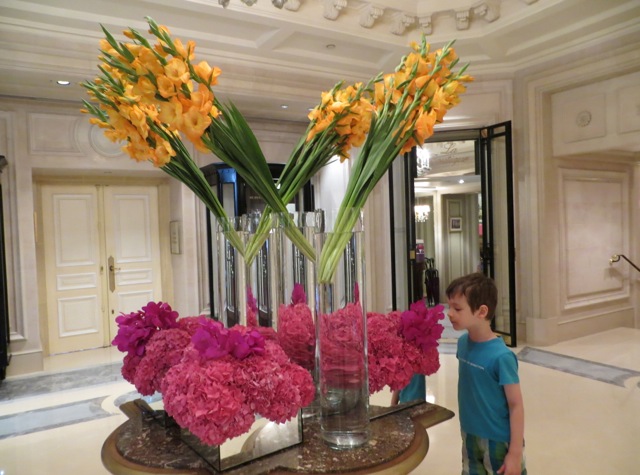 One of the first hidden doors we discovered on the tour led to a special elevator for guests in wheelchairs. There are no ramps from the lobby level down a few stairs to where the elevators on the left side of the hotel are, so there's a special lift to accomodate wheelchairs: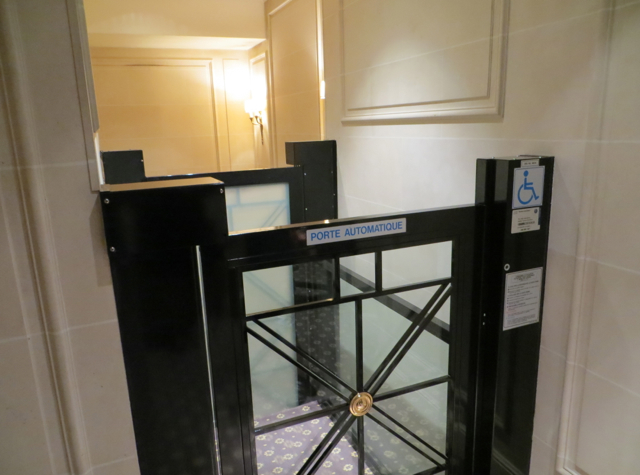 Some of the fire doors are secreted away via sliding wall panels: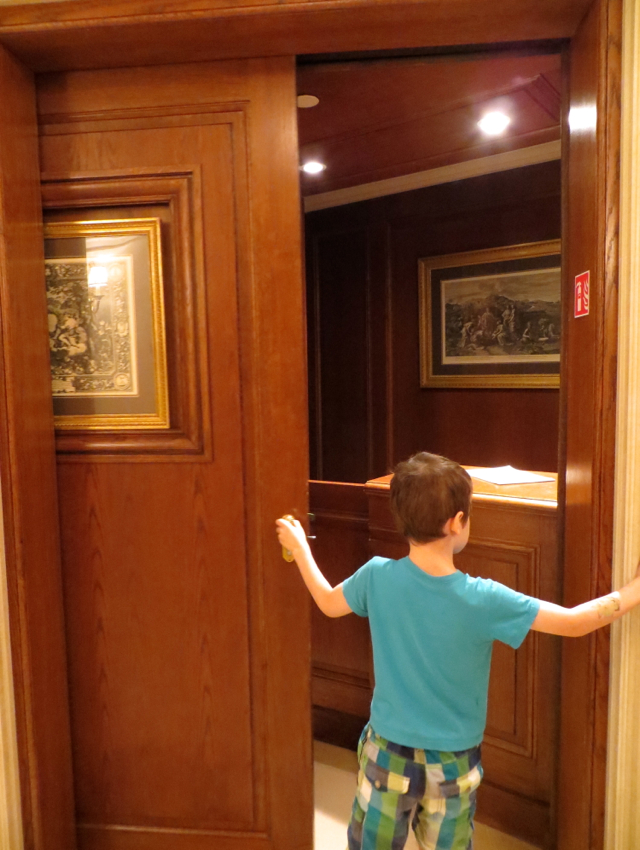 One of the best hidden doors was in the Salon Anglais, where cleverly designed bookcases hid a storeroom. When the hotel was first built, there was actually a secret passageway here to the outside, so that royalty and celebrity guests could appear in this room, then be spirited away without entering or exiting through the hotel's main doors. Clever!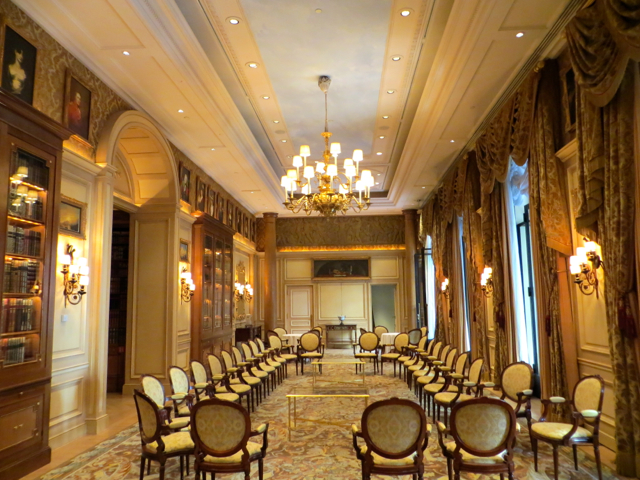 In the Business Center, the padded, designed walls manage to camouflage a hidden door, now used for fire extinguishing equipment. Can you spot it in the photo? I'll add the video later to show where it is.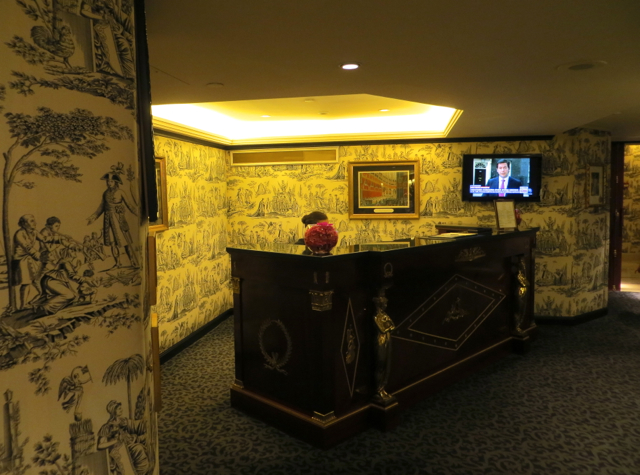 We also got to see Jeff Leatham's floral studio, which is surprisingly compact given the many arrangements and bouquets he and his team design daily. The munchkin even received his very own beautiful white rose and hydrangea bouquet!
Have you or your kids enjoyed the Four Seasons Paris pastry lesson and back of house tour?
Related Posts
Four Seasons Paris Hotel Review
Le Cinq at Four Seasons Paris Restaurant Review
Park Hyatt Maldives Back of House Tour
Need Award Booking Help? Our fee is as low as $75 per ticket if you book your hotel through us.
If you enjoyed this, join 100,000+ readers: please follow TravelSort on Twitter or like us on Facebook to be alerted to new posts.
Become a TravelSort Client and Book 5-Star Hotels with Virtuoso or Four Seasons Preferred Partner Amenities!