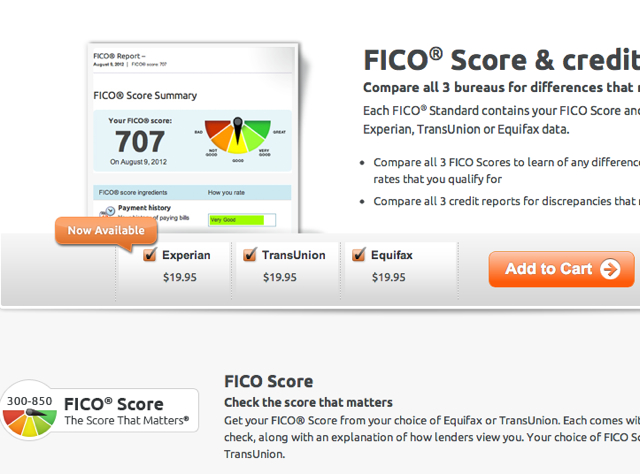 Experian FICO scores are finally available, via myFICO.com. It's not cheap, currently $15.95 (normally $19.95), but it's great to finally have an option to get the actual Experian FICO score, instead of the FAKO score that Experian, CreditKarma, and other places sell.

As I mentioned in Credit Score: FICO or FAKO and FAQ there really isn't any defined relationship between the myriad FAKO credit scores out there and the actual FICO scores that banks and lenders actually base their lending and credit decisions on. That's why it's important to know the actual FICO scores, in addition to your credit report, and not bother with any of the FAKO credit scores out there.
When applying for Chase credit cards, you'll often have your Experian credit score pulled, and since so many of the great travel rewards credit cards are Chase cards, for example, this week's 60,000 Bonus for the Ink Bold and Ink Plus, it's good to keep an eye on your Experian FICO score in particular.
Other ways to get your Experian FICO score? If you live in Pennsylvania and are a member of the PSECU Credit Union you can see your Experian FICO score for free. You may also be able to get your Experian FICO if you apply for certain credit cards, for example, the Starwood Preferred Guest American Express card, which will typically provide your Experian FICO whether you are approved or rejected for the card.
Have you gotten your Experian FICO recently, or have other tips for getting it?
Related Posts
Understand How Your Credit Score Works to Maximize Credit Card Rewards
How Many Credit Inquiries or Hard Pulls is Too Many?
Credit Card Denied? Call These Reconsideration Phone Numbers
Need Award Booking Help? Our fee is as low as $75 per ticket if you book your hotel through us.
If you enjoyed this, join 90,000+ readers: please follow TravelSort on Twitter or like us on Facebook to be alerted to new posts.
Become a TravelSort Client and Book Your Hotel with Virtuoso or Four Seasons Preferred VIP Amenities!
HT: Dan