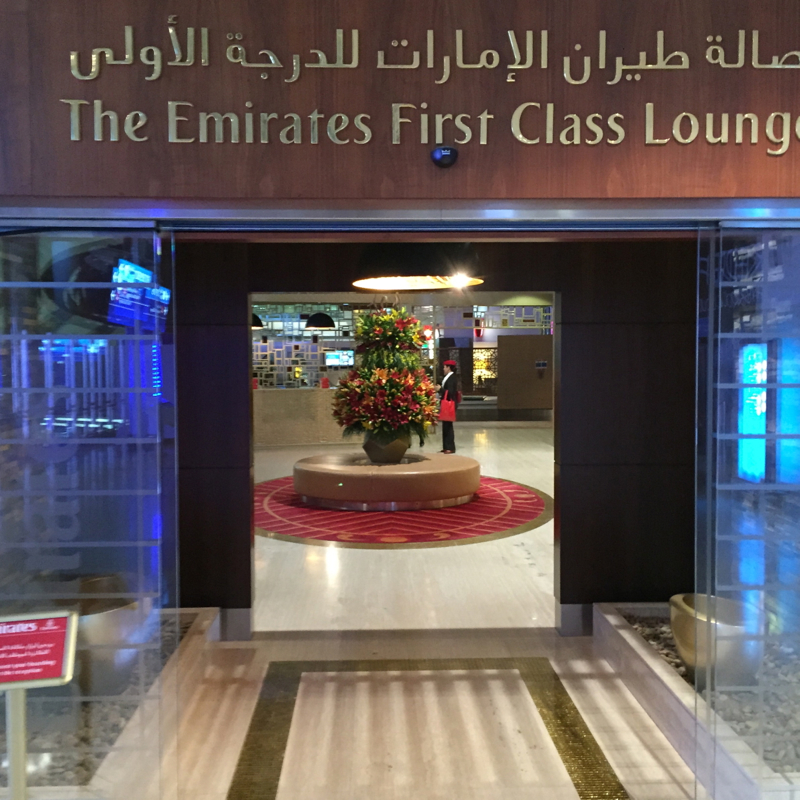 This Emirates First Class Lounge in Dubai Review is part of a trip report including Emirates A380 First Class, luxury resorts in the Maldives, such as Four Seasons Landaa Giraavaru and Soneva Fushi, as well as Etihad First Class and JAL First Class.
For the prior posts, please see:
Review of Etihad's Lounge at Washington Dulles Airport (IAD)
Etihad First Class 787-9 Dreamliner Review
Review: Wingtips Lounge JFK for Etihad First Class Passengers
Review: Etihad First Class 777-300ER NYC to Abu Dhabi
Review: Etihad Business Class Lounge Abu Dhabi AUH Terminal 1
Four Seasons Maldives at Landaa Giraavaru Review
Four Seasons Maldives at Landaa Giraavaru Restaurant Reviews and Menus
Four Seasons Maldives at Landaa Giraavaru Activities: Top 10 Things to Do
Interview with Armando Kraenzlin, General Manager of Four Seasons Maldives at Landaa Giraavaru
Review: Four Seasons Maldives at Kuda Huraa
Surfing in the Maldives at Four Seasons Kuda Huraa
Review: Four Seasons Maldives at Kuda Huraa Sunset Water Bungalow
Four Seasons Maldives at Kuda Huraa Restaurant Reviews and Menus
Four Seasons Maldives at Kuda Huraa Activities and Top Things to Do
Soneva Fushi Maldives Activities and Things to Do
Soneva Fushi Breakfast, Ice Cream Room, Chocolate Room and Cheese Room
Fresh in the Garden, Soneva Fushi Restaurant Review
Trans Maldivian Airways Seaplane Review
Conrad Maldives Rangali Review: Beach Villa
Conrad Maldives Restaurant Menus and Review
Review: Conrad Maldives Superior Water Villa
Conrad Maldives Activities and Top Things to Do
Location and Access to Emirates First Class Lounge, Dubai
The Emirates First Class Lounge in Dubai is located in Terminal 3 and is exclusively available to Emirates First Class passengers. Technically it is only available to you if you are departing on an Emirates First Class flight; however, if you're able to show the lounge reception staff that your fare basis is F for your entire trip, then even if you arrive in Emirates First Class and are departing in Emirates Business Class, you are likely to be admitted. Similarly, Flyertalker WanderlustB was able to be admitted on an award ticket where the arriving flight into Dubai was in Emirates First, but the departing flight was in Business Class, yet the entire award was a First Class award.
Emirates First Class Lounge Amenities and Seating
The Dubai airport has launched a massive PR campaign to position itself as the pre-eminent global hub, and the Emirates lounges there in general, and the First Class lounges in particular, has been designed to live up to all the hype. It is likely beyond any airport lounge you have ever experienced, and is perhaps also beyond any lounge you could imagine.
First of all, you must understand that the lounge is not really a "lounge" in the usual sense of that word. It is really separate floors on top of all the large number of Emirates departure gates, so it in effect is really more like an entirely separate First Class airport. In fact, there are two Emirates First Class Lounges, one in Concourse A and one in Concourse B. You can go to either one, but will likely spend more time at the lounge closer to your departure gate. Here's the map of the Emirates First Class Lounge in Concourse A, which is where I spent most of my time, since I had a Concourse A departure gate.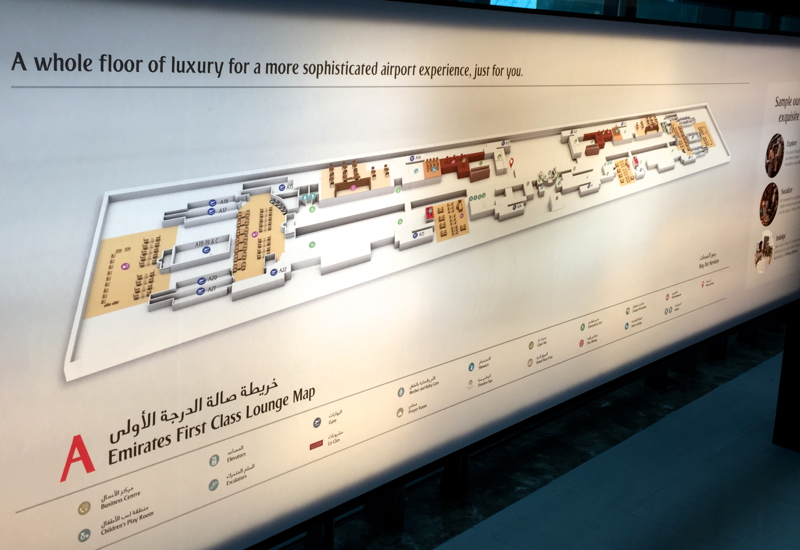 This photo of the walkway, which extends down the entire length of the concourse, gives you a sense of what I mean by saying this the largest lounge I've ever been in: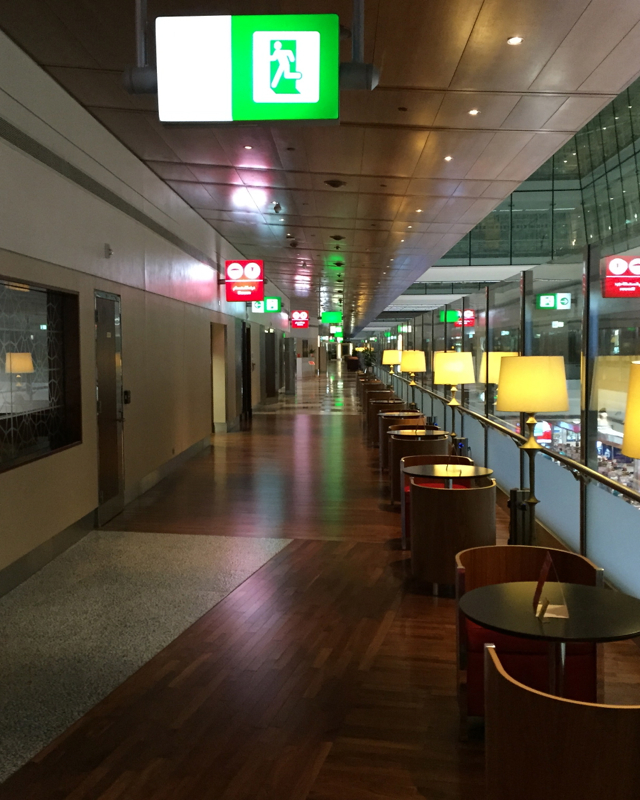 You arrive at the upper First Class floors by means of an elevator which leaves you at the entrance point. The Emirates First Class Lounge entrance of Concourse B had a beautiful array of flowers: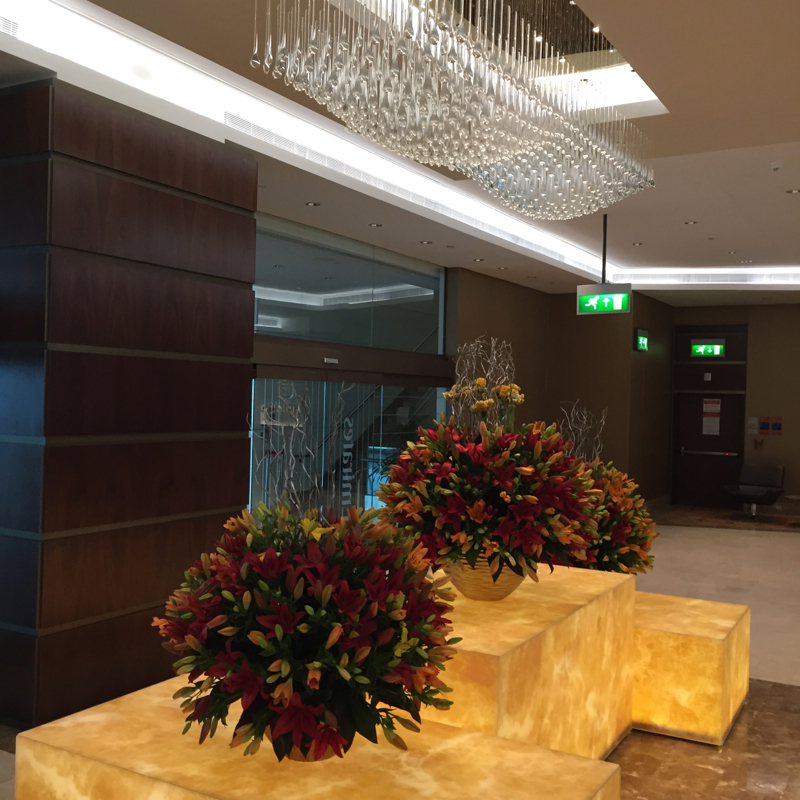 The Dubai airport complex is amazingly vast: my plane had to taxi for about 20 minutes after landing to reach its parking area, and then we had another 20-minute bus ride to the entrance. And because my flight arrived about 3am local time, I just wanted to relax. But when I entered the First Class area, the extraordinary luxury of the environs was a stimulant.
I was fascinated by all the different seating options and areas, so here are just a few of the seating options: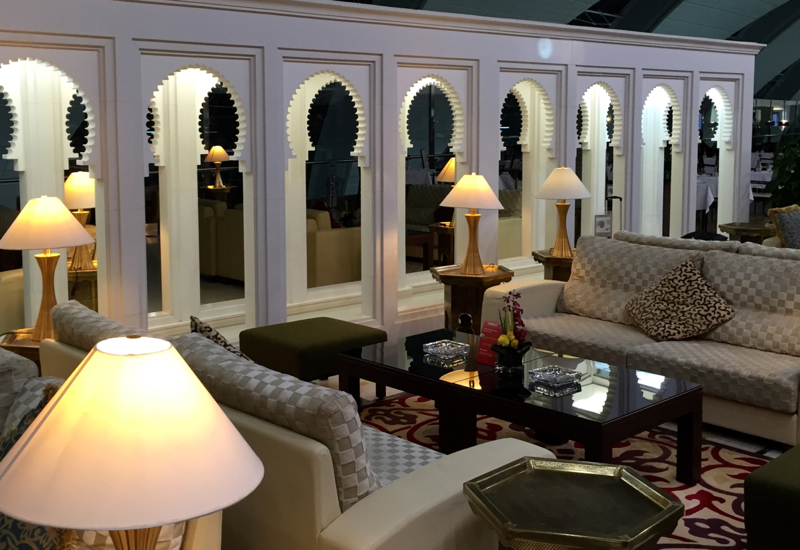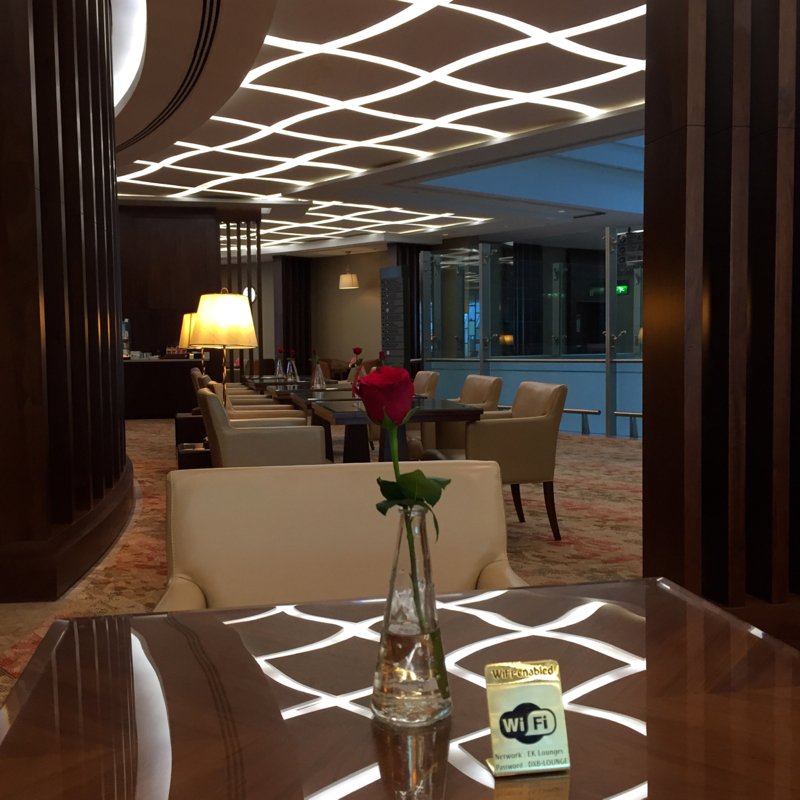 I don't smoke cigars, but there was a separate cigar lounge with appropriately over-stuffed leather chairs.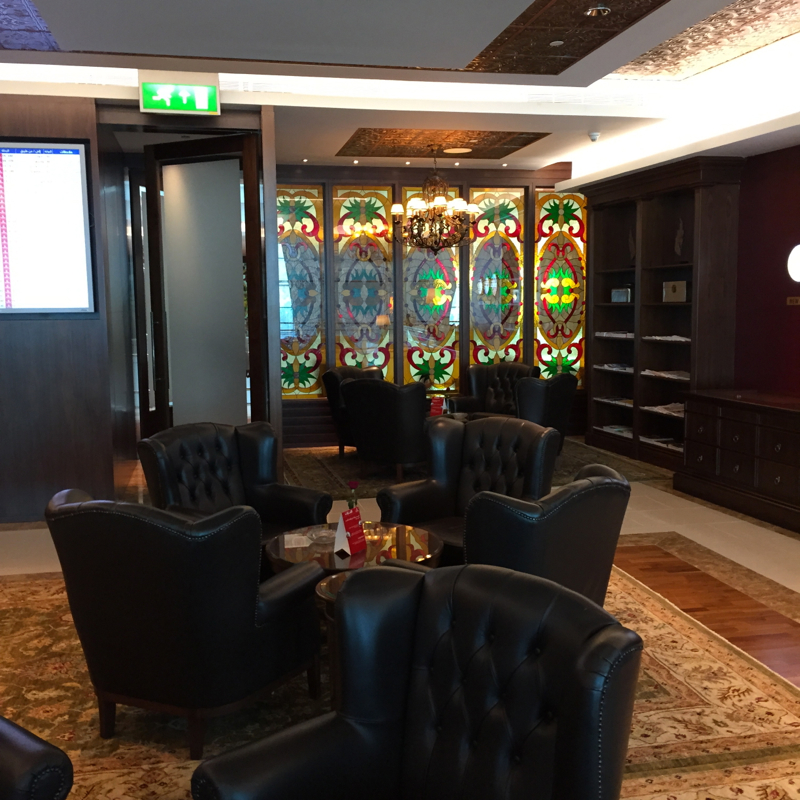 There were even some lovely chairs beside an elaborate fountain.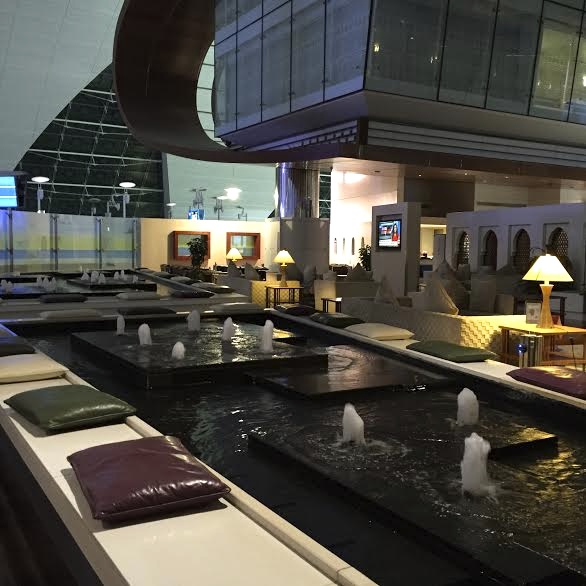 I'm not sure who would want to do work with everything else on offer, but there was also a business center with computer work stations, in addition to of course free Wi-Fi.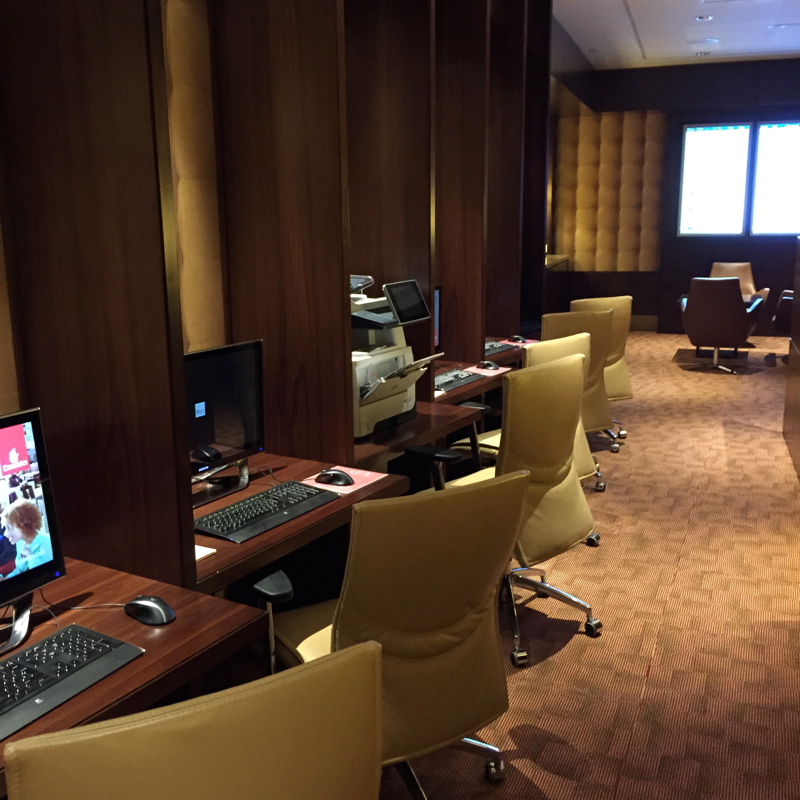 I was too tired to ask for it, but lounge access entitled me to a free 15-minute spa experience at The Timeless Spa.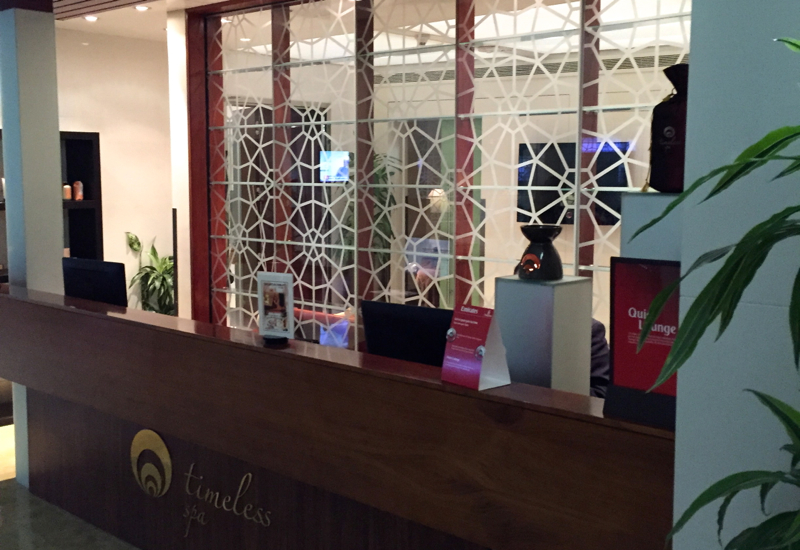 There were also private shower suites, with Timeless Spa bath products by Babor: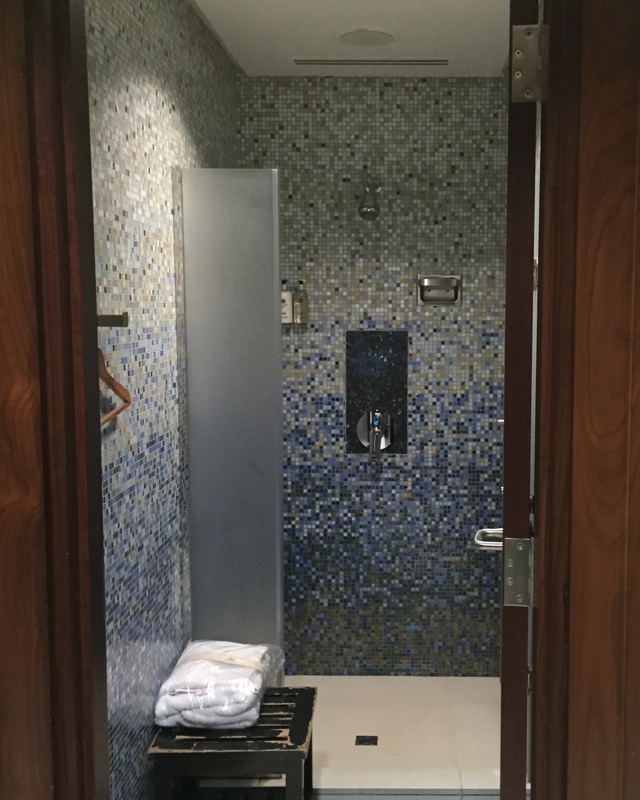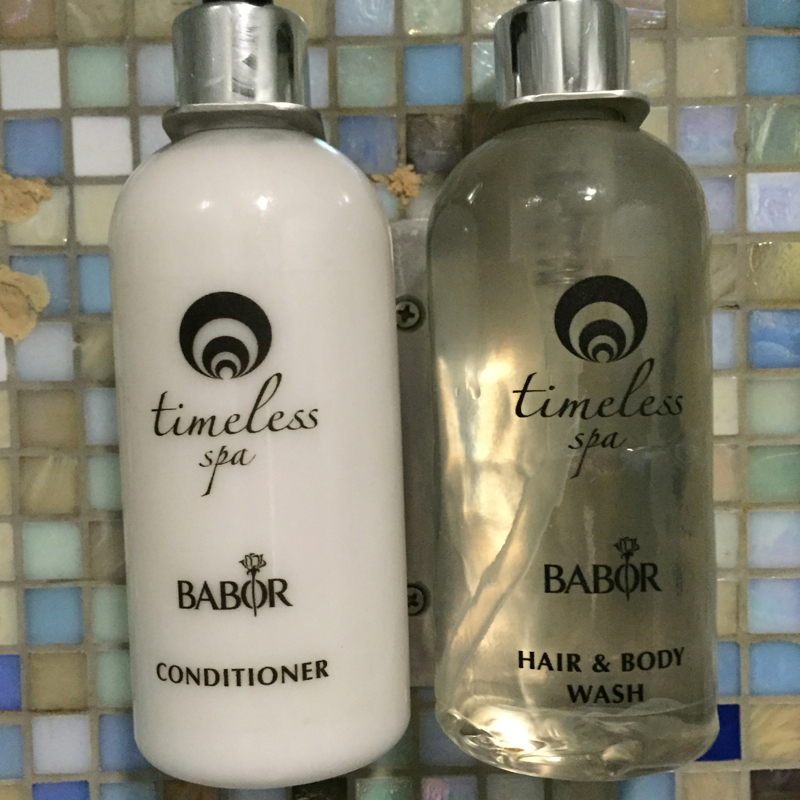 I next wandered over to the sleeping area, and took a nice nap on this divan, which was quite comfortable.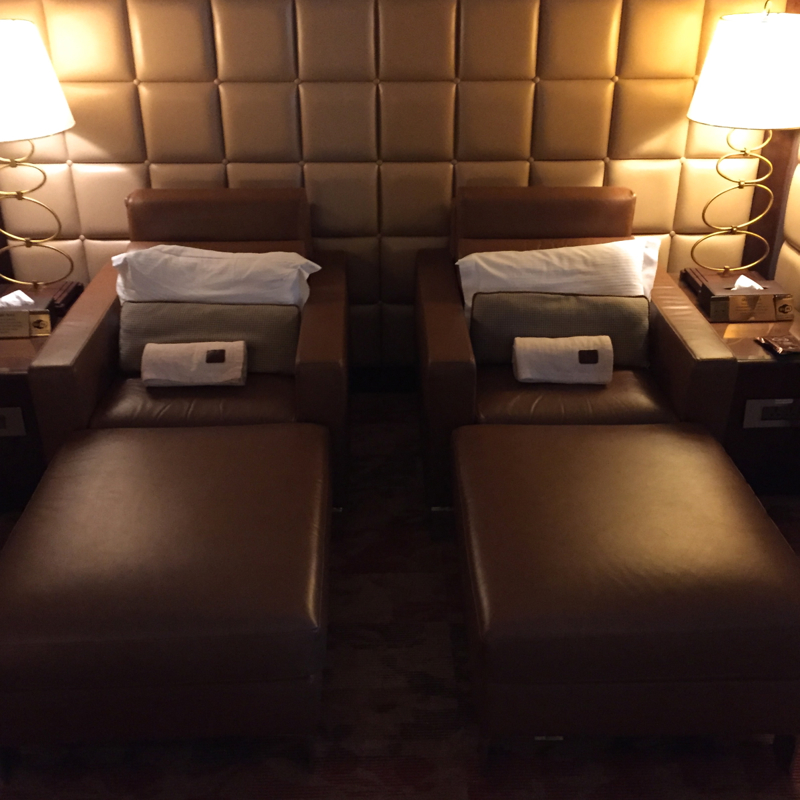 Menu and Food
Emirates First Class Lounge dining areas were no less extensive and elegant. Tables with white tablecloths and flowers? Check. Soaring ceilings? Check.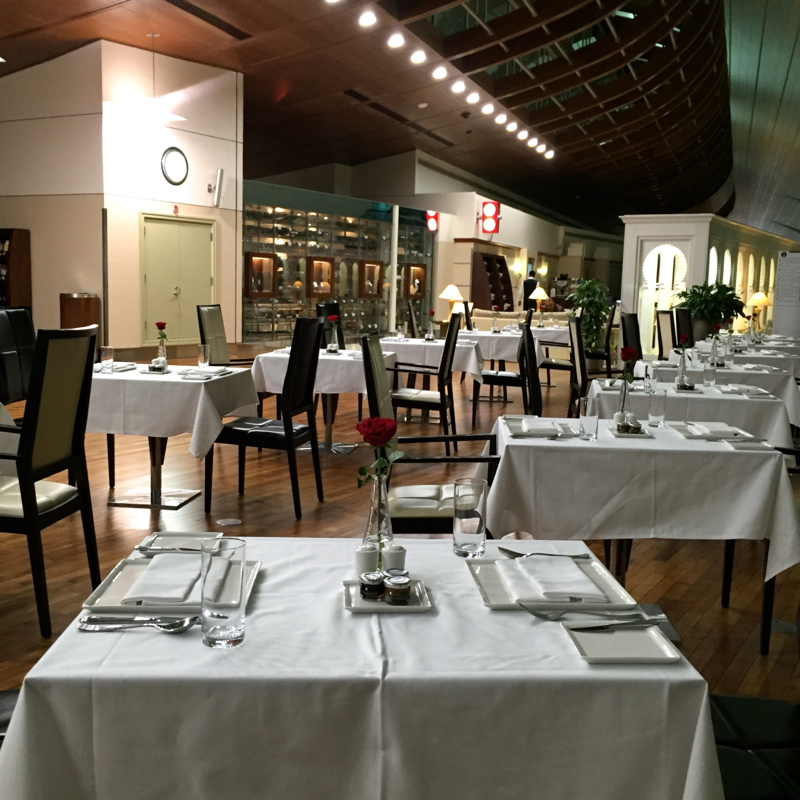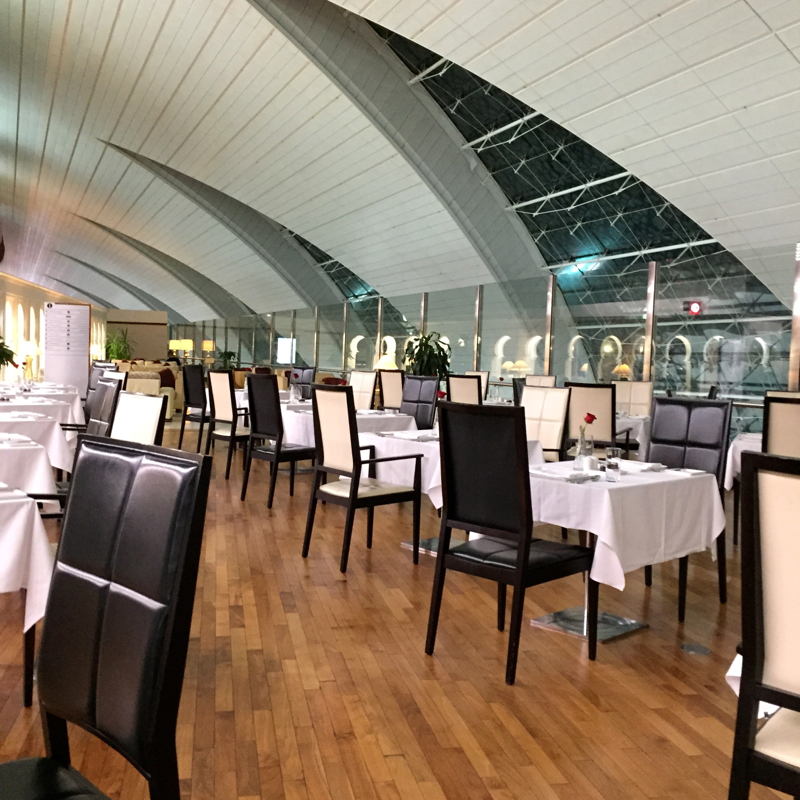 Banquette seating for greater privacy? Check.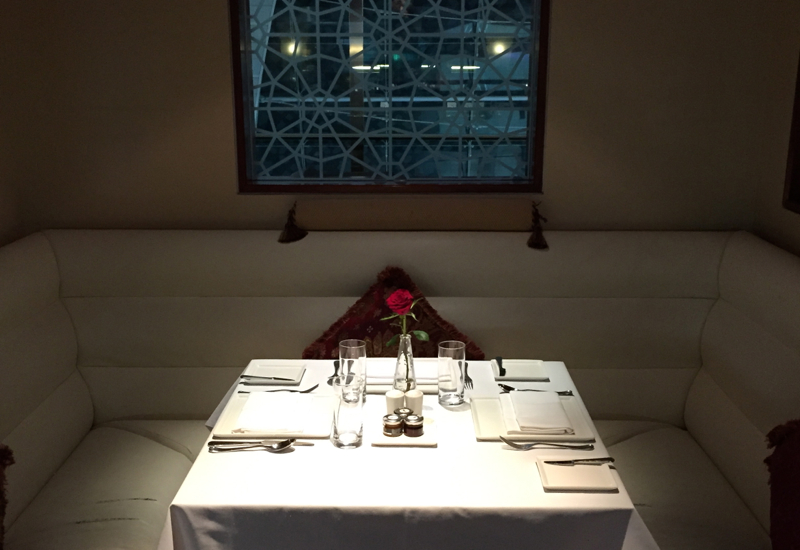 Tasteful buffet selections? Check. My wife would have loved to see that the cheese selection even included pretty rosettes of Tete de Moine cheese from Switzerland.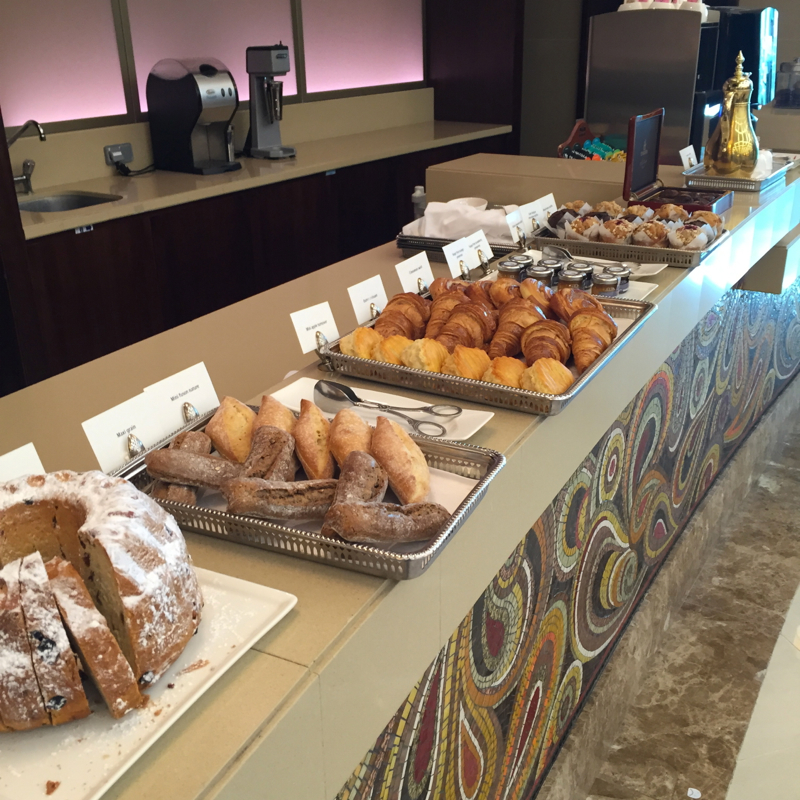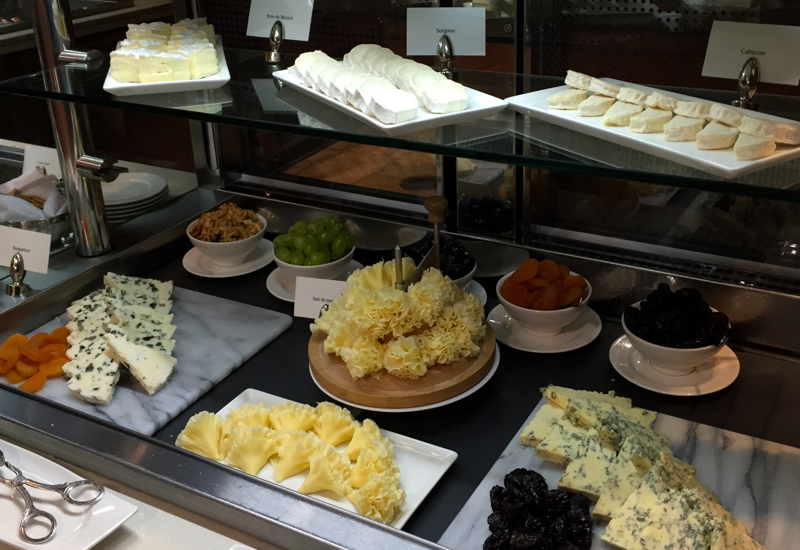 Sushi for breakfast? No problem.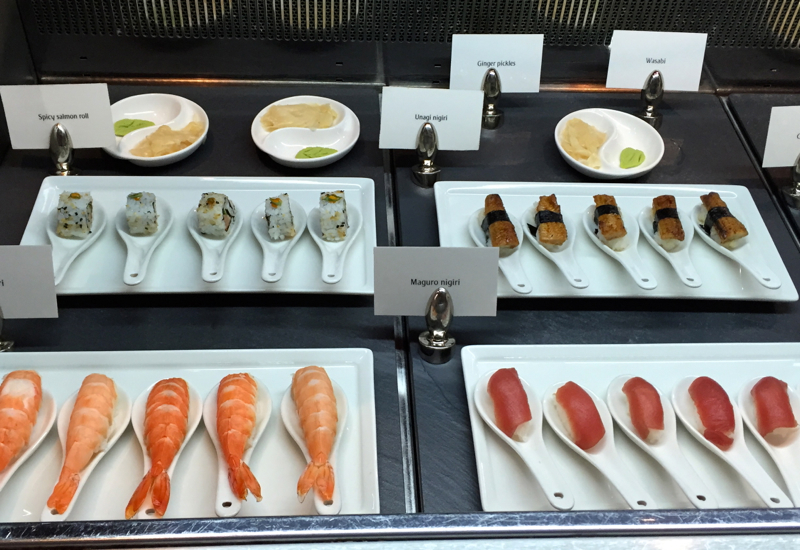 A la carte menu options? Check. Here are the breakfast menus during my visit: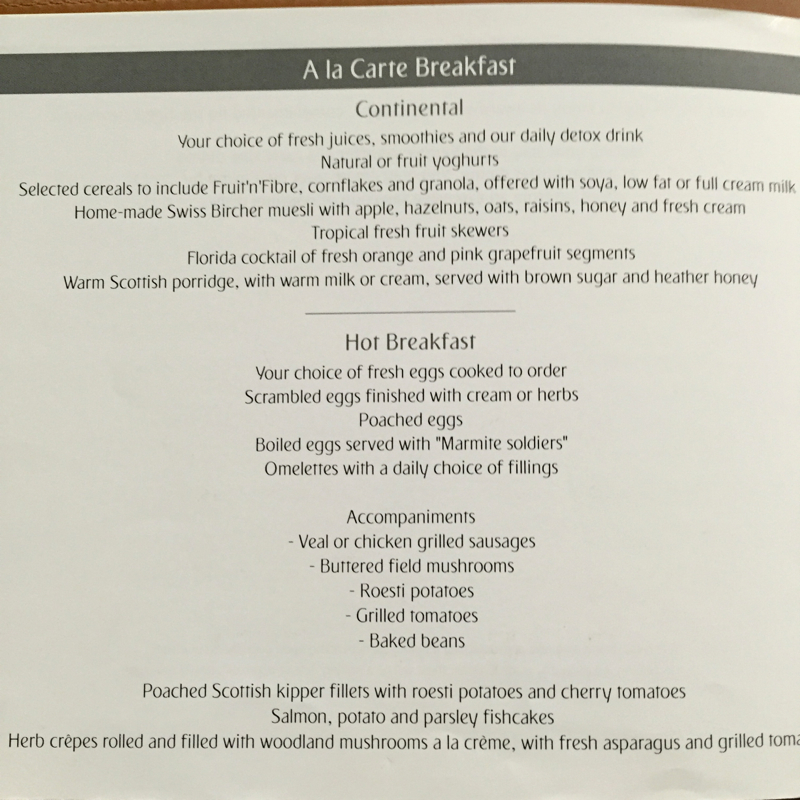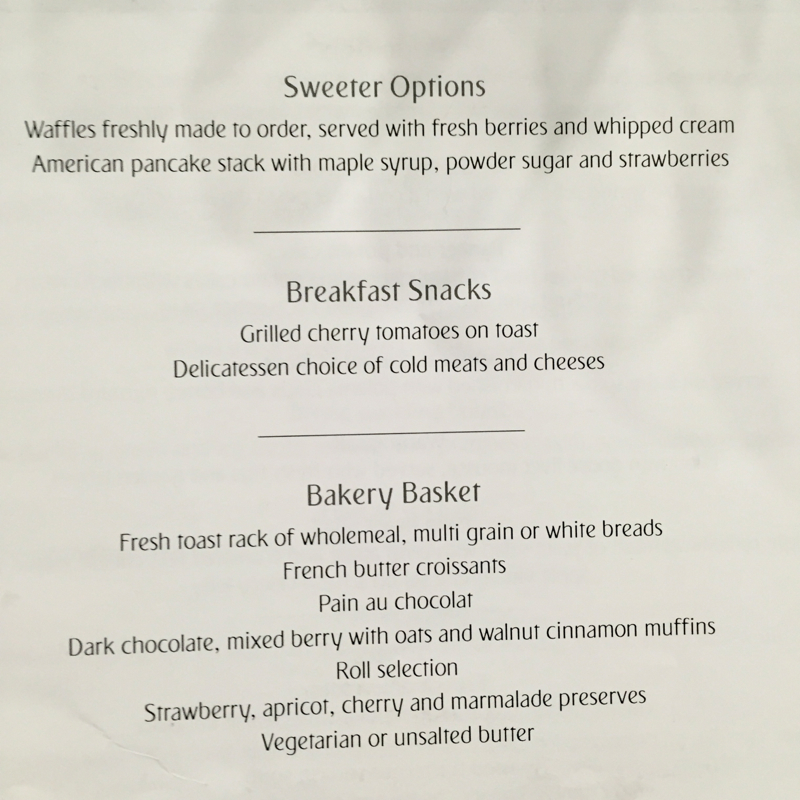 I settled down in one of the many, many dining areas for yogurt and granola, which was delicious.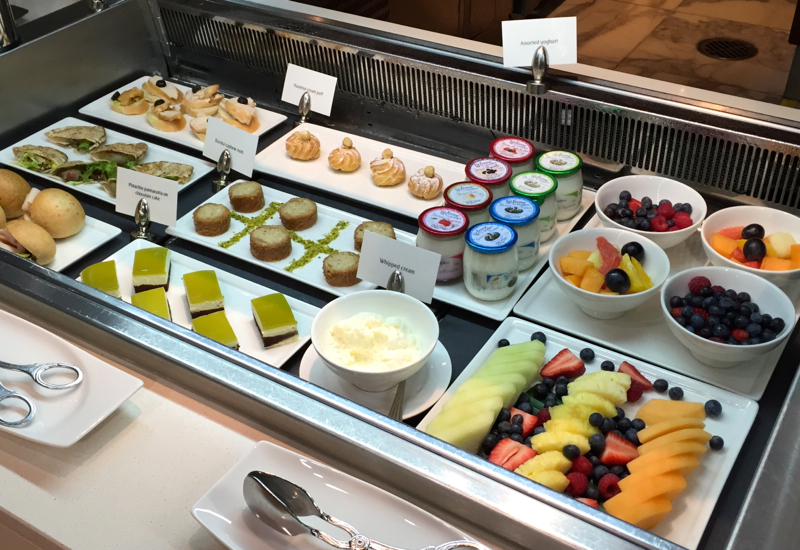 Perhaps it was because my stay there was between 3-6am and I was just one of a few occupants, but in general as I wandered around I didn't even have to cast my glance in the direction of some food or other amenity before one of the many gracious staff offered to assist me.
Frankly, the opulence was all a bit surreal, especially during the wee hours of the morning. These colored glass baubles hanging from the ceiling were especially entrancing.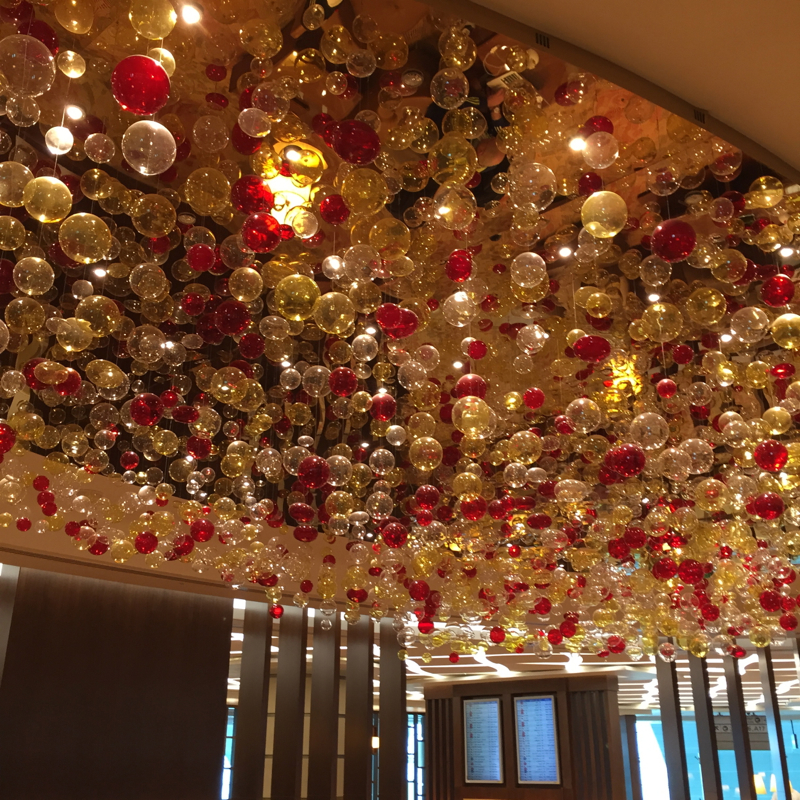 The Verdict
It may seem odd to say, but I strongly recommend finding a reason to spend a few hours in the First Class airport (which are effectively mini airports) in Dubai. The food, service, and glamorous surroundings make other first class lounges seem like quaint holding pens. You may come away, as I did, with a new appreciation of how luxurious travel can be.
Related Posts
Emirates First Class A380 Review
Emirates A380 Flights to San Francisco and Houston Start December 2014
SPG and Emirates Your World Rewards and FAQ
Review: Atmosphere Lounge at Burj Khalifa in Dubai
Dubai Fountain by Burj Khalifa Photos and Video
Need Award Booking Help? Our fee is as low as $75 per ticket if you book your hotel through us.
If you enjoyed this, join 200,000+ readers: please follow TravelSort on Twitter or like us on Facebook to be alerted to new posts.
Become a TravelSort Client and Book 5-Star Hotels with Virtuoso or Four Seasons Preferred Partner Amenities!