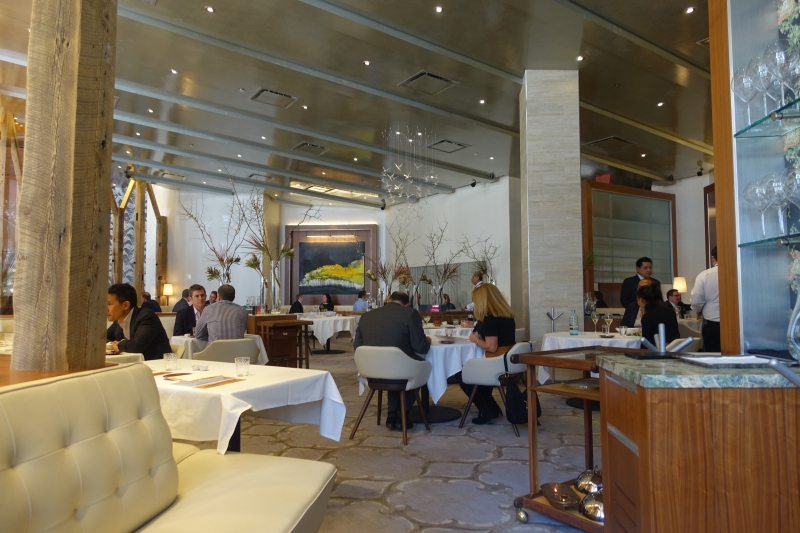 With the Chase Freedom, earn 5X on restaurants and movie theaters for Q3 2017 (July-September, 2017). Also, don't forget that today, June 14, is the last day to activate your Chase Freedom 5X bonus for grocery stores and drugstores.
When the Chase Freedom 2017 5X Categories were announced, only Q1 and Q2 2017 categories were specified, and there's been no word until now what the Q3 categories are. I was told awhile back by a Chase rep that they wouldn't be released until June 15, 2017, the same day you can activate the Q3 2017 bonus, but you can see the Q3 2017 5X categories by logging into your Chase Freedom account, going to the Rewards section (or Ultimate Rewards section, if you also have a Chase Sapphire Reserve, Chase Sapphire Preferred, Ink Plus, or Ink Business Preferred) and clicking on the calendar.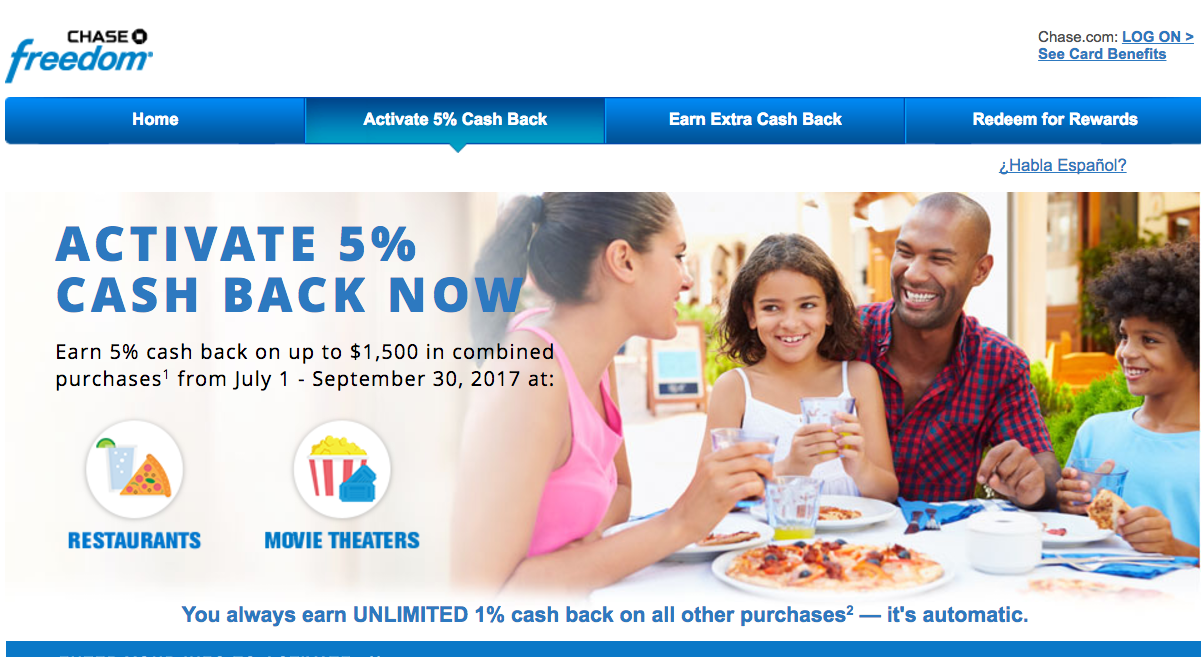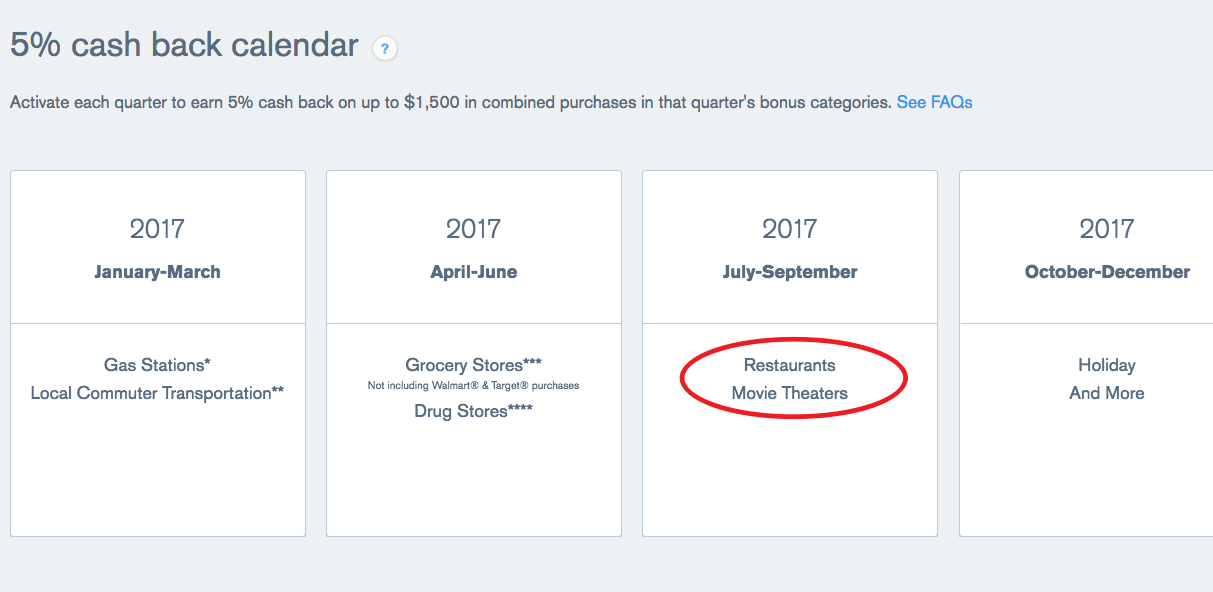 I'm always happy to see restaurants as a 5X category, not because we're able to max out the category during the quarter, but because we buy gift cards to our favorite NYC restaurants for use in the coming year. If you have regular business or leisure travel to another U.S. destination and have a favorite restaurant there, you could buy a gift certificate to it as well.
For fellow New Yorkers, also note that 5X on restaurants in Q3 will coincide nicely with NYC Summer Restaurant Week, which runs July 24-August 18.
FAQ
Does the 5X Include Fine Dining Restaurants?
Absolutely, as long as it's a stand alone restaurant. In other words, I'm not sure the Armani Ristorante on Fifth Avenue will earn 5X, since the restaurant is in the Armani boutique and may code as shopping.
Which Other Restaurants Are Excluded?
Other restaurants that are part of department stores, hotels, casinos, stadiums, theme parks etc. may not code as 5X, because the credit card code may be the one for the establishment they're part of.
Is There a Way to Earn 5X on More than $1500 in Restaurant Spend?
Sure–have more than one Chase Freedom card. I downgraded my Chase Sapphire Preferred to a Chase Freedom, so now I can earn 5X X $1500 per quarter for each card, or 15,000 Ultimate Rewards points for $3000 in spend.
Will International Restaurants Count?
Yes, but I wouldn't use the Chase Freedom for them as a foreign transaction fee applies. Use a Chase Sapphire Reserve instead to earn 3X with no foreign transaction fees.
Which Credit Cards Can Transfer Freedom Points to Ultimate Rewards Travel Partners?
You need to have an Ultimate Rewards-linked card such as the Chase Sapphire Reserve, Chase Sapphire Preferred, Ink Business Preferred, Ink Plus or Ink Bold, or your spouse / domestic partner must have one so that your Freedom points can be transferred to your spouse's or domestic partner's frequent flyer accounts via Ultimate Rewards.
We're Visiting NYC; Which Restaurants Are Your Favorites?
Super! NYC has some of the widest ranging restaurant offerings, in terms of cuisines and price ranges. I recommend getting out of the main tourist haunts to find better food. Here are a few of the places we enjoy:
Innovative New Nordic: Aska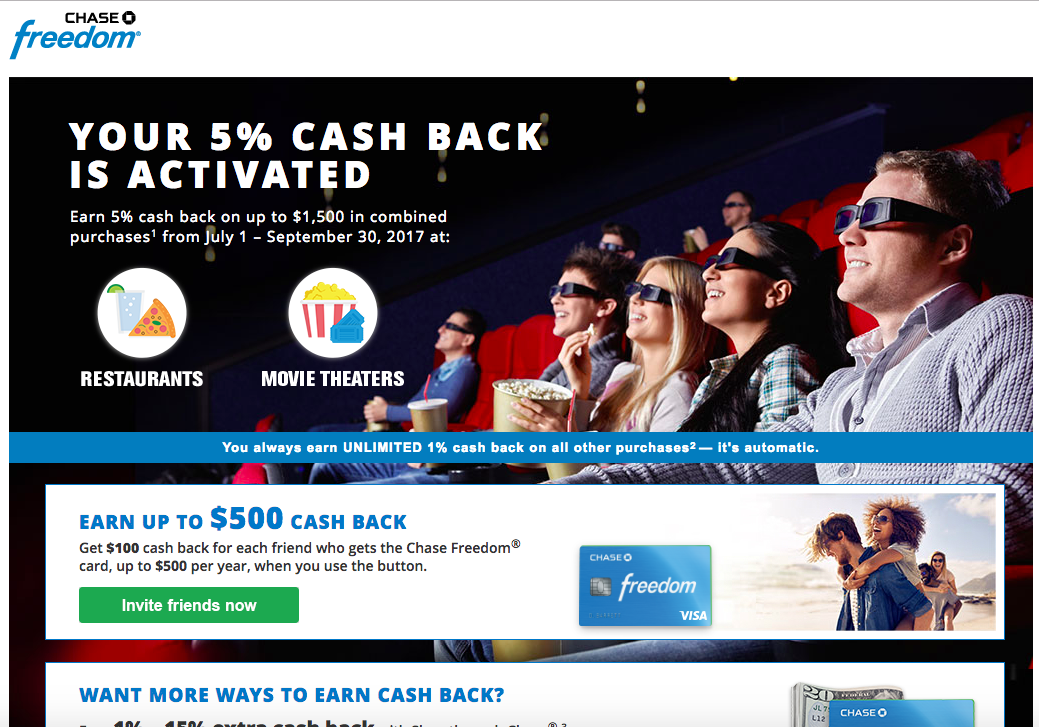 Are you looking forward to earning 5X at restaurants and movie theaters in Q3 with your Chase Freedom? Don't forget to activate your card, starting tomorrow, June 15, 2017.
Recommended Posts
What's in the Chase Sapphire Reserve Travel and Dining Categories?
Triple Dipping at Restaurants with Shopping Portals and Yelp Cash Back
Our 2017 Miles and Points Progress
Credit Cards: Apply For, Keep or Cancel
Need Award Booking Help? Our fee is as low as $75 per ticket if you book your hotel through us.
If you enjoyed this, join 200,000+ readers: please follow TravelSort on Twitter or  like us on Facebook to be alerted to new posts. 
Become a TravelSort Client and Book Your Hotel with Virtuoso or Four Seasons Preferred Partner Benefits!