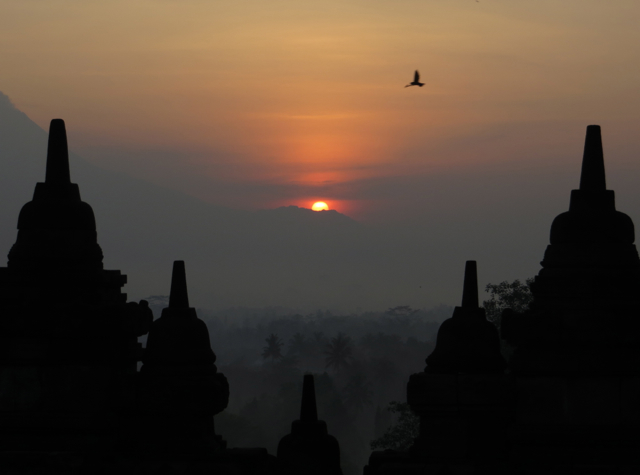 A Borobudur sunrise tour is a must while staying at nearby Amanjiwo. Actually, scratch the "tour" aspect–we didn't have a guide for our visit, as we simply wanted to savor the experience in silence. To learn more about Borobudur's intricate stone carvings and history, Amanjiwo also offers an Intellectual Tour, during the day. And while there are fees for the Borobudur sunrise experience and the Intellectual Tour, as well as an entrance fee of $20 per adult, there are complimentary transfers to Borobudur from Amanjiwo any time during the day that you wish to explore this UNESCO monument.
Also see prior posts in this trip report:
Singapore Suites A380 Review: New York JFK to Frankfurt
Review: Lufthansa Senator Lounge Frankfurt
Singapore Suites A380 Review: Frankfurt to Singapore
Singapore Airlines Private Room Lounge Review
Cathay Pacific First Class Review NYC JFK to Hong Kong
Singapore Suites A380 Review: Singapore to Hong Kong
Review: Grand Hyatt Hong Kong Club Harbour View Room
Tin Lung Heen Hong Kong Dim Sum Review
Review: Grand Club Lounge, Grand Hyatt Hong Kong
Emirates First Class A380 Review: Hong Kong to Bangkok
Review: Novotel Bangkok Suvarnabhumi Airport Hotel
Conrad Koh Samui Zest Restaurant Review, Menu and Prices
Koh Taen Snorkeling with Tours Koh Samui Review
Conrad Koh Samui Jahn Restaurant Review, Menu and Prices
Four Seasons Koh Samui Breakfast and Koh Thai Kitchen Review
Takho Bangpo (Bang Por Seafood) Koh Samui Review
W Koh Samui Breakfast and Kitchen Table Review
Singapore Gardens by the Bay Review
One Ninety Singapore Review and Menu
Amanjiwo Review, Borobudur, Java
Amanjiwo Restaurant Review and Menu
The night before your Borobudur sunrise experience, be sure to go to sleep early–you'll need your sleep, as the wake-up call is at 4:30am! Rather than drag along a sleep deprived and grouchy munchkin, we left him in the care of a very kind babysitter that Amanjiwo organized, who simply stayed with him while he continued sleeping.
The drive to Borobudur is short, just a few minutes. Once there, we donned the requisite sarong and were each loaned a flashlight. There were a number of other visitors there, but with our Amanjiwo driver and guide Rohman, we were able to get a head start walking to Borobudur, and were the very first to enter at the gate, where Rohman took his leave after explaining where we would meet after sunrise.
We got some good exercise climbing up the steep and massive stone steps of Borobudur, which is shaped as a pyramid. Turning onto one of the levels, we started to explore in the near darkness.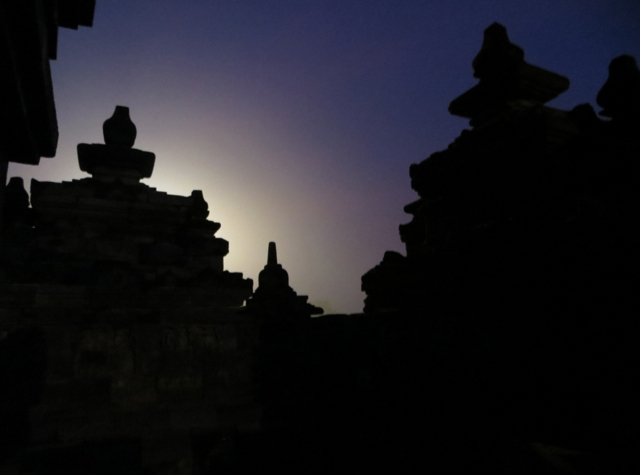 The pre-dawn sky colors were beautiful, and some of my favorite photos were of Borobudur's silhouette against the pre-dawn sky: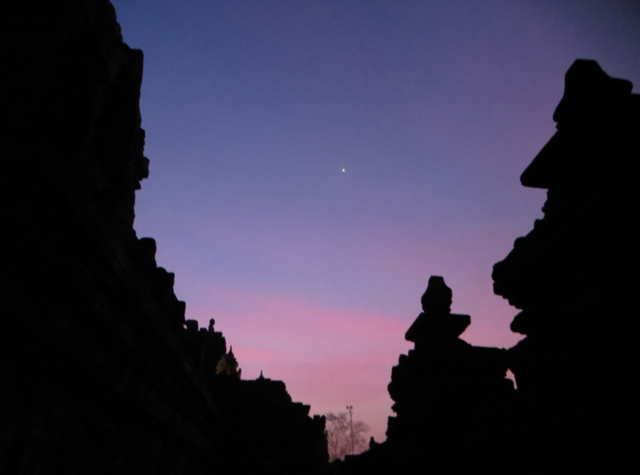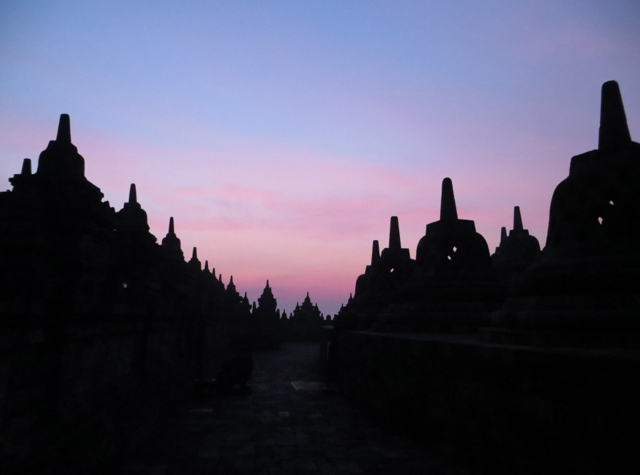 Our flashlights came in handy at this point to be able to view some of the intricate stone carvings, which recount stories from the Buddhist Sutras.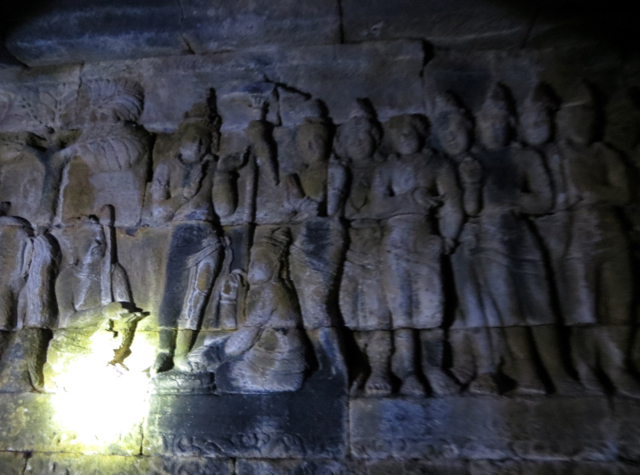 As sunrise approached, I loved the mysterious look of the surrounding Kedu Valley, with Mount Merapi in the background: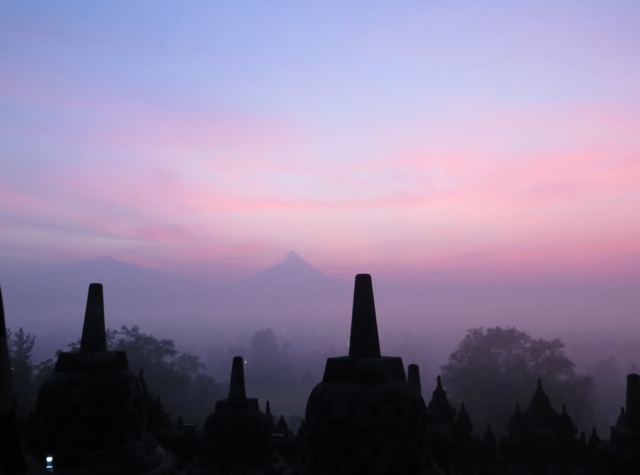 The serious photographers had in the meantime staked out their positions amongst the stupas, so I contented myself with taking a few photos of the sunrise with the tops of the stupas: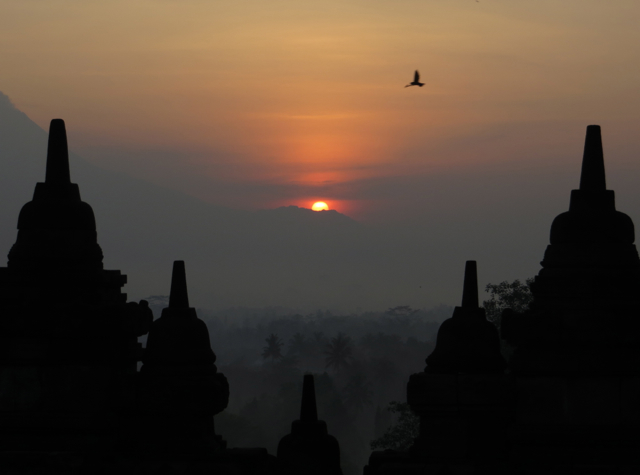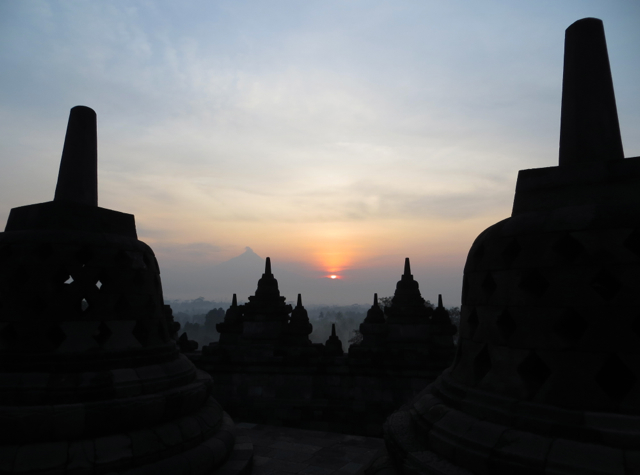 We were now able to better see the stupas and stone carvings, no flashlight needed: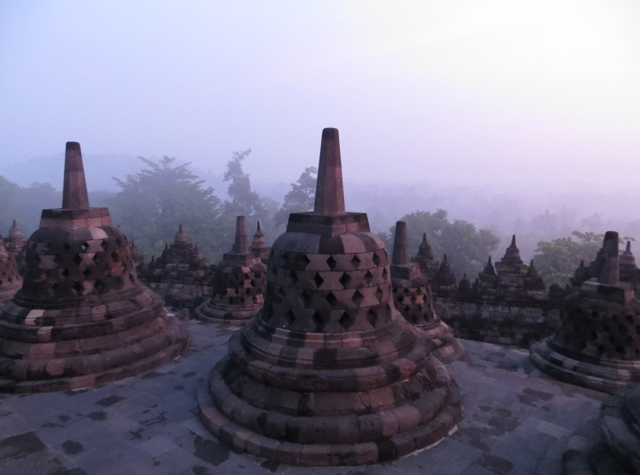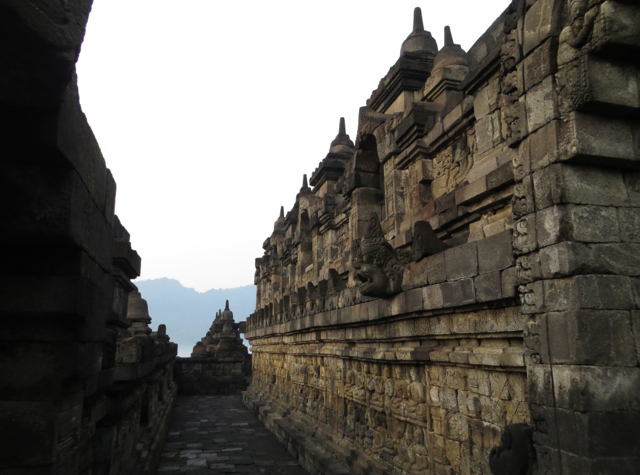 A final view of Borobudur as we were leaving: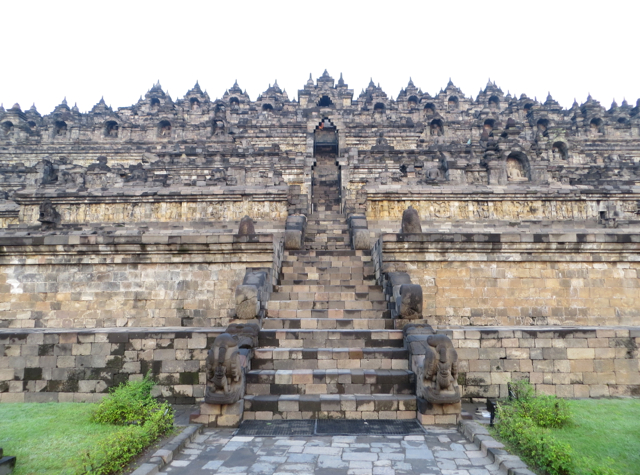 Watch out for those stone lions–they bite!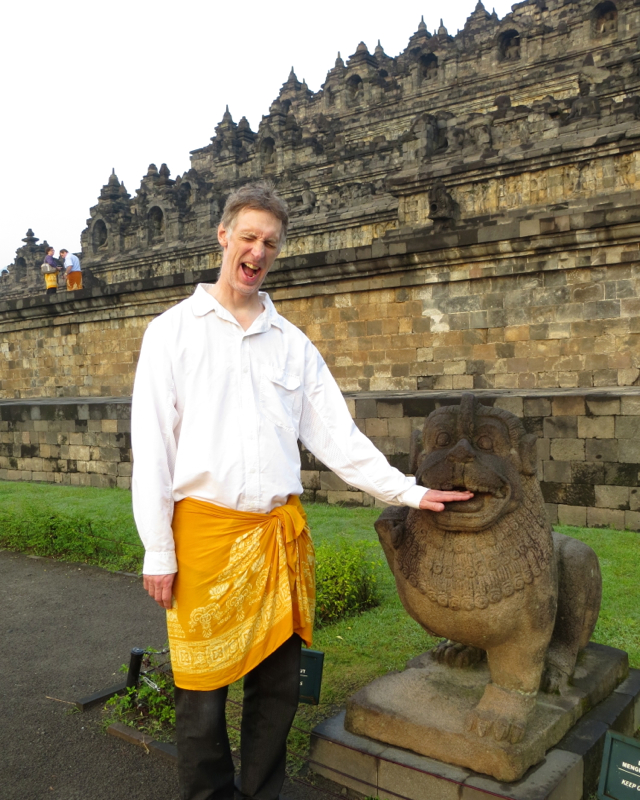 Have you experienced Borobudur at sunrise?
Related Posts
Amanjiwo Review, Borobudur, Java
Top 10 Aman Resorts in the World
Amanjiwo Restaurant Review and Menu
Virtuoso Hotels: Bookings with Upgrades, Complimentary Breakfast and VIP Perks
Need Award Booking Help? Our fee is as low as $75 per ticket if you book your hotel through us.
If you enjoyed this, join 100,000+ readers: please follow TravelSort on Twitter or like us on Facebook to be alerted to new posts.
Become a TravelSort Client and Book Amanjiwo with Virtuoso Amenities!