Link: Chase Ink Bold with Ultimate Rewards
United bonus miles are pretty valuable, since Star Alliance offers some of the best first class and business class partners (Singapore Airlines, Lufthansa, Swiss, Thai Airways, ANA, Asiana) and the route map is great for most places apart from South America. And while it's true that you may have to deal with no more Lufthansa advance First Class availability (although you can still often get it at the last minute) it is now possible to book last minute Singapore business class awards on United.
Even if you barely fly United, there are several great offers now for bonus United miles; if you haven't yet participated in any of them, you could feasibly obtain 200,000 miles over the next several months. Why only 200,000 miles when there are 5 offers listed for a total of 250,000 miles? Well, you do want to be careful about applying for too many Chase cards all at once, especially if you've recently applied for any. I personally would only apply for two at once, and then another card a few months later. Someone will probably comment below that they applied for 4 or more Chase cards all at once and got the bonuses, but I'd rather be more conservative in my applications. Note also that if you've had the exact Chase credit card in the past and gotten the bonus, you won't get the bonus again. If, on the other hand, you either get denied or is says they have to review your application further, help it along with tips from our recent post Credit Card Denied? Call These Reconsideration Phone Numbers.
We've prioritized the offers in terms of the greatest number of miles with the least required spend and effort. We receive a referral for the Chase Sapphire Preferred, Ink Bold and Chase Freedom cards and are grateful if you use our links to apply! For the overall best current offers, check out Best Travel Credit Cards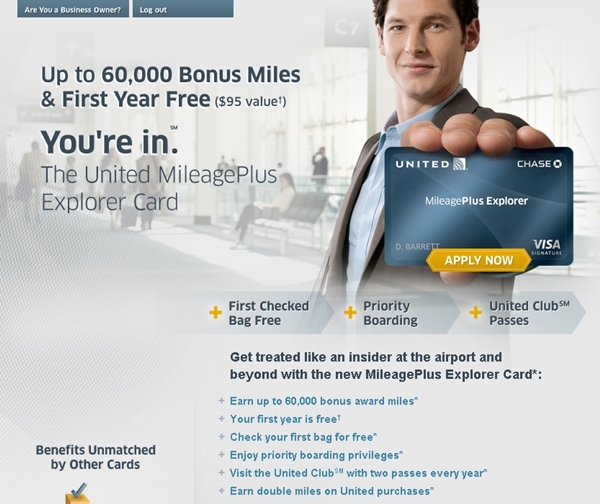 1. United MileagePlus Explorer: 50,000 United miles after first use of card
50,000 United MileagePlus miles after your first use of the card
Another 10,000 miles after spending $25,000 within 1 calendar year (not worth it for most people, so consider this a 50K bonus card)
2x miles for all United spend; 1 mile per $1 of all other spend
First checked bag is free
Priority boarding
2 passes to United Club lounge per year
3% foreign transaction fee (use the Chase Sapphire Preferred instead)
$95 annual fee waived the first year
TravelSort Tip: Make sure you are logged in to your United account, to see the 60,000 offer. See Get 60,000 Miles with the United MileagePlus Explorer Card
3/9 Update: Some readers report not seeing the 60,000 offer even after logging into the new United Web site; it may be a snafu related to the merger system integration, I don't know for sure and welcome anyone who does know to comment. I personally do see the 60,000 offer when logging into the new United site, here it is: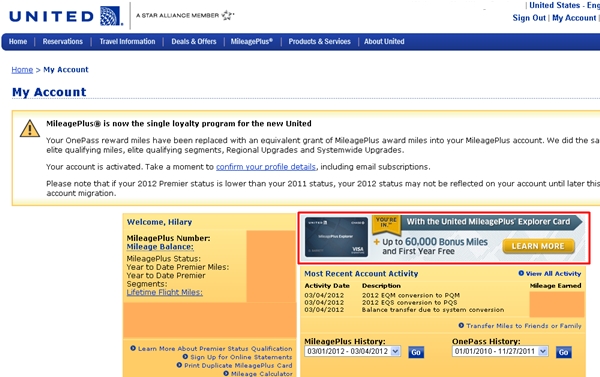 2. Open Fidelity Brokerage Account: 50,000 United miles for depositing $100K for 6 months
50,000 United MileagePlus miles after you open a Fidelity brokerage account and deposit $100K
Current Fidelity retail account customers not eligible. Also note that if you or anyone in your family/household is employed at a securities/brokerage firm, you won't be eligible.
Yes, $100K is a lot, but it's not actual spend–you can withdraw it after you get your miles. Plus, if you're keeping this in cash or checking/savings accounts, you may as well get a greater ROI than the <1% interest banks are currently paying
Some have reported being able to "cycle" money into the account through a series of deposits and withdrawals, in order to get to the $100K deposit. Note this will take time, as Fidelity holds the deposits a few days.
TravelSort Tip: If you're seeking to also get Delta miles, make sure to do the United mile offer above first, as it is only for new Fidelity clients, whereas the Delta offer is for new and existing Fidelity clients.
Update: The Chase Sapphire Preferred 50,000 offer is no longer available. Best current bonus is 40,000 points.
3. Chase Sapphire Preferred: 40,000 Ultimate Rewards points after $3000 spend within first 3 months
40,000 Ultimate Rewards points after $3000 in spend within first 3 months
Ultimate Rewards points transfer 1:1 to United MileagePlus miles
2x points for travel (airlines, hotels, transport) and dining spend
Annual fee waived the first year
No foreign transaction fees
Live agent help when you call
4. Ink Bold with Ultimate Rewards: 50,000 Ultimate Rewards points after $5000 spend within first 3 months
Business card; you can still apply for it even if just in the planning stages for your business
50,000 Ultimate Rewards points after $5000 in spend within first 3 months
Ultimate Rewards points transfer 1:1 to United MileagePlus miles
5x points for telephone/cable services and office supply store spend
2x points for hotel and travel agency spend
Annual fee waived the first year
No foreign transaction fees
5. Chase Freedom: 10,000 Ultimate Rewards points signup + 5X points for category bonuses
No annual fee
10,000 Ultimate Rewards points after $500 spend within the first 3 months
Ultimate Rewards points transfer 1:1 to United MileagePlus miles
5x points for quarterly bonus categories, up to maximum of $1500 in spend = 7500 points; so max out bonus categories and receive 30,000 points for $6000 in spend
1% cash back or 1 point per $1 spent on all other purchases
Q1 is Amazon.com and gas station spend
TravelSort Tip: Remember to activate the bonus each quarter. This is a great card to front load your Amazon spend on and get 5x points! See Get 5x Ultimate Rewards Points for Amazon Spend with Chase Freedom Card
Related posts: