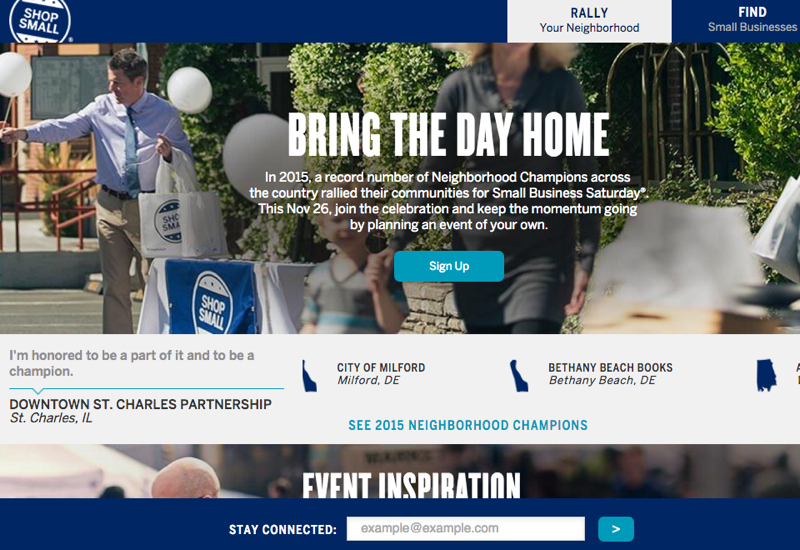 AMEX Small Business Saturday will return on November 26, 2016 (the Saturday after Thanksgiving) but we don't yet know if there will be AMEX targeted offers for statement credit.
Previously, 2010-2012, there was $25 statement credit for $25 in small business spend per AMEX card, while in 2013 the offer was $10 statement credit for $10 spend and in 2014, $10 statement credit for $10 spend valid 3X per card.
Then last year, 2015, there was no statement credit offer for Small Business Saturday, but many card members were either targeted $10 statement credit for $10 spend for their personal AMEX cards, and/or $20 statement credit for $100 spend for their AMEX business cards.
But if you really want to support small businesses, use Visa or MasterCard (or cash) instead of AMEX. That's because AMEX charges small businesses more than either Visa or MasterCard do; the exact amount varies by business and payment processor, but a typical difference is ~2% to accept Visa or MasterCard, and 3% or more to accept AMEX; AMEX sets its own discount rates that vary by industry, and also are higher for card not present transactions.
For example, restaurants are often charged about 3.5% plus a small transaction fee per AMEX transaction, which is brutal considering the often low margins for restaurants and their high failure rate. Combine that with the fact that AMEX transctions often take longer to settle from the time the transaction is made until when the merchant receives payment, and it's no wonder that many small Mom and Pop type restaurants do not accept AMEX, even if they accept Visa and MasterCard.
Plus, you can often earn better category bonuses using non-AMEX cards, for example:
Are you hoping for better AMEX Small Business Saturday offers than last year, or do you suspect it's likely to be a non-event, given various AMEX woes and better category bonus offers from Chase and Citi?
Related Posts