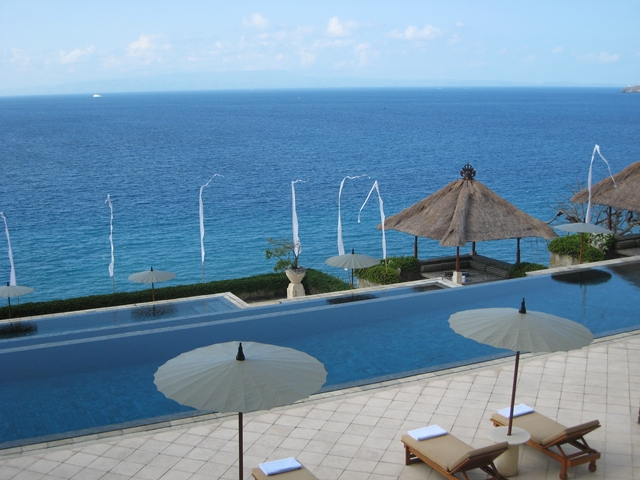 This Amankila review is part of a trip report including Cathay Pacific Business Class and First Class to Hong Kong and Bali, plus reviews of luxury hotels and food in Hong Kong and Bali. Prior posts include:
Review of British Airways Galleries Lounge at JFK Airport
Cathay Pacific Business Class Review: 777-300ER NYC to Hong Kong
Cathay Pacific First Class NYC-Hong Kong
Tim Ho Wan Review: Hong Kong's Best Dim Sum and Cheapest Michelin Star?
Mandarin Oriental Hong Kong Review
Cathay Pacific Business Class Review 747-400: Hong Kong to Bali
Ayana Resort and Spa Review-Club Level
Four Seasons Bali at Jimbaran Bay Review
Hotel Review: The Kayana in Seminyak, Bali
Restaurant Review: Metis in Seminyak, Bali
Batu Karang Resort on Nusa Lembongan
Restaurant Review: Indiana Kenanga, Nusa Lembongan
Diving and Snorkeling at Nusa Penida and Nusa Lembongan Near Bali
Komaneka at Bisma, Ubud Bali Hotel Review
I'd heard much about Aman Resorts, and in particular Amankila in East Bali, so expectations were high for our one night stay, our last couple days in Bali. We chose a 1 Night Bali Break package which included transfer from our prior hotel to Amankila and also a return airport transfer and concierge airport service, breakfast, and an included activity. Since we very much wanted to try the boat cruise on the Aman XII, we opted to be picked up very early for the hour or so drive to Amankila. Our driver was prompt, courteous, offered us cool towels and water, and explained that the vehicle was equipped with WiFi. I didn't try it out, since I tend to get carsick when doing any kind of computer work or reading while driving, but certainly convenient if you don't. The driver spoke pretty flawless English and was happy to field some of my questions about Balinese culture, the Hindu caste system, etc.
We arrived at the resort and were welcomed to the airy open air lobby, where I completed the registration formalities while my husband and the munchkin explored the pool area. Even though I had no expectation that our villa would be ready, and figured we'd just leave our luggage and change before heading out to the boat cruise, they were able to bring us to our villa before we departed, and I was even able to snap some photos before we left. Although I had simply booked an entry level Garden Suite, they had very generously upgraded us to a prime Ocean Suite with a beautiful view: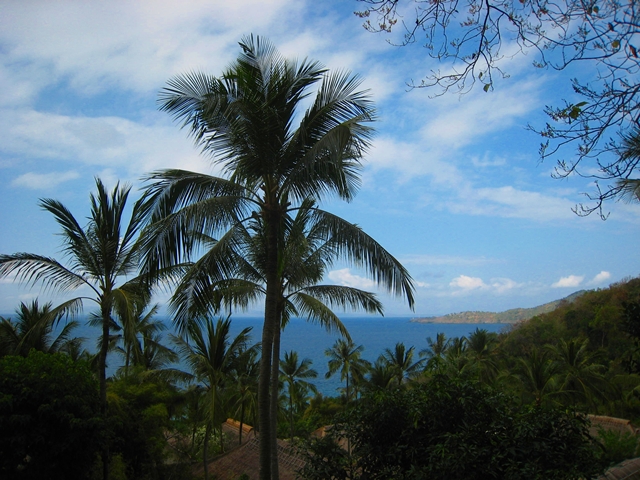 There was a very expansive private deck with two lounge chairs: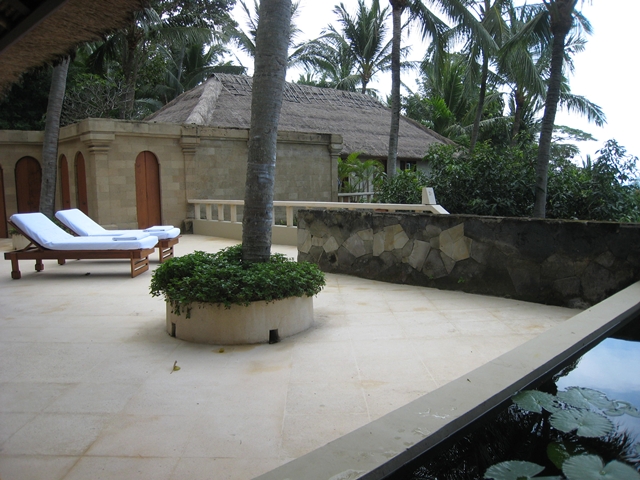 In the entry way was a table where the munchkin enjoyed coloring, and where we ate our breakfast the next day. Across from it was a day bed, perfect for relaxing in the shade in case it got too hot on the lounge chairs: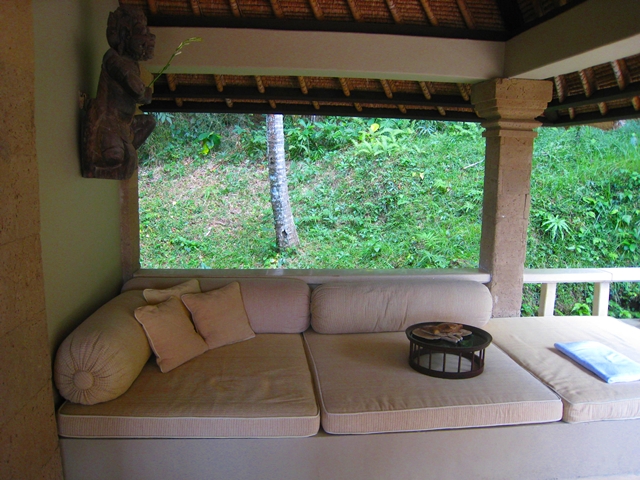 Inside it was an open plan, with sliding doors that we could use to partition the spacious bathroom and alcove containing the munchkin's bed from the bedroom.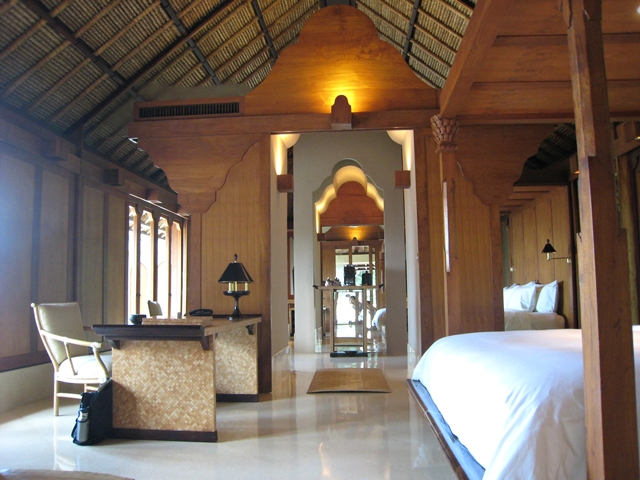 The King bed was of course very comfortable, and we got a great night's sleep: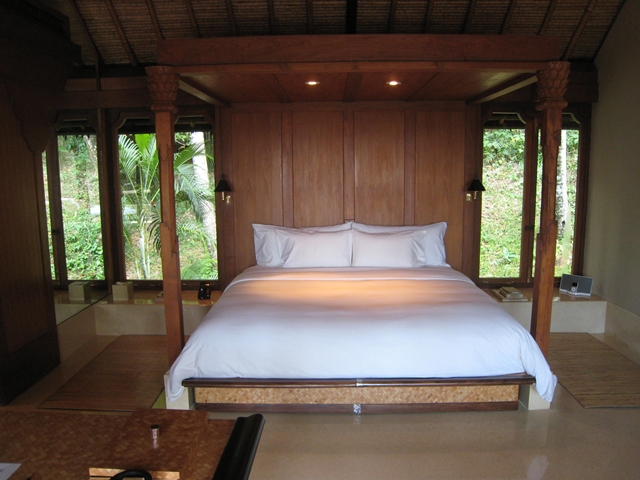 On the opposite side of the room was a work desk, with outlets cleverly embedded on one side. And in the other corner, a day bed with a small table containing an elaborate fruit welcome amenity: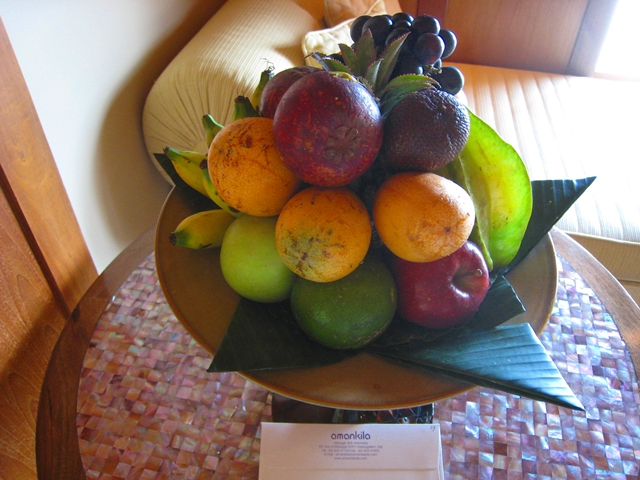 There were also delicious passion fruit welcome drinks with a kind of refreshing sorbet–easily the best welcome drinks I've enjoyed anywhere, to date. In fact, just remembering it makes me want to write and ask for the recipe (not that it's so easy to get really good fresh passion fruit in New York!)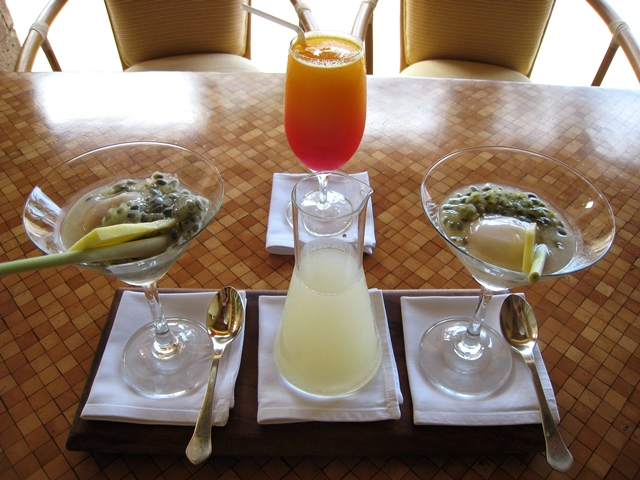 The munchkin had his own bed set up, complete with mosquito netting, although it was the dry season and we didn't have any encounters with mosquitos here. The only awkward thing about the setup is that the separate toilet room was near the child's bed.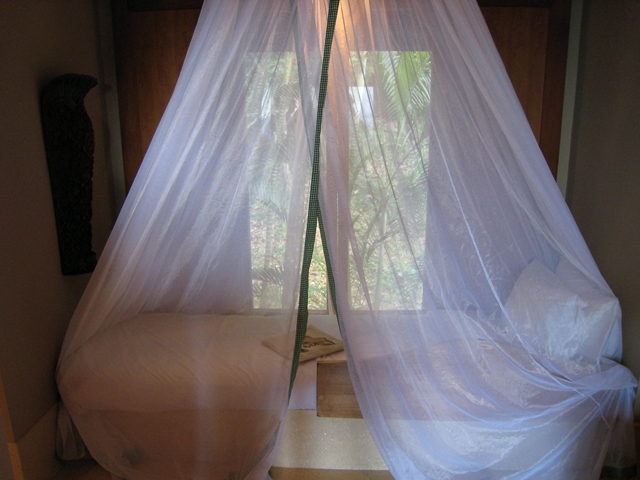 There was an Amankila tote bag with a coloring book and coloring pencils for the munchkin: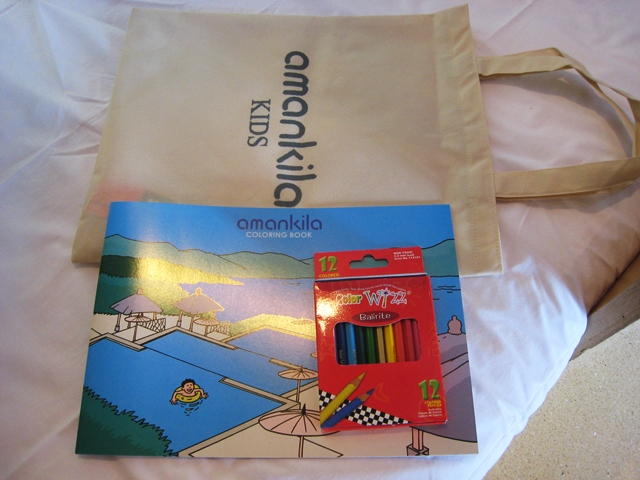 The bathroom included dual mirrored vanities across from each other; here's one of them: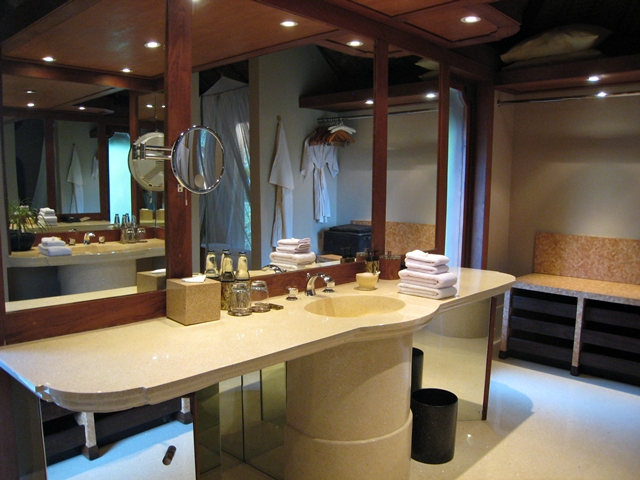 The bathtub was deep and what the munchkin especially loved was the bubble bath–that, with his rubber ducks from the Four Seasons Hong Kong, made for a *very* happy bathtime!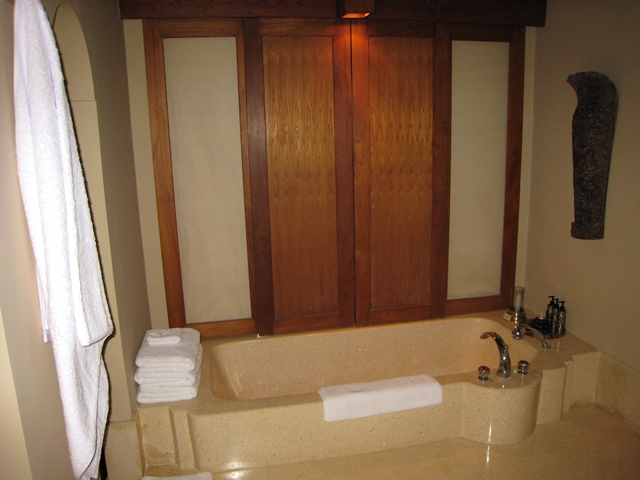 There was also a separate shower, with both a rain shower and a regular shower head: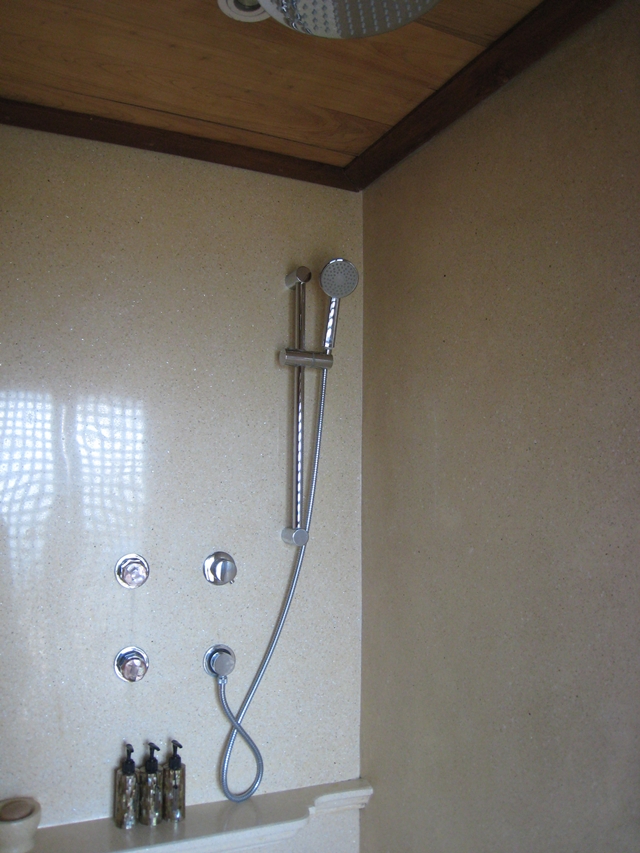 Between the bathtub and the alcove with the munchkin's bed was an island with the minibar, complimentary cookies, and a coffee machine. Unbelievably for us, we had so many other delicious meals that we didn't even try the cookies, but I made a cup of coffee the following day and it had excellent body, not bitter at all.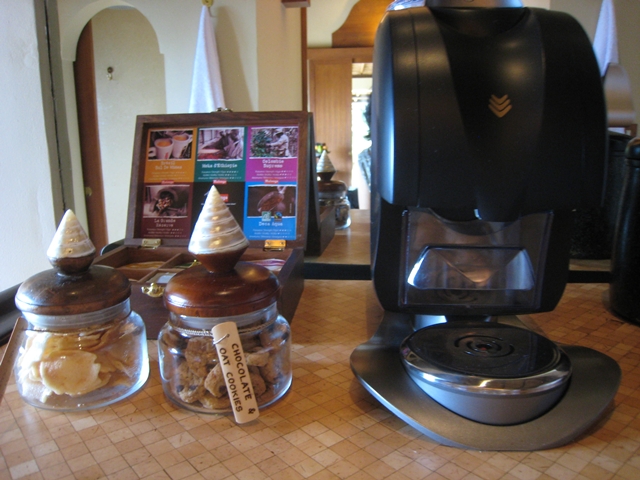 After changing and downing the delicious passion fruit welcome drink, we made our way down the many stairs to the lobby. We could have called for a buggy, but it's good to get a little exercise, especially as we didn't use the gym at any of the resorts we stayed at 🙂
The place the Aman XII boat cruise leaves from is about a 10 minute drive away, and we were soon there and on the boat. We were the only ones, so it was actually a private cruise, although there was plenty of space on the yacht. My husband and I enjoyed simply relaxing on the cushions and looking out to see, and the munchkin did that too for part of the time, though he also curiously looked around to see how the boat was being steered: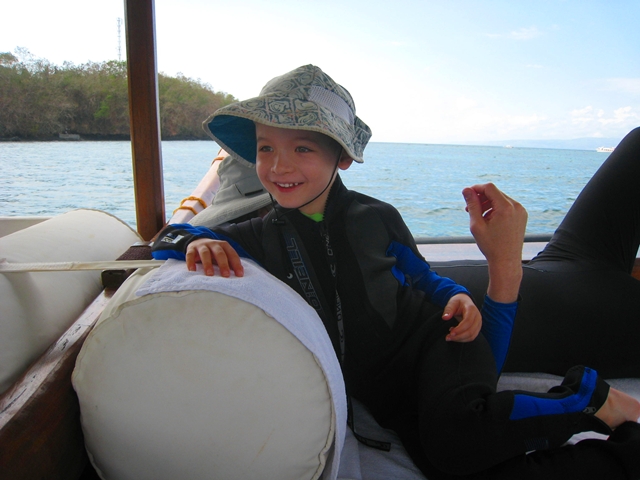 The trip was mainly a cruise, but there was a good amount of time for snorkeling at Padang Bai as well. Amankila supplied snorkel gear, and my husband and I took turns looking after the munchkin while the other snorkeled. We didn't take any underwater photos here, but did see many of the same fish that we saw snorkeling at Nusa Lembongan and Nusa Penida (although no manta rays and no dolphins. If you don't manage to make it to Nusa Penida or Nusa Lembongan, this is one of the better places off Bali to snorkel.
Afterwards, the two crewmembers set up a delicious brunch for us, complete with fresh squeezed juice and hot coffee from an insulated carafe. There's nothing like a hearty brunch after snorkeling!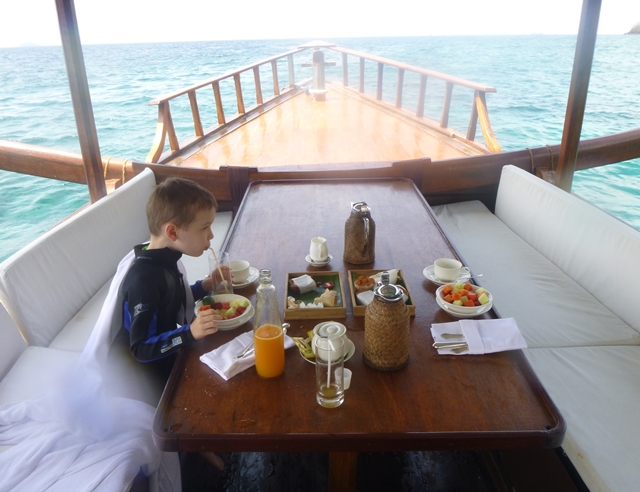 Afterwards, we went back to Amankila, enjoyed a nice nap (since we'd gotten up quite early that day) and then my husband and the munchkin enjoyed swimming and water pistol fights in all three of the Amankila's tiered pools–no one else was around, so fortunately they didn't disturb anyone. While they were swimming, I saw two little girls, Balinese dancers getting ready for that evening's performance. They were kind enough to let me take a picture of them: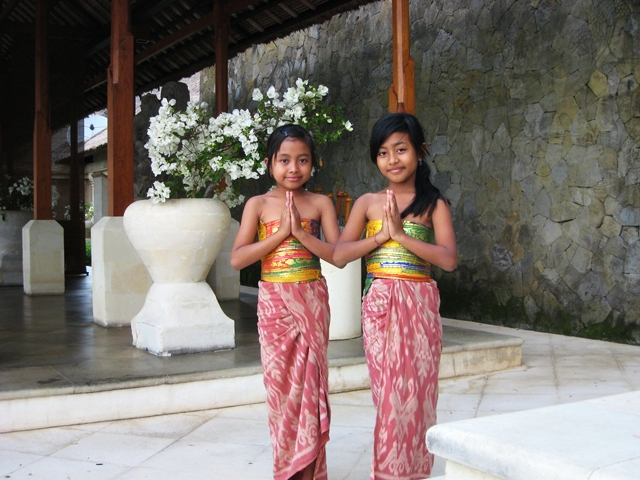 We returned to our villa, showered, and went for an early dinner at the Restaurant, since we wanted to watch the dance performance that was at 6pm. We were the first ones at the Restaurant (I was beginning to wonder where all the guests were, since we scarcely saw anyone) and were seated at a candlelit table.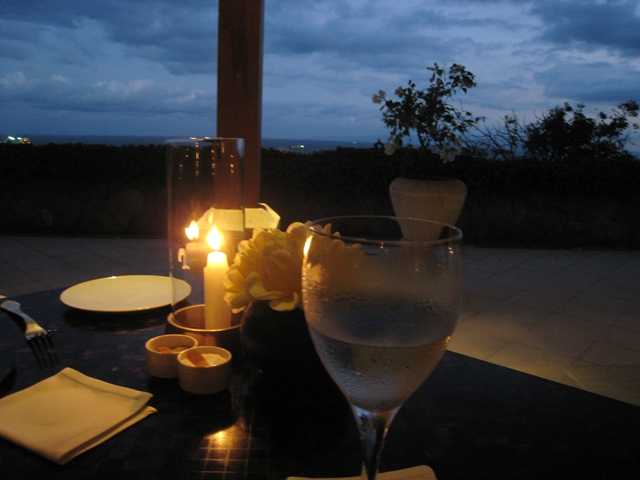 The munchkin was thrilled to find quesadilla on the children's menu, so we ordered that for him. He was already ravenous, however, so we also asked our server if it would be possible to give him some bananas and bread. They graciously obliged, much to our relief (as any parents of a very hungry, borderline cranky kid can relate to!)
My husband, who normally loves spicy food but was recovering from a mild case of "Bali Belly" ordered roast grouper with pumpkin puree from the European menu, which was perfectly seared and very good.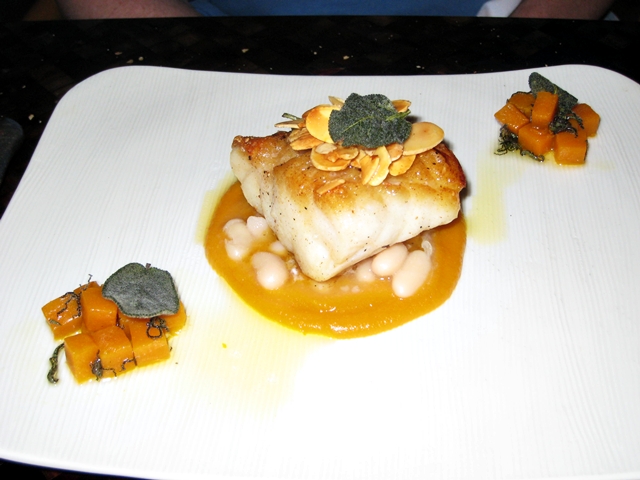 I was thrilled with the Balinese seafood curry I ordered–exquisitely fresh seafood, including generous chunks of lobster, bathed in a fragrant coconut milk curry sauce redolent of lemongrass, kaffir lime, chili, and other spices. Yum! Another recipe I plan to request.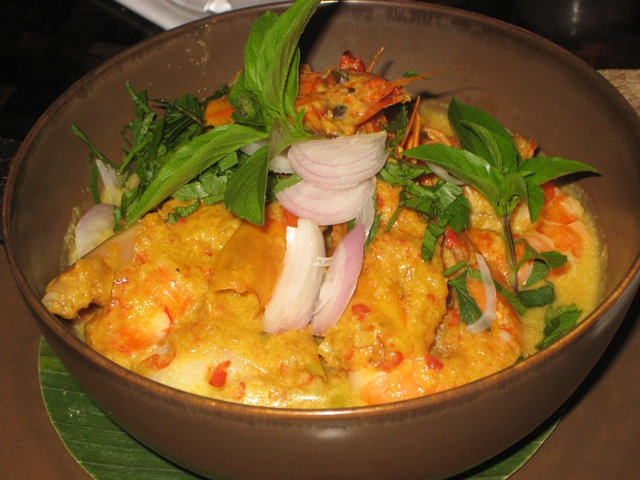 b
For dessert, we shared the passionfruit souffle, and it was fantastic–perfectly light and airy, with great tangy passionfruit flavor. I hope I can persuade Amankila's chefs to part with the recipe.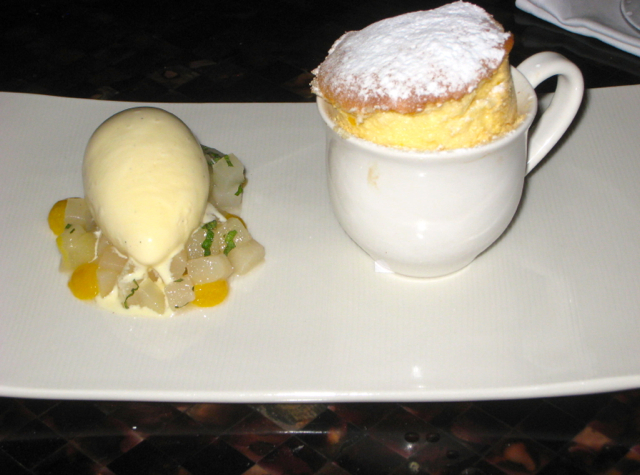 The best was yet to come, however–we were so fortunate that on the one night we were at Amankila, the resort had arranged for a full gamelan orchestra and talented young Balinese dancers to perform by the candlelit tiered pool. Cushions had been places on the stone stairs, and for the first (and only) time, we saw most of the other guests. The dancing and gorgeous costumes were so stunning that the munchkin watched with his mouth partly open, and once the performance was over and we had all clapped, he said "Again!" and was so sad that it was over.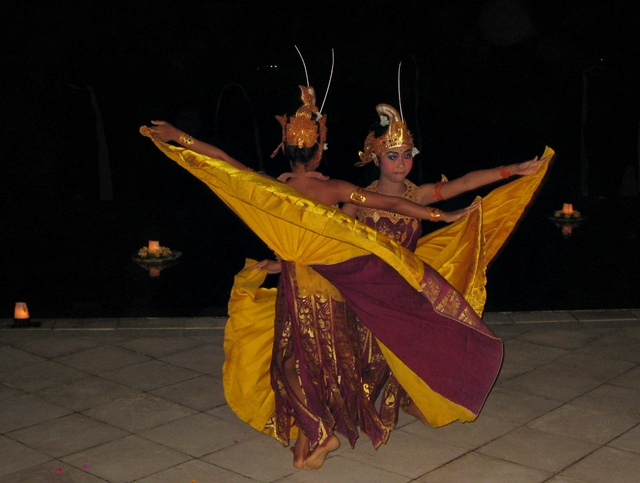 The next day, we explored the Beach Club, which one of the buggies took us to, down a very steep path. We were there in the morning and were the only guests there the entire time, notwithstanding the resort being at high occupancy. Some of the villas do have their own private pool, and no doubt some were also lingering over a leisurely Amankila breakfast.
We first wandered down to the private beach, where my husband and the munchkin enjoyed splashing in the ocean: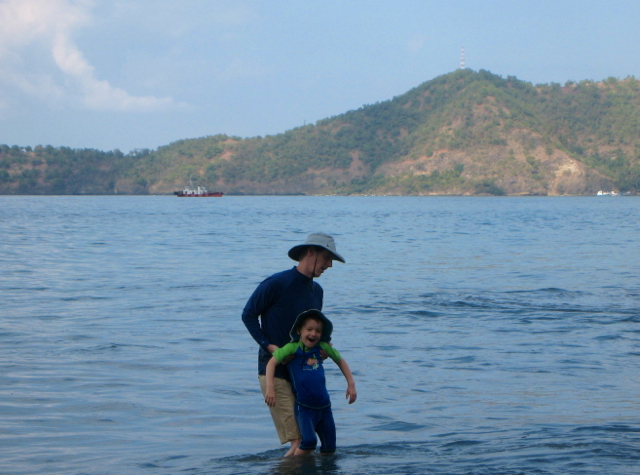 If you're not up for going in the ocean, there are also loungers to relax and take in the sea view: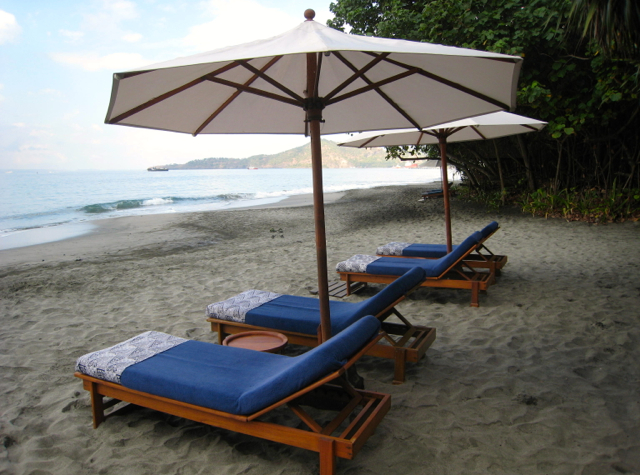 We then washed off the sand and made our way to the pool. While the munchkin and my husband had enjoyed splashing in the tiered infinity pools the day before (first making sure there was no one around that they might bother, which there wasn't, as it was late in the day) this was another great opportunity to let the munchkin be a kid, since we were the only guests there.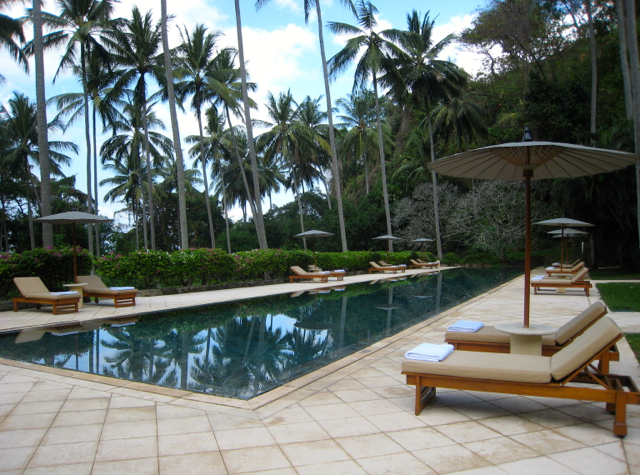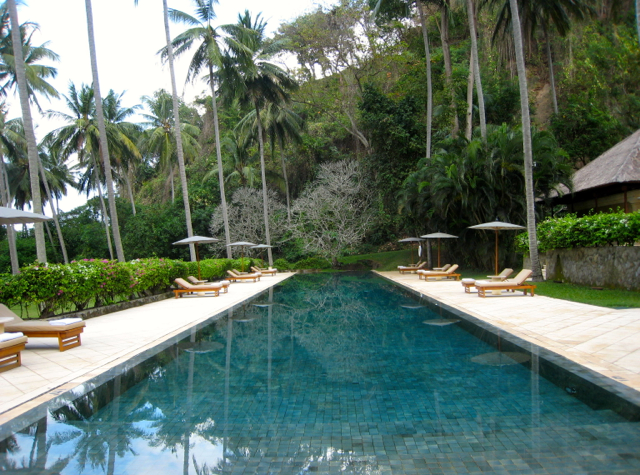 I'll cover our Amankila breakfast in a future post, as it was our most delicious breakfast of our Bali trip, and included in our Bali Break package.
Disclosure: We paid for our stay under the Bali Break package, which included breakfast and an activity.
Related Posts