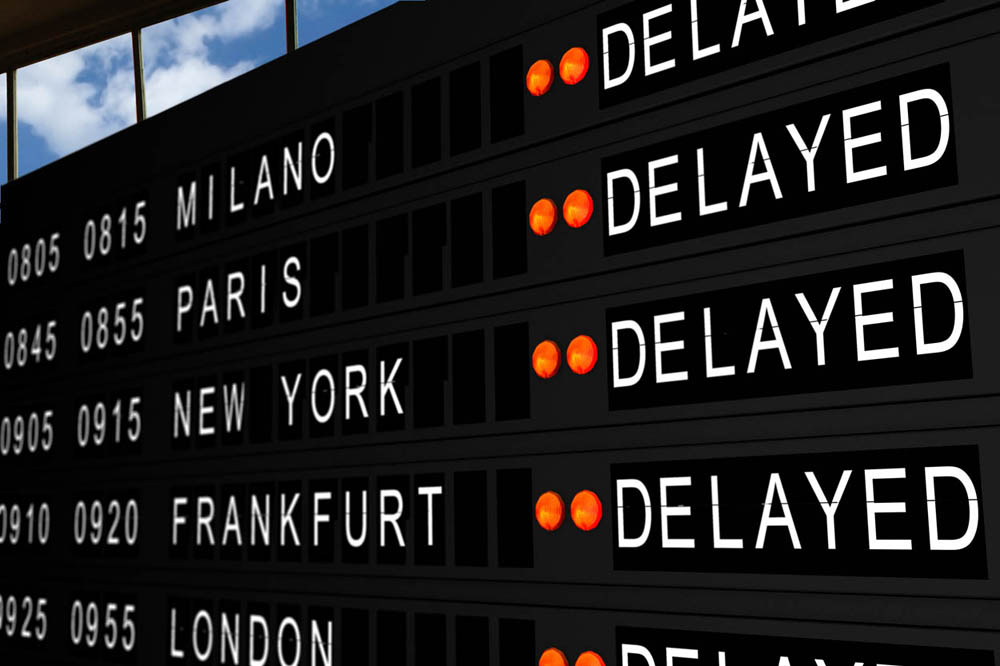 Will an airline compensate you for a flight delay that means a lost work day? TravelSort reader Prabuddha comments on the Airline Passenger Bill of Rights post:
"I was flying to Jakarta CGK via Tokyo Narita NRT and Bangkok BKK on ANA (All Nippon Airways) on a Mileageplus Ticket out of San Jose SJC. The plane had mechanical trouble and we were bussed over to SFO and put on a United flight to HND, connecting to BKK and CGK.
The original itinary had an 11 hour layover built into it at BKK where I planned to go out and see the city. Due to this rescheduling it became a 2 hour connection. I still reached CGK at my original time . However I did lose a day of vacation. If I was going to take the 8 PM United flight instead of the 12 PM ANA flight I could have worked that day. Do you think ANA will provide any compensation given that this was an United Ticket and I did reach final destination as per schedule."
Typically No Compensation for Flight Delays and Cancellations, Under the Airline's Contract of Carriage
The short answer is no, there is no compensation due, and this is typically the case with any type of delay or cancellation on airline flights from most countries, including the U.S., due to the contract of carriage. In this case, the relevant airline is ANA, so we look at the ANA Conditions of Carriage.
As usual, we find a provision specifying that schedules are NOT guaranteed and that ANA may change the schedule without any prior notice and is not responsible for any passenger consequences of such a change, bolding mine:
"ANA undertakes…to adhere to published schedules in effect on the date of travel; provided that times shown in a timetable or elsewhere shall be just scheduled but not guaranteed and shall form no part of the contract of Carriage. ANA may change any schedule of a flight without any prior notice and shall not be responsible for any trouble in respect of connection of a Passenger and/or his/her Baggage with any other flight because of such change."
And in ANA's Involuntary Rerouting section it reserves the right to carry the passenger on another flight, whether ANA or another carrier:
"…in the event that ANA cancels a flight, fails to operate a flight reasonably according to the schedule, fails to stop at a Passenger's Destination or Stopover point, is unable to provide a Passenger with his/her reserved seat or causes a Passenger to miss his/her connecting flight on which he/she holds a reservation, ANA will, at Passenger's option, follow either (a) or (b) below:
(a) ANA will have the option of providing any of the following remedies:
(i) carry the Passenger on any other flight of ANA on which a seat is available;

(ii) either Endorse to any other Carrier the unused portion of the Ticket to request such Carrier to carry the Passenger or request other transportation service to carry the Passenger; or

(iii) effect a Rerouting and carry the Passenger, by any other flight of ANA or any other Carrier or by any other transportation services, to his/her Destination or Stopover point indicated in the Ticket or any applicable portion thereof.
(b) ANA will provide an involuntary refund in accordance with paragraph (C) of Article 13."
Flight Delayed or Rerouted: Your Usual Choice is to Reroute or Accept a Refund
Your usual remedy if your flight is very delayed or rerouted is to accept the delay / rerouted flight or to get a refund and either make your own trip arrangements or abandon the trip. If you do intend to still go on the trip, it's a good idea to be proactive, see what alternative flights are available, and to try to get the airline you're booked with to change you to these preferred alternate flights.
If the airline isn't willing to do this, then request a refund and make your own alternative booking. Of course, this can be challenging or impossible depending on the available flight options, if you're trying to keep your seat in business or first class, use frequent flyer miles, etc. Just don't think you're going to be compensated by the airline for the delay, or for any consequential losses such as a lost day of work or vacation.
You Could Request a Goodwill Gesture, But Don't Expect Much, If Anything
Sure, you can write to the airline that is the operating carrier responsible for the delay or cancellation and request some kind of goodwill gesture, but don't expect much if anything, since there is no obligation per the conditions of carriage. As examples of what some have received for delays on AA flights, see
American Airlines Compensation for Cancelled Flight or Delayed Flight?
Want Some Kind of Payment for a Trip Delay? Buy Travel Insurance or Book with the Right Credit Card
If you want some kind of reimbursement for essentials due to a travel delay, consider buying travel insurance (a TravelGuard Gold policy provides $150 per person per day for a delay over 5 consecutive hours) or book with a credit card that provides travel delay insurance, such as the
Citi Executive AAdvantage
(see
Credit Card Trip Delay, Trip Interruption Insurance with Citi Executive AAdvantage
) which provides up to $500 in reasonable and necessary travel expenses such as hotel, meals, ground transporation, essential toiletries) for a travel delay of at least 3 hours. Another option is
AirCare
, which is now available for itineraries that include international flights (when I first wrote about AirCare, it covered domestic flights only).
The Main Exception: EC 261/2004 Flight Cancellation and Delay Compensation
The main exception to airlines not being obligated to pay for flight delays and cancellations is EC 261/2004, which I've written about quite a bit. But this is only applicable if:
Your flight is departing from an airport located in an EU Member State; or
Traveling to an EU Member State on an airline based in an EU Member State
So you are NEVER covered on flights to Europe on non-EU carriers, such as U.S., Asian, etc. airlines.
The Bottom Line
It's normal to be frustrated by a flight delay, but at least this reader got to his final destination on time, even though it meant a day less of vacation–this is better than many readers who write me about their horrific flight delays or cancellations. Just remember that, with the notable exception of EU flight compensation (which is not automatic and can take months to get the airline to pay) there is NO flight delay or cancellation compensation beyond the choice of getting a refund for your unused flights, and never any compensation for missed work or vacation days. That is what travel insurance is for, whether purchased separately or as part of certain credit cards.