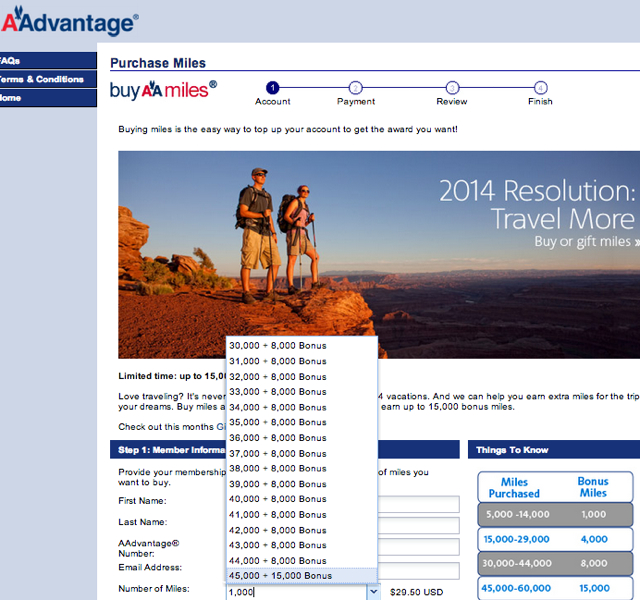 When is it worth it to buy frequent flyer miles? For example, currently there are bonuses when buying AA miles and US Air Dividend Miles (for those who bought or gifted Dividend Miles in 2013). While many folks never need to buy miles thanks to earning plenty of miles via credit card signup bonuses, flying and elite status bonuses and perhaps manufactured spend, if you don't have the type of miles you need for a trip and need miles quickly, it may well be better to buy miles rather than paying for a ticket.
Here's an example from one of my TravelSort clients. They are planning spring travel to Asia for a family, and have a good amount of AMEX Membership Rewards points. They want to travel in at least business class (no long haul coach flights), and also want to fly either together as a family of 4, or at least 2 and 2, with a convenient routing that minimizes travel time and stopovers. There is no business class or first class availability for even one person on their dates, with AMEX Membership Rewards airline transfer partners such as Singapore and Cathay Pacific, and likewise there's no award availability in business or first class on Star Alliance partners using Aeroplan for their dates.
I did find them a couple of AA first class awards for a return date that worked for them. One was available with British Airways Avios, so we were able to transfer AMEX Membership Rewards points to book that, but the other was only available at as a standard award with AA miles, and they only had half the AA miles needed to book it.
Enter the current AAdvantage Buy Miles Bonus, which offers tiered bonus amounts depending on how many miles you buy. You'd want to buy 45,000 AA miles and get 15,000 bonus miles to maximize the promotion, or, if you wanted to buy the maximum 60,000 AA miles, you could buy 45,000 AA miles + 15,000 bonus miles, then another 15,000 miles + 4000 bonus miles, for a total of 79,000 AA miles for $1808, or 2.28 cents per mile.
It's not the best buy miles promotion AA has offered, especially since in December 2013 American AAdvantage offered up to a 50% bonus when buying miles (30% bonus + the choice to earn 20% bonus miles that would post by January 31, 2014) but that expired offer of course didn't help my clients, since they're planning their trip right now.
While 2.28 cents per mile may seem steep, consider that their alternative for these two return flights would have been business class flights costing just under $4000 per ticket for their dates. Instead, even taking into account the value of their existing AA miles and the purchased miles, it came to ~$2800 for the ticket where we purchased some miles with the current bonus promotion. Sure, not nearly as good a value as if they'd earned those miles via signup bonuses and if a saver AAdvantage award had been available, but over $1000 in savings nonetheless by buying the additional ~60,000 AAdvantage miles needed.
If you're planning further in advance and bought or gifted US Airways miles in 2013, you should be eligible for the US Airways 100% Buy Miles offer, through January 31, 2014. Note that this is targeted, so if you didn't buy or gift any US Airways miles in 2013, you won't be eligible and won't see the bonus amounts on the US Airways Buy Miles page.
You can buy or gift up to 50,000 Dividend miles at the 100% bonus, so if you buy 50,000 miles you'll receive 100,000 Dividend Miles, or an effective 1.88 cents per mile. The problem is that, if your goal is more AAdvantage miles, we still don't know when US Airways miles will be able to be freely converted into AAdvantage miles and vice versa, or whether the current US Airways and AAdvantage award charts will remain when this becomes possible–so there's definitely risk there if your goal is more AAdvantage miles, rather than immediately booking a US Airways award on Star Alliance partners or on American. Note that currently you *cannot* use US Airways miles to book on oneworld airline partners.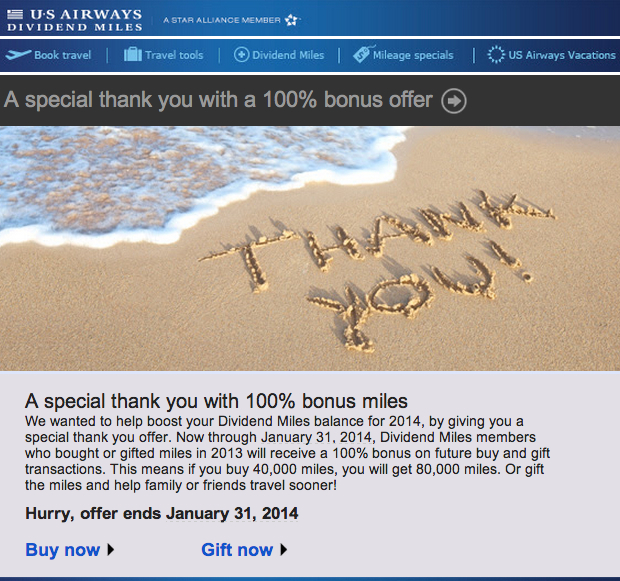 Takeaways
1. Buying Miles with a Bonus Can Be Worth It for International Business or First Class Awards
If you're planning a last minute trip in international first class or business class, especially for multiple people, and don't have enough frequent flyer miles or points for an award, it may well be worth it to buy miles. While we usually think of buying just a few thousand miles just to "top up" an account for a saver award, my clients' example above, using the current AA buy miles bonus, illustrates that it can sometimes even be worth buying almost half the miles needed and even booking a standard level award for more miles. They were able to secure their desired date, and they still came out ahead of purchasing a ticket. Don't forget to assign a value to any miles you already have and are using toward the award; I recommend a value of 1.7-2 cents per mile for most miles, but it may be higher or lower depending on your own valuation.
2. Diversify Your Miles and Points
I can't tell you how many clients I have who have the vast majority of their miles as AMEX Membership Rewards points. Now, I like transferring to Singapore KrisFlyer to fly Singapore Suites as much as the next person, but even with KrisFlyer miles there are many times when there are no awards, at least at the Saver award level. Likewise, even though you do have more options booking with Cathay Pacific Asia Miles (which you can transfer AMEX Membership Rewards points to), the distance based award chart can be very expensive depending on your award, especially relative to AAdvantage miles. And Aeroplan charges fuel surcharges on many partners, which lessens the attractiveness of that transfer option.
For international first and business class travel, I continue to recommend that you Diversity Your Miles and Points, earning American AAdvantage miles, SPG points, AMEX Membership Rewards points, Lufthansa Miles & More miles if wanting to fly Lufthansa First Class, and, to a lesser extent (due to the United Award Chart Devaluation) Ultimate Rewards points, if you can earn most of them at 5X points per dollar spent. Since there are often airline taxes and fuel surcharges (which can be in a foreign currency if booking a one way originating abroad).
3. Earn More Miles from Credit Card Signup Bonuses
Not everyone has the requisite credit score and patience to apply for multiple travel rewards credit cards and earn the signup bonuses, but I do recommend it, especially if you don't fly many paid flights and/or you need to book award travel for a couple or family. Also see Best Travel Rewards Credit Cards.
4. Plan International Award Travel as Far in Advance as Possible
It's a given that for peak travel times such as Christmas/New Year's and August (when many Europeans take their summer holidays) it's critical to plan international award travel a year or as far in advance as possible, especially for multiple award tickets. But space only fills up for various other times depending on the destination. If you're a family planning international spring break travel, I highly recommend planning a year in advance because you likely have very specific dates for your outbound and return and don't want your kids to miss too much school.
5. Consider the Option Value of Awards
Even if you ultimately can't use all of the award tickets you booked far in advance, if you book frequent flyer awards as low fee backup options, with low cancellation and redeposit fees, the option value is often worth it. Just note that typically mileage redeposit isn't instant, so you'll either want enough miles to be able to book new awards while waiting for your miles from the cancelled awards to be redeposited, or to leave plenty of time between cancelling and needing to book new awards so you can get your miles back.
Related Posts
Top 10 Best Ways to Earn AAdvantage Miles
Frequent Flyer Awards: Low Fee Backup Options