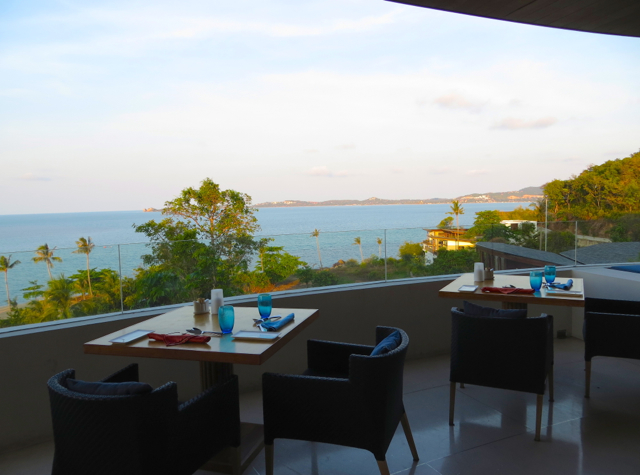 This W Koh Samui breakfast and Kitchen Table review is part of a trip report including Singapore Suites, Cathay Pacific First Class, Emirates First Class, Asiana First Class and luxury resorts and dining in Southeast Asia. For the previous posts, please see:
Singapore Suites A380 Review: New York JFK to Frankfurt
Review: Lufthansa Senator Lounge Frankfurt
Singapore Suites A380 Review: Frankfurt to Singapore
Singapore Airlines Private Room Lounge Review
Cathay Pacific First Class Review NYC JFK to Hong Kong
Singapore Suites A380 Review: Singapore to Hong Kong
Review: Grand Hyatt Hong Kong Club Harbour View Room
Tin Lung Heen Hong Kong Dim Sum Review
Review: Grand Club Lounge, Grand Hyatt Hong Kong
Emirates First Class A380 Review: Hong Kong to Bangkok
Review: Novotel Bangkok Suvarnabhumi Airport Hotel
Conrad Koh Samui Zest Restaurant Review, Menu and Prices
Koh Taen Snorkeling with Tours Koh Samui Review
Conrad Koh Samui Jahn Restaurant Review, Menu and Prices
Four Seasons Koh Samui Breakfast and Koh Thai Kitchen Review
Takho Bangpo (Bang Por Seafood) Koh Samui Review
Kitchen Table
Kitchen Table is the W Retreat Koh Samui's all day dining restaurant, serving a breakfast buffet in the morning, as well as lunch and dinner. There's a great view of the ocean from the outside terrace, although in the evening we had some issues with mosquitoes and moved inside.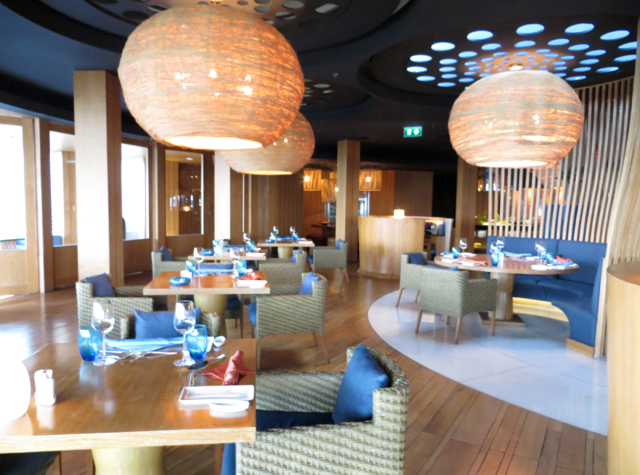 Breakfast Buffet at The Kitchen Table
The breakfast buffet is the best meal that the Kitchen Table offers, with plenty of choices: smoked salmon and tuna, cold cuts, curries, dim sum, noodle soups, omelets and pancakes made to order, fruits, yogurts, fresh squeezed juices, cereal and plenty of bread and pastry choices.
These were our favorite items:
1. Pastries
I have to say, the pastries, particularly the almond croissants and the chocolate cream doughnut pictured below, were a lot better than I expected. While I missed my favorite deep fried chocolate cream filled pastry from the Four Seasons, the almond croissant nearly made up for it, and was almost as good as what I get at Maison Kayser in NYC.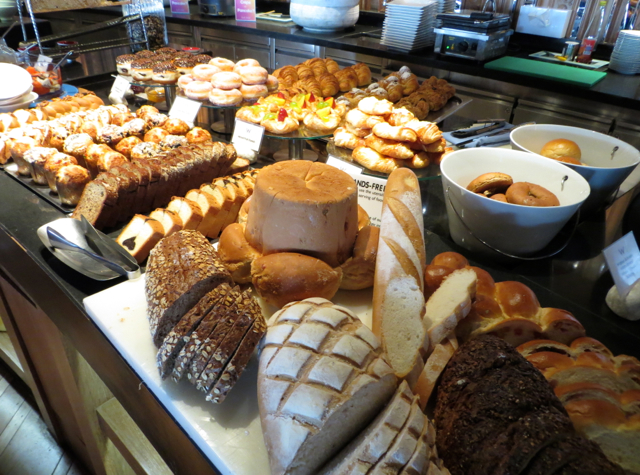 2. Perfectly Crispy Bacon
As at the Four Seasons, the bacon at The Kitchen Table breakfast buffet was perfectly cooked: nice and crispy. My husband loved pairing it with a chocolate cream doughnut for that mixture of salty, savory, sweet and creamy.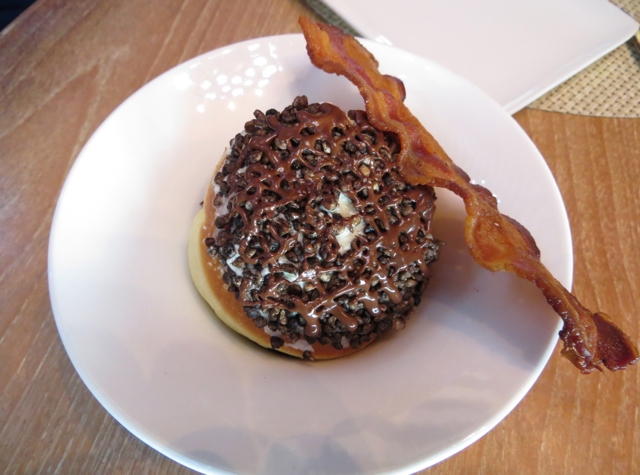 3. Illy Cappuccino
You can order espresso drinks made to order, as part of breakfast, for no extra charge. The Illy Cappuccino was well crafted, with perfect foam, and even displayed some espresso art.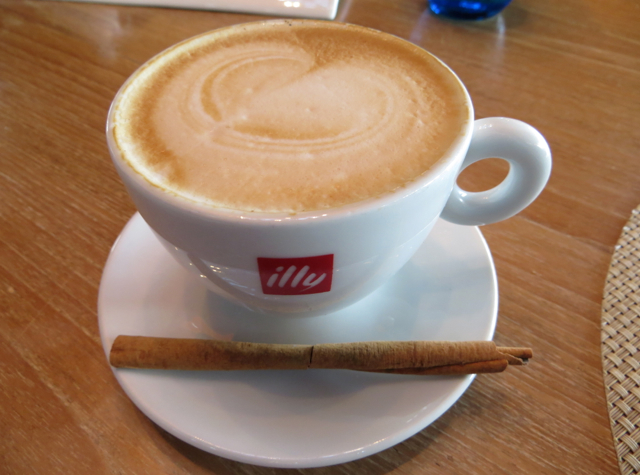 4. Yogurt and Granola
While not as good as at the Four Seasons, the homemade yogurt at the W Koh Samui was better (and colder) than the yogurt at the Conrad Koh Samui.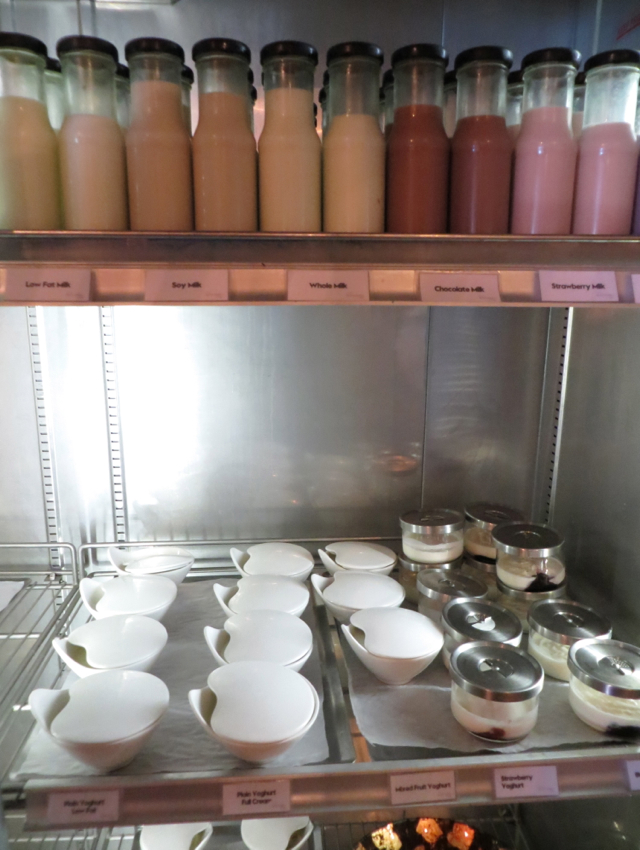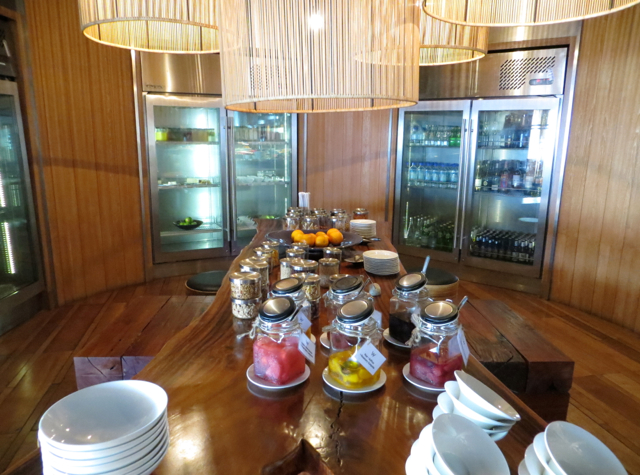 Ok But Nothing Special
1. Dim Sum and Dumplings
I liked that dim sum was offered, even though I enjoy way better dim sum at Oriental Garden in NYC. It was a nice touch that a server went from table to table offering some additional dumplings.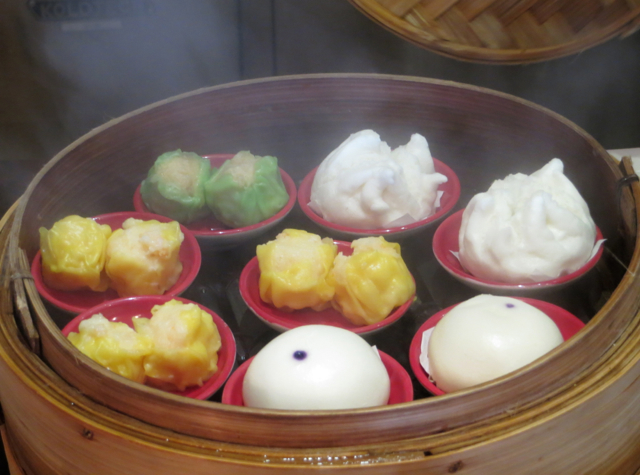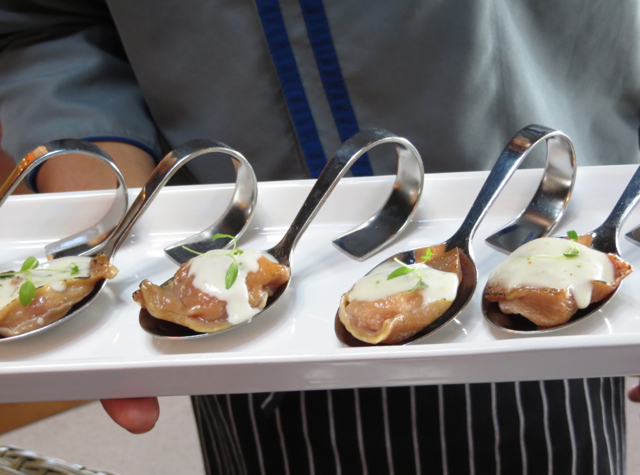 2. Smoked Salmon
I was glad to see smoked salmon offered, since I enjoy it for breakfast. It was also on offer at the Four Seasons Koh Samui, but not at The Conrad Koh Samui.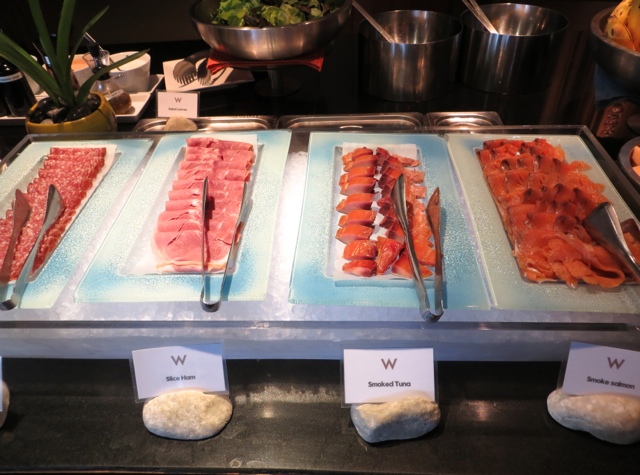 3. Curries
These were fine, and to be fair I didn't try all of them, but I can get much better Thai curries in NYC, for example at Up Thai (even though I do have to ask them to make it much spicier than they do normally).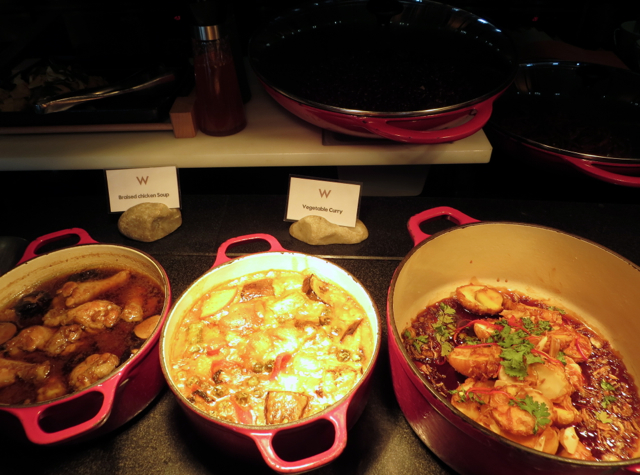 Dinner at the Kitchen Table
We enjoyed the view just before sunset from The Kitchen Table, and our meal was good, although not that memorable. Dessert was awful. Here's the run down, in order of best to worst:
1. Spicy Pork with Chili and Crispy Basil
This was my favorite dish of those that we tried for dinner, as simple as it was. Minced pork, spiked with plenty of chili, some fish sauce and other seasonings, and crowned with crispy fried Thai basil. Good comfort food with the welcome textural contrast of the fried basil. I did ask for it to be made really spicy, which helped.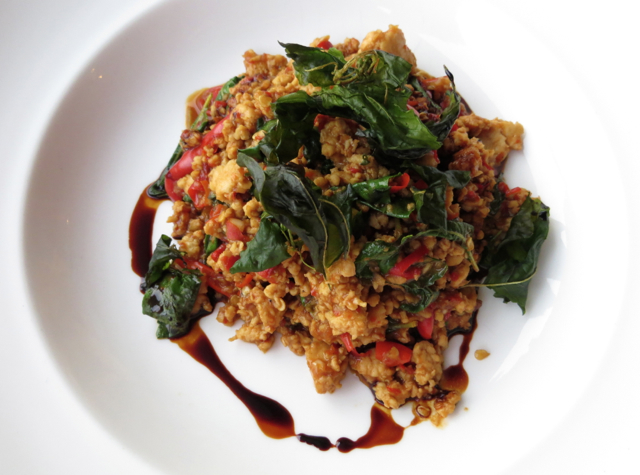 2. Complimentary Bread with Spicy Dipping Sauce and Olive Oil/Balsamic
The complimentary bread that started our meal certainly wasn't Thai, although there was some spicy dipping sauce provided in addition to the usual olive oil and balsamic vinegar. The munchkin and my husband ate a ton of this, and the bread was nice, fresh and warm.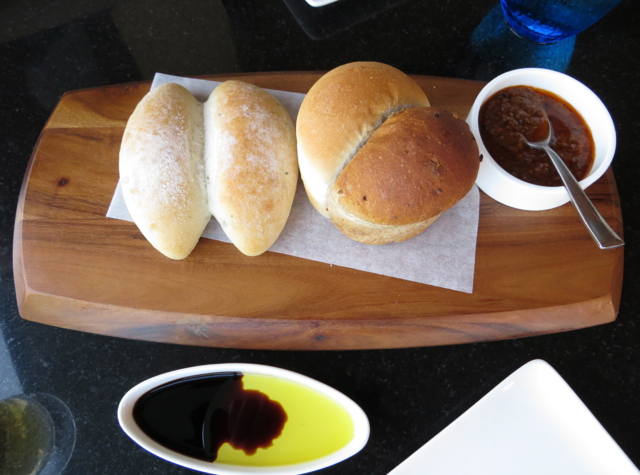 3. Creamy Pasta with Mushrooms and Asparagus
My husband decided to take a break from Thai food and ordered a creamy pasta dish with mushrooms, chicken and asparagus. I tried a bite, and it was actually quite good.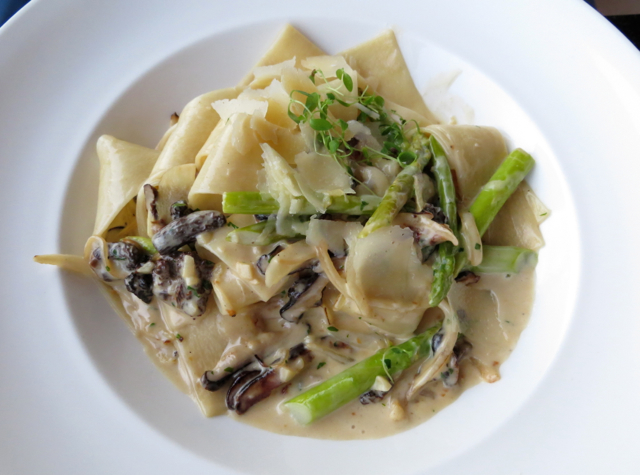 4. Kids Meal of Penne Bolognese with Parmesan Cheese
The munchkin was happy with his Penne Bolognese with a generous side of parmesan cheese, and the side of carrots we ordered for him. Not as good as the spaghetti bolognese he enjoyed at Jahn at the Conrad Koh Samui, but a more generous serving, which was helpful given how much he eats.
5. Kids' Ice Cream Sundae Dessert
It's hard to go wrong with an ice cream sundae, so the munchkin's dessert from the kids' menu was the best of the bunch. We substituted mango sorbet for one of the flavors without any problems.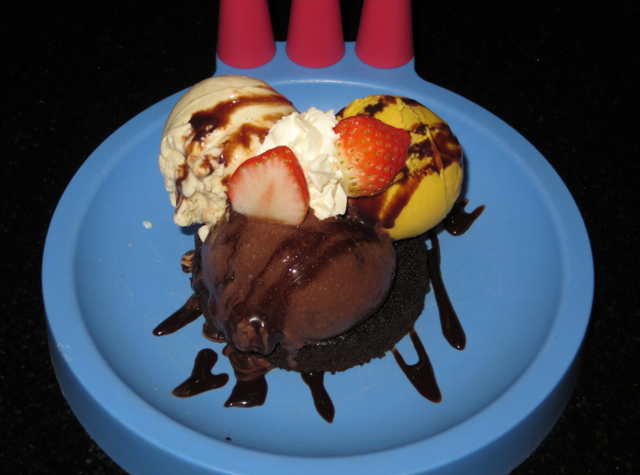 6. Chocolate "Brownie" with Ice Cream
This was disappointing, since the supposed brownie was really like chocolate cake, and not a good one at that. The strawberries on the side weren't ripe and completely tasteless. A waste of money.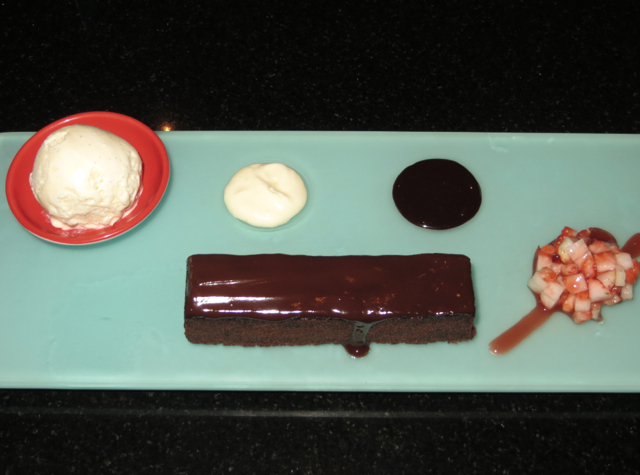 7. "Molten" Chocolate Cake with Ice Cream
This dessert apparently held up the rest of our dessert orders–we waited what seemed like an eternity for our desserts, only to receive this specimen which was only slightly tastier than a piece of cardboard. It had been very overbaked, so there was no molten center to it. We left most of it, and weren't asked about why.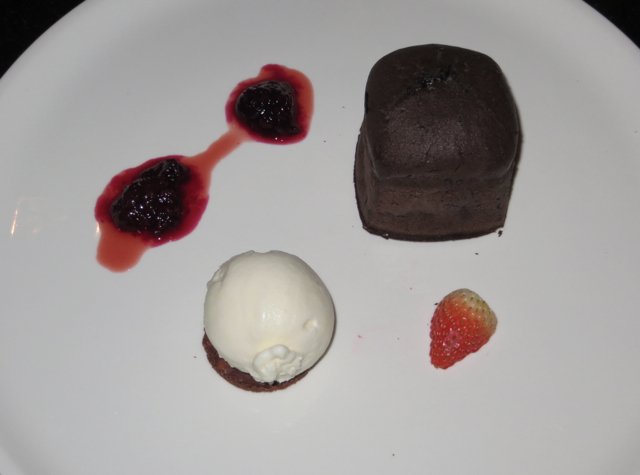 Service at The Kitchen Table
The breakfast buffet service was best, even though as a buffet, you serve yourself. All the chefs were friendly and helpful, and our water glasses were refilled promptly.
Service for dinner was more lackluster. We were served by a ladyboy, who seemed to be going through the motions and wasn't particularly friendly. When we decided to move inside, none of our glasses or napkins were transferred, so we had to ask for new ones.
The Verdict: The Kitchen Table at the W Koh Samui offers a very good breakfast buffet, with particularly good pastries and Illy espresso drinks. Most other breakfast items are solidly executed, if not exceptional. Dinner pastas were good, if not memorable, and the kitchen is willing to amp up the spice for Thai entrees. Forget ordering dessert, as these were terrible.
If you've visited The Kitchen Table at the W Retreat Koh Samui, what was your experience?
Related Posts
Four Seasons Koh Samui Breakfast and Koh Thai Kitchen Review
Takho Bangpo (Bang Por Seafood) Koh Samui Review
Need Award Booking Help? Our fee is as low as $75 per ticket if you book your hotel through us.
If you enjoyed this, join 100,000+ readers: please follow TravelSort on Twitter or like us on Facebook to be alerted to new posts.
Become a TravelSort Client and Book 5-Star Hotels with Virtuoso or Four Seasons Preferred Partner Amenities!