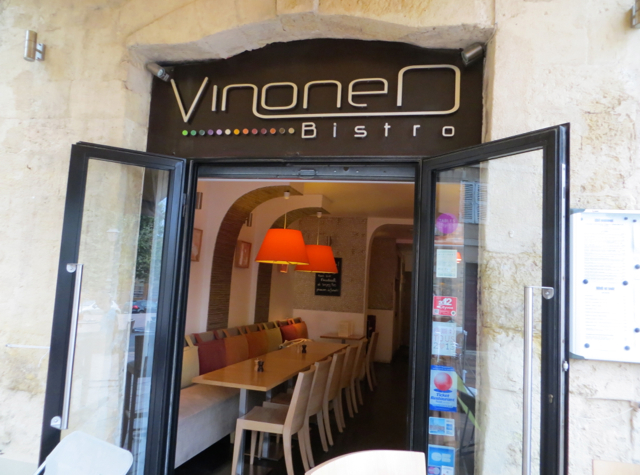 This Vinoneo Bistro Marseille Restaurant Review is part of a UK and France trip report including flights in British Airways in New First Class, Singapore Business Class and Singapore Suites, stays in a Scottish castle and 5-star hotels in London and Paris, and Michelin Star Dining in Paris. For the prior posts, please see:
British Airways Galleries Lounge in Newark and First Class Dining Review
British Airways New First Class 777 Review
British Airways Galleries Arrivals Lounge London and Concorde Room
Singapore Business Class Review NYC (JFK) to Frankfurt
Petrus London Restaurant Review
Dalhousie Castle Hotel Review, Scotland
Dalhousie Castle Falconry Review, Scotland
Epicure at Le Bristol Paris Restaurant Review
Four Seasons Paris Hotel Review
Paris Plages (Paris Beaches) Review
Le Cinq at Four Seasons Paris Restaurant Review
Park Hyatt Paris-Vendome Review
Park Hyatt Paris Breakfast Buffet Review
Prince de Galles Paris Hotel Review
La Grande Eperviere Barcelonnette Hotel Review
Things to Do in Barcelonnette, France with Kids
InterContinental Marseille Hotel Review
Vinoneo Bistro was a coincidence: I'd booked our stay at the InterContinental Marseille Hotel Dieu, but since it was just a brief overnight stay in Marseille, I hadn't researched any Marseille restaurants before our trip. Once we'd gotten settled in our room, I did a quick search online and was intrigued by the bistro Le Grain de Sel, but unfortunately, when I asked the Concierge about it, learned that it was closed during our stay. The Concierge recommended Miramar, one of the seafood restaurants in the Vieux Port, but it seemed that it would be overly touristy and overpriced, so I nixed that suggestion. Instead, after a bit more searching, I asked her to make a reservation at Vinoneo Bistro.
If you're staying at the InterContinental Marseille Hotel Dieu, Vinoneo Bistro couldn't be more convenient: it's literally steps away, just down the hotel's driveway and to the right. Since the munchkin was already hungry and I wanted to get him to bed at a decent hour, we were the very first reservation of the night, for 7:30pm, when the Vinoneo opened.
There was some indoor seating, but during our meal we didn't see a single soul seated there. Instead, everyone chose, as we did, a table on the outdoor terrace: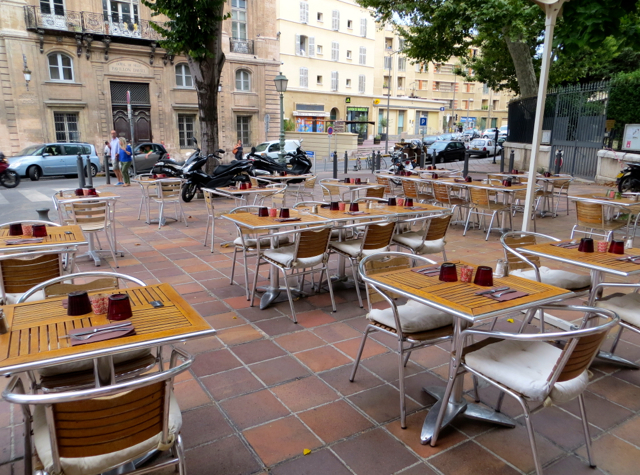 I liked that the dinner menu offered not only appetizers, but also half plates, allowing us to try more variety.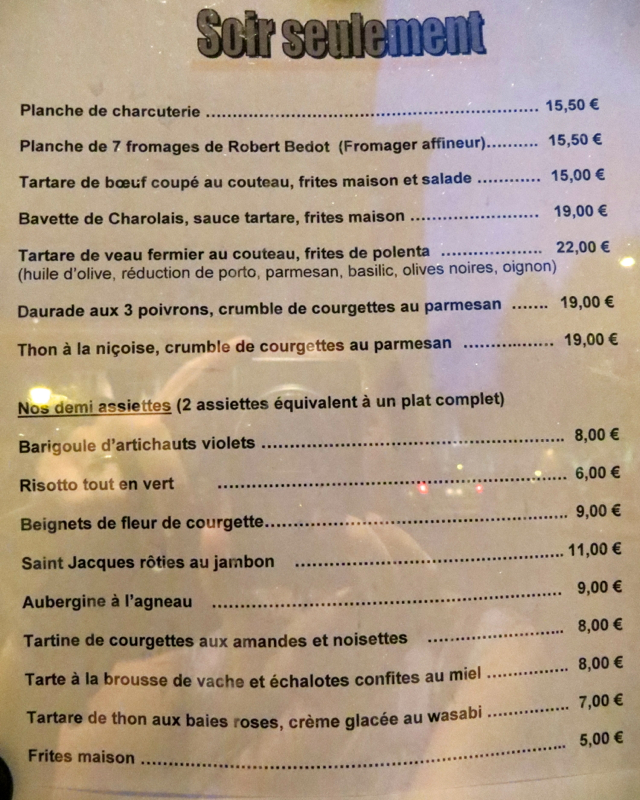 Our very friendly server was willing to explain everything in English, but my French is decent enough that it wasn't needed. I did check with him that he'd recommend the dishes we were thinking of, and went ahead with ordering a cheese plate for the munchkin and a couple of half plates.
We were first brought some olives and fresh sliced baguette on the house, although I was apparently too busy feeding and reading to the munchkin to get a photo.
Our first half plate to arrive were the zucchini blossom beignets, which were accompanied by a small side salad and a tomato-onion melange that reminded me a bit of Hawaiian lomi lomi salmon, although without the salted salmon. I've made fried zucchini blossoms at home and order them whenever I see them on a restaurant menu, and these were the best I've had to date. Even the munchkin, who looked at them a bit dubiously at first, really enjoyed them.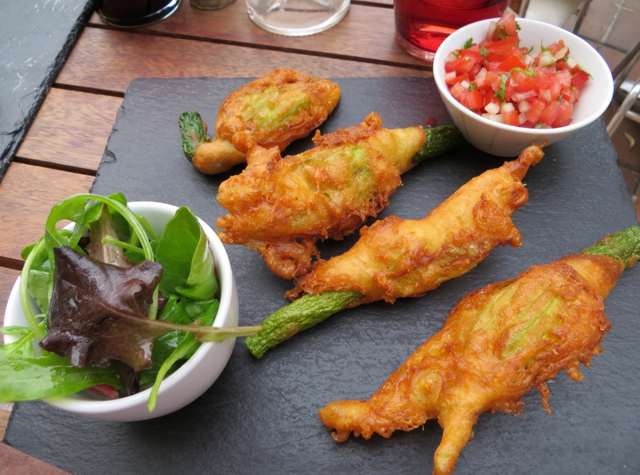 The tuna tartare with wasabi cream was fresh and well made, although not overly memorable. The munchkin didn't want any, so I had this dish to myself.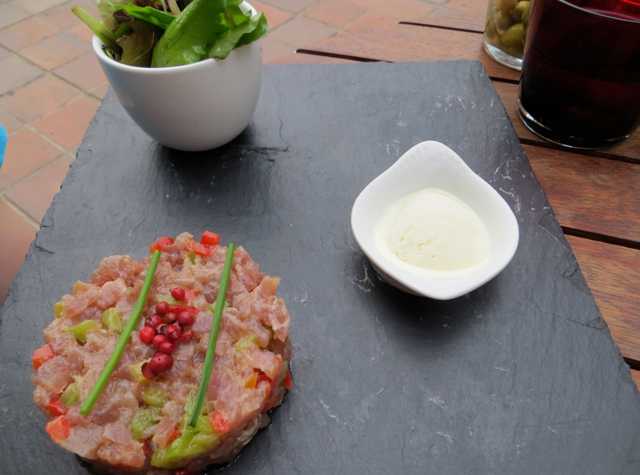 The cheese plate was a very nice one, with 7 different kinds of cheeses sourced locally. I enjoyed the variety, from mild and fresh goat cheeses to pungent, aged raw milk varieties (which the munchkin left for me). It too was accompanied by a nice side salad.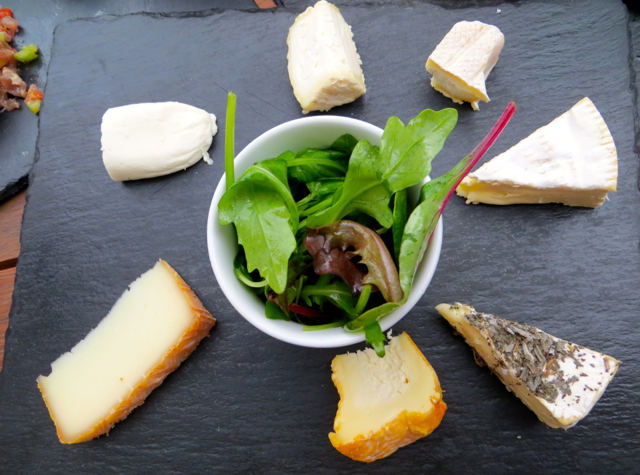 In retrospect we probably should have just ordered one dessert from the dessert menu: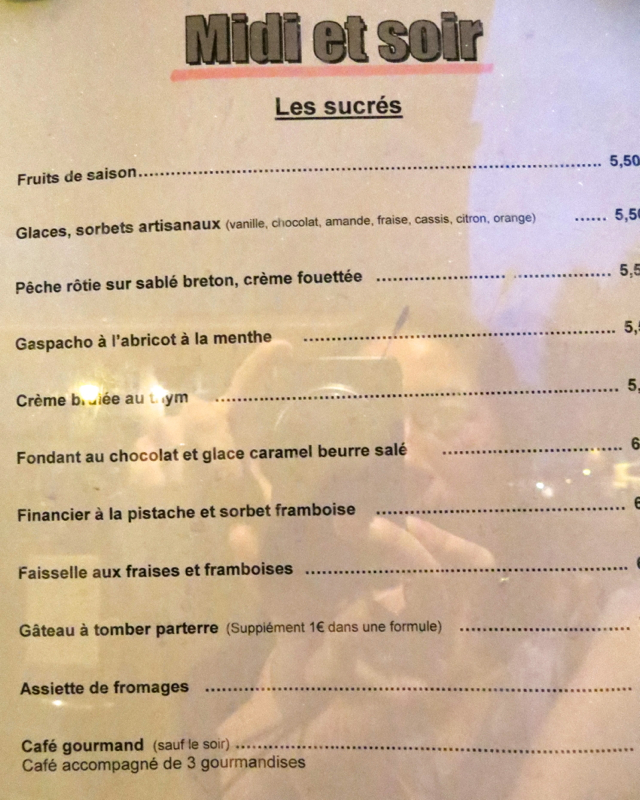 The munchkin chose a pistachio financier with raspberry sorbet. We enjoyed the refreshing sorbet, but ended up taking most of the pistachio financier with us. It was good, and we enjoyed it for breakfast the next day, but it was overshadowed by the other dessert we ordered.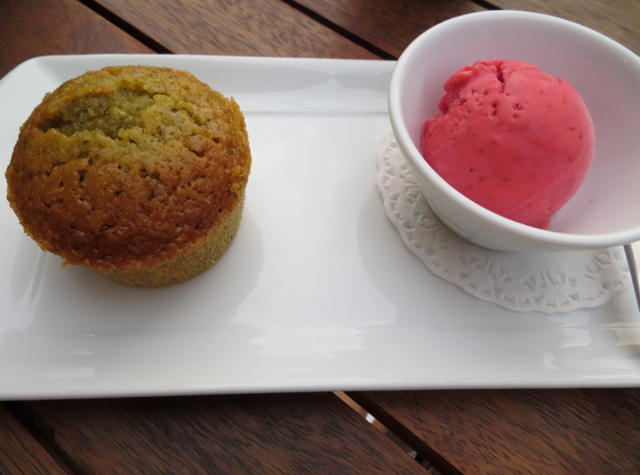 The real show stealer of our dinner, together with the zucchini flower beignets, was the moist cheesecake, fragrant with orange zest, served with apricot sauce. I make cheesecake and often have it at restaurants and I'm telling you, this was the best. cheesecake. ever. Almost enough to make me want to visit Marseille again (only half joking).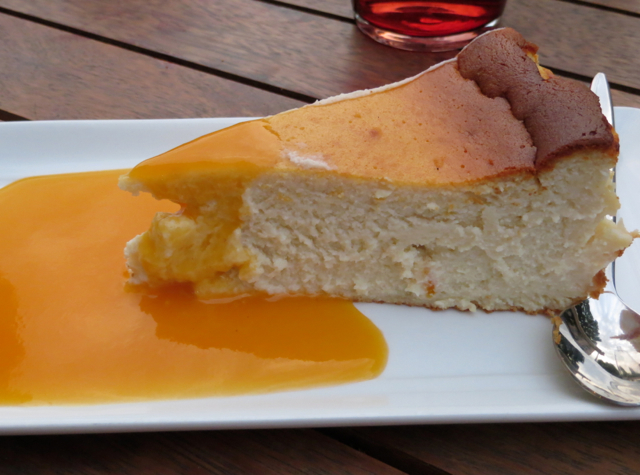 The Verdict: Vinoneo Bistro was excellent–I highly recommend it if you find yourself in Marseille, and particularly if you happen to be staying at the next door InterContinental Marseille Hotel Dieu or nearby. The food was well prepared, service was attentive and friendly, and both the fried zucchini blossoms and the cheesecake were some of the very best I've ever had.
What's your favorite bistro in Marseille, France?
Related Posts
InterContinental Marseille Hotel Review
Best French Riviera Luxury Hotels
Nice: The French Riviera on a Budget
What Are the Best Beaches in Nice, France?
Need Award Booking Help? Our fee is as low as $75 per ticket if you book your hotel through us.
If you enjoyed this, join 90,000+ readers: please follow TravelSort on Twitter or like us on Facebook to be alerted to new posts.
Become a TravelSort Client and Book 5-Star Hotels with Virtuoso or Four Seasons Preferred Partner Amenities!