Which Airlines and U.S. Airports use TSA PreCheck? With security lines so long that many passengers have been missing their flights, it's more important than ever to take advantage of TSA PreCheck, which you have access to if you have Global Entry.
The Wall Street Journal
reported
that American Airlines estimated that tens of thousands of AA passengers have missed their flights so far in 2016 due to security line delays, and that the peak wait time on a recent Thursday at Chicago O'Hare ORD was 1 hour 45 minutes. Airports such as Seattle have even taken matters into their own hands and hired additional workers (90, in Seattle's case) to help the TSA with non-security tasks, through the peak summer travel season.
So which airlines and airports use TSA PreCheck?
Which Airlines Use TSA PreCheck?
TSA PreCheck has recently expanded to include 4 new airlines: Aeromexico, Cape Air, Etihad Airways and Seaborne Airlines. Here is the complete list (updated as of September 2016; Lufthansa added) of airlines that participate in TSA PreCheck:
Aeromexico
Air Canada
Alaska Airlines
Allegiant
American Airlines
Cape Air
Delta Air Lines
Etihad Airways
Hawaiian Airlines
JetBlue Airways
Lufthansa
OneJet
Seaborne Airlines
Southwest Airlines
Sun Country Airlines
United Airlines
Virgin America
WestJet
Which Airports Use TSA PreCheck?
There are over 160 airports that offer TSA PreCheck, although some of them only offer it during peak travel times. Check the
TSA PreCheck Airport and Airlines interactive map
to see if the airport you're departing from offers TSA PreCheck. Even many small airports offer TSA PreCheck, although the longest lines are often at the larger airports, which is where it will really make a difference in your time clearing security.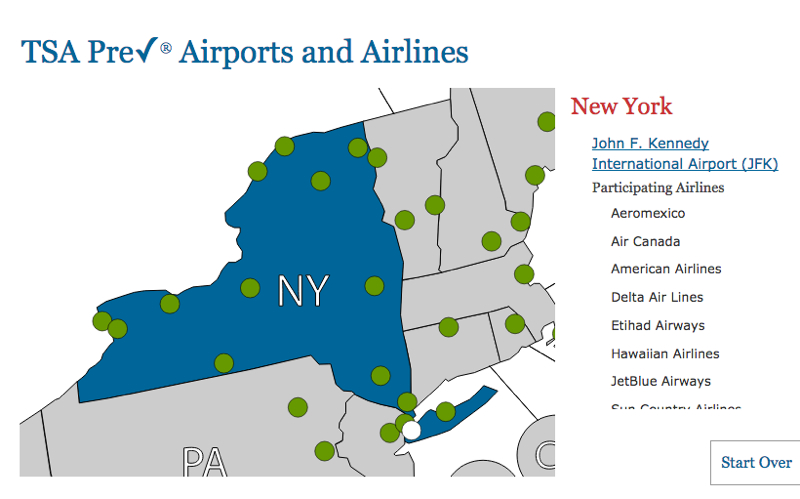 Leave Plenty of Time Even if You Do Have TSA PreCheck: PreCheck Line May Be Closed
You would think that TSA PreCheck would at least be open all day at the major U.S. airports, such as NYC JFK. You would be wrong. At JFK Terminal 8, for example, PreCheck is generally only open in the morning from 5-8am and in the afternoon and early evening, 1-8pm. So if you're aiming to clear security there 8am-1pm, or in the evening after 8pm, prepare for potentially very long lines.
Ensuring You Get TSA PreCheck
When booking your ticket, remember to provide your Known Traveler Number, or to add it to your reservation. You can't just show up at the airport with your Global Entry card and get into the TSA PreCheck lane, so the onus is on you to ensure that your Known Traveler Number is already in your reservation. Then, when you print your boarding pass or pull it up on your mobile phone, it should state "TSA PreCheck" on it.
Which Credit Cards Offer Global Entry Fee Credits?
I highly recommend Global Entry to save time clearing immigration when you return to the U.S. from international flights. There's a $100 application fee, but several credit cards (all with high annual fees) reimburse the Global Entry fee:
Do Kids Need Global Entry Too?
An emphatic yes–even your baby will need Global Entry if s/he is coming with you on the flight and you all want to use Global Entry. So make sure to apply for him or her, and you or your spouse/partner gets an additional credit card with a Global Entry credit, you can use it towards your child's Global Entry fee.
What's been your experience with TSA PreCheck?
Related Posts