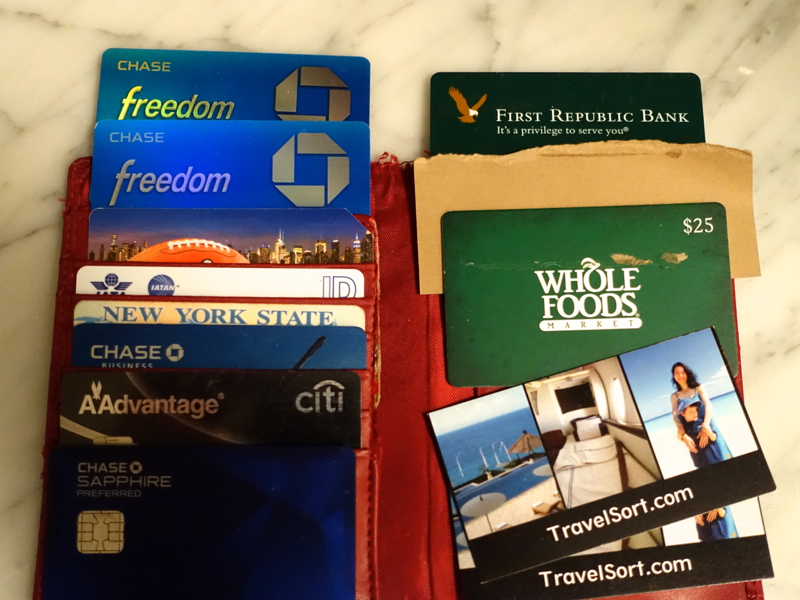 How We Earned 1 Million Miles and Points This Year prompted some readers to ask which travel credit cards I have in my wallet now, which I plan to cancel, and strategy for new cards in 2015. It's been over 2 years since I last shared what's in my wallet, so I'll do a snapshot view of what I'm holding now, with a future post on which cards my husband and I plan to cancel and apply for.
You'll notice there are no AMEX cards, which typically I only find worth applying for if there's a great targeted signup bonus. But it's become really a one-time thing for personal credit cards, given that AMEX signup bonuses have become once in a lifetime. For the most part (with one exception that I'll cover in a future post) I don't bother with hotel rewards cards either–the best luxury hotels are not the ones that are part of a hotel loyalty rewards program, so we focus our efforts on earning miles and points for international first class and business class flights, and then pair those with Aman Resorts, Four Seasons, and boutique properties that are members of Virtuoso.
1. Ink Plus
My primary business card is the Ink Plus, so I always have it in my wallet. This one I use exclusively for business expenses, including 5X for Internet and cell phone spend and 2X for hotel spend, although we have another one that we use to buy Amazon and Whole Foods gift cards, so that we can earn 5X on Amazon and 5X on Whole Foods spend.
2. Chase Freedom
Since I normally do the grocery shopping, I have my Chase Freedom and my husband's Chase Freedom. By maxing out the $1500 on each of them for the Q1 5X on grocery spend, we'll earn 15,000 Ultimate Rewards points. The plan is to use them for our Trader Joe's grocery shopping, and I'm thinking of simply buying $3000 worth of gift cards to simplify things and then using those gift cards for our shopping.
3. Sapphire Preferred Visa
My husband added me as an authorized user to his new Sapphire Preferred Visa to earn an extra 5000 points, and I find this handy for travel spend: adding funds to my NYC MTA card, the occasional taxi, and other travel spend such as foreign low cost carrier airline tickets, since there's no foreign transaction fee.
While the card is supposed to be great for dining (and does get 3X on the first Friday of each month, such as today) we try to rely more heavily on the quarter when the Chase Freedom offers 5X for restaurants, since of course 5X beats 3X, let alone 2X.
For my Award Booking clients, I recommend they use their Sapphire Preferred for my award booking fee, since as a travel agency they'll earn 2X on the fee they pay me.
4. Citi Executive AAdvantage
Although normally I don't carry around the Citi Executive AAdvantage, which we got primarily for the 100K signup bonus, we visited relatives over the holidays and I remembered that we might want to enter the American Admirals Club Lounge, so took my card with me for free entry.
Other Non-Credit Cards
The above 4 are it for the credit cards I'm currently carrying in my wallet, although of course there are a few other items in my wallet–and even a few dollars of cash, just in case I chance by the Union Square Greenmarket or other farmers market where credit cards aren't accepted.
5. First Republic ATM Card
What I most appreciate about First Republic are 1. the much better mortgage rate they offered us (also see How to Get the Best Mortgage Rate); and 2. that all my ATM fees, anywhere in the world, are refunded (see No ATM Fees: Bank Checking Accounts That Refund ATM Fees).
It doesn't hurt that you get to sit down at a desk instead of stand, and that they offer free cookies in the afternoon (that's the part my son knows them for–he's actually happy to go with me to the bank, now).
6. Whole Foods Gift Cards
I'm almost never without a Whole Foods gift card, bought with our Ink Plus in order to earn 5X. It makes fill-in shopping for fruits, vegetables, dairy and other organic items a bit more palatable, between major shopping at Trader Joe's.
7. IATA Card
While not needed on a daily basis, I keep my IATA card on me so that I don't forget it while traveling. I'm usually staying on a travel industry rate, and am typically asked for the card when checking in.
8. NYC MTA Card
A must for most New Yorkers, an MTA card gets you pretty much anywhere in the city via subway or bus. If you're visiting NYC, don't forget to check before entering a subway station that you can access trains going the direction you want to go (since some entrances are for uptown trains only or downtown trains only) and that for express buses you need to get a physical paper ticket as proof of payment before boarding the express bus. If you don't and there are inspectors, you could face a hefty fine.
On a more positive note, an MTA card can also get you an aerial tram ride to Roosevelt Island, which is a fun aerial view of the East River and of Manhattan on the return trip.
9. TravelSort Business Cards
Naturally I always have a couple of business cards with me, for potential new TravelSort Clients. While not particularly conventional, the photo helps jog people's memory of who I am, in the sea of other business cards (especially at events with tons of business cards, such as Virtuoso Week).
Which travel credit cards and other cards are in your wallet now?
Related Posts
2015 Chase Freedom Calendar 5X Categories: Better Than Last Year
Which New Travel Credit Cards for U.S. Travel and Future International Travel?
How to Combine Ultimate Rewards Points on New Chase Web Site
Best Ways to Use Chase Ultimate Rewards Points
Can Money Buy Happiness? Yes, If You Invest in Travel and Others
Need Award Booking Help? Our fee is as low as $75 per ticket if you book your hotel through us.
If you enjoyed this, join 150,000+ readers: please follow TravelSort on Twitter or like us on Facebook to be alerted to new posts.
Become a TravelSort Client and Book 5-Star Hotels with Virtuoso or Four Seasons Preferred Partner Amenities!