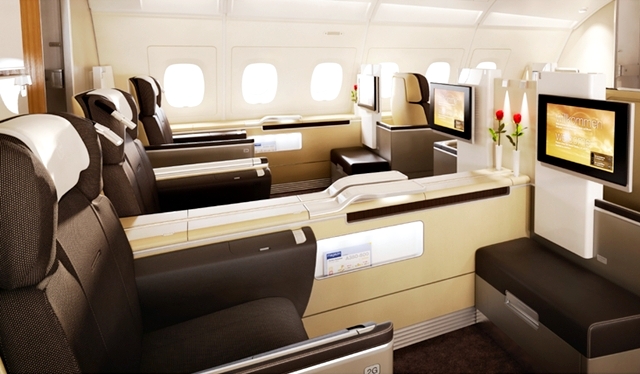 "How to book Lufthansa First Class awards with miles and points?" is a question I continue to get from clients and readers, especially those based on the West Coast, who would like those highly coveted San Francisco to Frankfurt and Los Angeles to Frankfurt routes in Lufthansa First Class.
Unfortunately, it's gotten harder to book these awards, precisely because they are so much in demand. Here are my current top tips for using frequent flyer miles for Lufthansa first class and business class awards.
1. Book with Miles & More Miles
You can book Lufthansa First Class with United or some other Star Alliance miles, if you book no more than 15 days in advance, at 110,000 United miles each way between the U.S. and Europe.
But if yoiu want to book further in advance and to have greater access to award availability, you'll need to use Lufthansa Miles & More miles. These can be earned from the Miles & More credit card, or from transferring SPG points to Miles & More miles. You'll want to transfer in increments of 20,000 points to get a 5000 (25%) bonus with each transfer.
2. Fly from Other Cities, Instead of San Francisco and Los Angeles
Lufthansa First Class between San Francisco (SFO) and Frankfurt and between Los Angeles (LAX) and Frankfurt are some of the hardest awards to book, especially for two people traveling together. It can be easier to find space from some of the other cities Lufthansa serves–of course New York JFK, but also cities such as Denver and Houston.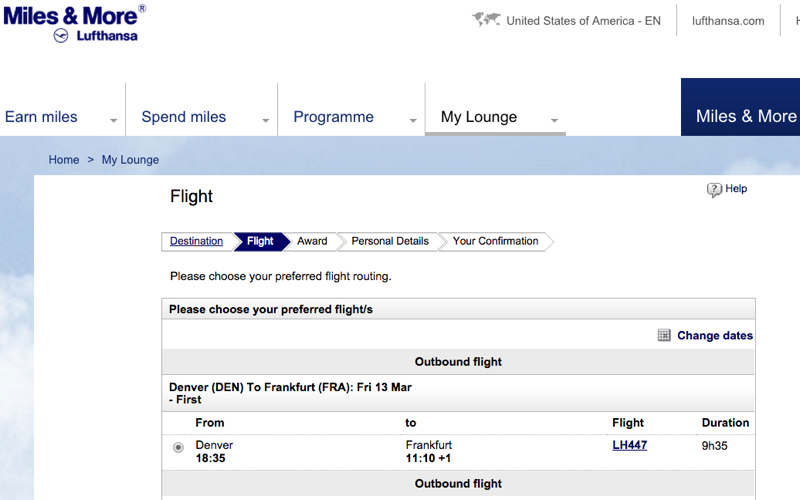 3. Book in Separate Cabins Then Keep Checking for Award Space
Another approach is, if you find one Lufthansa first class award seat and one business class award seat, to book that, then keep checking back to see if a second first class award seat opens up. It may or may not, so you'll need to be willing for one of you to fly business class (or take a different flight) if nothing opens up.
4. Fly to/from NYC, and Fly JetBlue Mint between SFO or LAX and NYC
Since there's so much greater Lufthansa First Class award space to and from New York JFK, another approach is to book that, and fly JetBlue Mint between SFO and JFK or LAX and JFK. Yes, you'll pay ~$1200 roundtrip on top of the Lufthansa award, but it will open up many more possible dates.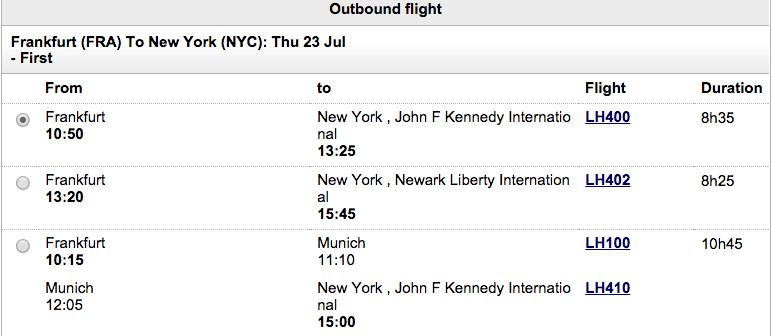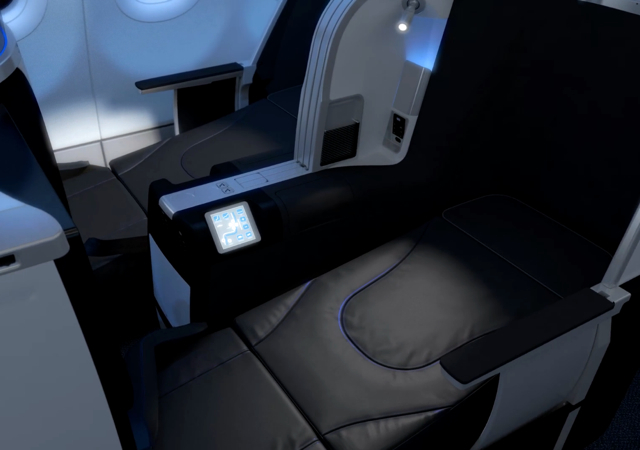 5. Fly to/from Munich Instead of Frankfurt
Similar to tip 2, go beyond Munich and look at flying into or out of Munich. Many folks prefer Frankfurt because of Lufthansa's First Class Terminal, but you could always add a business class flight from Frankfurt to Munich–you'd still get to experience the First Class Terminal, assuming you're departing on Lufthansa First Class the same day. Though really, Lufthansa's First Class Lounge in Munich isn't too shabby, with restaurant service and meals cooked to order, spacious shower suites, a nap room and even a cigar lounge for smokers.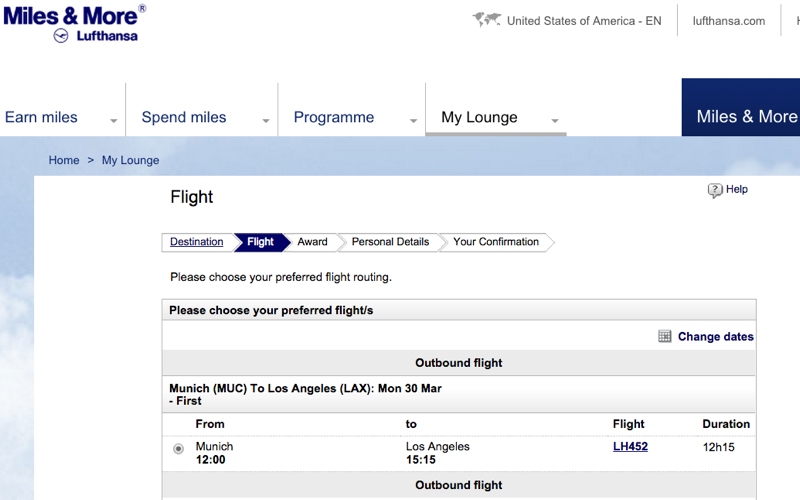 6. Fly SWISS Business Class Instead
If you can find SWISS Business Class into or out of Zurich for your dates and it's more convenient than anything you can find with the other tips above, you may want to fly it instead. It's not first class, but I do consider SWISS Business Class better than Lufthansa New Business Class, and you can book it in advance for some dates and routes using United MileagePlus miles. Plus, it's currently (until February 28) possible to book them at the same price as United operated flights. See MileagePlus: Discounted Lufthansa Business Class Awards Available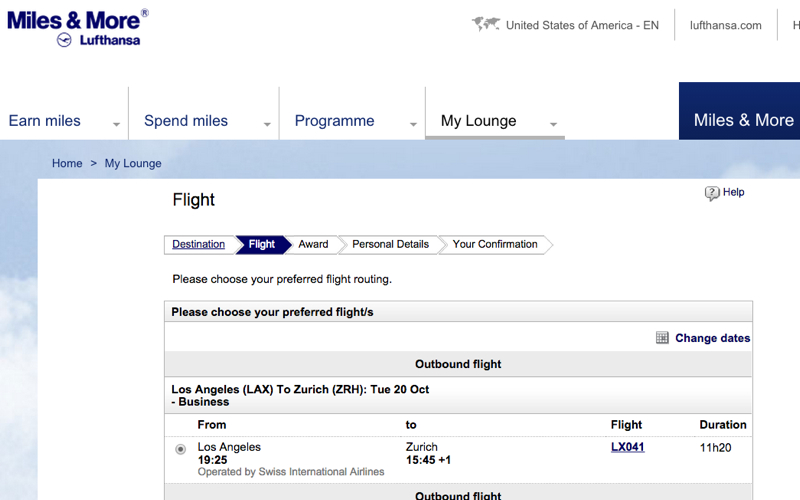 7. No Time? Use Our Award Service
Pressed for time or want help with your award booking? TravelSort offers an Award Booking Service for clients booking at least $3500 in hotels or cruises with TravelSort as part of their trip. Plus, you'll have the best chance of upgrades at luxury hotels as we're able to make your reservations with Four Seasons Preferred Partner, Peninsula Hotels PenClub,Dorchester Diamond Club, Ritz-Carlton STARS, Starwood Luxury Privileges, Rocco Forte and Virtuoso amenities.
What other tips have worked for you when booking Lufthansa First Class awards?
Related Posts
Which Travel Credit Card to Replace an SPG Business AMEX for Lufthansa Awards?
MileagePlus: Discounted Lufthansa Business Class Awards Available
Best Credit Cards for Award Flights to Germany for a Couple
Review: Lufthansa Senator Lounge Frankfurt
Which Lufthansa Flights Have New First Class and New Business Class
Need Award Booking Help? Our fee is as low as $75 per ticket if you book your hotel through us.
If you enjoyed this, join 150,000+ readers: please follow TravelSort on Twitter or like us on Facebook to be alerted to new posts.
Become a TravelSort Client and Book Your Hotel with Virtuoso or Four Seasons Preferred VIP Amenities!