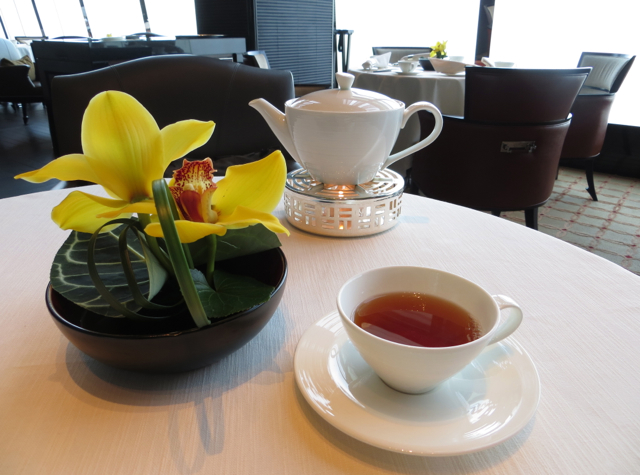 This Tin Lung Heen Hong Kong Dim Sum Review is part of a trip report including Singapore Suites, Emirates First Class, Cathay Pacific First Class, Asiana First Class and luxury resorts and dining in Southeast Asia. For the previous posts, please see:
Singapore Suites A380 Review: New York JFK to Frankfurt
Review: Lufthansa Senator Lounge Frankfurt
Singapore Suites A380 Review: Frankfurt to Singapore
Singapore Airlines Private Room Lounge Review
Cathay Pacific First Class Review NYC JFK to Hong Kong
Singapore Suites A380 Review: Singapore to Hong Kong
Review: Grand Hyatt Hong Kong Club Harbour View Room
Getting to Tin Lung Heen
Tin Lung Heen, which holds 2 Michelin stars, is located on the 102nd Floor of the Ritz-Carlton Hong Kong, at 1 Austin Road West in Kowloon. The Ritz-Carlton Hong Kong is attached to the International Commerce Centre shopping mall, which is above the Kowloon MTR station, so Tin Lung Heen is easily accessible by public transit, no need to take a taxi if the traffic is bad. Kowloon is also on the Airport Express Line, so an easy trip from and to Hong Kong International Airport.
Follow signs for the Ritz-Carlton hotel once in the International Commerce Centre shopping mall. Then, once you're in the Ritz-Carlton Hong Kong Lobby, you'll need to ascend to the 102nd floor to Tin Lung Heen.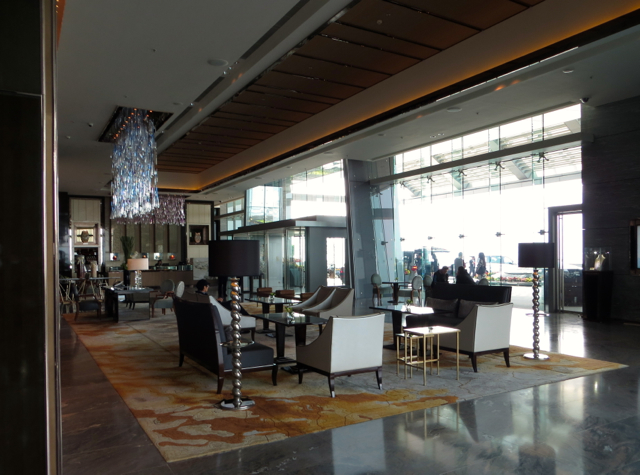 Reservations
Weekend dim sum is popular and advance reservations are a must, but fortunately I was still able to make an online reservation for myself for Saturday at 11:30am about 5 days prior. Perhaps I was just lucky that weekend, since, for example, Lung Heen King at the Four Seasons Hong Kong was fully booked both that Saturday and Sunday for dim sum brunch.
The Scene
I was early for my 11:30am reservation, so after being greeted by the hostess, I was invited to relax in a banquette in The Lounge & Bar, where I was given the dim sum menu to peruse.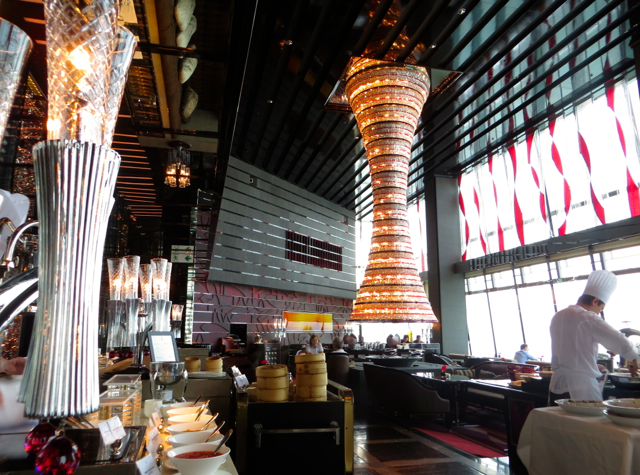 Just before 11:30, I was led to my table in Tin Lung Heen itself. The day was rather hazy, so I didn't feel I was missing much by not having one of the coveted window seats (book well in advance for those) as there wasn't much to see.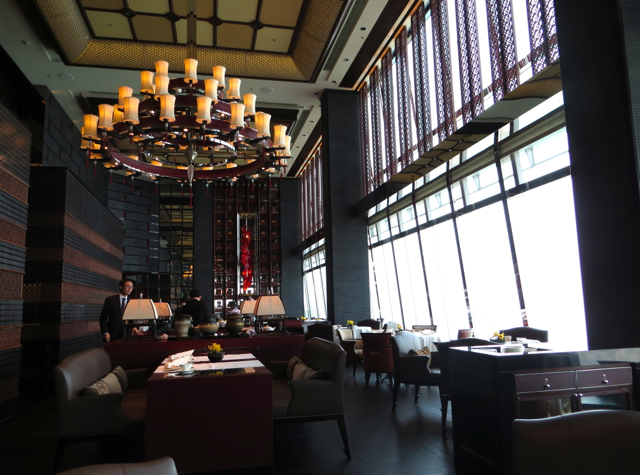 While I was the first to be seated, the tables seated after me seemed to be mostly well to do local families, with a few couples as well. As you'd expect, the setting is tranquil and considerably more elegant than your typical cavernous, bustling dim sum hall. Prices, while expensive compared to more pedestrian dim sum haunts, are in my view reasonable given the location and quality of ingredients and service.
Tin Lung Heen Hong Kong Dim Sum Menu and Food
Tin Lung Heen's dim sum menu includes many of the usual favorites, made with top quality ingredients and sometimes with slight variations. For example, steamed shrimp dumplings are elevated with black truffle, there's a pork and lobster dumpling with golden leaf, and rice noodle rolls come with barbecued Iberian pork, Wagyu beef, srimp and caviar, or scallop and asparagus.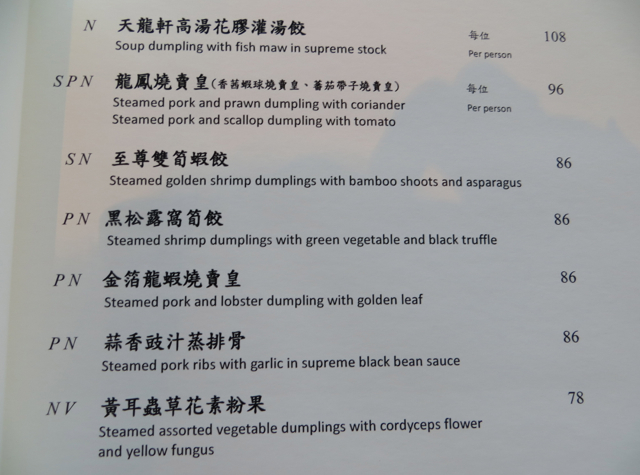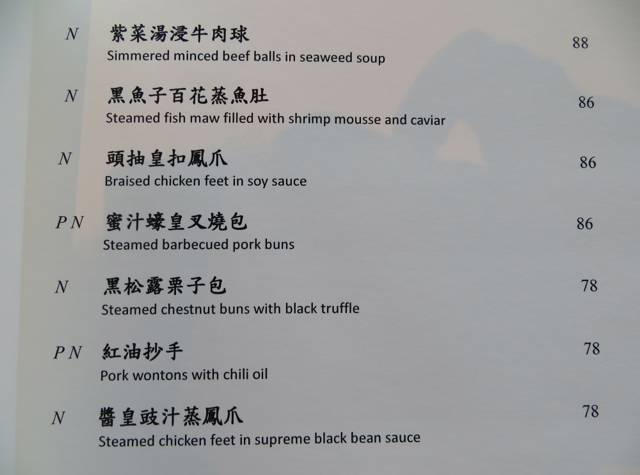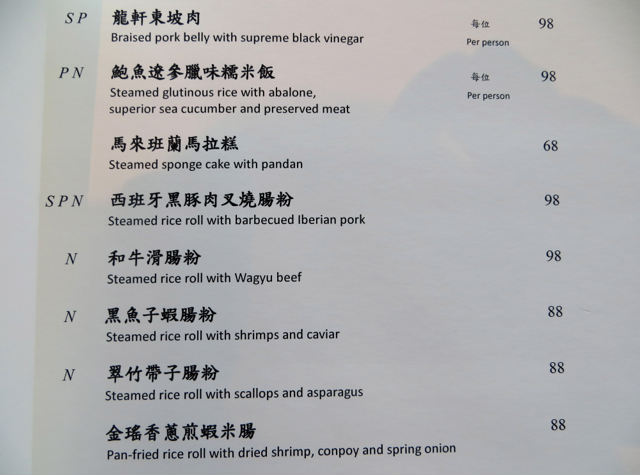 For tea, I asked for my usual favorite, a mixture of oolong and chrysanthemum, which was graciously accommodated.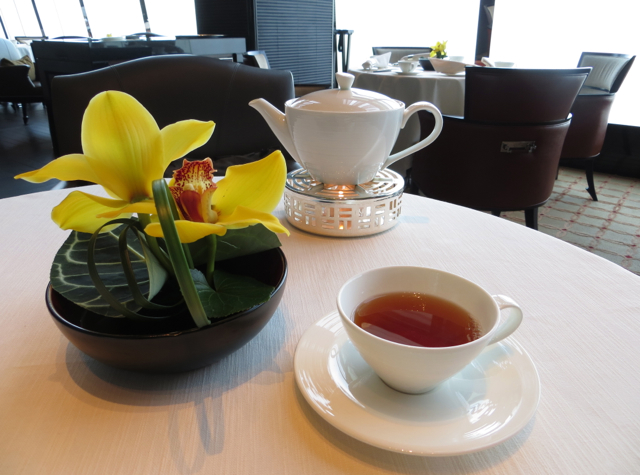 After taking my order, a delicious snack of candied walnuts was brought, along with a small dish of chili garlic sauce for the dim sum. The candied walnuts, flecked with sesame seeds, were so good, I later asked to take the remainder with me, and they gave me a double portion.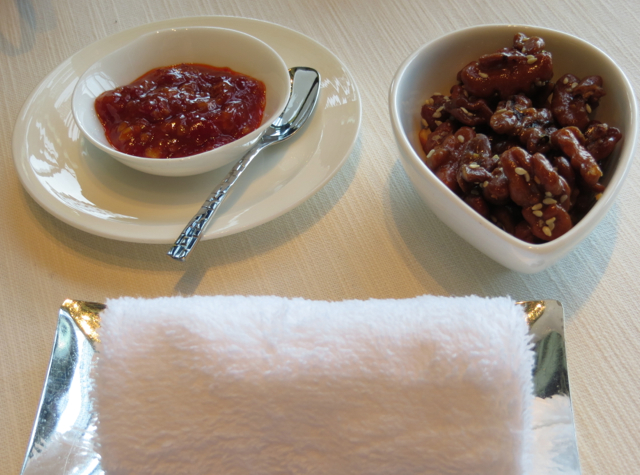 With all the delicious sounding dim sum choices, I had a tough time deciding what to order, especially as I was just one person. Dim sum of course is best if you're with your family or group of friends, so you can try a variety of dishes.
The last time I was in Hong Kong I'd enjoyed the best baked bbq pork buns ever at Tim Ho Wan, the cheapest Michelin star restaurant you'll likely ever eat at. I decided to try Tin Lung Heen's version, which was even slightly better than I remember Tim Ho Wan's being. Both versions feature a deliciously sweet, light and crunch top (similar to what you'd find on the perfect almond croissant) and a sweet savory succulent bbq pork filling.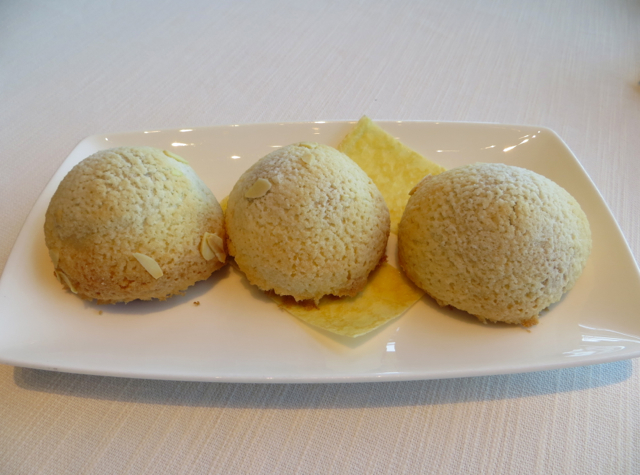 The star of the items I tried was the rice noodle roll with barbecued Iberian pork. The barbecued Iberian pork makes the dish, and I understand why this dish, and the barbecued Iberian pork by itself, is so popular at Tin Lung Heen—at least one of them is a must-order. It's safe to say I've never had such delicious cheung fun.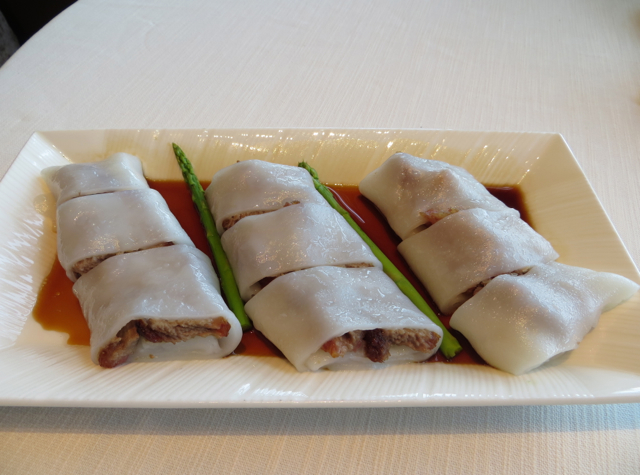 The only dish I didn't care for was a lotus leaf wrapped stir fried rice. What I'd actually wanted to order was lotus leaf wrapped sticky rice, which has always been one of my favorite dim sum dishes. Tin Lung Heen didn't offer this, so my choices were between the steamed glutinous rice with abalone, superior sea cucumber, and preserved meat, or lotus leaf wrapped stir fried rice with seafood. Since I wanted the aroma of the lotus leaf, and don't care for either abalone or sea cucumber, I ordered the latter, but found the dish very ordinary and rather dry—I don't recommend it and didn't finish it.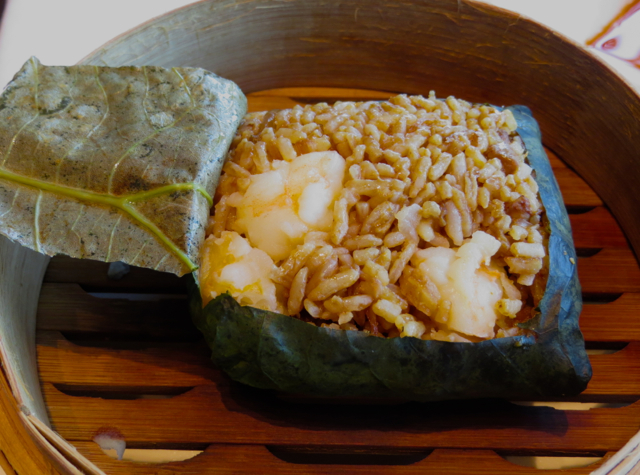 Complimentary dessert was brought at the end of the meal, and as with most Asian desserts, to me, was entirely forgettable: a couple of buttery cookies and some gelatin. Unless you're a fan of this type of dessert, there's no reason to save room, so fill up on the delicious dim sum.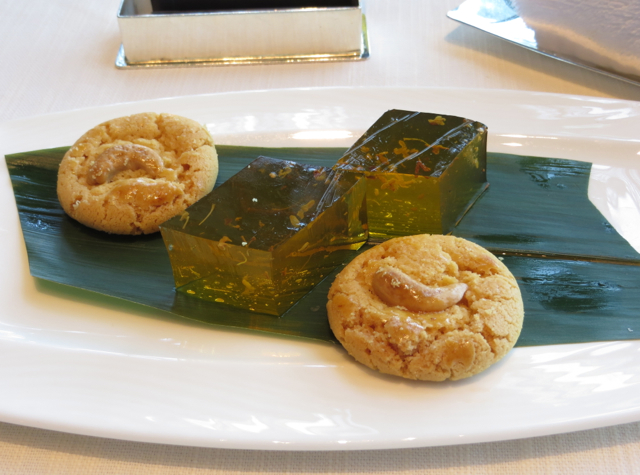 Service
Service at Tin Lung Heen was superb, from smoothly handling my early arrival, to being seated, to answering my several questions about the menu, making the tea mixture I requested and serving my dim sum. Tea was always poured for me, and my tea cup was never empty.
The Verdict: Tin Lung Heen is the best high end dim sum I've sampled, at least for two of the three items I ordered and given the setting and service. While I'm personally not that keen on the Ritz-Carlton Hong Kong, since I prefer staying on Hong Kong island and in particular at the Four Seasons Hong Kong, I wholeheartedly would recommend dim sum with friends or family at Tin Lung Heen.
Related Posts
Tim Ho Wan Review: Hong Kong's Best Dim Sum and Cheapest Michelin Star Food?
Four Seasons Hong Kong Hotel and Club Lounge Review
Cathay Pacific First Class Review NYC JFK to Hong Kong
Need Award Booking Help? Our fee is as low as $75 per ticket if you book your hotel or cruise through us.
If you enjoyed this, join 150,000+ readers: please follow TravelSort on Twitter or like us on Facebook to be alerted to new posts.
Become a TravelSort Client and Book 5-Star Hotels with Virtuoso or Four Seasons Preferred Partner Amenities!