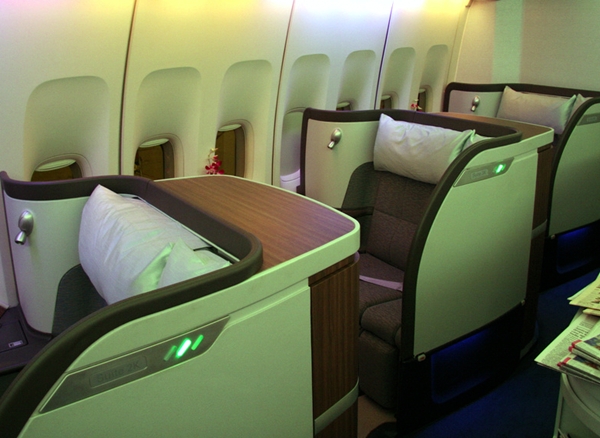 We've written about the changes coming to the British Airways Executive Club, and if you love getting the most bang for your buck by using BA Miles to fly Cathay Pacific First Class or LAN Business Class to Easter Island with stopovers, the changes don't look good.
Since we accrued 300,000 BA Miles from the BA Visa 100,000 mile sign up bonuses and through the 50,000 bonus for the Chase Sapphire Preferred card (which transfers 1:1 to British Airways) we decided it was time to cash in and book 2 first class tickets on Cathay Pacific to Bali, with a stopover in Hong Kong. We covered this award in Tips for Booking Award Tickets to Bali, I thought it would be helpful to relate my experience booking this award, from a novice perspective.
First off was figuring out the rough itinerary. We toyed with the idea of going to Chiang Mai, Thailand then somewhere else in the region, such as Malaysia, Singapore or Bali. Ultimately though, we decided against moving around too much, since we'd have our 4 year old with us, and for a truly relaxing vacation, it's nice to spend enough time to really get to know a place. Another consideration was the weather; since it will be the wet season in the places we were considering going in Thailand, we decided to go Bali, which will not be in monsoon season during that time. Finally, since I've been to Bali before, I know what to expect and have a head start in planning where to stay and what to do.
Irrespective of our final Asian destination, I knew the bottleneck would be getting 2 First Class seats on the NYC-Hong Kong and Hong Kong-NYC flights, so that's what I searched first.
I first logged into the BA Executive Club as usual using my member number and PIN. Then I clicked on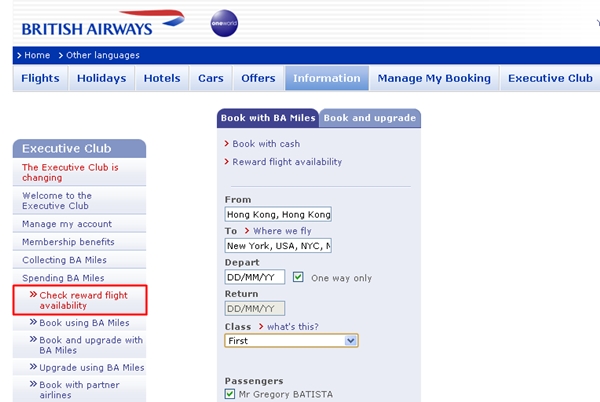 I then saw the screen Ben mentioned in How to Find OneWorld Award Space, where BA says "Choose Your Stopover." I ignored this, since I wanted to avoid being shown BA flights that stop in London, and clicked "Continue" in the bottom right: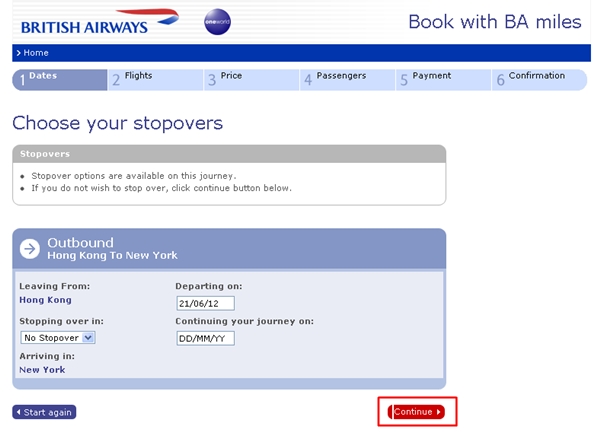 I then saw this screen, which displays BA availability in a calendar. I ignored it and in the blue Partner Airlines box on the left, I clicked Search.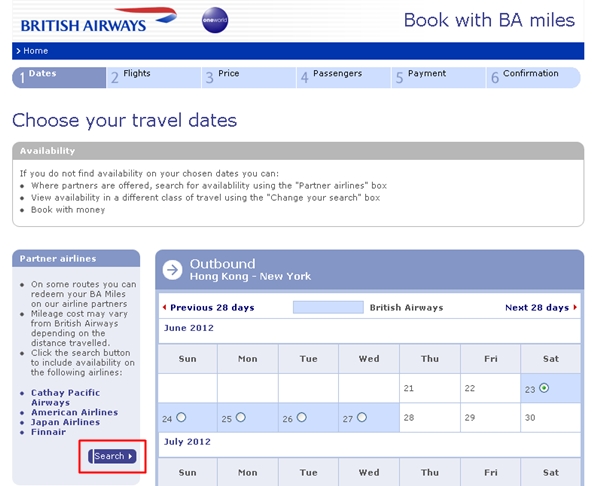 Since I was shown a screen with a flight that went through Toronto, I selected "Search 7 days after" to see if I could find 2 reward tickets on a direct flight from Hong Kong to NYC. Nothing against Toronto (spent months working there Monday-Friday on a project) but when you're planning a family trip with a 4-year old, you really don't want to extend your flight times any more than you have to.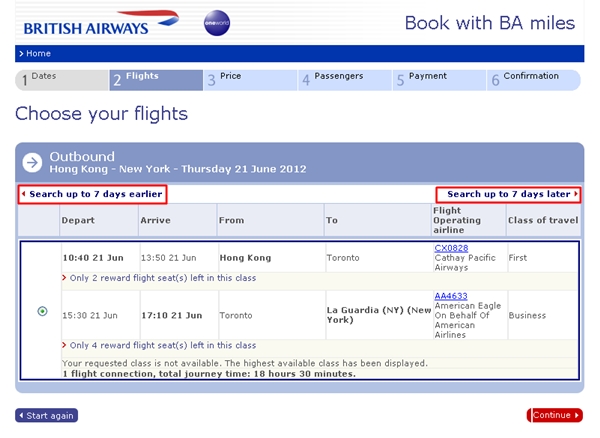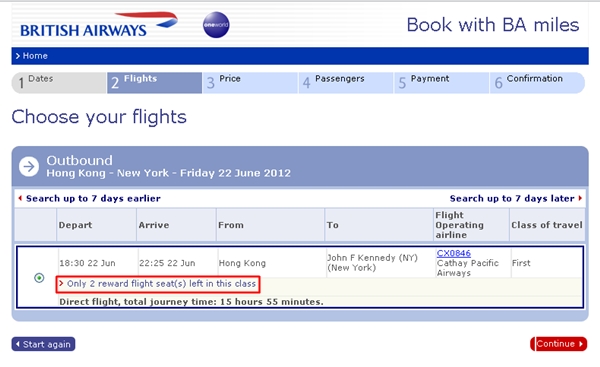 I then called British Airways at 800-452-1201 to ticket the reservation. I actually have never managed to get through by pressing option 3 (it just tells me that all operators are busy and to call back later), to book a new flight, so I always press 2 to "change an existing booking" so that I at least get placed into the hold queue. My wait times both times were about 8 minutes.
Although I had no problems getting the $20 phone ticketing fee waived for the outbound flights, I did get some grief when booking the return flight. The agent had her manager check and she claimed that it was possible to book the return flight, with stopover in Hong Kong, online (I didn't figure out how to do this) but her manager allowed her to make this "one time exception" and not charge me the $20 phone ticketing fee. In any case, I did finally get it booked, and selected seats as well.
That said, if you somehow are going to get charged the phone ticketing fee but have found your perfect award availability, I would just swallow it and get those seats, before someone else does. After all, if you're ticketing a U.S. to Asia First Class roundtrip, you're talking about a ticket that normally costs close to $20K.
Now, as Ben and other frequent flyers point out, the true award value is what you would pay to actually fly the award ticket, not the full retail value (which most people, including us, would never pay). Still, it's hard to imagine better value for $190: the $95 annual fee for 2 BA Visa credit cards and then putting the required spend on those and the Chase Sapphire Preferred cards to earn 300K BA Miles.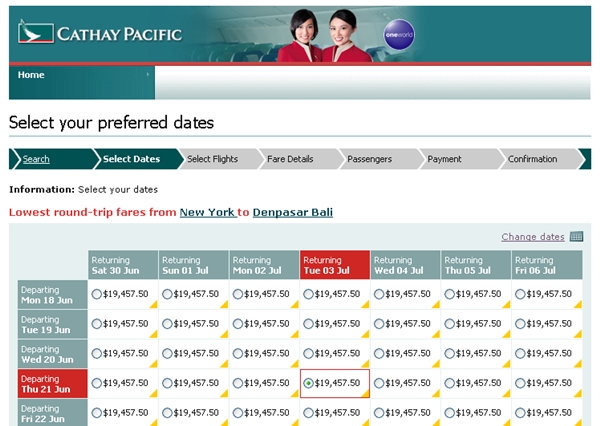 Tips:
If you know you want to go first class from the U.S. to Asia sometime in the next year or so, I would start searching Cathay Pacific award space immediately, especially if you're looking for an award between now and August 2012. Cathay loads award space 350-360 days out, so you have a little time to plan if you're looking at a September or October 2012 award.
The British Airways call center in the U.S. seems thinly staffed. Try not to call too close to the 8pm ET closing time–you'll just get cut off and have to wait until the next day.
Note that when booking by phone, you will need *2* credit cards–they will charge 1 of them, and the other (which must have the same billing address as the card charged) is used as a means of security, to avoid fraud, since this is a "card not present" transaction.
Our trip is about a year away, but looking forward to it already. Here's a nice slideshow of Cathay Pacific First Class, although in this case from San Francisco:
Related Posts
Cathay Pacific First Class Review: Hong Kong to New York
Cathay Pacific First Class Review: New York to Hong Kong
Cathay Pacific First Class Bali to Hong Kong Review
Cathay Pacific Business Class Review 747-400: Hong Kong to Bali
Cathay Pacific Business Class Review: 777-300ER NYC to Hong Kong
Apply for the Best Travel Credit Cards.
If you enjoyed this, please follow TravelSort on Twitter or like us on Facebook to be alerted to new posts.
Become a Member to find your perfect luxury or boutique hotel at up to 50% off: TravelSort Hotels
Photo: Richard Moross