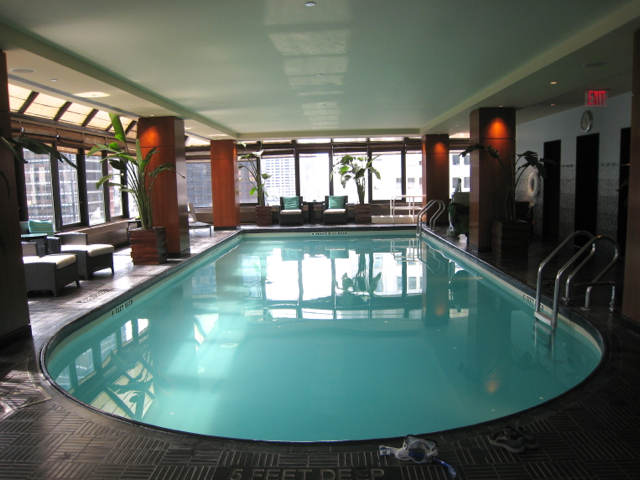 This Peninsula New York review is one of many NYC posts including hotel reviews, restaurant reviews and things to do in NYC. The Peninsula New York is also a Virtuoso property, so TravelSort Clients receive these Virtuoso benefits, as well as PenClub Benefits:
Upgrade on arrival to next room category, subject to availability

Enhanced welcome amenities (PenClub benefit)

Full breakfast daily (PenClub benefit), for up to two in room guests (in Clement Restaurant, Gotham Lounge, or through In-room Dining)

A $100 USD Food & Beverage credit, to be utilized during stay (valid for drinks, brunch, lunch or dinner in Clement)

"Peninsula Time": flexible check-in and check-out (PenClub benefit)

Complimentary 30-minute extension on any 50-minute body or facial spa treatment (PenClub benefit)
The Peninsula New York Location, Check-in and Lobby
The Peninsula New York is located at 700 Fifth Avenue at 55th Street, a very convenient address for many of my clients with midtown meetings. It's also a great spot for couples and families on leisure trips, given the proximity to Fifth Avenue shopping, FAO Schwarz, Central Park and the theater district.
It's just two blocks to the 53rd and 5th Avenue E train subway station, and also an easy walk to the 53rd Street and Lexington Avenue station for the 6 train, but there's also the option of complimentary house car service starting at 1pm. Better yet, book a suite, and you'll be able to prebook 3 hours of complimentary Mini Cooper service! Also see Best Luxury Hotel House Cars.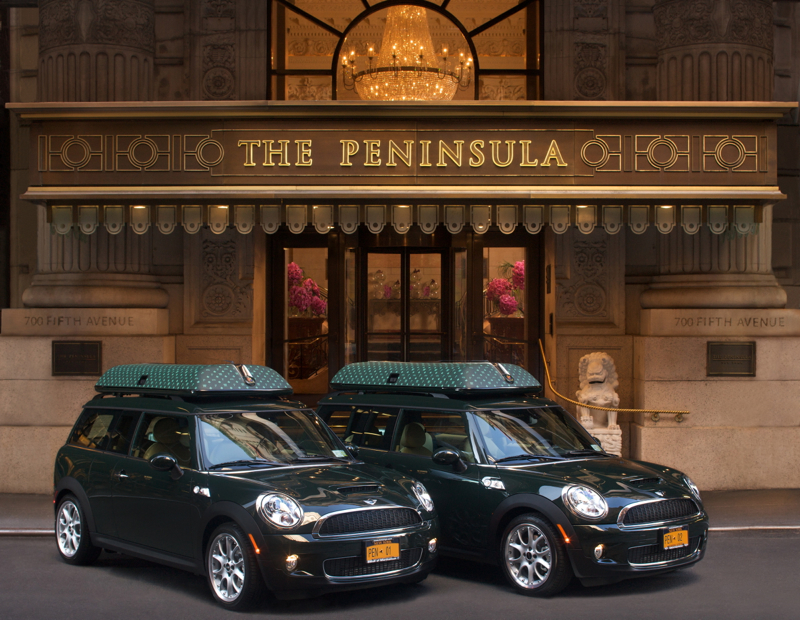 I arrived at The Peninsula New York in the afternoon to view a Junior Suite and Deluxe Suite and check into our room, a Grand Luxe Room. Flowers adorn the grand staircases leading up from the lobby to reception on the right, and toward Clement Restaurant on the left.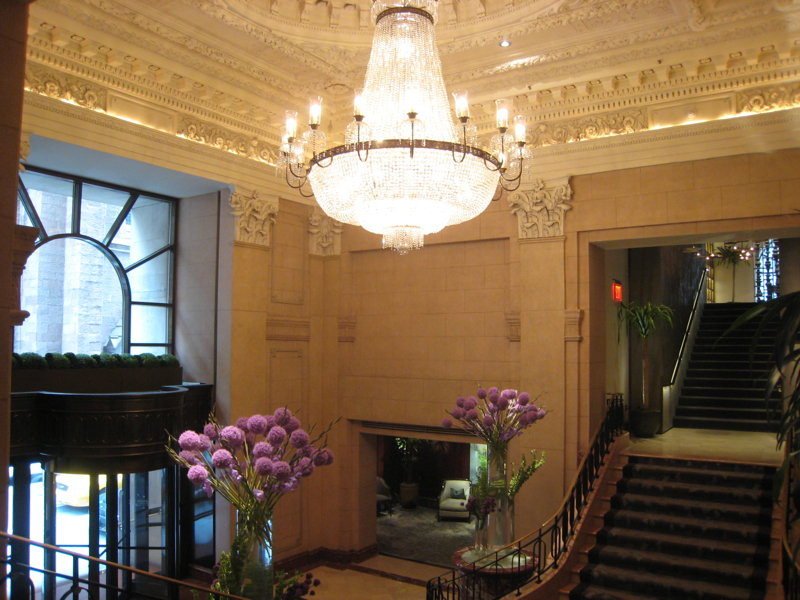 There was no wait at Reception, and although the first order of business was viewing a Junior Suite and Deluxe Suite, I never had to wait at the front desk on other occasions either.
There's a small lobby seating area between the reception area and the elevators, but this never seemed to be too crowded either. No doubt it helps that this is NYC, and many guests staying here are out and about either in business meetings or sightseeing.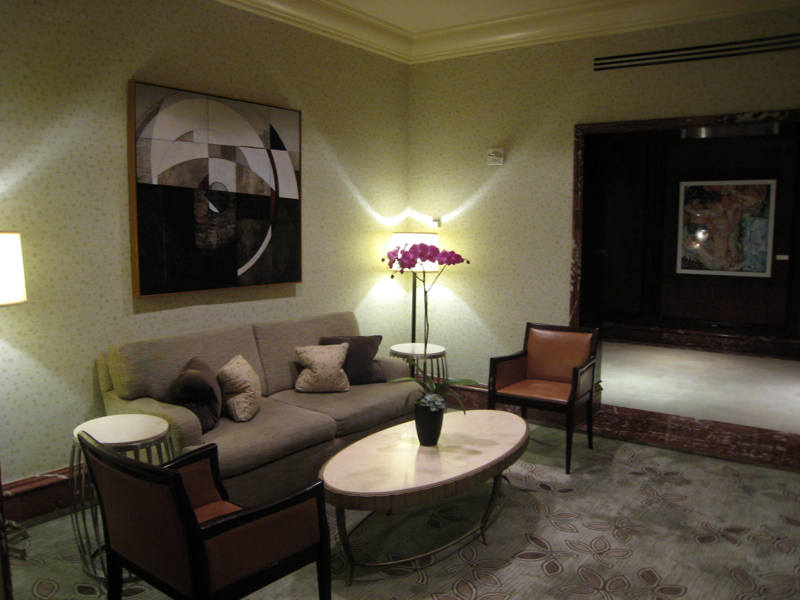 A dramatic Eiffel Tower made of French macarons adorns the upper lobby on the way to the elevators, created by the hotel's pastry team to celebrate the recent opening of The Peninsula Paris: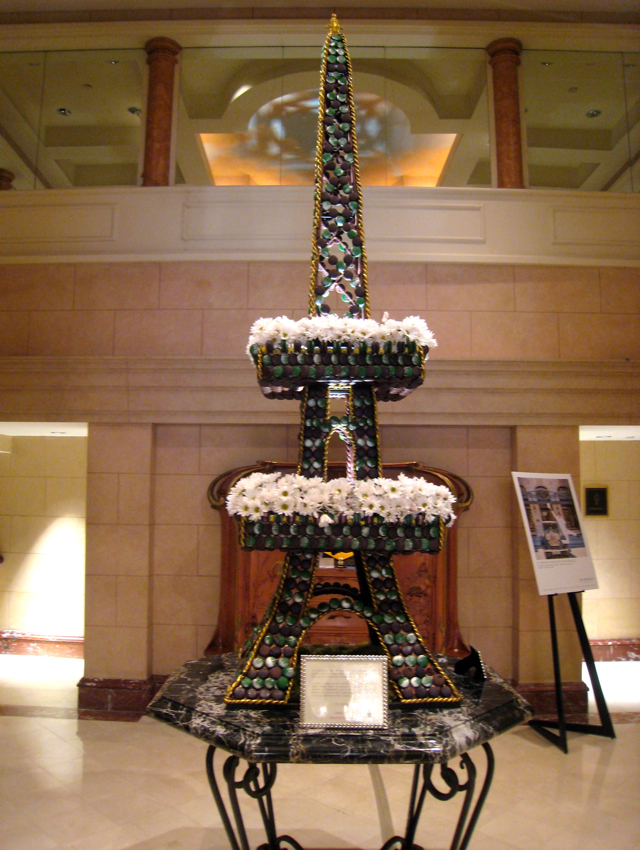 The Peninsula New York Grand Luxe Room
Grand Luxe Rooms are 480 square feet, and are the first category of room that offers the option of either 1 King bed or 2 Queen beds. The Grand Luxe Rooms with 2 Queen beds could fit a family of 4, which is actually more unusual than you would think for NYC. I can't tell you how many times I've had clients wanting a luxury NYC hotel room with 2 Queen beds, and finding that all their preferred options (including The Peninsula New York) were booked out. So book early if you want the Grand Luxe Room with 2 Queen beds!
Grand Luxe Rooms also offer a view of either 55th Street or 5th Avenue–I recommend requesting a room on one of the higher floors, with a 5th Avenue View. Note that Supeior Rooms all have an interior courtyard view, and some Deluxe Rooms also have an interior courtyard view rather than an exterior view.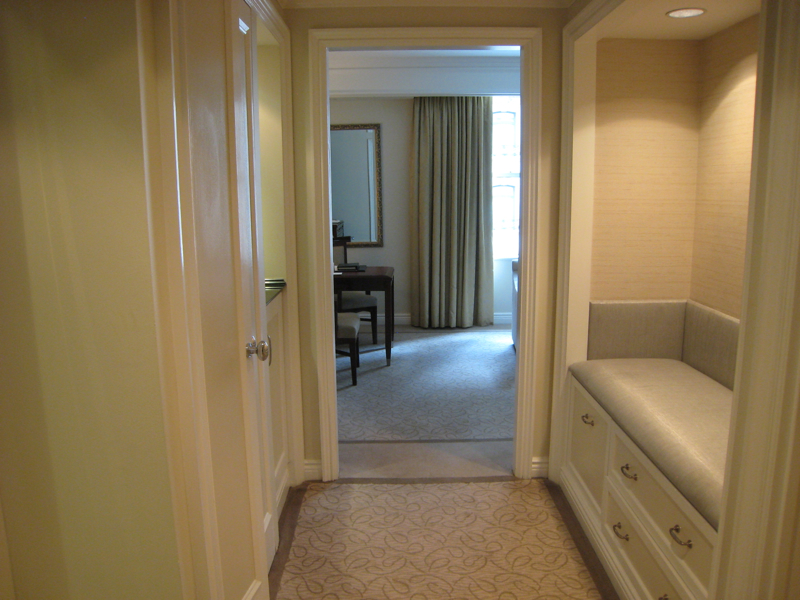 A convenient aspect is the suitcase bench on the right, with storage drawers underneath, in addition to the regular closet space. Sometimes it's hard to fit your suitcase on a luggage rack in the closet, so this solves that problem.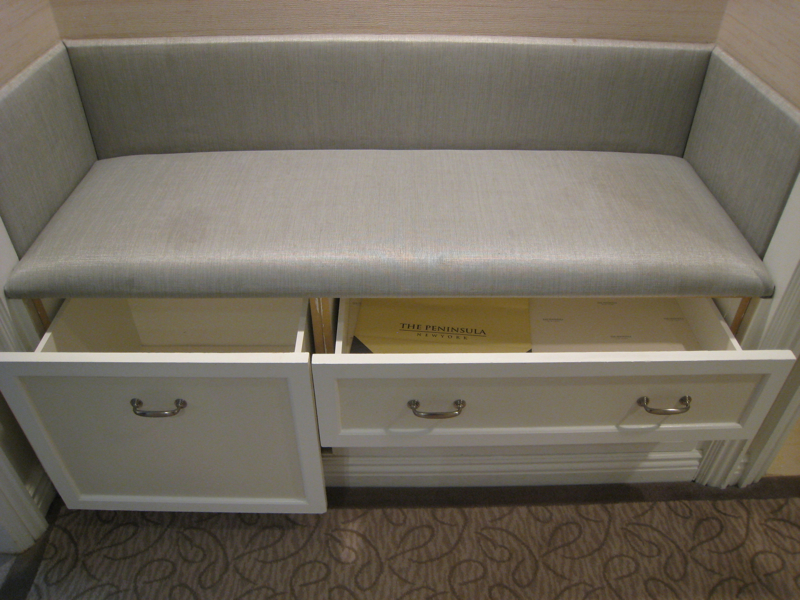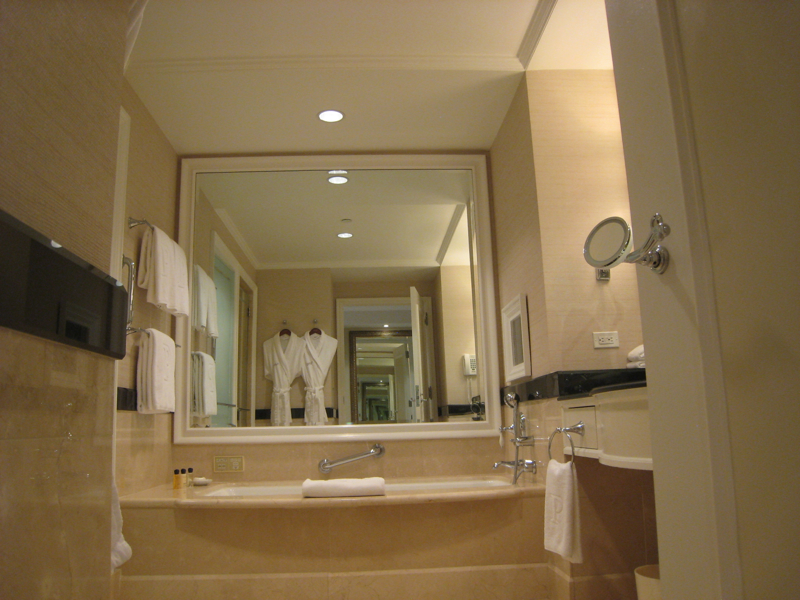 There was a pretty and delicous fruit welcome amenity awaiting us, which the munchkin happily started munching on the next day, when he visited after having a sleepover with friends.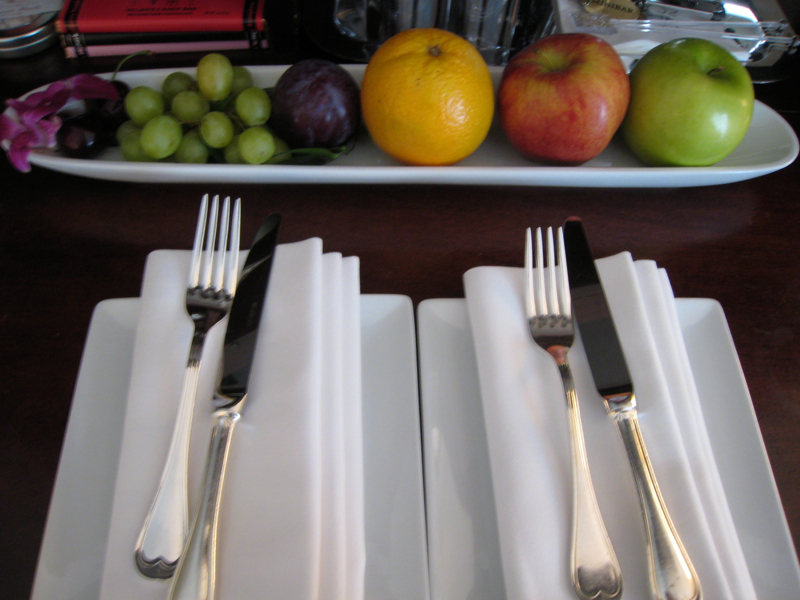 The King bed offered wonderfully soft high thread count linens. It was a bit firmer than is my personal preference, but it's likely possible to request an additional mattress topper to make it plusher. I didn't bother with a housekeeping request however, since we got there quite late at night after dinner with friends and wanted to go right to sleep.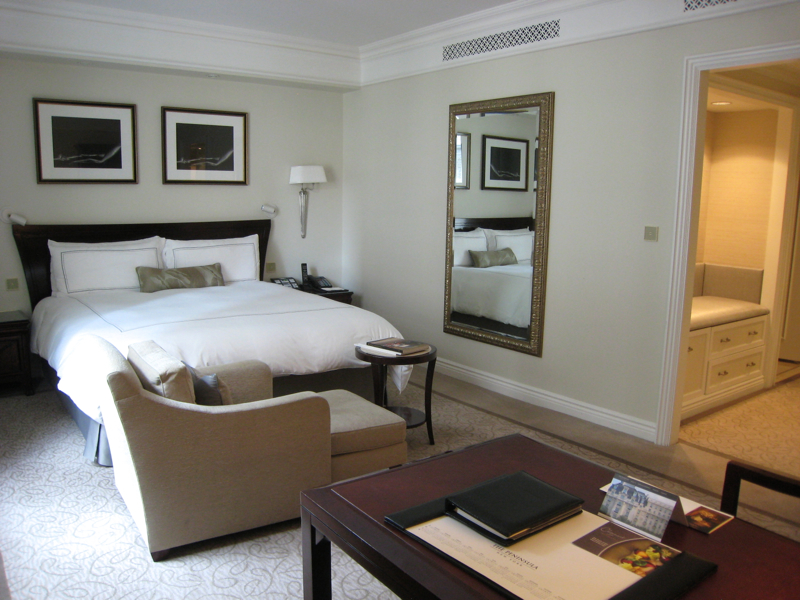 Right by the bed is a control panel for all the room lights (except the bathroom), as well as a privacy button. I love having everything in one place, in an intuitive format that doesn't involve fiddling with multiple devices. There's also a privacy button by the door, making it very convenient to alert housekeeping that you don't want to be disturbed.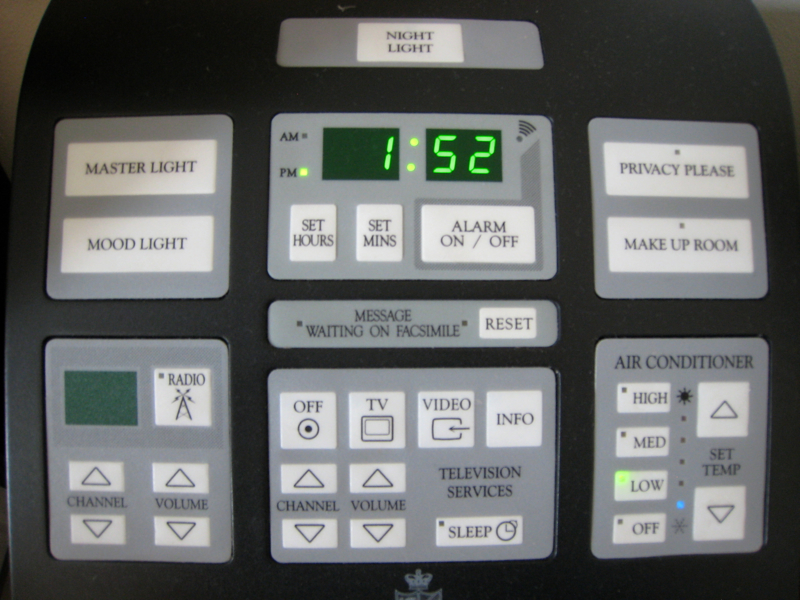 The marble bathroom has one vanity (you'll need to book a Deluxe Suite or higher to have dual vanities) but does offer a deep soaking tub with a built-in TV, perfect for relaxing in the bath, as well as a glass enclosed shower.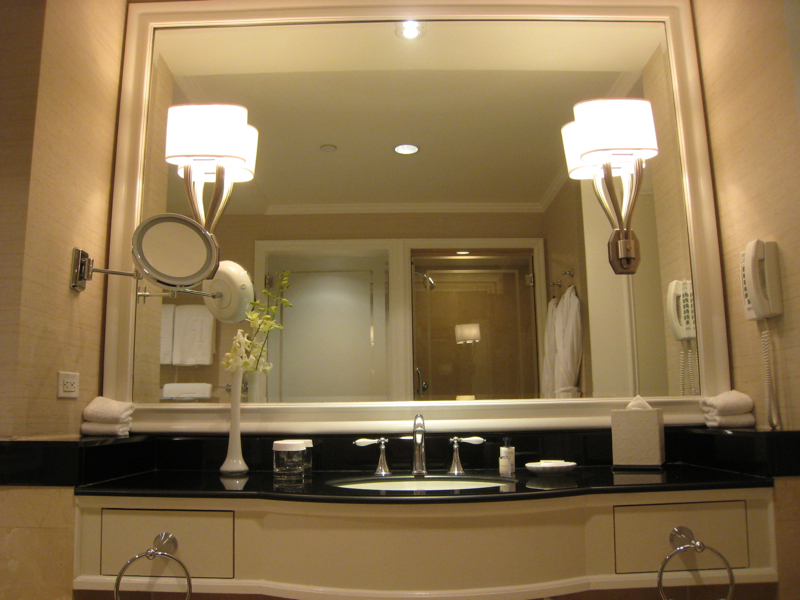 Bath products are by Oscar de la Renta, and I liked the fact that in addition to the usual shampoo, conditioner, bath gel and moisturizer, there was a small bottle (Peninsula branded) of hand sanitizer. Great idea that more urban hotels should adopt.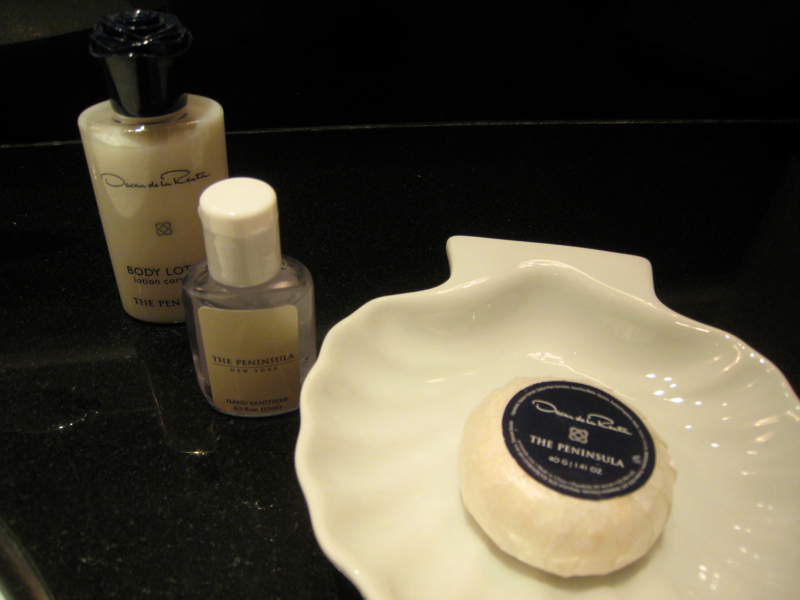 The Peninsula New York Spa, Swimming Pool, Sun Deck, Fitness Center
It's rare for NYC hotels to boast a swimming pool, but The Peninsula New York has one, and a very tranquil spa-like one at that. While I didn't have time this visit to enjoy a spa treatment, The Peninsula is known for having one of the very best spas of any NYC hotel.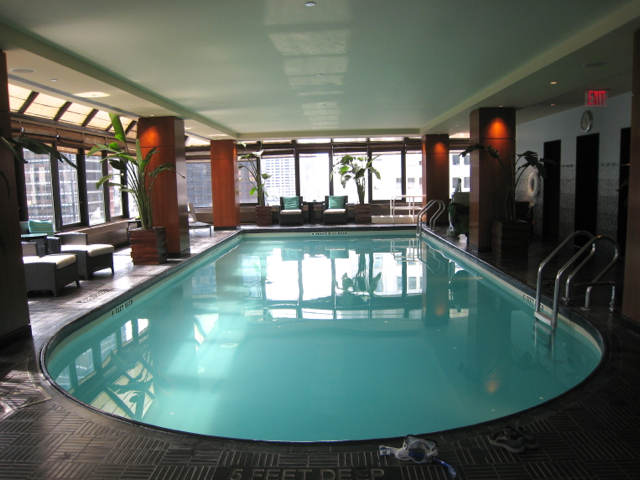 I was also happy to see a Nespresso machine with complimentary coffee, as well as Mighty Leaf tea (my favorite tea brand) on offer.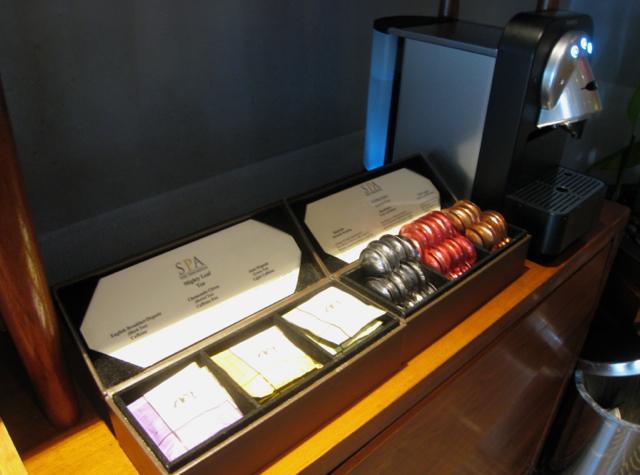 There's a fitness center as well, with weights and also a room for yoga, pilates, and other fitness classes, all complimentary to hotel guests.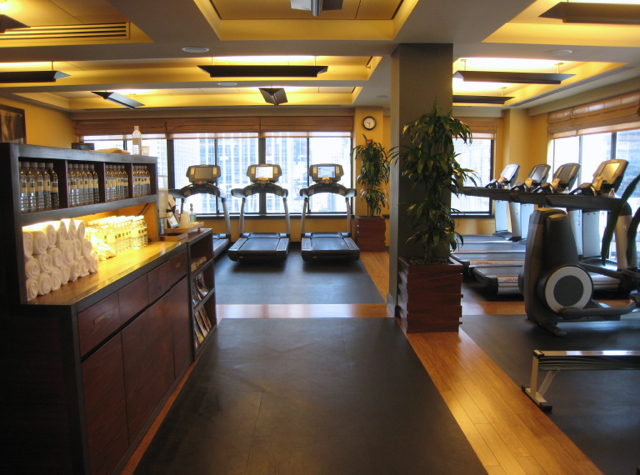 I loved the outdoor sundeck, again blissfully uncrowded and the perfect place to relax with a good book or catch up on email without being at your desk (WiFi is complimentary throughout the hotel).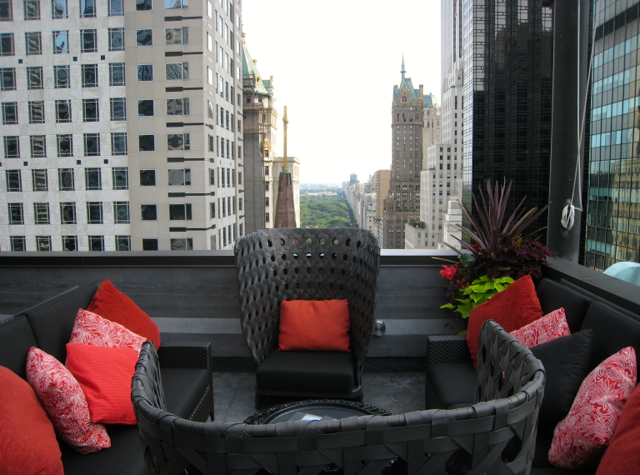 Breakfast at Clement Restaurant
Clement Restaurant opened last year, in 2013, and is helmed by Chef Brandon Kida, previously of Asiate and Lutece. There are 3 dining rooms, and my favorite is the one in the back that we were led to, with a glowing yellow wall with a jungle-like NYC scene that beautifully warms the room.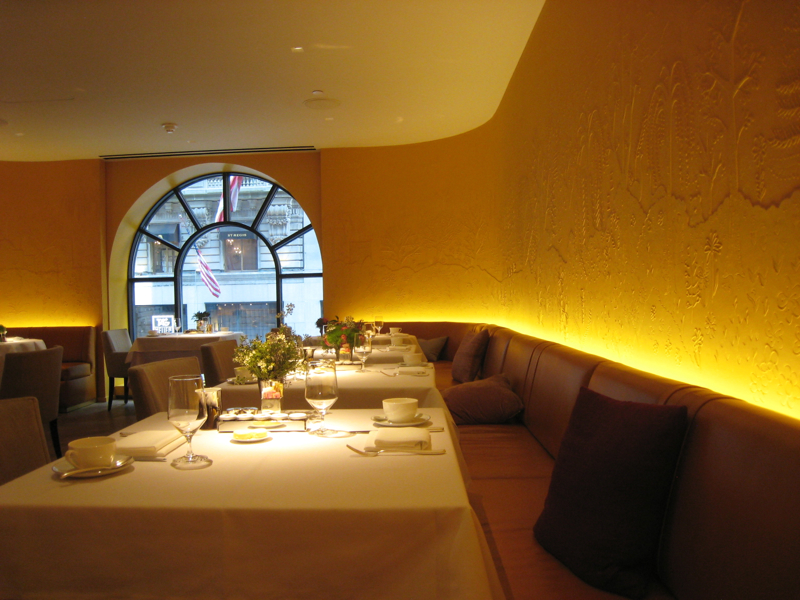 Continental breakfast is included as a Virtuoso benefit, and includes freshly squeezed juice, assorted pastries, muffins and bread, and coffee, tea or hot chocolate. Continental breakfast is normally priced at $32, which is about what it runs at top 5-star hotels in Manhattan these days. Keep in mind that a glass of freshly squeezed juice on its own is $18, but is included with the continental breakfast.
At least once, I would make use of the once per stay $100 food and beverage credit, also a Virtuoso benefit, to enjoy some of Clement's hot breakfast specialties. The breakfast menu offers the usual favorites such as egg dishes, pancakes, waffles, oatmeal, etc., but also, given The Peninsula's roots in Hong Kong and several Asian properties, traditional Chinese and Japanese breakfast sets are available.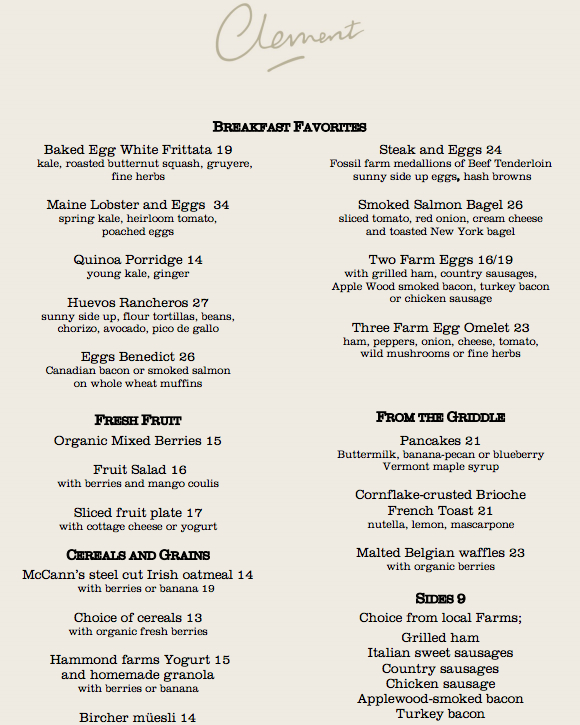 It was hard to decide, as I was tempted to try one of the Asian set breakfasts, but as we planned to take friends out for dim sum later that weekend, I opted to order the Maine Lobster and Eggs with kale and heirloom tomatoes. It was simply but beautifully executed, relying on the super fresh lobster and perfectly ripe tomatoes (probably from the Union Square greenmarket) to carry the dish. The only thing I would have wished for was some freshly ground black pepper, as opposed to the regular salt and pepper shakers on the table.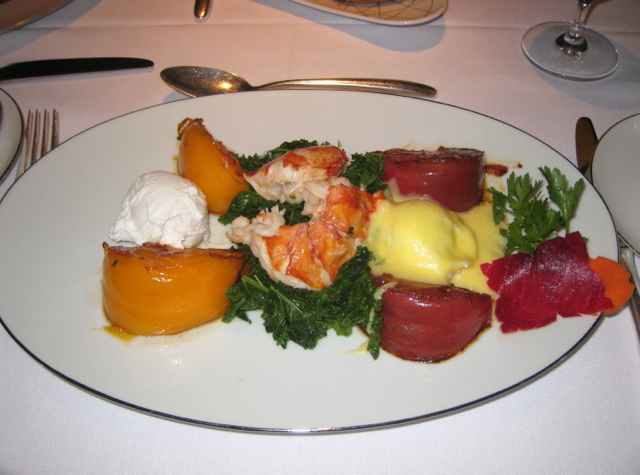 My husband decided to order the Eggs Benedict with smoked salmon (a traditional version with Canadian bacon is also offered) and was similarly excellent and very fresh. Sometimes you find that the hollandaise sauce has congealed a bit if the dish isn't brought to your table straight away–that wasn't the case here, where it was silky smooth.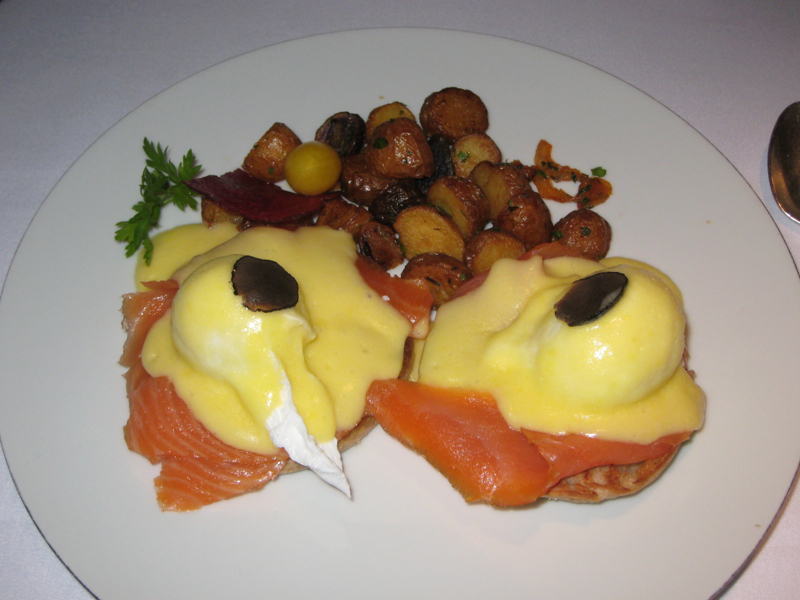 We also split an order of Hammond farms yogurt with berries and homemade granola, and the kitchen was kind enough to split the order into two separate dishes. Each was a good portion, so this would be a great bet on its own if you want a healthier breakfast. Note that plain yogurt is used, although you could sweeten it to taste with some honey if desired.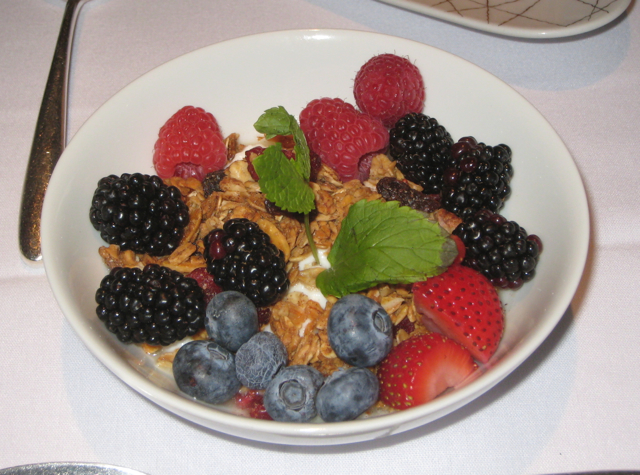 I also wanted to try one of the pastries, so we ordered a pain au chocolat. This actually came as two mini pains au chocolats, which were perfect with some of the d'Arbo raspberry jam. I liked that the jam was d'Arbo, which is my favorite of jams that come in mini jars. More fruit content than other jams commonly served in hotels, such as Bonne Maman or Dickinsons. We asked our server to take the other pain au chocolat for our son, and he was generous enough to bring a take away container with 2 additional mini pains au chocolat, a nice touch.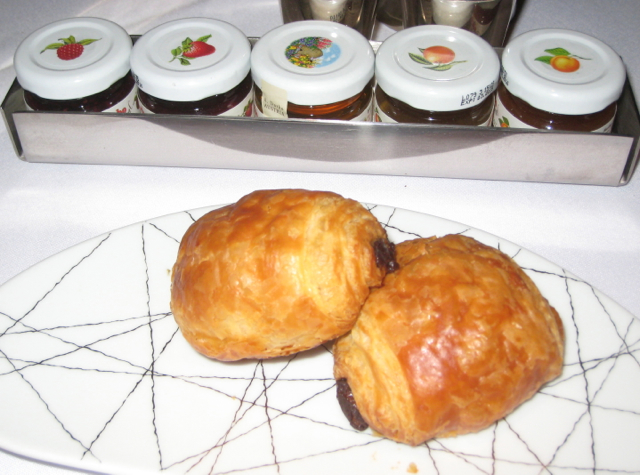 The Verdict
The Peninsula New York offers a superb central location, well appointed rooms, and the most tranquil pool and sundeck area of any NYC hotel. Service is excellent by NYC standards, even if not quite comparable to service at The Peninsula Bangkok. The complimentary house car service is a nice perk in the afternoon and evening, and the possibility to prebook a Mini Cooper for 3 hours each day is a great benefit if staying in a suite. Breakfast at Clement was memorable, although note that drinks, including orange juice, are very pricey. And anyone who hates paying for WiFi in luxury hotels should love the fact that WiFi is complimentary throughout the hotel.
Most of my luxury hotel clients want to stay in midtown, when they're in NYC–and by midtown, they mean north of about 50th Street. Quite a few of them also want a hotel with a pool, which really limits the options. It basically comes down to The Mandarin Oriental New York, The Trump Central Park, or The Peninsula New York. While The Mandarin Oriental and The Trump offer some rooms and suites with great views of Central Park, they're also quite far West, so not as centrally located as The Peninsula. And unless you need a long lap pool, my personal preference is the more resort-like pool a The Peninsula New York, along with its peaceful sun terrace.
If you've recently stayed at The Peninsula New York, what was your experience?
Related Posts
Disclosure: My husband and I were guests and enjoyed a complimentary stay at The Peninsula New York, however the views expressed in this post are my own.